Beeline Your Way to the Bike Shop
To say there is a "disturbance in the force" of what we call the independent bicycle dealer (IBD) is putting things lightly.
Your local bicycle specialty shops are IBD's. Big box stores like Walmart, Dick's Sporting Goods and the like are not considered IBD's.
The cycling industry has been one of the slowest to adopt modern sales methods that have upended nearly every other major industry.
It's no secret that consumers are spending more time online, researching and purchasing ever larger items. Bicycles have not displayed strong online sales in the USA for a multitude of reasons.
Consumers wanted the help of specialists to determine what model and size of bike they should order. IBD's collectively put pressure on manufacturers to not sell online.
Today, faster internet connections, better web sites, and more confident consumers are leading the way toward change. Brands that formerly sold only in IBD's are changing their business models to better service those customers and compete with brands that sell exclusively direct-to-consumer.
Beeline Bikes is taking a different approach to these seismic changes in consumer behavior and the bicycle industry at large. Rather than make people go to the bike shop, they take the bike shop to the people.
As simple as the Beeline model may sound, the devil is in the details. Those details are exactly what excited Peter Buhl, founder of Beeline.
Buhl brought a strong background in technology, database management and a love of cycling to the Beeline business. From their base in San Carlos, California, Beeline started by servicing San Francisco Bay Area customers.
The Bay Area's large and growing cycling contingent can face long lead times for repairs. Instead of loading bikes up and taking them to a shop, Beeline customers can log into their online account or make a phone call and schedule a visit at their home or place of work.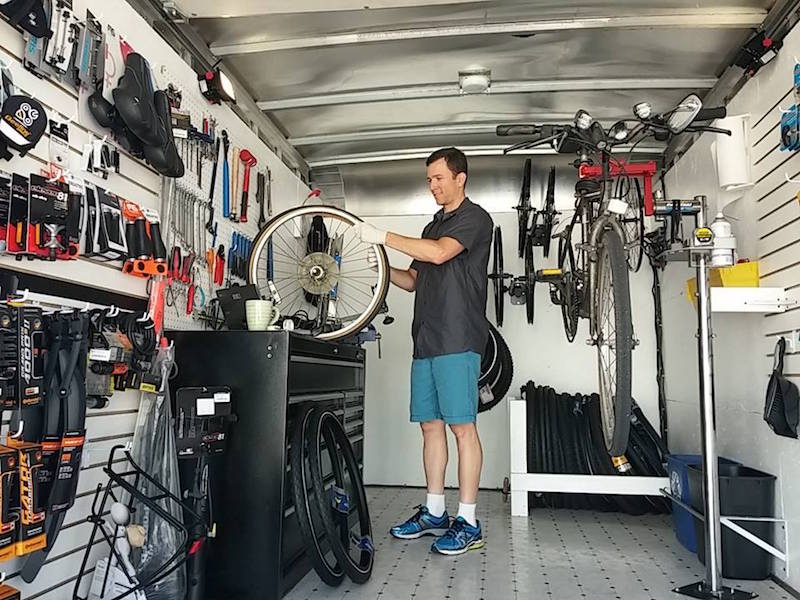 If the customer would like to add certain items to their order, they can place those on the Beeline site as well.
Prices range from $129.99 for PRO level service (pick up, repair and return for high end bikes) to $59.99 for kid's bike or single speeds. Beeline also offers a-la-carte repairs with a menu of fixes to choose from. Small (2 items) is $19.99, Medium (4 items) is $29.99, Large (8 items) is $49.99 and flat tires are $9.99.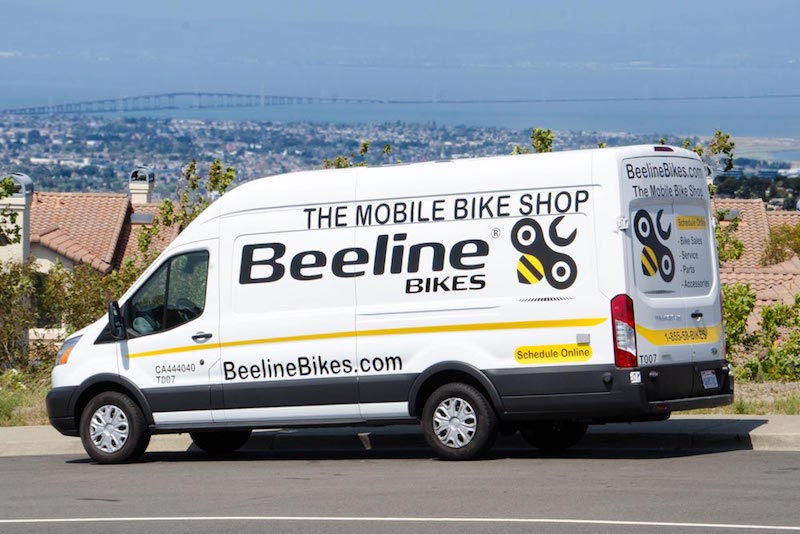 Beeline mechanics arrive in Ford Transit vans outfitted as fully appointed bicycle repair shops.
While some independent bike shop owners are stewing over the arrival of Beeline in the market, the company is marching forward.
In July of 2015, Beeline secured $2.6 Million in funding from Backcountry.com to help execute their nation wide franchise expansion. Incorporating the franchise model, Beeline hopes to scale more quickly and attract the highly motivated and knowledgable partners needed to succeed in the bike shop business.
E-bikes are clearly a major opportunity for Beeline. Time are changing, but initially many IBD's would not accept e-bikes for repairs. Owners were forced to find specialists, figure things out on their own or with direct support from the manufacturer.
The heft of an e-bike can make them unpleasant to transport in or on a vehicle without the right type of rack system. If you're in an area Beeline can service, those issues are easily addressed. Beeline cut their chops on e-bikes early in their existence by being a build and delivery partner in the Bay Area for Faraday e-bikes.
There is reason to believe 2016 could mark even more land shift change in the USA with how bicycles are purchased, delivered and serviced.
The best IBD's are not going away. Consumers who want the bike shop experience will of course be able to find it.
For those who want to be serviced at home or at work, Beeline wants to fill that desire.
And Beeline is not the only mobile bike shop service, Velofix is another company in the mobile bike shop biz.
Trek Bicycles announced in 2015 that they would begin offering direct-to-consumer sales. In this model, Trek has stated that their dealers will still be rewarded for a portion of the purchase price. There is speculation that Trek's hand was forced by the arrival of Europe's top direct-to-consumer bicycle brand, Canyon, on US shores in 2016.
Regardless of the cause, the tipping point for the bicycle industry may not be far off.
If there is a silver lining to all this change, it's that consumers will not have to wait for the dust to settle over the cycling industry to benefit.
With more options to make better choices, the cycling consumer is going to win. For e-bike owners and manufacturers, Beeline could make for a compelling riding partner.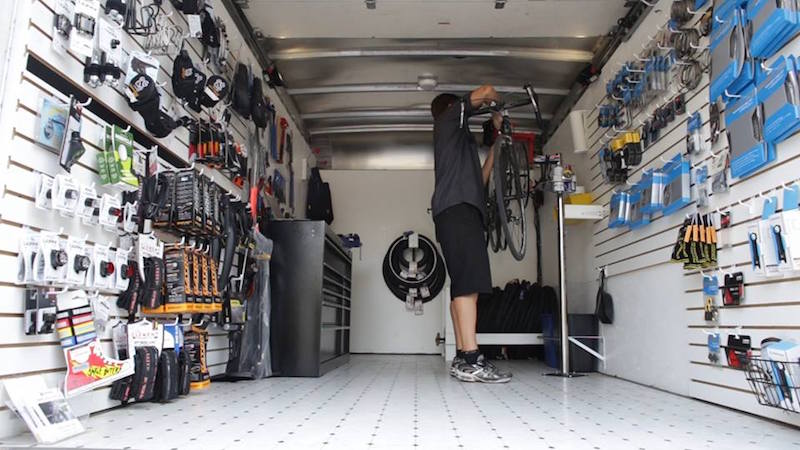 P.S. Don't forget to join the Electric Bike Report community for updates from the electric bike world, plus ebike riding and maintenance tips!
Reader Interactions