eBike News: UPS eTrike in Portland, New eBikes, Bio-Hybrid, Inspiration, & More! [VIDEOS]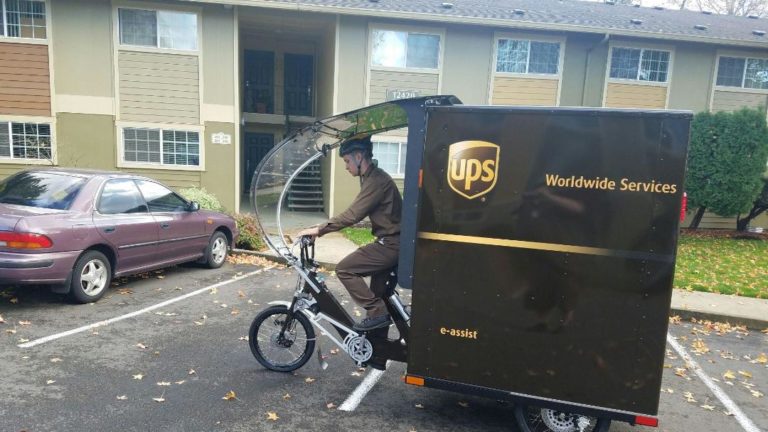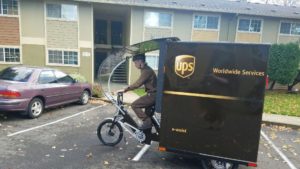 UPS Starts eTrike Deliveries in Portland, OR
Well-known global transport logistics firm UPS has started delivery by electric bike in Portland, Oregon reports Bike Portland.
This is apparently a first for the company in the US and it is initially a testing phase – perhaps no surprise that it has chosen one of the country's most bike-friendly cities to launch the pilot scheme.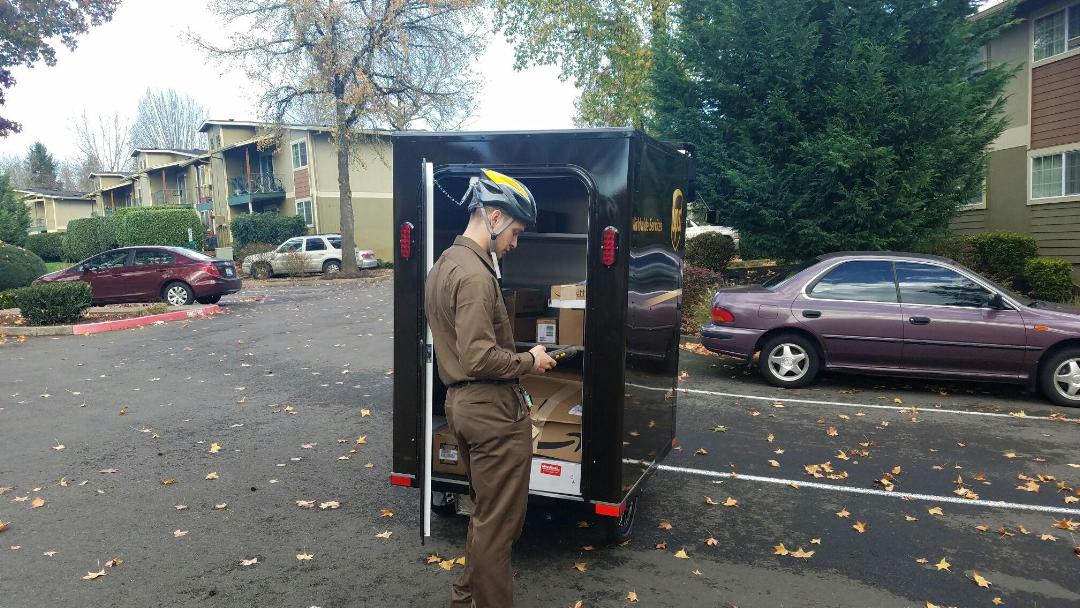 To add further kudos to Portland's electric bike credentials, the UPS vehicles are built locally by Truck Trike, which look to be of industrial quality if the following video is anything to go by:
There are 2 other companies who have been doing deliveries by bike in Portland for a while; B-Line Sustainable Urban Delivery and Portland Pedal Power.
Here is a closer look at B-Line and their delivery trikes that are also an ad platform.
Electric Future for Baltimore Bikeshare?
EBR has already reported on the launch of Baltimore Bike Share, which included electric bikes.
GreaterGreaterWashington website now reports that there are great hopes for the electric assist component of the bike share program.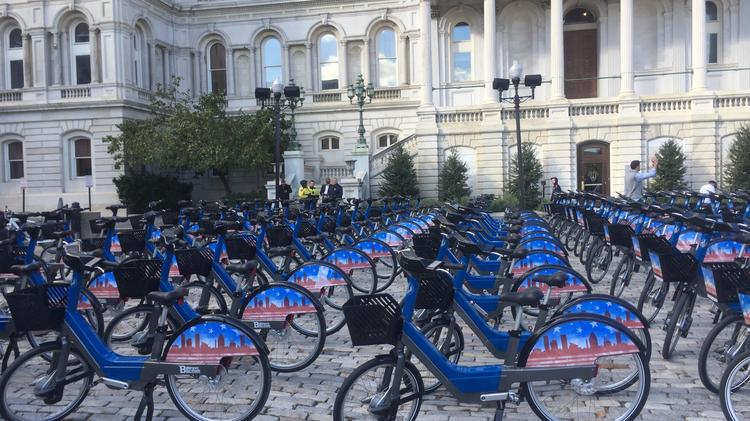 The article notes that 'This spring, the system is set to grow to 50 stations with 500 bikes. And since many of the new stations will be uphill from where stations are concentrated now, the pedelecs will be in even more demand. '
It also noted the modest extra cost for e-bikes as compared to regular hire bikes; $1300 compared to $1000.
New eBikes
RadCity eCommuter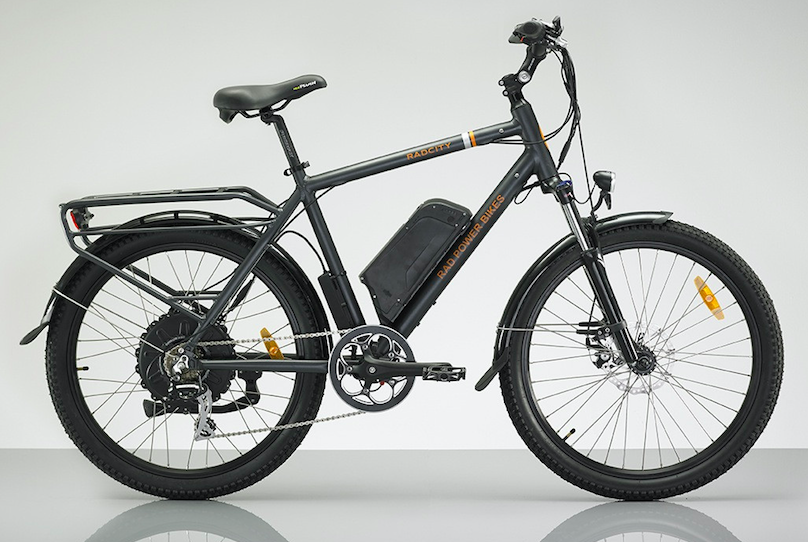 Rad Power Bikes has added to their line up of electric bikes (eCargo, eFat, e-mini Fat) with their new RadCity commuter eBike that is priced at $1,499. Here are some of the specs:
Powerful 750w direct drive hub motor featuring regen braking
Integrated rear rack with 60 lbs carrying capacity
48v 11.6Ah Panasonic lithium ion battery rated for 800 charge cycles
Here is a video of the new RadCity:
Geero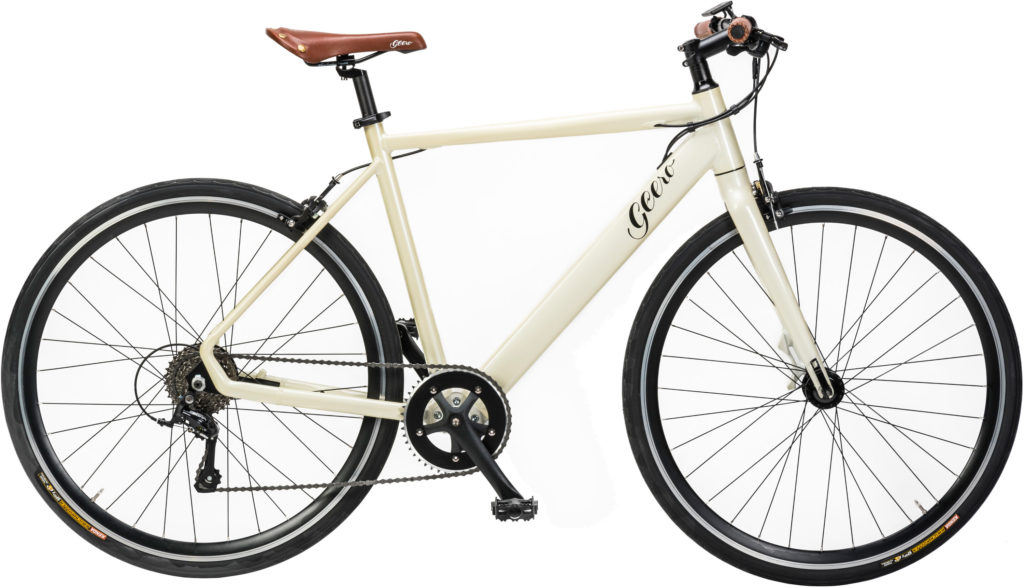 Geero are attractive looking lightweight e-bikes out of Austria and are now available for direct order via the company's website. Claimed weight is 34.4 pounds (15.6kg) with a fully integrated 420Wh battery, the single design looking virtually like a regular non assist bike. Price is €2399.
The story behind the founding is also interesting, as two brothers, Michael and Thomas Rath returned home after globetrotting adventures to found the firm.
New Espin Bikes at Pre-Order Discounts
Whilst info is scare about them, it appears Espin e-bikes have now launched (or is it pre-launched?) in San Francisco.
Like Geero they have chosen the 'hidden' e-bike look with a rear hub motor somewhat masked by gear derailleur and disc brake, and the battery integrated into the frame.
There is a US$300 discount for pre-ordering, giving a pre-order price of US$1588. Check out espinbikes.com for more detail.
Canada's OHM Set for US Expansion?
The Vancouver Sun reports that Canadian firm OHM are set to expand operations in the US next year. Currently OHM sales — nearly all online orders — are split evenly between Canada and the United States. OHM plan to open a U.S.-based shipping point next year to reduce red tape and shipping costs.
Holiday Discounts from e-Joe
e-JOE Bike has announced exclusive holiday discounts at participating dealers up to $200 off MSRP for its three popular 2016 and 2017 models — the KODA City e-bike, the Gadis commuter and the EPIK SE folding e-bike.
Infrastructure
New U.S. Bicycle Route 41 Adds 315 Miles to National System
Minnesota has just made launched the North Star bicycle route, from St. Paul to Grand Portage State Park. The 315-mile long route connects to the state's first designated U.S. Bicycle Route, USBR 45, the Mississippi River Trail.
Another High Quality Cycle Lane for the UK
The UK's trade website Bikebiz reports that yet another UK city has opened what looks to be a highly impressive protected bike lane through the middle of a major urban area. This time it's the north-eatern city of Newcastle.
Check out the video:
E-bike Biz
90% of UK surveyed shops sell or want to sell e-bikes
Bikebiz's digital magazine also reports that their sample bike retailer survey has shown that only 9% of those surveyed did not want to sell e-bikes. A staggering 64% already sell them and a further 27% want to.
Cycleurope Starts Swedish e-bike Manufacturing
Bike Europe reports that Cycleurope Group, based in Sweden but with a global presence, has started e-bike production in Sweden. "It is more profitable to start e-bike production locally instead of importing them from Taiwan," said Tony Grimaldi, President and CEO of Cycleurope this week. The article said production is set yo grow from 20,000 units to 30,000 units
The company started life by buying out Monark of Sweden and has since acquired many brands including well-known names like Bianchi and Gitane, both of which feature e-bike models in their ranges.
Get Inspired
eBike the Solution When Losing Vision & Drivers License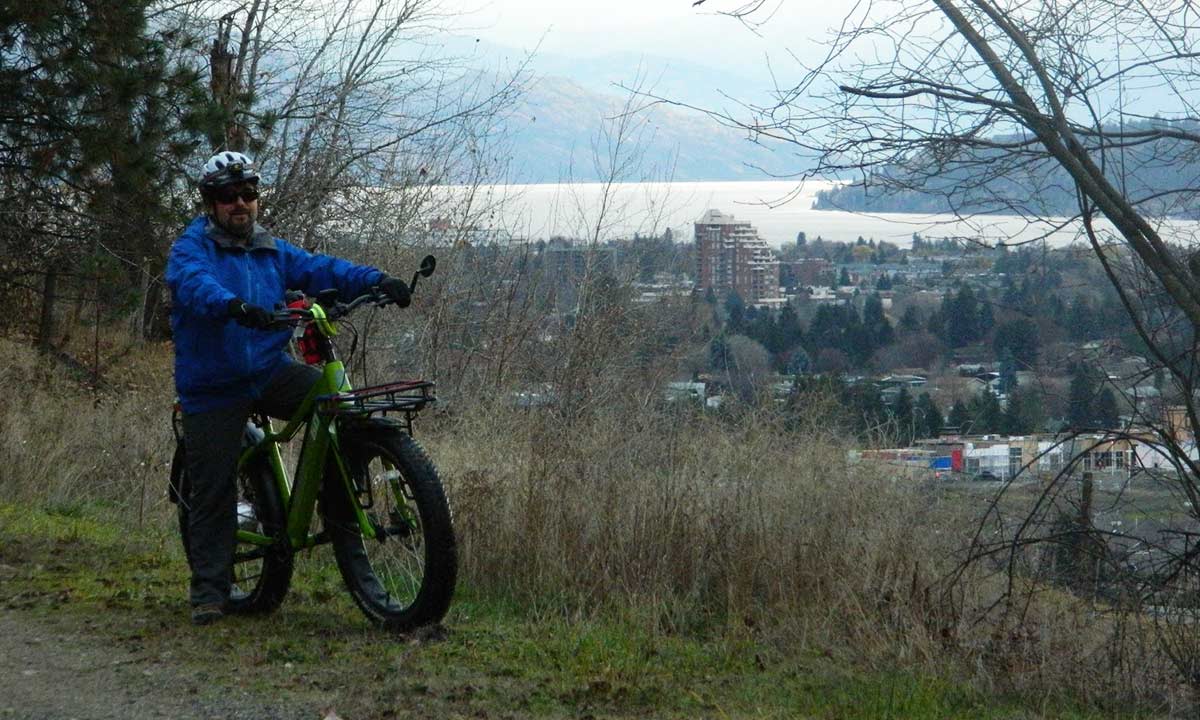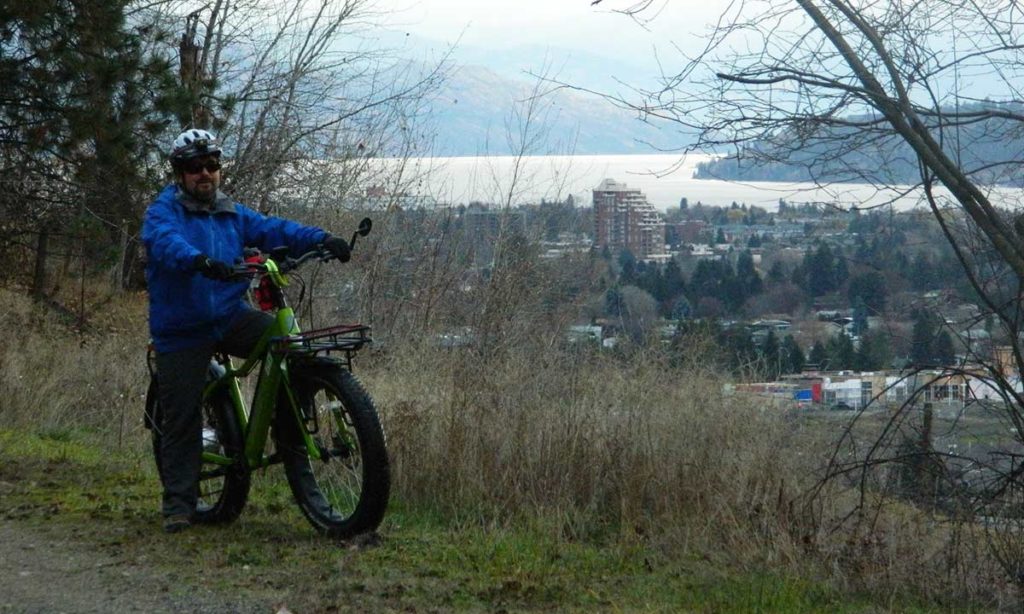 Stephen Hawtree was told by his doctor that deep cataracts would require him to give up his driver's license. He and his wife began searching for transportation solutions and found electric fat tire bikes. "My daily commute has changed from a necessary evil to a pleasurable adventure!" Checkout this inspiring story from Surface 604.
Bio-Hybrid First Look
EBR has detailed the intriguing Bio-Hybrid e-velomobile from Germany in the past but if you want a much closer look from a third party review see the new video from the Fullycharged Show.
Police Get On e-Bikes
Bike mounted Marin County police might just be able to make a few more arrests thanks to the addition of four e-bikes to their vehicle fleet, reports the Marin Independent Journal. The new model is the Specialized Turbo X. It carries a retail price of $4,000, but Mike's Bikes in San Rafael offered them to the police department at a discounted price of about $3,000 each and the bill for the bikes came to $13,709.83, including five-year maintenance plans says MIJ.
Doubling of London's Cycle Spend
London is already gaining a reputation as a place where cycling is growing in leaps and bounds and the latest announcement from mayor Sadiq Kahn looks encouraging, with a doubling of funds earmarked for cycling over the next five years.
There are critical voices; previous cycling commissioner Andrew Gilligan said 'City Hall will be judged, as we were, by what it does, not what it says. Seven months into the new mayoralty, it is time to stop issuing press releases and get started.'
Undoubedly though London is a cycling and e-cycling hotspot, certainly by UK standards.
Stay tuned for more e-bike news and thanks for reading!
-Richard
P.S. Don't forget to join the Electric Bike Report community for updates from the electric bike world, plus ebike riding and maintenance tips!
Reader Interactions