Post-virus Bike-friendly Cities and The Green Recovery [VIDEOS]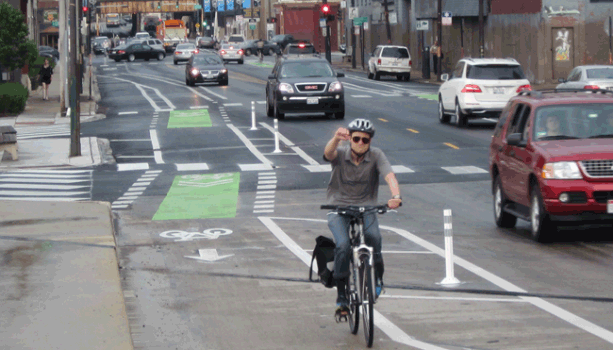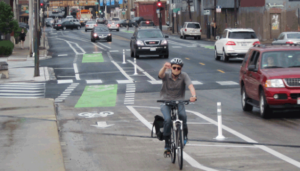 With many cities around the world now looking to promote biking and e-biking, EBR looks at some of the best examples that could lead to more long term cycle and e-bike commuting.
Canada
CBC reports 'Municipal governments across Canada are moving quickly to create clearly marked bicycle lanes in order for people to travel safely through cities. A number of city councils have approved road closures, either partial or complete, as an emergency alternative to public transit.
Vancouver, Victoria, Calgary, Winnipeg, Ottawa, Kitchener, Toronto, Montreal and Moncton have all recently extended their cycling networks, according to Vélo Canada Bikes, a national advocacy group for cycling.'
As with many of these 'virus bike lanes' there are hopes they will become permanent and lead to more two wheeled trips in the long term. The article quotes urban planner Jennifer Keesmaat:
"It's simply impossible for everybody who takes transit to get into a car, and secondly, it's not affordable," she said. "A lot of people don't have access to a car or can't afford one."
Keesmaat hopes the new bike lanes will become permanent.
She is the chief architect of the 2020 Declaration for Resilience in Canadian Cities, a statement signed by 100 well-known Canadians calling on political leaders to use the COVID-19 pandemic as an opportunity to "kickstart" a move toward more accessible, equitable, and sustainable cities.
The list of 20 priorities on the declaration includes protected bike lanes.
Chicago
The Chicago Tribune reports that 'The city of Chicago is taking advantage of the challenges posed by the coronavirus pandemic to test using streets in new ways, by opening them up to dining, pedestrians and cycling.'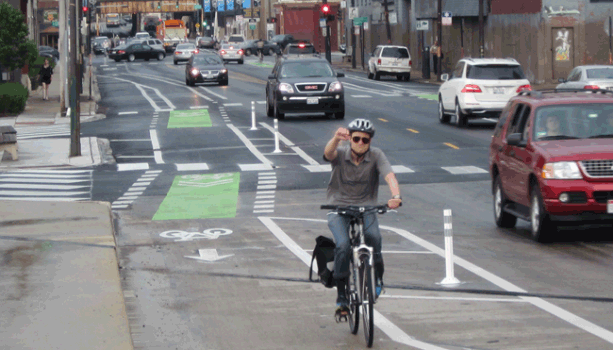 They add:
'Besides creating open streets that limit vehicle traffic and closing sections of some streets for weekend dining, the Transportation Department will add up to 30 miles of new bikeways this year, compared with 13 miles last year. The city also plans to paint fresh striping on 40 miles of bikeways, compared with the 10 miles that were restriped last year.
Denver
Denver has a very proactive plan of Open Streets and Shared Streets as explained in this video from Bikeshop Girl:
A recent bicycle and pedestrian count was done by Denver Streets Partnership demonstrates that some Shared Streets have seen pedestrian and bicycle use of the street jump from 351 per day to 1,700 during COVID-19.
New York City
As New York City was an epicentre for the virus outbreak in the US the amount of motor traffic declined rapidly in the earlier stages of the virus and bike use increased massively, as witnessed in the Streetfilms video:
Could the surge in bike use be translated into a vast permanent bike lane infrastructure for the city?
On Wednesday 17th June New York's Regional Planning Association made public its vision for a 425-mile network of protected bike lanes that would connect people across New York City's five boroughs.
The Regional Plan Association says the network could be built over the next five years by incorporating the current patchwork of more than 100 miles of protected lanes, which are concentrated in Manhattan.
The entire network would be physically separated from traffic using measures such as elevated curbs, parking lanes and bollards.
The map on the left below shows New York's current bike lane infrastructure and the one on the right the NPA's ambitious planned network of fully protected infrastructure: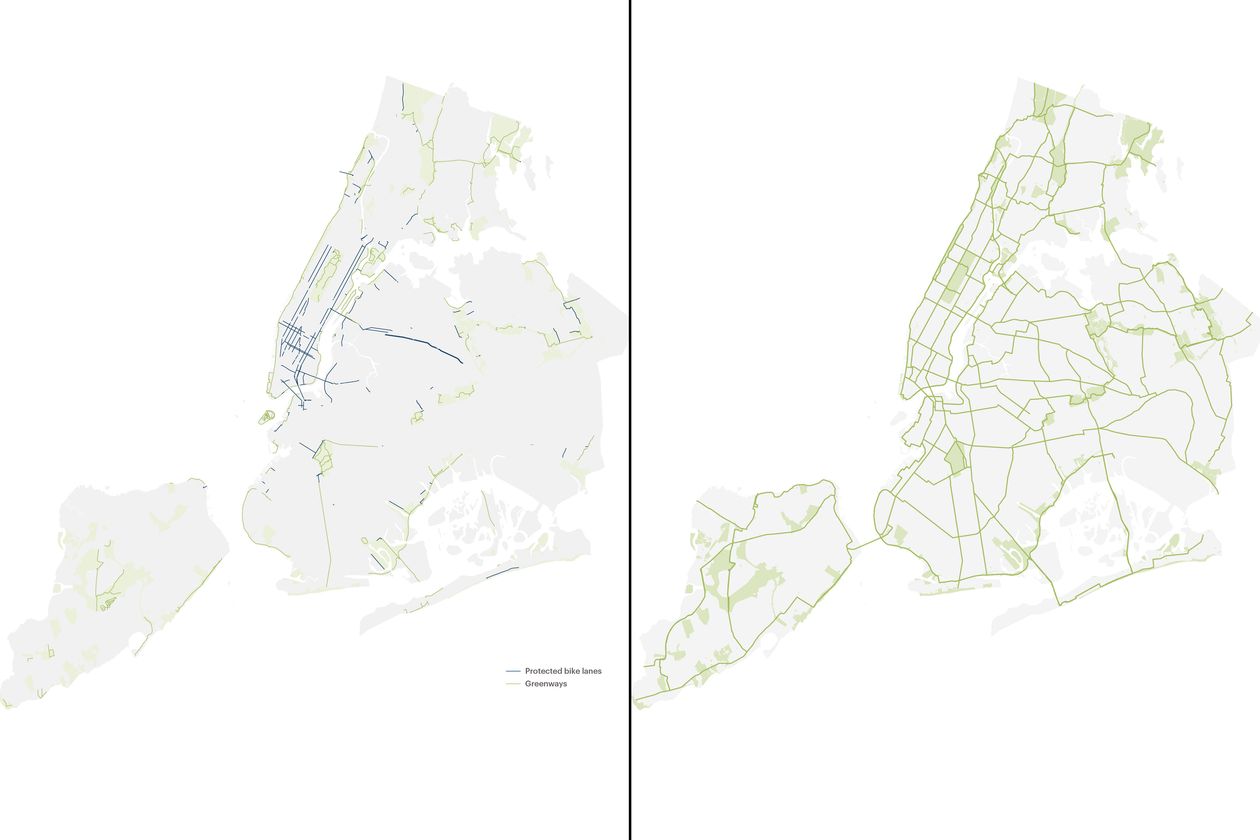 The European Union has made some headline grabbing statements about how important cycling will be for post virus recovery.
Here we take a look at some of the cities and countries at the forefront of measures to encourage cycle travel.
Brussels
Perhaps a surprise entry on the list, given the Belgian capital is known as having one of the worst motor congestion problems in the EU.
In the past cycling in Brussels meant tackling 'loose cobblestones and half-finished bike lanes' according to this City Metric article.
However change is afoot. Emergency virus measures have meant 16 Brussels municipalities have installed low-traffic zones, parking has been removed to create more road space and speed limits on busy avenues have been lowered 18 mph. Cars have been banned from several parks and forests.
There are also proposals for 25 miles of new cycleway, the municipality of Uccle has offered a €250 e-bike subsidy, Brussels mobility has launched a poster campaign #Blijven Trappen ("keep pedaling") and temporarily offered free use of shared bicycles from the city's Villo scheme, resulting in 7,000 new subscribers.
Ireland
'A former bike shop owner has secured a substantial financial settlement for active travel in the Republic of Ireland. For the next five years, cycling and walking schemes—including protected cycling networks and expanded sidewalks—will receive €360 million annually.
The settlement was secured by Eamon Ryan, leader of Ireland's Green Party, a former co-owner of the Belfield Bike Shop in Dublin, and founding chairman of the city's cycling advocacy campaign.'
The agreement is subject to a forthcoming vote in the Irish parliament – the Irish Greens have been able to exploit the fact they sit in the middle of a power stalemate between Fianna Fail and Fine Gael, Irish parties who have been at odds since they emerged from Ireland's civil war of the 1920s.
Lahti, Finland
This Smartcitiesworld article reports on an intriguing scheme for encouraging sustainable transport, including biking and e-biking, by offering a financial incentives that grow with the number of sustainable miles travelled:
'The city of Lahti in Finland has introduced a personal carbon trading (PCT) scheme to help reduce emissions from transport by encouraging a shift to sustainable mobility. Lahti's strategic target is to reduce C02 emissions by 70 per cent from 1990 levels by 2030.
Every city resident can download the free mobile app that automatically tracks the means of transport used. If the app tracks that the user has replaced driving a car with walking or biking, the app automatically awards the user virtual coins. These coins can be used to purchase tickets for local buses or swimming pools, bags and pedestrian reflectors, for instance.'
London
Of all the places in this list London has perhaps the most ambitious plans with the virus precipitating the introduction of its Streetscape plan to focus on three key areas:
The rapid construction of a strategic cycling network, using temporary materials, including new routes aimed at reducing crowding on Underground and train lines, and on busy bus corridors.
A complete transformation of local town centres to enable local journeys to be safely walked and cycled where possible. Wider footways on high streets will facilitate a local economic recovery, with people having space to queue for shops as well as enough space for others to safely walk past while socially distancing.
Reducing traffic on residential streets, creating low-traffic neighbourhoods right across London to enable more people to walk and cycle as part of their daily routine, as has happened during lockdown.
Already construction of some impressive schemes like this cycle lane along the iconic Park Lane are virtually complete.
In areas outside the centre some outer boroughs are also introducing new measures like Richmond Council introducing this pop-up cycle lane near the world famous Kew Gardens. This video details the lane and implies it will become permanent:
Hear from @AlexanderEhmann as he talks about the new 24-hour mandatory northbound cycle lane that has been installed using protective barriers on the Kew Road, outside @kewgardens, as part of the Council's Post-COVID Transport Action Plan https://t.co/cq7kCTJhok pic.twitter.com/akK5hjXcMe

— Richmond Council (@LBRUT) June 2, 2020
Paris
'While Paris has long yearned to become the world's No. 1 biking capital, it wasn't until the coronavirus prompted widespread fears of transmission on public transport that Parisians really started to pedal' this France 24 article tells us.
The French capital has added more than 30 miles of 'coronapistes' or corona cycle lanes with the intention of making as many as possible permanent. There is also a national subsidy of €50 per person available for bike repairs and a €500 subsidy for e-bikes.
The article quotes the case of Parisian Mina:
'Mina, who is still waiting for her bike to be delivered after placing her order a week ago, says the fact that the government is offering up to €500 in subsidies to those who buy an electric bike weighed into her decision. She also noted that Paris is planning to keep the vast majority of its "corona bike lanes" open for the foreseeable future.'
Could Bikes and E-bikes Play a Role in a Bigger Green Economic Recovery?
The European Commission made climate programmes a centrepiece of its €1.85tn recovery effort, although the plan is still being debated by member states.
Looking at the bigger picture it seems e-bikes most definitely have a place in a new green economy. This interesting Financial Times article recognises the hug success that e-bikes have become:
'For all the hype around electric cars, so far the more significant innovation is the ebike. About 3.3 million pedal-assisted ebikes were sold in the EU last year, or nearly six times the number of plug-in electric car sales, estimates the Confederation of the European Bicycle Industry (Conebi). And ebikes managed this without company-car subsidies and other tax breaks that prop up carmakers.'
However, as the author points out a new e-bike only costs a small percentage of a new car and well made one will last as long or a lot longer. The car industry generates a vast amount more money for government and employs many more people simply because using two tonnes of mass and a fuel hungry motor of up to 350hp to move an 80kg occupant is so ridiculously inefficient and so needs such relatively labour intensive industry along with its associated services to support it.
The author concludes 'We now face a choice between GDP and the livability of the planet — and no politician ever got elected promising less GDP.'
There is a counter argument; as the very same newspaper reports, 'Several governments and investor groups have thrown their weight behind a set of climate-friendly recovery measures from the International Energy Agency that would harness massive coronavirus stimulus packages to help lead a green transition.'
'The transformation outlined in the IEA report, which spans 2021-23, would create 9m jobs a year and help cut annual greenhouse gas emissions by 4.5bn tonnes once the measures are implemented' reports FT, stressing how large scale solar and wind projects are a core part of the plan.
But as EBR has reported on several times there is a whole world of technology that lies between electric cars and electric bikes in the form of light electric vehicles whose revenue and job creating ability are as yet virtually wholly untested.
Stay tuned for more e-bike news and reviews and thanks for reading!
-Rich
P.S. Don't forget to join the Electric Bike Report community for updates from the electric bike world, plus ebike riding and maintenance tips!
Reader Interactions