eBike News: Fast Juiced Cross Current S2, Lightweight Budnitz, eCargo During Construction, National Park Riding, 22 States w/ eBike Law, & More! [VIDEOS]
In this week's eBike news roundup:
New 52V Juiced Cross Current S2
Lightweight Budnitz w/ Fazua System
New Brose Complete eBike System
Carrera eMTB for Teens
eCargo Bikes Help During Construction
Faster Gecko Puncture Proof Tires
Pro Cycling Coach Endorses eBikes
eBikes in National Parks?
Propel Goes West Coast
Now 22 States with eBike Law
And Much More!
New eBikes & eBike Systems
New Juiced Bikes Cross Current S2
Juiced Bikes just launched their new and improved Cross Current S2 that provides pedal assist up to 28 mph for zipping around the city.
It is equipped with a 52V 13ah lithium battery and a 750 watt (1,300 watt peak) Bafang geared rear hub motor with a stated range of 50-75 miles.
Other component highlights are a Suntour suspension fork, Shimano Altus 9 speed drivetrain, Tektro hydraulic disc brakes, and more.
The new CrossCurrent S2, priced at just $1,799 with an introductory promotion of a free rear rack and fenders kit ($169 value), available only while supplies last.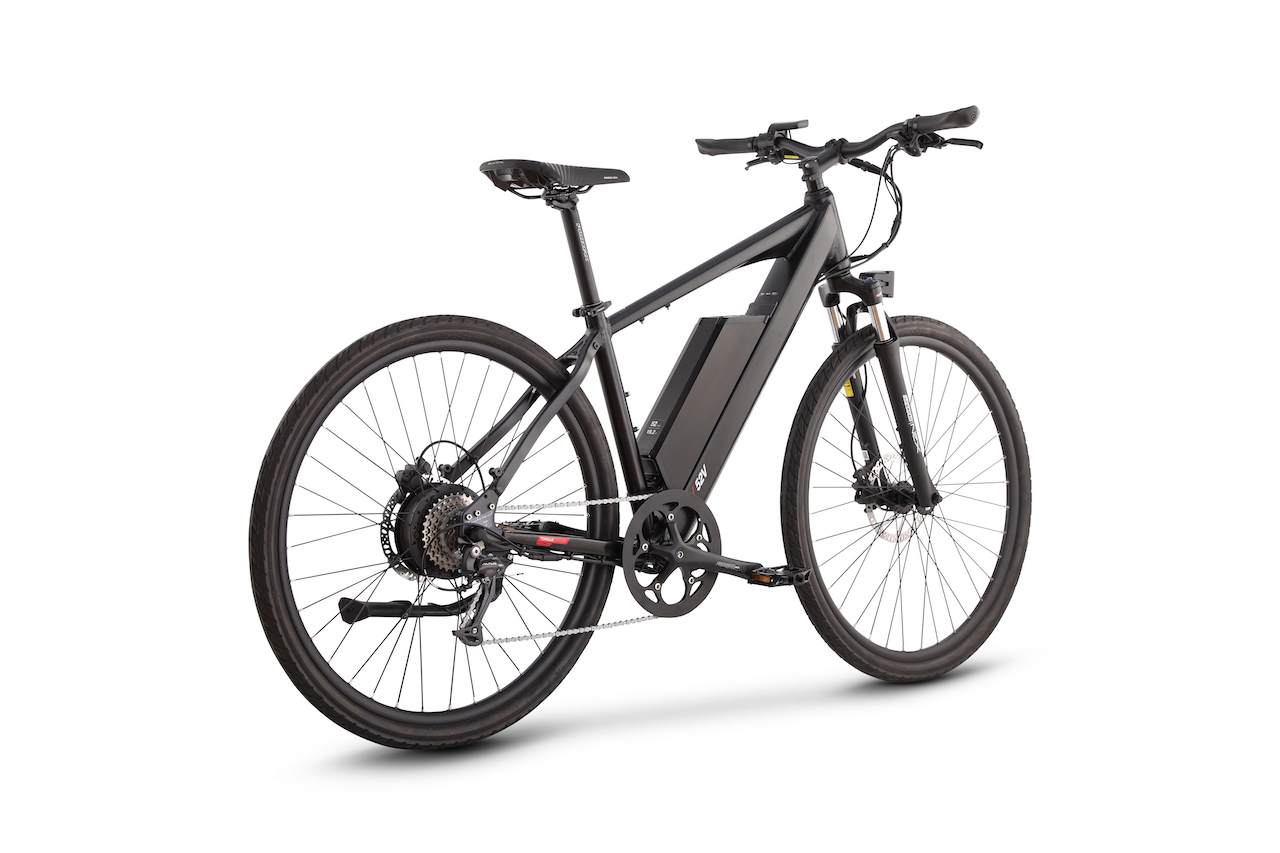 "Let's face it, when it comes to e-bike performance, consumers are interested in speed, power, and range," said Tora Harris, CEO and Founder of Juiced Bikes, when revealing details of the generously engineered CrossCurrent S2, "and, a 52-volt battery is essential for fueling a truly elevated e-bike experience."
Harris continued, "As much as we're focused on providing unparalleled performance features, like a larger battery and proprietary pedal assist technologies, it's equally important that our bikes are accessible and affordable."
Here is a link with more info on the new Juiced Bikes Cross Current S2.
New Budnitz Model E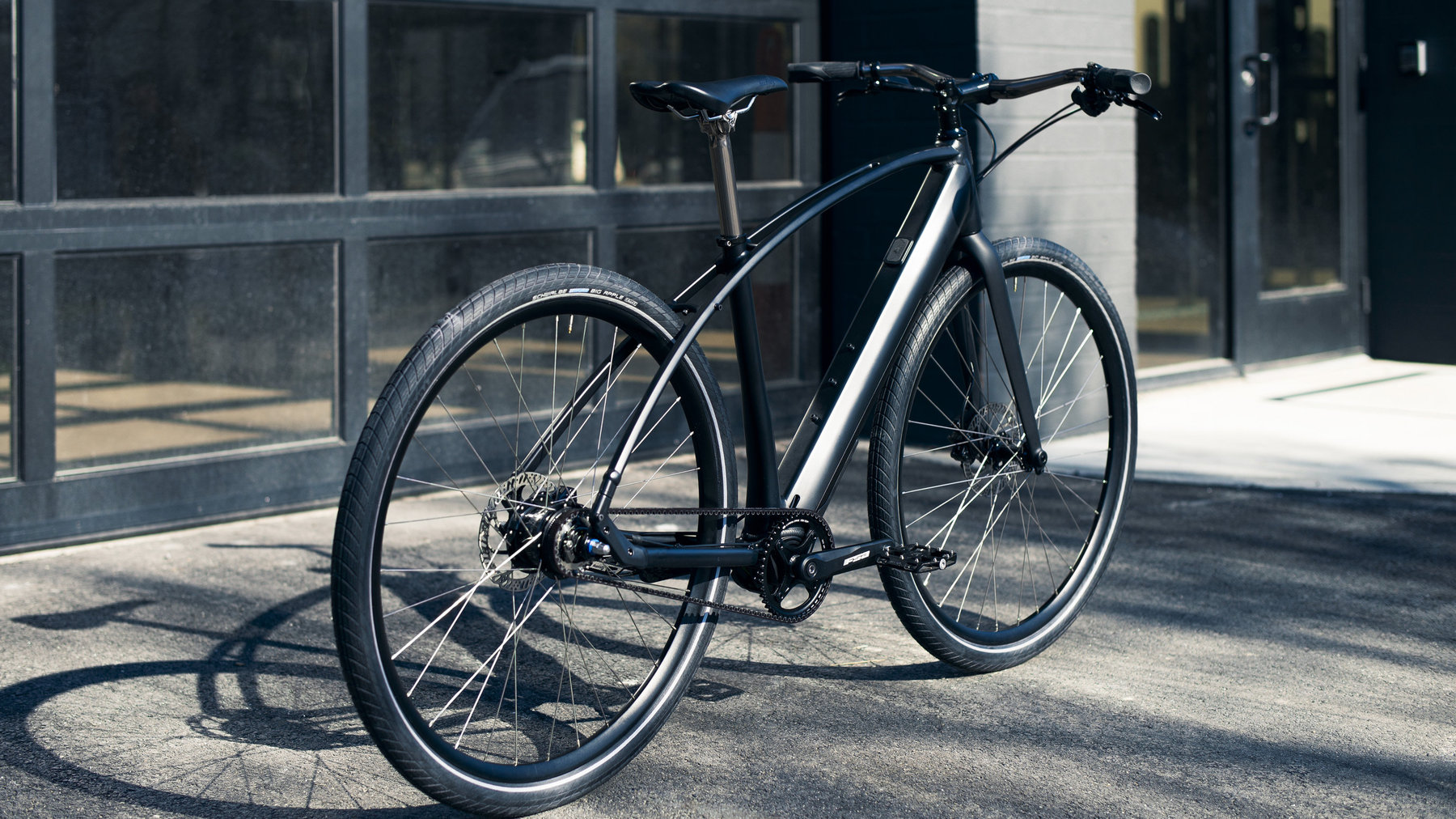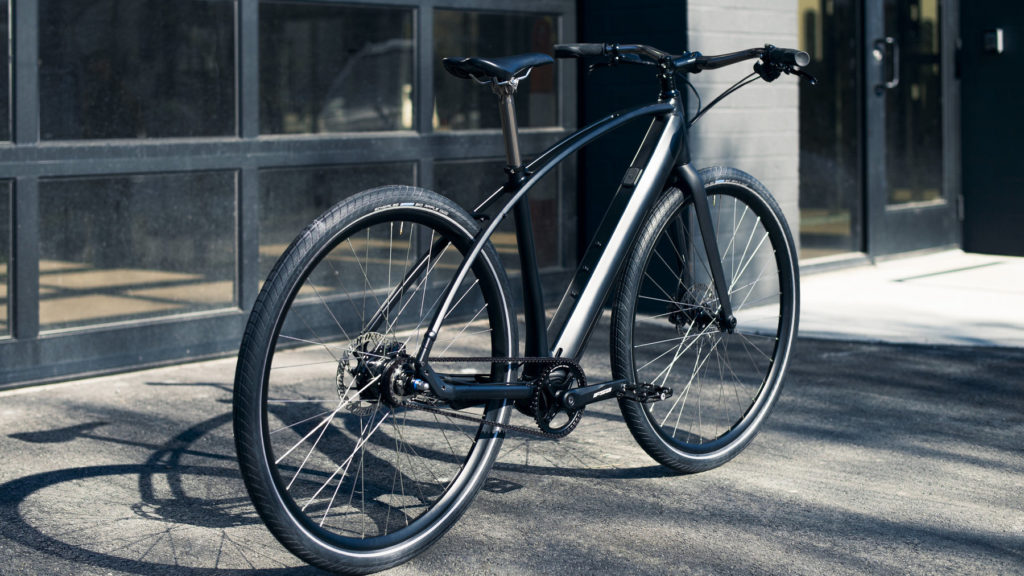 Budnitz is a crafter of beautiful bicycles and their new Model E is another example of their attention to detail. Budnitz states that the new Model E is 38 pounds.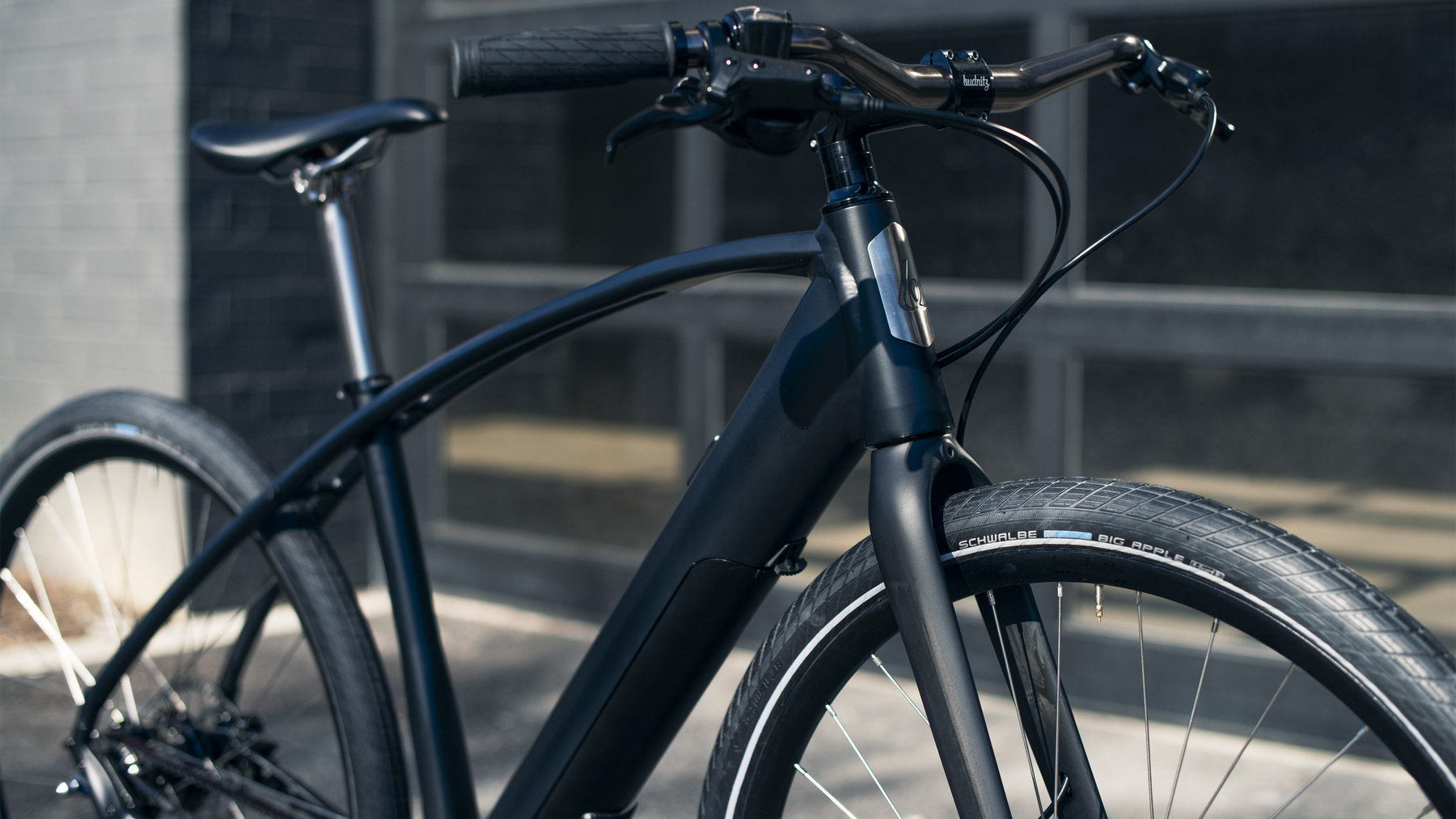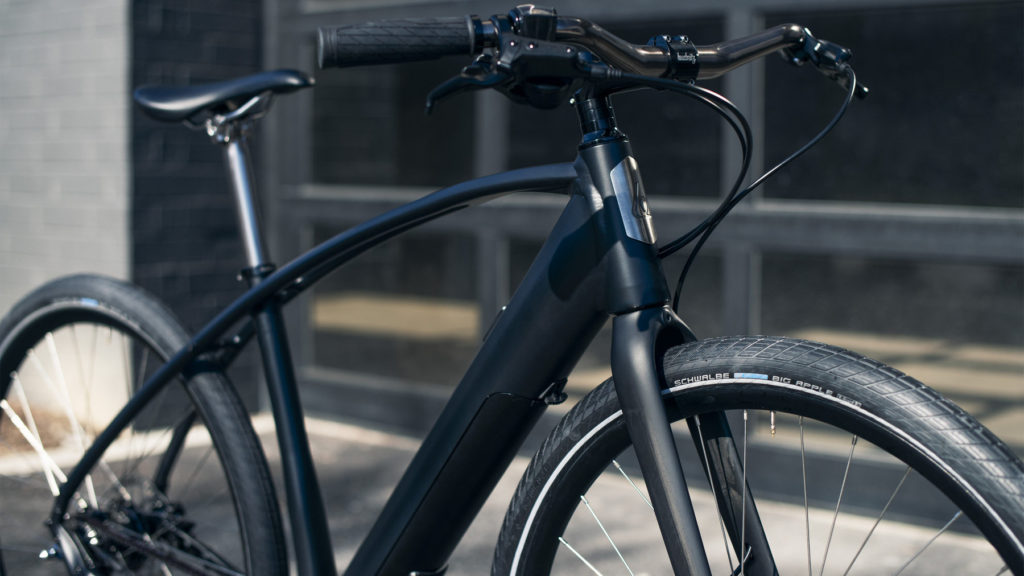 The Model E uses the Fazua mid drive system that can quickly remove the motor and battery to create a conventional bicycle. It's a 400 watt motor, 252 Wh battery, and provides assist up to 20 mph. With the Fazua motor and battery removed the Model E converts to a conventional bike weighing around 31 pounds.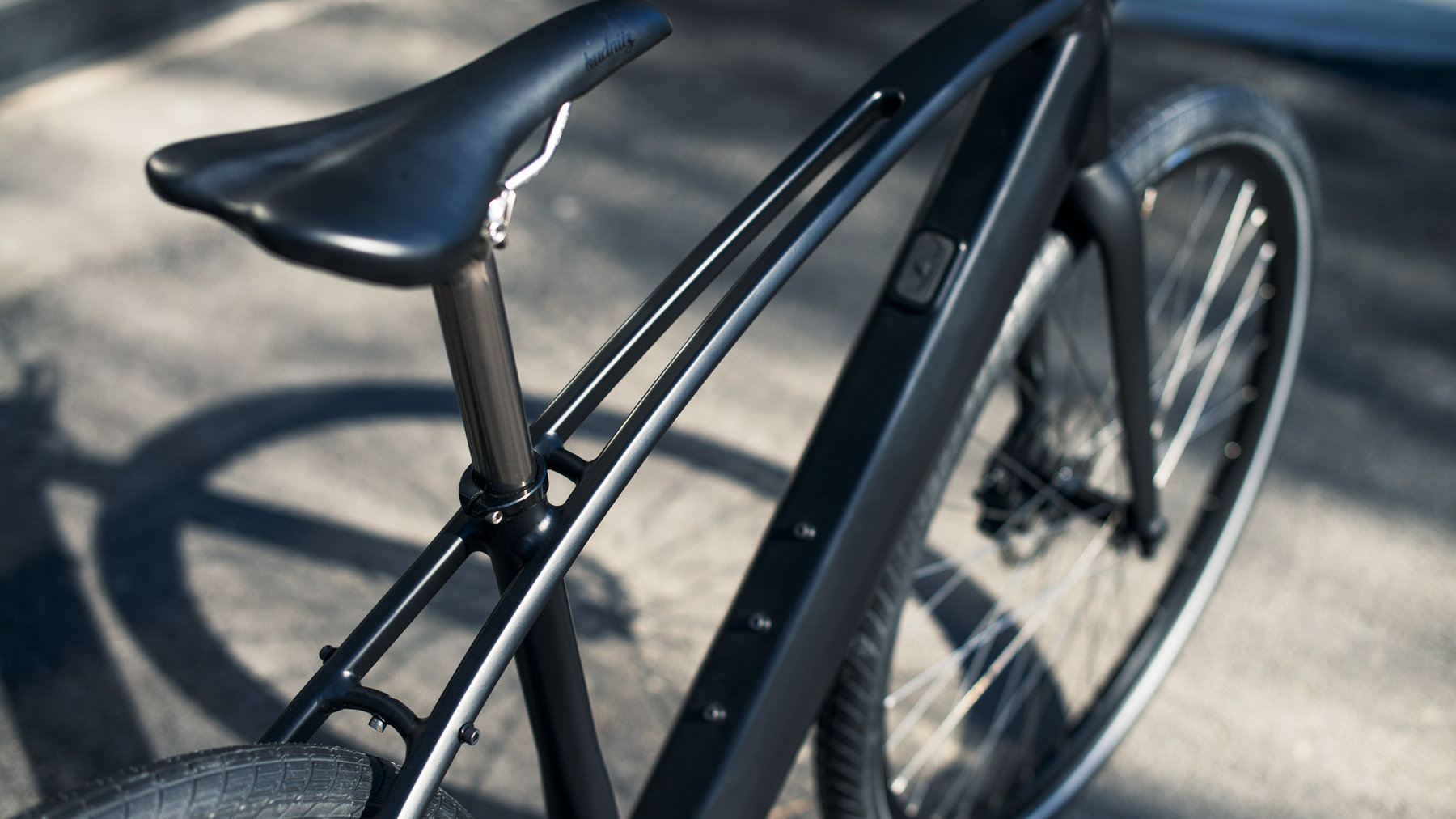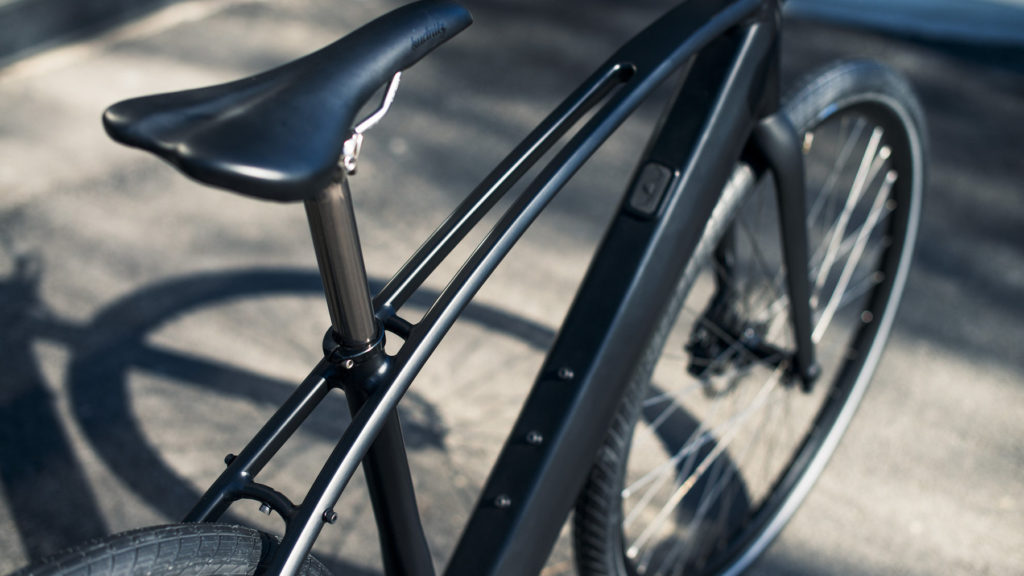 The hydroformed aluminum frame has a split top tube that curves into the seat stays for a very clean look. A carbon fiber fork is used for lighter weight and absorption capabilities.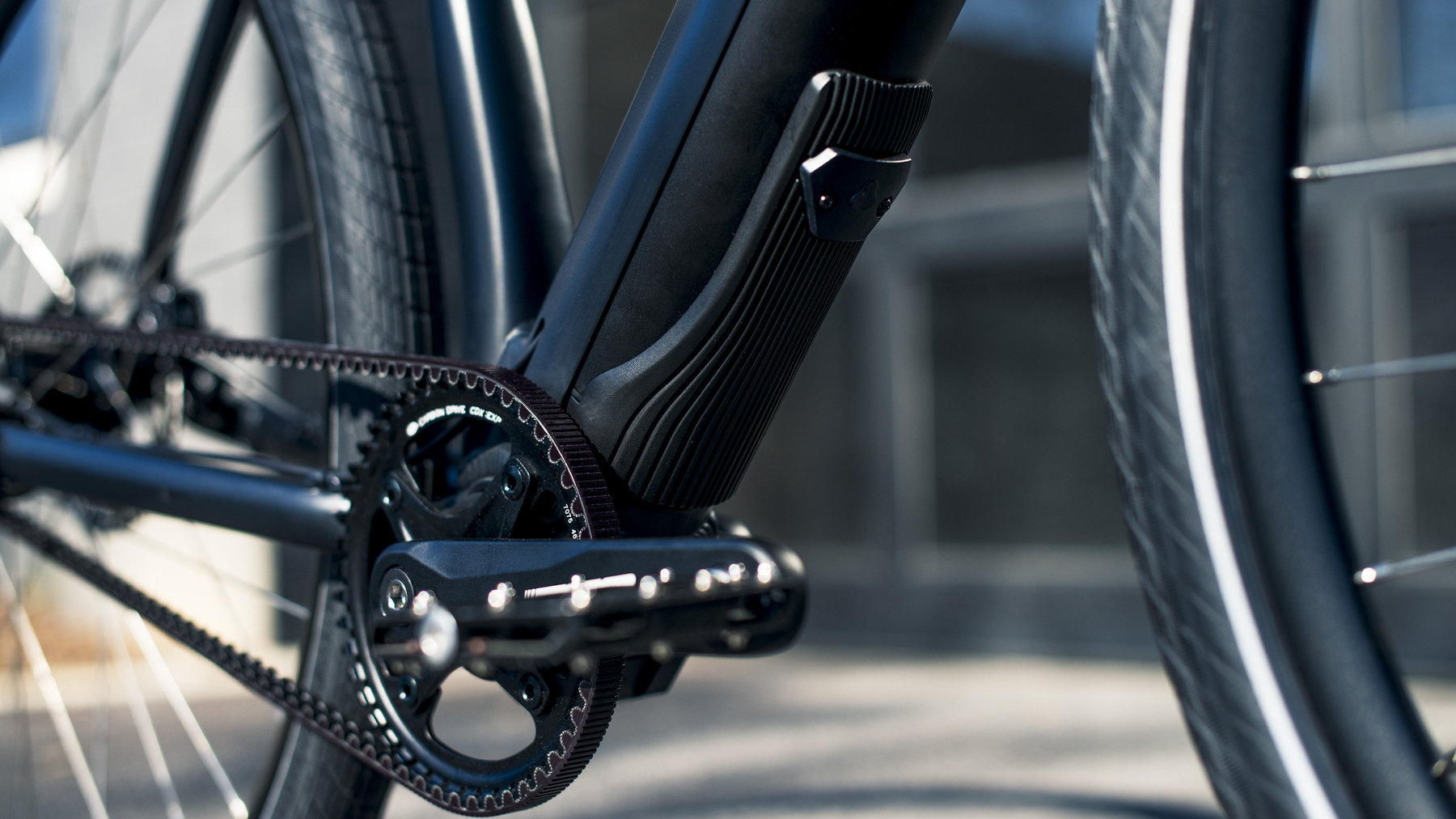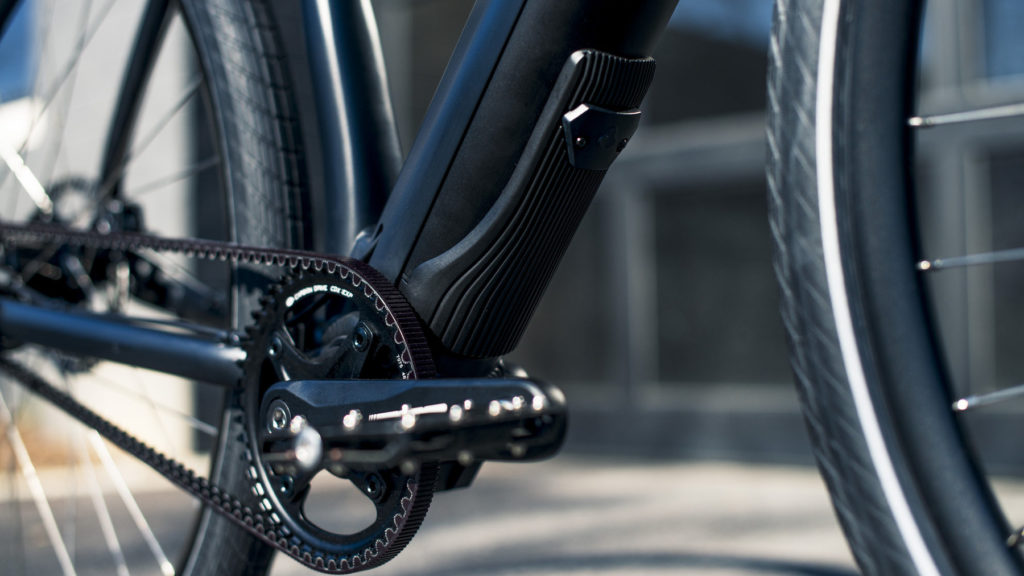 A Gates Carbon Drive belt routes the power back to a Shimano Alfine 8 speed internally geared rear hub.
Pricing for the Model is $3,650 and they are offering $500 off if ordering before June 28.
Here is a link to more info on the Budnitz Model E.
New Complete Brose Drive System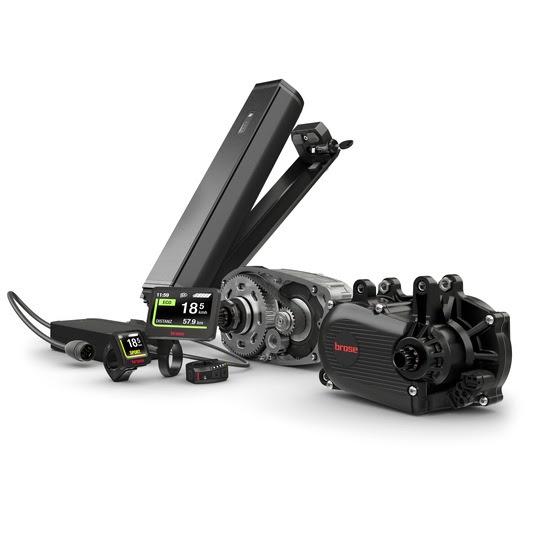 Brose just announced their new completely integrated drive system for bicycle companies.
There is the new high capacity 630 Wh lithium battery (36V 17ah) that mounts in the frame with a stated weight of 8.4 pounds.
Brose has just launched 3 new display options that are compatible with all e-bikes featuring a Brose Drive.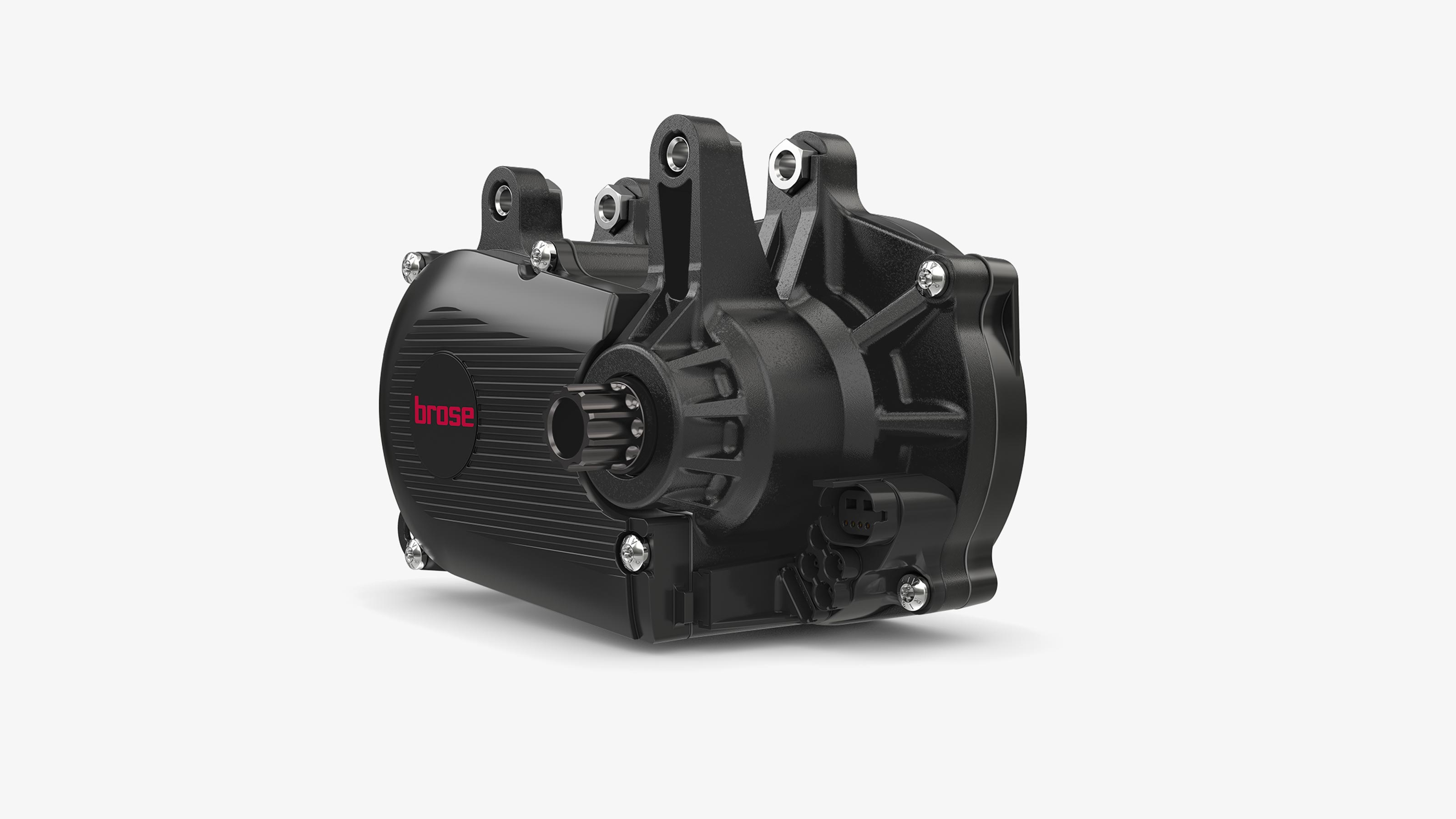 There are motor options in aluminum or magnesium. The aluminum drives which can be installed in any position around the bottom bracket and the magnesium versions which are one pound lighter and 15 percent smaller.
From Brose "New to the market are the magnesium models Brose Drive C Mag und Brose Drive T Mag. To further optimize its performance on longer routes, the range of the Brose Drive T has been significantly increased.
The product family features drives with very different characteristics. They are geared towards the diverse areas of e-bike use – from the gentle, well-balanced Drive C for the city, to the efficient Drive T which is designed for touring, through to the Drive TF which provides support up to speeds of 28 mph, right up to the Drive S, the product family's very own elite athlete, designed for sporting use, for example in top-class EMTBs."
"The Brose Drive System provides the optimum combination of drive, control unit and battery", explains Dr.-Ing. Thomas Leicht, Senior Vice President Brose Antriebstechnik. "By coordinating these components, the overall Brose riding experience is optimized. At the same time, the customer can now also benefit from a range of services from a single source." Brose's flexible e-bike kit remains in place: Manufacturers can still select from various Brose components but can now also opt for the complete drive system, too.
Here is a link with more information about Brose systems.
UK's Halford's Launch E-mtb For Young Teens
It's pretty unusual to see an e-bike aimed at younger riders, let alone an e-mtb aimed at them.
So hats off to the UK's Halfords who have now announced the launch of their own-brand Carrera Venegance E Junior, suitable for ages 14+ only.
Vital features are: Suntour HESC rear hub motor, 317Wh battery, 8-speed Shimano Altus gearing, Tektro M300 Mechancial Disc Brakes,, Suntour XCE front suspension, and 26″ Kenda K1027 tires.
Also on electricbikereport.com
Electric Bike Company Model C

The beach cruiser style Electric Bike Company Model C just arrived for testing & review and there is a lot to cover!
On the surface this may look like a traditional eBike but there are some unique characteristics that really set Electric Bike Company (EBC) eBikes apart from the pack.
EBC designs and assembles their eBikes in California and with that they offer a bunch of customization and accessory options.
Check out part 1 of the Electric Bike Company Model C review with many detailed pictures and specs.
Getting More People Riding With Electric Bike Incentives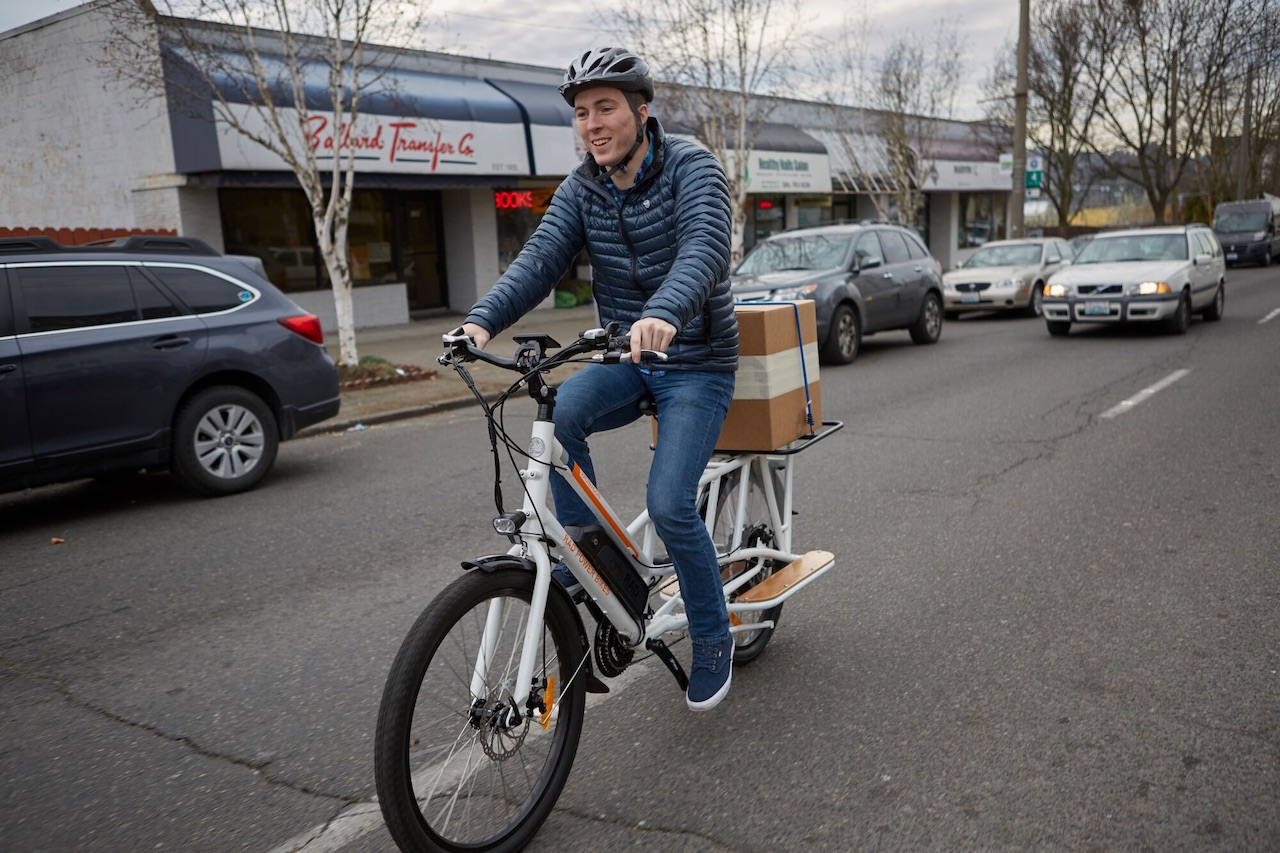 For all the publicity about their advantages, e-bikes are very much in the hands of early adopters in the US today.
Michael McQueen and John MacArthur of the Transportation Research and Education Center at Portland State University saw that e-bike buying incentive programs have the ability to get people to buy and use them.
They published a white paper in May this year highlighting and assessing the different incentive programs used both in the US and around the world.
Get Inspired
Edinburgh – Free Use of E-cargo Bikes for the Tram-disrupted
Edinburgh is well-known for making efforts to encourage cycling and they have announced this novel scheme, as reported by the BBC.
The article outlines the details: 'Free electric cargo bikes are to be offered to Leith Walk businesses to help traders with goods weave in and out of traffic during Edinburgh tram construction work. It is one of a range of measures to help firms through the tram extension work, which start in December. At least four of the electric bikes will be available, while more could be brought in to meet demand. The bikes can be used for deliveries to customers and to move goods around.'
Analog Supports Digital – Ego Adjustment Needed
It's great to see a professional cycling coach support e-bikes, even though they don't personally use them…..yet.
It's fair to say non-e-bike riders have generated some negative comments about e-bikes.
This blog from pro cycling coach Chris Carmichael must be music to e-bikers' ears……
Thanks to BRAIN for the spot – as Carmichael told BRAIN '"I understand it," Carmichael told BRAIN. "When someone passes you, especially if you're a hardcore cyclist, you know they couldn't do that if they were on a regular bike. It's an ego adjustment. If anyone wants to put it as anything else, it's not. It's just an ego adjustment."
Specialized has a good sense of humor on this subject with their video of World Champion Peter Sagan racing Grandma Joan:
Are E-bikes Heading for National Parks?
At first glance these two articles in AP and National Parks Traveler don't seem all that positive about the prospects of more National Parks opening up trails and carriage roads and the like to e-bikes – despite the fact regular bikes are often allowed on such ways.
However, change might just be in the air as the AP article says 'A National Park Service spokeswoman said the new rules are expected in coming weeks.' EBR will keep you up to date.
Propel Bikes Goes West Coast
Propel Bikes are one of the biggest and best known e-bike retailers in the business. Until recently they were east coast based, but now Bicycle Industry and Retailer News has revealed that they have opened a west coast outlet too.
BRAIN says 'Propel's Long Beach location began operating several months ago and held a grand opening recently. Owner Chris Nolte opened the first store in 2011 as Long Island Electric Bikes. The operation is now one of the largest e-bike retailers in the U.S.
"The decision to expand into California was a very natural move," said Nolte. "Its active outdoor culture, combined with its alternative transportation leadership were big factors. Long Beach in particular has separated itself as a model city for cycling and mobility infrastructure. It is amazing what is happening here. Add the weather, the close proximity of the port, the fact that so much of the e-bike business and industry is here … it became clear in a hurry that Long Beach is where we needed to be."'
New Cycling Products and Accessories
New Gecko Hybrid Tyres
We have trialed UK company Gecko's puncture-free cellular rubber tyres before and been impressed.
To further improve rolling resistance Gecko have designed the new Gecko Hybrid in 26" x 1.75" size – in Gecko's own words the Hybrids have been designed ''for far more comfort and general ride quality, meaning this hybrid technology will produce tyres of a free rolling nature and reduced rolling resistance'.
Unlike earlier Gecko tyres these new Hybrid versions feature an air space within the centre of the tyres designed to take a traditional inner tube.
With prototypes currently being tested, Gecko say 'Early results are very encouraging and are already delivering significantly more comfort and general ride quality and with a 'run flat' benefit (in the unlikely event of a flat that is – the tyres are designed to be virtually puncture proof). They will also still be fully sustainable/100% recyclable.'
They add Gecko Pneumatic Hybrid will have a much-reduced rolling resistance (expected of a Premium bicycle tyre).
Gecko say other benefits over their existing non-pneumatic versions include:
• Lighter than the standard Gecko but with much, much more puncture resistance than most pneumatic tyres – virtually puncture proof.
• No pinch punctures
• Targets markets include all bicycle tyre applications including mountain bikes.
• Their usable service life is likely to be significantly longer than a standard pneumatic tyre and, as with the solid cellular Gecko tyre, they are able to operate in wide service temperature extremes without significant change in properties i.e. from -20C to +50C.
• Excellent opportunities to embed sensors for smart tyre technology
Serial production of the new Hybrid model should start in September with a focus on OE's and bike share first with general availability through the dealer network to be confirmed later.
E-Micromobility
Is Micromobility Really the Future?
This interesting opinion piece in Wired ponders if micromobility really is the future. Clearly, if the article is right in its assumptions, e-kickscooters aren't just a fun and energy saving way to get around, they are the first baby step to a vast new economy:
'Within a few years, micromobility will form the basis for a vast physical network of data, people, and retail. Lime and Bird hope to design, deploy, and harvest data from this project. They will also develop new vehicles that will have as much in common with today's crude scooters such as the iPhone did with its clamshell predecessors' says the article, adding 'McKinsey estimates that in the US, EU, and China micromobility could be a $300 billion to $500 billion market by 2030. Barclays predicts the market will be worth nearly $900 billion.'
All the hype comes with a warning though: 'But for the US to get a piece of this pie, we need to start rethinking some fundamentals of our car-obsessed society…..American cities will need to dedicate public roads to micromobilty as they have in China, where massive protected bike lanes flank boulevards. Cyclists on 40-pound vehicles should not be forced to ride shoulder to shoulder with cars weighing 4,000 pounds. Asking them to do so is dangerous and impractical.'
In short, get building bike lanes America! Or in the words of the article 'The US can and should lead the way. If we don't, we'll miss out on one of the key growth opportunities of the 21st century economy.,
Scottish E-bike Hire Scheme
This Electrive article reports 'The Scottish charity Forth Environment Link has launched "Scotland's largest electric bike hire scheme" called Forth Bike. The first fleet is based at Forth Valley Royal Hospital and also part of an NHS study. The £500,000 initiative is funded by Transport Scotland, NHS Forth Valley, SESTRAN, Clackmannanshire Council, Stirling Council and Falkirk Council. It includes twelve bike hire charging stations, including one at Forth Valley Royal Hospital.
More so, overtaking city-wide schemes planned for Glasgow and Edinburgh, the 120 e-bike project by charity Forth Environment Link will also be the UK's first cross-regional pedelec hire scheme connecting three Council areas: Stirling, Falkirk and Clackmannanshire. Together they make up most of Forth Valley, a region also known as the heart of Scotland.'
SEAT's E-kickscooter Scheme Rolls Out in Málaga, Southern Spain
SEAT, 'lead brand' in the Volkswagen Group's urban micromobility strategy has a partnership agreement with electric kicksharing start-up UFO. That has lead to the recent announcement that SEAT is expanding its partnership with UFO with an initiative in Málaga to improve the city's urban micromobility, a move that follows on the good results achieved in the first two months after its roll-out in Madrid, which now has more than 13,000 users.
This Carscoops article gives more detail on the scooter itself and why car makers are looking to move away from…well, making cars!
E-bike Biz & Law
Three Class E-bike Model Adopted by More and More States
BRAIN again: '2019 started with 11 states using the model three-class e-bike definitions. As of June 19, 22 states now define e-bikes within the three classes, effectively doubling the total in just six months. These 11 new states are: Georgia, Idaho, Indiana, Maine, Maryland, New Hampshire, New Jersey, Oklahoma, South Dakota, Texas and Wyoming.'
Electric Could be Half of Our Sales within Ten Years Say Brompton
This interesting article in the Guardian based on a visit to Brompton's UK factory tells us 'The folding bicycle maker….is predicting electric bikes could make up at least half its business within the next 10 years, as it broadens the appeal of cycling beyond the traditional market of lycra-clad males.'
It reveals that the company has already sold 2,500 Brompton Electrics and that it makes around 50,000 of it's iconic folding bikes at its London plant each year.
They aim to sell 6,000 of the electric version this year – the bike is already on sale in Belgium, the Netherlands, Spain and France, as well as the UK with rollouts in the US and Germany coming soon.
Peter Yuskauskas from Brompton gives us a closer look at the new Brompton electric folding bike:
Italy's E-bike Sales Forge Ahead
Bike Europe reports on the success of the Italian e-bike market: 'In 2018 the e-bike market volume expanded by 16.8 percent to 173,000 units. Some 1,595,000 bicycles and e-bikes were sold in 2018, a decline of 5.5 percent compared with 2017. The overall decrease in market volume only concerns the sale of regular bicycles which reported a minus of 7.6 percent.'
My week on e-bikes: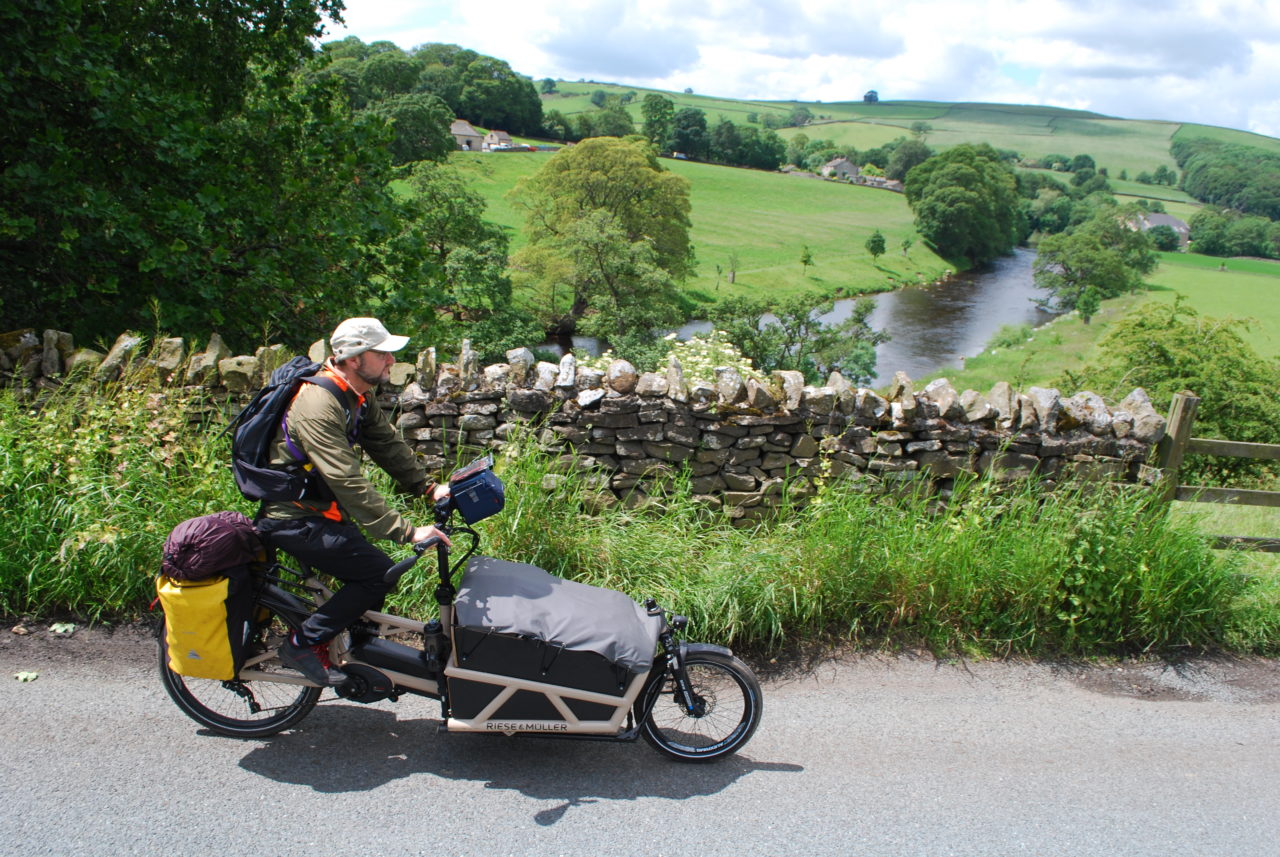 I've been enjoying the apparent start of the UK's summer weather by taking Riese and Muller's Load 60 cycle camping. Full report to follow soon.
Stay tuned for more e-bike news and reviews and thanks for reading!
-Richard
P.S. Don't forget to join the Electric Bike Report community for updates from the electric bike world, plus ebike riding and maintenance tips!
Reader Interactions