eBiking for Beginners as the Lockdown Eases – Part 2
In part 1 of eBiking as the Lockdown Eases – For Beginners we looked at the basic considerations of choosing an e-bike and at some of the basic types of e-bike technology available.
In this second part we take a look at the various designs of e-bike before considering prices and the legalities of e-bikes.
Which Kind of eBike?
E-bikes have ushered in a whole new range of designs as the extra help of electric assist has opened whole new areas that would otherwise remained labeled interesting but not practical on the bike designers list of future projects.
So, while the following categories are based on traditional non-electric designs, if you have followed the recent trends in e-bikes you'll know there is now a bewildering different number of e-bike designs that often blend different aspects of these traditional categories.
If you haven't bought an e-bike yet, or are even considering getting another, here's a quick run down on the broad categories available.
Dutch Style City Models
One of the most comfortable and practical designs based on the 'sit up and beg' style of bike so popular with continental cyclists like the Dutch.
Usually fully equipped with lights, pannier rack and mudguards as standard, these are great if you are the kind of e-biker who wants to venture out in all weathers to commute, do the shopping or carry small children and you aren't too bothered about the extra weight that comes with all the extra components.
Many feature step-thru frames for easily hopping on and off for doing your chores about town.
Most popular in the US, beach cruiser style e-bikes often have some similar attributes to Dutch style city models that make for a comfortable and practical ride.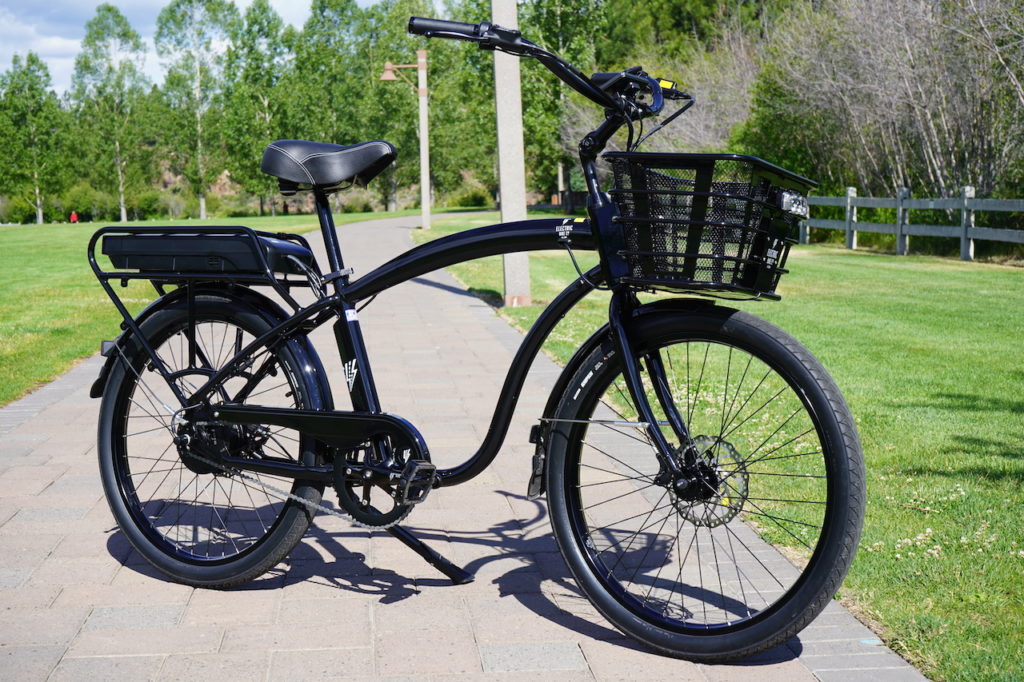 City Speedsters
At the other end of spectrum to Dutch style models are more lightweight and at their most low-maintenance and minimalist can featuring a belt drive, single speed gearing and a small battery to save weight.
These can weigh less than 33 pounds/15kg and are ideal if you value traveling fast and light without all the creature comforts of the Dutch-inspired city bikes.
Hybrid, Commuting and Trekking
This is probably the biggest single category of e-bikes and all the terms used above cover a large number of broadly similar designs.
They are usually a sportier design than the sit up and beg Dutch bikes whilst not being as light as the city speedsters.
They are jack of all trades type bikes often combining sportiness with some practical features.
They might be top of the range models with powerful motors or budget priced e-bikes usually with a smaller hub motor.
Trekking bikes have the accent more on going off-pavement and many also make great bikes for touring as there are plenty of models that combine sturdy design with practical features for touring in all conditions like lights, fenders, pannier rack and kickstand.
More often than not they feature front suspension too.
You might also see trekking type bikes described as 'adventure' bikes but this is rather a vague term as it can also cover bikes with drop handlebars capable of going off-road, like e-gravel bikes.
If you want a good compromise between Dutch city style models and city speedsters this category has a huge range of designs and price points and lets you have some of the benefits of both classes.
E-road
An emerging genre is E-road. As you can probably guess, these are road racing bikes with electric assist.
Whilst they may not offer the comfort and practicality of the above categories, if you want something built for speed and for hills then it could be worth considering e-road bikes.
Before virus restrictions and social distancing, road riders were going out in groups with some e-road bike riders in there, with the electric assist allowing them to keep up with the fittest elements in the group.
These bikes are built to be light weight and to be ridden sportily, so they may have slightly less powerful motors like the Fazua or Ebikemotion.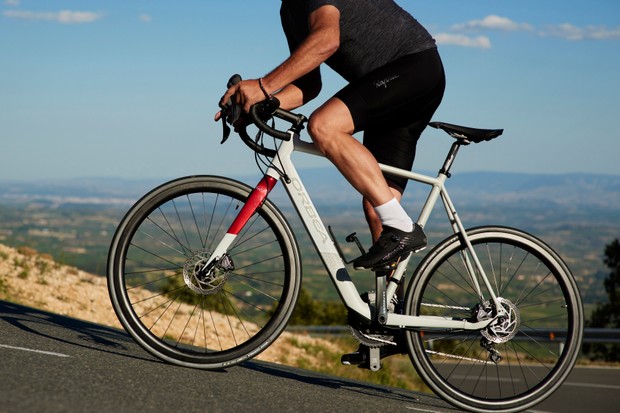 There are also 'sub-genres' of the e-road design. E-gravel bikes allow for fast riding on the road but will also handle some off-road riding (though note they don't have any suspension so they are likely to be lighter but less comfortable than full-on emtbs when you do venture onto the rougher stuff).
If you hear the terms endurance bikes and aero these are specific designs of road bike.
Also known as sportive bikes, endurance bikes have slightly wider tyres and more comfortable frame geometry than pure road racing bikes.
Aero bikes are designed with components to be as aerodynamic as possible, if you really want to go as fast as possible!
E-mtbs
Electric mountain bikes or e-mtbs have transformed the possibilities for off-road riding.
The most powerful mid-drives and the latest suspension technology mean the most challenging biking terrain is now a realistic proposition for many, many more riders.
Indeed some top end motors are now getting so powerful that it seems it's not the terrain that stands in their way but, such is their acceleration and torque, it's the rider's ability to control and maneuver the bike that is more likely to be the limiting factor.
Witness the many online videos of highly skilled e-mtb riders doing incredible things on these bikes.
If you want to see the kind of terrain e-mtbs can tackle in the right hands check out these expert riders venturing across Europe's Alps (subtitles available):
E-mtbs aren't just about raw power, adrenaline and thrill seeking.
There's nothing like gliding into the wilderness on a challenging mountain crossing on a comfortable but powerful full-suspension e-mtb if you want to experience a blend of comfortable riding, exhilaration and liberation.
Many manufacturers produce e-mtbs using a mid-drive motor that is a step down from the most powerful motor and in a bike design that is more forgiving and comfortable to handle than, say, a full on downhill e-mtb.
Whilst e-mtbs tend to be some of the priciest e-bikes out there due to their high performance nature money shouldn't be a barrier.
There also some well-made e-mtbs out there that use hub motors, though again they will probably lack the raw power of mid-drive e-mtbs whilst being entirely capable of getting you out enjoying the trails.
With powerful motors and high-tech suspension e-mtbs often tip the scales at well over 45 pounds/20kg, but there are also lightweight e-mtbs out there which tend to at the top end of the e-bike price scale and used exotic materials to keep the weight down.
And don't forget that, whilst handling anything from rough canal towpaths to full-on rocky hill tracks they can also be at home in cities where the suspension and large tires soak up potholes and curbs.
Of course, with their large knobby tires they will be less efficient and nippy than especially designed city bikes and probably less suitable for carrying gear on racks, which can be harder to fit to them.
Folding
If you need to combine e-biking with other forms of transport such as auto, train or even bus an electric folding bike could be just what you need.
E-folders tend to be divided into bikes that are easier to roll than carry when folded and those that are more easily portable for lifting onto train storage racks and the like.
Combing an electric drive with a truly lightweight folding bike is real technical challenge.
Cargo
We have already covered the many specific designs of e-cargo bikes in out article here where you can check out the differences between compact, longtail, bakfiets and other models with more than two wheels.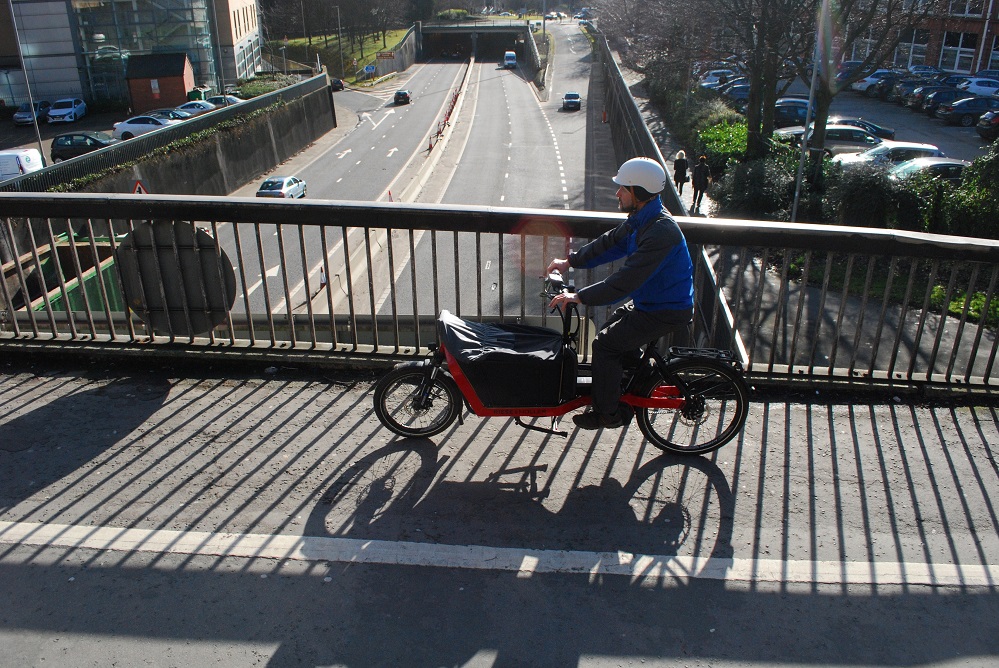 Of course, 'regular' e-bikes are great for hauling big loads and you might not necessarily need an e-cargo bike to haul what you need to.
For more guidance check out this article on how much you can carry by e-bike and solutions other than e-cargo bikes (think extra strong pannier racks and trailers).
More than Two Wheels or More than One Rider?
There are a growing number of electric trikes though they can still be hard to track down.
Those with balance problems or those simply wanting a stable platform to carry heavier loads may choose an 'upright' e-trike.
However, recumbent trikes are also increasingly popular with followers of this design extolling their comfort, stable handling and aerodynamic speed.
The obvious downsides of any trike is less maneuverability, possible difficulties at bike path access controls and the extra storage space required.
For the ultimate e-bike way of travelling as a couple you could always consider an electric tandem, of which there are a small number about.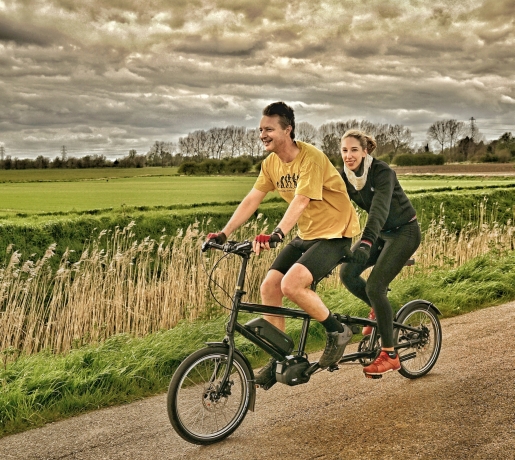 How Much?
US prices for a good quality hub motor e-bike starts, very roughly, around US$1,000 and in the UK at around £600.
As the prices head up expect to see a higher specification of brakes (hydraulic disk brakes and wider range derailleur gears) and more powerful motors.
Battery capacity is a particularly important aspect in buying a new e-bike – smaller capacity generally (but not always) means cheaper but less range and larger means more expensive but longer range.
Capacity is measured in watt hours or Wh (don't compare amp hours as they are not directly comparable).
Very lightweight and folding e-bikes can have batteries as small as 150Wh whilst the biggest and most expensive e-bikes feature dual battery systems rated at over 1250Wh.
Needless to say top end models are in the several thousand US$/ £ price bracket.
Do check whether your national or regional government has any subsidy or grant programme – for example like the UK's Cycle to Work Scheme – that can significantly reduce the cost.
How Do I Know it is Legal?
In the USA where e-bikes can go and other possible legal requirements are governed at state level.
However, more and more states are falling in line with the model '3 class' legislation formulated by People for Bikes and as the link shows, the majority of US states are now credited with having either model or acceptable e-bike legislation whilst only a handful remain 'problematic.
In summary e-bikes can fall into any of the three classes below:
Class 1 – Bicycle equipped with a motor that provides assistance only when the rider is pedaling, and that ceases to provide assistance when the e-bike reaches 20mph. 750 watts max.
Class 2 – Bicycle equipped with pedal assist and a throttle-actuated motor, that ceases to provide assistance when the e-bike reaches 20mph. 750 watts max.
Class 3 – Bicycle equipped with a motor that provides assistance only when the rider is pedaling, and that ceases to provide assistance when the e-bike reaches 28mph. 750 watts max.
In practice in the US many e-bikes can be found that are equipped with class 2 and class 3 controls.
Class 1 and 2 e-bikes can often go anywhere that regular bikes can whilst class 3 bikes are often restricted to public roads and major cycleways and there may be other legal requirements like helmet wearing, again depending on the state policy.
In the EU e-bikes are limited to 15.5mph with a 250W continuous power motor rating and must be pedaled for the power to operate.
EU compliant bikes should bear a marking showing EN15194 showing that they comply with all the detailed regulations.
Although the UK left the EU at the end of January 2020 it still adheres to EU e-bike law.
Stay tuned for more e-bike news and reviews and thanks for reading!
-Rich
P.S. Don't forget to join the Electric Bike Report community for updates from the electric bike world, plus ebike riding and maintenance tips!
Reader Interactions