eBiking for Beginners as the Lockdown Eases – Part 1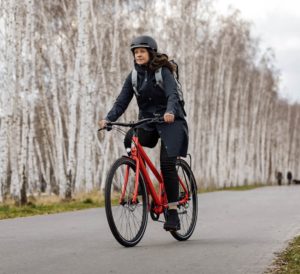 As the virus lockdown starts to ease in many countries around the world many people are turning to bikes and e-bikes as a safer means of transport than mass transit.
Or for those still in lockdown and keen to get exercise two wheels might also look appealing as a way of getting out and about while letting you go a bit further into the countryside for a bit of relaxing social distancing.
If you are wondering whether to go for an e-bike or non-assisted bike then just check out our article on the advantages e-bikes to help you decide.
But what if you want to try cycling or e-biking and it is many years since you took to the saddle?
Here are some tips to help give you all the knowledge you need to get back on two wheels safely and comfortably.
Note while the information below is aimed specifically at e-bikes many of the points made apply equally to regular non-assisted bikes.
Before You Buy
Try Before You Buy and Get Back into the Swing
Ideally a visit to a dealer is the best place to start to try out several models.
If this isn't possible – because of current virus restrictions or simply because you live many, many miles from one – maybe you can try out one by borrowing a friend's or one from a local cycle group.
During the first ride you can flag up any concerns you have and pay attention to the points below to guide you in what kind of e-bike you might want.
If it's a long time since you were on a bike find a quiet spot to practice a very short distance – for example just around an empty car park.
Gradually increase distances until you feel more comfortable. If you are concerned about how to social distance Cycling UK have produced this handy guide.
Frame Size and Saddle Height
Get this right and pedaling will be comfortable on the knees and effective and you will be able to get on and off the bike easily too. Here's a comprehensive guide to the subject.
There are plenty of e-bikes around with a step-thru frame or a so-called trapezoidal / mixte frame where the top tube slopes.
With these frames size tends to be less important in the respect that you don't need to swing your leg over the bike, though you should still make sure you can still set the seat height correctly to maintain a comfortable pedaling position.
Too high a saddle can lead to discomfort in the hips and difficulty dismounting when stopping and too low a saddle will lead to knee problems and lack of power in your pedaling action.
Riding Position
Critical to comfort and effective pedaling – you don't want to be reaching for the bars nor do you want to feel cramped and not be able to feel like you are riding freely.
If you feel happier with a sit up straight style of riding you can look for a bike with swept back handlebars and not too much reach between handlebars and seat.
Some bikes have an adjustable handlebar stem so that you can bring the handlebars nearer or further away as required.
Fitness or Practicality?
Increasingly e-bikes are heading in two different directions – powerful machines with bigger batteries and models that are lightweight and often feature less powerful motors and smaller batteries.
Although the latter delivers less power (meaning you do more of the work) they are pretty effective nonetheless.
And while they have smaller batteries their lighter weight and smaller power requirements help mitigate this (and spare batteries are available if you really do need greater range).
The lightweight models can weigh substantially less than 45 pounds/20kg and the really light ones break the 33 pound/15kg mark.
Conversely the more powerful machines are over 45 pounds/20kg – sometimes well over if they are very heavy duty trekking style models like the one below.
Examples of motor systems on mid-drive machines are Bosch, Brose, Shimano, Bafang, and Yamaha.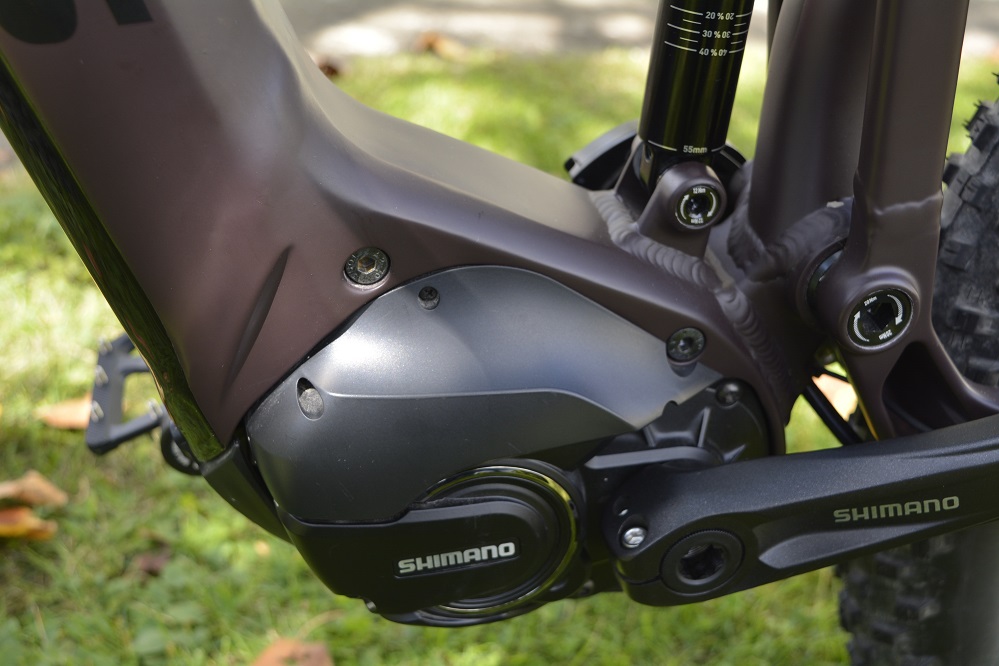 The lightweight category is dominated by Mahle's Ebikemotion and Fazua.
There are also plenty of lower to mid-priced models using hub motors from the likes of Bafang who have traditionally dominated hub motor systems (who are also now moving into the mid-drive area too).
The hub motor can be placed in the front or rear wheel (neither position is 'better' – both have pros and cons…)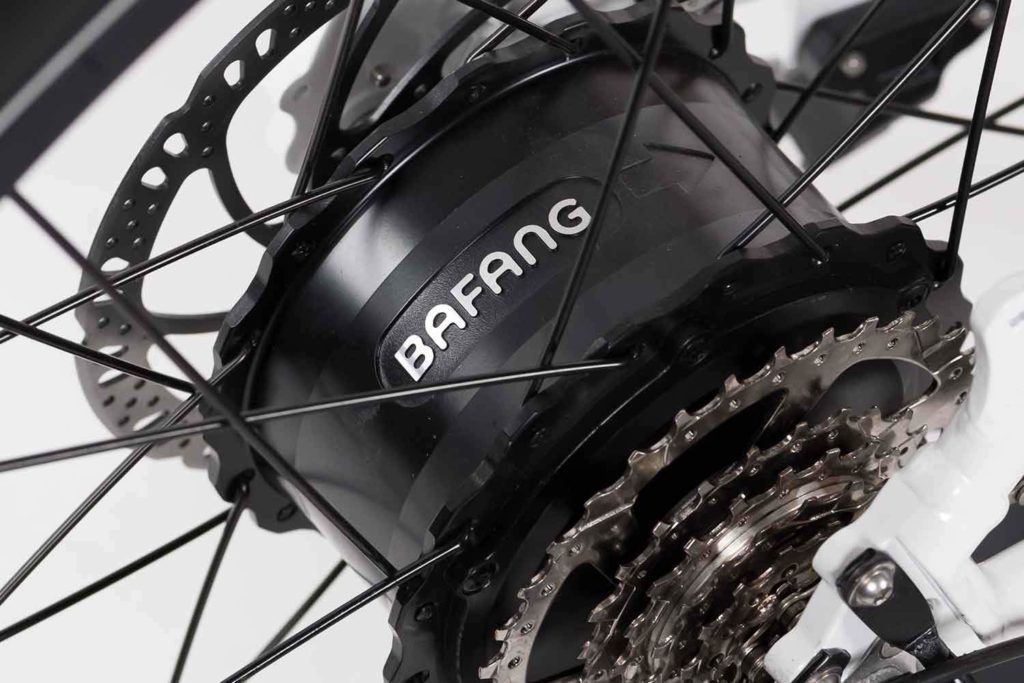 Gearing
The flatter the terrain you expect to cover the less gears you need. Extra gears add weight and cost.
Seven derailleur gears is plenty for moderate terrain with gently rolling hills.
Modern gearing means you can now get 12 speed rear derailleur systems that will tackle most terrain and are easy to control from just one handlebar shifter.
Easiest of all to operate and with the lowest maintenance are internally geared hubs.
They are more widely spaced than derailleur gears so 3 hub gears are fine for moderately rolling hill territory and 7 and 8 speed variants are also quite common and will handle much hillier country.
They are a useful feature for e-bikes used in stop-start busy traffic for example, as you can change from any gear to another gear while stationary which you cannot do with derailleur gears.
E-bikes tend to need less gears than non-assisted bikes and can be higher geared as the power will compensate somewhat for the lack of very low gears for hill climbing.
Continuously variable transmission is a fairly new type of gearing that means there are no 'distinct' gears but rather moving a twistgrip gives you a different gear setting on a sliding scale.
It is great for ease of use but adds a fair bit of weight and inefficiency (though it's not noticeably much more difficult pedal on an e-bike).
You may also see it referred to by the trade names Enviolo or Nuvinci.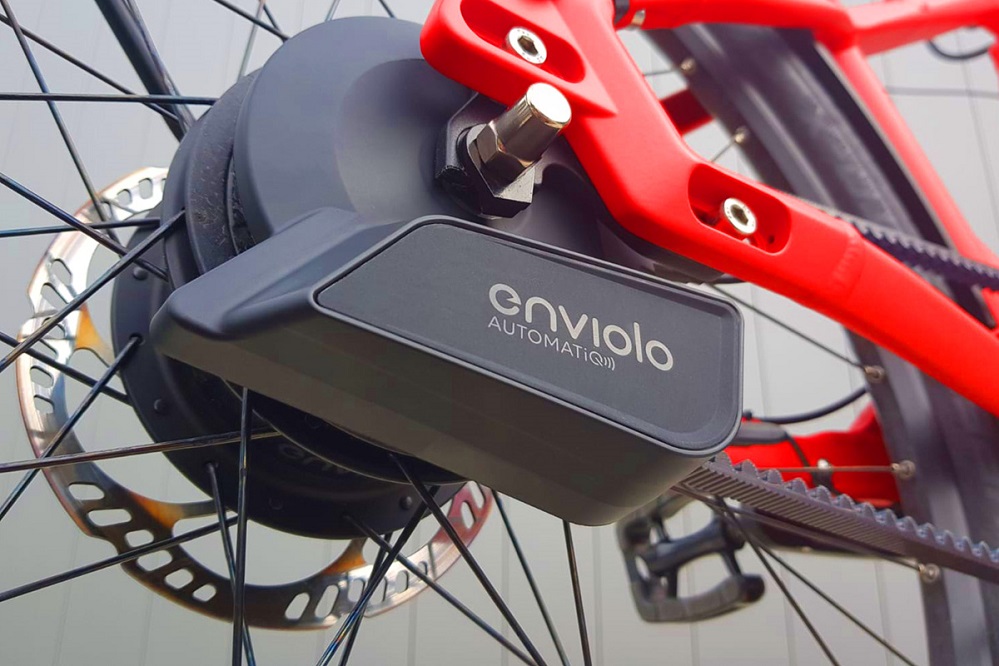 Expensive models feature electronic shifting which claims to keep the shifting smoother and more precise and does away with traditional mechanical shifters that pull cables, replacing them with electronic switching mechanisms that can be wired or wireless.
Modern gear changing technology that uses traditional cables has come on leaps and bounds in recent years and still proves very accurate if kept well-maintained.
Tires
If you are riding on good quality pavement then 'slick' road tires are the best option.
If you want to mix pavement and moderate off road use on gravel roads then look for a 'semislick' with a moderate amount of raised tread. The Schwalbe G-One is a good example.
A moderate amount of puncture protection is also a good idea – there are various grades and the heaviest and toughest will mean a more inefficient bike resulting in less battery range, even if you don't notice any extra pedaling resistance because of the motor assist.
There are plenty of tires with a moderate level of puncture protection that will definitely help stave off punctures.
Of course you can choose an e-mtb with large knobby tires for use on road, commuting and the like with intention of off-roading in your leisure time.
This can be a good approach but do be aware that e-mtbs take a lot more energy and just 'feel' different when pedaled on pavement and may have limited carrying capacity in terms of racks.
Also they are often pricier than non-mtb models with the same assist system, due to a high quality suspension system.
This applies doubly to full-suspension e-mtbs which are really only necessary for full-on mountain biking over very rough terrain, as shown below.
Having said all this the barriers between different categories of bike are becoming increasingly broken down by e-bike developments so now it is possible to get step-through e-bikes that are fine more moderate off-road use and come with knobby tires.
As some of these models come with pannier rack, lights and mudguards they can also be practical around town e-bikes, as shown below.
Additionally if you are really worried about punctures and have to constantly battle glass shards or thorns there are airless tires such as Gecko on the market – these are somewhat harder to pedal than pneumatic tires but they are improving and are fine for shorter flatter rides and especially good on e-bikes.
Suspension
Many hybrid e-bikes have front suspension but you should consider if you really need it.
I have found it adds weight and the cheaper suspension forks relying on a steel spring that can rattle and may not perform particularly well, especially over rougher ground where they are most useful (more expensive ones relying on air compression are smoother and more effective).
Choosing a wide tire and getting the tire pressure just right can often make for a much smoother ride over potholed roads without having to rely on front suspension.
If your roads are badly potholed or you will de dropping off a lot curbs etc and especially if you regularly venture onto very rough tracks you certainly might want to consider a front suspension fork.
A suspension seat post is an economical way to add rear suspension to a rigid frame. Here is a guide to suspension seat posts.
Just to reiterate – full suspension mountain bikes are really necessary for extremely rocky trails though many models feature a lockout on the rear suspension which means they can be easier to pedal on the road when the need arises.
To Fold or Not Fold?
If you want to regularly combine train or other forms of transport and e-bike it might be worth thinking about folding bikes.
Again there is there is a tendency for lighter models with a little less power or heavier ones with more power.
The lighter models tend to have smaller wheels (often 16″ diameter).
The heavier ones with larger 20″ wheels sometimes have more powerful mid-drives from the likes of Bosch or Shimano.
If you are thinking of a folder, as well as checking if you are happier with the different ride quality of the smaller wheels, also make sure you fold and carry the bike to make sure it will do what you want it to when folded.
It may be bigger or heavier than you imagined when folded and the increasing number of designs of electric folders out there do mean a large range of folded sizes and weights.
Now checkout Part 2 where we look more at the various eBike styles that are on the market.
-Rich
P.S. Don't forget to join the Electric Bike Report community for updates from the electric bike world, plus ebike riding and maintenance tips!
Reader Interactions