The Rise of the Electric Cargo Bike [VIDEOS]
Recent announcements of new models of e-cargo bike from the likes of Blix and Surly (to name just a couple) show the increasing profile of e-cargo bikes within the world of e-bikes.
There have also been moves by governments around the world to offer subsidies for e-cargo bike purchase as a tool for encouraging their use as a congestion busting tool.
Add to this high profile use by the likes of DHL and UPS logistics providers and it looks like the rise of the e-cargo bike is well and truly on its way.
Designs of eCargo Bikes
Below are just some examples of electric cargo bikes on the market. There are many more!
Compact
One potential difficulty with e-cargo bikes is size, which can mean problems of where to keep them when not in use, especially if your domestic storage space is limited. Larger, longer e-cargo bikes can be trickier to maneuver in tight spaces too.
Enter the compact e-cargo bike. The general idea is to use smaller wheels to free up space for extra carrying capacity in place of the 'lost' wheel size.
This results in a kind of mini or compact longtail design (see more about full size longtails below).
So a 'compact longtail' has a similar footprint to a regular non-cargo bike but can carry so much more with ease and remain maneuverable and stowable.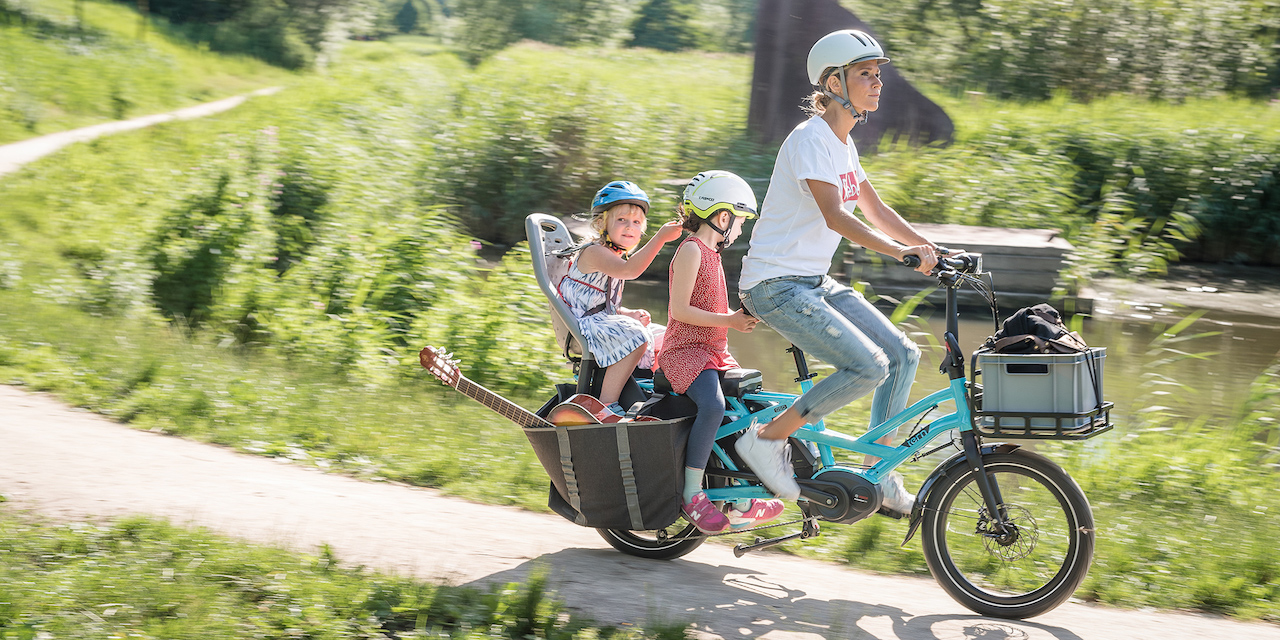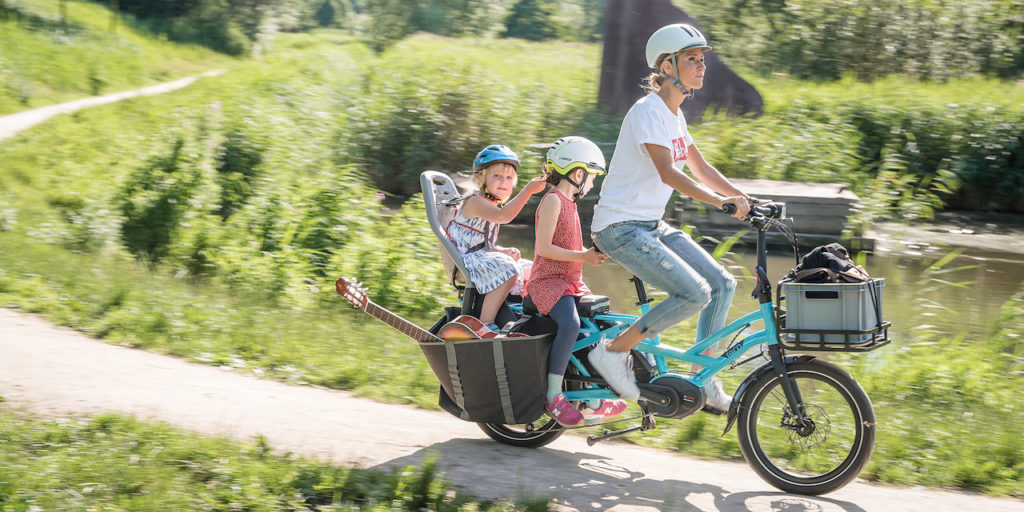 Tern's GSD is the classic example that can carry stacks of equipment and can even fit two passengers on the rear! There's also room for a second battery for the Bosch mid-drive within the frame.
It achieves all this by using 20" wheels and keeping the rider's 'cockpit' area small yet adaptable for all size of rider by using an adjustable handlebar stem and seat height.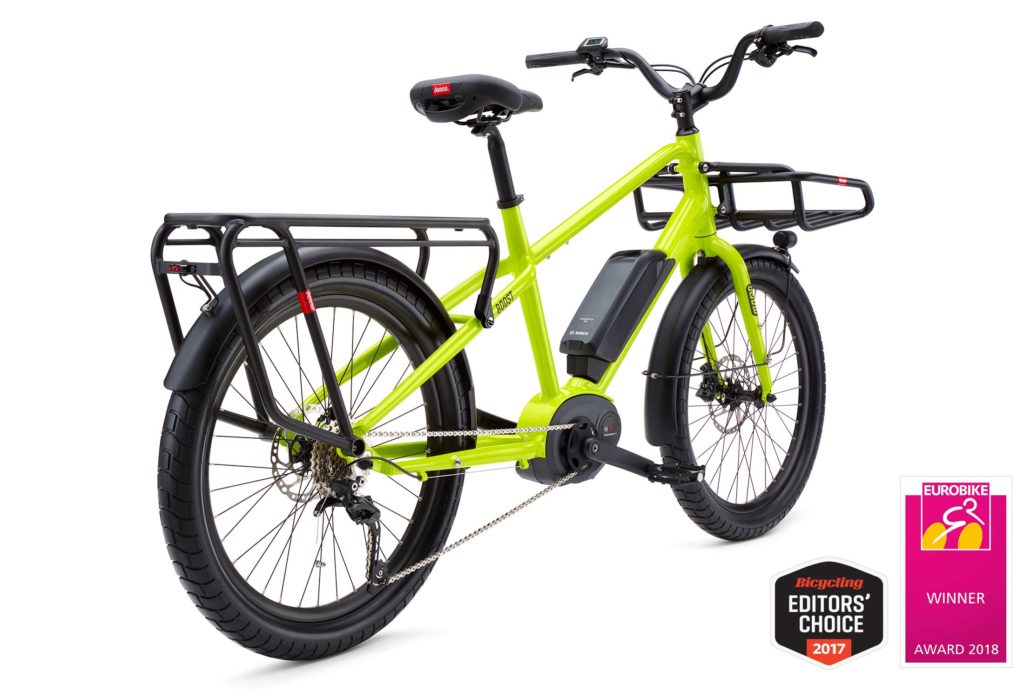 The Benno Boost E is a similar design and comes with a dizzying array of attachments that lets you carry just about anything as it's designed to take child seats, sideloading frames for box cargo and even a surfboard!
The new Blix Packa is a newly release compact eCargo with a dual battery option.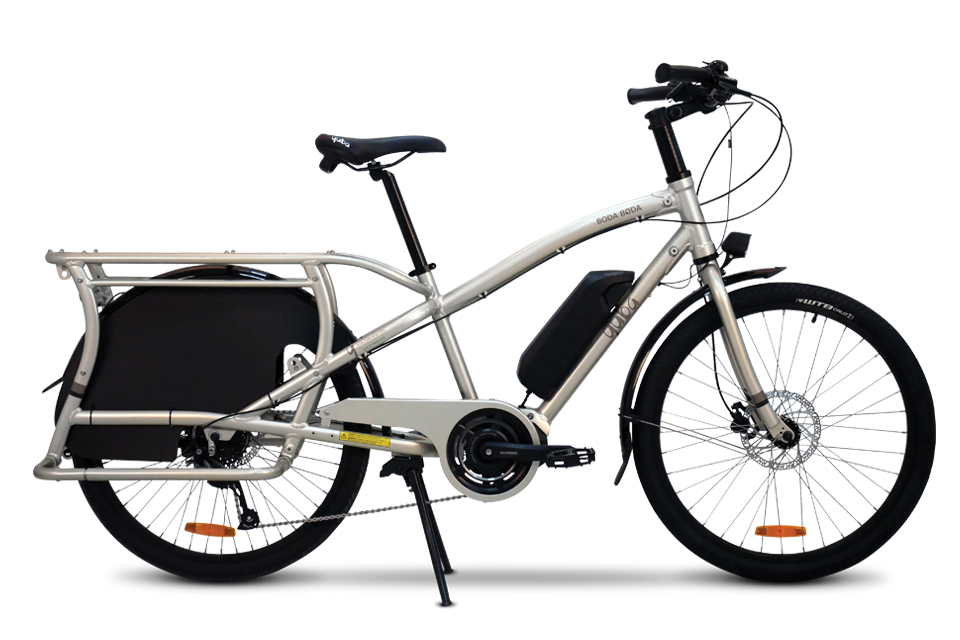 The Yuba Boda Boda is one of the original compact eCargo's.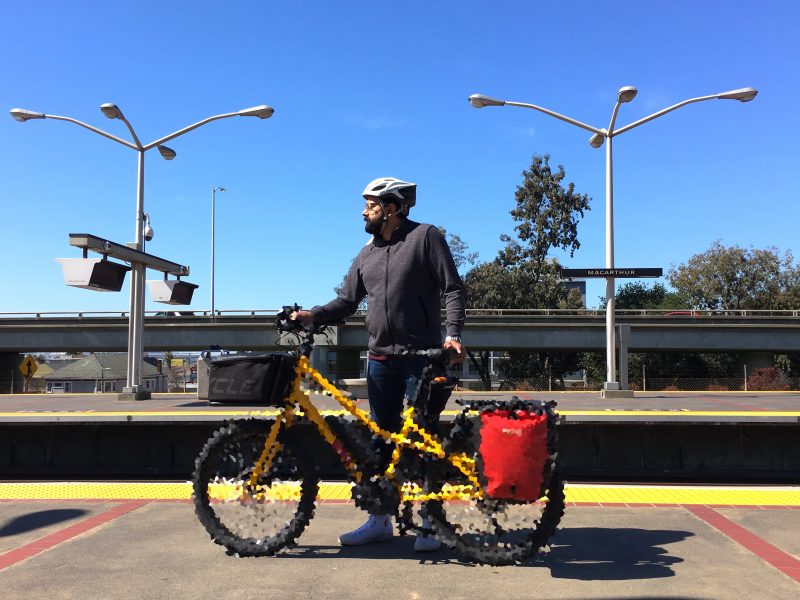 And here is a spy shot of the soon to be released Xtracycle RFA eCompact cargo bike.
Longtails
True longtail designs are similar to the compact designs above but will have larger wheels for slightly more surefooted handling and a bit bigger cargo carrying capacity but they'll also take up a bit more space in your garage.
Surly's newly-launched Big Easy looks like a great example, featuring Bosch's most powerful mid-drive, dual battery capacity, Surly trailer compatability and the ability to venture off-road and onto trails.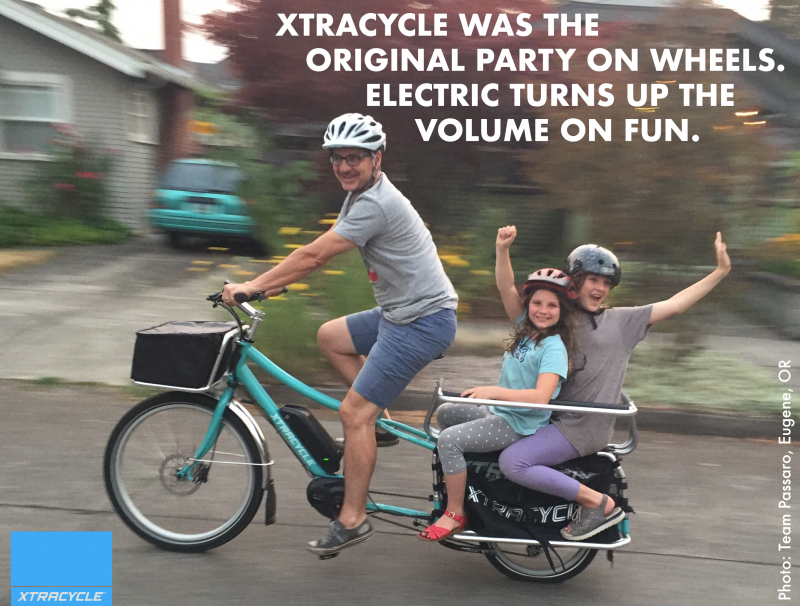 Other examples are the Xtracycle Edgerunner, one of the original longtails.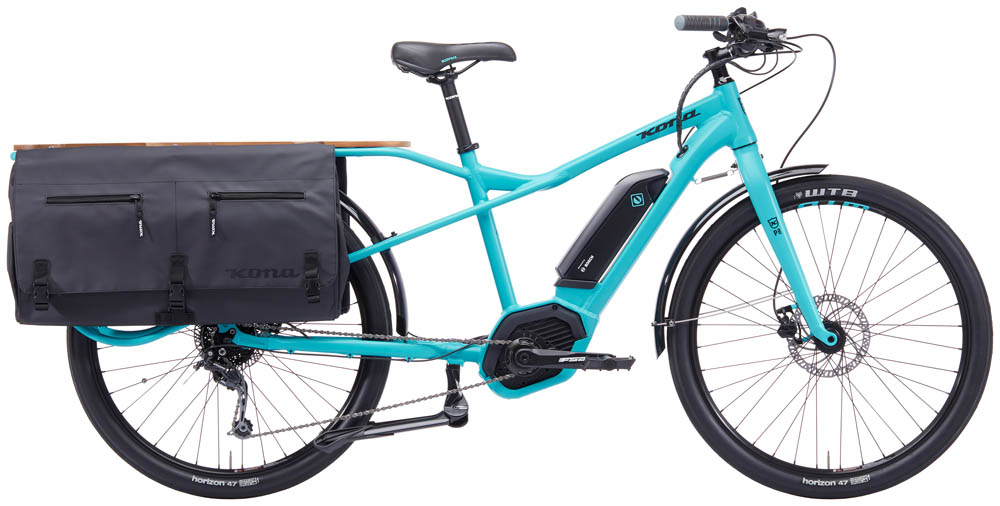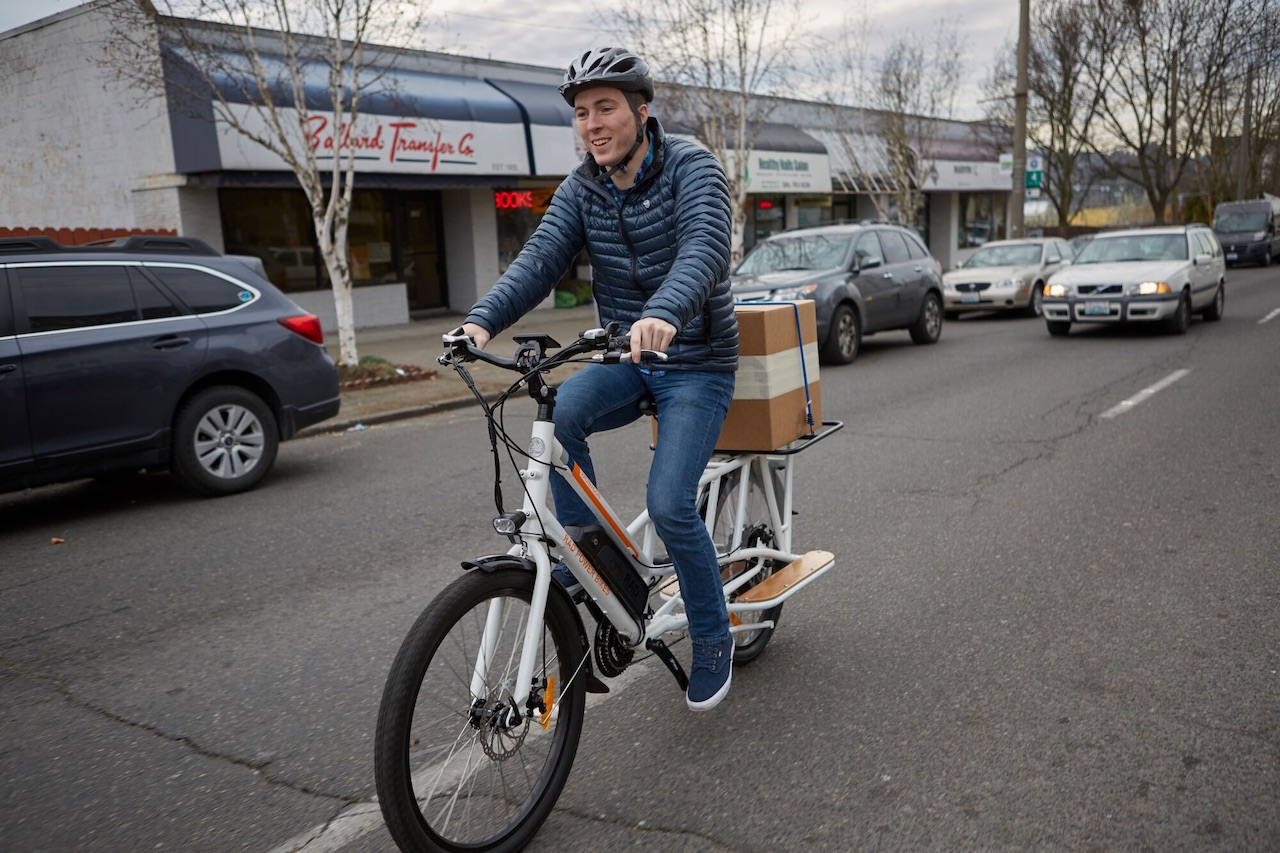 Bakfiets – Front Loaders
Bakfiets means 'box bike' in Dutch and the classic design features placing the 'box' in front of the handlebars and moving the front wheel to the very front of the bike, with a steering linkage running underneath the cargo box itself connecting to a steerer column and hence the handlebars.
This is a very longstanding classic design and bakfiets is a generic name for it, but Bakfiets is also a Dutch manufacturer of cargo and e-cargo bikes and they do a range of different designs, including cargo trikes, the common feature being the distinctive bakfiets plywood box.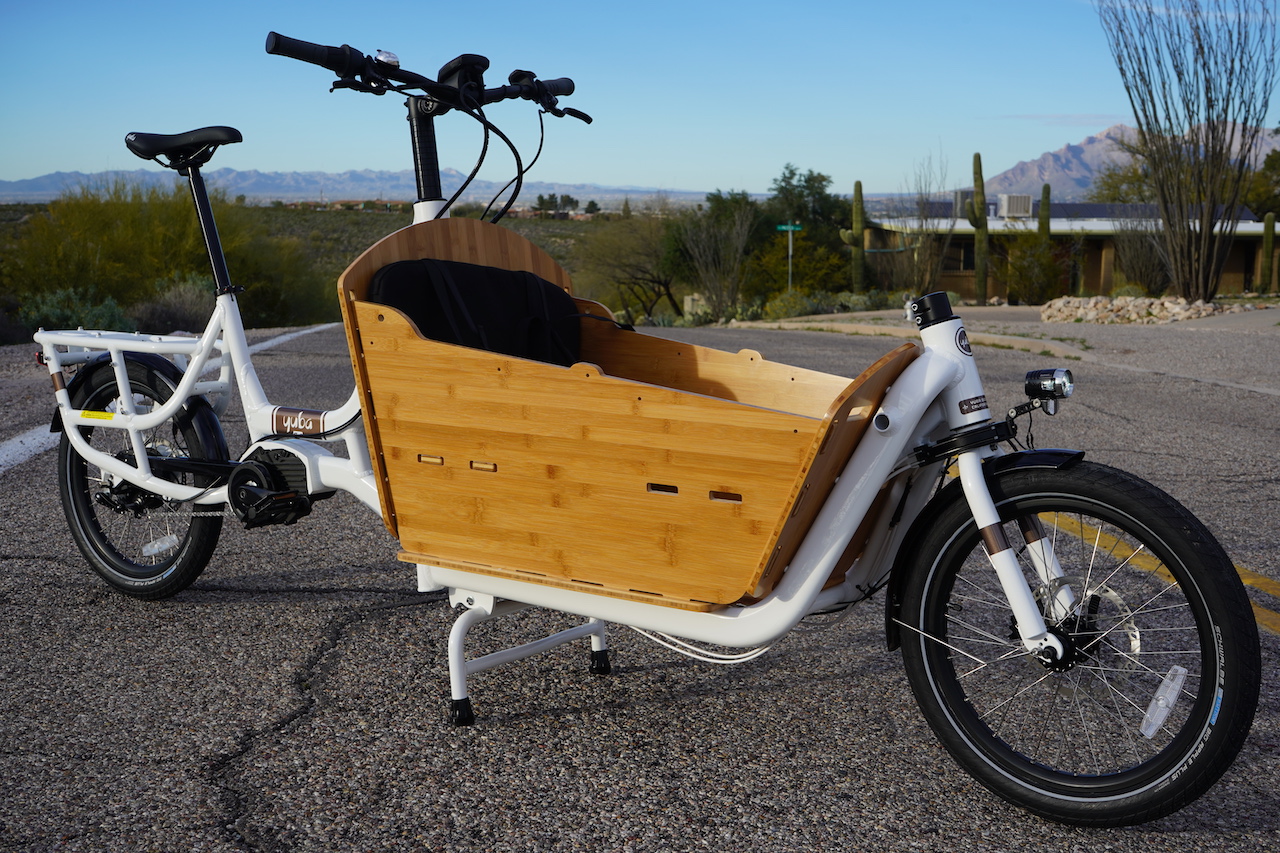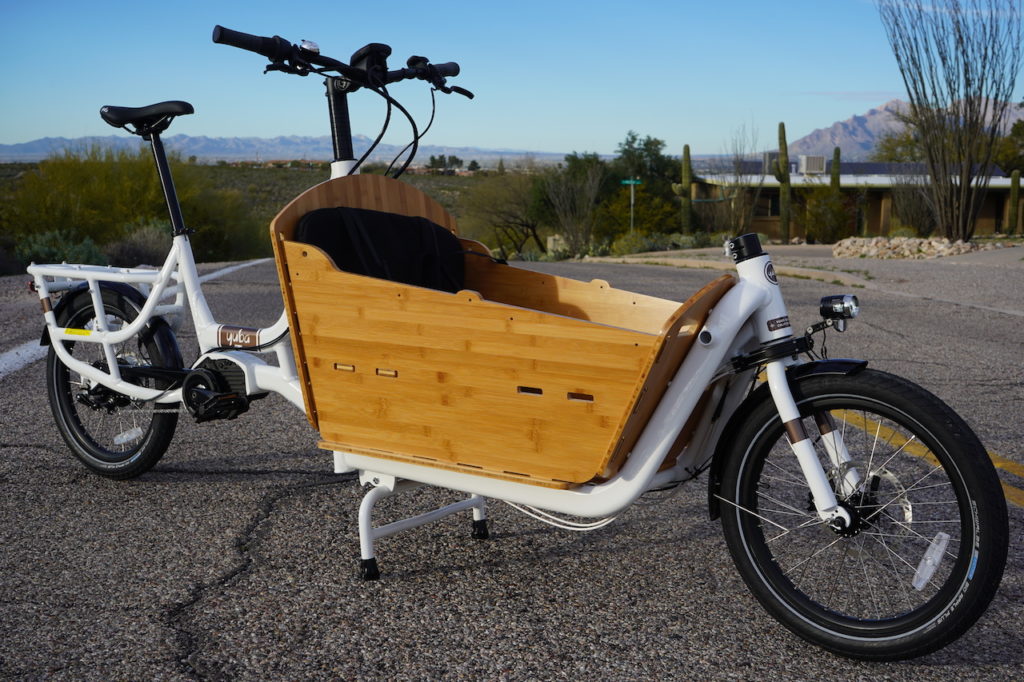 Yuba recently launched their Electric Supermarché with the many cargo options.
Riese & Muller offers many front loader eCargo bikes in addition to compact eCargo bikes.
Larry vs. Harry makes the Bullitt eCargo bikes.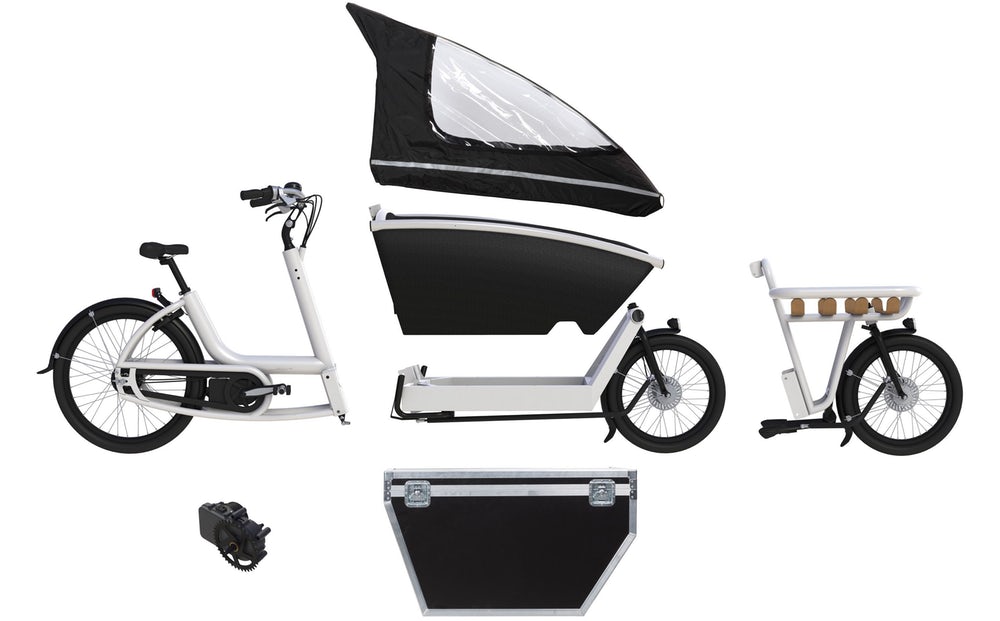 Urban Arrow has a modular system for their front loaders.
eCargo Trikes
E-cargo trikes are the next step up in terms of carrying capacity.
Adding a third wheel means you can accommodate a larger platform on the bike and take significantly more weight too.
The third wheel has the added benefit of adding stability when carrying particularly bulky or heavy loads which two-wheelers might struggle with.
The downsides are increased weight of the bike and reduced manoeuvrability.
The 'delta' design of trike puts the two wheels and the load platform behind the rider and the tadpole design puts them in front.
Each design has their own pros and cons, related in this Kinetics article on recumbents.
Manufacturers producing this kind of design include Babboe,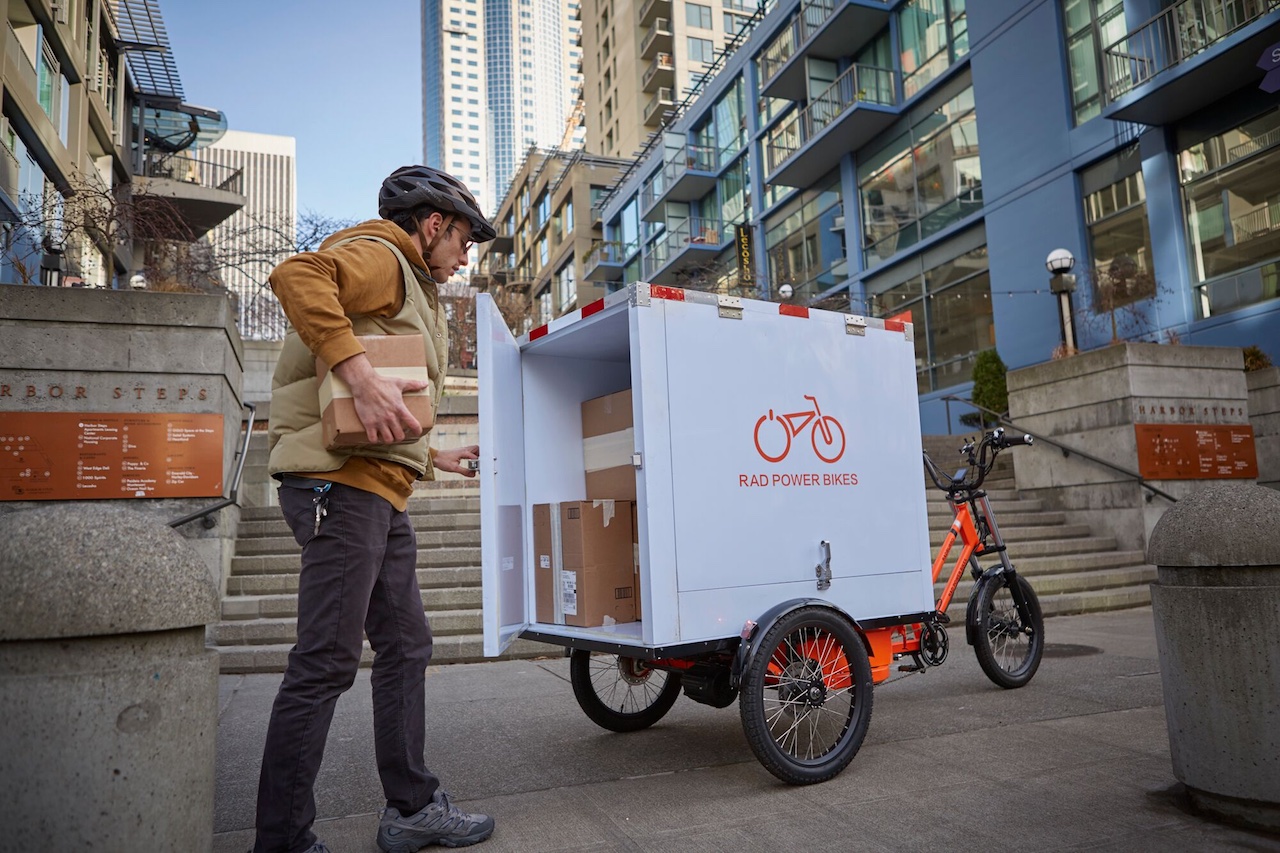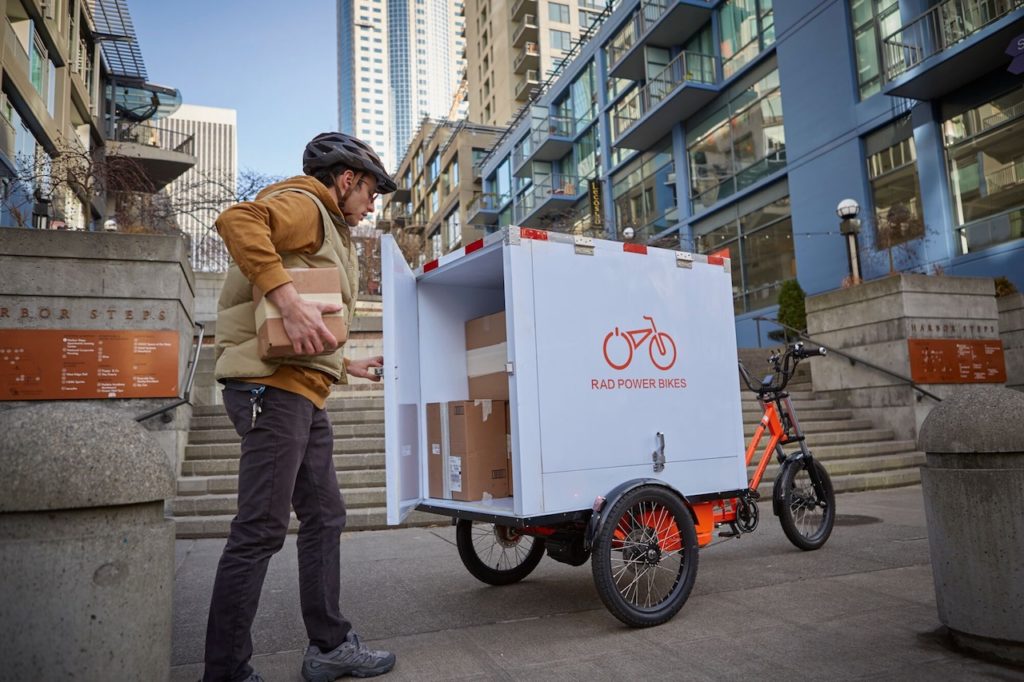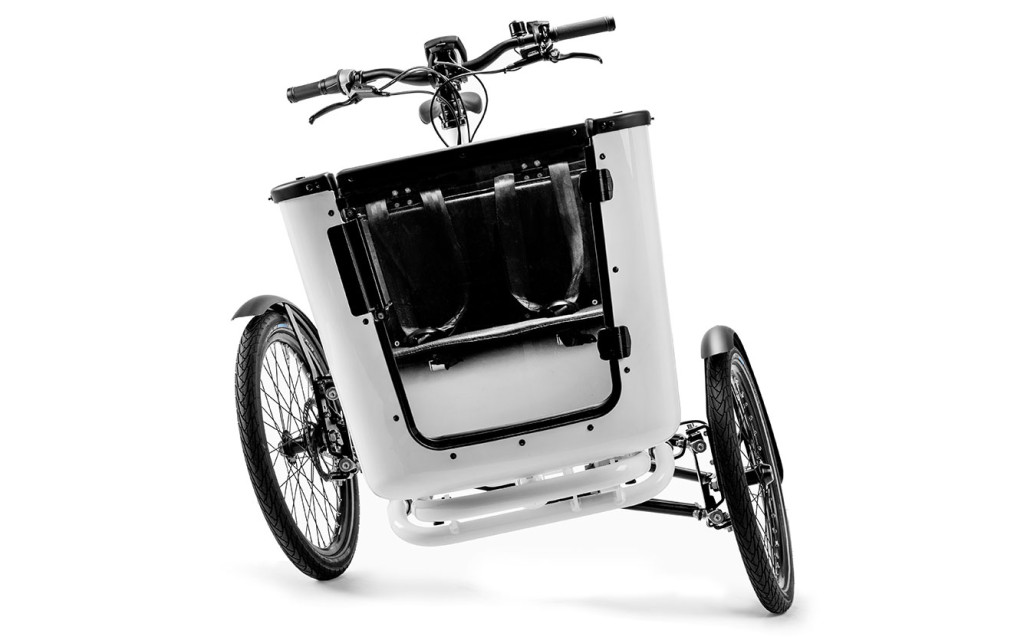 Uses of eCargo Bikes
Logistics – big and small
UPS have been pioneering the use of electric cargo bikes.
The video below shows the model used in the Toronto pilot project featuring puncture resistant tyres, roof-mounted solar panel, headlights, tailights, turn indicators and weather proof cab giving the ability to deliver 40 to 50 residential packages with an impressive 408kg payload.
The cargo container is removable / exchangeable and the bike is narrow enough to fit in most bike lanes.
More details on the Toronto project here. The scheme has also been rolled out in cities such as Pittsburgh and Seattle.
The UPS e-cargo trikes are based on an adaptable design by Truck Trike from Portland, Oregon:
On a smaller scale the Tern GSD is being trialled by Deliveroo, taking advantage of its powerful electric assist that will make rider's life much easier and its wonderful manoeuvrability in dense city traffic.
This is actually part of Tern's Bikes for Business programme – here's another example from it, featuring Florian Jannssen's beer delivery business in Taiwan. As Florian says, more exercise, less tax and greater flexibility!
and here's yet another example from the Lutetia bakery:
For rather heavier and bulkier loads Drings butchers of Greenwich, London are putting up a Riese and Muller e-cargo bike in the bakfiets style against their conventional van deliveries.
As the London Bulletin article states:
'Michael Jones, the proprietor of Drings, said the reaction from his customer so far was "fantastic. This is how shops and businesses made deliveries years ago, and already we are finding it is the most efficient way of serving our customers."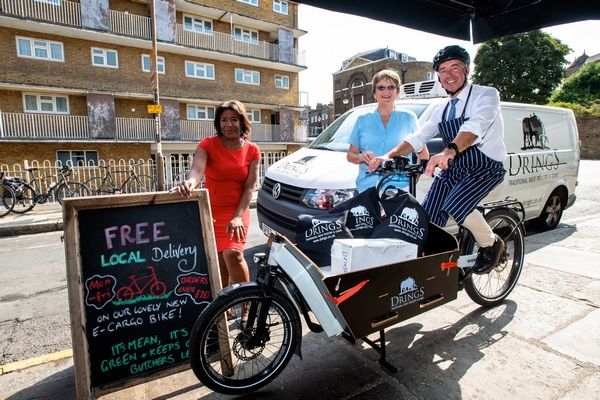 Matt Winfield, London Director, Sustrans said: "Not only is Michael fitter, but he's also better off as our testing is showing that he's able to carry out many more peak time deliveries on his cargo bike than by van."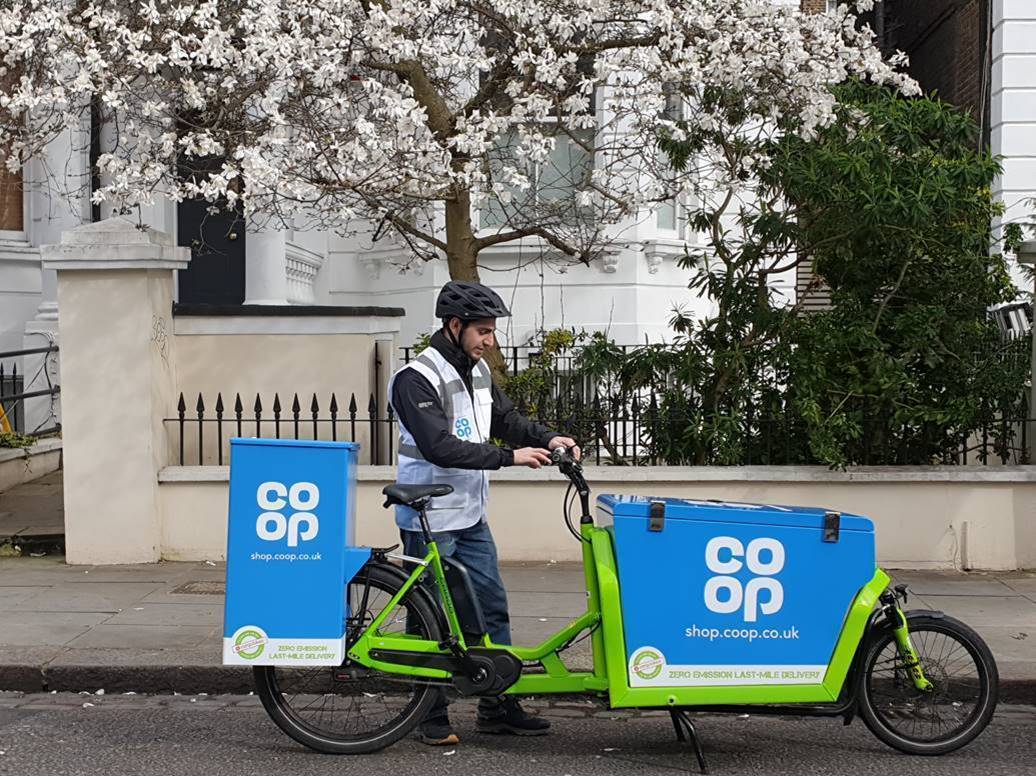 Co-op is a London based grocery chain that is now offering local deliveries by eCargo bikes thanks to a partnership with e-cargobikes.com and it is stated that 'neither diesel or electric vans could complete cost effectively . The fast delivery time is due to the electrically assisted cargo bike's ability to utilise cycle lanes, filter safely through standing traffic, pass between the narrow bollards adorning many of our streets, and park right outside customers' homes and offices to make deliveries.'
Chris Conway, Head of Food Digital at the Co-op, said: "This is an exciting time for the Co-op. As the leaders in convenience shopping, we want to look at different ways of bringing our award-winning products closer to shoppers, and this new service with e-cargobikes.com does exactly that."
James FitzGerald, Managing Director of e-cargobikes.com, said: "We are thrilled that Co-op are demonstrating environmental leadership by launching their online delivery service using e-cargobikes.com. We are reimagining grocery deliveries and exploring a more sustainable transport system – our e-cargobikes are able to deliver the same amount as a diesel-van over a shift but require only 0.5% of the energy."
Taxi
Taxi services are traditionally associated with ranks of motor vehicles occupying large areas of road space just waiting for a fare.
E-cargo bikes can have a real impact in this area and some e-cargo bike taxi companies are starting to do just that.
Pedalme seem to have been inspired by the app-based hail-a-ride idea pioneered in cars by Uber, but they have applied to idea to e-cargo bikes in central London (generally within a 5 mile radius of Waterloo Bridge) and jobs include a regular 'school run' and even weddings!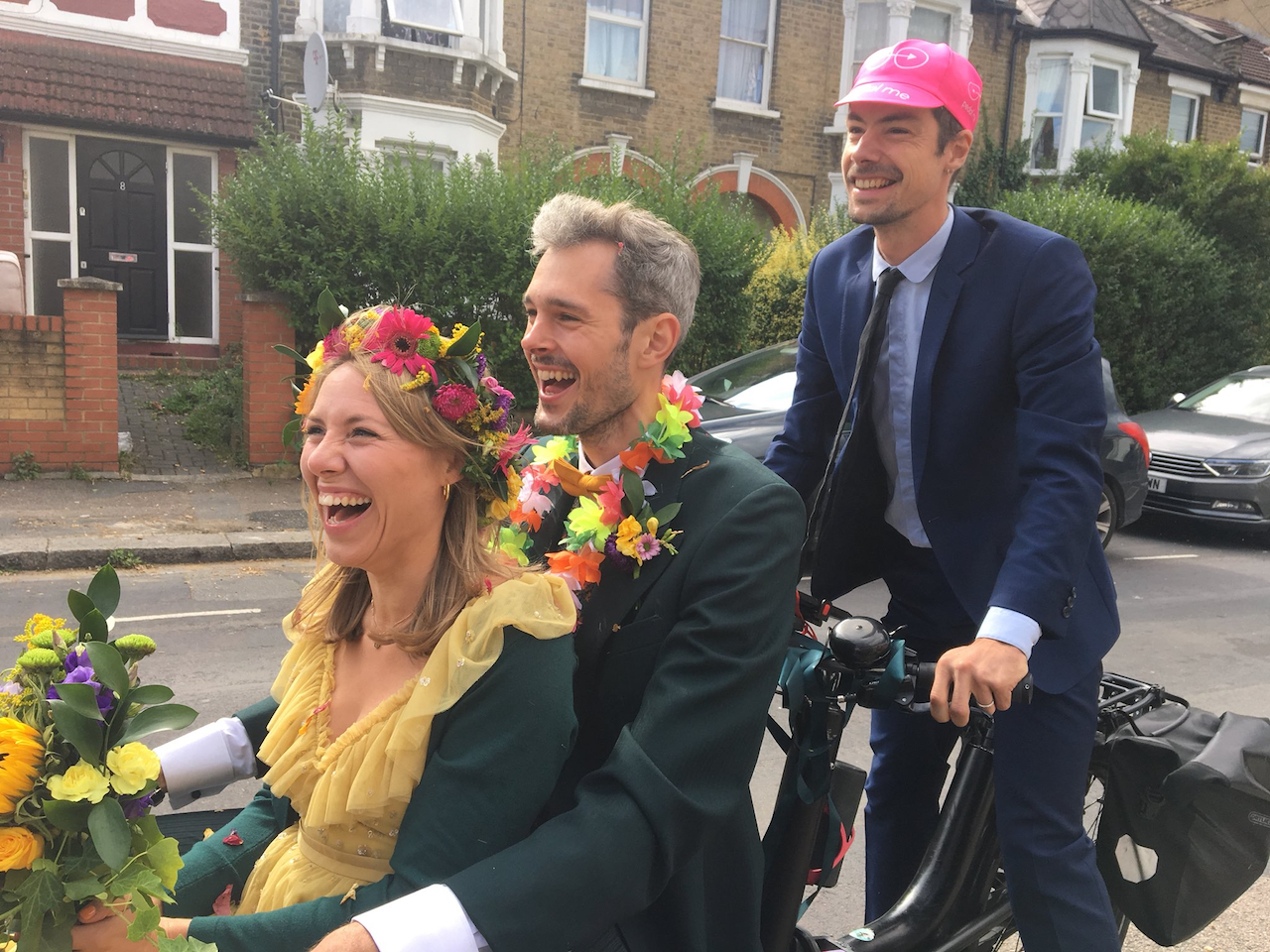 As their pricing structure shows, they are directly competitive with UberX prices and their narrow bakfiets style e-cargo bikes from Urban Arrow will no doubt be quicker for may journeys in central London where motor traffic can often be at a standstill, allowing their skilled riders to cut through traffic with ease.
The company estimates a two mile journey through Central London using their e-bikes would cost a customer £7.90 and take around 10 minutes, compared to the same journey using Uber X which would cost £7.85 and take 19 minutes.
Here's a passenger-eye view of a PedalMe ride around London.
Although quite a bit larger, the Velotaxi solution is one used in many European cities such as Amsterdam and many French cities.
Family Fun
The school run can see motor vehicles clogging the roads and pavements around schools at the start and finish of the school day. British mum Rhiannon Batten wanted to get her two kids to school which was a hilly two miles there and back and get them fresh air at the same time.
After much research she chose an e-cargo bike and concludes 'Was it worth it? Resoundingly, yes. The bike we eventually bought has transformed not just the school run but also our wider lives. On weekdays we arrive at the school gates invigorated and happy and raring to go (at the risk of sounding like the Waltons, I am also loving the interaction I get with the boys – instead of sleepy grunts from the back of the car I get a rolling commentary on their days and on the journey itself, even if they tend to get more excited by a passing rubbish lorry than the spectacular views valley that I'm soaking up myself)!'
There's lots more on the exercise and time benefits Rhiannon feels in the Green Traveller article linked to above as well just why she chose the longtail design of e-cargo bike.
To see how easy e-cargobikes can make the schoolrun with good bike infrastructure check out this video from the Netherlands:
This electric assist Nihola found an enthusiastic reception whilst taking a trip around Paris with three not so small kids.
Exploring the Great Outdoors
Traditionally exploring the great outdoors was done on a touring bike or perhaps a mountain bike modified to haul plenty of gear. But e-cargo bikes can be great for loading up with what you need for the great outdoors.
Troels Ørsted Yttredal lives as a teacher, firefighter and dog sled guide on an Artic island in the Svalbard archipelago. Troels went for the Californian compact longtail e-cargo the Benno Boost E and tells how the bike fulfills his unusual needs:
'I have my 12 dogs in a dogyard just outside the city, and they need fresh water twice a day. The Benno Boost E is the perfect bike for getting those 10 liters water cans out there…..In short, I knew what kind of stuff we bring in our car: Lots of water to the dogs, all kinds of boxes from the post office, heavy bags of groceries, tents, outdoor cooking gear and sleeping mats – and the weapons we need (for deterring polar bears…). So I quickly realized that we would need a bike that can haul stuff!'
E-cargo bikes can also help you take plenty of gear on that camping adventure closer to home that you've always yearned to do but weren't sure if you could carry everything you'd need. To prove the point here's a neat video showing a Radpower e-cargobike used for camping and dog transport along the attractive looking Great Allegheny Passage.
Stay tuned for more e-bike news and reviews and thanks for reading!
-Richard
P.S. Don't forget to join the Electric Bike Report community for updates from the electric bike world, plus ebike riding and maintenance tips!
Reader Interactions