E-Bike News: Trek, Stromer, Karmic, Easy Motion, World Record, Eurobike, & More! [VIDEOS]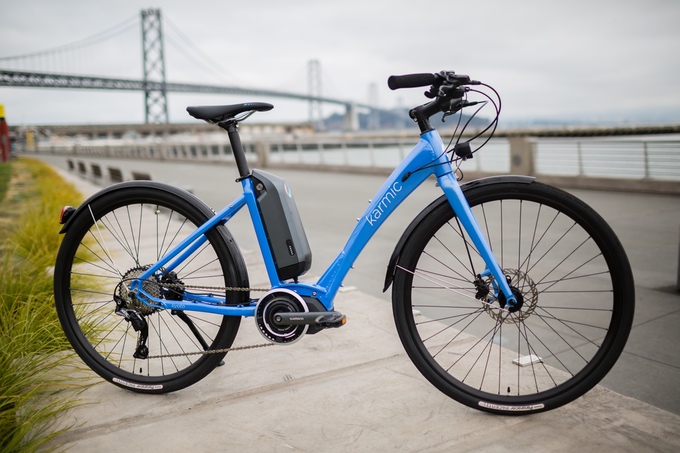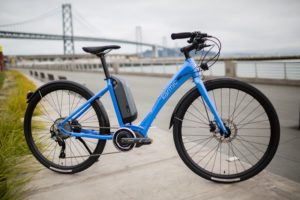 By Richard Peace
Women's Specific eBike Launched by California's Karmic Bikes
The Karmic Kyoto is being targeted specifically at women and it has just gone live on Kickstarter.
Karmic say "Kyoto is built from the ground up for women and a clean-sheet design—with a price tag as low as $1799 for early backers, a $1000 savings off the $2799 retail price."
The new Kyoto uses Shimano's STEPs mid-drive with an 11 speed derailleur system and unusually sized 650 x 38c tyres and is offered in three frame sizes. It also uses the larger recently launched 500Wh STEPS battery mounted to the seat tube of the frame for central weight distribution.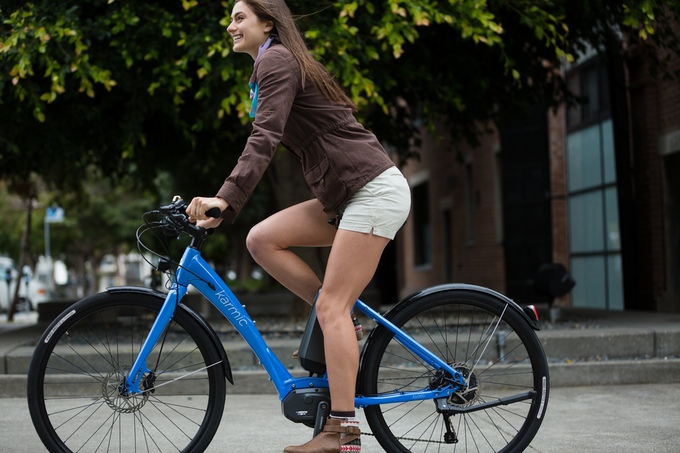 Karmic is already shipping their Koben and faster Koben S models which use a Bafang mid-drive.
Trek Aiming at Younger Riders?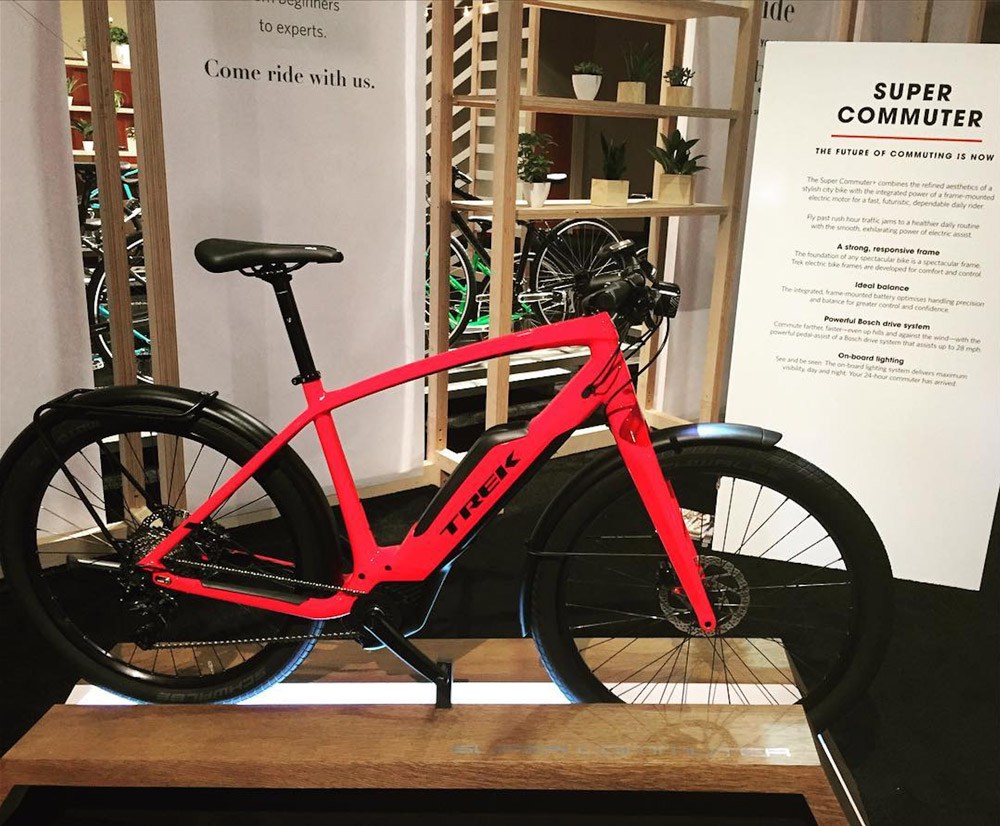 This report in Bike Europe suggests that Trek, based in Madison, Wisconsin, is aiming their new 2017 Super Commuter model at younger riders. Trek is using the Bosch crank motor just as they did with their recently announced Powerfly series of eMTBs. It features fenders, rear rack and powerful Supernova lighting. This new Super Commuter will be available in select European countries initially.
Stromer Tech Trickles Down
Swiss firm Stromer, who also sell e-bikes in the US, has announced the ST1X which will feature some of the tech previously reserved for the top end ST2 models. The ST1X will feature Stromers Omni app based system, allowing the rider to make performance parameter changes and to keep track of the bike should it be stolen.
New Products from Eurobike
The e-bike market in Europe is huge and so you would expect the 'world's leading trade fair for the cycling industry', Eurobike, to be launch platform for the latest products. Here we have a roundup of some of the latest products being showcased August 31st – September 4th in Friedrichshafen, Germany.
Momentum Electric showcase Lighweight Commuter with New Mid Drive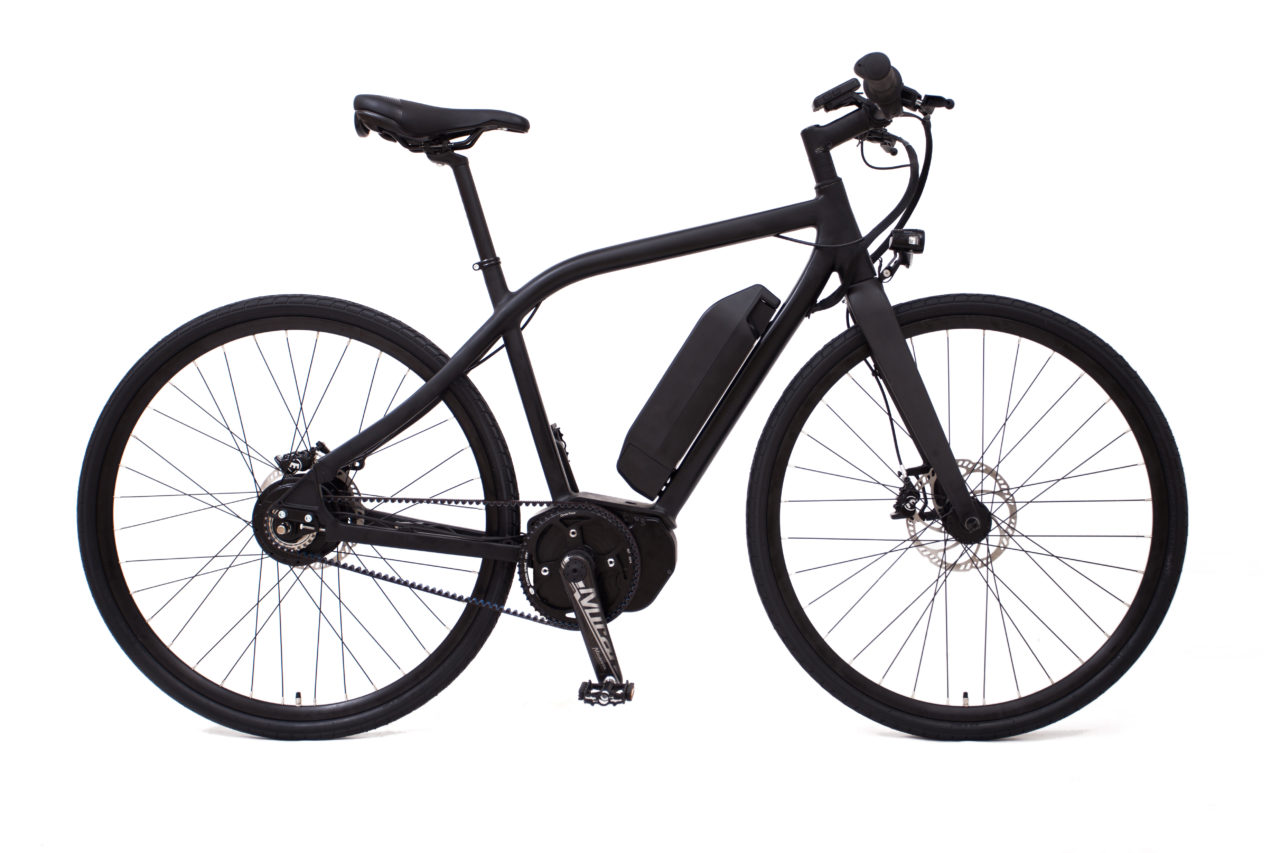 UK firm Momentum Electric, known for their lightweight and simple hub motor pedelecs, will let visitors have the chance to try out their new mid-motor model, the VIT-S in its 2016 production-spec prototype form. It has been under development since 2013, with Momentum Electric cooperating with Japanese firm Nidec Copal to produce a high torque, lightweight unit. "The final unit focuses on power" say Momentum Electric and that it is "the most powerful motor under 25kmh' but it is also 'efficient, durable and quiet."
US readers should also note there will be a higher speed US spec version and Momentum Electric already have a US distributor lined up for their bikes.
If you want to help the final push to bring the bike to market keep an eye out here for the forthcoming launch of the Kickstarter campaign. EBR will be bringing you a full test ride report of a US spec bike shortly.
Klever gets Clever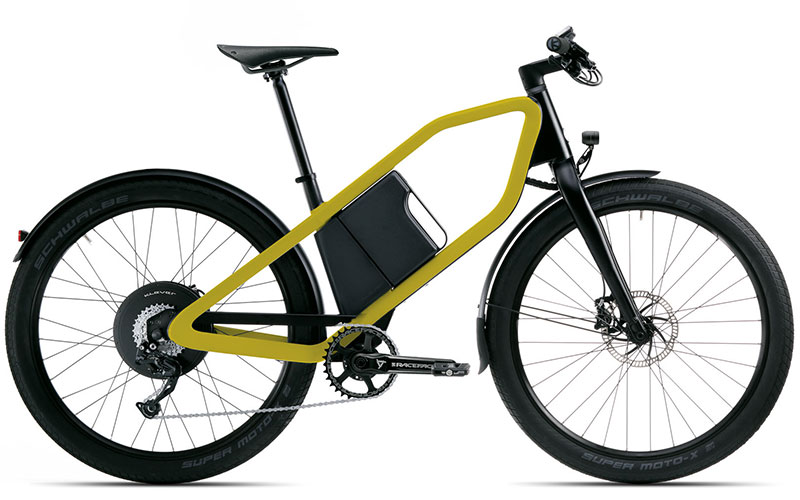 Young Cologne-based e-bike brand Klever will introduce their new "X" range. Like their other models it will use their own BIACTRON drive and will come in several versions, from a pure singlespeed to a fully-equipped commuter bike and a 45kmh s-pedelec.
"X RAW": Minimalist singlespeed.
"X COMMUTER": Fully-equipped for the daily commute.
"X RAW CARBON Ltd Edition": Electronic gears and rigid carbon fork.
"X SPEED": 600 watt motor and 45 km/h speed.
Easy Motion to use Yamaha motors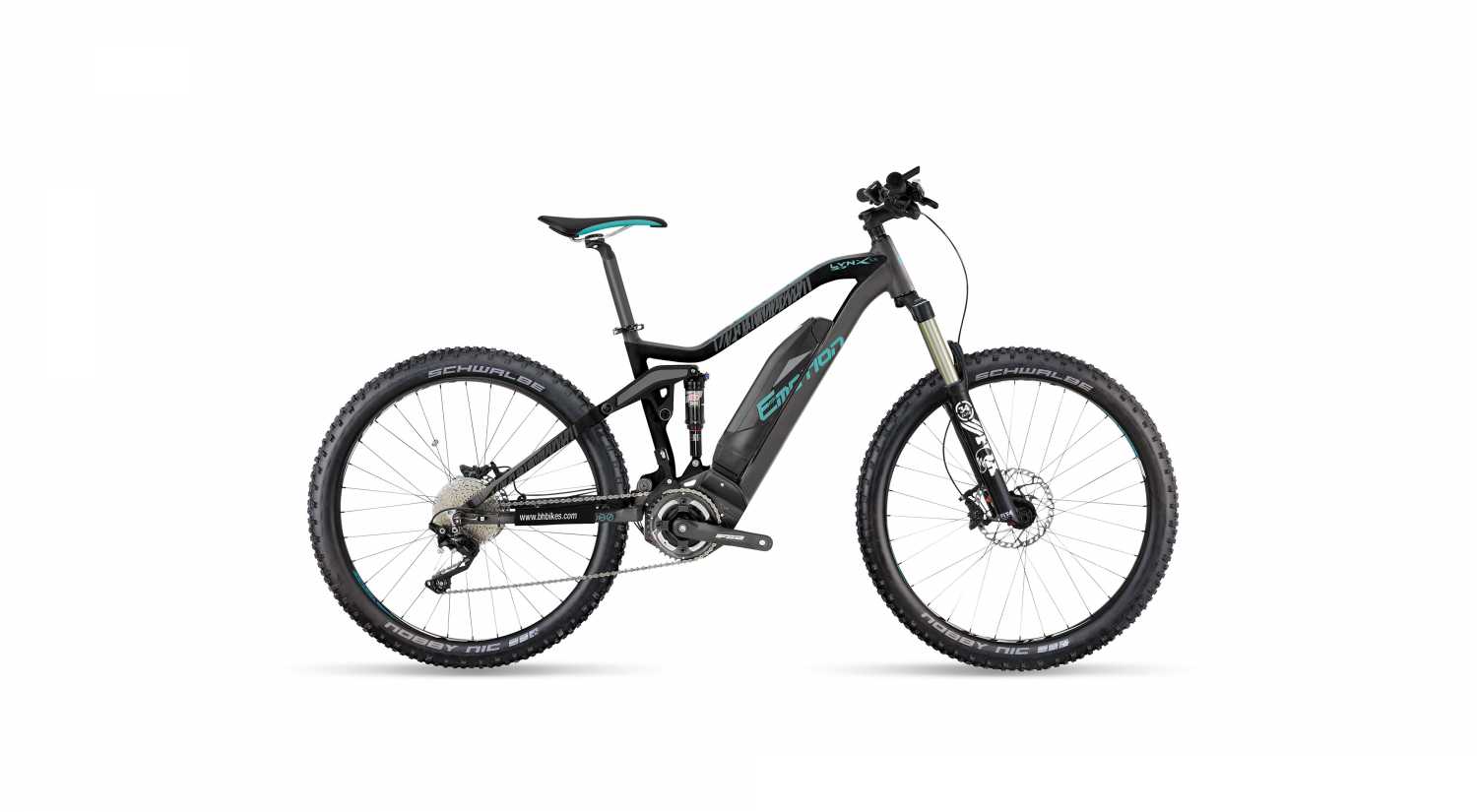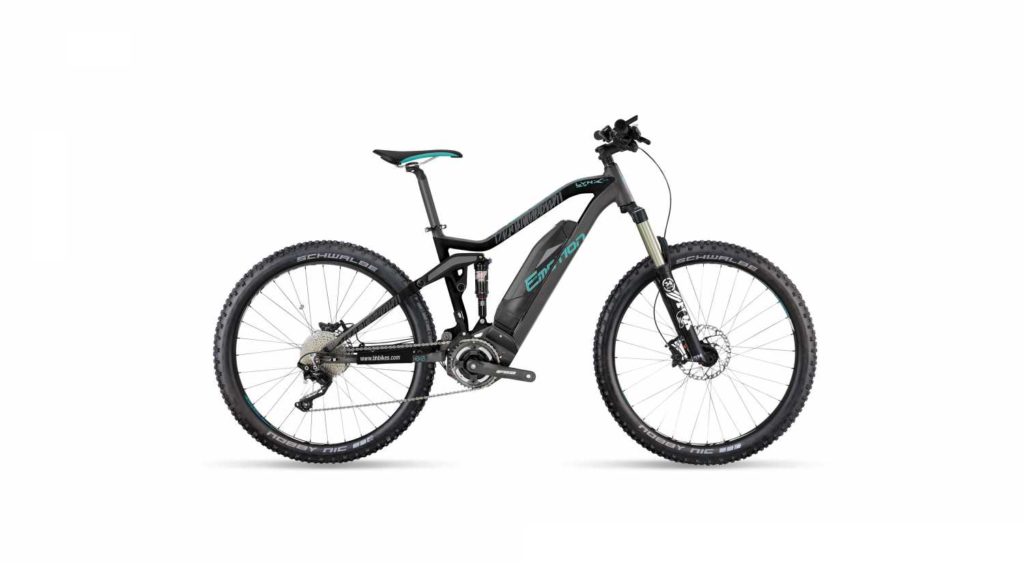 Spanish-based BH bikes who sells their Easy Motion bikes throughout Europe and the US has announced they will be using the new Yamaha PW-X motor range within their considerable 2017 e-bike offering. The motors will be used on e-MTB models the Rebel Lynx 5.5 and the Rebel 27.5+ Pro. The rollout of the lighter, smaller PW-X motor was recently covered by EBR.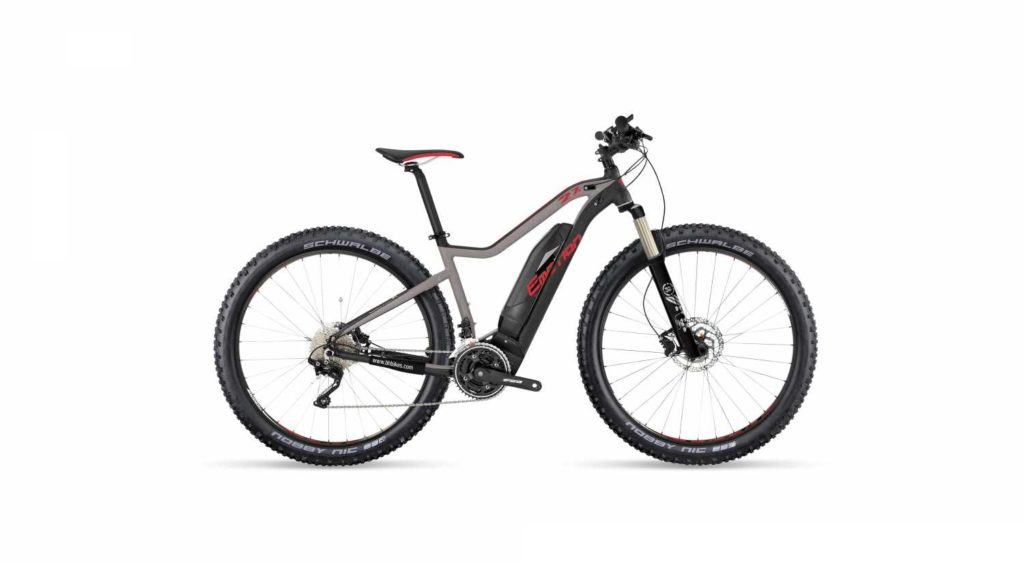 Eurobike Seminars 
There are also plenty of e-bike related talks and presentations at Eurobike including:
EBR recently detailed this amazing e-bike journey through the US and there will be a 15 min documentary film at Eurobike.
New Products from Taiwan: New products presented by top execs, including Giant's new e-MTB and the folding Tern Elektron.
Supply Chain: According to Bike Europe 'there's a vast interest for this Conference because it will present where the EU bike market is heading for…..'
New Euro Rules: Info on new EU rules, e-bike safety and motor recycling.
Mission Accomplished
After riding a Stromer ST2S electric bike for 34 days and 816 hours through 12 different states, University of Chicago Ph.D. scholar and south India native Ravi Kempaiah has set the new Guinness World Record for miles ridden on an e-bike. Ravi pedaled more than 5,000 miles to break the current record of 4,443.4 miles for the longest journey on a motorized bike.
E-bikes let you do Something Better than Commuting
Yet more proof, this time from the UK, that e-bikes give you as much if not more exercise than non-powered bikes. They are just quicker and faster for the same amount of effort! KTM importer Col Williams of Fli Distribution compared riding a standard road bike to an e-MTB along his road commute. He also used a heart monitor to measure the effort he was putting in.
Conclusion? "…I was impressed, I've saved essentially 20 minutes off my commute per day, using the same amount of energy. So if I used this bike (e-bike) every day, that would give me 1 hour 40 extra per week of my life at home to do something better then commuting."
This further adds to the data that proves that riding an electric bike is NOT "cheating"!
So Many Uses for eBikes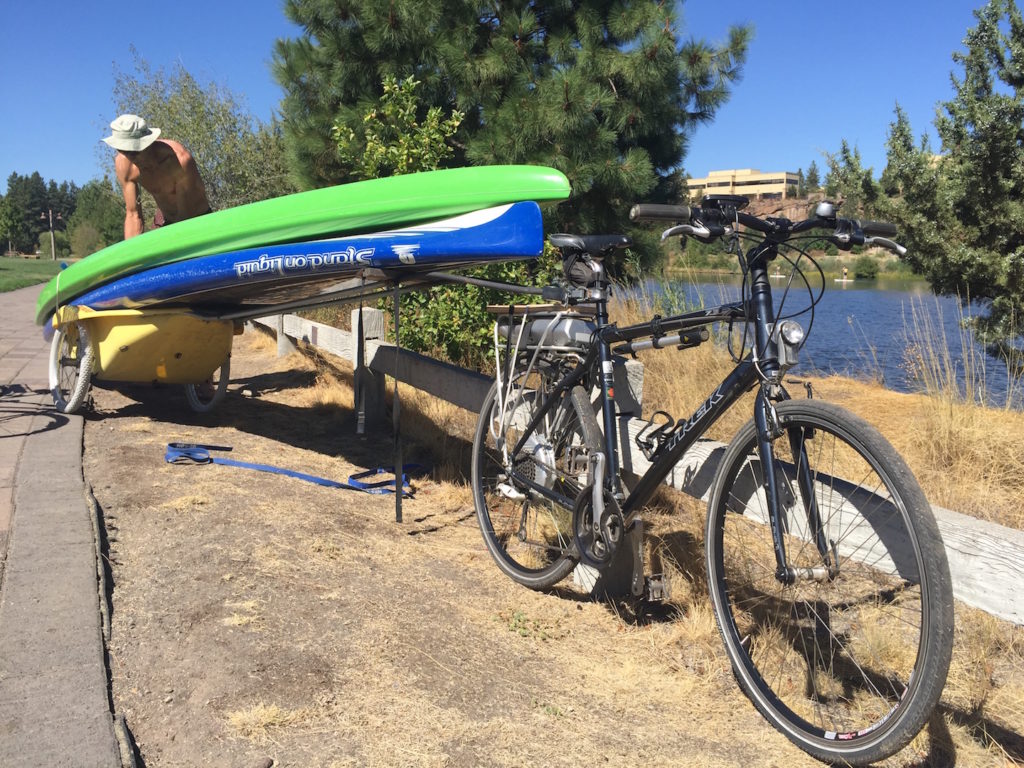 Electric bikes are great for so many things, including the transport of 2 stand up paddle boards from the house to the river! A couple in Bend, Oregon use this Trek electric bike and modified bike trailer to avoid traffic and the hassle of finding a parking spot at popular put-in locations. Plus, the combo of riding an electric bike and stand up paddle boarding makes for a fun day!
Speed pedelec helmets to be mandatory in the Netherlands
According to Dutch News significant changes are afoot in the Netherlands, with helmets for speed pedelecs becoming mandatory there from January 2017. The helmets will need more protection and a visor. S-pedelecs will also be banned from cycle paths and required to carry a number plate. Note the new laws only affect 45kmh variants, not the standard 25kmh models.
Registration for e-bikes  –  in Singapore
More controversial legislation, this time from Singapore, where the government has announced it will be necessary to register all e-bikes to safeguard against illegal modifications. The Land Transport Authority will announce more details by the end of this year and 25kmh e-bikes will continue to be allowed on shared and cycling paths and the road.
Fully Charged in London 
If you're a fan of the Red Dwarf television comedy you might have seen Robert Llewellyn as 'mechanoid' Kryten. He's also a big fan of green technologies and even promotes renewable technologies via his own YouTube channel Fully Charged. He recently rode several e-bikes around London's super new cycle lanes and was impressed. Featuring bikes from GoCycle, Moustache, A2B and California's Vintage Electric.
The IKEA of Velomobiles now fully funded
EBR recently featured the velomobiles from PEBL and Schaeffler. Now from Sweden comes the IndieGoGo funded PodRide, the brainchild of Mikael Kjellman. EBR particularly likes the footage of doughnutting on ice and the features harking back to automobiles of old, such as the opening windscreen and the hand-operated wiper. It is in fact a 25kmh compliant pedelec and, intriguingly, Mikael says stage four of his plans is 'to make an easy to build complete kit, no fabrication needed (like a IKEA Furniture).' Would a flat-pack velomobile be a world first, or do any EBR readers know better?
Mikael is refreshingly honest on the IndieGoGo page about the difficulties involved of getting such a little-known and bespoke design to market and encourages everyone to spread the word about the practicality and fun of 'bicycle cars' as future transport solution.
That's it for now. Stay tuned for more e-bike news.
P.S. Don't forget to join the Electric Bike Report community for updates from the electric bike world, plus ebike riding and maintenance tips!
Reader Interactions