Riding an Electric Bike is NOT Cheating. Here's the Data to Prove It [VIDEO]
As the warm glow of the Texas morning sun rises over the State Capital building in Austin, a cyclist suddenly flashes by.
Flash is the right term. For someone seemingly commuting to work by bike, this one was really moving.
The rider, Adam Alter, is just finishing his 19 mile daily commute from his home in Round Rock to BSX Insight, a company making and using specialized human performance monitoring equipment in Austin.
Alter makes his living helping bike riders monitor and understand how their bodies and muscles, more precisely, are performing.
On this day, Alter blazed into town aboard his Focus Aventura Impulse Speed. He was collecting data about the commute, using both a traditional pedal commuter bike and the Focus eBike.
His goal was to overlay the data sets and draw a conclusive comparison between these different bikes.
Note that his heart rate and average watts (from his pedal power) is consistent across all of the bikes, yet with the eBikes he is traveling faster and cuts his commute time down.
Most of the eBike miles have been from riding the Focus Aventura, but recently Adam began commuting on a Stromer ST2. The Cervelo and Specialized bikes are conventional, non-electric bikes.
Interestingly, before digging into the performance figures, Alter wanted to share some financial figures. "I live by a toll road, and my vehicle is a Yukon XL, because of the kids", Alter says.  "It takes 3-4gal of gas to do 40 miles in Austin traffic."
He adds,  "To park in my building is $24/day, exact same cost as paying the meter. So, it's about $40 a day to drive to work and back." Whenever possible, Alter prefers to ride.  "It's so awesome to get out and pedal a bike, rather than pedaling the gas and brake pedals of a car in traffic."
Of course time, as always, is critical.  "I'm very busy at work, and try to get as much time with the family as I can. With the eBike, I found I can still get great exercise, but actually move efficiently in 30mph zones while carrying all my commute and work gear."
Alter doesn't just ride to save money. He applies himself when he rides and wants to benefit from the exercise. He could tell he was exerting himself on the eBike, but wanted to know more specifically what his body was doing.
That's when he began recording his output. "I took a sample of 2,000 miles over 11 weeks, where I was riding my Sirrus commuter as well as my Focus eBike commuter. I used the same power meter pedals, same heart rate monitor, used the same commute route."
Then, a discovery. "I basically had the same intensity regardless of the bike I was on, as reflected in my heart rate average and max nearly matching perfectly." Simply put, he could ride the eBike as hard as he wished.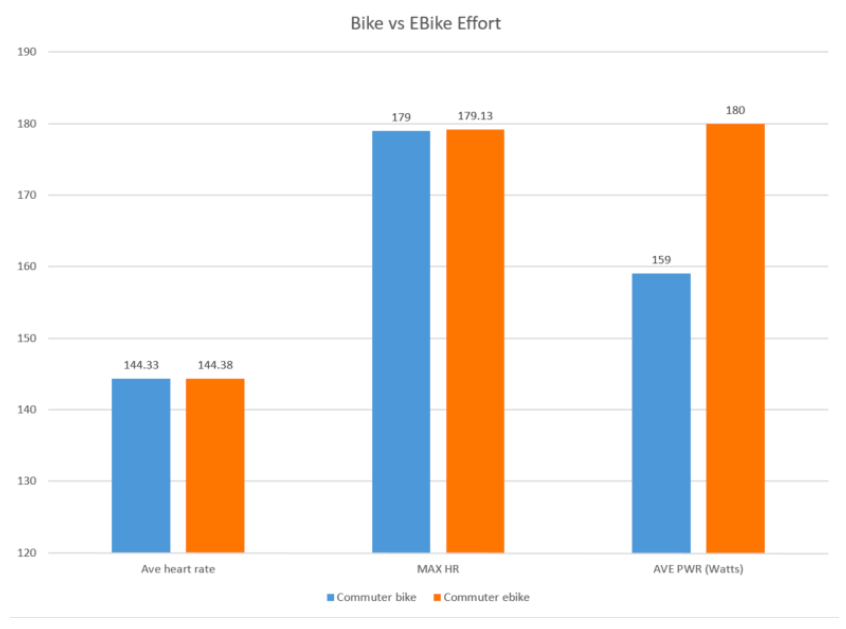 "My average power input was actually higher on the eBike because it cut my commute time down so much I wasn't destroying my body with over training." Alter felt the shorter commute times on the eBike resulted in higher output, more intense workouts.
"Moving to the eBike added almost 7 mph to my ride. My body worked the exact same but for a shorter duration." The gains showed up in other places, as well. "The five day commute felt more sustainable and freed up more time with family. Still, the 10.5 hrs of intensity each week is plenty to keep me in really solid fitness shape."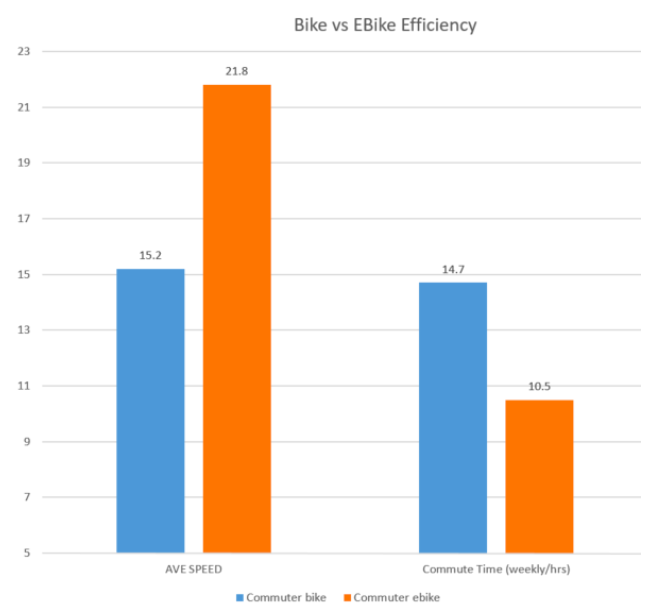 Alter learned that his daily 40 mile commute adds up to 10.5 hrs a week on an eBike compared to 7.45 hrs a week by car.  "Investing three hours of additional commute time gives me 10.5 hrs of working out a week." He adds, "Plus fun and money savings, when you compare the cost of parking, gas, and toll road."
Alter pauses, not bothering to factor in wear and tear, depreciation, and auto maintenance costs, then adds "Another great thing about the ebike is, if I have a tough day, I can just cruise home on max assist, dropping my own power and still easily do 18mph+ and not take much longer."
Here is a video that Adam created showing the costs:
Experienced riders know it's easily possible to ride as hard as they want on an eBike. Equally as hard as they can on any other form of bicycle.
Still, eBike riders are sometimes cited as "cheating" by the traditional pedal crowd. Perhaps insight such as what was put forward here by Adam Alter will help break down those misconceptions and lack of understanding.
As he says, "On my eBike I can always do intervals, sustained efforts, and hammer until I'm ready to pass out, as if I'm on my regular road bike!"
P.S. Don't forget to join the Electric Bike Report community for updates from the electric bike world, plus ebike riding and maintenance tips!
Reader Interactions