Nano Electric Assist Retrofit System on a Moulton [VIDEO]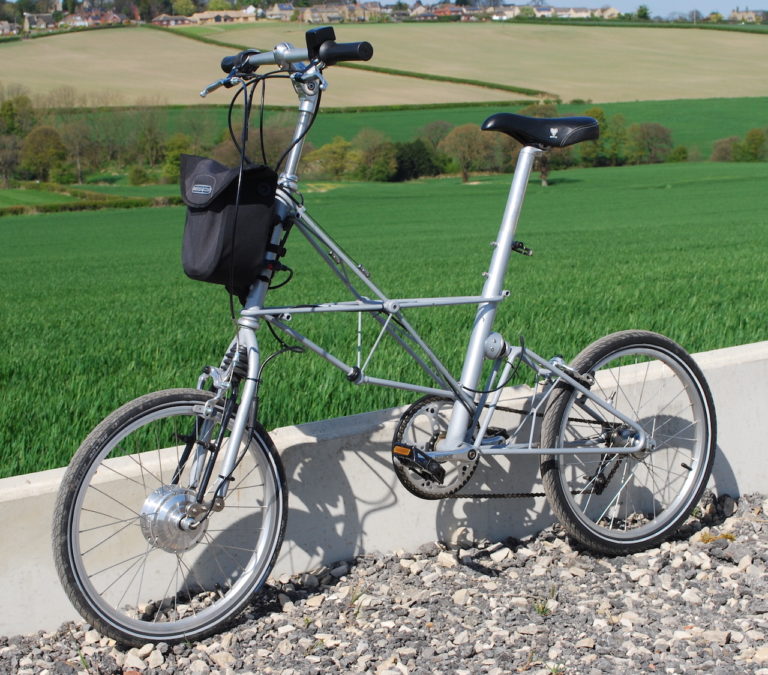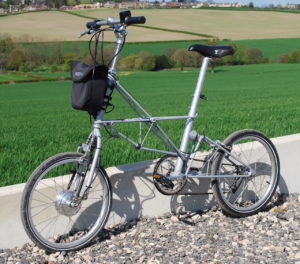 What and Who is Nano
This small motor system is designed around a very neat 2kg front wheel hub motor allied with their own 'one-click' bag set up which features a connector inside the bag, enabling a variety of batteries to be used to power the system including Bosch and Oregon power tool batteries.
Most Nano systems have been retro-fitted to Brompton folding bikes as the low weight and easily removable battery are both great design features to have on a folding bike.
The Nano system was first put together by Tony Castles, a UK electronics engineer, in 2007 and the design has been updated several times in the interim to produce a slick, lightweight conversion that is available in twist, thumb or button control throttle versions.
Pedal sensors can also be fitted to comply with current UK legislation if required.
Nano's fitting workshop is based in Leamington Spa near Birmingham but they also have fitting centres in London, Manchester, Yeovil and Marlborough and they ship worldwide.
Here we review the system on a classic British bike design, the Moulton. Like the Brompton, the Moulton uses smaller wheels and part of its appeal is that it also stores and transports easily (though it's a demountable not a folder, meaning the frame splits in two).
System Design
Those interested in the technical details might like to know that whilst the Nano uses a planetary hub drive system like most conventional geared hub motors, it does not use toothed gears but smooth rollers that rely on the pressure and friction between smooth metal surfaces (hence the video refers to the hub motor as a 'friction system' though it is a world away from traditional e-bike friction drives).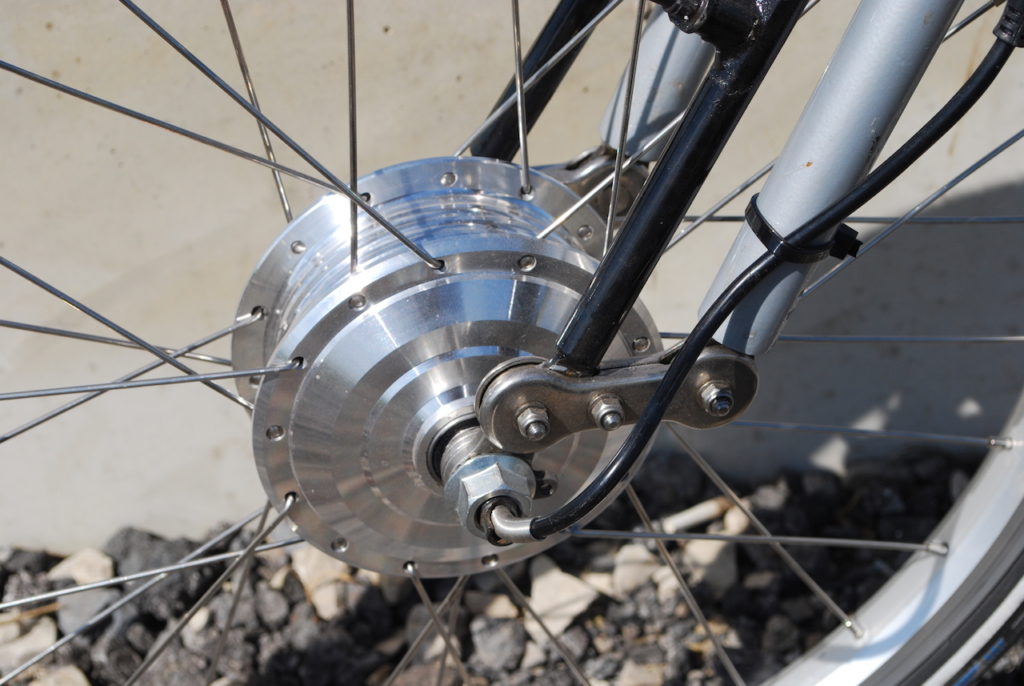 The result is a very quiet running motor that gives a surprising amount of power for its small size, especially as a hill climber.
Battery and control electronics are also designed to be able to fit onto small bikes without compromising the look and handling to any great degree, though the Nano can be added to just about any bike (Nano themselves have the motor spoked into 20″ wheels and 16″ Brompton wheels as standard).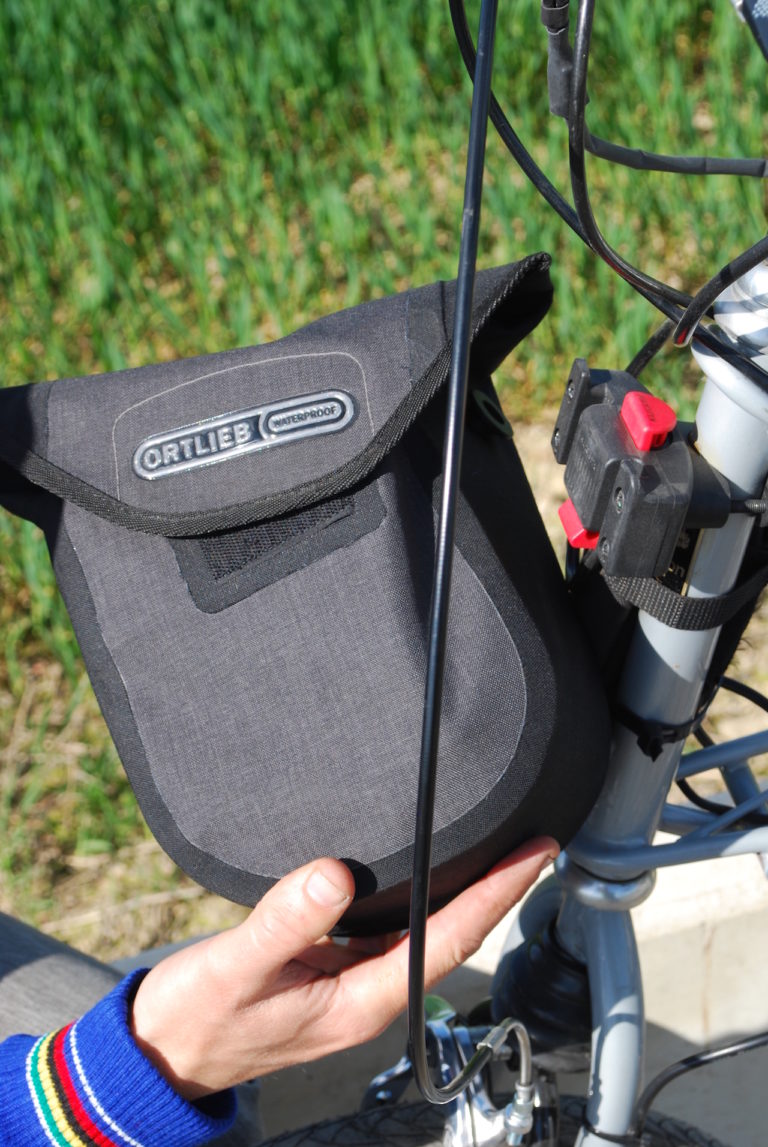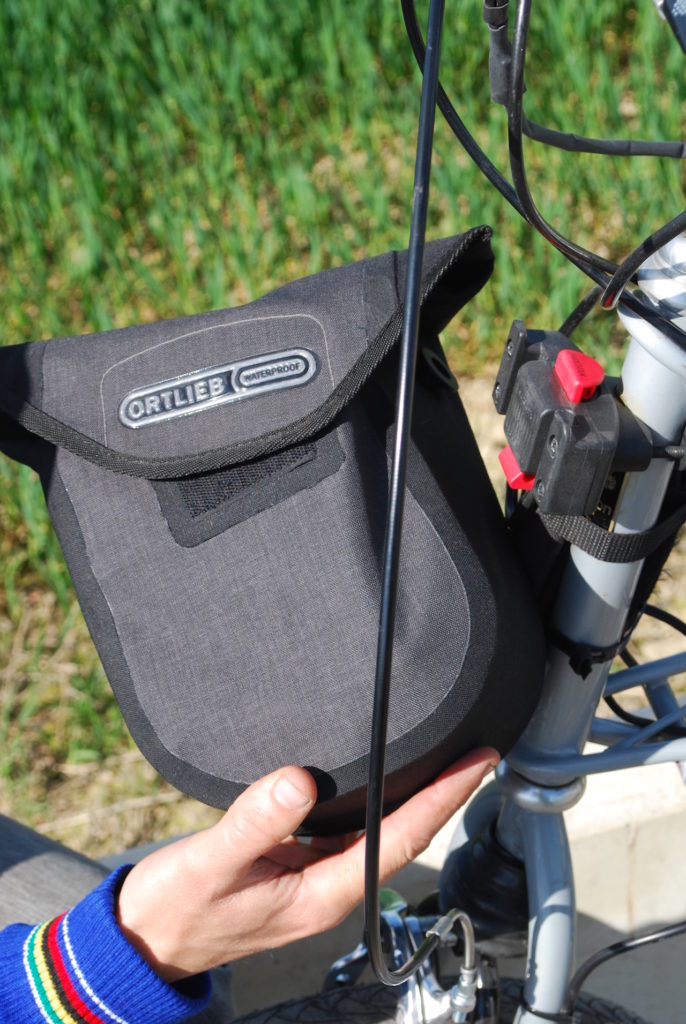 The Bosch 144Wh battery sits in an Ortlieb bag (Ortlieb being extremely well-regarded as makers of outdoor waterproof bags, including bike-specific ones).
This is connected via a small controller strapped to the bike frame to the front hub motor, the whole system coming in just over 3kg including the motor and battery.
There is a bigger 360Wh battery option (not Bosch) but this would obviously need a bigger bag than the Ortlieb option featured in this test (though the 360Wh battery easily fits into a standard Brompton bag for Brompton conversions).
Whatever battery and bag option you choose the battery bag is made to easily and quickly disconnect from the bike without having to delve inside the bag itself.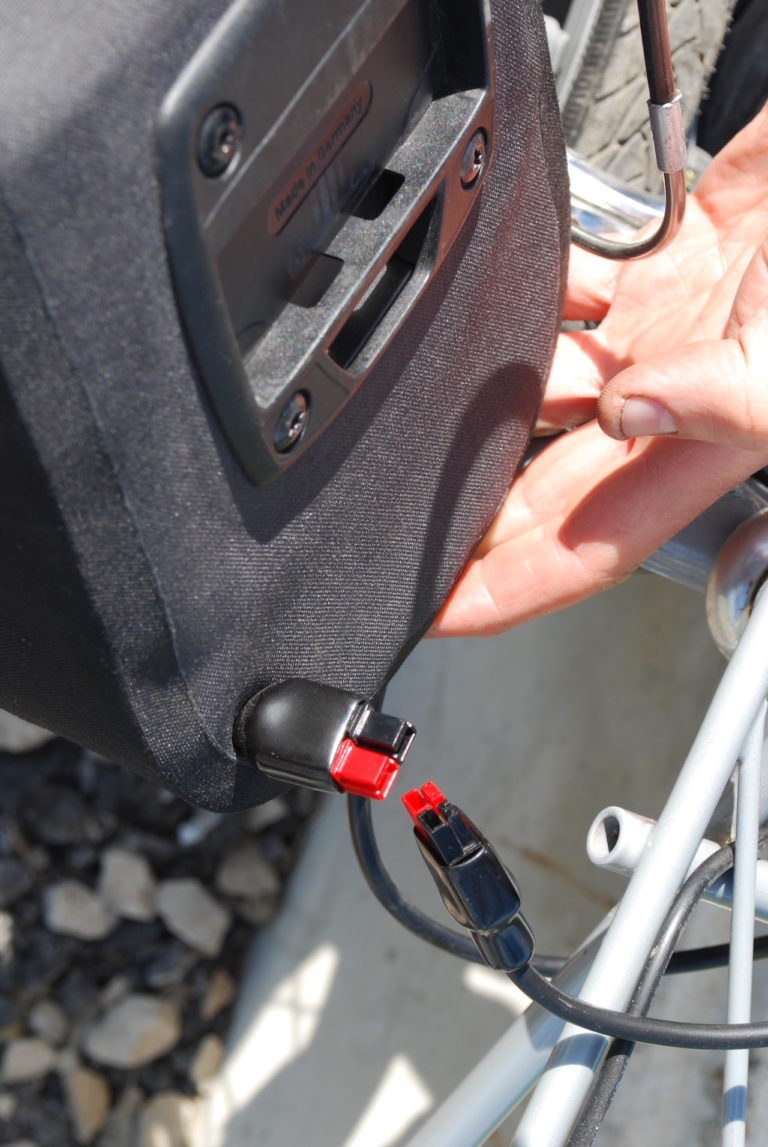 The bag option used here utilises a waterproof Anderson connector and indeed the system is modular to the extent that the front hub motor simply unplugs if you need to repair a puncture.
The wiring between the hub motor and controller and throttle is however one continuous 'loom' and it would be nice if the controller and throttle were also 'plug and play', should you ever need to replace them.
The Nano system is also compatible with MacAllister powertool batteries. Although these are no longer available in the UK, but for those that have the battery (for example to power existing powertools) Nano can supply the system with an adapter mount similar to the Bosch adapter mount used, where the battery slides on and is 'locked' in place by simply pushing a flange into position. Nano say they are also working on making the system compatible with Oregon powertool batteries which would give a 6Ah (216Wh) option.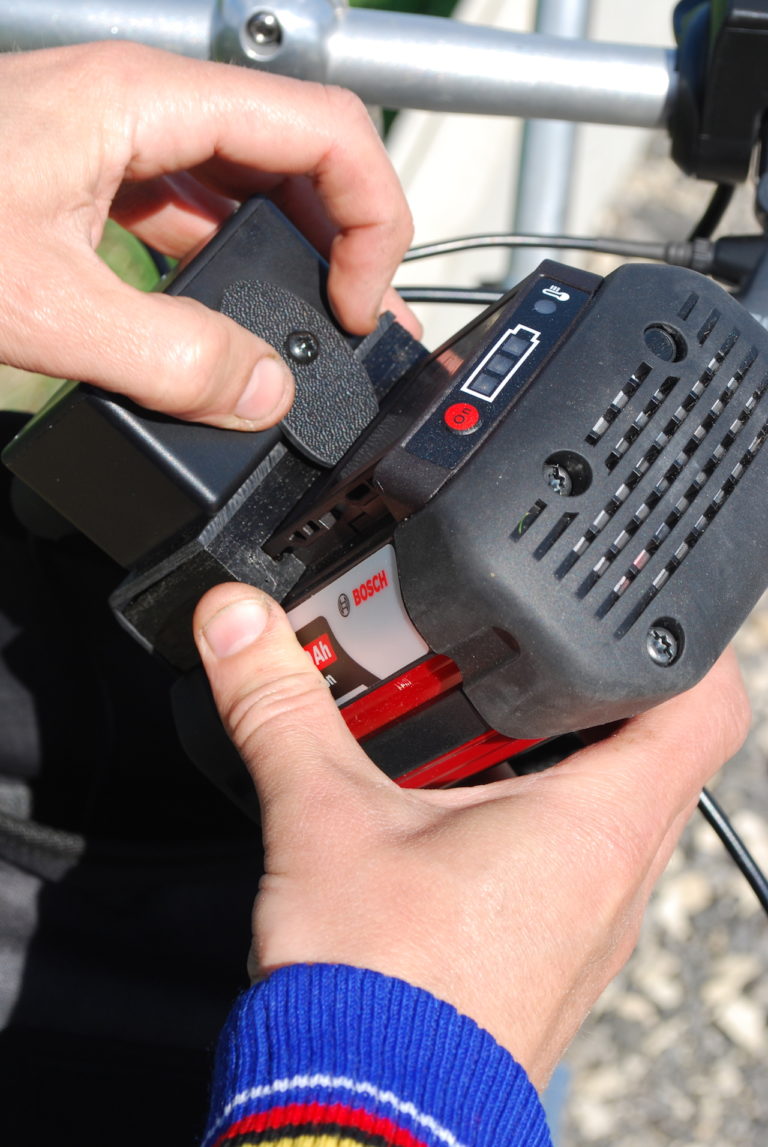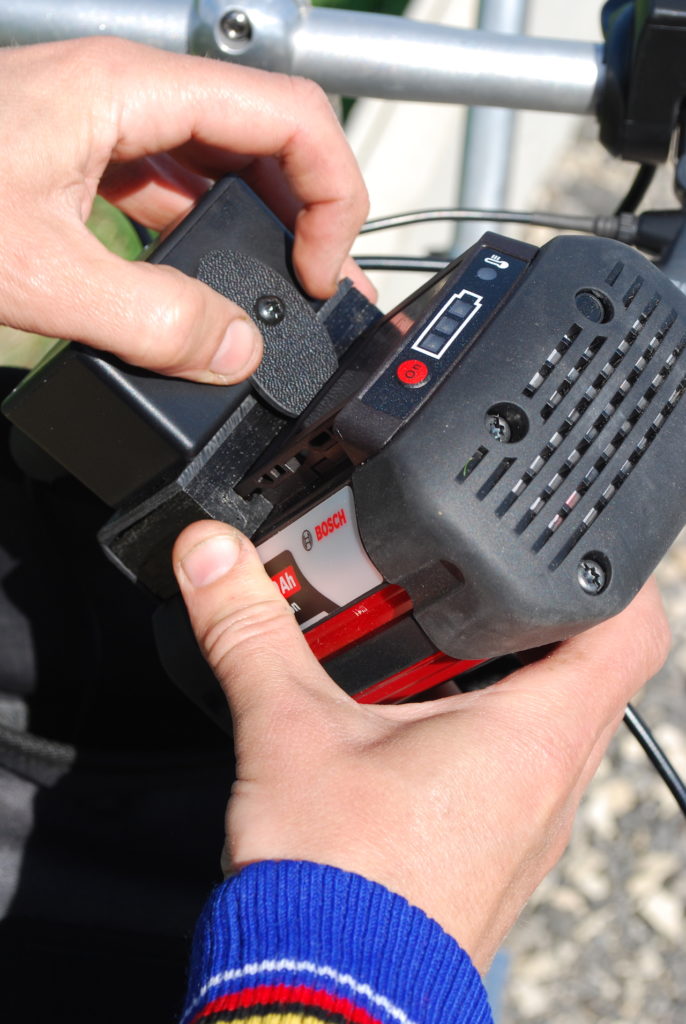 All in all this is a very clever system that combines light weight, great hill-climbing ability and the practicality and convenience of powertool batteries into a design that blends easily with the look of most bikes to the extent that its hard to tell at first glance that it is an electric bike being ridden.
Far and away the most popular customers for the Nano system are Brompton riders. The main difference to the Moulton system featured here is that the Brompton bag is actually hardwired to make an electrical connection with the mounting block, via copper strip and wire connections, so you don't even need to plug the battery in, just put the bag on the bike.
Other folders of course will accommodate the Nano system too; check out EBR's report on riding through France on a Dahon powered by a Nano system. It would be equally suited to one of competitor Tern's 20″ wheeled bikes as well as a host of other 20″ wheeled bikes.
Do note that whatever bike a Nano system is fitted to any original bike manufacturer's warranty is likely to be voided, so fitting by Nano, or a competent bike shop or DIYer is recommended (see below for details of Nano's own fitting service).
Moulton – History and Heritage
When they first appeared in the 1960s, Moulton bikes (non-electric of course) managed to combine being an icon of London's 'swinging sixties' with pioneering engineering to produce a bike that, at the time, was synonymous not only with the mini-skirt but the Mini car.
In fact original designer Dr. Alex Moulton collaborated with Mini designer Alec Issigonis to produce the hydroelastic and hydragas suspension systems used in some 12 million Minis.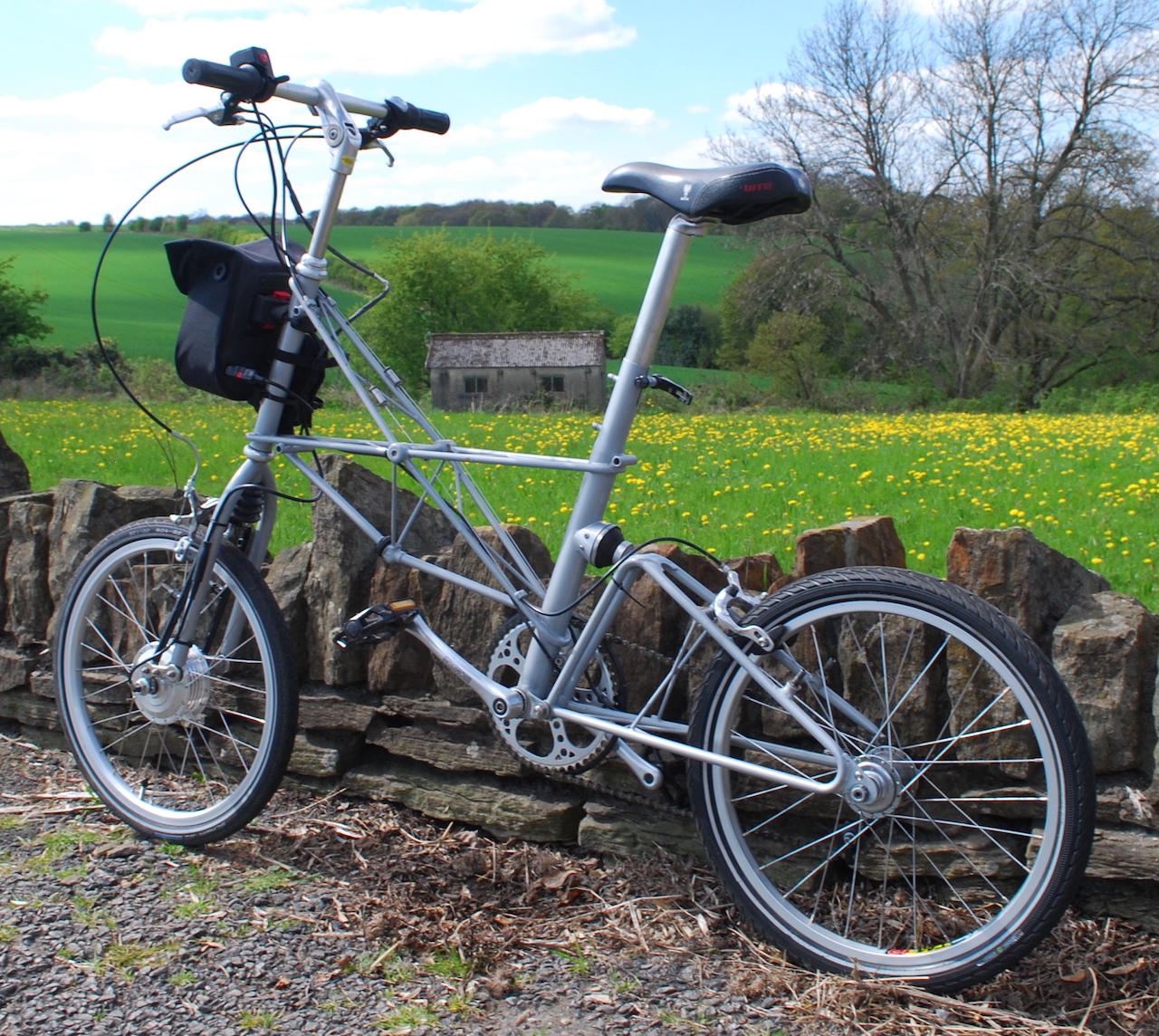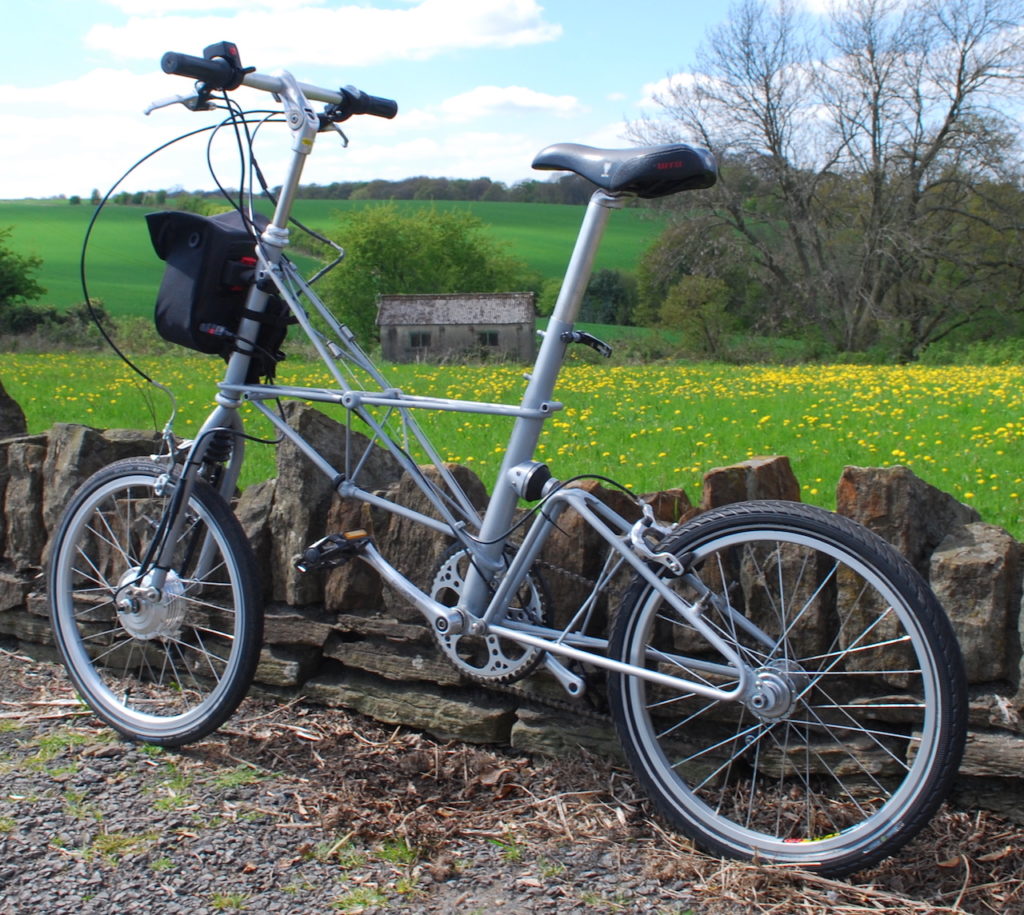 A similar elastomer system was designed in to Moulton bikes so that they combined the light weight and quick acceleration of small wheels without the associated harshness of ride.
As the design proves and as we found out in the test, small wheels certainly aren't slow wheels; in fact a Moulton set the time record for cycling from Englsih capital London to Welsh capital Cardiff. To see more about just what makes a Moulton unique see here.
If you want to see hear Dr. Moulton himself and learn about the impact the bike had at the time check out his BBC TV interview:
The Test Ride
My regular 8 mile hilly commute through rolling Pennine countryside with some 10% grade hills was a great test for the Nano.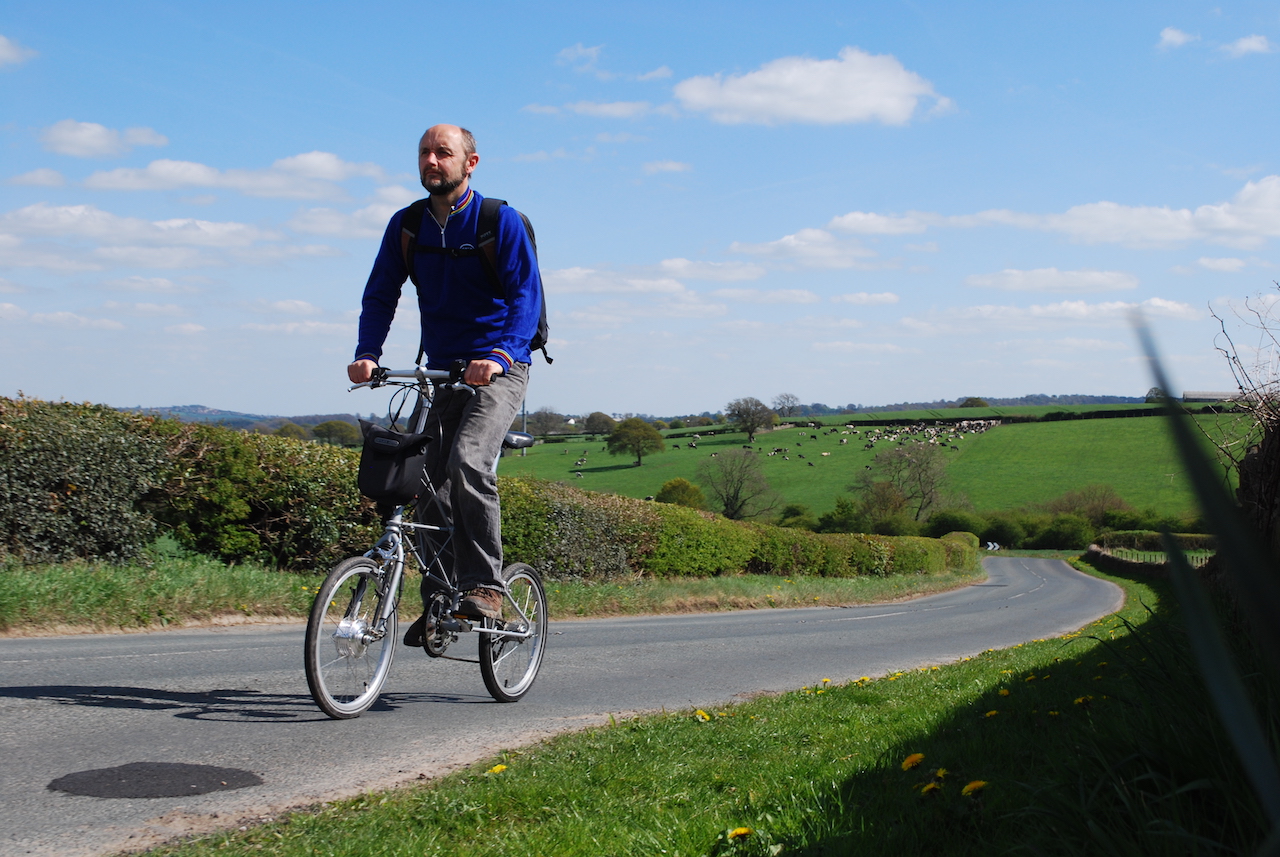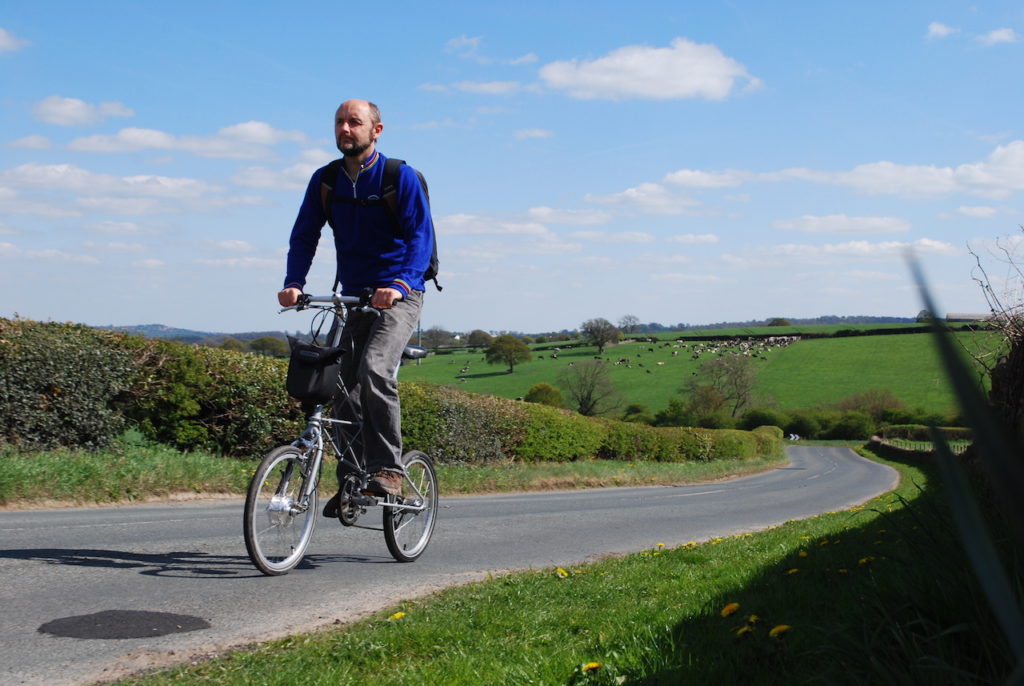 In short, it breezed up the hills, even with the rather high 3-speed hub gearing that the test bike came with. First gear was low enough for the flat and very moderate hills whilst the nicely modulated throttle power could simply be eased on for more serious gradients.
When the battery gets to its last third or so the power does noticeably drop off a little; not a fault of the system but purely down to the fact that smaller batteries at low capacity have less ability to deliver the peak current required for steep hill climbing.
All the more reason to opt for the 216Wh Oregon battery option as and when available; in theory this should suffer less from this effect than the Bosch 144Wh option.
Range is particularly difficult to gauge with throttle systems as some riders will undoubtedly resort to throttle power more than others.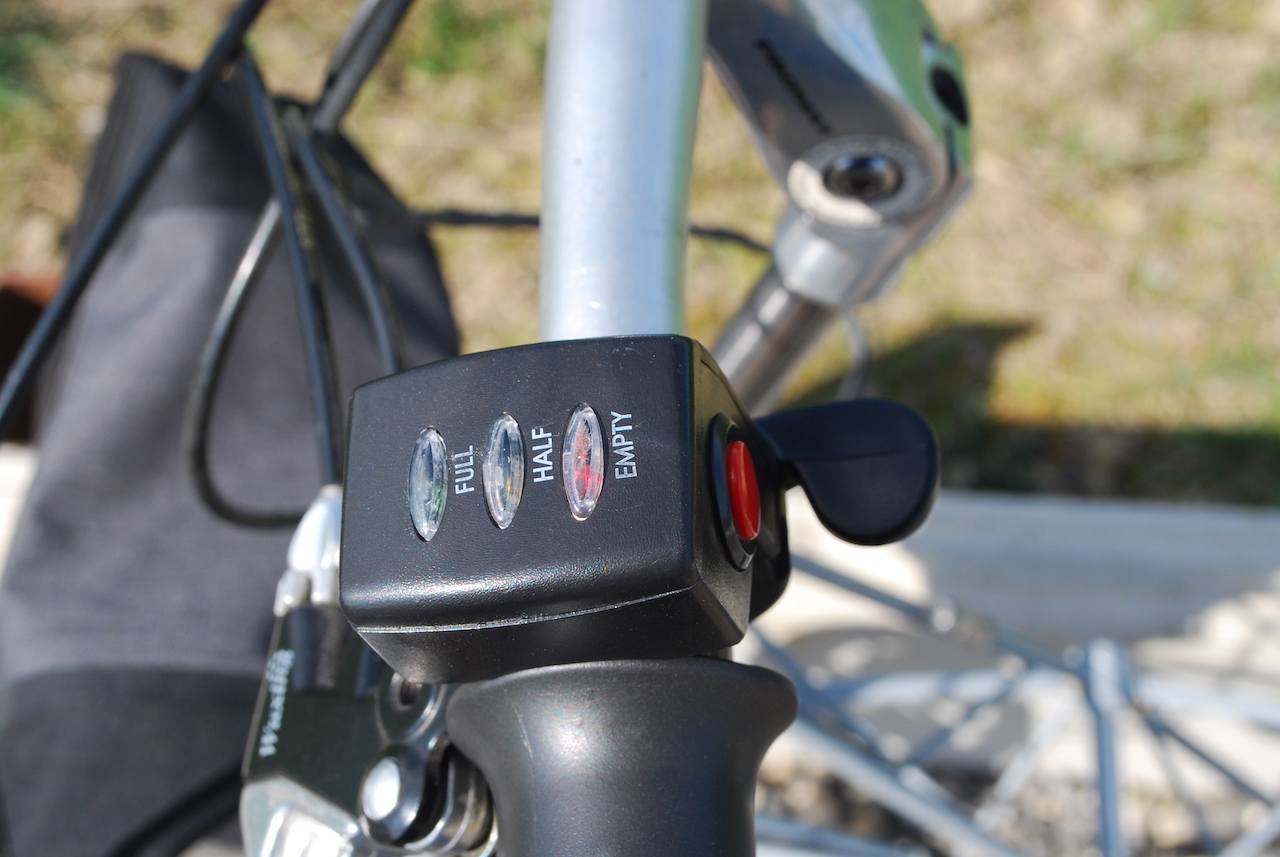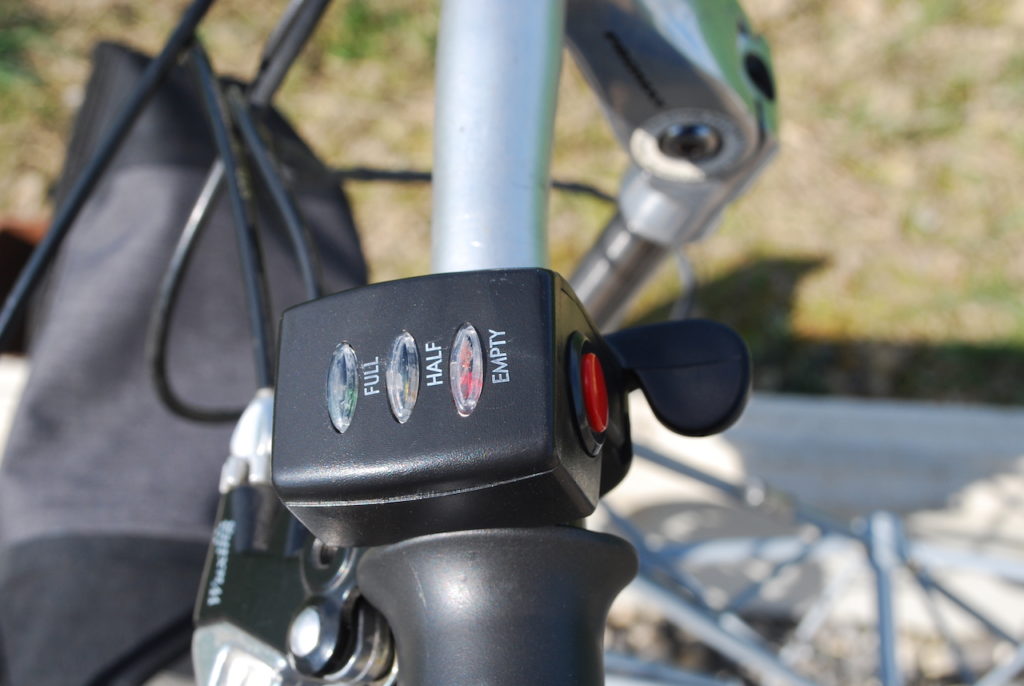 However, using the power as sparingly as possible but without having to exert myself much on hills, I got the end of the 8 mile ride with the first of three capacity lights just starting to flicker.
At the end of the return 8 mile journey (largely downhill with a following wind) there were two solid lights only showing.
This suggests a typical range for the battery of between 10 and 20 miles, depending on the riding conditions, rider weight and frequency of throttle use (of course, the batteries being small and light it would be no great effort to carry two or three and triple the range). That all adds up to a very economical system on a very economical bike.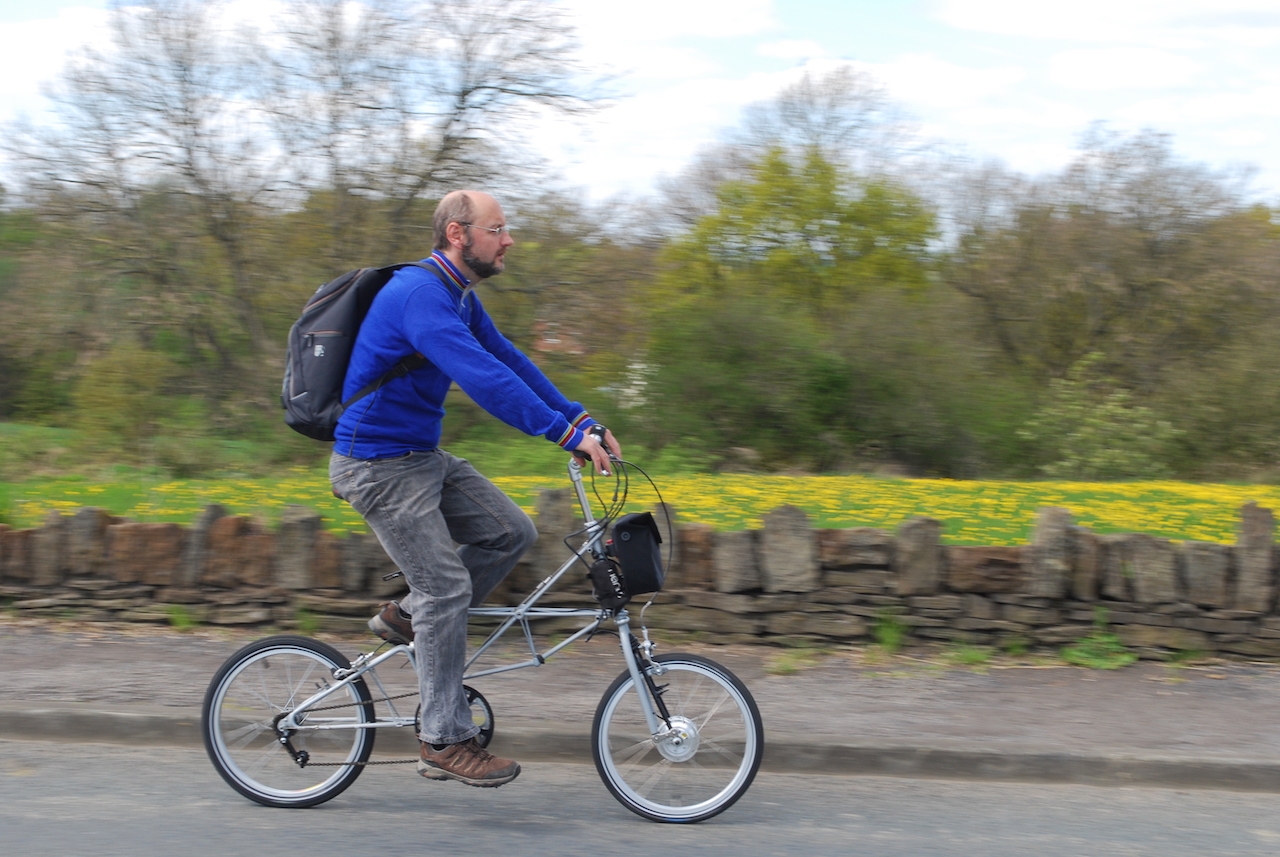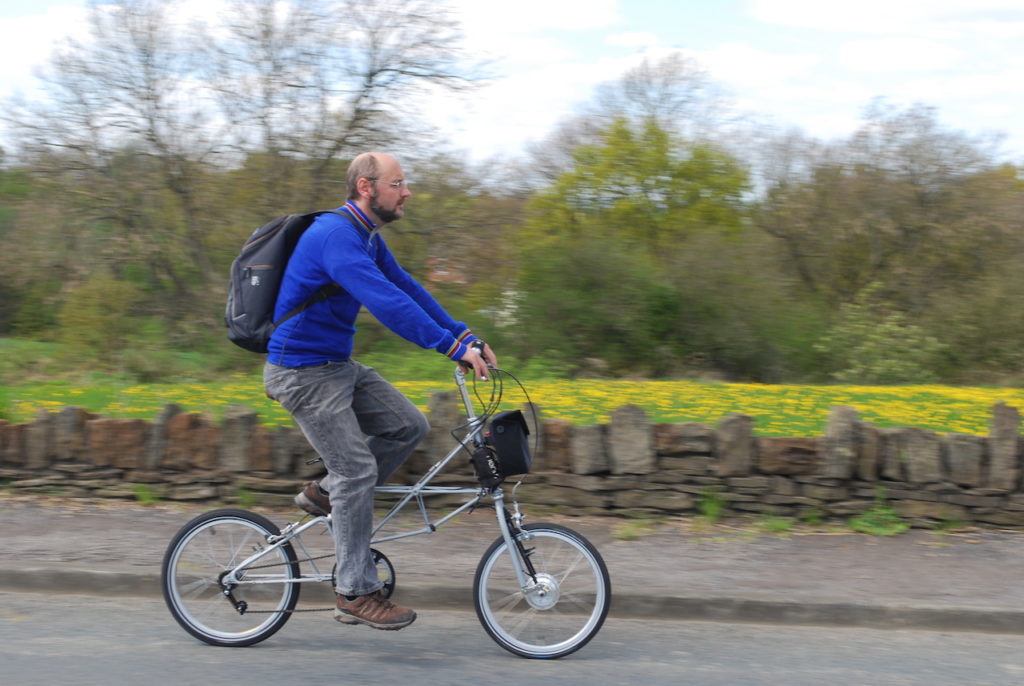 The Moulton itself rides superbly well. The frame feels super rigid and the suspension does a wonderful job or ironing out bumps and helping you stick to the road surface with confidence whilst cornering at speed.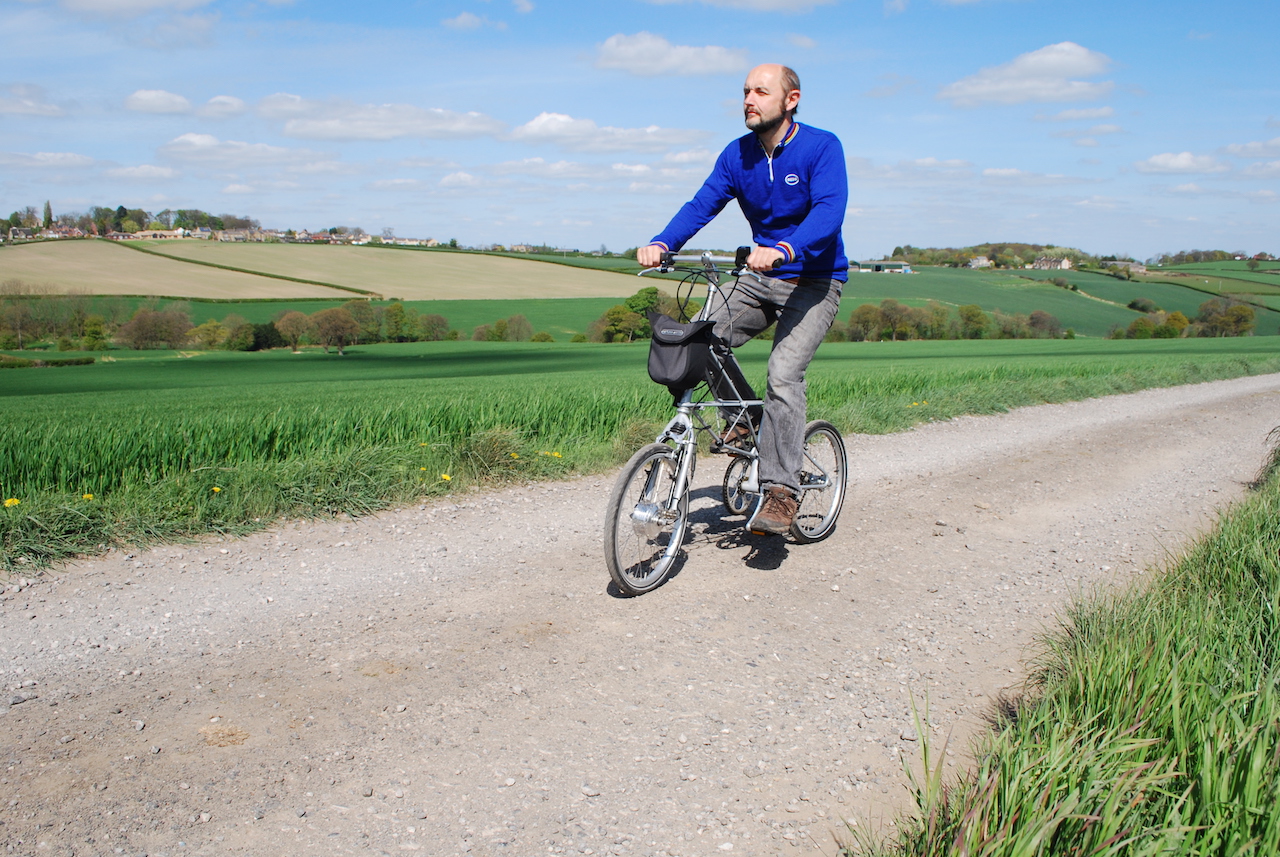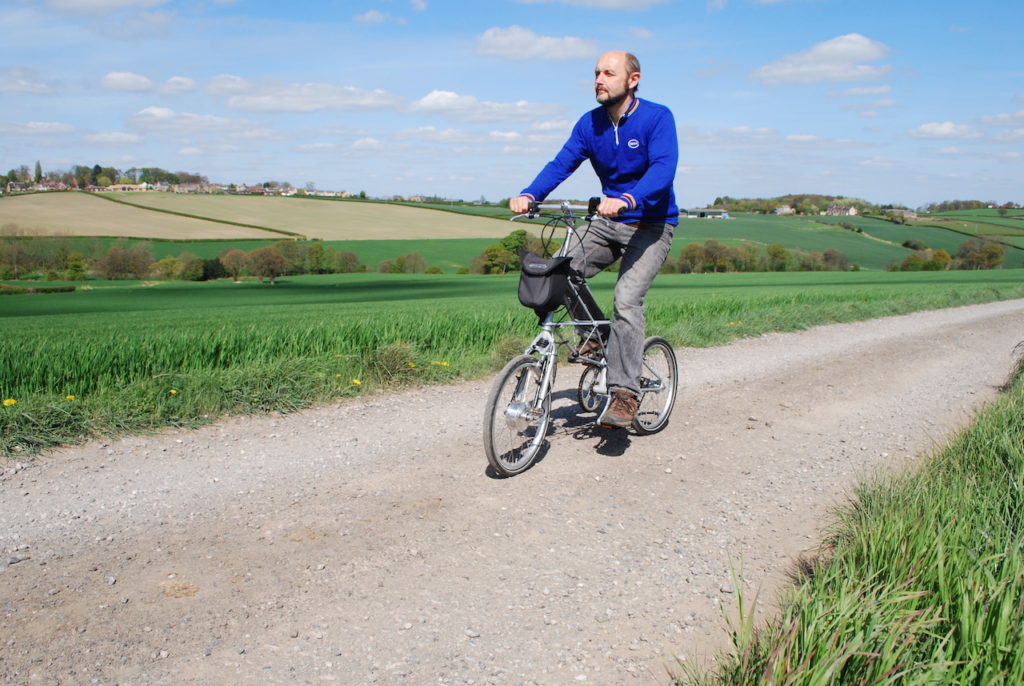 There was a bit of 'bob' from the rear suspension rubber whilst pedaling hard on the flat at speed, but I suspect this would be rectified by choosing a harder rubber compound.
The bike frame splits easily and quickly in the middle of the frame, but you are left with two separate halves more suitable for a car boot than taking on a train.
Total unpowered Moulton bike weights start at under 10kg (though naturally these are some of the pricier options – see pricing below) so a very lightweight Nano Moulton is a tantalising possibility…
Pricing & Accessories
The Nano system can be supplied for customer fitting or the fitting can be done by Nano at their Leamington Spa, London, Manchester, Yeovil or Marlborough facilities. Kit only options start at £726 (around US$ 930). Fitting is £100 (around US$130).
Extras include various housing bag options adapted to take batteries and a battery powered lighting system. Delivery is £30.00 for the kit only to the UK. Enquire direct for addresses outside the UK.
Nano say they regularly send kits to the US and advise as follows: 'We encourage customers to buy their Bosch or Oregon battery locally as then they get a US charger and save about £120 on shipping as the batteries have to ship as dangerous goods. This also means the total is usually under US$800 so there is no import duty (and no UK VAT).'
The Nano system is guaranteed for 12 months against manufacturing defects and the battery is also guaranteed for 12 months to keep up to 85% of its charge.
Moulton's range costs from £950 (around US$1,220) to £15,500 (US$19,870). Check out the full range here. There are a range of racks and bags available too. Of course the Nano can be fitted to your own second had Moulton too (or second hand Brompton).
Test Bike Spec Summary
Motor: Tongxin hub planetary friction drive Weight 2.3kg
Battery: Lithium-ion Bosch 144Wh (1.25kg), 360Wh (3.5kg)
Modified Moulton APB Test Bike Weight: 15.5kg plus 1.75 kg battery and case = 17.25kg
Contact
Tel: 0845 094 2735 / 01926 334050
www.nanoelectricbikes.co.uk
Stay tuned for more e-bike news & reviews and thanks for reading!
-Richard
Review Note: Each company pays a fee for a review on Electric Bike Report because of the considerable amount of time that it takes to provide an in-depth review of each eBike. A lot of time is spent on the full range test with distance & elevation profile, the wide variety of detailed pictures, in-depth video, and the write up with the specifications, ride characteristics, pros, cons, and overall thoughts. The reviews on Electric Bike Report are focused on providing you with a detailed "virtual" look at each eBike to help you determine if it is the eBike for you or not.
P.S. Don't forget to join the Electric Bike Report community for updates from the electric bike world, plus ebike riding and maintenance tips.
Reader Interactions