Life With An Electric Assist Cargo Bike: The Camping/Fishing E-Cargo Bike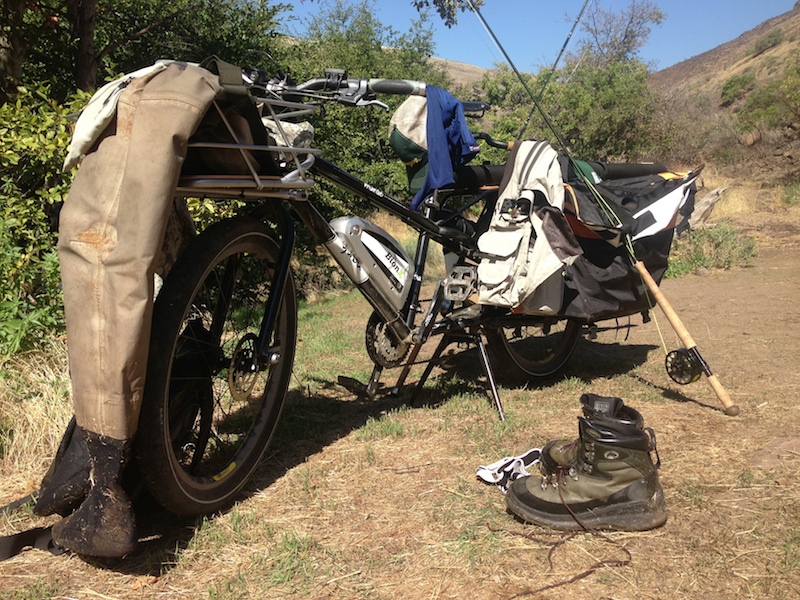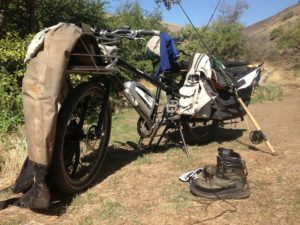 This post continues EBR's series (Part 1 & Part 2) on building and using a Yuba Mundo (becoming an El Mundo, electric assisted).
Some time has passed since my last post on how a Yuba Mundo with BionX has been woven into my daily life. About a year, in fact.
While it's still not time for a "Long Term Review", I will say this: the bike is holding up extremely well – even, dare I say, improving.
There was a dark period that began on December 31, 2013. Out for a New Year's Eve ride with the whole family on the bike in Portland, Oregon, we had a rear wheel puncture about eight miles from the house we were staying at.
We had already gone to a theater, watched "The Secret Life of Walter Mitty", and were heading to a celebration dinner. I didn't have a spare tube, patch kit or pump with me.
Somehow the load of Slime I had injected into the tube didn't stop the leak. I dropped off the precious cargo, told them to hail a cab, and I began riding back to headquarters.
After about half a mile, the completely flat tire took on a heavy vibration. It quickly worsened into a violent anti-rhythm, contradictory to everything the bike holds at it's core. The shaking turned into rattling, eventually becoming a non-stop, train-wreck-like crashing noise that brought people out of their homes to witness.
I had never experienced noise like this on any machine. The running boards, home made wooden side boards, basket bottom, and bamboo utility deck had all started to let go of their mounting screws. The final six miles of my ride that night were carried out to this most indescribable, horrific cacophony.
Suffice to say, the month of January was a healing time for the bike.
I was not surprised to find the rear wheel, with it's DT spoke laced Velocity Cliffhanger reflective coated rim, perfectly true and round. I once rode the final lap of a World Cup cross country mountain bike race on a bare Velocity rim on which I had torn off an un-repairable tire in the effort to maintain my position and finish.Even with flattened rim walls, that wheel was still round, not rubbing the brake pads.
Like Steve Austin, I built the Yuba back. Better. Stronger. Faster.
Before the snow stopped flying, it was in action, happily tail-sliding it's way around the bends on runs to the gym, post office and grocery store.
This Winter I will need to fix some studs on it. After all, it is my pickup truck. My smash into snowbanks, pound through the rough stuff, pick up the punks carry-all daily rider.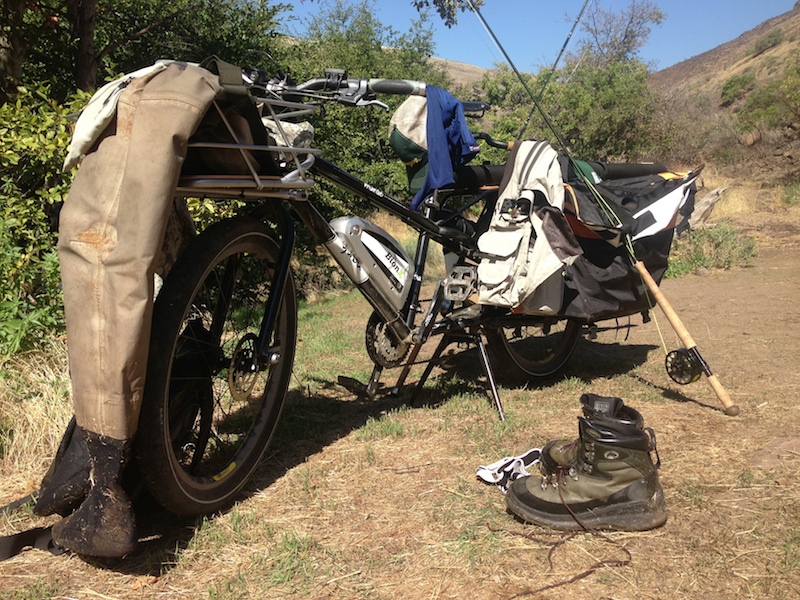 Last Fall the Yuba filled a gap in a place I really wanted it to. It became an overnight camping/fishing sled.
While it was not ideal for this application (I didn't expect it to be), it made a suitably valiant effort. That's what always surprises me about the bike.
When I ask it do more, it tries like hell to get it done for me. While I wouldn't recommend to most to take it where I did – particularly laden with such a load – this bike can camp.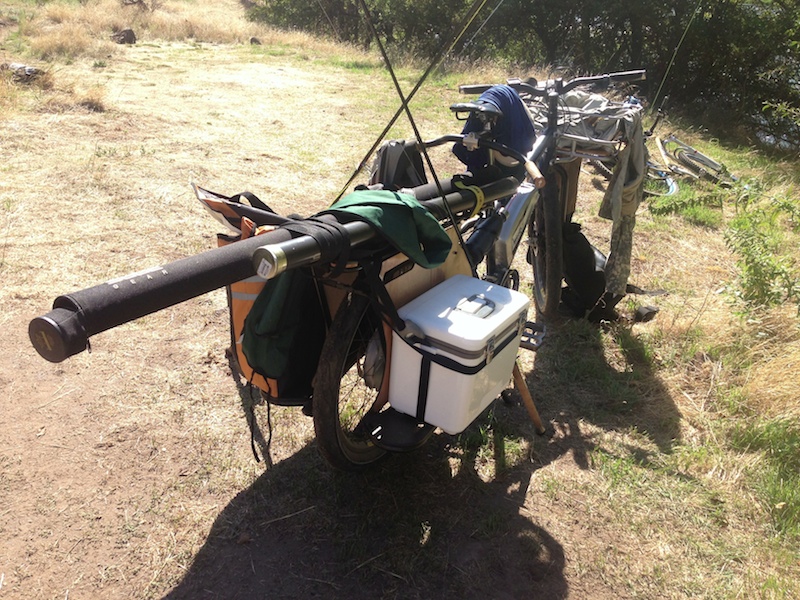 I hauled tent, sleeping bag, pad, clothes, waders, boots, rods, food, cooler, ice, stove and fuel back to the hinterlands. Oh, plus my raft, oars and pump.
The nights were freezing, the days Africa hot. I didn't have a way to charge the battery on the bike, and there was no way I was getting out of there without assist, so I had to limit my range. If worst came to worst, I could have floated out.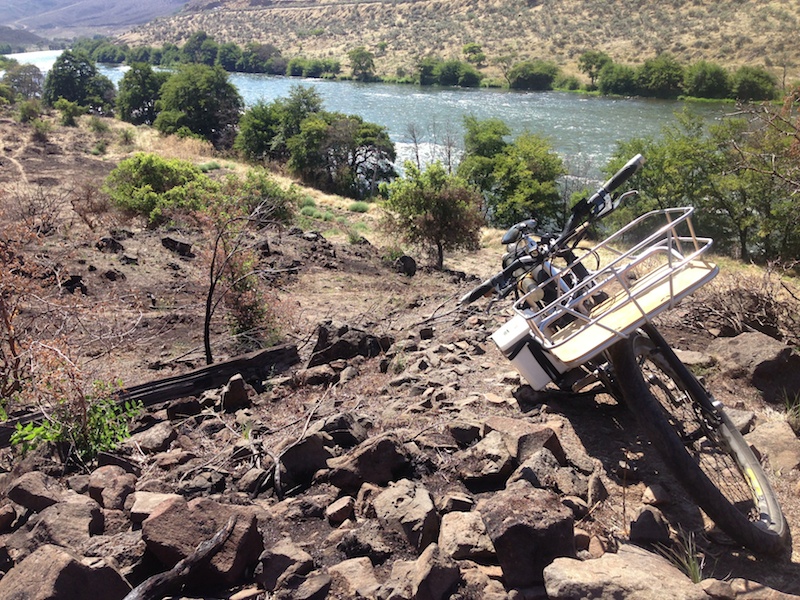 Cautiously picking my line down to the river on the skinny, rocky game trail, it felt more like I was piloting a BMW GS motorcycle than a bicycle. If it fell over I probably would have had to use the same technique a GS rider does to pick up a fallen moto.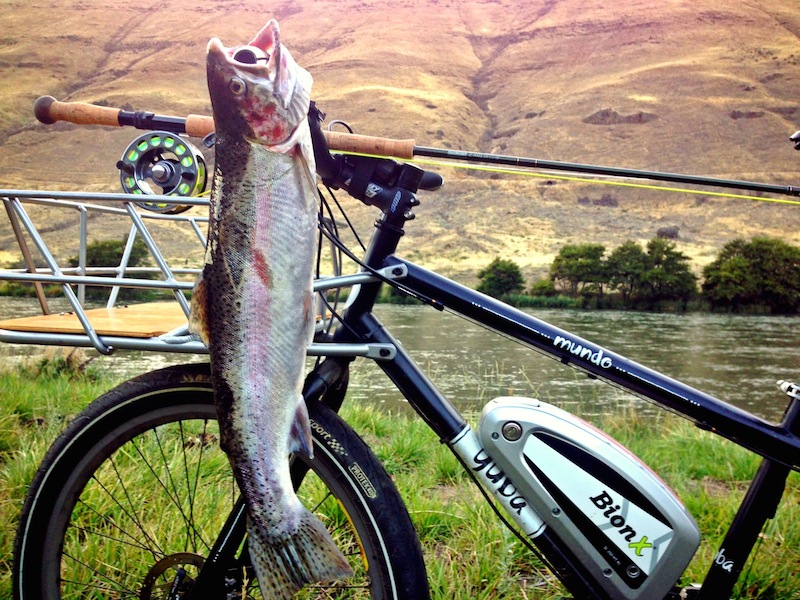 For the coming months, I have my trips lined up. They're all on routes where e-bikes can go and most other forms of transport wouldn't want to.
For the most part, they are trips designed around this new form of cycling. Believe me, not only would they not be as fun on a traditional bike, I don't even know if they would be doable to begin with. They certainly wouldn't be voyages I would voluntarily take without a few hundred watts of electric assist at my legs.
There are so many stories to share thanks to this electric assist cargo bike that won't quit. It's exciting to watch the segment overall, as a growing number of e-bikes become capable of delivering and expanding these sorts of rides.
I often tell people how they have brought more adventure to this family than any motorcycle I've owned.
I look forward to gaining and sharing the experiences "down the road".
Make sure you checkout Part 1 and Part 2 of the Life With An Electric Assist Cargo Bike series.
Life With An Electric Assist Cargo Bike: Building the Yuba Mundo with BionX Kit.
Life With An Electric Assist Cargo Bike: Kids
P.S. Don't forget to join the Electric Bike Report community for updates from the electric bike world, plus ebike riding and maintenance tips!
Reader Interactions