Life With An Electric Assist Cargo Bike – Part 2: Kids
In part 1 of "Life With An Electric Assist Cargo Bike", I wrote about why I ride such a bike and why the Yuba Mundo with BionX became my long-term partner for these stories.
In part 2, I write about a big reason I ride the bike: kids.
Bicycles fascinate us. Attending the "Cyclepedia" exhibit at the Portland Art Museum in August was eye opening for me. I thought I had seen it all over 40 years of studying the bike.
I realized that most of the "inventions" to make bicycles more efficient, comfortable, and practical forms of transportation were actually built and put into use in some form or fashion decades before I was born.
Suspension, vibration dampening, and ways to carry kids and gear have been worked on since humans first pushed pedals. Few things perplex the minds of engineers and move the imagination of children like bicycles.
Electric assist is an invention I didn't see at Cyclepedia. Historically, as far as cycling inventions go, it's a newborn baby.
When I explained to my kids what an electric assist bike is, I could see their 10 year old engineering minds trying to absorb the concept. "So, you pedal and it goes?" they asked. "When you pedal harder, it gives you more power, yes." I said. They weren't sold. I asked "You want to go get some ice cream?". Jumping and screaming they bounced toward the car. "We're taking the bike. Get your helmets." Puzzled, they asked "Both of us?". "Yep", I said. Hesitant, they asked "Are you sure you can do it with both of us?"
The rear cargo area of the Yuba Mundo is stout. I added the Yuba bamboo Utility Deck to form a flat area on top of it. I also added Yuba's Running Boards to form a bench for more cargo or a footrest for passengers.
Yuba also offers a stem that attaches to the extra-wide circumference seatpost of the Mundo for attaching a handlebar for someone sitting in back. I bolted in a set of narrow, curvy bars I had laying around.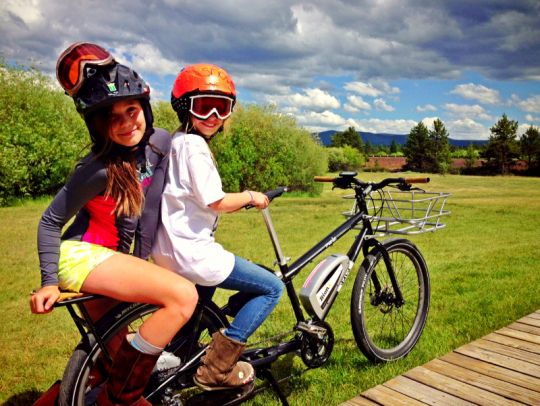 I panicked as I saw both kids jump on the back of the bike while it stood on it's center stand. I barked "Whoa!", thinking the machine might fall on them. Surprisingly, it held them just fine. I rolled it off the stand and we took off up the gravel driveway. Within seconds, they were screaming again. "This is so fun! Yeah!"
As much as I love riding motorcycles, I've never felt comfortable carrying a child passenger on one. In the event of a fall, speed delivers force exponentially. We almost always walk away from a 20mph fall. 40mph is a different story, and by 50mph we need luck on our side.
Motorcycles spend a lot of time over 50mph. If anything happened while I was carrying a child, I would never forgive myself. Cruising along at 20mph on the Yuba, the kids were having the best time I'd ever seen them have in or on a vehicle.
Someone moving at 20mph on a long, fat-tired bike is noticeable. That's faster than people expect on such a bike. Going that fast with two non-pedaling passengers is a real head turner.
As we went by, people stopped and stared. Construction workers dropped their tools and stood up straight. The kids noticed the attention immediately. They have done a lot of driving in fancy sportscars – which was nothing compared to this.
The Yuba with BionX was instantly better by an order of magnitude.
I was even amazed by the sensations I was getting. The bike was rolling along at that speed and my effort was no more than it would be by myself on a top-level carbon road bike. As we banked into corners, the kids roared behind me.
I didn't know hauling 140 lbs. of 10 year olds could be this fun – and effortless! 15 minutes into the ride they asked "Can we bring this bike everywhere we go this Summer?". I thought, "Now that's a great idea." So the Summer of 2013 became the Summer of the electric-assist cargo bike.
On a trip to San Francisco in June, we learned that we could fit the whole family on the bike. Two adults and two kids. Whenever parking posed a challenge, pulling out the Yuba became not only the best option – but added excitement and adventure to the day.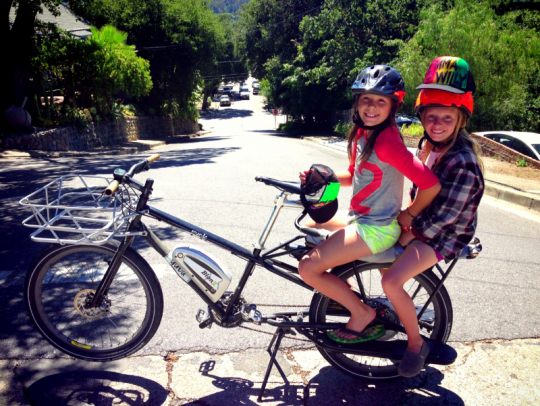 With that much cargo, avoiding steeper climbs is still advisable. The BionX is an excellent hub motor. Perhaps the quietest and most natural feeling available. It doesn't like steep climbs with hundreds of pounds of cargo. On flatter roads and gradual grades, taking all four of us is no problem.
At close to 300 lbs of cargo, in addition to my own near 200 lbs., the Mundo's frame gets a workout. For the most part, the bike goes exactly where you point it. Carrying a little speed seems to help matters. Less wobbling.
Emergency braking in traffic or for stoplights was still very good. Getting started from a standstill with that weight is helped greatly by the BionX. Suffice to say I wouldn't even attempt to do rides like that without electric assist, excellent disc brakes, super-strong rims and steering components, and an extremely robust frame like the Yuba.
We have now ridden the Mundo with BionX in cities and on scenic routes in many Western states. Sometimes instead of driving in the car, I'll get out with the kids and ride for a while.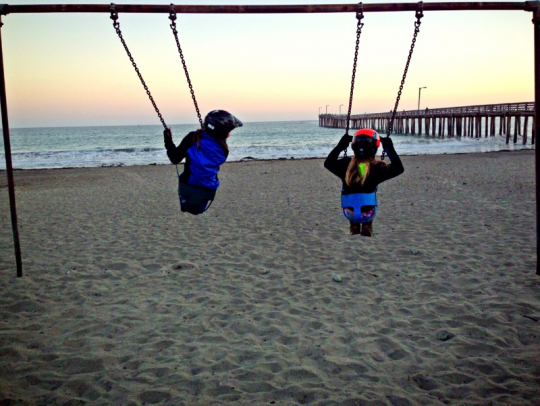 We rode a lengthy section of California's famous Highway 1 route past Big Sur that way. I'm sure it was a day the kids will always remember.
Again, the steeper uphill sections were still a chore for me, but those slower sections made for good banter between the three of us. "Come on, Dad. Move those chicken sticks!" they'd say as I grunted over the climbs.
Since beginning our adventures with our cargo bike, I've started to see many more young families taking to the paths and streets on cargo bikes. It's such a great thing to see. Mom's and Dad's have found they can drop the kids at school and practice while getting their exercise in at the same time.
When I see one of them hauling a kid or two, grimacing in effort up a three percent grade, I wonder why we don't see more using electric assist.
Granted, spending close to $2,000 on a system like the BionX is a large investment. What you get though is a completely different vehicle. I do believe that with electric assist, the bike gets used on so many more and lengthier trips. The price of the system is eventually offset, and a lot more fun can be had in the meantime.
Hauling kids around on this cargo bike was not something I thought much about when I set out to start building it. As it turned out, it's been one of my favorite things to do with the bike. What a great surprise to uncover!
Now checkout part 3 "Life With An Electric Assist Cargo Bike: The Camping/Fishing E-Cargo Bike".
P.S. Don't forget to join the Electric Bike Report community for updates from the electric bike world, plus ebike riding and maintenance tips!
Reader Interactions