Phoenix Electric Bike Expo – Lots of eBike Smiles! [VIDEOS]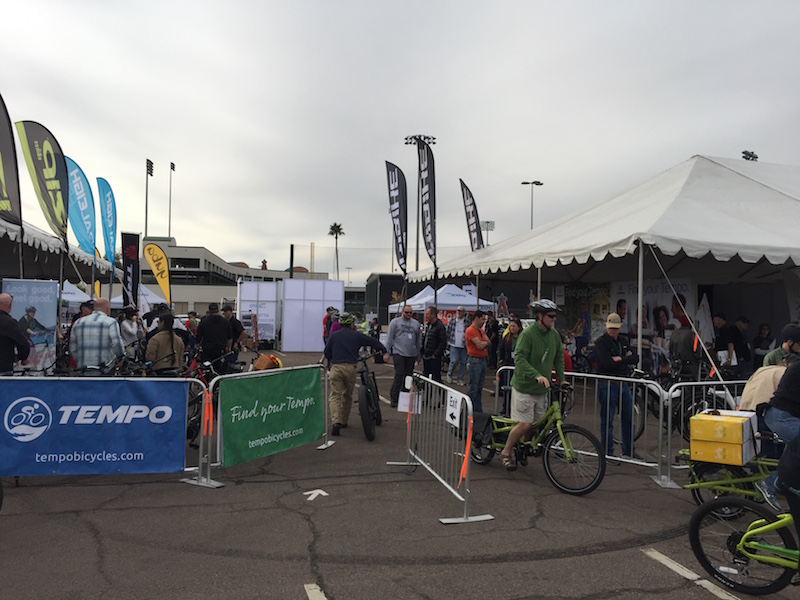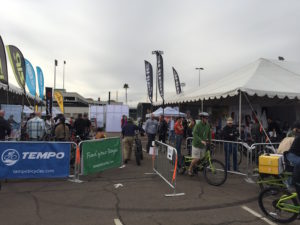 This past weekend was the first Electric Bike Expo event in Phoenix, Arizona with many eBike smiles both on and off the ride track!
The Expo is a series of eBike specific events where everyone can test ride the latest electric bikes for free and talk to manufacturer reps and local dealers about their eBikes.
The focus of the Expo is to raise awareness about electric bikes by providing the ride experience, which is very important to understanding what an eBike is and the benefits it provides.
Here's a quick video to give you a feel for the Expo:
There were over 100 eBikes available at the Phoenix Expo for attendees to test ride ranging from beach cruisers, street commuters, mountain bikes, touring bikes, cargo bikes, and folding bikes.
The following brands were at the Expo: A2B, BESV, BULLS, Easy Motion, Felt Electric, Focus, Gazelle, Haibike, IZIP, Kalkhoff, Polaris, Raleigh, Stromer, Tempo, Trek, Xtracycle, Yuba with the latest electric drive systems from Bosch (Expo presenting sponsor), Yamaha, Shimano, and more!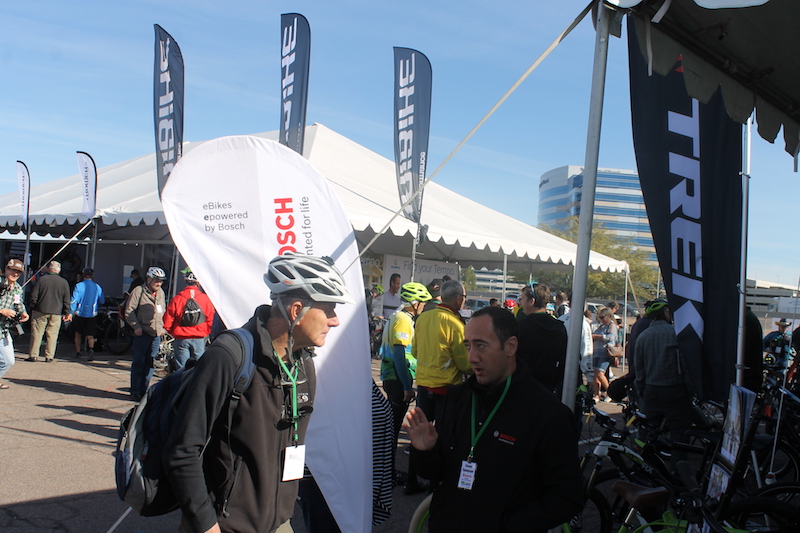 1,184 people attended the Expo and the test track was put to good use by total newbies to electric bikes (52%) along with many eBike enthusiasts who really knew the details of the bikes.
I had a chance to talk with a first time eBike rider at the Expo about her impressions of the Expo and eBikes in general:
Several local dealers were at the Expo including Landis Cyclery, The Velo, Sun Cyclery, and EZ Pedals.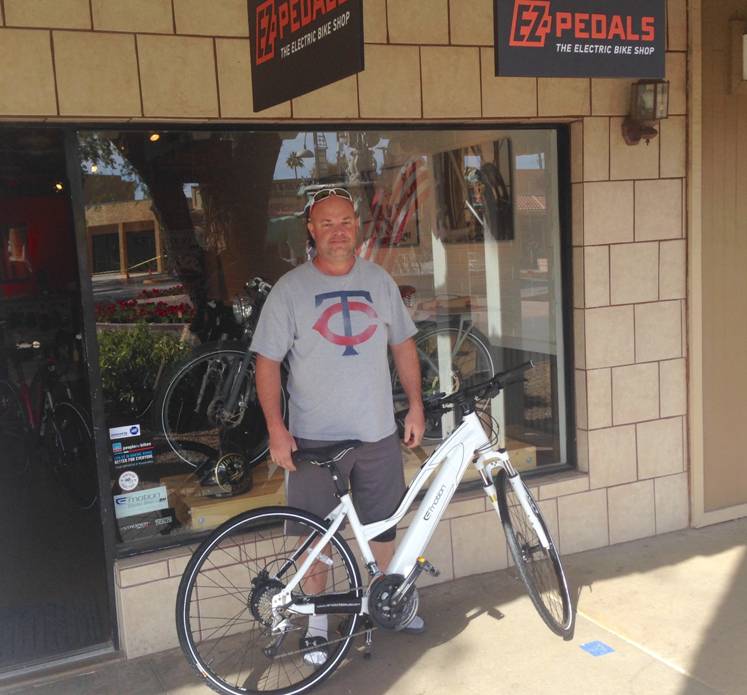 Easy Motion gave away a 350W EVO Jet electric bike to one lucky person who test rode any of their bikes. Mike W. was the winner and he picked up the bike from EZ Pedals, the local Easy Motion dealer. Easy Motion will be doing a bike giveaway at the other Expo events too!
There are no eBike sales that happen at Expo events (to keep it fun with no pressure to buy) but many of the companies were offering coupons that could be redeemed at local dealers.
Raleigh and IZIP: ~15% off retail, AND a $100 gift card rebate direct from IZIP or Raleigh
Yuba: 10% coupon for their Spicy Curry e-cargo bike.
Landis Cyclery offered a $100 off coupon for any electric bike at their store.
Polaris will be offered pro deal discounts on their electric bikes.
Focus, Kalkhoff and Gazelle offered $200 discount coupons for attendees that rode their e-bikes at Expo events
Many of these promotions will be available at all of the upcoming Expo events, so if you are in the market for one of these bikes the Expo is a great opportunity for discounts.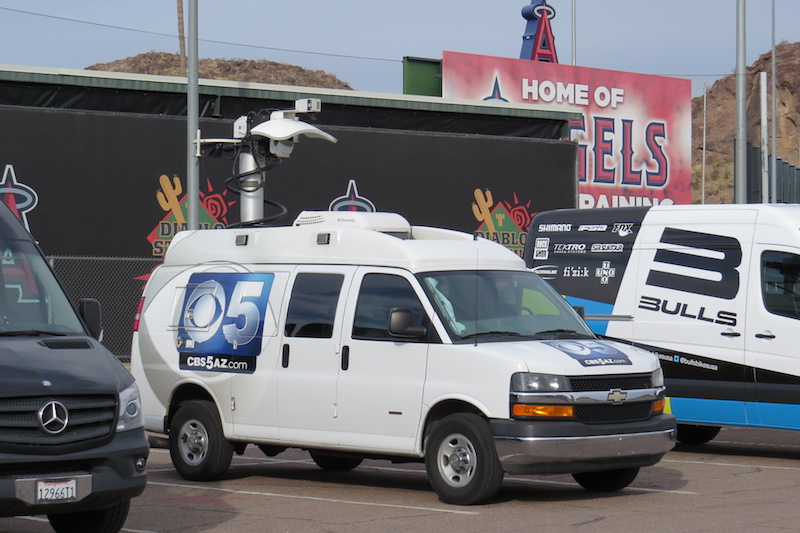 Benjamin Sarrazin founder of Yuba Bicycles met with Good Morning Arizona twice during the Expo.
The first time he rode the reporter around on the back of the Yuba Spicy Curry electric cargo bike and she reported while on the back of the bike!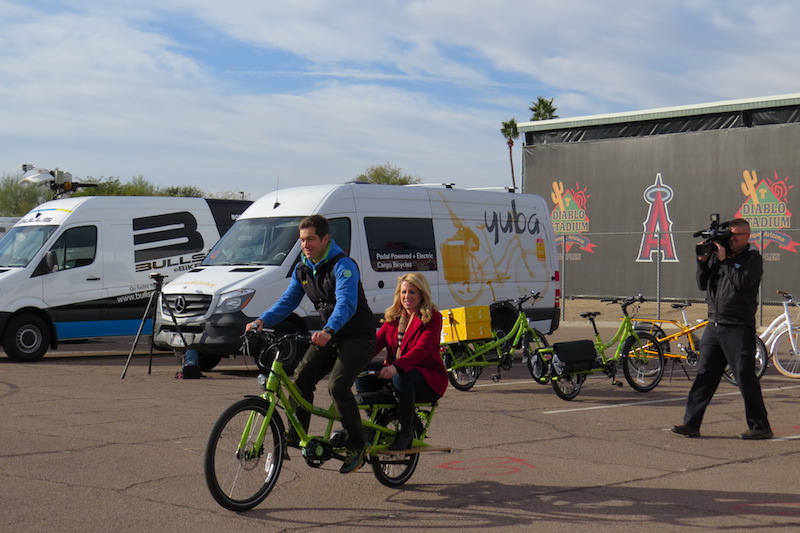 The next morning Benjamin went to their office for another morning video.
Bosch held a technical seminar to train bike dealers on how to work on the Bosch eBike system. The Coalition of Arizona Bicyclists presented a bike safety/law enforcement talk, Xtracycle presented tips on commuting by bike, Haibike presented on electric mountain bikes and trail behavior.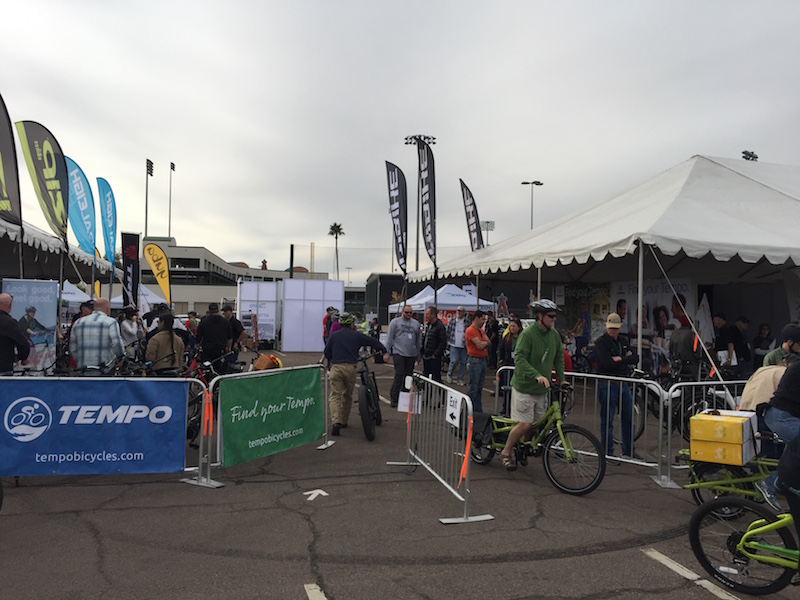 The test track was very busy with a wide variety of eBikes being ridden. Many people spent full days at the Expo testing as many eBikes as they could. Some people spent multiple days at the Expo and there were a group of attendees that traveled from outside of Arizona to be at the Expo.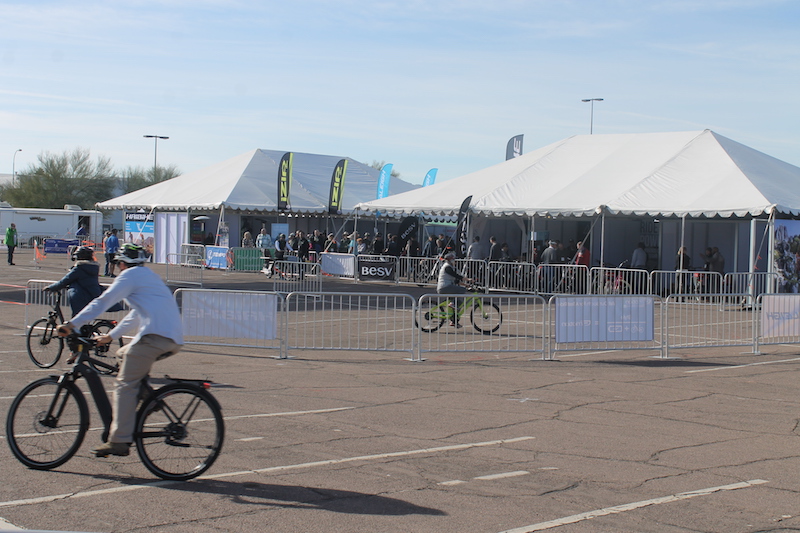 Tania Lo from Momentum Mag traveled from Vancouver, BC to test ride a bunch of electric bikes and she will be writing an article about the Expo.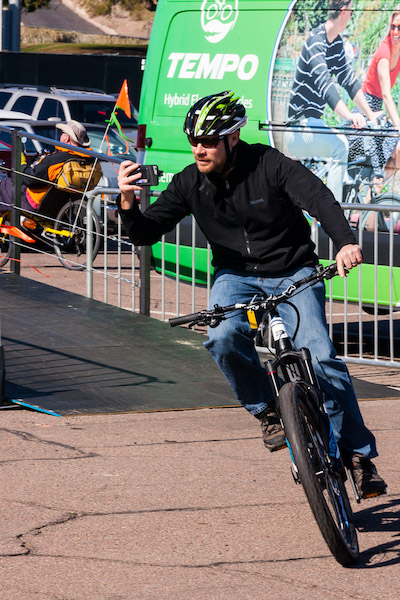 Yours truly riding a new BULLS eBike while shooting some video on the track. Thanks to Doug McClellan from Bicycle Retailer for this picture! Doug was at the Expo using it as a focal point for their special e-bike supplement that is in the Feb. 1 issue of Bicycle Retailer and Industry News.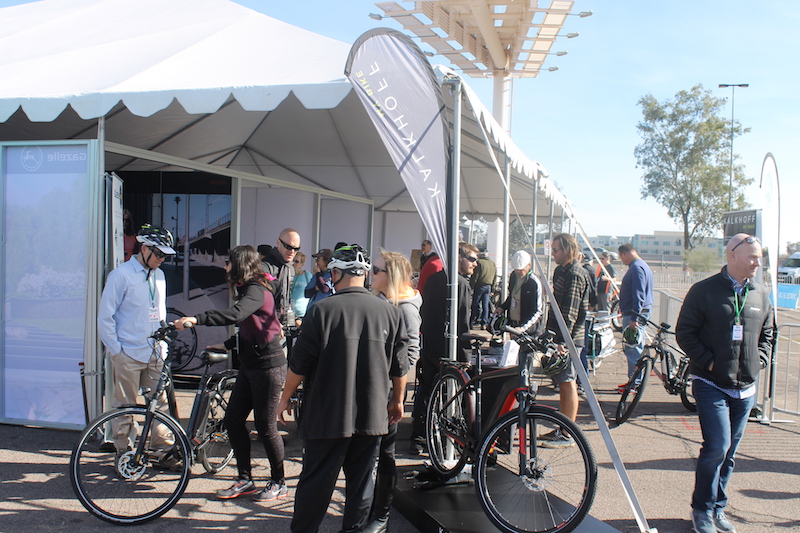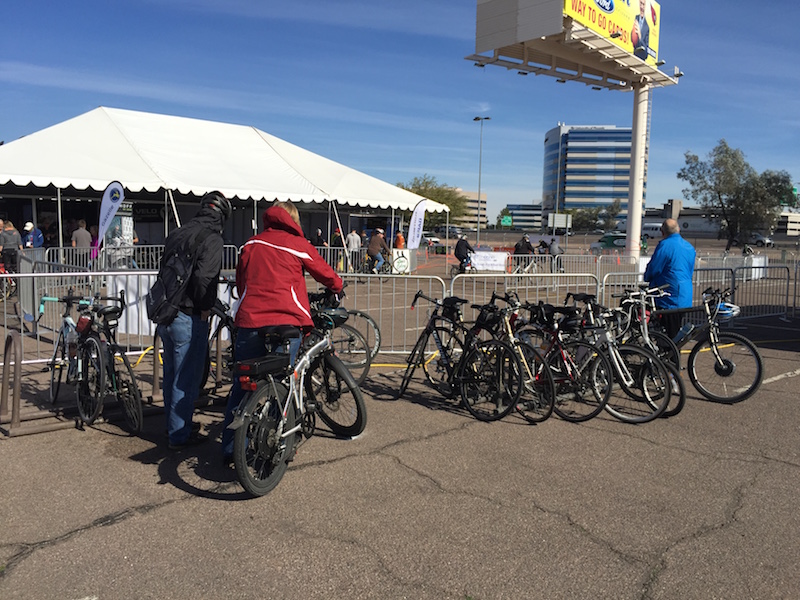 The Tempe Bicycle Action Group provided bike parking and they were put to good use!
Press, the Italian modern gourmet food truck, served up some tasty Italian sandwiches, salads, pastas, and everyone seemed to enjoy their food.

Here's a picture of the Expo team (left to right) and a classic Arizona sunset: Pete Prebus, Ray Verhelst, Bill Sell, Jochen Greiner, Sascha Nachtnebel, and Greg Zaralides.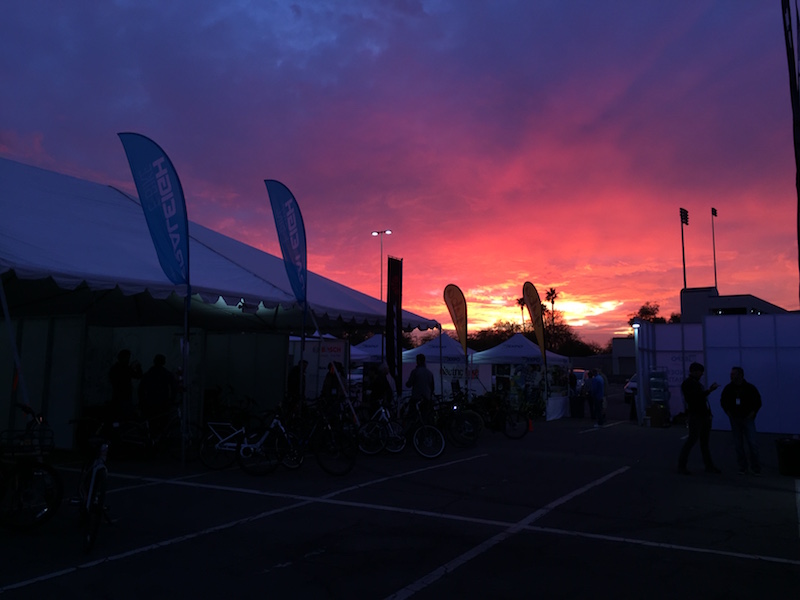 At the end of the Phoenix Expo many eBike smiles were seen from attendees and exhibitors. There will be many more eBike smiles seen at the next Expo events.
Checkout an Electric Bike Expo event near you! Next up are San Diego, Houston, Palo Alto, Portland, and Denver. We are also planning for more locations in the Midwest and East Coast…..stay tuned for more on that!
-Pete
P.S. Don't forget to join the Electric Bike Report community for updates from the electric bike world, plus ebike riding and maintenance tips!
Reader Interactions