IZIP E3 Compact Folding Electric Bike Review
IZIP E3 Compact
is an electric bike that is designed to go almost anywhere.  It is easily foldable, lightweight (for an e-bike), simple, and fun to ride!
Folding electric bikes are very handy for travel or if you live and/or work in a place that has limited storage areas.
They are also great if you use other forms of transportation like the bus, train, subway, taxi, etc. during your commute.
Since they can be folded or unfolded in less than a minute it makes for a very convenient bike that can go almost anywhere.
The IZIP E3 Compact was developed in partnership with Currie Technologies and Dahon Bikes.  Currie knows e-bikes and Dahon knows folding bikes, so the combination provides an e-folder that brings good aspects from both companies.
Make sure you check out the video, large detailed pictures and specifications of the IZIP E3 Compact to get familiar with this folding e-bike.
This full review of the IZIP E3 Compact will give you an idea of the ride characteristics, range test, pros, cons, and overall thoughts on this folder e-bike.
What you can expect from the IZIP E3 Compact:
Here is a video with some riding footage and features of the IZIP E3 Compact:
Folding the Compact is very easy.  To fold the Compact you will need to rotate the handlebars, fold the handlebar mast/stem down, lower the seat, fold the pedals, rotate the cranks to the proper position, and fold the main frame in half.
The Compact is very adjustable to fit many different size riders.  The handlebars and seat can be adjusted to fit your desired ride height with convenient quick release mechanisms so you don't have to use tools.
Folding bikes in general have a significantly different ride feel when compared to a traditional bike.  The small wheels and narrow handlebars can make them feel a bit "twitchy".   The tall stem/mast and tall seatpost can also make them feel a bit flexy.
These "folders" are engineering marvels because they provide a nice ride feel with the ability to quickly fold them down to a small size without any tools.
The ride of the Compact is relatively solid for a folding bike.  The oversized aluminium frame helps with the stability of this small wheeled e-bike.  Dahon has been in the folding bike business for a long time and they have definitely refined their design to make them sturdy, light and easily foldable.
With that said you can still feel the flex in the tall stem/mast and tall seatpost but as long as you are not in an all out Tour de France style sprint you shouldn't notice it too much.
Since the Compact uses 20" wheels and the motor is placed in the front wheel there is a tendency for the front wheel to "peel out" or spin when accelerating from a stop when there is not a lot of weight over the front wheel.  It is something that I got used to but you should be aware of when you first ride the bike.
In throttle mode you just twist the half grip throttle and add as much or little assistance as you want; you can choose to pedal or not pedal.
In pedal assist mode there is a sensor near the cranks of the bike that senses when you are pedaling and provides 50% of the power which brings you up to around 10 mph on flat land.  If you want an extra boost you can turn the throttle to bring you up to full power but you will need to continue to pedal.
In addition you can remove the battery when transporting the Compact to lighten the load.
If you want more range you could carry an extra battery and swap it out quickly.
There is a battery level indicator on the handlebars near the throttle that will give you an idea of how much charge is left in the "tank".
The Compact keeps the bike drivetrain simple by just using 1 speed so there are no shifters, derailleurs, extra cogs and chainrings.
Not only does this keep the clutter to a minimum but it also makes for a lighter electric bike (42 lbs.) and that is very handy when you are transporting a folding electric bike.
Of course a 1 speed drivetrain can be a little limiting as far as it working in many different terrain conditions but then the electric assist helps with that to help you tackle the hills.
Overall Currie selected a good gear for most conditions.
All of this boils down to a very portable electric bike that is fun to ride.  It doesn't ride exactly like a full size bike but considering how versatile it is, it does a good job of getting you where you need to go with a nice ride feel.
The ride test results:
Here is the real world information on how the IZIP E3 Compact electric bike performed on my typical riding circuit that includes hills, flats, traffic, wind (when available) etc.
The results below are based on a paved circuit that I use for testing other electric bikes.
While testing these bikes I like to put them through the toughest conditions to see where their bottom line is in regards to range and speed.
Range: As you can see from the GPS info that I recorded, the Compact traveled 20.8 miles and did a total elevation gain/loss of around 1,600 ft. Considering that I weigh 190 lbs and I pedaled very lightly this is very good range for a 36 Volt 8.8 ah battery pack (315 Watt Hours) with a 250 watt motor!
Watt hours are the total energy in a battery pack and it is based on the volts x amp hours of a pack. This is a way to compare the size of the "gas tank" of electric bikes.
Please keep in mind that if you pedal more, weight less than me, ride slower and/or you use the bike in terrain that is not as hilly you will get more range. These results are from tough testing.
Speed: The Compact can get up to around 18 mph when using full throttle on flat land.  In pedal assist mode the bike gets up to around 10 mph (50% power) and then you can twist the throttle for full power and full speed.  If you use the throttle in pedal assist mode, you will need to continue to pedal for the throttle to help.
The Compact does pretty well on moderate hills but you will need to give it some pedal power on the steep hills.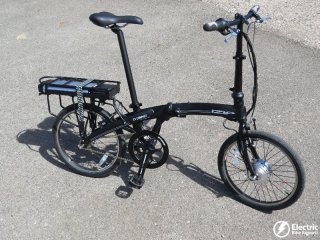 Weight: This bike tips the scales at 42 lbs. which is pretty lightweight for an electric bike.  It makes moving the Compact around pretty nice.
The weight distribution of the Compact is well balanced between the front hub motor and the rear rack battery.
Since the rear rack battery is pretty low (thanks to the 20" wheels) it is hard to notice much weight effect from the rear rack battery location; which is usually a little top heavy.
Pros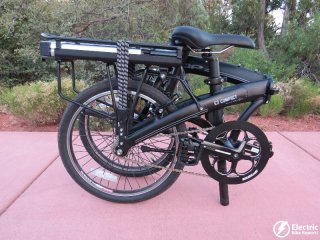 Foldability:  Dahon did a nice job with the frame by using large aluminium tubing and easy to use quick release mechanisms.
The result is a folding e-bike that can quickly be transformed to a very small size and then back again to a fully rideable bike.
Nice Ride:  For a folding bike, the Dahon frame provides a relatively solid ride feel.  It has good overall stability and it corners well.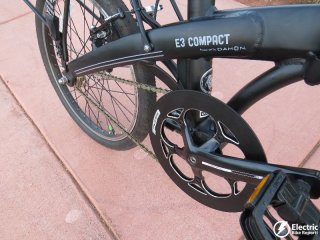 Range:  The Compact has a surprisingly large range (21 miles with 1,600 ft of climbing); your mileage may vary.
Simple:  The Compact keeps things simple with the 1 speed drivetrain and that is nice when foldability and portability are important.
It is nice to not worry about adjusting derailleurs and the handlebars are especially clean without the shifters.
Cons
Brakes:  The Tektro brakes that come equipped on the Compact stop well but the quality of these brakes seem a bit low when compared to the rest of the bike components.  This may not be a problem as far as how the bike operates but higher quality brakes have a solid feel.  In addition higher quality brakes usually have the ability to adjust the brake lever reach which is good for riders with smaller hands.
Motor "Peeling Out":  Since the Compact has a front hub motor mounted in a small front wheel there is a tendency for the front wheel to "peel out" when accelerating when there is not much weight over the front wheel.  It is something to be aware of when you first ride the bike.
Motor Noise:  The Compact comes equipped with a geared front hub motor that does make a bit of a humming noise.  I got used to it pretty quick but it is something to be aware of if you are noise sensitive.
Conclusion
IZIP E3 Compact
worked as an ultra portable e-bike.  It can be transformed to a small size and then back to a rideable bike very quickly.
It would be nice to have higher quality brakes on the Compact but that is something that you could upgrade later if you want to.
If you are looking for a portable, simple, lightweight, and fun folding e-bike then you should definitely give the IZIP E3 Compact a try.
Please keep in mind that this is a relatively short term test. This testing can't really give you the long term review of durability and reliability. My thoughts on the quality of this bike are from previous experiences with similar bikes. If you own this bike and have some input on the long term durability, please share your comments with the Electric Bike Report community below.
The IZIP E3 Compact retails for $1,899 at the time of this review.
Where to buy the Compact? Check with Currie Technologies for a dealer near you.  If there is not a Currie Tech dealer near you, the Compact is available for sale online.
Do you have any questions about the IZIP E3 Compact?  Do you own the Compact?  Please share your thoughts in the comment section below.
Thanks!
-Pete
Review Note: Each company pays a fee for a review on Electric Bike Report because of the considerable amount of time that it takes to provide an in-depth review of each eBike. A lot of time is spent on the full range test with distance & elevation profile, the wide variety of detailed pictures, in-depth video, and the write up with the specifications, ride characteristics, pros, cons, and overall thoughts. The reviews on Electric Bike Report are focused on providing you with a detailed "virtual" look at each eBike to help you determine if it is the eBike for you or not.
P.S. Don't forget to join the Electric Bike Report community for updates from the electric bike world, plus ebike riding and maintenance tips!
Reader Interactions