Eurobike Electric Bike Picture Gallery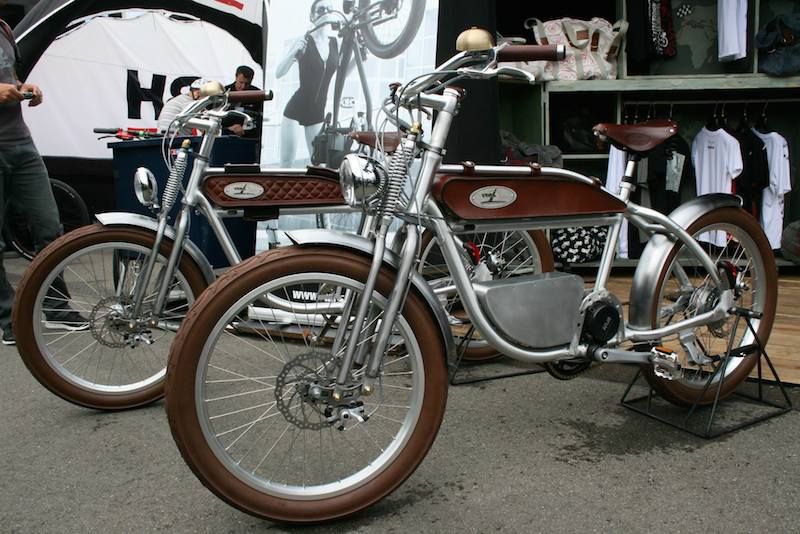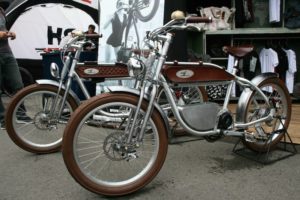 Eurobike is the big international bicycle trade show that happens every year in Friedrichshafen, Germany and it is where a lot of the new electric bikes (and conventional bikes) are revealed.
This year the amount of e-bikes at the show was even more impressive than last year.
The director of Bosch forecasts that e-bikes will eventually make up 50% of the total bicycle market and according to Bike Europe that may occur in 2015!
I personally was not in attendance this year but a few Electric Bike Report correspondents were on the scene and contributed videos, pictures, and information.
A big thanks to Brett and Karen from The New Wheel electric bike store in San Francisco and Alessandro Tedesco for their reporting from Eurobike.
The following pictures are just a sampling of some of the electric bikes at Eurobike.  There were many, many, many more!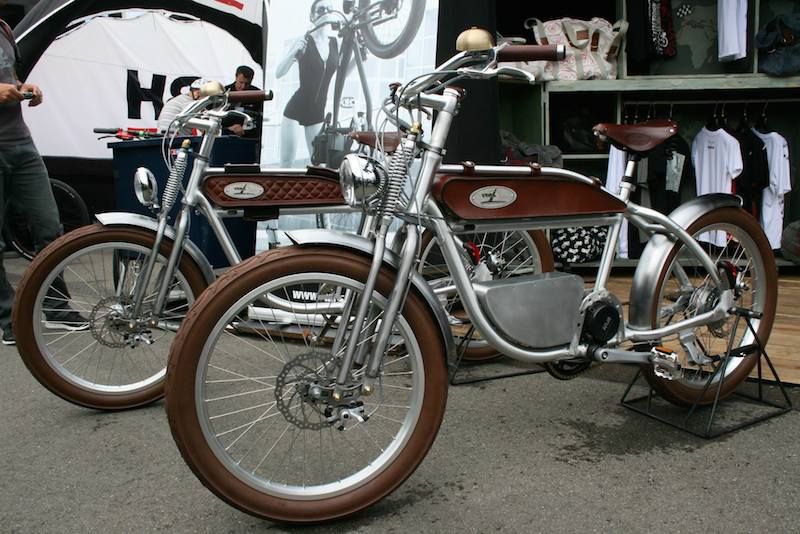 These classy cruisers look like fun! The springer fork and large headlight add to the classic style.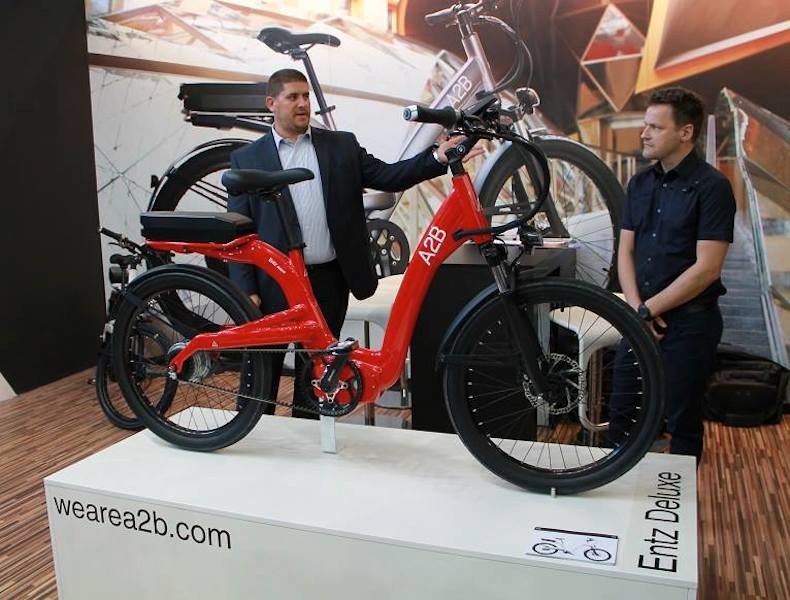 A2B was showing off their new Entz Delux with Continental mid drive motor and belt drive.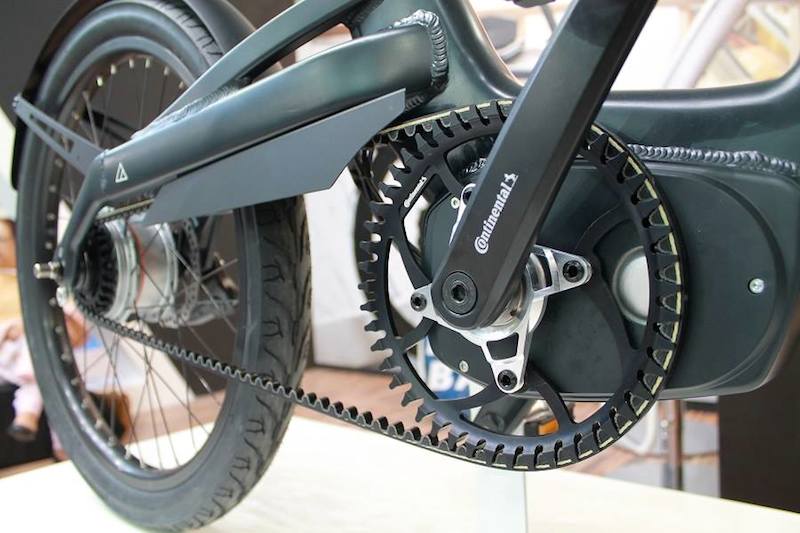 The Continental mid drive and belt on an A2B.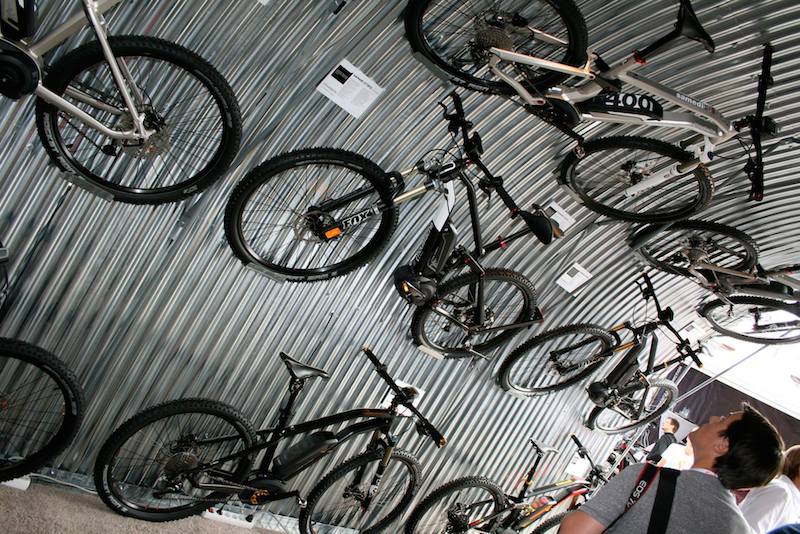 Electric mountain bikes were all over the place at Eurobike!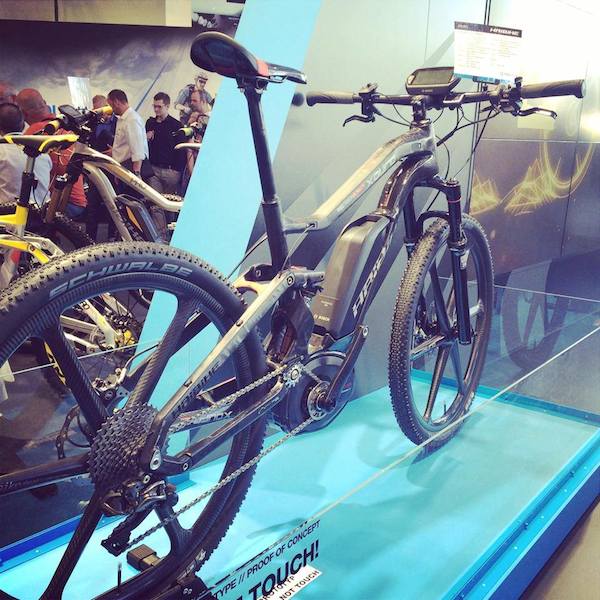 Haibike was showing off their prototype Full Carbon e-bike. It appears that it has every imaginable carbon fiber component!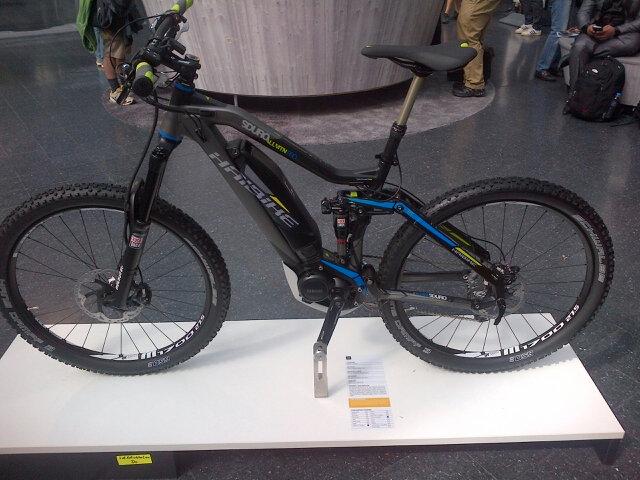 Haibike also showed off their SDURO line of e-bikes that has the new Yamaha mid drive electric bike system. So far this will only be available in select European markets.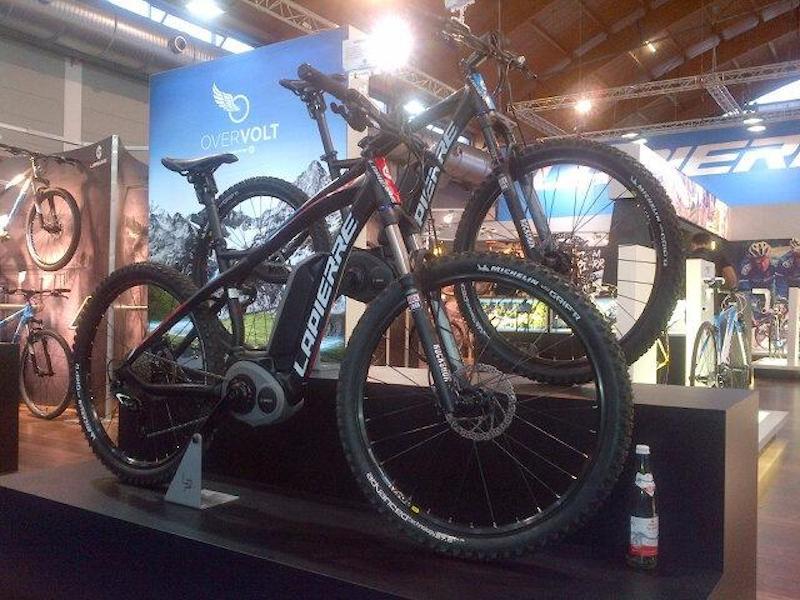 Lappierre displayed their Overvolt hardtail and full suspension electric mountain bikes with the Bosch system.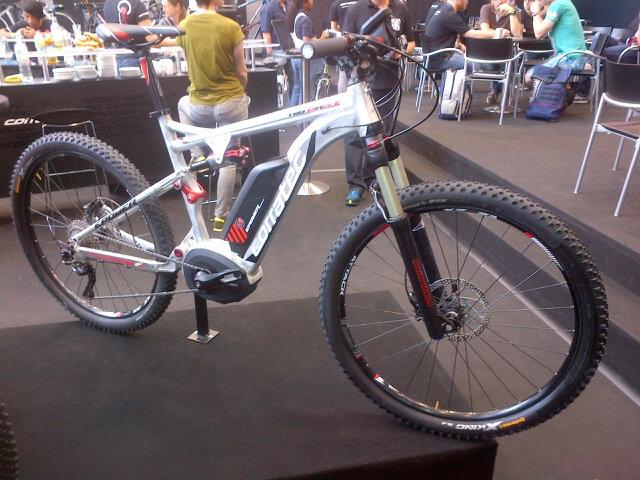 A Corratec full suspension electric mountain bike with Bosch system. European market only.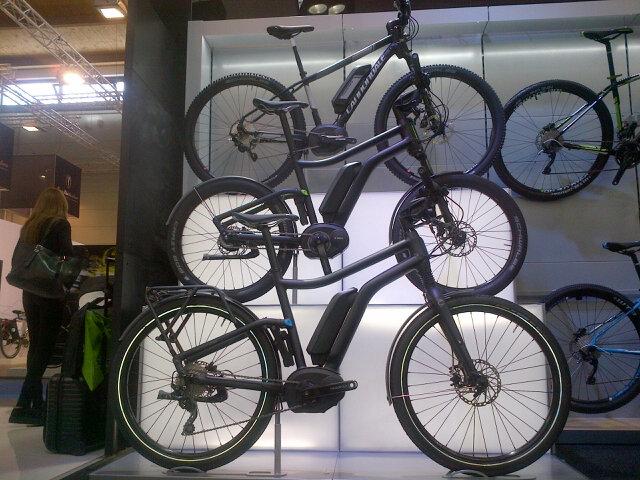 Cannondale had a selection of city/touring and e-mountain bikes with the Bosch system. European market only.
Polaris e-bikes was showing off their new e-mountain bikes with some wild paint jobs. They will have a fat e-bike for 2015.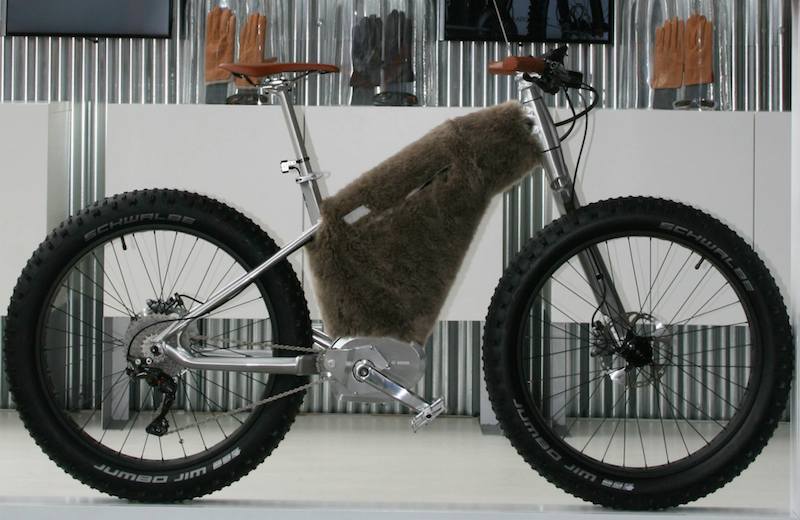 A furry fat electric bike? Yup, and here is more info.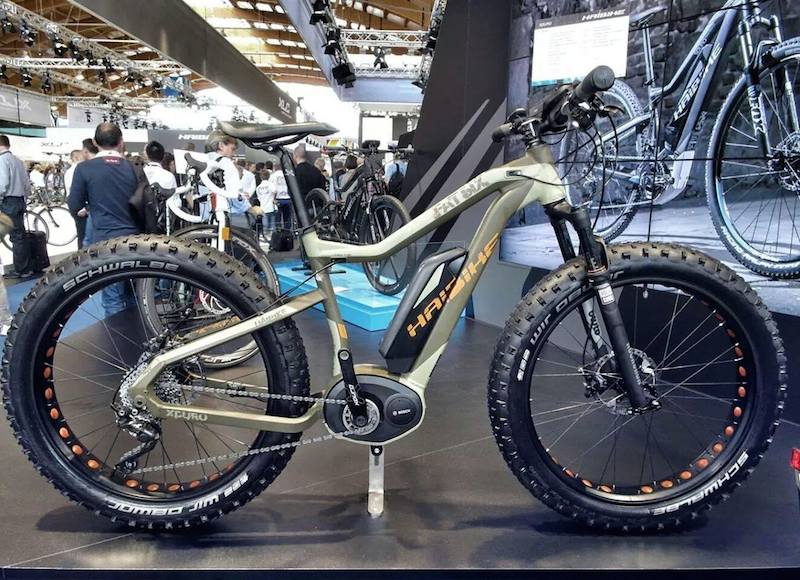 Haibike jumped into the fat e-bike scene with the Fat Six. It comes stock with a RockShox suspension fork, sweet!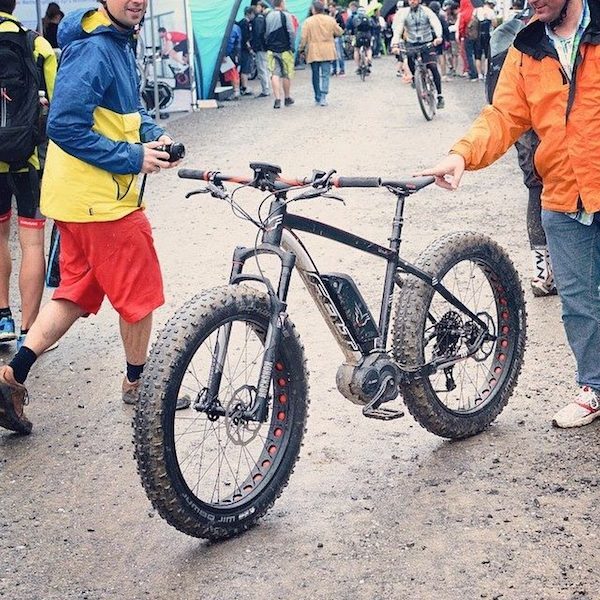 The Felt LEBOWSKe at the muddy outdoor demo. Looks like it was being put to good use!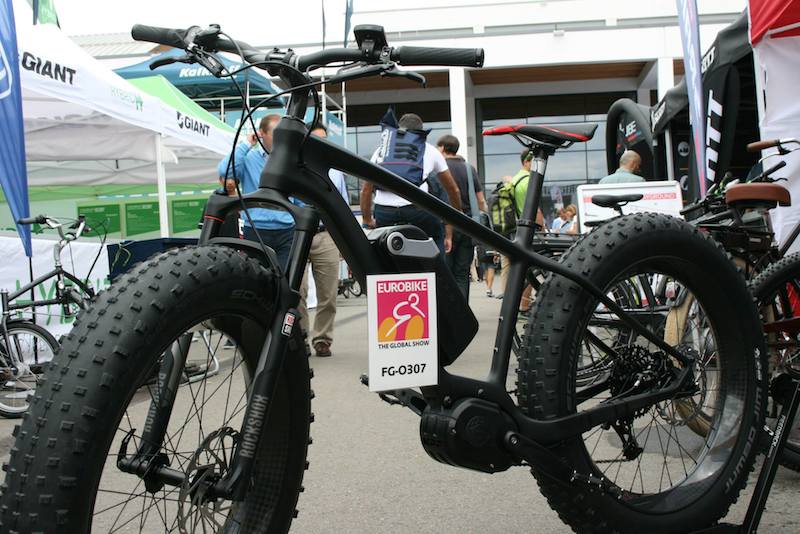 Yet another fat e-bike….
And KTM was offering also offering a Bosch equipped fat e-bike. KTM will be selling some of their e-bikes in the US in 2015.
Klaxion had a fat e-bike and other e-bikes using the Sunstar mid drive system.
The Grace MX II and MX II Trail feature the the Bosch system and sporty styling.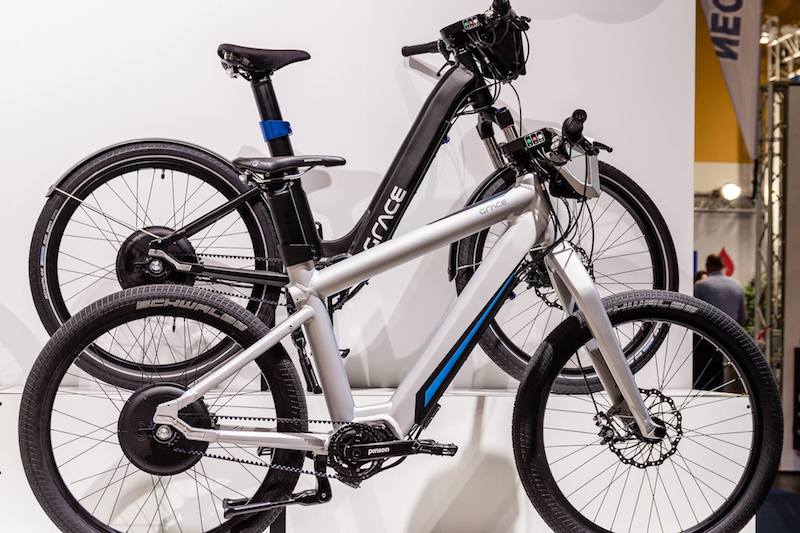 The Grace One.15 and the Urban have an interesting drivetrain. The Pinion 9 speed internally geared bottom bracket with the Gates Carbon Belt Drive and a powerful rear hub motor (2,000 watts!).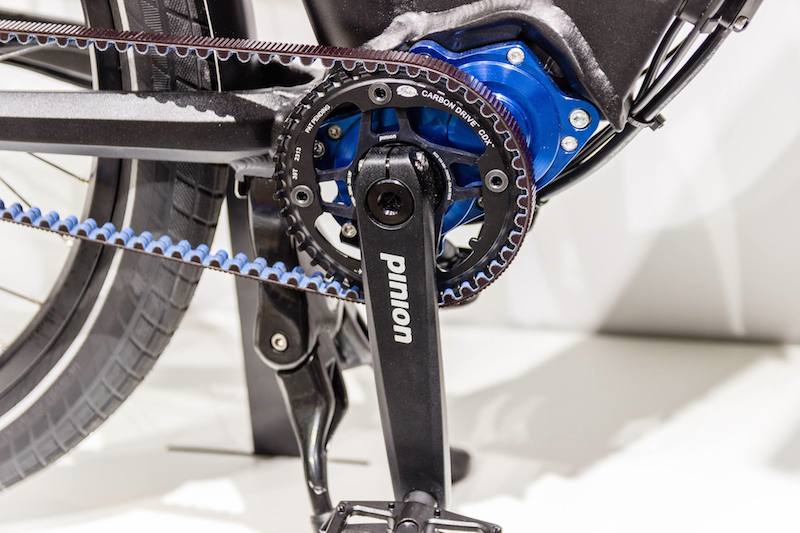 Here is a close up of the Pinion 9 speed internally geared bottom bracket with the Gates Carbon Belt Drive.
The Riese and Muller blueLABEL Charger hybrid with the Bosch mid drive, Gates Carbon Belt Drive, and NuVinci N360 continuously variable rear hub.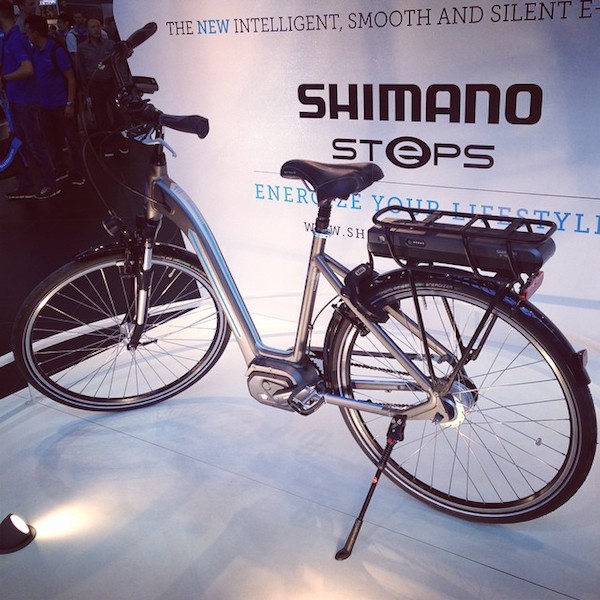 Shimano showed off their STEPS mid drive system that has an internally geared rear hub and Di2 electronic shifting; pretty cool!
Sunstar exhibited their new Virtus mid drive system that is "quick release" so that it can be added or removed quickly from a standard bike.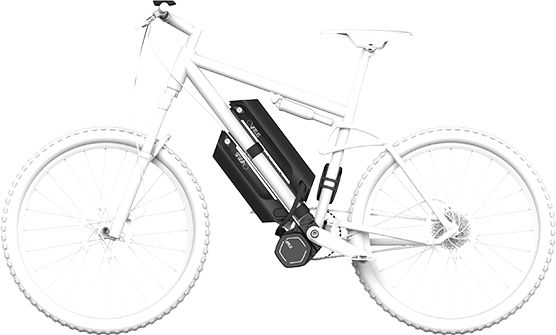 This picture shows the 2 battery configuration of the Sunstar Virtus system.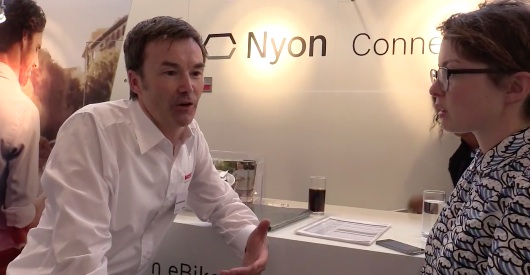 Checkout these video interviews of Bosch e-bike director, Claus Fleischer.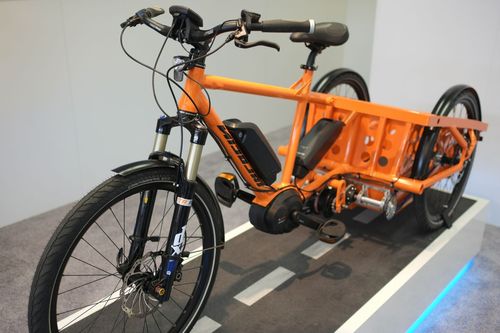 This is a concept electric trike that was displayed at the Bosch booth.
Checkout this video interview with Stromer founder, Thomas Binggeli, and learn more about the new ST2!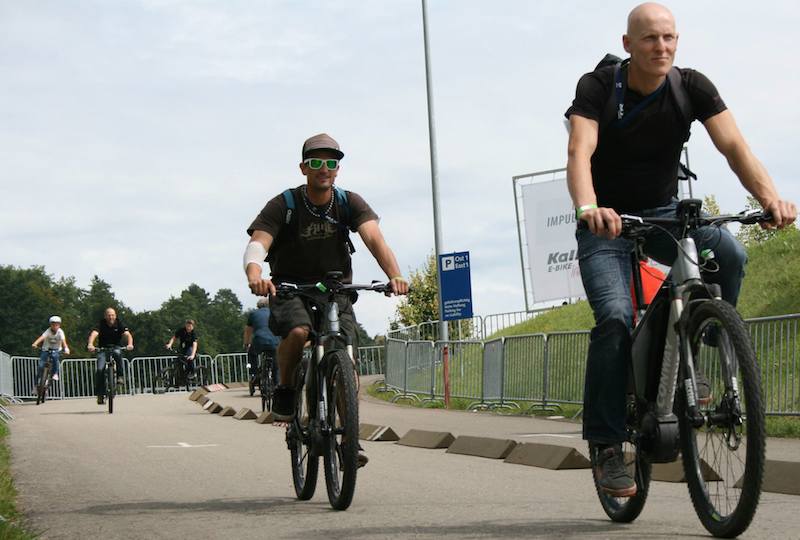 The test track was a great place to sample the many electric bikes at Eurobike.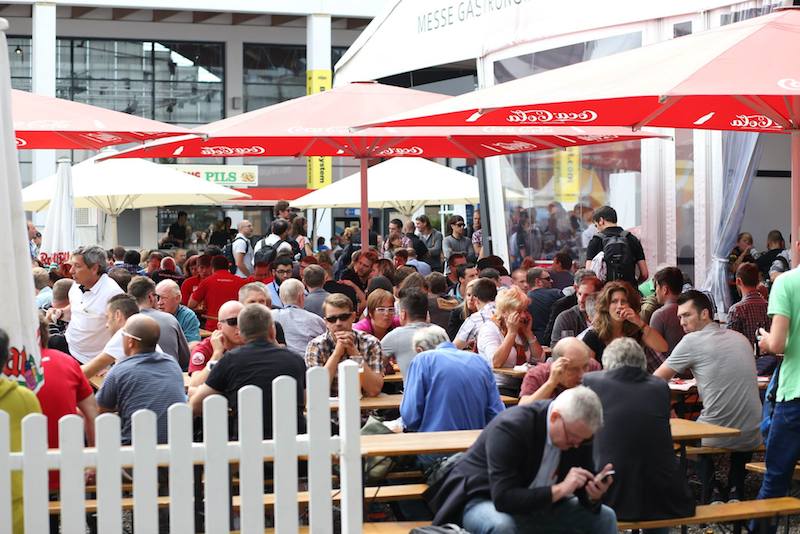 And the beer garden at Eurobike is always a popular place to discuss bikes and business!
Make sure you checkout Brett and Karen's e-bike tour to Eurobike on Felt electric bikes!
And checkout Brett and Karen's thoughts on the electric bike scene at Eurobike.
P.S. Don't forget to join the Electric Bike Report community for updates from the electric bike world, plus ebike riding and maintenance tips!
Reader Interactions