Eurobike Electric Bike Roundup – Part 1
I've been to a lot of bike shows around the world over the past 30 years. I believe that Eurobike, held annually in Friedrichshafen, Germany, is the best there is.
Beautiful location, great riding all around the area, young and energetic attendees, quality food and drink, creative companies and designs, and the list goes on.
2016 marks a turning point in that it was the year the eBike reached parity with the rest of the cycling industry. Equal floor space, basically. From almost nowhere eight years ago, eBike's have bridged the gap completely.
This won't be the case at Interbike in Las Vegas later this month. The fact that the United States has not kept pace with the rest of the world in eBike's is no secret. We don't share cycling culture or lifestyle as Europeans.
If history is an indicator, the USA eventually wakes up and smells the espresso. Perhaps the big brands in the States are waiting for regulation to ease and clear the way for eMTB's before investing.
Whatever it is, it's very evident in Europe that the brands that attacked the market in the early years have forged leading positions. The scraps still have plenty of meat on them, though, and that's making for a vibrant market, indeed.
Here are some key realizations from the show aside from overall market growth:
eMTB's are really strong. Many brands displayed lines devoting more than 50% to eMTB models covering the full gamut of gender and configuration.
Plus sized tire model eMTB's are growing. Many brands had multiple models with 27.5+ tires. Think about it. It makes perfect sense.
Trekking (touring) and City eBikes are becoming really attractive. Bomber builds. These are like the BMW GS of bicycles and they are lust worthy.
Tire and component makers building eBike specific products. Extra casings, more robust and higher quality. This makes the finished bikes even better.
Motor companies are surging. Just like the motorcycle industry has Ducati, Yamaha, BMW and KTM, the eBike market has at least one strong motor maker from the most developed two-wheeled Nations.
Consumers are responding. Everywhere I went, I saw people riding eBikes. Not just here and there. Everywhere.
For example, when I rode my junky, 5-speed non-eBike rental 30km to and from the show each day, I saw couples on trekking eBikes in remote areas. They were older, in their 70's, and they were riding high quality trekking bikes the way they are meant to be ridden.
It was eye opening. In many small towns I saw people riding good Bosch powered bikes. Sometimes they even outnumbered riders on traditional bikes.
Without further adieu, here are some images from the show floor.
This plus sized Lapierre is a good example of the advancing eMTB field.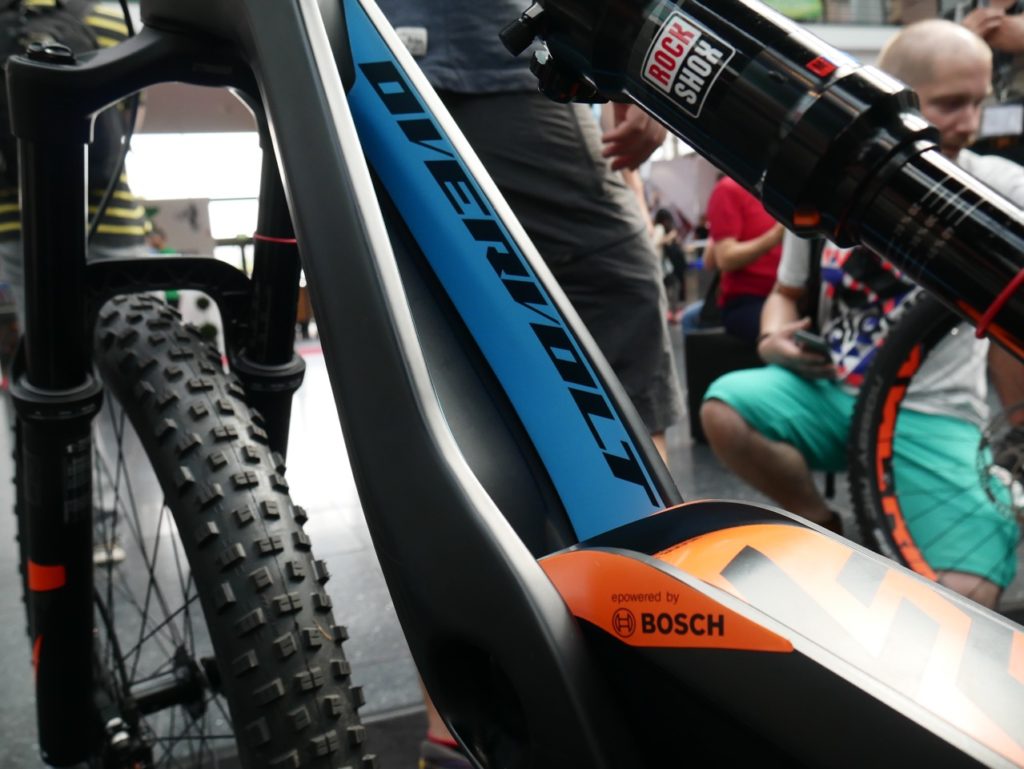 How's that for a beefy down tube.
Haibike garnered a lot of attention with this Yamaha powered machine.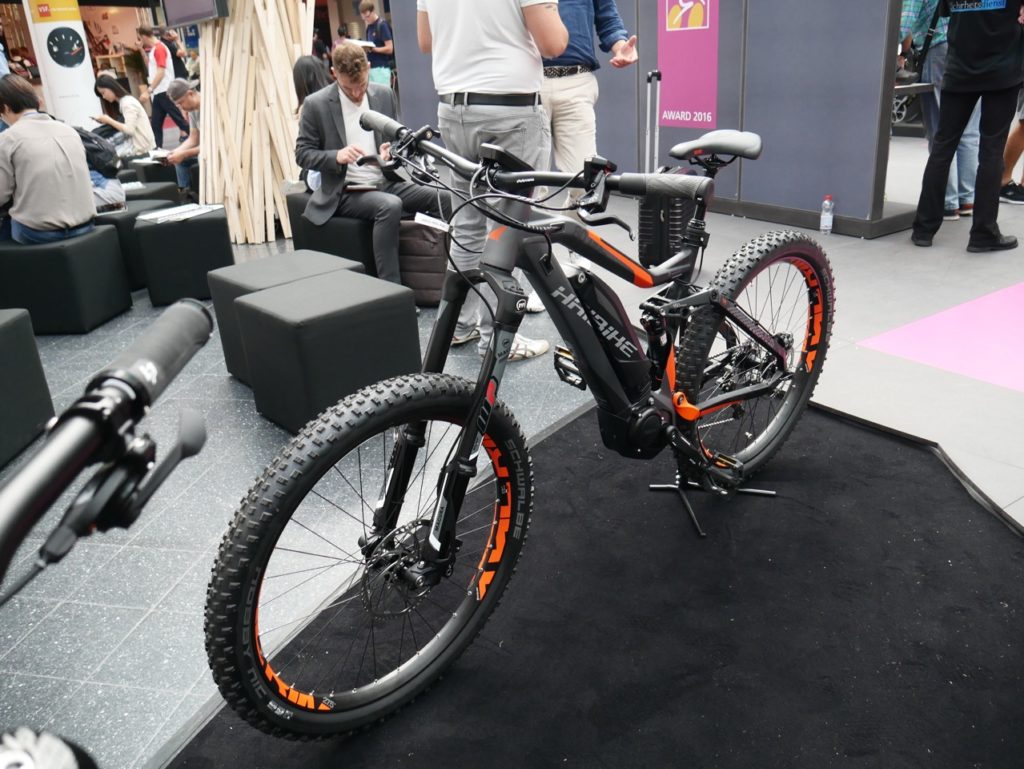 Another angle on an already angular machine.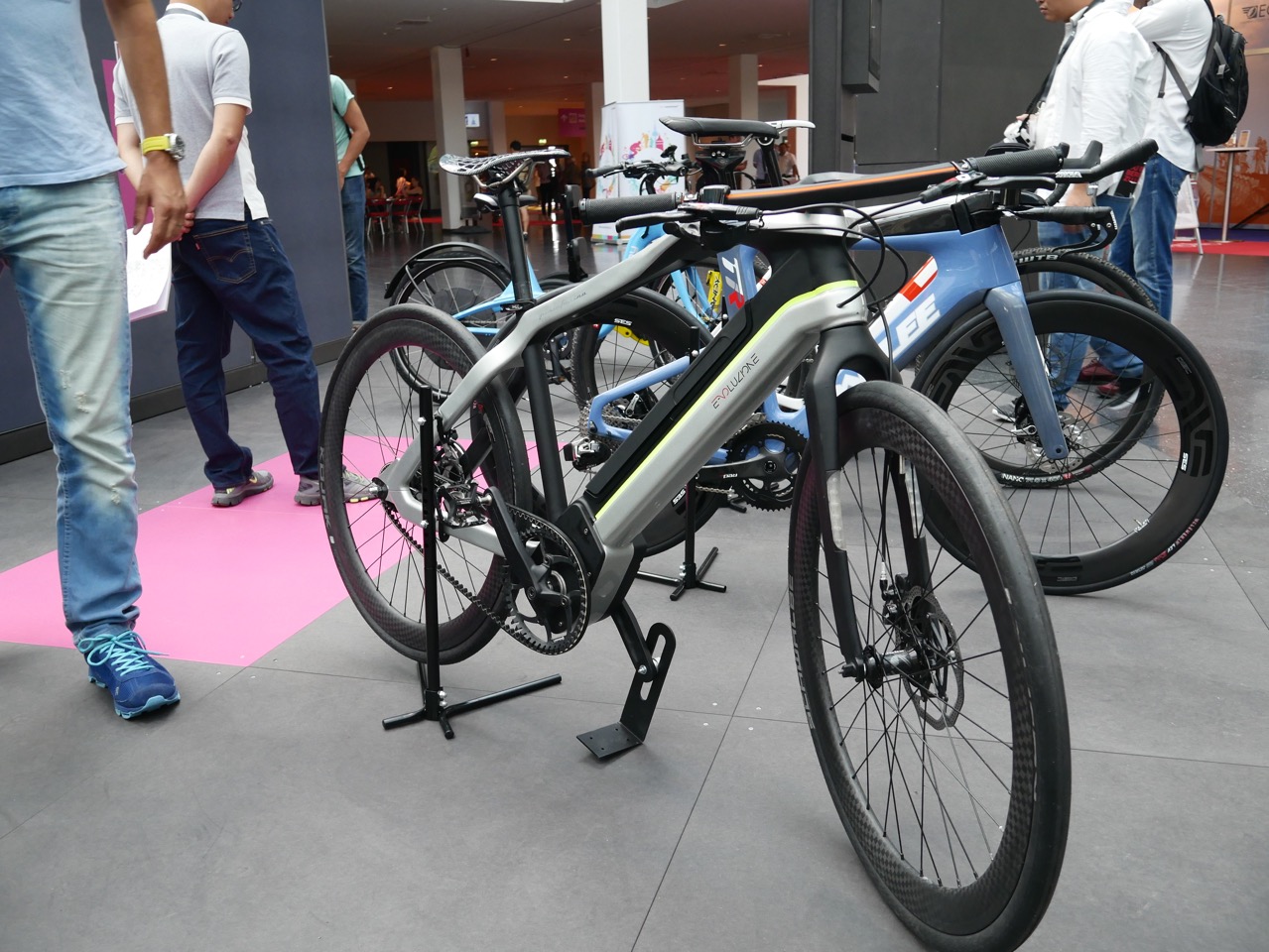 The Pininfarina design shop gave birth to this clean Evoluzione urban bike.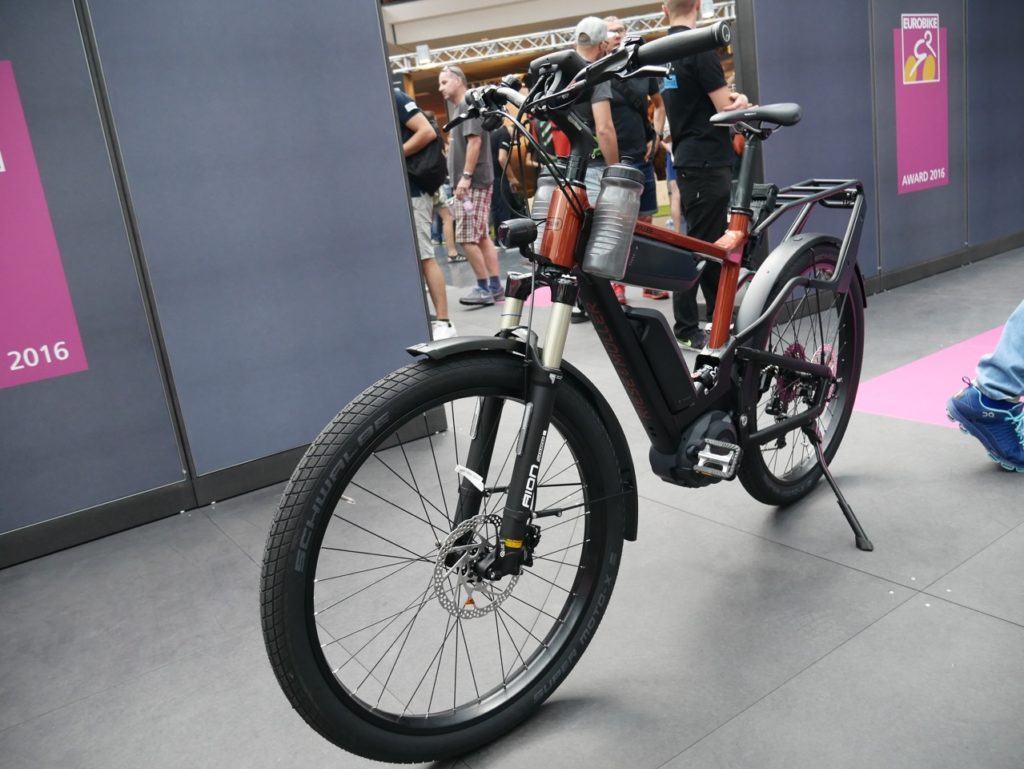 Are you kidding? Who wouldn't want this dual-battery Bosch powered Reise Muller in their garage. I'll trade in my GS, thank you.
The Focus Project Y eBike was up for an award with this very smooth, lightweight hardtail.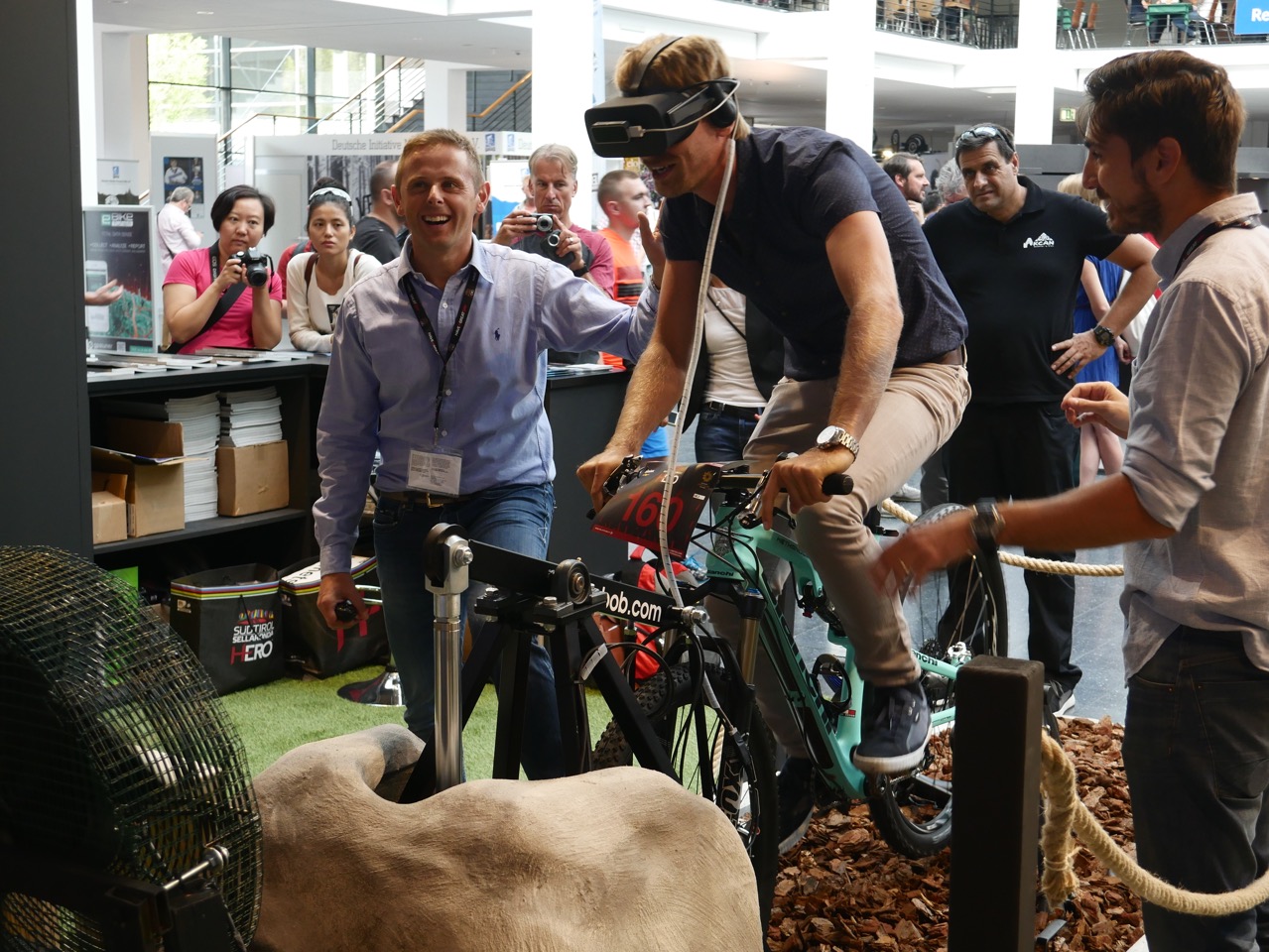 Here's a commercial break to bring you the future of traditional cycling. Yes, virtual reality has made it to the fitness market.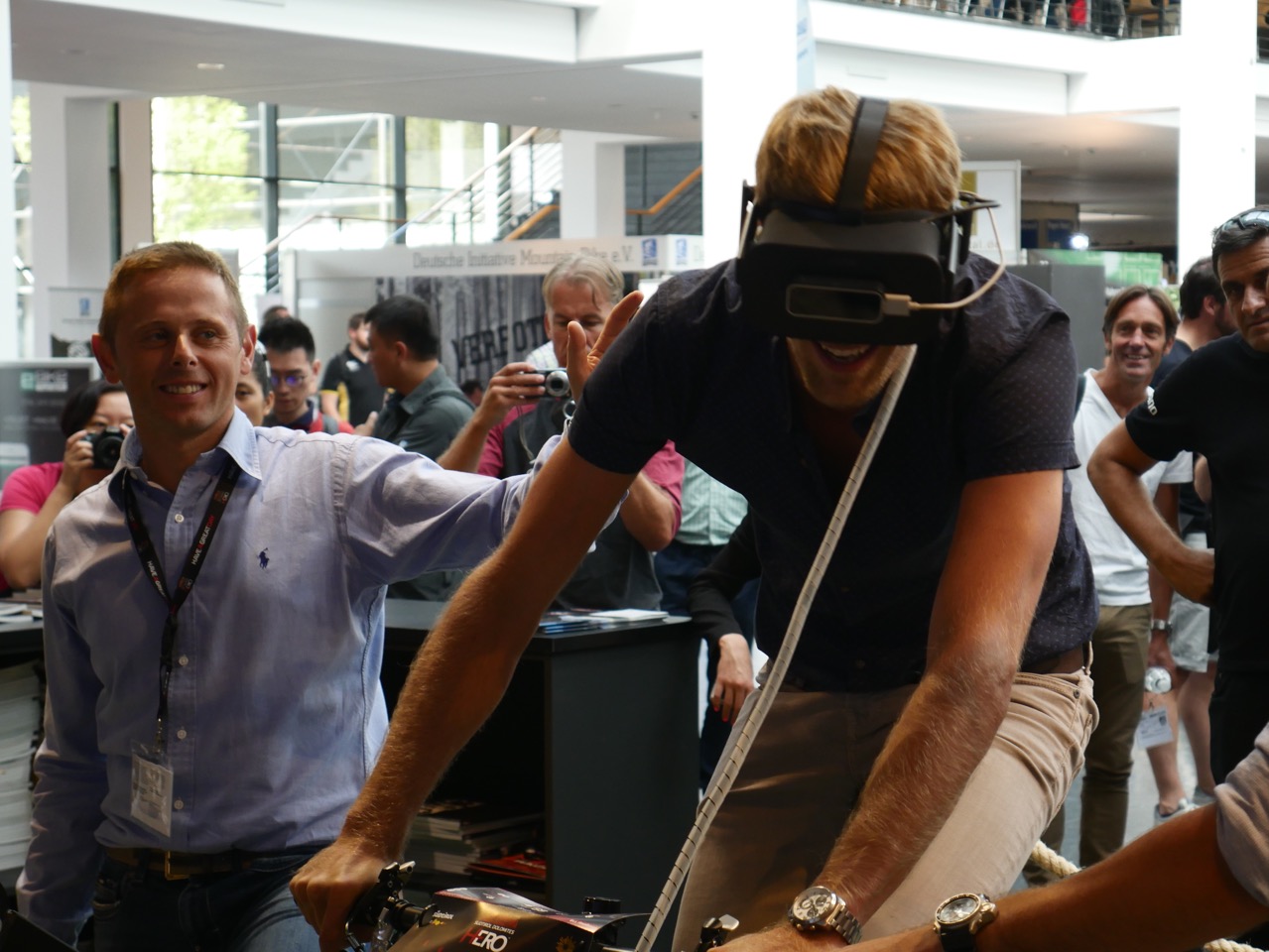 I didn't get on the bike but whatever was in those goggles was making these guys laugh out loud in glee. Bike porn, apparently.
Corratec's take on the eMTB.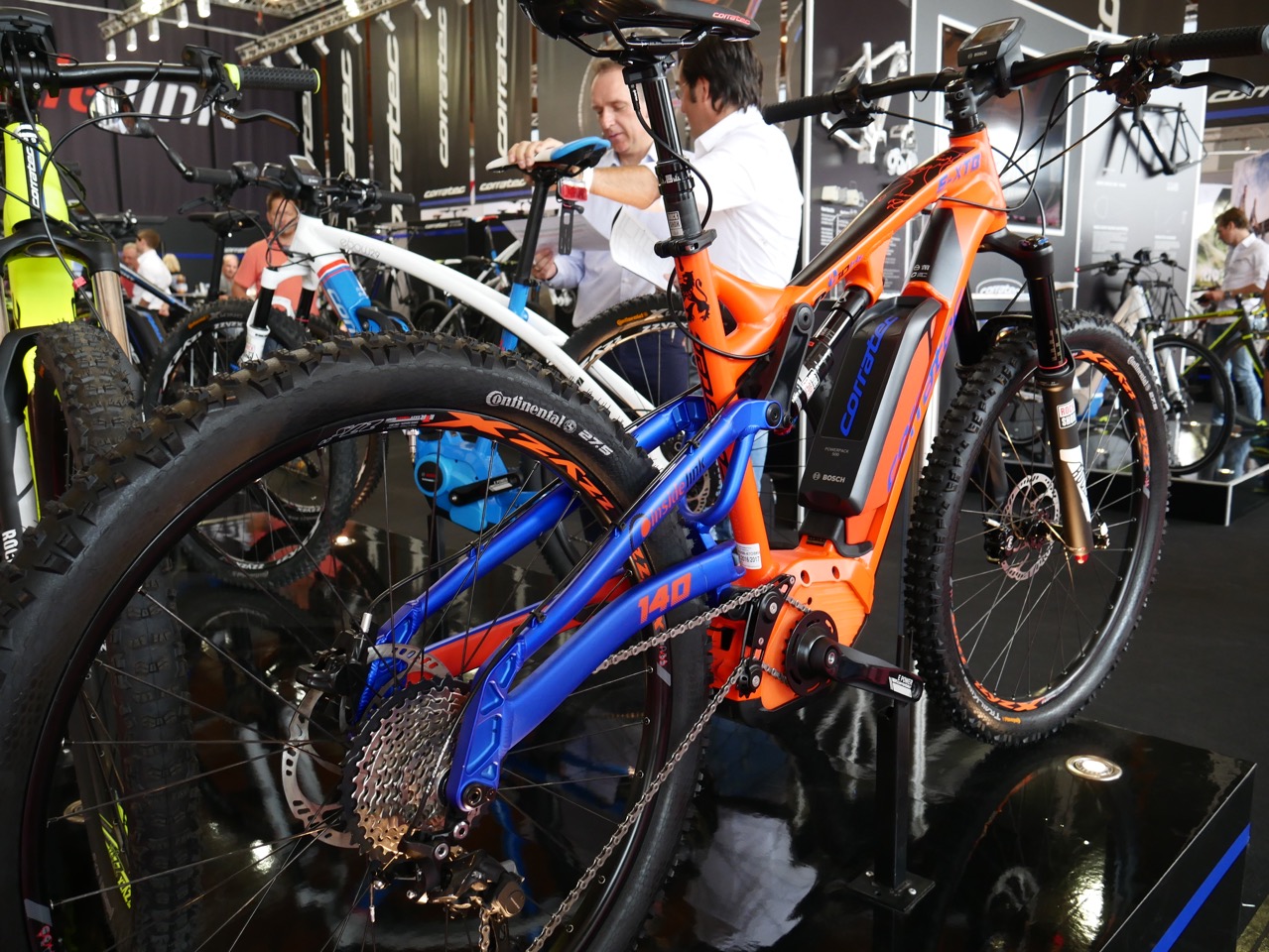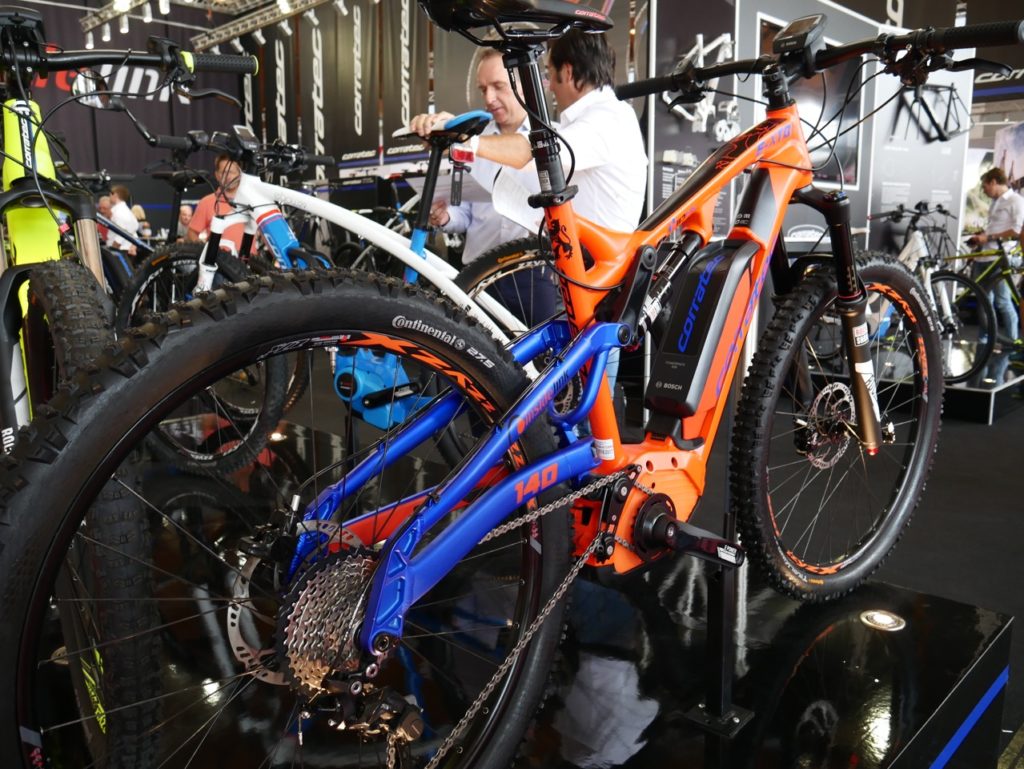 Matching Bosch motor side plates were popular and give the bikes a burlier, more complete look.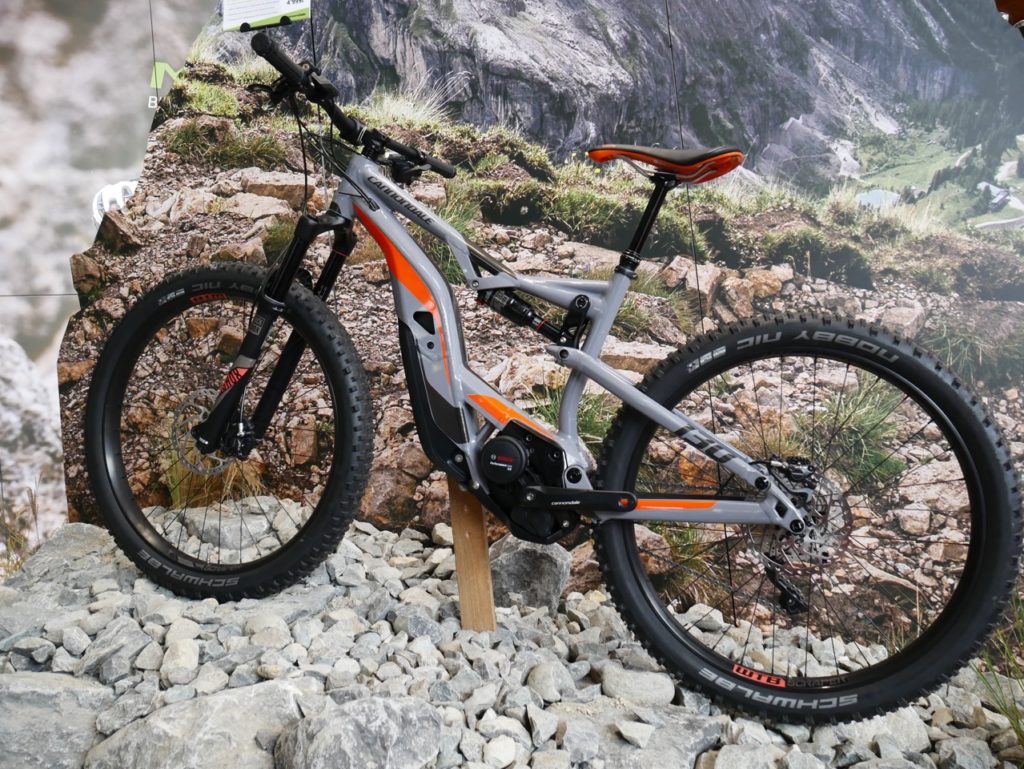 Cannondale stepped up their eMTB offerings for 2017. We will see which models they choose to bring to North America – hopefully all of them.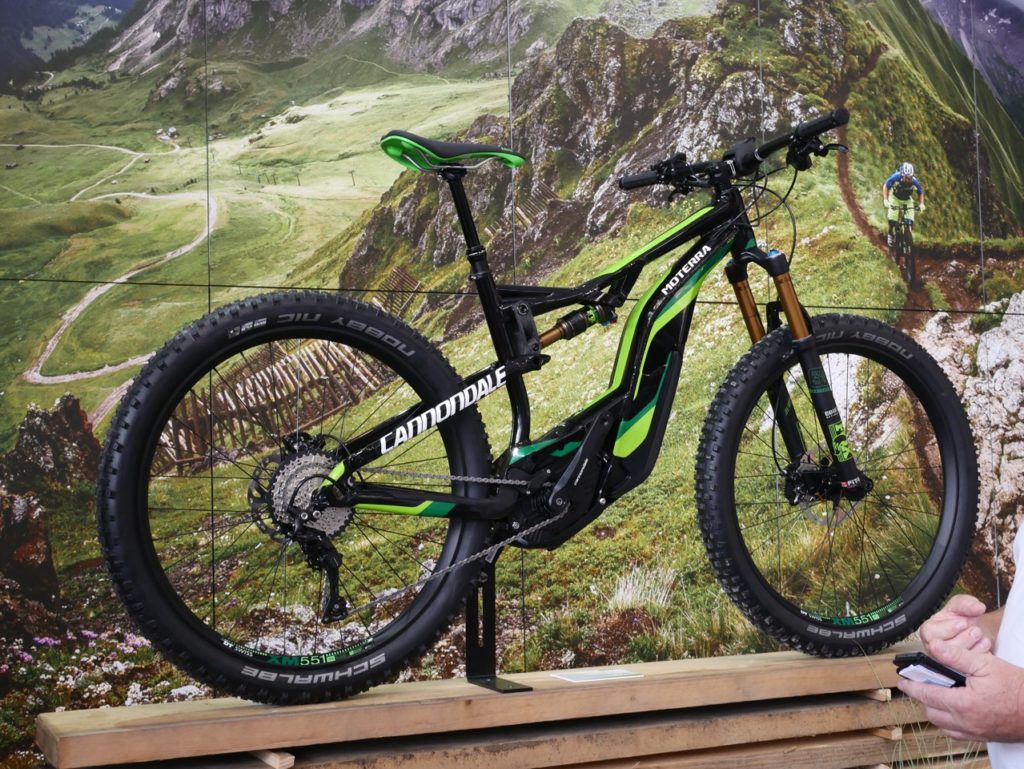 Nice display, Cannondale. Thanks for making this photo stunning. Are those man-made terrain features behind the bike or snow fencing? Either way, you know when you're in Europe.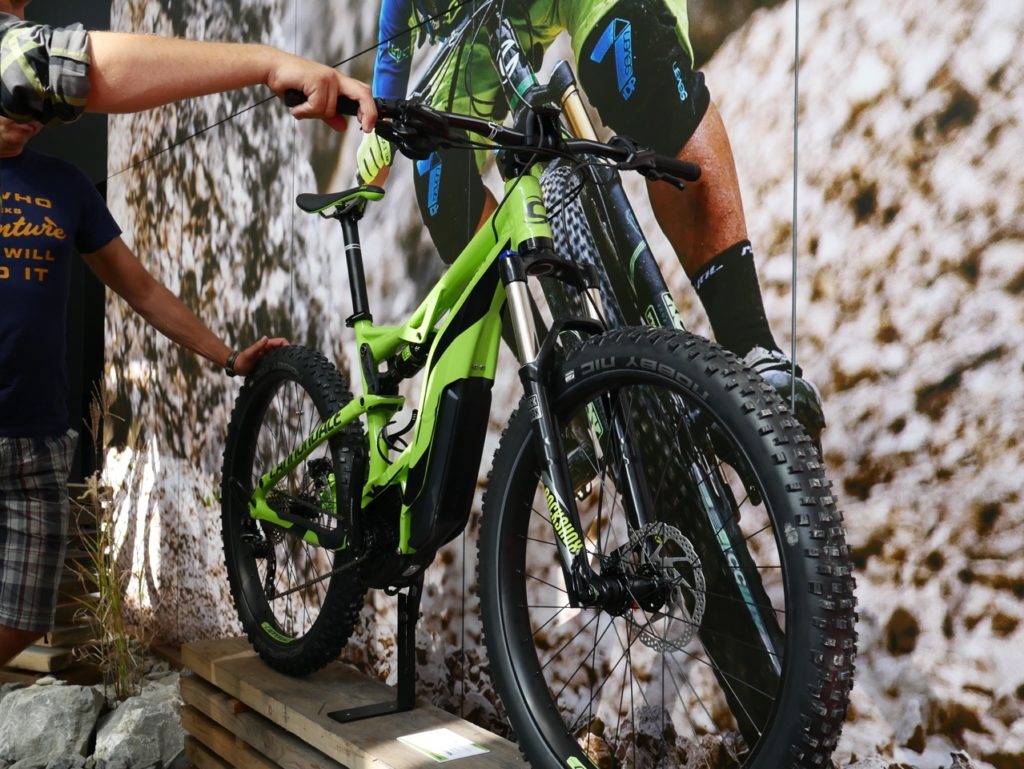 Cannondale dropped out of the motorcycle market years ago. Methinks they've got something better, this time.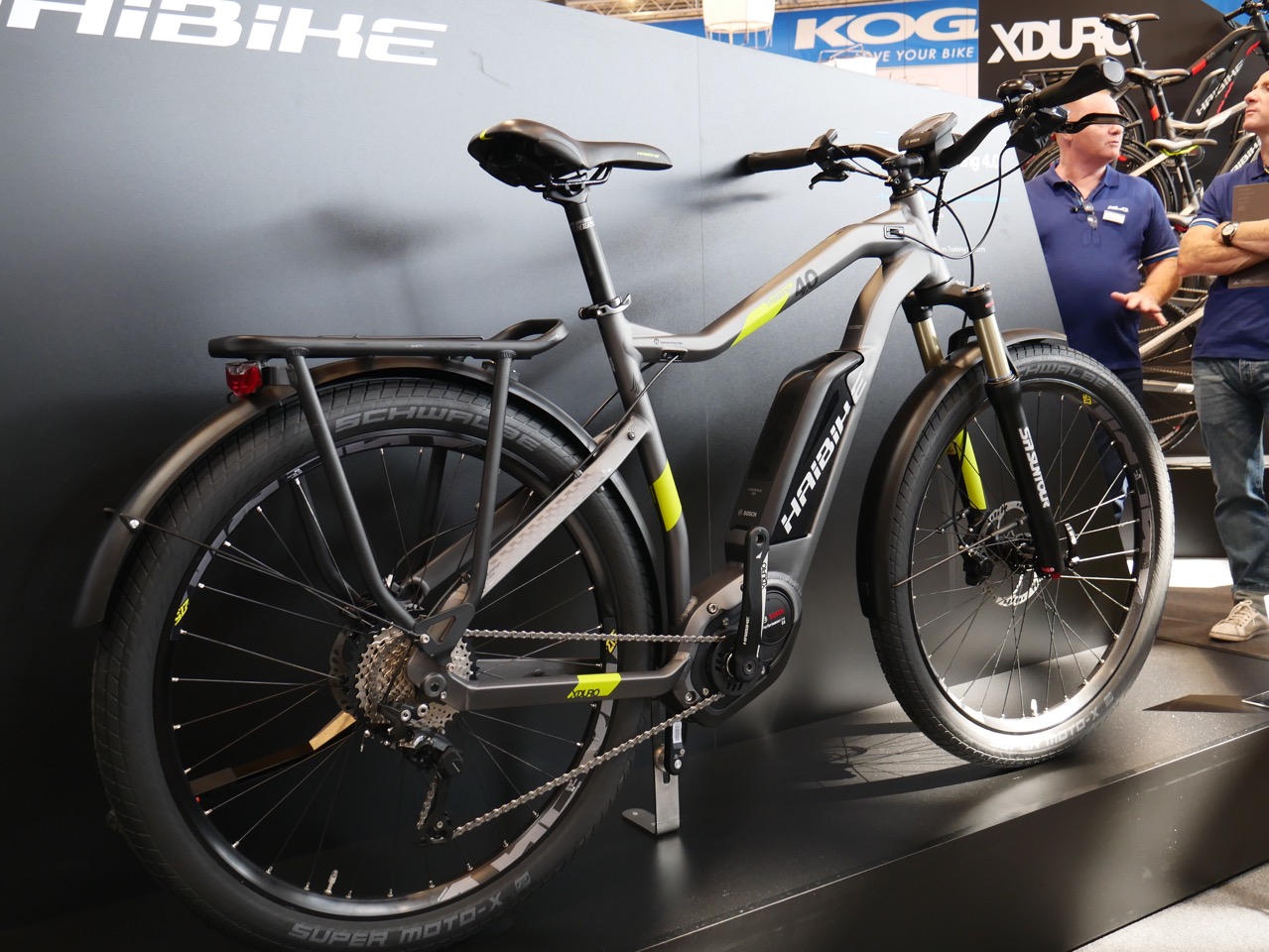 Haibike with a very "capable" looking trekking bike. Over 60, married and want to tour the backroads of the world? Order two and make it happen, just like thousands of Europeans before you.
Now checkout Part 2 of the Eurobike eBike Roundup!
P.S. Don't forget to join the Electric Bike Report community for updates from the electric bike world, plus ebike riding and maintenance tips!
Reader Interactions