E-Bike News: E-Cargo Bike Racing, New eBikes & Kits, Off Grid Charging, & More! [VIDEOS]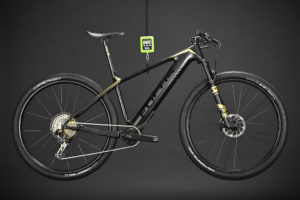 By Richard Peace
Welcome to more e-bike news from around the world.
German e-bike maker Focus launched in the US last year and intriguing info is surfacing about a new lightweight motor system they may to be gearing up to launch. News from the French alpine resort of Morzine has revealed a 'Project Y e-bike' with an amazingly sleek battery and motor design all in the downtube. Focus say its potentially a sub-28pound (13kg) e-MTB.
According to German-language website Elektrobike-online the motor system comes from German startup company Fazua. Perhaps most revolutionary is the fact that the Fazua system removes completely so that the bike can be ridden as a regular, non e-bike, at around 22 pounds (10kg).
The Netherland's Urban Arrow scored something of a publicity coup, getting the UK's famed car test driver The Stig to step out of a car and onto an e-cargo bike to prove it was faster than a motor vehicle in the London traffic…
In similar e-cargo bike racing fashion Mashable put together this video: $4,200 (Yuba Spicy Curry) electric cargo bike vs. NYC subway: Which is faster?
All-in-one-wheel systems are still proving a popular area for companies aiming at the retrofit market. The UK's Bikebiz magazine reports that New York-based EVELO have announced the release of the Omni Wheel, with a claimed fitting time of around 30 minutes, coming in 26" and 700c versions and starting at US$999.
Another one wheel design from the US is Cambridge-based GeoOrbital, who have just exceeded their Kickstart funding goal of US$75,000 to the tune of more than US$ 1million!  Projected retail price is US$950.
Another 'holy grail' design currently gripping the imagination of electric bike designers looking for the latest cutting edge system is the idea of swapping out regular bike cranks with a motorised version and, hey presto, a non-electric bike becomes and e-bike. Bikee are making waves in this area, having recently gone live on Kickstarter and having rapidly exceeded their goal of 50,000 euros. Their promo video includes heavy towing duty and a snowtrack model.
Set to hit the streets in July is the US-designed Elby commuting electric bike. Billed as a 'one size fits most' step-thru design, it marries a BionX rear-wheel hub motor and Elby's own battery design cleverly housed in the bottom of the frame. Check out this positive rider review.
Chinese-based Tsinova are taking rather more lightweight approach to city cycling, with their Smart e-bike. Said to borrow much tech from the electric car world, it features multiple sensors and a GPS module. An added bonus of another smart e-bike that has just launched a crowdfunding campaign in China is foldability. But perhaps most impressive things about the Mi QiCYCLE though are the bike's claimed weight of 14.5kg and its projected price of just 2999 Yuan (around US$450).
A curious phenomenon is the much higher than average popularity of speed pedelecs in Switzerland, according to Bike Europe. A staggering 26% of e-bikes sold there last year where speed pedelecs (with pedal assist up to 45kmh). Even more surprising is the fact that half of e-mtbs sold where of the higher priced, faster spec that require registration as mopeds and, according to Bike Europe 'are prohibited from forest and biking trails'. 'Leading MTB dealers have no explanation for the popularity of speed-pedelecs' the website added.
If you are in Spain this September you might want to head along the Madrid's Unibike show, with more than 80% of the floor space already booked. There will be a e-bike demo area and Portugal, whose Bike Valley is a bike manufacturing hotspot, will be strongly represented too.
The mainstream cycling media continues its 'love 'em or loath 'em' type approach to electric bike reporting, with the UK's Cycling Weekly admitting they were 'great fun' and indeed 'ideal for commuting' though apparently not to keep up with the local lycra-clad chain gang. But the very positive tone of the article and indeed the fact it exists at all is testament to the wider acceptance of e-bikes in a conservative, road-based market.
To reinforce the point BikeRadar  have just launched an E-bike week with a helpful series of articles covering everything from basic questions to reasons to ride 'em.
Talking of going off-grid with a e-bike, this DIY video shows you how to rig up regen e-bikes to charge non e-bike batteries or run lights. Fascinating if you like your charge controllers and rectifiers…
OK, it might not be strictly an e-bike, rather an electric motorbike, but it does use plenty of tech from the electric bike world and shows there might be uses out there for e-bikes not yet thought of..meet the 2 wheel drive UBCO farm bike from New Zealand. Whilst its been around for a while is now looks to rolling out commercially across Australia and New Zealand. The bike is apparently gaining followers where it was meant to, in the farming community. The huge 40Ah battery 'not only fuels your bike; it powers all your tools…'
Another 'go anywhere' design is the Super '73 from California. Yet another vastly overpledged Kickstarter campaign, the video is more Mad Max than agricultural vehicle.
Stay tuned for more e-bike news.
P.S. Don't forget to join the Electric Bike Report community for updates from the electric bike world, plus ebike riding and maintenance tips!
Reader Interactions