E-Bike News: Bosch Double Battery, New Giant & Cannondale eBikes, Bicycle Autobahn & More! [VIDEOS]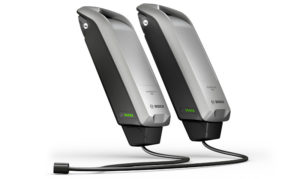 By Richard Peace
New Tech
Bosch Releases 2017 Update Details
German e-bike giant Bosch has just announced its latest developments to its market leading system. There will now be the option on future models to have two batteries (two frame batteries or a frame and a rack battery) and both will be chargeable at once using the same charger.
If you opted for the largest capacity Bosch batteries at 500Wh each, your on the move capacity would be a huge 1000Wh, easily enough for a full day's riding over even the most challenging of MTB terrain.
The clever bit is that the bike's controller swaps between the two batteries as needed, so the rider doesn't need to do anything; for riding purposes it is one large battery. For 2017 there is also a more compact battery charger.
Bosch has also announced a new display, the Purion, to add to the basic Intuvia and the more advanced Nyon. The Purion is designed to be more compact than the Intuvia, merging the previously separate display and power controls, and the buttons are less sensitive in use, meaning its probably aimed more at mountain bikers covering rougher terrain.
Another German crank drive system, this time retrofit, is now available to buyers. The Relo is a fascinating design which mounts on the left hand crank side, so bike gearing is unaffected. The 100Wh battery is removable and links seamlessly to a 250W crank mounted motor.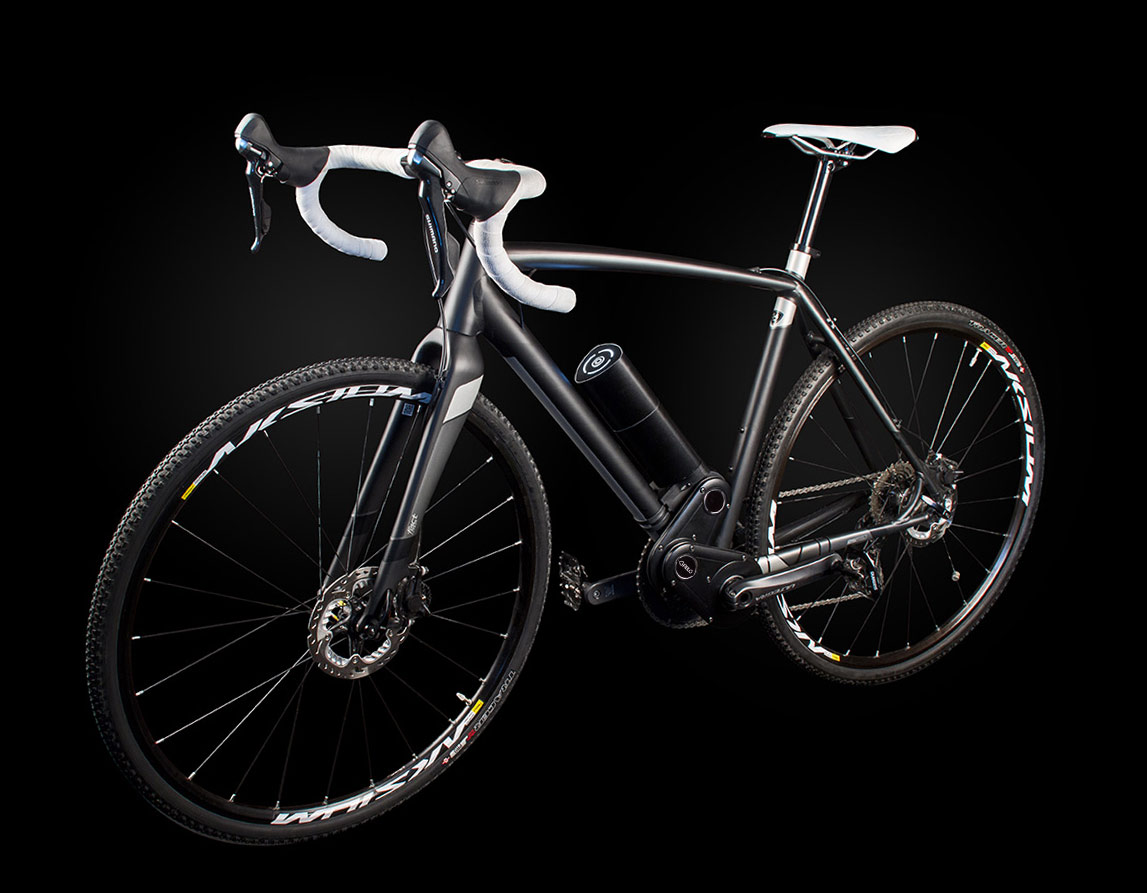 It is billed as fitting 'almost any bike' and Bike Europe say 'the quality and robustness of the Relo system are impressive.' The company website appears to be offering pre-orders from 2,200 Euros.
2017 E-Bike Launches
Will Giant start a road e-bike trend? Their 2017 e-bike range certainly suggests they think they might, even though e-road bikes are rare beasts indeed. Their Road E+ is now available in two models priced in the UK at £2299 and £2749. It features a Yamaha crank drive motor alongside well-respected Shimano gearing names such as Ultrega and 105 that will be very familiar to the road racing community. Although Giant has a US presence this doesn't yet extend to their road e-bikes.
Cannondale has launched the Bosch-powered, full-suspension e-MTB, the Moterra. Cannondale say there will be five variants; two with 160mm travel front and rear and three with 130mm travel. Prices will range from 3999 euros to 5999 euros.
Car companies have often jumped onto the e-bike wagon, finding it gets their brand some valuable publicity, and Audi are the latest in line with their Haibike-based e-tron e-MTB. If you have 15,300 Euros to splash out then you can see the full spec and buy one here.
More cycle lanes to fuel e-biking
E-bikes are supremely practical and well-designed bike lanes are suprememly practical. So could the start of a 'motorway' for bikes only in south-west Germany popularise superfast, long distance e-bike commuting? The UK's Guardian reports here on the start of the project, where major cities are only 6-10 miles apart and 1.6 million people live within 1.25 miles of the route.
Talking of bike lanes, in the US People for Bikes have lauched an appeal for applications from 10 towns and cities around the country for their BigJump project, which will mean those winning funds will likely get more bike lanes and other pro-bike measures.
And if you want to know just how difficult it can be and how much determination you need to install bike lanes in a major city take a look at this review of 'Streetfight', an account of just that, by former NYC Transport Commisioner and her deputy Seth Solomov.
In the UK inter-urban bike lanes might also be starting to gain traction outside of London with the lanuching of the Leeds-Bradford superhighway, connectiong two of Northern England's most densely populated areas. It is billed as 'the first cycling superhighway outside London.' City Connect, the team behind the superhighway, predict around 9,000 daily journeys along the route.
Country Roundup
The rise of the e-bike in western Europe continues with Bike Europe reporting growing sales in the UK whilst Austria reported a staggering 54% annual increase in the market for e-bikes, with e-bikes making up around 20% of the total bike market. Interestingly the article states that the market stats 'show most of the higher priced e-bikes are sold by the IBDs much like most other markets.'
And heading Down-Under it seems that Australia's (relatively) popular Gold Coast area is a hotbed of increasingly popular e-biking.
Tour de France organisers, well aware of the recent Belgian motor doping scandal, are apparently primed to magnetically scan 3,000 to 4,000 bikes to root out any possible cheating according to this report.
It's always interesting to see how manufacturers go about making e-bikes so here's a nice piece about one of the Swiss pioneers of the e-bike industry, Flyer, and how they have moved from sedate, step-over city models to full on performance e-mtbs.
California has its first e-bike track race; from a standing start, e-bikers will complete continuous laps of a 1 km track and rider going furthest in one hour wins. It will be held on the historic Polo Fields cycle track of San Francisco's Golden Gate Park.
Oregon's Mail Tribune featured the truly inspiring story of 69 year old Myrna Rafalovich who has taken to e-biking to relive an epic 1976 coast to coast ride. It's also an historic ride in terms of US cycling, as it lead to the establishment of the Trans-America Bicycle Trail and the founding of the Adventure Cycling organisation.
Finally, ever wondered what happens when an ultra-fit MTB rider takes on an average but experienced rider trying out an e-MTB? Find out here:
Stay tuned for more e-bike news.
P.S. Don't forget to join the Electric Bike Report community for updates from the electric bike world, plus ebike riding and maintenance tips!
Reader Interactions