Electric Mountain Bikes: The Winds of Change Arrive in North America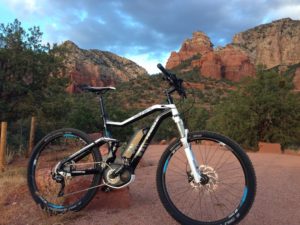 Just one quarter in, 2016 has turned into a year of dramatic change in the cycling industry.
North American bicycle imports dropped 7% in 2015 and are down 17% year-to-date compared to 2015. Manufacturers seem to be making changes to their sales models at a quickening pace.
Big name brands like Trek and Giant have announced direct-to-consumer sales. Canyon, the top European direct-to-consumer brand, is set to arrive on American shores this year and promises to really shake things up.
More brands, such as Raleigh, have moved forward with direct sales models where the customer orders online and picks the bike up at a brick & mortar dealer.
The aptly named "click & mortar" or "click to brick" models have officially come to cycling.
Even Shimano, the venerable Japanese component maker, has slashed prices and altered distribution to cope with the contracting and shifting retail sales environment.
At the big box level, the Sports Authority bankruptcy sent some shockwaves to the bike industry manufacturers who sold to them.
So, what is happening out there? Will such pressure on independent bicycle dealers cause their numbers to dwindle? One bright spot for new bike sales globally has been eBike.
The North American market only accounts for a small number of world eBike sales, but that number is  growing. Smaller sales numbers in a market could indicate a lack of dealer interest more than a lack of consumer interest. Could this be the case in North America?
Shops specializing in eBikes in the United States tend to far outpace dealers that only dabble in the machines. Most American consumers remain unaware of eBikes, let alone have had the chance to test ride one. It has become apparent in other markets, Europe especially, that  e-mountain bikes (eMTBs) have begun to drive sales numbers for dealers.
Many prominent players in the European market under estimated the rise of the eMTB. The brands that had the vision for what the eMTB could become are now reaping the rewards. eMTBs are in the early stages of what could become a renaissance of sorts for the mountain bike.
Personally, becoming more intimate with eMTB development and riding has opened my mind to what mountain bike riding, for many, will become in the years ahead.  Looking at the numbers, though, is the North American market simply standing in it's own way?
The USA is showing shrinking sales of traditional bicycles and an aging population of recreationalists. Many of our vast off-road trail networks were actually illegal for mountain bikes to be on back in the 80's when I started riding them.
Today, some mountain bike riders who didn't have access themselves before rule changes are against eMTBs having access. IMBA (International Mountain Bike Association) is the steward for the sport and has one of the loudest voices among policy makers.
IMBA's own in-depth studies on trail erosion differences between MTB's and eMTBs showed little to no discernable difference between the bikes on trails. IMBA has stated they are neutral with regard to the eMTB, but will not yet support a position that gives eMTBs equal access to all trails now open to MTB's.
Obviously, regulatory positions such as the ones outlined here could give pause to any prospective eMTB customer. It may also cause shop owners to shy away from allocating funds and floor space toward eMTBs.
In spite of the sales evidence coming from Europe, many in the US remain skeptical with regard to acceptance of the bikes. Don DiCostanzo, founder of Pedego eBikes, wrote on a message board "Slow acceptance for eMTBs in the US so far and little to suggest it's going to change in the near future."
DiCostanzo may be right. Trail regulations will be an ongoing challenge. Still, there are a lot of trail systems available that eMTBs can be ridden on. The bikes are versatile enough to make great hybrid-style rides for consumers.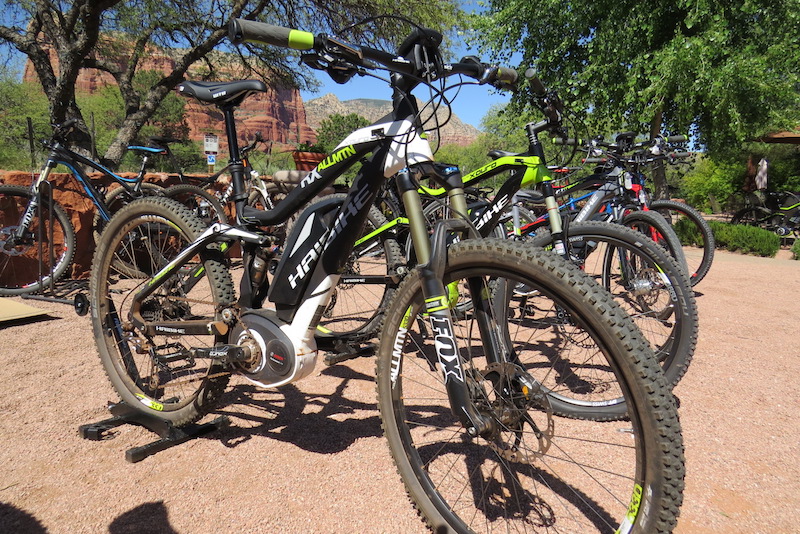 If shops payed heed to the sales numbers in Europe and brought them in, consumers in the US could be swayed. I happen to be in the camp that believes eMTBs have a bright future in the United States. What leads me there is not blind optimism. It's a combination of experience and what I'd like to call something of an "understanding".
In the mid 80's, MTB's were illegal on basically every hiking trail (which was inevitably the sweetest single track) and hikers outnumbered riders at least 100 to 1.  I knew it couldn't last. Riding a MTB was just too much fun. The sport couldn't be stopped.
Back then, slowing down for hikers well in advance, riding as wide around them as possible on single track and saying "Hello – thank you" could still draw curt words and threats of a punch from some hikers.
Today, I sometimes ride legal trails where I'm told hikers will risk felony charges to plant boobie traps with sharpened sticks pointed uphill toward unsuspecting riders. On these trails the MTB will now outnumber hikers at least 30 to 1.
There was never a feeling of superiority over the hikers. There was a sort of guilt, actually. I had used this man-made machine with stamped out gears and high-tec assemblies to cover 20x more ground in a day then they could.
They would sleep out there that night after a meal of freeze dried beans. I would sleep in my own bed after railing, sliding and grinning my way off that trail system. Does the eMTB cross a larger chasm than the one from boot & pack to wheels, suspension and 21 speeds? Not in my mind and body, it doesn't. Not even close.
Riding an eMTB on the legal routes I can find, I get a similar feeling to what I had in the earlier days of the MTB. I'm no faster than at my peak, even uphill, but I don't have to train at least 20 hrs a week like a jobless sociopath hell bent on being a World Class athlete.
I get incredible exercise. I enjoy my surroundings and the people I'm riding with even more. The group is more diverse. My company is no longer just the kids from the bike shop on their day off and the retired lawyer masters racer with 5% body fat.
It's amazing to share an incredible off-road ride with someone who would never in their lives be able to spend the years of training it would take – or attain the purity of health – to allow them to enjoy the sport in that way. We are all aging.
Sometimes the fittest among us don't realize how quickly a fraction of that health and strength can go away. Just a fraction, and suddenly a MTB ride is not what it used to be.
Former world class riders can easily fade into "normalcy" while 50+ year old beginners on eMTBs can rise up. They may gain the strength and desire over time to do the rides without electric assist.
I believe the eMTB will become one with the MTB in the United States. It will reach parity, equality, like it has in Europe. One is not better than the other. They are the same. They don't serve different purposes. They serve us all at different times.
P.S. Don't forget to join the Electric Bike Report community for updates from the electric bike world, plus ebike riding and maintenance tips!
Reader Interactions