Electron Wheel: Complete Electric Bike Kit in the Front Wheel! [VIDEOS]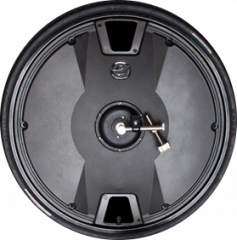 It seems like the race to create the all-in-one electric bike kit solution is on!
The Electron Wheel is a 26″ front wheel that includes everything that you will need to make your bike electric.  Inside the front wheel is the motor (250 watt), battery (24V 10ah lithium), controller and any other electrical components.
The Electron Wheel is made by Belon Engineering.
It will retail for $999. 
Checkout this video about the Electron Wheel:
And another video with more info:
This is an interesting development because just recently FlyKly announced their Smart Wheel which is based on a design called the Copenhagen Wheel.  Both of these systems have everything included in the rear wheel of the bike and both of these systems are coming to market soon.
The advantage of a front wheel kit is that it is very easy to replace the front wheel and there are no drivetrain compatibility issues to worry about when compared to the rear wheel designs.
The Electron Wheel has an incline sensor that measures the slope that you're riding on and applies more assistance when you need it; like climbing up hills.
It also has a wireless sensor that attaches to the crank arm so that it only provides assistance when you are pedaling.
Here is the installation video:
Specifications of the Electron Wheel: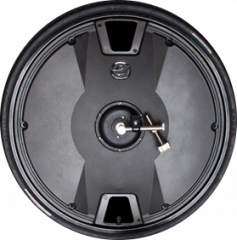 MOTOR:  Exclusive Electron Wheel, Alloy Shell, 250W DC Brush Planetary Geared Hub Motor
BATTERY:  EV Related Rechargeable Li-ion Cells, Advanced BMS, 24V10Ah 240Wh
CHARGER SYSTEM:  UL Listed Electron Wheel Charger with LED Status Indicator Display, Intl. Voltage
SPEED:  18mph / 28km/h (Rider Weight, Input and Terrain Contingent)
RANGE:  16-22 Miles / 26-35 km with Normal Pedaling (Rider Weight, Rider Input and Terrain Contingent)
DRIVE:   Exclusive Electron Wheel Geared Hub Motor, Combine with the Drive Train System from your Standard Bike to get Hybrid Power
FRONT WHEEL:  Alloy 26″ x 1.75″ Rim, 26″ x 1.25″ Tire, Inner Tube, Rim Strip, Double Wall Alloy Rim with Stainless Steel Spokes
USER CONTROL:  Power On/Off switch, Battery Gauge Indicator, and Easy Access Charger Port are on Left side of Front Wheel
ACCESSORIES:  Pedaling Sensor, Pedaling Sensor Pouch, and Pedaling Sensor Charger
WEIGHT:  19.4 lbs
LIMITED WARRANTY:  2 years on motor, 1 year on battery & other components
RETAIL PRICE:  $999.00
To learn more about the Electron Wheel™ visit www.electronwheel.com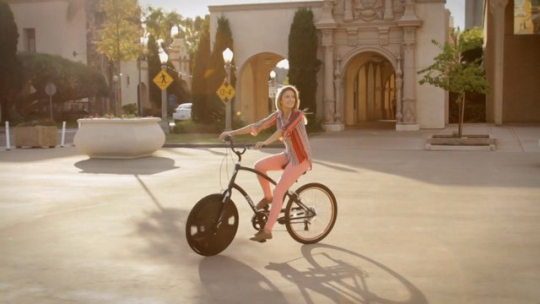 What do you think?  Are you interested in converting your bike to electric with the Electron Wheel?
Please leave your comments in the section below.
Thanks
-Pete
P.S. Don't forget to join the Electric Bike Report community for updates from the electric bike world, plus ebike riding and maintenance tips!
Reader Interactions