Review of the Hebb Electro Glide Electric Bike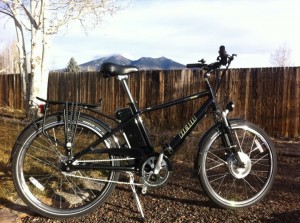 Okay, here is the Hebb Electro Glide electric bike review!  In a nut shell; this has to be one of the more "solid" e-bikes that I have tested.  Hebb refers to their bikes as the "Affordable Luxury Bike" and it seems to be true.
I have ridden this bike for a couple of weeks up hills, on paved streets, down gravel paths, through snow and ice (I used studded snow tires 🙂 ), into headwinds, etc.  The sometimes harsh conditions of Flagstaff Arizona have definitely put this electric bike to the test.
My usual ebike testing circuit is my commute to work (13 miles round trip) and some errand running (20 miles total).  This route does include some very steep hills usually on gravel paths.
Features of the Hebb Electro Glide
Below are some of the features of the bike.  They are also included in the video below if you want to take a look at the bike.
Features and Specs:
Comes in triangle frame or step through frame


Black or silver color

Adjustable stem for adjusting to riders of different sizes

Accessories: integrated LED lights, fenders, rear rack, bell, cycle computer, kickstand

Suspension fork

350 Watt front hub planetary gear motor (eZee)

37 Volt 10 ah Lithium ion battery that can be locked to the frame or remove with a key

Throttle only

Aluminum frame

Shimano 7 speed Nexus internal gear rear hub

Front disc brake and roller rear brake

Schwalbe tires

Speed = 20 mph

Range = 20 – 30 Miles

Price = $2199 MSRP
So What is the Ride Like?
Like I said before this bike has a very solid feel to it.  Nothing rattles, it is a smooth ride, and the quality of the components are good.  It definitely does feel like it is a luxury bike.
The motor is relatively "torquey" and can accelerate from a stand still pretty quickly even without pedaling.  It does bog down a little on the really steep hills, but it makes pedaling up a steep hill a lot easier!
The range?  So far I have got 20 miles out of it without running too low on battery power.  I have not had a chance to run it all the way down for a full range test yet, but when I do I will add that to this review.
The motor is a little noisy, but I personally didn't notice it too much especially at higher speeds.  After putting more miles on the bike I have noticed that the motor is a bit noisy.  It is not horrible, but something to note if you are looking for a silent e-bike.
Time for the Pros and Cons!
Pros
I really like how durable this bike feels.  The quality of the components are good and the fact that there is nothing that rattles on the bike makes it seem solid.  Here are my thoughts on some of the stock components:
The eZee motor has been around for a long time and is a well known brand

The Shimano 7 speed internal gear hub is a nice clean touch; no derailleurs.

The Schwalbe tires are well known for their durability

The wheels feel very solid

I really like the integrated LED lights that run off the battery

So many included accessories, including a cycle computer!

The front disc brake and rear roller brake are powerful and they work well in wet weather.

The battery charger appears to be high quality compared to other standard ebike chargers.
This bike comes with so many useful accessories that it is almost a turnkey, fully equipped commuter bike.
Cons
Okay, the price has to be a con.  At $2199 it is not the cheapest electric bike out there, but you do get what you pay for.  This is a quality electric bike and with that comes a cost.  I wish ebikes were less expensive and hence available to even more people, but that is a topic for another article!
The motor did bog down on some really steep gravel path hills that I tested the bike on, but with a little help from me made it up the hill ok.  It seemed to do pretty well on the steep paved climbs.
The suspension fork that comes with this bike is not the most active.  At least on the bike that I tested it didn't seem to take the "edge" off of the rough spots in the road as well as other suspension forks that I have ridden on.
This is a small complaint, but the seatpost is fairly low quality compared to the other components on the bike.  I don't think it will break; it's just a normal steel seatpost, nothing special.
This bike may not offer the most comfortable position for someone looking for a really upright bike.  I come from many years of cycling so the position felt very comfortable to me.  If you want a more upright position this could easily be fixed by changing the handlebar to a high rise handlebar.
Personally I think it would be nice to have folding baskets or bags that you could carry some groceries with as a stock accessory.  Of course that would add to the price and not everybody would want those.
Who is this electric bike for?
I think think this bike is for someone who wants a sturdy electric bike for regular commuting and/or recreational riding and doesn't mind spending the extra money for the quality of the bike.  The smooth and solid ride combined with the plethora of accessories really makes the bike seem luxurious.  I think the Hebb Electro Glide is that type of bike that you can rely on for day after day riding.
Comments or Questions?
Please let me know if you have any questions about this bike.
Also, please keep in mind that this is a relatively short term test.  This testing can't really give you the long term review of durability and reliability.  My thoughts on the quality of this bike are from previous experiences with similar bikes.  If you own this bike and have some input on the long term durability, please share your comments with the Electric Bike Report community below.
Thanks!
-Pete
P.S. Don't forget to join the Electric Bike Report community for updates from the electric bike world, plus ebike riding and maintenance tips! (upper right hand corner of this site)
Reader Interactions