Hebb Electro Glide Electric Bike in for Review [VIDEO]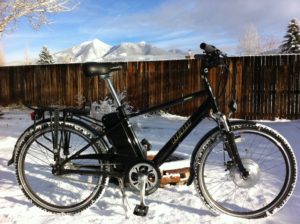 UPDATE!  Here is the full review of the Hebb Electro Glide electric bike.
This is a quick introduction to the Hebb Electro Glide electric bike that is currently in for review at Electric Bike Report.  In the video I go over the features of the bike.
I will be doing a full review soon with all of the pros and cons. Stay tuned!
Alright, here is the video:
You can download the video here or download the video to iTunes automatically and add the video to your mobile device.
Do you have any questions about the bike?  Anything you would like me to cover in the full review?
Please leave your comments below.
Thanks!
-Pete
P.S. Don't forget to join the Electric Bike Report community for updates from the electric bike world, plus ebike riding and maintenance tips! (upper right hand corner of this site)
Reader Interactions