IZIP E3 Dash Electric Bike Review Part 2: Ride & Range Test [VIDEO]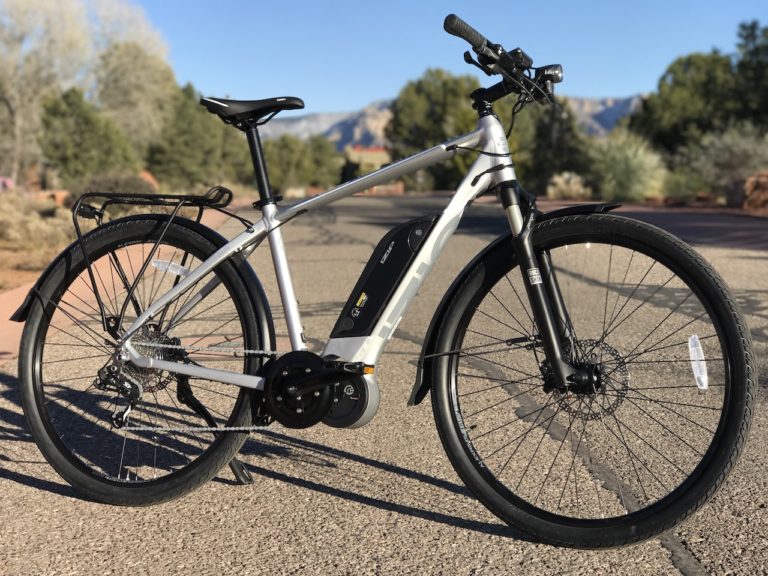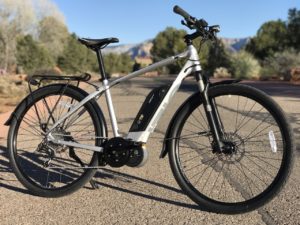 Are you looking for a versatile eBike that can fly around town and efficiently cruise up the steep climbs?
Then the 28 mph IZIP E3 Dash with it's 48V system and 350 watt mid-drive motor is worth taking a look at!
It has a smooth, balanced, and solid ride feel that makes you want to take the long way home from work.
This versatile commuter and touring style eBike rider offers a lot of features for the price of $2,599.
In this second part of the full review you will get an idea of the ride characteristics, range test results, pros, cons, and overall thoughts on this electric bike.
Make sure you check out part 1 of this review with large pictures and specifications to get a detailed look at this e-bike.
What you can expect from the IZIP E3 Dash:
To get acquainted with the IZIP E3 Dash, checkout this video:
Riding the IZIP E3 Dash
: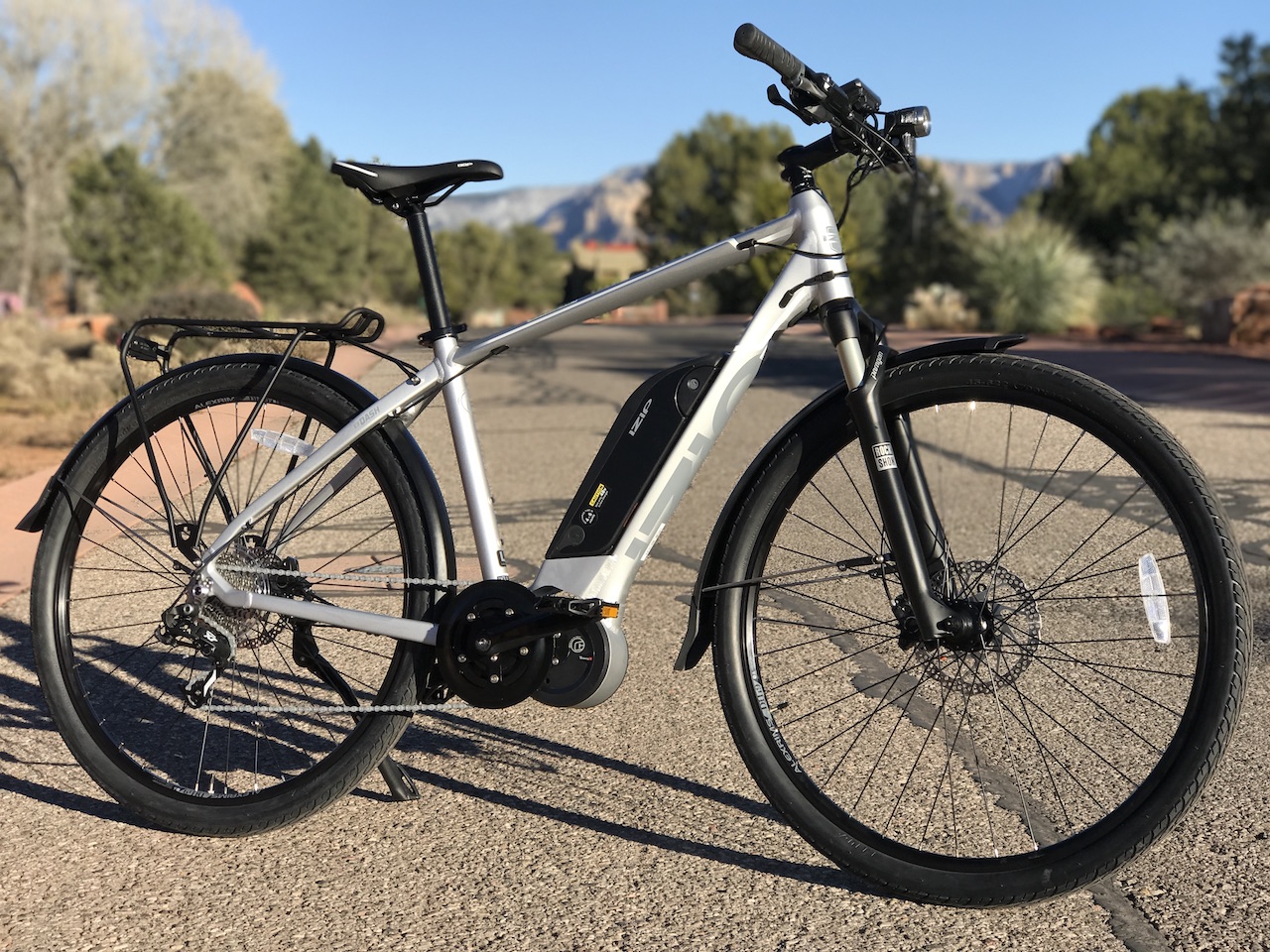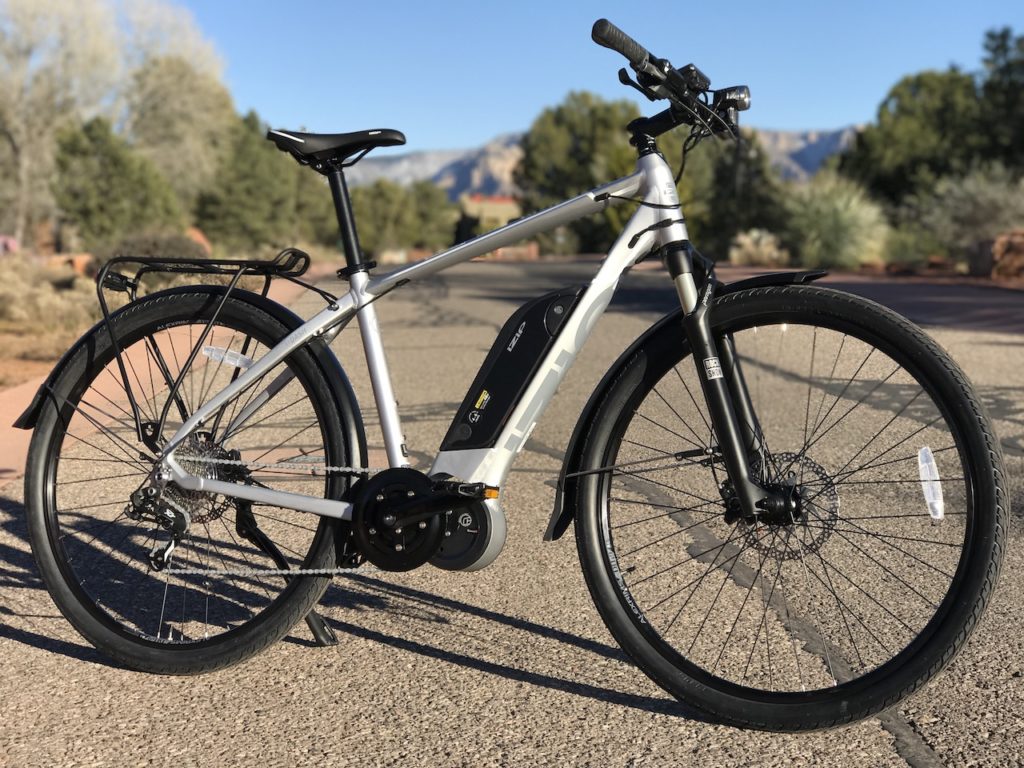 Overall there are some characteristics of the IZIP E3 Dash that really stand out when riding this speed pedelec. To summarize they are:
A fast performance eBike that can efficiently climb steep hills
Smooth, balanced, and stable ride feel
Versatile commuter or touring eBike with a quality accessory collection
The Look & Feel of the IZIP E3 Dash
IZIP has really done a nice job of creating a clean and sophisticated looking 6061 aluminum frame. The hydroformed tubes have unique shapes that provide style and function.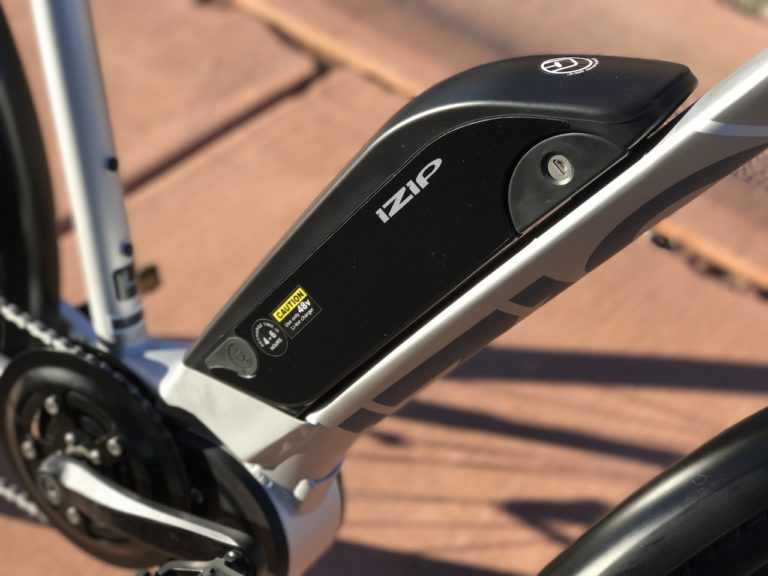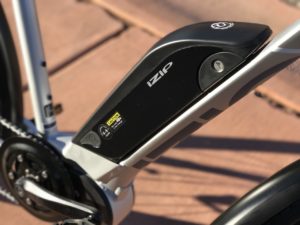 The downtube has a large surface area connection at the headtube and then transitions to a wide half circle profile for the battery mount. And further down the battery blends in with the battery mount for a nice integrated look.
Similarly the top tube has a large surface area connection at the headtube with a triangular profile that then transitions to a smaller tube size at the seattube connection.
It looks like a lot of thought has gone into optimizing the frame design with large tubing where it is needed for strength while creating functional and stylish tubing specifically for an electric bike.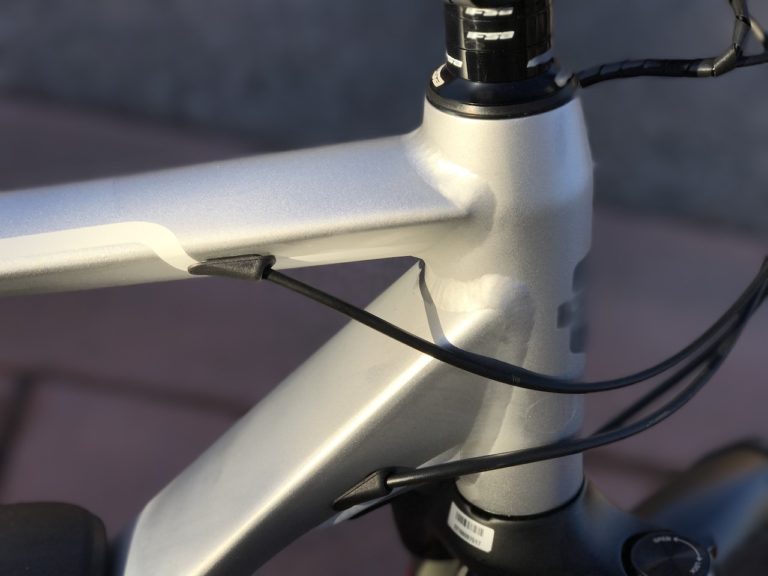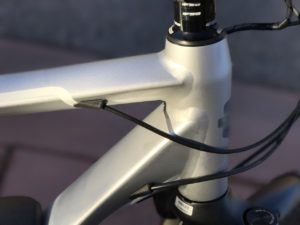 At the head tube they have smoothed the welds and a FSA low stack headset adds to that clean look.
Internal cable routing within the frame tubes continues the sleek look of the IZIP E3 Dash.
The IZIP E3 Dash comes in 3 different sizes to fit a wide range of riders. This is a nice feature because not all electric bikes come in multiple sizes, let alone 3 different sizes.
Here are the sizes with corresponding geometry measurements:
Small 15″ frame
Medium 17″ frame
Large 19″ frame
Here are the geometry specs:
For reference I tested the large 19″ frame size.
The IZIP E3 Dash has a ride feel that is somewhere between a performance road bike with the stability of a 29″ wheel mountain bike.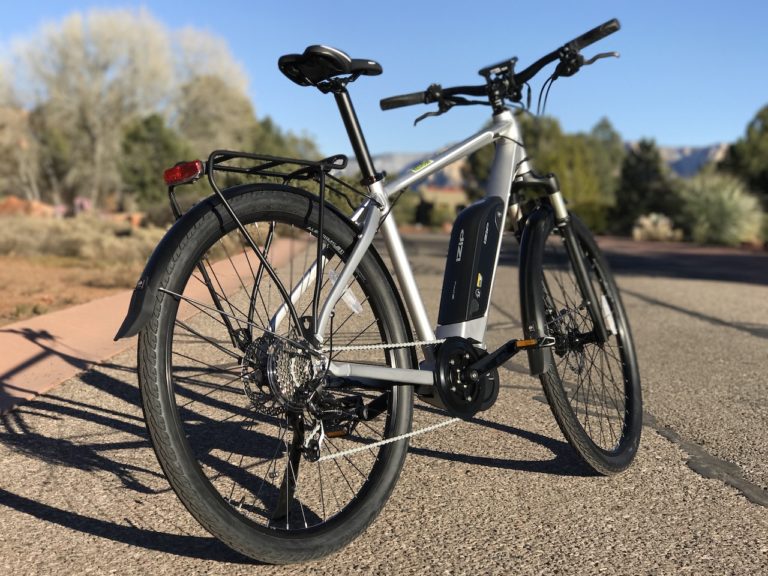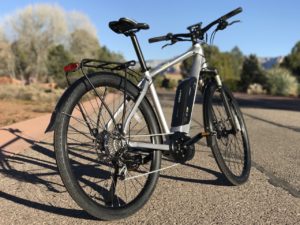 It has that performance ride style with a stretched out and somewhat hunched over fitness position for overall riding efficiency. The wide handlebars have a bit of rise to them that creates a somewhat upright position so that you can see around you well.
If you are looking for a more upright position an adjustable stem can help to dial in your preferred handlebar height and fore/aft position.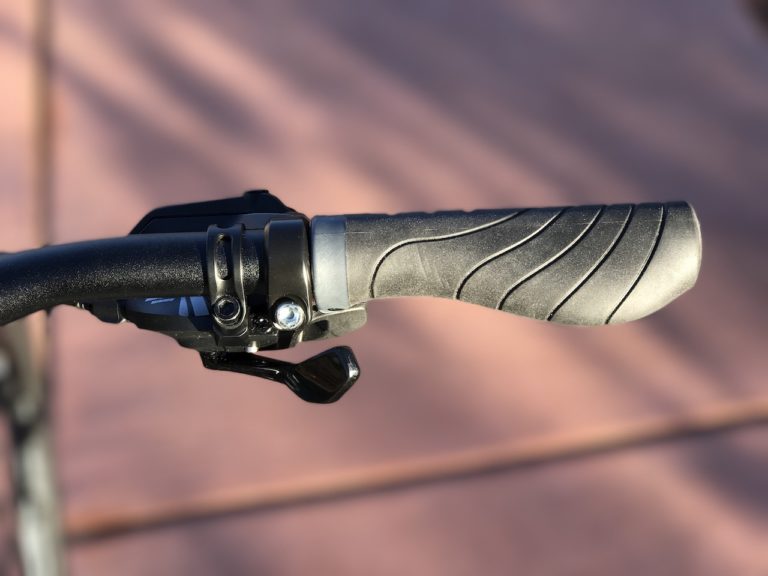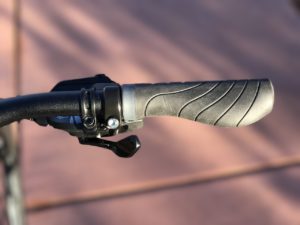 Ergonomic grips provide a comfortable and supportive feel for your hands and wrists and the grips have a collar that tightens to the handlebars so that the grips don't move around for a solid quality ride feel.
Consistent rolling momentum is what I often thought of while riding the IZIP E3 Dash. It's Kenda Kwick Bitumen 700x45c tires have that smooth gliding feeling that is characteristic of a road bike ride combined with the wider stability of a 29er mountain bike tire.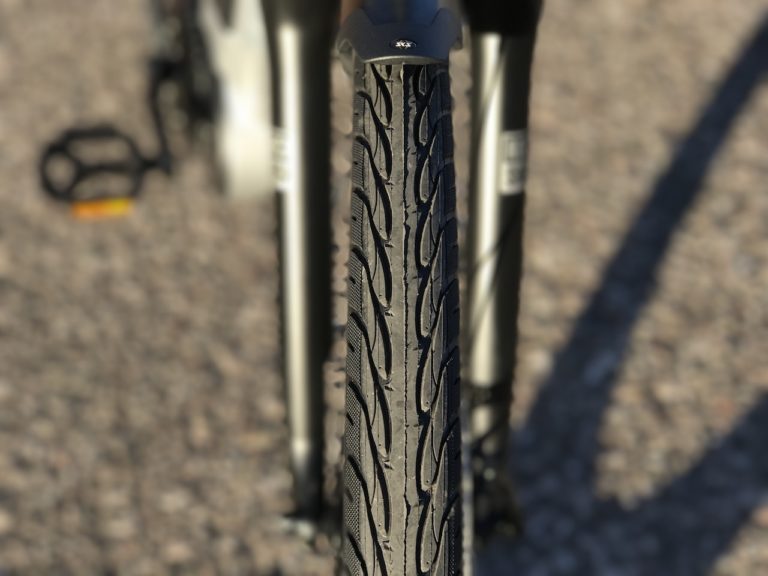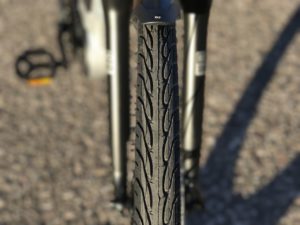 The tires are wide enough to absorb a fair bit of the bumps and cracks in the road and they feel very stable. Similar to a road bike the 700c wheels carve into the corners but with the comfort and stability of a wider tire.
While I didn't have any flats while testing the IZIP E3 Dash it would be a good idea to use a tube sealant like Slime if you live in an area with a lot of sharp objects in the road (glass, thorns, etc.).
The combination of its speed, wide tires, and flat bars creates a very stable ride feel that makes it a nice eBike for navigating urban areas and cruising on open country roads.
The RockShox Paragon suspension fork with 65mm (2.5″) of travel does a great job of taking the edge off of rough roads. This is a high quality suspension fork with an air spring system and a lockout dial.
The lockout helps to create a more efficient ride on smooth roads by preventing the fork from moving up and down when you are standing out of the saddle and pedaling hard.
The saddle has a narrow performance style profile in the front with a wider profile at the back with a relief section in the center to provide a comfortable ride.
The combination of the rigid aluminum frame and performance style saddle provide for ride that transmits most of the bumps and cracks of the road to your body. For a more comfortable ride I recommend a suspension seatpost for most eBikes with a rigid frame (hardtail).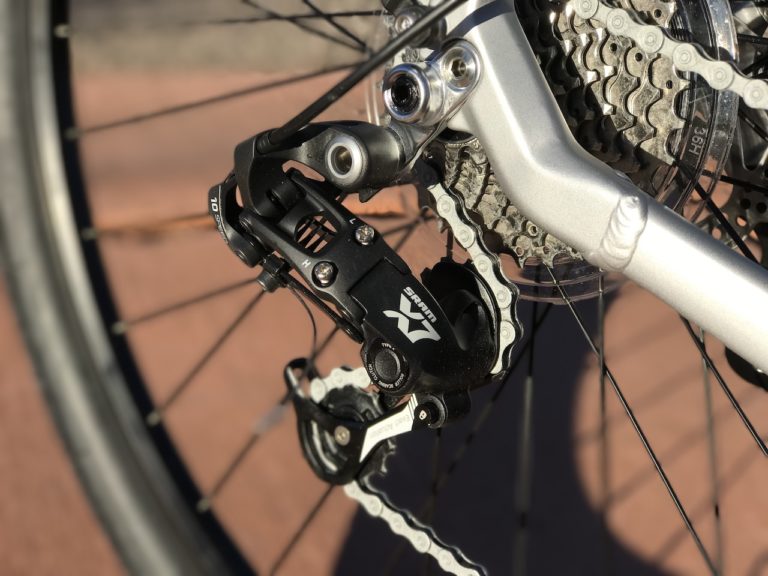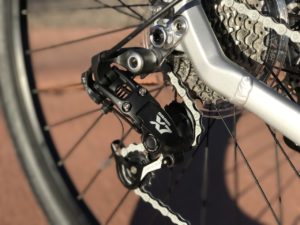 A 10 speed drivetrain made up of quality components from Shimano and SRAM provides a nice range of gears for climbing steep hills and flying along up to 28 mph.
When shifting from the larger cogs to smaller cogs (in pedal assist levels 3 & 4) the shifts can be somewhat abrupt but very solid and that is a characteristic of the SRAM shifter and derailleur combination. Shifting from smaller cogs to larger cogs is pretty smooth.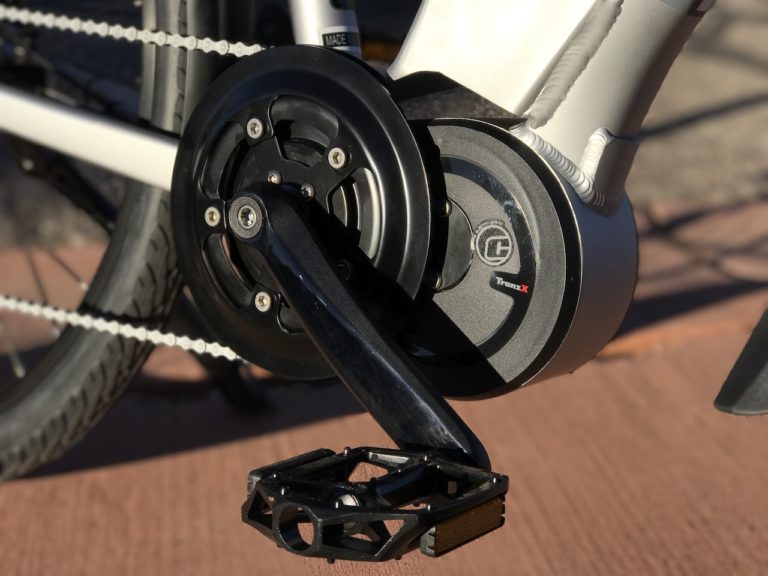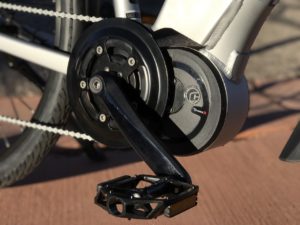 The IZIP E3 Dash speed pedelec can assist up to 28 mph and with a 350 watt mid-drive it can efficiently climb steep hills using the lower gears of the bikes drivetrain.
The 48V system with 73Nm of torque from the mid-drive motor creates a peppy ride with nice acceleration from a stand still.
One of the unique aspects of the Currie Electro-Drive motor is that you can customize its power curve to fit your riding preferences. There are 30 adjustments options from a softer power (-15) to more aggressive power (+15).
The softer power range provides a smoother transition from no power to full power and the more aggressive range gives you full power quicker.
Here are the instructions on how to adjust the power curve settings.
This is something you can fine tune initially to get the riding style that you want and then leave this setting as is. There are still 4 pedal assist levels which we will cover below.
Like most mid-drives the Currie Electro-Drive creates some noise. It is a humming noise that is evident at the lower speeds but at the higher speeds wind noise blocks the hum from the motor completely. The noise is in the medium range compared to other eBikes that I have tested.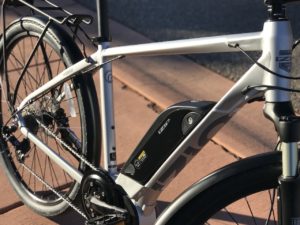 A 48 Volt 8.7 ah (417 watt hours) lithium battery pack is located on the downtube of the frame and built in to create a very cohesive looking frame mount. With the flat downtube frame tube and the battery mount, the battery blends in well with the overall look of the IZIP E3 Dash.
The downtube battery location and mid-drive motor provides for a very centered and low weight distribution which is good for overall bike handling. The IZIP E3 Dash feels much like a conventional (non-electric) bike when cornering and when you pick it up it has a very balanced feel.
The battery can be charged on or off the bike and fully charging an empty battery takes 4 to 6 hours. Once the battery has been unlocked with the supplied key (it comes with 2 keys) it slides to the side for removal from the frame.
The key for the battery lock is an ABUS key and can be matched with an ABUS lock so that you have the same key for the eBike battery and lock.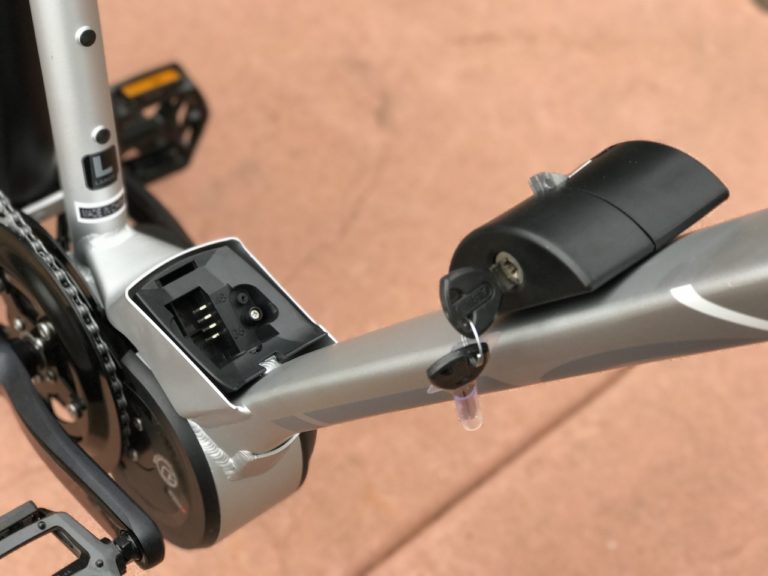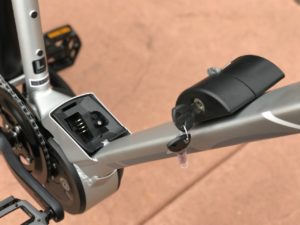 Removing the 5.9 pound battery pack brings the weight of the IZIP E3 Dash to 47.9 pounds which makes it a little easier to load on a car rack.
Okay now let's take a look at the controls and display of the Dash.
There are 4 levels of pedal assist and they each provide assist up to specific speeds. Here is a breakdown of the 4 different levels:
Pedal assist level 1 = up to ~10 mph
Pedal assist level 2 = up to ~20 mph
Pedal assist level 3 = up to ~25 mph
Pedal assist level 4 = up to ~28 mph
A Boost Control Pad (throttle up to 20 mph) is an option that can be added for $50. Here is more on the Boost Control: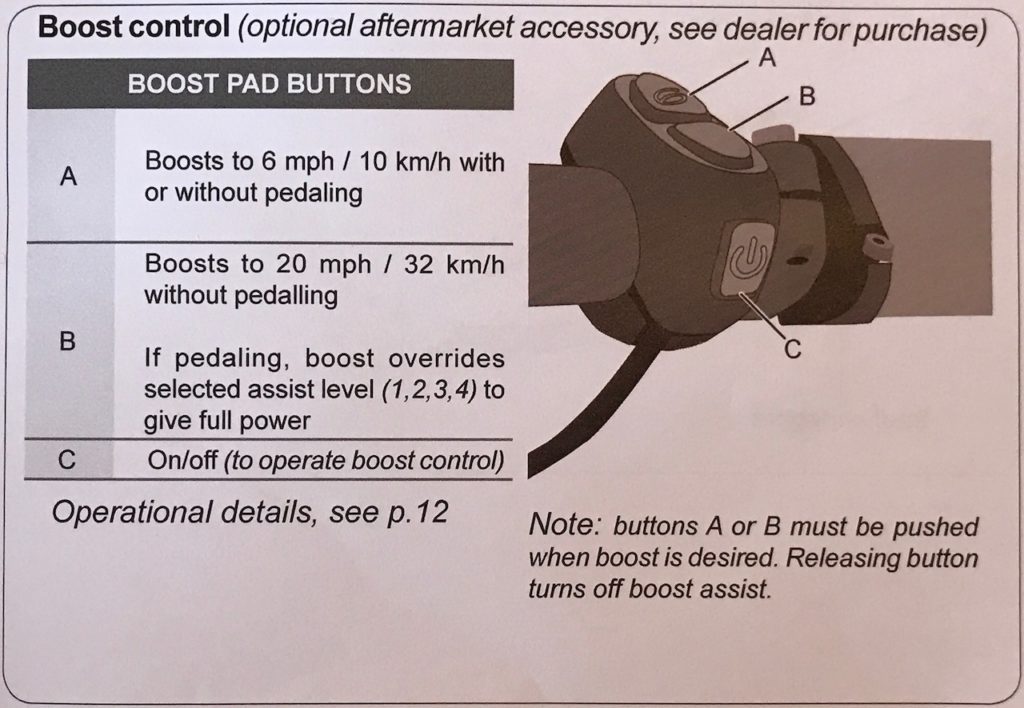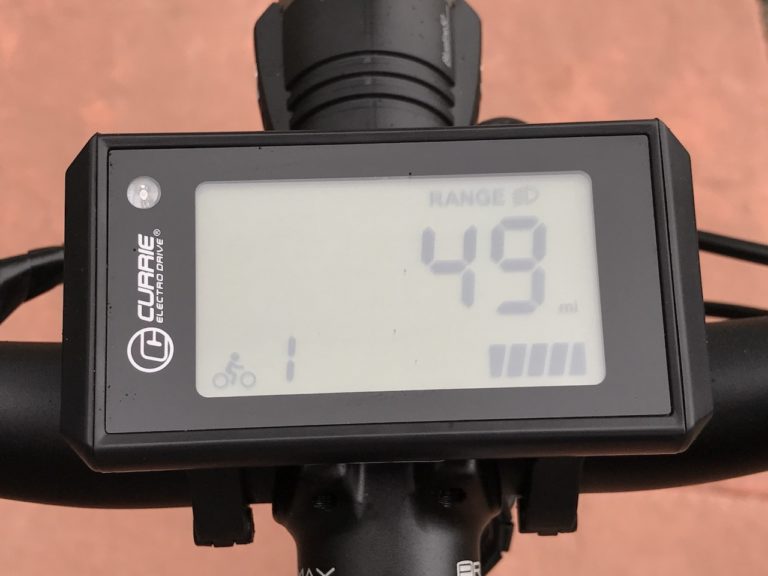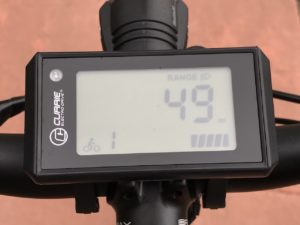 The LCD display has a large format layout and provides a lot of good information without being overwhelming. The LCD display provides a lot of information like the pedal assist level, speedometer, odometer, trip distance, battery level, and estimated range. A backlit feature makes it easy to see day or night.
The range feature is great because it will give you an estimate of how much range you have left based on the assist level you are using and the current battery level.
With a full battery these are the estimated ranges:
Pedal assist level 1 = 49 miles
Pedal assist level 2 = 37 miles
Pedal assist level 3 = 27 miles
Pedal assist level 4 = 15 miles
In the following range test results you will see how accurate these range estimates were.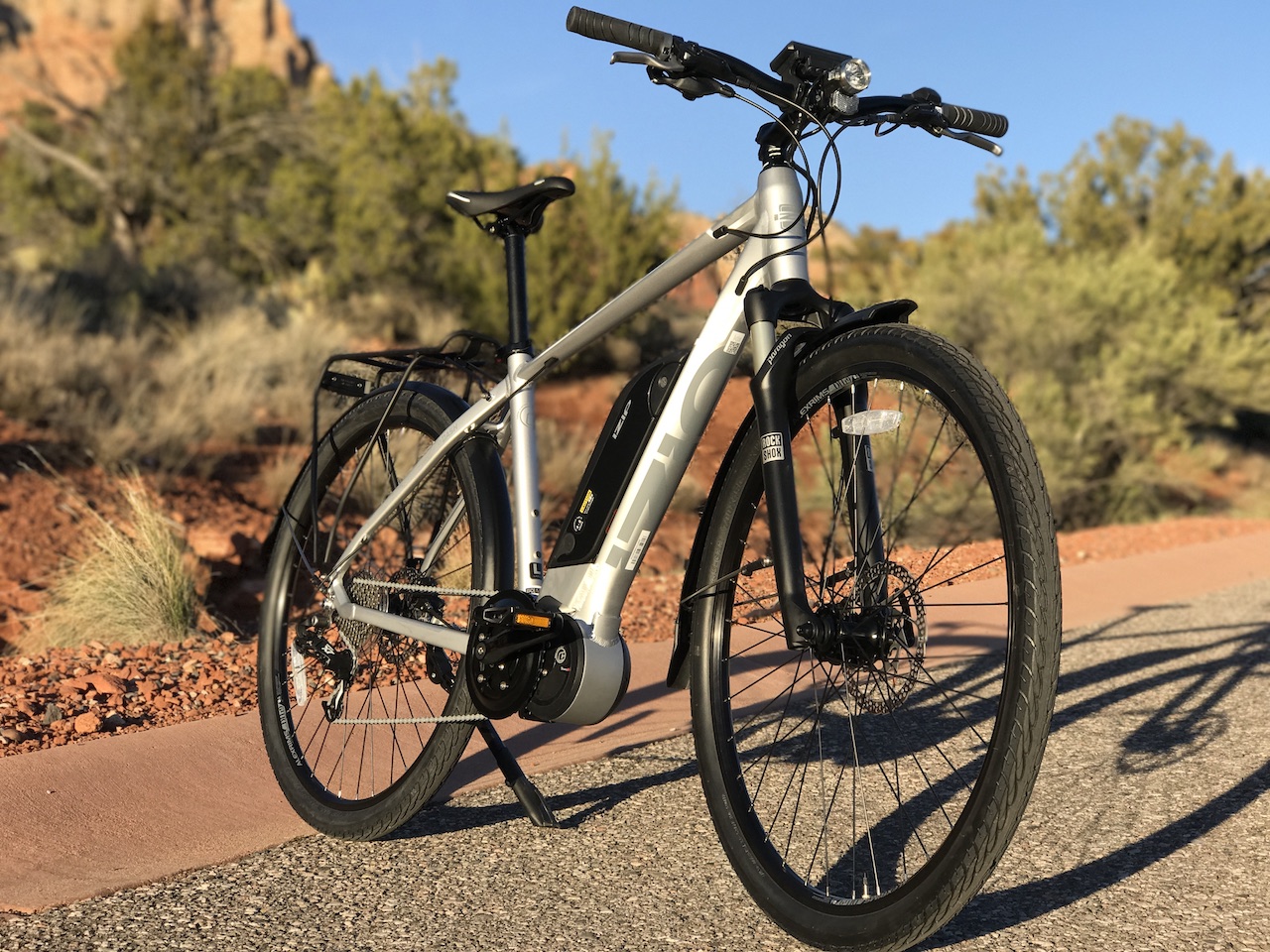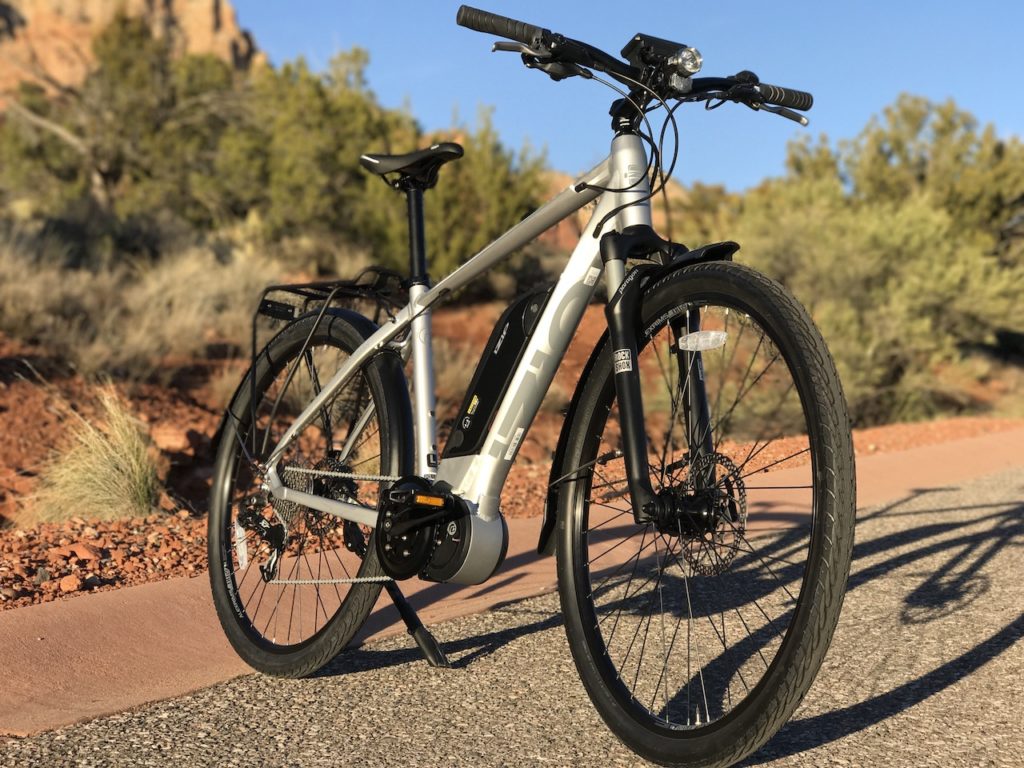 The pedal assist is activated with a cadence sensor and wheel speed sensor system. It has a pretty intuitive ride feel with the assist starting pretty soon after the cranks start to turn and it stops assisting as soon as you stop pedaling.
Torque sensor based systems generally have a more intuitive feel because they blend proportional motor assistance based on your pedal power. Torque sensor systems are generally more expensive so the cadence sensor is used to keep the overall bike price down.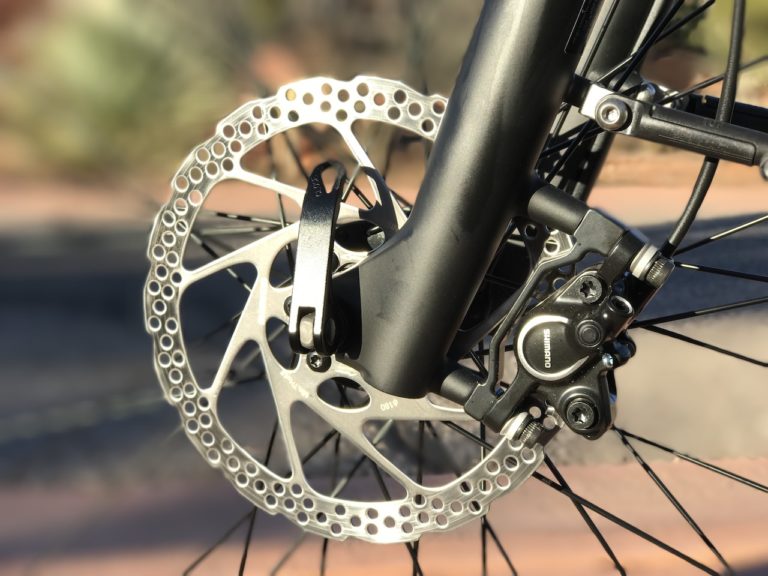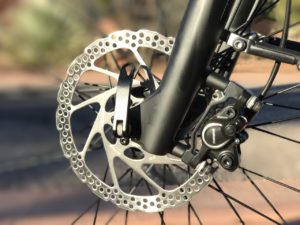 Slowing the IZIP E3 Dash down is handled with the Shimano M355 hydraulic disc brakes with a 180mm rotor on the front and 160mm rotor on the back.
Shimano disc brakes are known for their quality, power, and progressive modulation. Overall these are a nice set of hydraulic disc brakes that have that solid feel and work well in wet and dry conditions.
IZIP did a good job with the quality accessories that come stock on the E3 Dash.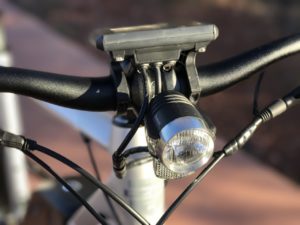 One of the highlights of the accessory package is the lights. Both the front and rear lights are powered by the main eBike battery and this is a nice feature so that you don't need to worry about charging separate batteries for the lights.
The front light casts a wide beam to light up the road in front of you and it does a good job of helping you be noticed by others. The taillight is pretty bright but it would be nice if there was a way to have a flashing mode for additional noticeability.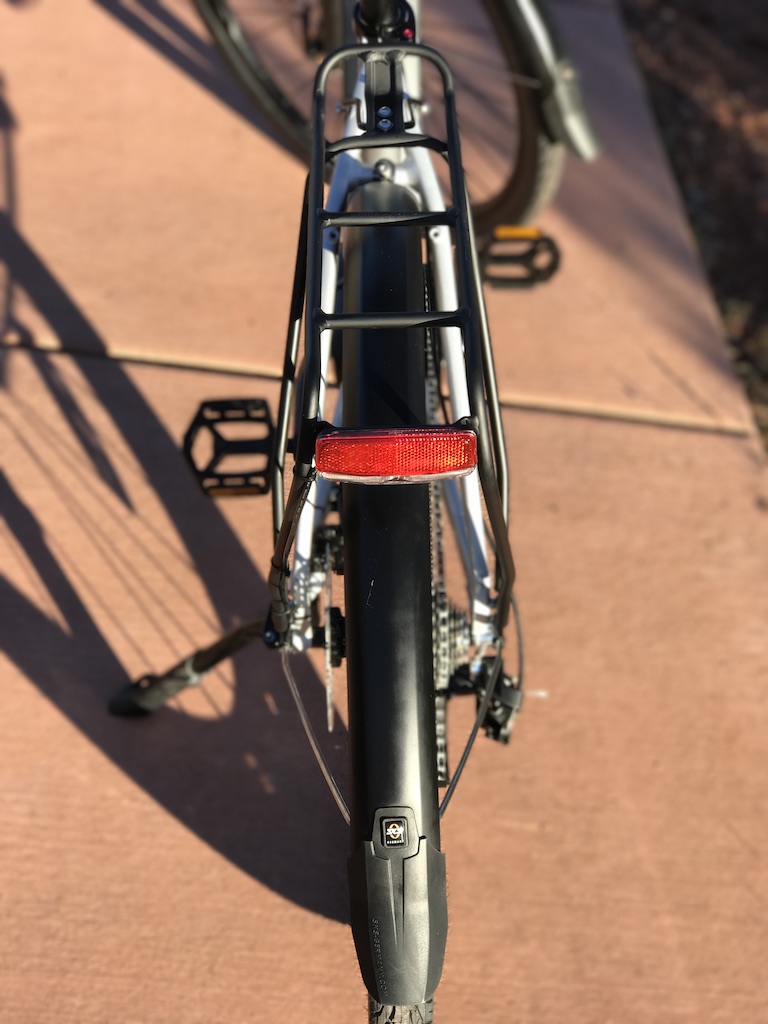 The lack of a flashing mode for the taillight is common among many eBikes that come equipped with a full light set that run off of the main eBike battery and hopefully the flashing mode will become an option on more eBikes in the future.
In the meantime here is a guide to lights and other visibility accessories and here is the Lumos Smart Helmet with front and rear flashing lights.
The aluminum rear rack features solid construction with 18 kg (39.5 pounds) max load and it can carry a wide variety of traditional bike bags and panniers for commuting or touring.
The SKS fenders provide full coverage and the additional flexible mudflaps at the ends add even more coverage when riding on wet streets.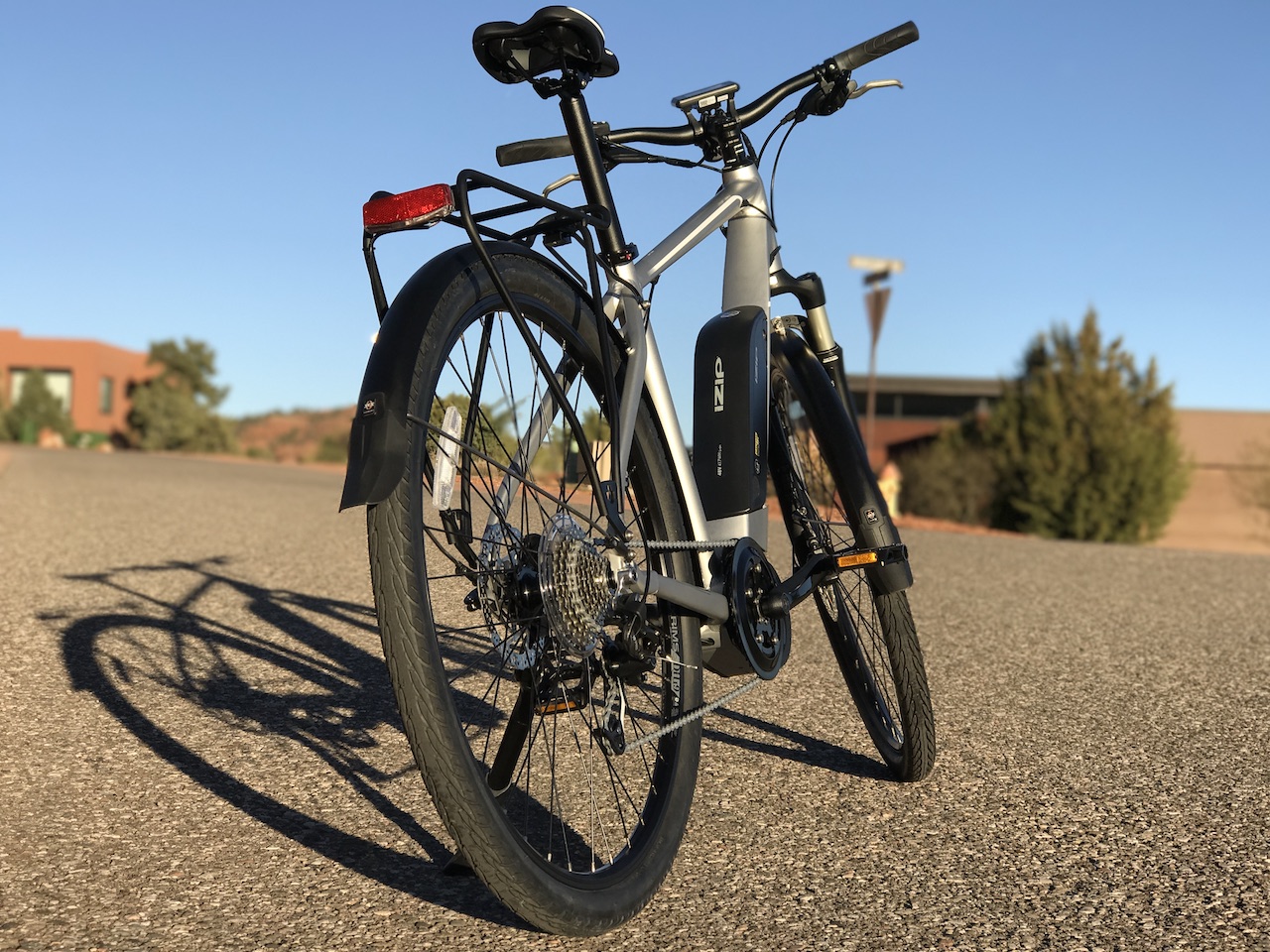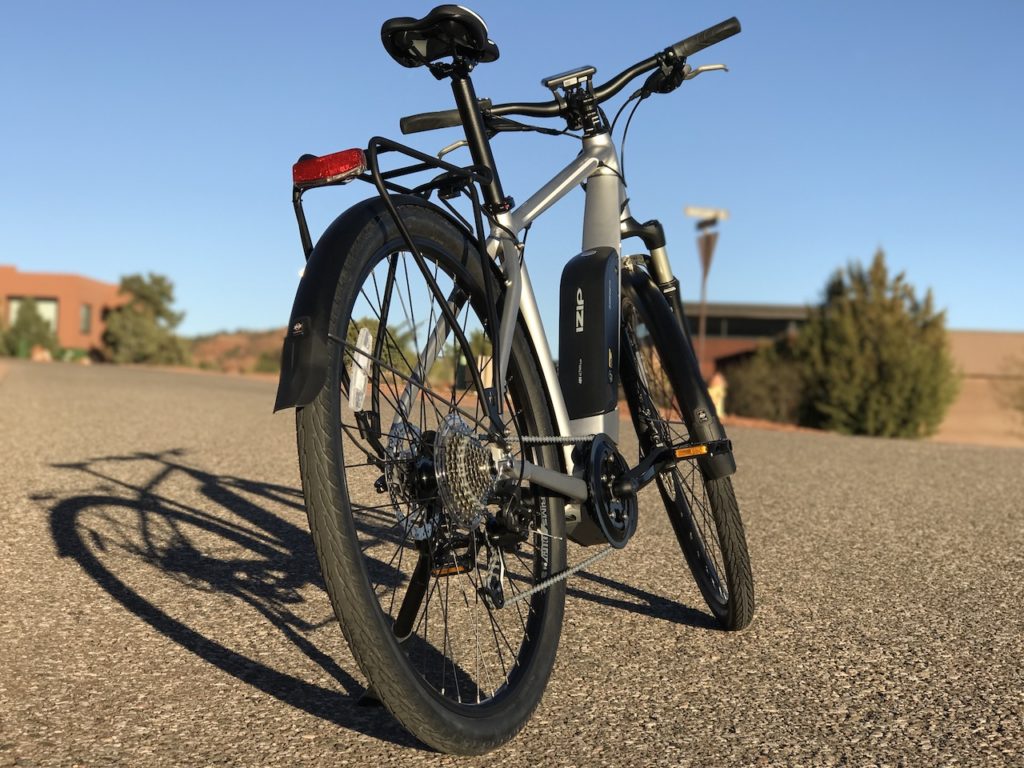 Okay, let's see how the IZIP E3 Dash did out on the open road!
IZIP E3 Dash Range Test Results:
Here is the real world information on how the IZIP E3 Dash electric bike performed on a riding circuit that includes hills, flats, traffic, wind (when available) etc.
While testing these bikes I like to put them through the toughest conditions to see where their bottom line is in regards to range and speed. I tested the IZIP E3 Dash in the highest pedal assist level (level 4) with relatively easy pedaling.
Range: As you can see from the GPS info that I recorded, the IZIP E3 Dash traveled 20.6 miles and did a total elevation gain of around 1,860 ft. Considering that I weigh 190 lbs and I pedaled very lightly this is pretty good range for a 48 Volt 8.7 ah battery pack (417 Watt Hours) with a 350 watt motor assisting up to 28 mph.
It is nice that when I started the range test with a fully charged battery in pedal assist level 4 the display estimated the range to be 15 miles but yet the bike went 20.6 miles on a course with substantial climbing.
Based on this it seems that the range estimates for the other pedal assist levels (level 1 = 49 miles, level 2 = 37 miles, level 3 = 27 miles) should be close to accurate or equally conservative in their estimates.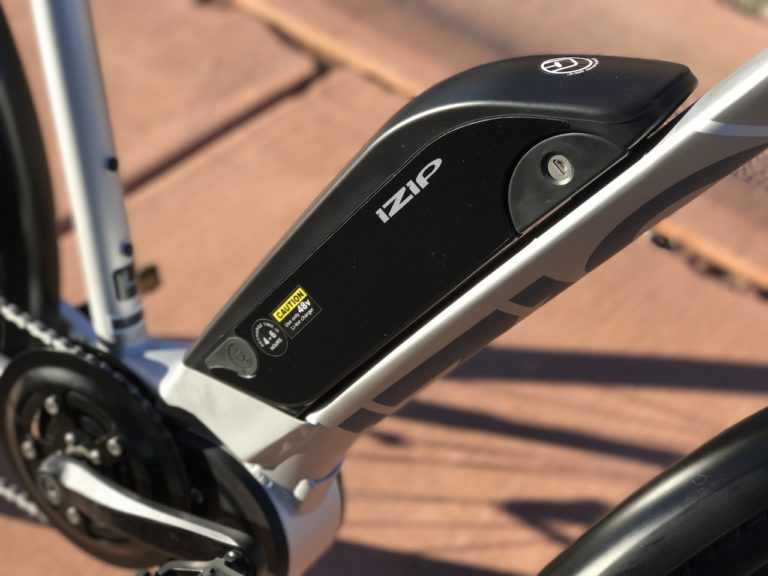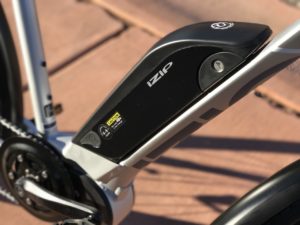 Watt hours are the total energy in a battery pack and it is based on the volts x amp hours of a pack. This is a way to compare the size of the "gas tank" of electric bikes.
Please keep in mind that if you pedal more, weigh less than me, ride slower and/or you use the bike in terrain that is not as hilly you will get more range. These results are from tough testing.
Speed: The IZIP E3 Dash will assist up to 28 mph.
Weight: The IZIP E3 Dash tips the scales at 53.8 lbs which is a fairly average electric bike weight. Removing the battery brings it down to around 47.9 pounds which makes it a little easier to load onto a car rack.
The weight distribution of the IZIP E3 Dash is very good because the battery and motor are low and centered on the bike.
Pros:
Mid-Drive Speed Pedelec: This is a nice combination because the higher speed is good for zipping around town (or country) while the mid-drive allows you to efficiently climb the steeper hills by leveraging the lower gears of the bike.
Accessories: The IZIP E3 Dash comes equipped with a quality accessory package. The lights do a good job of lighting up the night, the rear rack has solid construction for carrying bags and panniers, and the SKS fenders provide full coverage.
Price: For everything you get; 28 mph mid-drive, RockShox suspension fork, Shimano hydraulic brakes, SRAM drivetrain components, and all the accessories it is a pretty good deal for $2,599.
Cons:
Noise: The mid-drive motor makes a humming noise at the lower speeds but it is masked by wind noise at higher speeds. The noise level is in medium range compared to other eBikes.
Taillight: It would be nice to have the option for a flashing taillight.
Conclusion: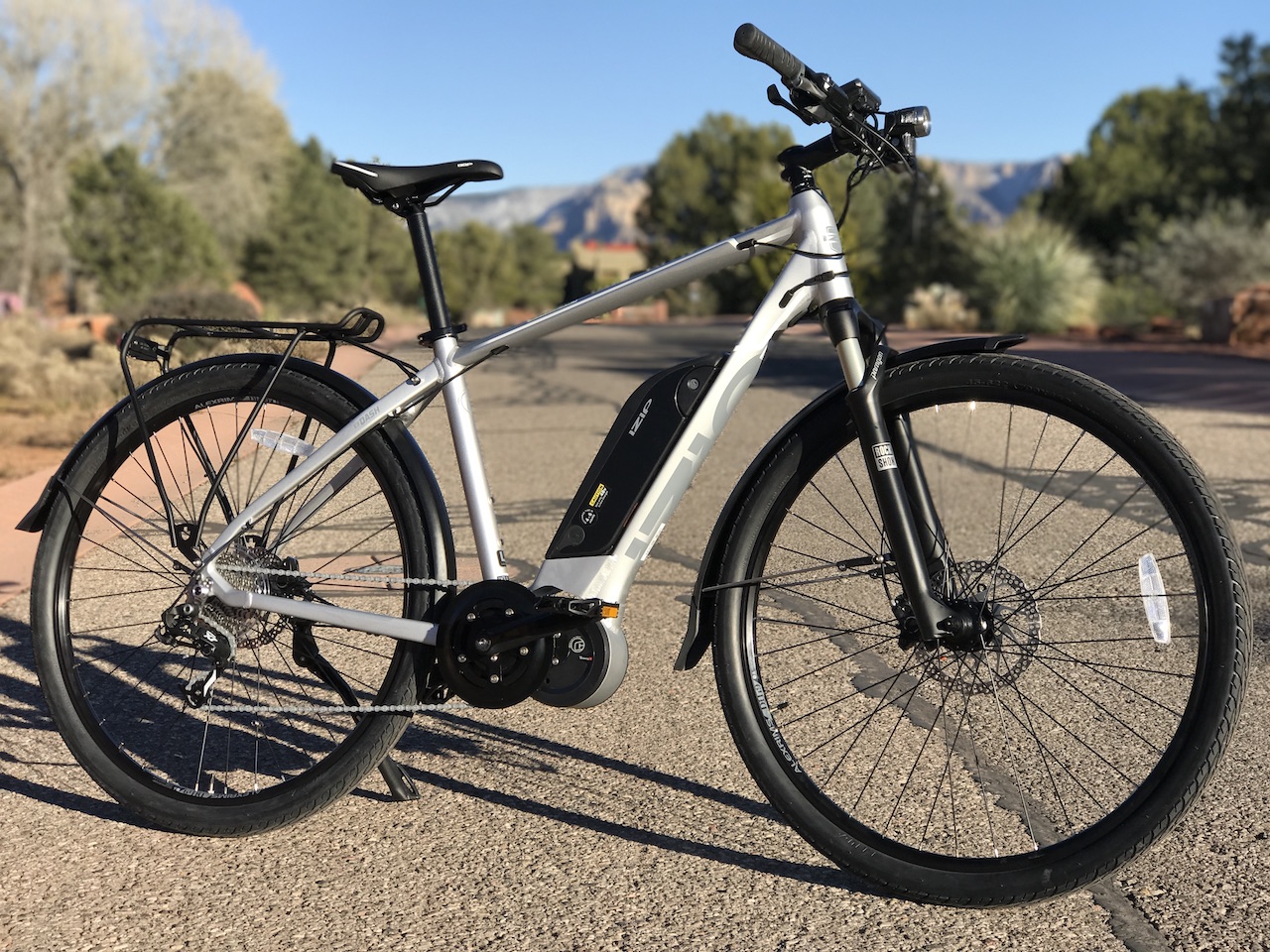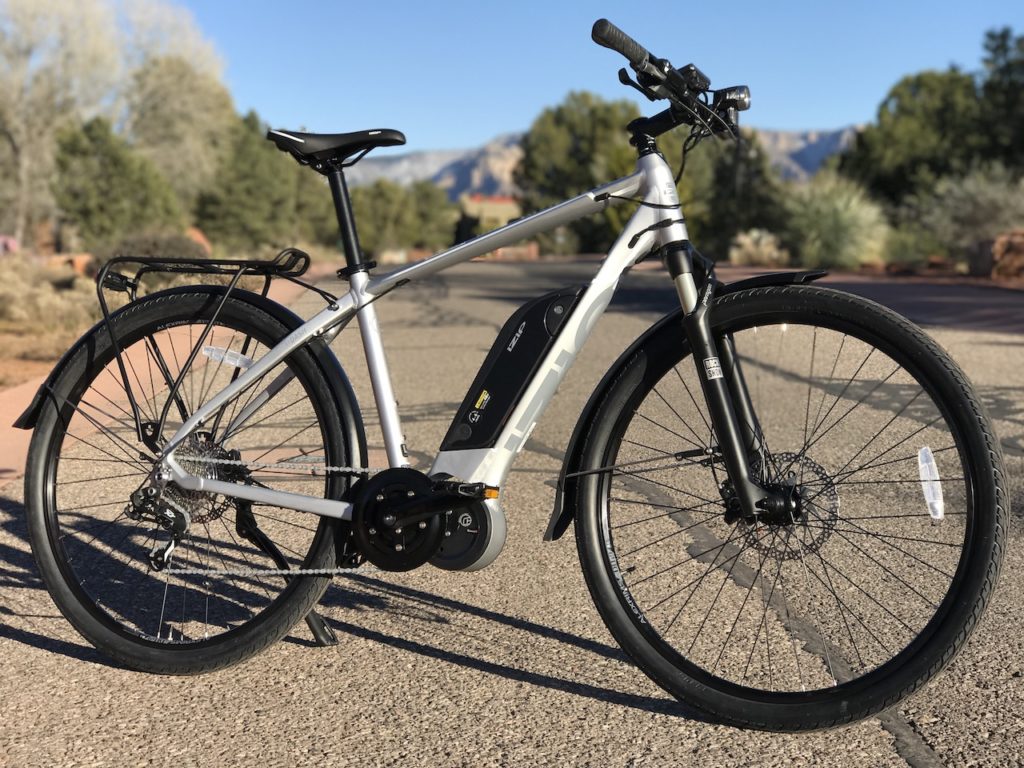 Overall the 28 mph IZIP E3 Dash offers a smooth and solid ride feel with a lot of useful features for a nice price point of $2,599.
It is a versatile commuter for flying around town during the week while being a great touring eBike for enjoying the sights and sounds of the countryside on the weekend.
Please keep in mind that this is a relatively short term test. This testing can't really give you the long term review of durability and reliability. My thoughts on the quality of this bike are from previous experiences with similar bikes. If you own this bike and have some input on the long term durability, please share your comments with the Electric Bike Report community below.
Where to buy a IZIP E3 Dash? Check with IZIP for a dealer near you.

Do you have any questions about the IZIP E3 Dash? Do you own a IZIP E3 Dash? Please share your thoughts in the comment section below.
Thanks!
-Pete
Review Note: Each company pays a fee for a review on Electric Bike Report because of the considerable amount of time that it takes to provide an in-depth review of each eBike. A lot of time is spent on the full range test with distance & elevation profile, the wide variety of detailed pictures, in-depth video, and the write up with the specifications, ride characteristics, pros, cons, and overall thoughts. The reviews on Electric Bike Report are focused on providing you with a detailed "virtual" look at each eBike to help you determine if it is the eBike for you or not.
P.S. Don't forget to join the Electric Bike Report community for updates from the electric bike world, plus ebike riding and maintenance tips!
Reader Interactions