How an Electric Bike Paid for Itself in 3 Rides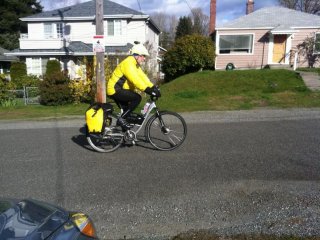 This is a guest post by Cathy Lau from OHM Cycles.
Seattlelite David Somers knew that his electric bike would save him money in the long run, but he didn't realize just how many dollars it would save him with only a few rides.
David has shared his electric bike experiences with us in the past, describing how he fared while pairing his OHM with a Burley Travoy Trailer to accomplish an impressive task (see Burley Travoy bike trailer review ).
Since then, David has been using his bike as his sole means of getting around, and has a very interesting new story to share with us:
One ride of note saved me big, big bucks.  A while back, I had open-heart surgery to repair a heart valve.
After the surgery and when I was up and riding full time again, my cardiologist set up an annual ritual of a major exam that includes a rather expensive combination of heart function tests.
The first time we did it, I had to leave from the office for the appointment. Of course, I could have used the bus, but opted for the OHM and headed north the 15 miles to their facility – pretty much a long, gradual incline. 
The cardiologist ended up having to do emergency surgery for someone, so we rescheduled for the next day. Same thing… hop on the OHM and troop up there. She was tied up again, so we postponed it another day.
Once again, hop on the OHM and pedal up the hill. This time, it was wicked windy and pouring rain. I got there and was peeling off wet bike gear when she came in to apologize for the postponements and stopped midsentence when she saw me. 
She asked if I had biked up from downtown and I said, "Yep!" 
She asked if I had done that the previous two times as well, and I said, "Yep!" 
She listened to my heart, asked a few questions and said, "If you have been biking all the way up here, you certainly don't need those tests.  Head on home and we'll see you in 6 months." 
I now live 10 miles further from their facility, and with that ride each time, haven't had to do those tests since. Just the one set of tests more than covered the purchase cost of the OHM.
While the OHM wasn't responsible directly for this savings, the fact that it allowed me to do soooo much more with the bike encouraged me to ride it all the time and contributed greatly to my good health and fast recovery.  
My lathe and shop are at my house now, so I don't have that shorter commute to do. But I am still putting just under 5,000 miles a year on the OHM with my daily office commute alone.
I do that every day, rain or shine, year round. The generator driven headlight and taillight are terrific, though I do supplement it with a bright helmet mounted headlamp and flashing tail lamps to increase my visibility in the dark. OHM's use of the Schwalbe tires with their highly reflective sidewalls are very visible from the sides which is great at intersections.  
The Schwalbe tires are terrific, durable, puncture resistant tires. I used to have problems with flats all the time, even when using Kevlar tires. I started using Schwalbes before I bought the OHM and was delighted to see OHM was providing them as a standard item.
I have had one flat on my Schwalbes, and that was due to a bunch of bent nails spilled on the road near a construction site. They ripped the tire beyond repair.
The other tire is still the original and has plenty of tread left on it and not one flat. I do so hate having to change a tire at 5:30am on a dark, cold, windy, rainy day in winter. The Schwalbes are worth their weight in gold. 
My mechanic is in love with the OHM.  I go in there a number of times a year to get a good tune up done on her. He always notes the components on the bike are great and holding up better than most any bike he gets in, and certainly better than any of the electric bikes he sees. He has described the wear he sees on other electric bikes due to lower quality parts and he is always impressed with the longevity of the components on my OHM. That says a lot.
A high-quality e-bike can pay for itself in both the long and short run!
End of guest post by Cathy Lau from OHM Cycles.
Do you have a story of how your electric bike has saved you money?
Please share that with us in the comments section below.
Thanks!
-Pete
P.S. Don't forget to join the Electric Bike Report community for updates from the electric bike world, plus ebike riding and maintenance tips!
Reader Interactions