Best Car Racks For Electric Bikes – 2023
*Electric Bike Report aims to help consumers find the right electric bike car rack for their needs. When you buy a product we recommend, we may earn a commission.
So, you've found an electric bike that you love and you're ready to explore with it; now it's time to look at finding the best e-bike car rack for your situation.
The market for car bike racks is not lacking in options, but it is important to find one that can handle the extra weight and bulk that comes with e-bikes. Many bike racks were built with carrying traditional bikes in mind, which seldomly ever meant accommodating more than 50 lbs worth of bike. That can pose a problem for many e-bikes, which often tip the scales at 50 lbs or more. Heck, we have plenty at Electric Bike Report HQ that weigh over 70 lbs.
Beyond weight, there are many other important variables you'll want to consider depending on the style of e-bike you own. Did you buy an electric fat bike? Make sure your bike rack can secure those massive tires. Did you invest in a cargo e-bike that can tote you and the kids? Make sure you look at a rack that's long enough to fit that.
Always carefully consider your e-bike's unique features when shopping for an e-bike car rack, but perhaps the most important electric-specific feature is a rack's carrying capacity.
There likely will never be one car rack that does it all, but there are several car racks for electric bikes that will likely work best for your style of bike and where you plan on taking it. Listed below are our picks for the best car racks for carrying e-bikes.
Oh, and if you haven't settled on your e-bike yet, we've got you covered with the options for the best electric bikes too.
The Best Bike Racks For E-Bikes, 2023
How We Picked These Bike Racks
There are tons of bike racks out there. Any attempt to sort and rank each one would be futile, but we have examined the ones that boast features we know e-bike riders will want and we've only listed products we would trust with our own much-loved electric bikes.
We closely evaluated these key criteria when choosing the best electric bike racks for cars, mainly:
Max Weight Per Bike: This is always the first place we start. Several of the e-bikes we have in our offices weigh above 60lbs, which isn't uncommon for e-bikes. We want to make sure racks can accommodate that much weight.
Total Weight Capacity: Just because you see three trays on a rack doesn't always mean the rack can carry the weight of three e-bikes. Total weight is important to consider as you don't want to overload the tongue that inserts into the hitch.
Ease Of Use: Does the rack fold down easily? Do the arms secure the bikes simply? Is it intuitive to use from start to finish?
Where It Secures The Bike: E-bikes start around $1,000 and prices can climb upwards to $10,000 or more for high-end electric bikes. So any rack we recommend is going to protect your investment (and your car).
Additional Features: A quality rack that reliably transports your bike from A to B is fantastic, but some really go the extra mile. We love to see extras such as:

Lock Features – E-bikes aren't cheap, so having a locking mechanism on the rack for extra safety provides great peace of mind.
Ramps – We've explained repeatedly that e-bikes are heavy. So having a ramp that removes the work of lifting the bike up on the rack is a welcome bonus.
Fail-Safe Measures – All bike racks should be built to withstand typical road conditions, but having redundancies for securing the bike to the rack, or the rack to the hitch is always a happy sight.
This list is the collective brainchild of the Electric Bike Report's expert staff who each drive different cars to different types of trails and paths while hauling different styles of e-bikes. Is it perfect and all-encompassing? Probably not. But we took our different backgrounds and consciously considered as many different points of view as possible while compiling a list for you to choose from. We know that this list will be read by younger and older audiences alike, those with cars, SUVs, trucks, and more trying to find an ideal solution for getting their e-bikes around. We think this list should find at least one option that meets your needs.
Some of these bike racks we have first-hand experience with on our own cars, while others we know the manufacturer's reputation speaks for itself, and the specs & features listed are more than sufficient to meet an e-biker's needs.
Why are there no e-bike trunk racks or roof racks on this list?
If you haven't yet caught our drift, weight capacity is going to be the single most important factor you consider when purchasing a car rack for your electric bike.
E-bikes, especially those on the more affordable end of the spectrum, are considerably heavier than the traditional bicycles roof and trunk racks are typically designed to handle. We've yet to see or test a roof or trunk-mounted bike rack that can handle the weight of most modern e-bikes (without damaging the vehicle or exceeding the rack's maximum weight capacity), so we've left them off this list. The high weight of e-bike really warrants the extra security of a hitch-mounted bike rack. Plus, it's the only type of e-bike rack made by most major bicycle rack manufacturers.
There are, of course, exceptions to this rule for extremely light high performance e-bikes that often weigh not much more than traditional bicycles. But for this list, we're sticking to the racks built specifically for e-bikes — luckily for us e-bikers, there are now plenty to choose from.
Best Bike Racks of 2023 – Our Experts' Top Picks
PRO TIP: While we think these car bike racks offer great weight ratings per bike, many e-bikes weigh at or above those limits. You can help make your rack/bike more safe by removing excess weight that you could fit in the trunk of your car instead. Consider removing:
Bike batteries
Pannier bags
Bike locks
Etc.
Hollywood Racks Sport Rider
High-weight capacity trays makes it a top choice bike rack for heavier e-bikes
The HollywoodRacks Sport Rider is the most affordable AND has the best weight rating per tray of any rack on this list. If you knew nothing else, that's argument enough to make it one of the best bike racks for cars, period.
Hollywood Racks has roots in making quality bike racks stretching back to the 70's. They are known for making great heavy duty racks for cars, campers, trailers and more.
Made specifically with e-bikes in mind, the Hollywood Racks Sport Rider holds up to 80 lbs in each tray. That is great for cargo bikes and even accommodates tire size as large as 5" wide, folds up when not in use and has a patented No Wobble-No Tools Hitch Tightening System for 2" hitches. Say goodbye to the worry of seeing your bikes shake around in your car's rear view mirror while on the road!
See our full review of the Hollywood Racks Sport Rider.
Info:
Max bike weight: 80lbs
Total weight capacity: 160 lbs. (best weight capacity in this roundup)
Rack weight: 58lbs
Limited lifetime warranty
Maximum wheelbase of 60 in. makes it capable of carrying many cargo e-bikes
Less expensive than many competing racks
Yakima StageTwo
All the bells and whistles with a 70-lb. carrying capacity per tray
We love the tiered design of Yakima's StageTwo bike rack. It increases ground clearance below the rack and makes it easier to mount bikes without that pesky interference between handlebar and saddle. It's a stout design that can carry e-bikes up to 70 lbs. in weight (though if mounted on an RV, that limit drops to just 60 lbs.), enough to cover most e-bikes on the market. We also appreciate the convenience of being able to carry bikes with 20-in. wheels without needing a special adapter.
This is one of a relatively small number of hitch racks capable of carrying e-bikes that can be expanded to carry four bikes. However, that comes at a cost: The StageTwo's weight capacity drops to 40 lbs. per bike, which eliminates most e-bikes; most e-bike owners will only be able to carry two e-bikes—not four. Thanks to a remote release lever, the StageTwo is easy to both tilt away from the vehicle for trunk, gate or hatch access as well as up and out of the way when not in use.
See our full review of the Yakima StageTwo.
Info:
Max bike weight: 70 lbs.
Total weight capacity: 120lbs
Rack Weight 66 lbs.
Does not clamp the frame
Fits 20-in. to 29-in. wheels with tires up to 3.25-in. wide
Hollywood Racks Destination E
Ramp-equipped to carry e-bikes up to 70 lbs. with tires up to 4.5-in. wide
When we think of the most important features from the many hitch racks we've seen and reviewed, the ones that rank highest are: the ability to carry an e-bike weighing up to 70 lbs., a ramp to make loading an e-bike easy and the ability to secure a bike without marring the finish. The Hollywood Racks Destination E hitch rack does all of that and adds one more very handy qualification—it can carry e-bikes with a step-thru frame, something many hitch racks can't do—a big reason why we needed to include this in our roundup of the best car racks for e-bikes.
Overall ease of use is important in a hitch rack. The Hollywood Racks Destination E can carry bikes with any size wheel or frame design (including kids bikes) because it secures the bike by the frame or seatpost. It accepts tires up to 4.5-in. wide, and because it is designed to carry e-bikes, features a design that balances the weight on the rack to make tilting the rack easier when loaded.
See our full review of the Hollywood Racks Destination E.
Info:
Includes loading ramp that folds up
Clamps bikes on the frame or seatpost
Can carry bikes with any size wheel and tires up to 4.5-in. wide
Max bike weight: 70 lbs.
Thule EasyFold XT 2 Car Bike Rack
The included ramp makes lifting the bike much easier
Thule is one of the most trusted names in the bike rack biz, and as the name of this product suggests, they make carrying an e-bike easy from the hitching process to the securing of your bike. Its compact design, good weight capacity, tilt function, foldable bike ramp and optional fat bike wheel straps make it a great option for almost any e-bike. When we began putting together our roundup of the best car racks for e-bikes, this made the list immediately thanks to its loading ramp.
The Electric Bike Report team has used this rack to tote review bikes to video shoots for several months now, and we appreciate its exceptionally well-designed mechanism for attaching and removing from your vehicle. We also like the small wheels that let you roll it like a suitcase when not installed on a car and the rack's overall light weight, which makes lifting it on and off a car very easy. Despite that light weight, it still has a great 65-lb.-per-bike carrying capacity.
See our full review of the Thule EasyFold XT 2 car bike rack.
Info:
Max bike weight: 65lbs
Total weight capacity: 130lbs
Rack weight: 45lbs
Limited lifetime warranty
Saris Door County 2 E-Bike Rack
Electrical assistance takes the worry out of heavy e-bike lifting
Riders frustrated with having to lift their e-bikes onto the hitch-rack on their SUV or car will love how the Door County 2 simplifies the process, using its electric motor to do the work. We really liked this rack's straightforward lifting and lowering process – turn the key, push the button, and viola, it does the rest! It's a unique option that stands out from the othe best hitch racks listed here.
Another great feature is the "lobster claw" style clamp we used for fastening the frames. Not only are they great at securing the bikes to the rack, but they also have rubber linings to prevent scratching the paint on your frame.
Besides having a hitch installed on your vehicle, you'll also need a 7-pin wiring harness to plug in. Not only does the rack use your car's DC power for the motor, there's also tail lights on the rack to help warn drivers when you brake, turn, or have your running lights on. This is a great safety feature because bikes on racks often block the vehicle's lights.
The Door County holds two e-bikes, up to 60 lbs in weight. We had to remove the batteries on some of our heavier bikes to keep below the weight limit. But all in all this rack delivers on the promise of taking the heavy lifting off your plate.
See our review of the Saris Door County hitch rack.
Info:
Max bike weight: 60lbs
Total weight capacity: 120lbs
Rack weight: 63lbs
Limited lifetime warranty
Hollywood Racks RV Rider
The Best and Most Economical Option for RVers
Yes, it's another HollyWood Racks. Low prices and high weight capacities will earn you multiple looks on our list of the best bike racks, but this one takes the cake for best for RVers. To be clear, this rack isn't compatible with bumper pull, travel trailers, pop-ups, or bumper-mounted hitch receivers. But it will work with with Class A, B, & C motorhomes, Flat towingand 5th wheels.
The features include keyed-alike locking hitch pin, 8' security cable, and locking frame grabbers. The frame grabbers can handle step through bikes and traditional frames alike so no bike adapters needed.
But what's the most unique thing about it? It's one of a very small number that makes a claim that it can be used on a front hitch as well. Versatile, affordable, and cable – it's a good choice for your RV e-bike carrier.
See our full review of the Hollywood Racks Rv Rider bike rack.
Info:
Max bike weight: 80lbs
Total weight capacity: 160lbs
Rack weight: 63.5lbs
Limited lifetime warranty
Saris Superclamp EX 2 Car Bike Rack
Lightweight rack, heavy-duty performance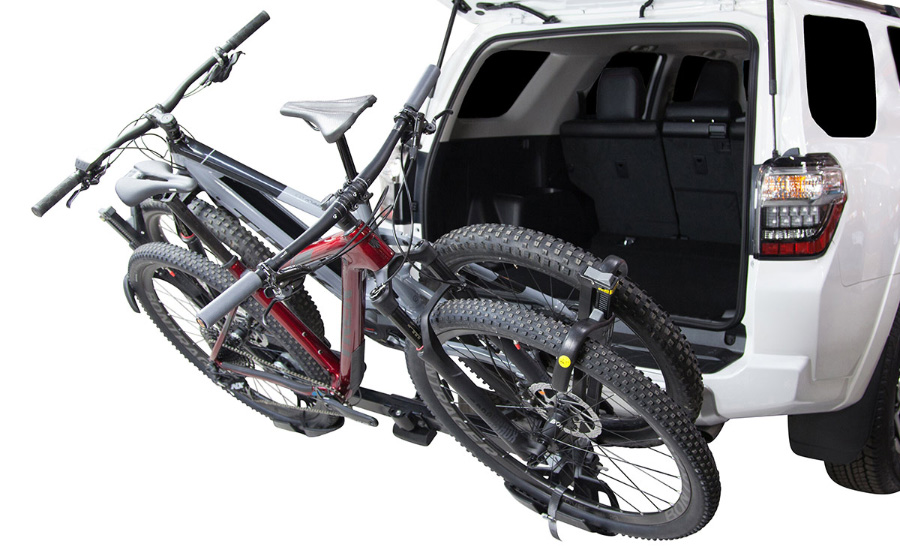 Saris calls Madison, Wisconsin home and prides itself on its made-in-the-U.S. offerings. This creative take on a hitch rack uses two wheel hooks to clamp the e-bike in place—one front and one in the rear. This approach means to marring of the e-bike's finish because something clamped on the frame.
Many cars are equipped with smaller hitches than those found on trucks and SUVs. Those with smaller hitches are more cognizant of total weight than most. But with the Saris Superclamp EX 2, the 1¼" hitch crowd can still get a tilting bike rack with a high weight capacity of 60 lbs per bike. The rack itself only weighs 35lbs, making this a great featherweight choice for vehicles with smaller hitches.
Info:
Max bike weight: 60lbs
Total weight capacity: 120lbs
Rack weight: 35lbs
Does not clamp the frame
Limited lifetime warranty
RockyMounts BackStage Car Bike Rack
180 degree swing for easy access to your car's backend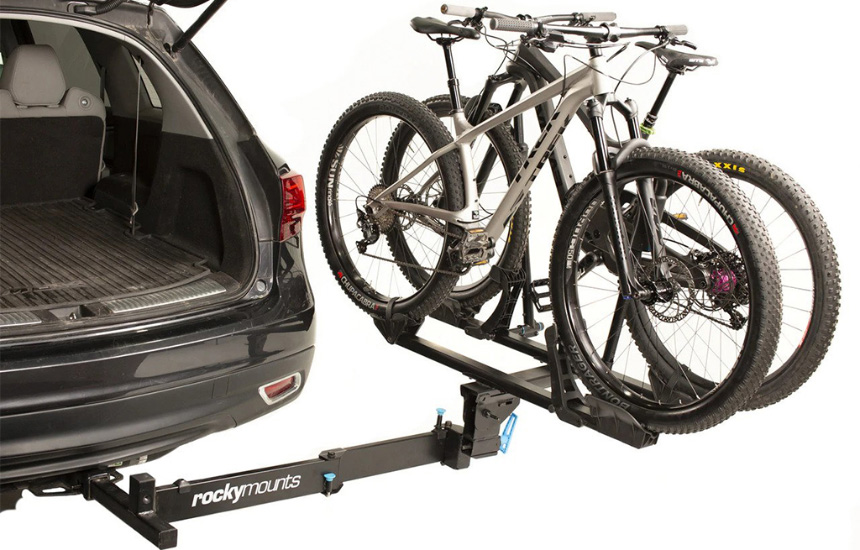 RockyMounts is based out of Colorado with its beginnings in bike racks dating back to 1993. The company was started when its founder, Bobby Noyes (a former pro cycling race mechanic), saw a need for more versatility in car racks. That versatility is on display with the BackStage.
We love having tilt on a bike rack so we can access the rear hatch of an SUV when needed. But the RockyMounts BackStage really goes the extra mile by allowing you to get your bikes out of the way completely thanks to their swing away platform hitch rack. The BackStage allows riders to tilt the rack for quick access or swing the bikes out of the way if greater access is needed. It also carries bikes with tires up to 5" thick and 29" diameter, and makes use of an anti-wobble system axis on 2" hitches.
Info:
Max bike weight: 60lbs
Total weight capacity: 120lbs
Rack weight: 59lbs
Does not clamp the frame
Anti-wobble tech
Thule T2 Pro Xt/XTR Car Bike Rack
Expandable up to 4 bike trays
Thule has been around for what feels like forever – and for good reason. The Swedish manufacturer has a clear reputation for building quality bike racks that will last you for years to come. The difference between the T2 Pro X and the T2 Pro XTR is their weight rating. The Pro X can accept e-bikes up to 50 lbs. in weight (max total weight of 100 lbs.), while the Pro XTR can carry e-bikes weighing up to 60 lbs. (max total weight of 120 lbs.); the Pro X saves about $200 over the Pro XTR.
Thule's T2 Po XTR is a heavy-duty bike rack that gives you ample room between bikes. It can be expanded to add up to two more bikes giving you a total of 4 trays to carry bikes with. It supports wheels up to 5" in diameter, comes with an integrated cable lock and knob locks for securing the rack to the receiver. Thanks to the HitchSwitch lever you can tilt the rack down for access through your car's rear hatch. Thule also includes wheels you can use to easily get the rack in place for attaching it to the hitch.
Info:
Max bike weight: 50 lbs. (Pro X) and 60 lbs. (Pro XTR)
Total weight capacity: 100 lbs. (Pro X) and 120lbs (Pro XTR, expandable up to 240 lbs.)
Rack weight: 50 lbs. (Pro X) and 52 lbs. (Pro XTR)
Limited lifetime warranty
Yakima OnRamp Car Bike Rack
Secures e-bikes comfortably next to each other without touching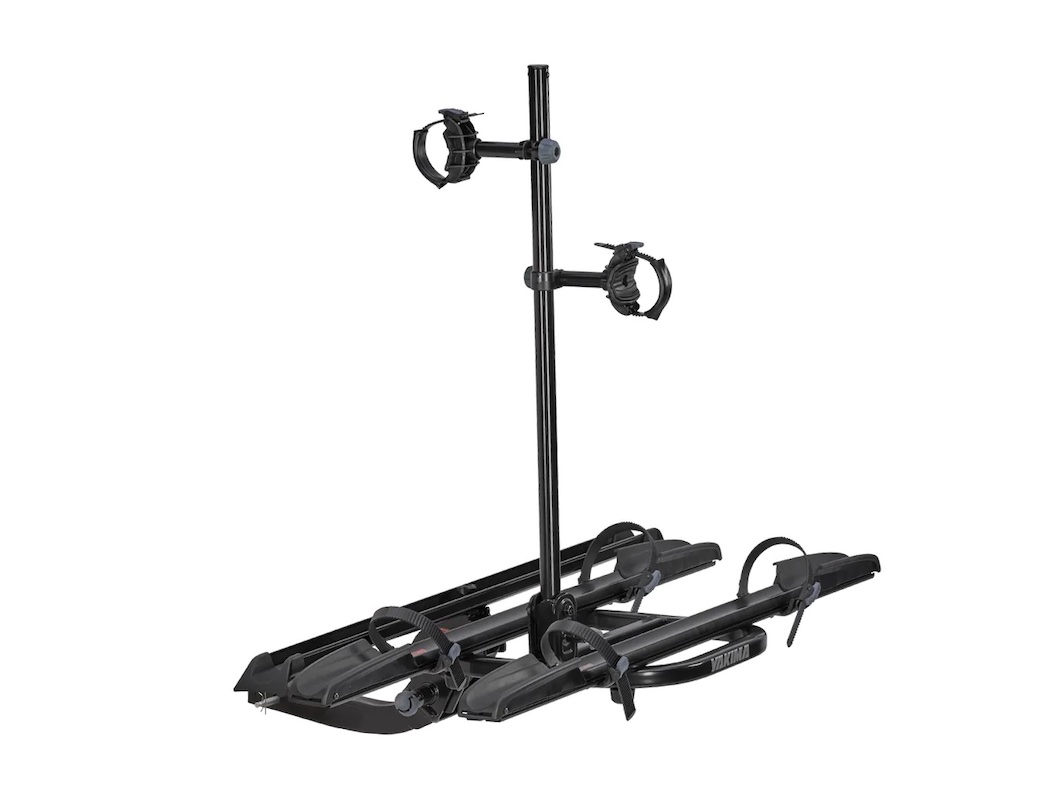 Washington state-based manufacturer Yakima has been producing quality racks for around four decades now. They have excellent offerings on racks for whatever your outdoor adventure needs may be, but they have some particularly great bike racks.
The Yakima OnRamp can adjust to most wheels with no problem. You can also offset the bike rack trays to better arrange two bikes next to each other. Yakima even offers a limited lifetime warranty so you know they believe it'll last for the long haul
Info:
Max bike weight: 60lbs
Total weight capacity: 132lbs
Rack weight: 43 lbs
Limited lifetime warranty
VelociRAX
No bike left behind, accommodates up to 7 bikes
Part of a new breed of hanging bike racks, the high-capacity VelociRAX can accommodate up to four e-bikes weighing up to 55 lbs with a total carrying capacity of 230 lbs. The largest model has spots for seven bikes, so depending on the weight of the bikes you're carrying you can take the whole family plus some friends — just make sure you stay within the weight limits. They include damper-assisted hinges to lower the rack so you don't have to lift the bike on and off. It also has a garage mounting kit to keep your bikes organized at home. Versatility like that in a bike rack is great to see.
Info:
Max bike weight: 55lbs
Total weight capacity: 230lbs
Holds wheels from 20 in. in diameter to 29 in. in diameter and tires up to 5-in. Wide
Bikes are spaced 12 in. apart in four bike carrier to minimize interference
Reader Interactions