SmartBikeWheel Review, 2021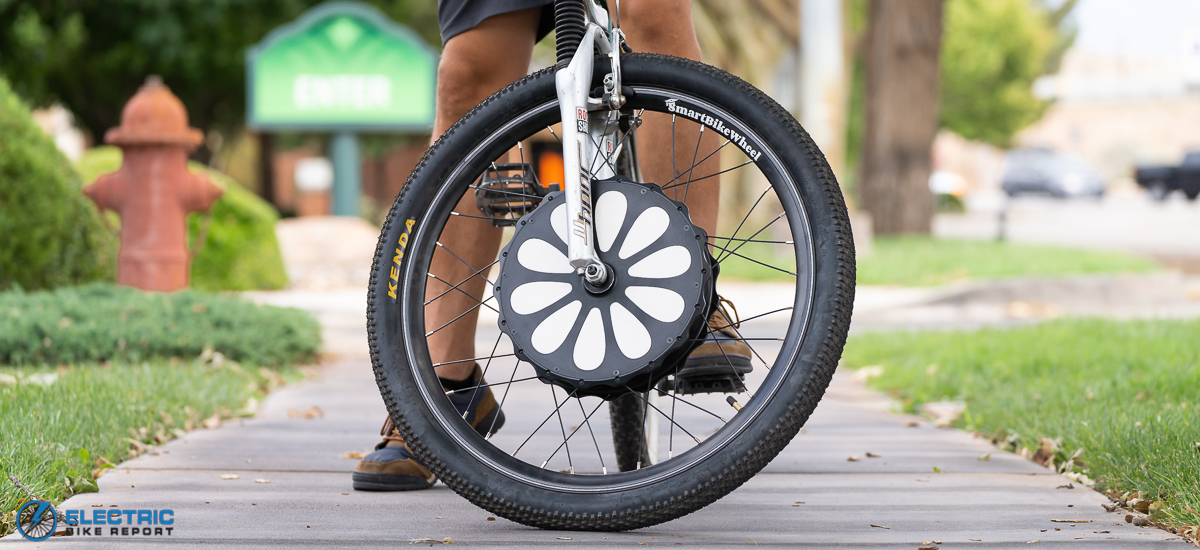 SmartBikeWheel Conversion kit Review: Overview
Electric bike conversion kits have always seemed a little complicated; the domain of tinkering hobbyists more than happy to solder wires and precariously strap batteries to traditional bicycles.
So when I unboxed our review model of the SmartBikeWheel e-bike conversion kit, I was pretty sure some pieces were missing.
Instead of a mess of wires and a modular drive system, the SmartBikeWheel is just a wheel. Aside from that, all I pulled from the box was a small clutch of tools, a 160mm disc rotor and a small handlebar phone mount. That's it. A little less than what I was picturing.
The SmartBikeWheel may seem minimalist, but inside its oversized hub shell is a 36V, 8.7Ah (313.2Wh) battery wrapped around a 250W geared hub motor. There are no external wires or cabling, no display, no controller box and no throttle. Instead of an external cadence or torque sensor, the nervous system of the wheel is a gyroscope and tachometer (also inside the hub) that use changes in pitch and speed to determine how much power should be applied and when. The only equipment you need outside the hub is a smartphone and the SmartBikeWheel app, which functions as the control center for the kit with your typical display readouts — including speed, trip time and distance — plus additional functions and access to settings.
We installed the kit on a 2002 Gary Fisher Wahoo donor bike we bought for $100 from our local bike nonprofit, the St. George Bicycle Collective, a bike that proved fitting for the low-cost and low-effort conversion kit.
To say my expectations for our SmartBikeWheel review were conservative might be an understatement. E-bike drive systems are typically complex and spread out across an entire bicycle, so it was tough to imagine how such a condensed and simple kit could compare to its more elaborate competitors.
Boy was I wrong.
The SmartBikeWheel performed as good or better than many entry-level e-bikes we've reviewed at Electric Bike Report. Not only does it climb well, get up to speed quickly and boast stellar battery life, it's remarkably cheap and simple to install. The SmartBikeWheel is touted as a transportation solution designed to take almost any traditional bicycle — including our tired 20-year-old donor bike — and turn it into an affordable, efficient and capable e-bike.
Bike Category:
E-bike conversion kit
Bike Class:
Class 1: Pedal assist up to 20 mph. Can change settings to class 3. Optional throttle add-on for class 2.

Pro's
The kit is extremely compact and relatively low cost. It turned our two-decade-old, $100 donor bike into a quick and capable commuter.
The battery range is remarkably good for such a compact kit.
Without the help of external sensors, the gyroscope and tachometer do a great job of moderating power from the 250W motor.
The additional weight in the front wheel did not negatively affect the handling. The steering remained neutral and predictable.
The app is well designed and connects very quickly with the wheel. You get easy access to settings you normally have to dig for in a typical e-bike display.

Con's
Installation was a little longer than expected, though it came together pretty easily.
While good, the gyro and tachometer alone are not perfect. I liked the novelty and ease of having no external PAS sensors, but you might consider upgrading to the kit with a cadence sensor.
ELECTRICAL SPECS & FEATURES
Battery: 36V, 8.7Ah (313.2 Wh)
Display: No display included in the base kit (the one we reviewed), but it does include a handlebar mount for your smartphone.
Motor: 250W
Pedal Assist: Four PAS settings
Range: 36.8 miles with 1837ft of climbing at an average of 14.2mph
Throttle: Not included in the base kit, but can be added as an upgrade
Smart Wheel Conversion kit Review: Performance
Acceleration/Speed
With no visible sensors, how exactly the SmartBikeWheel knows when to kick the power on and off feels a little like witchcraft.
Pat Mackey, the company's general manager, says the wheel relies on an internal gyroscope and tachometer to detect when you're going uphill, downhill or coming to a stop. It's a system that I found to work surprisingly well.
Accelerating from a stop, the wheel starts applying power almost immediately. While I had the bike limited to a 20 mph max assisted speed (Class 1), it liked to cruise somewhere between 17 mph and 19 mph on average with very little effort from my legs. Like other e-bikes equipped with a cadence, torque or speed sensor, the SmartBikeWheel could tell it needed to keep the power on even while riding on pancake-flat road. Occasionally it would turn off on prolonged flat sections, but all it took was one hard pedal stroke and the tachometer would kick the power back on. This kind of reminded me of Netflix's "Are you still watching?" message that pops up and pauses the show you've been binge-watching for the last three hours — the wheel is just looking for some user input to know what it should be doing.
On hills, the power is considerable for such a compact kit. Not only did I make it up our test hill (more on that below), but I cleared it with relative ease. Having the motor on the front wheel as opposed to the back makes for a unique sensation while climbing. It's like the bike is clawing its way up the hill.
Stopping works equally well. Mackey said the tachometer detects deceleration and cuts power to the motor quickly, making it so your brakes don't fight against the power. Again, this is something that works surprisingly well for a wheel with no external sensors. It cuts power as quick or quicker than bikes with brake-operated motor cutoffs or cadence sensors.
There is, however, one caveat: You absolutely must calibrate the wheel's gyroscope before every ride to ensure the wheel will perform as advertised. I can't emphasize how important this is, as the gyro is what detects inclines and declines and applies power accordingly. This is easily done through the app that controls the wheel and takes a few seconds before every ride.
Range Test
For such a compact package, the SmartBikeWheel has some impressive battery life.
The conversion kit carried us for 23.47 miles on its maximum assist setting (PAS 4) before it finally died. On the minimum assist level (PAS 1), it went for a whopping 54.42 miles before running out of power.
That's a really long way, especially considering the battery and motor and all the sensors that make the wheel go are all crammed into the hub body.
Compared to other Class 1 e-bikes we've reviewed that have similar-size motors and batteries, the SmartBikeWheel outlasts almost all of them. Take the KBO Hurricane we reviewed in early June, for example, which has a 250W rear hub motor and 36V, 9.6Ah (345.6Wh) battery. The SmartBikeWheel not only matches its maximum assist range, it exceeds the Hurricane's low assist range by almost 20 miles. Even the BULLS Alpine Hawk EVO — an ultralight Class 1 performance road bike — was just barely edged out by the SmartBikeWheel , though it did go further on the high assist setting (just barely).
Just like nearly every section of this review, keep in mind that you may get different results based on what type of bike you choose. Our donor mountain bike, though pretty old, is still more efficient than a beach cruiser, for example.
Circuit Test
Around the EBR test circuit, the SmartBikeWheel performed as good (or even better) than some of the Class 1 e-bikes we've reviewed.
We logged five laps around our test loop on the SmartBikeWheel , clocking one lap for each pedal assist level including with the motor off. This test tells us how the wheel performs at each power assist level, plus it gives us a good idea of its overall performance at speed.
The SmartBikeWheel pedals easily with the power off and feels extremely similar to a traditional bike. But, turn the motor on, and its relatively modest 250W gives a surprising amount of oomph.
From no pedal assistance to PAS 1, my average speed around the roughly 1 mile test loop jumped from 12.6 mph to 14 mph, a difference of 1.4 mph with the motor only giving 25 percent of its total power. And that jump in speed stayed pretty consistent through all the PAS levels; on average, my speed increased by 1.3 mph as I increased the power.
On PAS 4, the wheel's highest assistance level, the bike clocked an average speed of 17.9 mph around the test track — a respectable result from this low-cost conversion kit that's in the same ballpark as other Class 1 e-bikes we've reviewed. It is important to note that, while you can adjust the wheel's max assisted speed to a 28 mph Class 3 setting which will likely yield some faster averages, I intentionally kept the wheel limited to a Class 1 max assist speed of 20 mph.
This decision was not based on the limitations of the wheel, which felt stable and consistent at high speeds, but rather my comfort with our 20-year-old test bike. While I love the Wahoo, it's showing its age and I just felt safer riding it at slightly lower speeds.
Hill Test
Though unlikely to chomp down any speed records, the SmartBikeWheel should climb most any reasonable hill you throw at it.
On our test hill, a local steep with a 12 percent average grade us St. Georgians lovingly call "Hell Hole," the SmartBikeWheel topped out in 2 minutes and 13 seconds with an average speed of 8.2 mph. It may not be the quickest time, but it is respectable. More importantly, never once did the wheel feel like it was struggling or require me to add more than a minimal effort from my legs.
Again, I was impressed with how well the wheel climbed. One important note though: I did use the Wahoo's full range of climbing gears to clear the test hill. Had I tried this climb on a single speed bike equipped with the SmartBikeWheel, I'm not sure I would have made it — at least not as easily.
Handling (cornering, slow speeds, safety on bike, etc.)
This review was a first for me. Not only have I never reviewed an e-bike conversion kit, I'd never ridden a front-wheel-drive e-bike.
I had big questions before getting on the bike the first time — namely as to how the front end of our Wahoo donor bike would handle the added weight and if it would torque steer like a front-wheel-drive car under hard accelerations.
I was pleasantly surprised that not only did the added weight have little effect on the steering, but there was no sort of odd sensations while under hard acceleration. The bike tracked straight and the additional weight had a nice dampening effect on the front end, giving our donor bike a very predictable ride quality.
Other than that, there's little to say about how the SmartBikeWheel handled, since, you know, it's just a wheel. Handling is really going to be up to what bike you install it on, and while I could wax poetic about the stellar ride quality of our two-decade-old Gary Fisher donor bike, I'll spare the EBR readers.
SmartBikeWheel Review: Specs/Features
Installation
SmartBikeWheel touts a three-minute installation time, but it took us a little while longer.
There's not much inside the box — there's, of course, the wheel, plus a charger, a small clutch of necessary tools, a handlebar phone mount and a 160mm disk brake rotor that can be bolted to the hub, should you need it.
The wheel should fit any bike with a 100mm fork spacing (which is standard for most bikes aside from some mountain bikes) and you can use a set of spacers to center your wheel depending on the design of your fork and brakes. This is where things got a little tough.
Our Wahoo donor bike doesn't have disc brakes, so I set the rotor aside and went ahead with trying to fit the wheel into the dropouts. But alas, it did not fit perfectly on the first try: Not only did I need to move some spacers around to make the wheel fit correctly, but the bolts that would normally hold the brake rotor to the hub were rubbing on the fork and needed to be removed. The tolerances between the oversized hub (remember there's a motor and battery in there) and the sides of the fork legs was extremely tight, and it required some spacer finagling before it finally worked. I also had to adjust the brake slightly as the rim width was different from what originally came on the Wahoo.
All in, it took about an hour before the bike was ready to ride. It wasn't a particularly difficult job, but figuring out which spacers to use and their correct order was a little time consuming. Most people with a little mechanical common sense should be able to figure it out, and kudos to those who can slap it on in three minutes — you're a better mechanic than I.
SmartBikeWheel Review: Electrical Components
Motor
The motor is a 250W geared hub motor that — along with the battery, gyroscope and tachometer — is housed inside the oversized hub shell of the front wheel.
Don't underestimate this thing. It may be relatively small for a hub motor and it may be crammed into the hub shell with a bunch of e-bike components usually found elsewhere on the bike, but boy does it pack a good bit of punch. It's plenty to flatten most hills and will cruise at a comfortable commuting speed. It gave our clapped-out donor bike a second lease on life and turned it into a quick and capable commuter for just a few hundred dollars and an hour or less of install time.
Battery
In what is one of the most compact e-bike setups I've ever had the pleasure of dealing with, the 36V, 8.7Ah (313.2Wh) battery is also located in the front hub, encapsulating the 250W motor.
If you couldn't already tell from our range test, this thing punches way above its weight class. At full assistance, it gave us a 23.47 mile range and at the lowest assist setting, which gives about 25 percent of the motor's power, it lasted for a whopping 54.42 miles before finally dying. That's a crazy good result considering its compact design.
The charging port, which is something we don't normally mention in reviews, is also located in a unique location at the very tip of the front axle underneath a small cap — a pretty neat and easy to use design.
Pedal Assist / Throttle (when applicable)
While we reviewed the base model SmartBikeWheel, there's a few upgrade options you can choose including one with a throttle and another that includes a cadence sensor that'll help the motor respond a little more precisely to your pedaling.
But if money's tight, or, if you're like us and want to know just how "smart" the SmartBikeWheel is on its own, the internal gyroscope and tachometer do a stellar job of controlling the motor's power. It's not a perfect system — as I mentioned before the motor will sometimes momentarily turn off on prolonged flat sections — but it's pretty impressive what the SmartBikeWheel is capable of with no help from external sensors.
It was responsive, applied power appropriately and cut the power as soon as I drug the brake.
Display
Your smartphone works as the display and control center for the SmartBikeWheel, at least the model we reviewed.
SmartBikeWheel had an app tailor-made for their product that tells you information like speed, battery level and allows you to change settings like the PAS level and adjust your max motor-assisted speed. The app is intuitive and, in some ways, a little more convenient than your typical e-bike display, though I'm personally not a huge fan of mounting my phone to my handlebars.
The kit does come with a phone mount but I found it a little flimsy for my liking. Plus, it wasn't big enough to fit my mondo iPhone 11 Pro (the one with the big screen), so I pretty quickly upgraded to a bigger and more sturdy handlebar mount. You can also just set the power setting and stow your phone in your pocket, which I found myself doing more often than not.
You can upgrade the kit to include a display (it actually comes with the throttle upgrade) for the relatively affordable price of just $40.
Smart Bike Wheel Review: Summary and Where to Buy
The SmartBikeWheel is an overachiever considering its compact stature and low cost. The wheel performs well, installs relatively easily and has a really stellar range. Several EBR reviewers spent time on the bike, and each was really surprised at how well the wheel worked despite its lack of external sensors like a cadence sensor or torque sensor, things typically considered mandatory on any e-bike.
But what really had me enamoured with the SmartBikeWheel was its potential to take almost any bike and turn it into a low cost but high functioning e-bike. The general consensus among staffers at Electric Bike Report is that a good entry-level e-bike will cost at least $1,000, if not a little more (barring a few exceptions). Anything lower than that, and you might be gambling with safety, reliability or performance. But the SmartBikeWheel is a very big exception to that rule.
All in, the bike we rode in this review plus the SmartBikeWheel we bolted to it would have cost in the ballpark of $600; even less if you're attaching it to a bike you already have. In the world of e-bikes, that is a seriously low barrier of entry for a bike that has a full range of gears, reliable brakes and an extremely functional e-bike drive system. Not only could the SmartBikeWheel breathe life into unused bikes collecting dust in the back of a garage, it's a promising example of how e-bikes can serve as cheap and reliable alternative forms of transportation.
SmartBikeWheel is a direct-to-consumer company so you can buy their conversion kit online and have it shipped directly to your door. Their kit fits most bikes with a 100mm fork spacing (a very typical size) and you can order the kit in several different wheel sizes, ranging from a 700c road wheel to a 16-inch wheel and most anything in between.
Reader Interactions