Riding an Electric Bike for Fitness? Yes! And Here Are Some Tips [VIDEOS]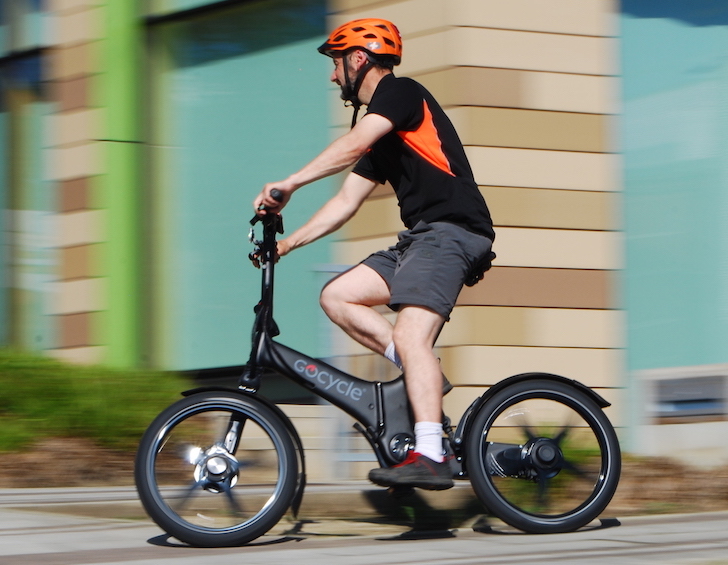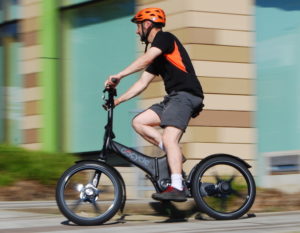 Let's get one myth cleared up straightaway (which you probably know already if you are reading this article); using an e-bike is not 'cheating' nor is it 'lazy' as some detractors have claimed.
If you are an extremely fit non-e-bike rider and suddenly swap to riding an e-bike that you ride on full power all the time there may indeed be some fitness loss – but who does that? Very few, I would hazard a guess.
Whatever your circumstances, e-biking gives you exercise.
There is much evidence pointing to the fact that e-bikes promote more active lifestyles than riders previously had, perhaps replacing a car, train or bus journey or simply encouraging riders to get out and about more often.
It all comes down to the fact that riding an e-bike is easy, convenient, and fun and so one of the easiest ways to get and stay active and burn calories.
In other words at the most basic level simply getting out on a bike or an e-bike as much as you can simply has to be a good thing.
E-biking will give you the all-important cardiovascular exercise that the urban, 21st-century lifestyle so often lacks, and can also help build muscle strength and endurance as well as improve all-round physical and mental wellbeing.
Combined with a balanced diet, you could be well on the way to a healthy lifestyle.
In the wider scheme of things e-bikes also promote public health through replacing motor vehicle journeys and thereby making our air cleaner and causing less serious or fatal road accidents.
Before getting immersed in the technical language of cycle fitness, it's best to have an idea of why you want to improve fitness.
Just to feel better and be healthier? Specifically to lose weight? To set yourself a goal and achieve it? To compete with others in e-bike races? Interested in the technical aspects of getting fitter?
Let's explore the different aspects of e-biking and fitness in a bit more detail.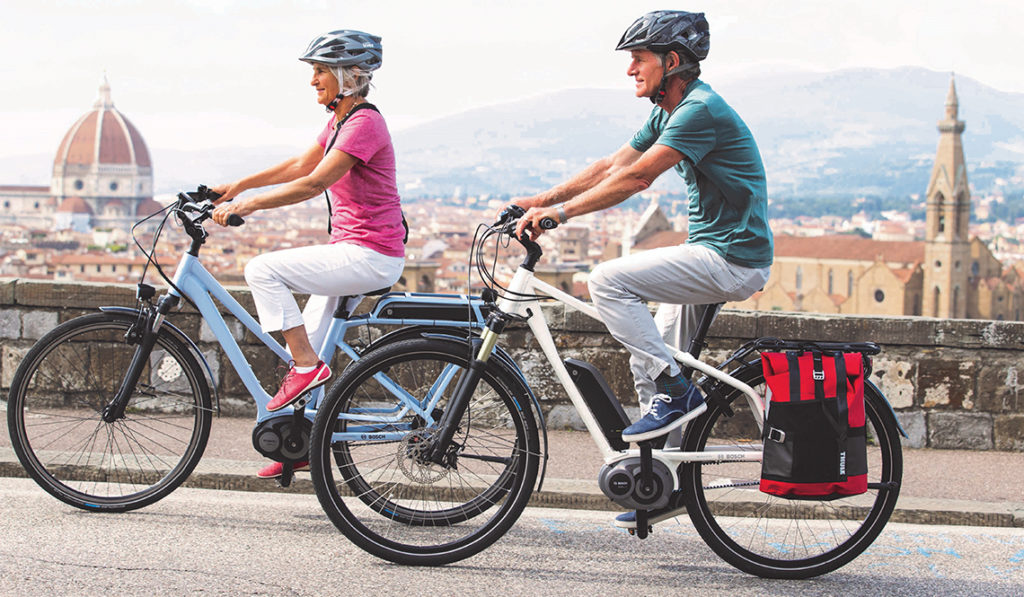 Just How Many Calories Can I Burn on an E-bike?
You may get more exercise (especially on a very hilly ride) with a 'regular' bike than with an e-bike. This article from Average Joe Cyclist compares the same hilly ride done on a regular bike then done on an e-bike. It found that 444 calories were burned with the e-bike and 552 calories on the regular bike.
Yes – the regular bike gave more exercise on an hour per hour basis, but there a couple of important points to add.
Firstly riding with electrical assistance resulted in burning only 20% less calories and as the article notes 'burning 440 calories in an hour is a big deal – done regularly, this kind of calorie burn could result in significant weight loss.'
Secondly this is comparing riding the two bikes for the same amount of time; all the evidence suggests that e-bikers ride longer and more often than regular bikers.
As this study shows '…average trip distance of e-bike and bicycle trips among e-bikers is significantly higher than bicycle trips among cyclists….That is to say, e-bikers use less effort per mile but ride more miles and burn more energy overall.'
There is also the fact that climbing a significant hill on a regular bike is going to feel like very hard work for most riders and may well discourage many from cycling.
With an e-bike hills still give you exercise but aren't the massive psychlogical barrier they can be for would-be regular cyclists.
A similar comparison is made by this article though it gives a max figure of 390 calories an hour burned for e-bike riding and makes the typical hourly calories burned gap between regular bikers and e-bikes larger.
It quotes a study saying 'Riding a regular bike is generally considered vigorous exercise—burning about 430 to 560 calories per hour for a 150-pound person, assuming you're going at least 10 to 14 mph. Not surprisingly, riding a pedal-assist e-bike, takes about half the amount of energy—about 280 calories an hour for that same 150-pound rider—the equivalent calorie burn of brisk walking. Depending how hard you ride, whether you're carrying a load, and/or what power setting you use (low or economy settings require more human energy than high or turbo), you could burn up to 390 calories per hour.'
Tips for Fitness Riding
Based on this info, clearly one main tip to get more exercise on your e-bike is to make a conscious effort to turn the power setting down, even if it is just a little and not all the time.
You will still be getting exercise and the e-bike will still take the pain out of hills and headwinds, you will just be putting in a little more effort yourself and burning more calories.
The second article also reinforces the point that e-bikers tend to spend more time on the bike than regular bikers and so increase their activity levels overall in this way.
That is to say nothing of the many extra calories burned when e-bikers replace motor transport trips with e-bike journeys.
One caveat to add here is that pedelecs (rather than throttle-operated e-bikes) have more potential to give you e-bike exercise (in the US that means Class 1 and 3 e-bikes but not Class 2 which have a throttle). That's not to say that Class 2 throttle operated e-bikes can't be ridden for exercise, it's just the temptation is always there to use the throttle only!
I've also found riding an e-bike with a smooth transition from assisted riding to non-assisted riding (generally over 15.5mph in Europe and 20mph in the US) helps you get exercise when riding at or just over the limit.
Some e-bikes (often ones with older systems) tend to stop suddenly at the cut out speed, meaning your riding style adapts so you ride with quite a lot of assistance just below the cut out speed (it's pretty hard to keep up 15.5mph totally unassisted on an e-bike, let along 20mph!).
An e-bike with a smooth transition means power is reduced gradually over the cut out limit, allowing you to cruise along at or just above the cut out limit with just a small amount of electrical assistance and a meaningful amount of human power.
All motor brands and models have different cut out characteristics, so if you are in the market for a new e-bike and want to get the most out of it for fitness riding it's worth test riding different motor systems to specifically try out this facet.
Losing Weight and Counting Calories with Technology
If you want to take things a step further and get feedback from your e-bike so you can judge just how much exercise you are getting, then there is plenty of technology out there to help you.
The new Kiox display available on some Bosch powered e-bikes shows both the human power input in graphic form (explained briefly in the video below) and also the Kiox will bluetooth link to a heart rate monitor (usually worn as a separate chest strap or a wristband / wristwatch fitness tracker and available from many third party manufacturers).
All this allows you to effectively measure the amount of power you input and the effect it has on your heart rate.
A further option for even more detailed fitness tracking info is to use the Bosch smartphone hub allied with the COBI smartphone app.
Check out this comprehensive and up to date video on the system – there's a lot to it and the fitness mode explanation features at 4:12.
It looks a great fitness tool, not least because it will show how much power you (not the motor) is contributing to the effort going into propelling the e-bike forward. Watch this space for a full EBR feature on a COBI equipped 2020 e-bike and similar systems from other manufacturers.
All this info is all very well, but what calories burned / heart rate / power output should I aim for to improve my own level of fitness?
Loosing weight by calorie counting certainly isn't an exact science but if you know the ball park figures and can get that feedback from your display it's a useful guide for your e-biking (and eating) habits.
An average male needs around 2,500 calories a day to maintain the same weight, the average woman around 2,000.
Assuming you are doing this, it has long been held that 3,500 calories burned (for example through e-biking) equals one pound of weight lost.
In other words, if you e-biked vigorously an hour every day and managed to burn 500 calories an hour then you would loose a pound a week.
Of course this isn't an exact science (and the latest research suggests it may be a little optimistic).
However, keeping track of calories and trying to burn as many as you can on your ride is clearly a good idea if you want to lose weight and a good way of measuring how much exercise you are actually getting.
Monitoring heart rate is another useful way of gauging the amount of exercise you are getting. A normal heart rate is between 60 and 100 beats per minute (bpm) though it will vary depending on when it is measured and what you were doing immediately before the reading.
For an effectual workout you should aim to maintain your heart rate to the right level while you are exercising. This means working out a safe range of bpm.
To do this, you first need to work out your maximum heart rate (MHR) – maximum heart rate depends on your age.
One way to work out your maximum heart rate is to take your age away from 220. For example, the maximum heart rate for a 42 year old is 220 – 42 = 178 bpm.
Important note: If you have a heart condition it is important that you check with your doctor before doing any new exercises, in case they are not suitable for you. A warm up and cool down period of moderate exercise is always a good idea if planning vigorous exercise to guard against muscle injury.
World Health Organisation advice gives targets for recommended weekly exercise levels for adults in the 18-64 age range.
They recommend at least 150 minutes of moderate-intensity aerobic physical activity throughout the week or at least 75 minutes of vigorous-intensity aerobic physical activity, or an equivalent combination of moderate- and vigorous-intensity activity.
But how do you know you are getting this 'moderate intensity exercise'? Achieving your target heart rate (THR) – between 50% and 70% of your maximum heart rate – is a good way to make sure you are (if you want a less scientific moderate instensity exercise should make you feel warm and slightly out of breath).
In the example given above for a 42 year old, THR would be between 178 x 50% = 89 bpm and 178 x 70% = 125 bpm. So a 42 year old e-biker should aim to exercise with their heart rate between 89 and 125 bpm for 150 minutes weekly.
For vigorous intensity exercise aim for 70-85% of your max heart rate calculated in a similar fashion.
150 minutes (or less if you want to be vigorous!) a week isn't much time if you are out having fun on an e-bike.
More than that though, e-bikes have the potential for controlling your heart rate to just where you want it to be, moreso even than on a regular bike.
Come to a huge hill on a regular bike and there may be no way of getting up without walking or sending your heart rate sky high and stressing your knees and back…but you can get just the exercise you need up the steepest of hills on an e-bike and hit that target heart rate without unecessary overexertion.
Taking Fitness to the Next Level
OK, so you are out and about on your e-bike and it's keeping you fit and healthy. If you want to take things to the next level and become progressively more in shape and stronger here's a few tips to help you get much fitter on your e-bike:
– Learn the three basics of riding to get fitter and practice them– overload, progression and recovery. In short, push yourself a little beyond your limits (overload), keep repeating this as you get fitter and can physically push yourself more (progression) and allow recovery time in proportion to the intensity you have been riding at. Don't be mystified by names of different training regimes such as Fartlek or interval training – they all follow these three basic principles.
– Stretch before and after to help avoid injuries. This is important, as e-bike-riding can involve being in a fixed position for quite long periods. Alternatively, look at another sport that involves a wide range of movement, such as swimming to complement your e-bike riding. A correctly set-up bike is also important to avoid potential injury and strains
– Mix it up. This will help keep your e-biking interesting. Combine sociable group riding with your own fitness plan and holiday challenges. Having a suitable plan, however basic, and sticking to it is the key to getting fitter, but can feel like a chore if pursued in isolation. Increasingly traditional biking events such as sportives are open to e-bikes and are popular and fun outings that let you measure yourself competitively if you wish (all riders are timed with results published), but with the focus on a mix of abilities and sociability. And of course there are plenty of e-bike specific races, especially e-mtb ones. Gadget obsessives may enjoy competing with others using a GPS device and something like Strava software (though be sure to mark your rides as e-bike ones to avoid spoiling the system for non-e-bike riders).
– Eat a balanced diet to help lose weight and improve performance on your e-bike.
Stay tuned for more e-bike news and reviews and thanks for reading!
-Richard
P.S. Don't forget to join the Electric Bike Report communityfor updates from the electric bike world, plus ebike riding and maintenance tips!
Reader Interactions