eBike News: Light eMTBs, Solar Charging eBike, Zipper & Airless Tires, eBike Trips, & More! [VIDEOS]
In this week's eBike news roundup:
36 pound LaMere Full Suspension eMTB
eBike with Solar Charging System
Peugeot eMTB Launched with 4WD Adventure Van
Zipper & Airless Tires
New Washington State eBike Classes
More eMTB Access on the UK's Horizon?
Get Inspired by eBike Trips
Limebike in More Places
E-bike Biz: Nuvinci Bankruptcy, Vietnam to Up E-bike Production
And Much More!
New E-bikes and E-bike Systems
LaMere Gets Even Lighter with the eStealth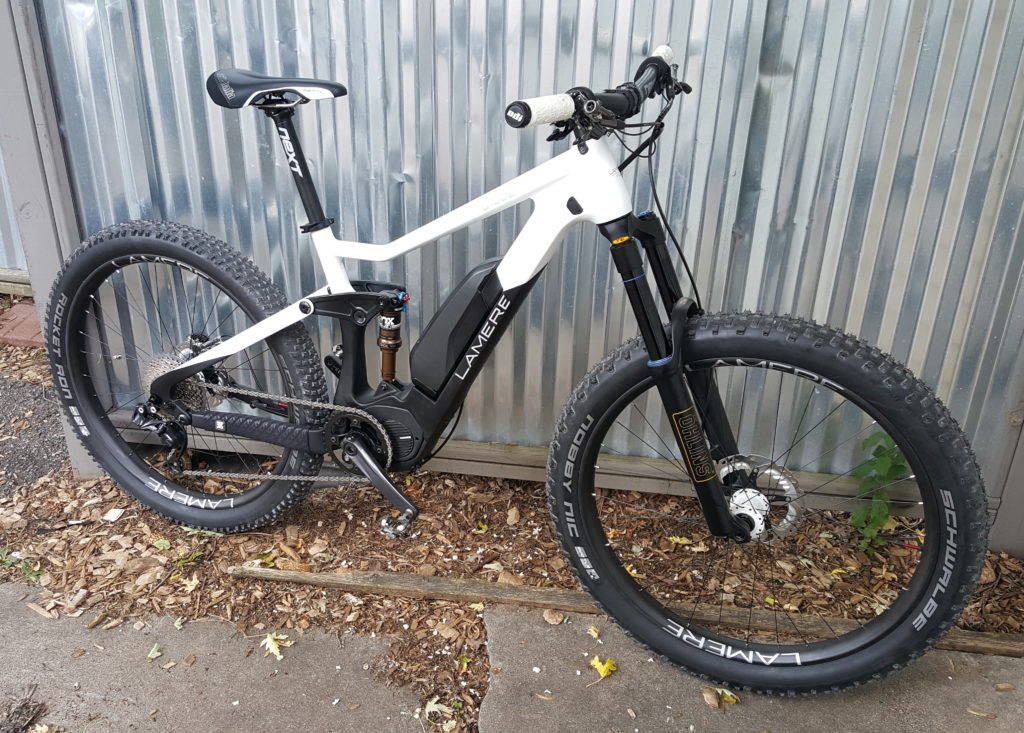 We've already looked at Minneapolis-based LaMere's 43 pound Diode model last November.
Now the high-end carbon frame, custom build specialist has launched the e-Stealth, claimed to be a few pounds lighter; 'We can build one up for you any way you like, we think we could get one down to 36lbs if you want!' says their website.
Their reasoning behind going for the Shimano E8000 motor is interesting too; 'The powerful, light, nearly silent Shimano E-8000 motor is simply the best with almost no lash like the Yamaha and Bosch motors have, along with being lighter and quieter.'
Check out their e-bikes page here.
Peugeot e-MTB Launch Complements 4×4 Tent Top Launch
You might know the Peugeot name more in connection with motor vehicles than bikes or indeed e-bikes. Reason, perhaps, why the French motor and bike manufacturer is launching its 2018 e-MTB, the eMO2 FS, in tandem with a 4×4 motor vehicle aimed squarely at the adventure, off-road market.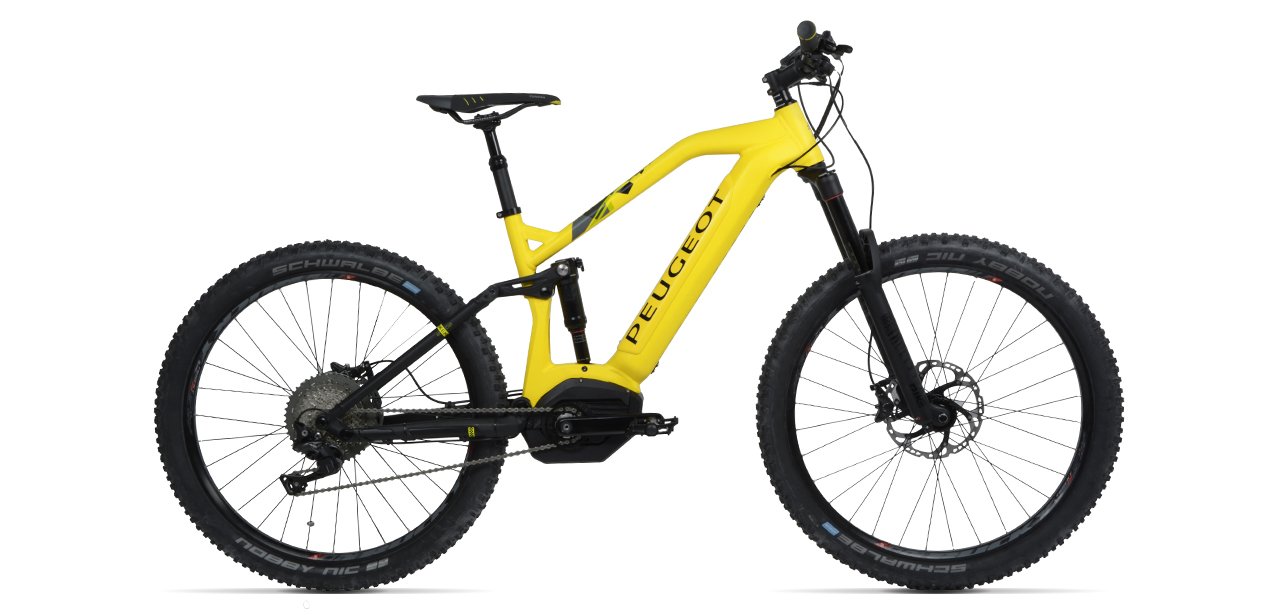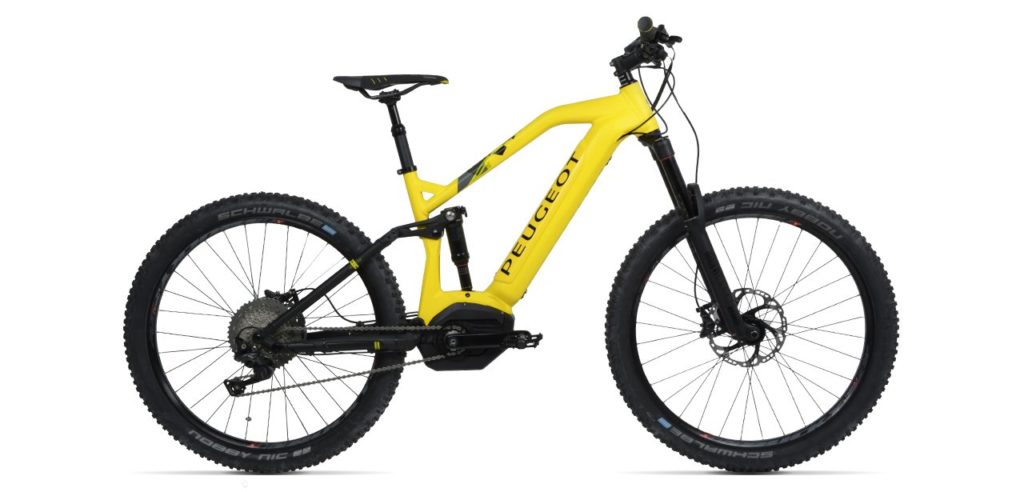 The e-bike's Bosch PowerTube battery with 500 Wh is integrated fully into the frame and sure reflects the new design standard for 2018 e-MTBs.
Also of equal note is the fact that the semi-gloss anodised yellow paint job of one of the variants is designed to tie in with the colour scheme of the Rifter 4×4 Concept. Clearly it's hoped the eMO2 FS will help to sell the 4 x4 as both will be making an appearance alongside each other at the Geneva Motor Show in March.
Priced from €3199- €5199.
Eco Energy
Danish Kvaern to Launch E-bike and Solar Unit Combo
You might think that solar power and e-bikes naturally go together but few e-bike manufacturers have made much of the link – either directly or indirectly. One early adopter of the idea of recharging on the go is LEAOS. They have now been followed by Kvaern.
This article in The Verge lets us know the smart looking pedelec with removable battery will be pitched at €999 ($1,200) and will pack a 360Wh battery and there will also be a solar panel combo on offer for an extra €449 ($548).
The article also sensibly points out a couple of caveats; of course crowdfunded projects like this are not bound to come to fruition and the elements that make up this package are already out there to purchase separately from other manufacturers (i.e. e-bikes and solar panels with some kind of storage facility).
Still, this surely won't be the last e-bike manufacturer to look to harness sun power.
Austin's Electric Drive
The city of Austin, Texas is now providing free solar generated power to those who happen to be passing 'Electric Drive' where there is a solar-powered charging station for e-bikes and e-scooters. But the city is clearly hoping it will become a focus for a new greener way of travelling and thinking.
Located in the Seaholm EcoDistrict the site is, according to this article, 'a stop for bike-sharing, car-sharing, an access point for hiking trails and a place for giving your electric bike or scooter a boost as well' and is also used for 'outreach and education'.
Austin was one of five Smart Cities awarded funding last February to roll out 'smart' technology.
New Bike Tech
Zip Up for Winter with ReTyre
Last week's story on folding wheels inspired us to look a bit further for innovative wheel and tyre tech and we discovered ReTyre.
The video below quickly demonstrates the whole rather simple idea – zip on spiked tyres just when you need them.
https://youtu.be/CAexWXvfyGI
Check out the Retyre website too. We will look into getting a pair on test so watch this space for more info.
New Schwalbe Airless Tires
Schwalbe has launched a new Airless System that has an inner foam core that is supposed to be closer to the ride feeling of an air tire system. Schwalbe is indicating a maintenance free experience for 10,000 kilometers (6,214 miles).
The system will only be available through qualified dealers who are trained on how to install the system. And it looks like it will initially be available in select European markets.
Get Inspired
'Fairytale Come True' Trip for Three Florida Friends
This Palmbeacher article shows you how to combine some of the world's most glamorous and scenically spectacular locations with e-bikes!
And a big thumbs up to tour providers Butterfield and Robinson who have even gone to the trouble of producing a 'Know Before you Go' video on the e-bikes they offer as an option on their biking breaks.
Limebike Comes to Albany
This article has some nice detail not just about the launch of dockless Limebikes in Albany but on the company background too.
Whilst the bikes mentioned there are not e-bikes Limebike does now have an e-bike option and according to this article about Limebike in Europe 'the introduction of Lime-E (e-bikes) and Lime-S (electric scooters) is part of the strategy to transform the company from a bike-sharing to a smart mobility provider that offers multiple personal transportation solutions for smart cities.'
Also on electricbikereport.com
Riese & Müller Nevo Review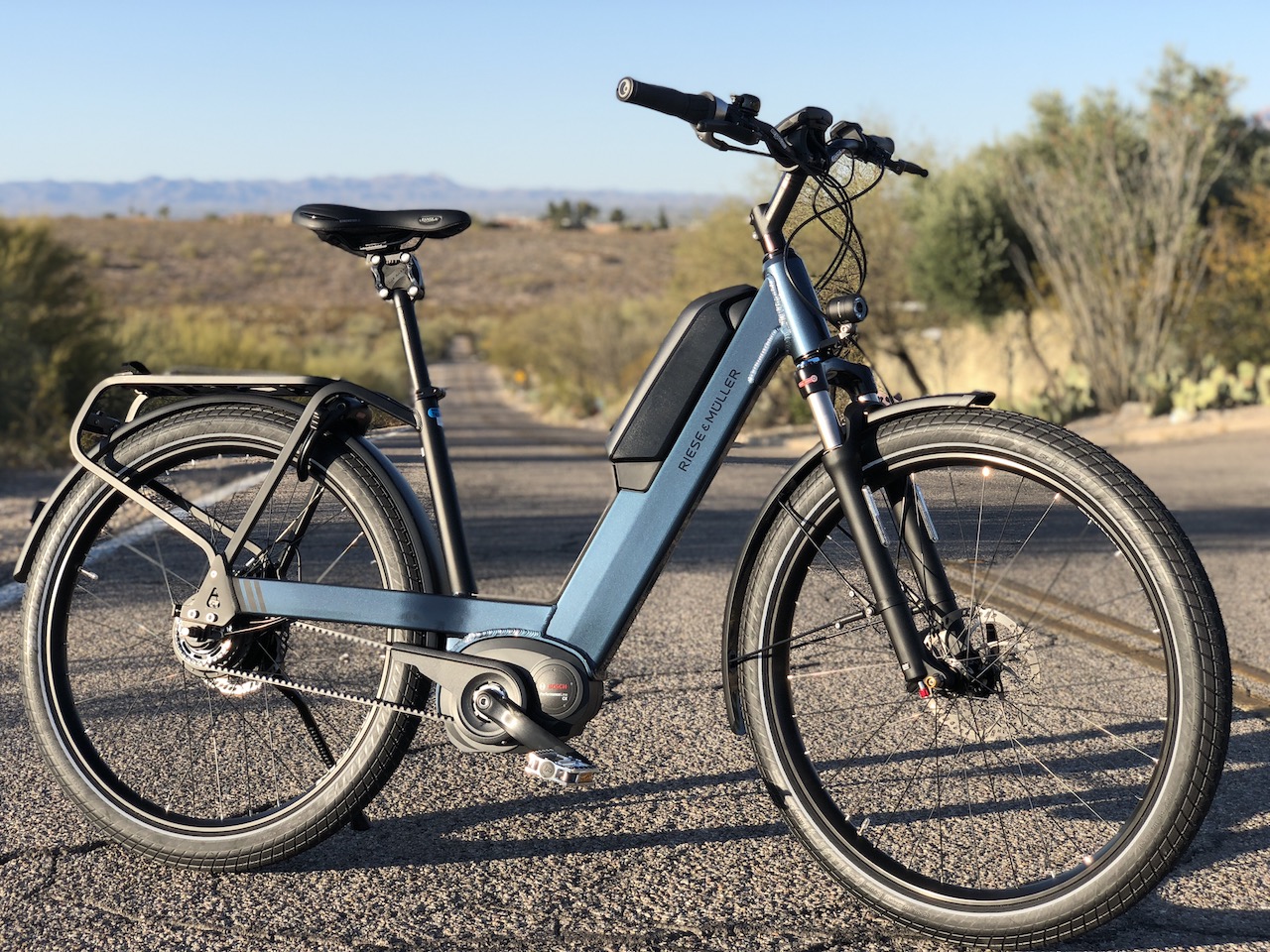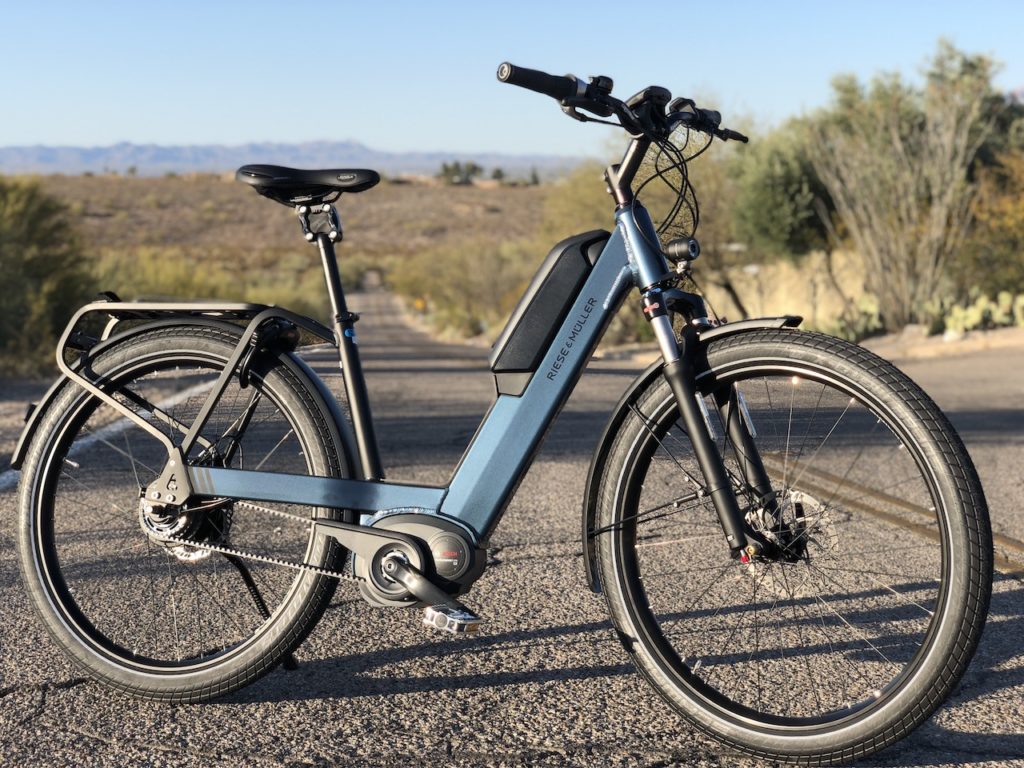 The sporty and sturdy step thru Riese & Müller Nevo has arrived for testing & review!
This is a durable and well equipped commuter and touring style eBike that has some unique features.
Some of the highlights of the Nevo are the sturdy step thru frame design with frame mounted battery, NuVinci continuously variable transmission, Gates Carbon Drive belt, and the Bosch mid drive system.
eBiking Switzerland and Austria
The eighth annual World Advanced Vehicle Expedition (WAVE) is due to take place in Switzerland and Austria this summer.
For e-bike riders this promises to be a ride of a lifetime with the opportunity to see some of the most stunning parts of Alpine Europe over two eight-day tours.
E-bike Access
New Washington State Bill
Washington State is close to creating the 3 different classes of eBikes that are very similar to bills passed in Arkansas, California, Colorado, Illinois, Michigan, Tennessee and Utah.
People for Bikes has been involved in all of these and is focused on similar e-bike bills in Alabama, Arizona, Connecticut, New Jersey, Ohio, Pennsylvania and Wisconsin this year.
Could Post-Brexit UK Be Have More E-mtb Access?
Current access for e-MTBs in England and Wales is restricted to certain types of rights of way – including bridleways and byways but excluding footpaths. Of course, e-mtbs should not be riding on narrower paths where they may 'conflict' with walkers.
However, many miles of wide track across England and Wales that would be suitable for conflict-free access is not available to MTBs or e-MTBs as it was classed as footpath under legislation that is many decades old, and was implemented with one eye on keeping down maintenance obligations for landowners rather than the original purpose the rights of way were actually built for (Scotland has a code of open access for bikers and other user groups of the Great Outdoors).
Now a position paper from the UK government department responsible for the countryside, DEFRA, has said described public access to farmland as a 'public good' and this article in BikeBiz describes how it might just help Cycling UK negotiate more access for cyclists to off-road trails.
E-bike Biz
Nuvinci Files for Bankruptcy – so it Can Reorganise Finances
We have often spoken about the merits of the Nuvinci 'stepless' gearing system. It is used on many e-bikes and it unique in allowing a rider to 'slide' through a continuous gear range rather than having steps between the gears as happens with derailleur and hub gear systems.
It has just been reported that the US-based firm has filed for what is called Chapter 11 Bankruptcy; in effect this means it will be able to continue trading but will be able to come to new terms of agreement with creditors.
600,000 Unit E-bike Factory on the Cards for Vietnam
Bike Europe have revealed that Taiwanese-based A&J have plans to open an e-bike factory in Vietnam with a staggering annual production capacity of 600,000 e-bikes. It also reveals the company hopes to take advantage of a forthcoming free-trade deal between Vietnam and the European Union.
My Week's Riding
I have been around some the northern UK's big towns and cities shopping with the remarkable Riese & Muller Packster 40 Nuvinci, a very neat and compact e-cargo bike with dual battery capacity. A full ride report will follow soon.
Stay tuned for more e-bike news and reviews and keep on riding.
-Richard
P.S. Don't forget to join the Electric Bike Report community for updates from the electric bike world, plus ebike riding and maintenance tips.
Reader Interactions