eBike News: Eurobike Innovations, Titling eTrike, Chainless, New Bosch, & More! [VIDEOS]
By Richard Peace
The electric bike scene continues to be a highlight at Eurobike (largest European bicycle tradeshow) and we have some of the cool new eBikes from the show for you.
Prizes & Innovation from Eurobike
Notable winners in the Eurobike e-bike and pedelec prize category include Haibike's SDURO AllMtn 8.0 (innovation being cloud based communication possible for the first time on an e-MTB), and the Elby as previously featured at EBR ('…unique 4-point adjustable concept..' ideal for riding by a large variety of people).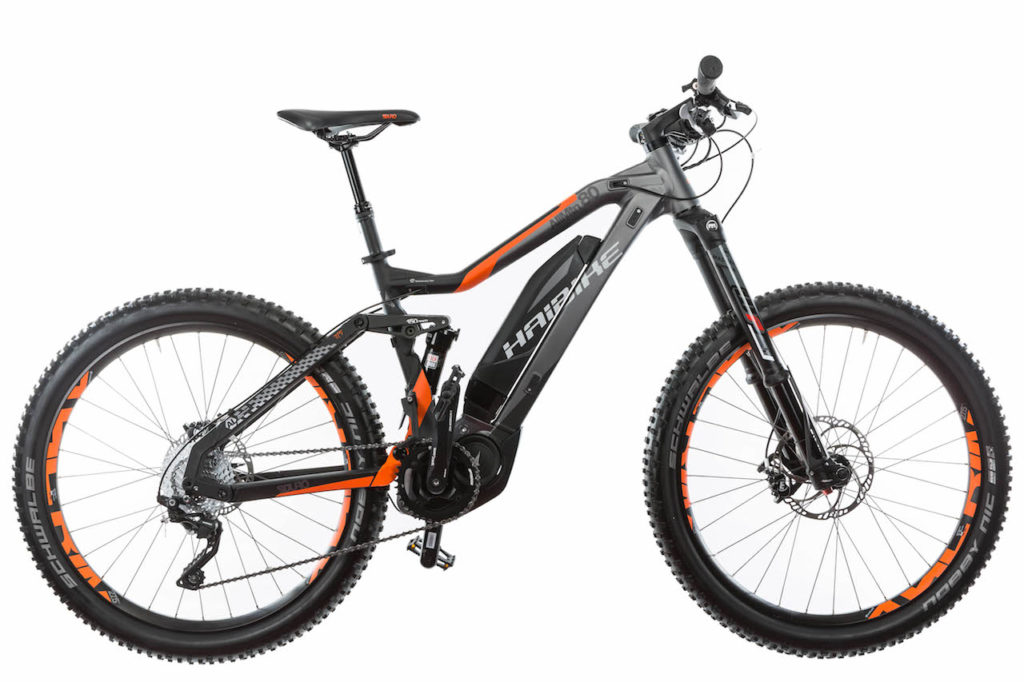 Tilting eTrike
HNF Heisenberg continues to innovate with the CD1 cargo eTrike that can carve corners with its tilting front wheels.
The CD1 has a very high end component spec: Bosch, NuVinci, Gates belt, and more.
The CD1 has a weight capacity of 529 pounds (240 kg) total (rider + cargo)!
eMTBs from BESV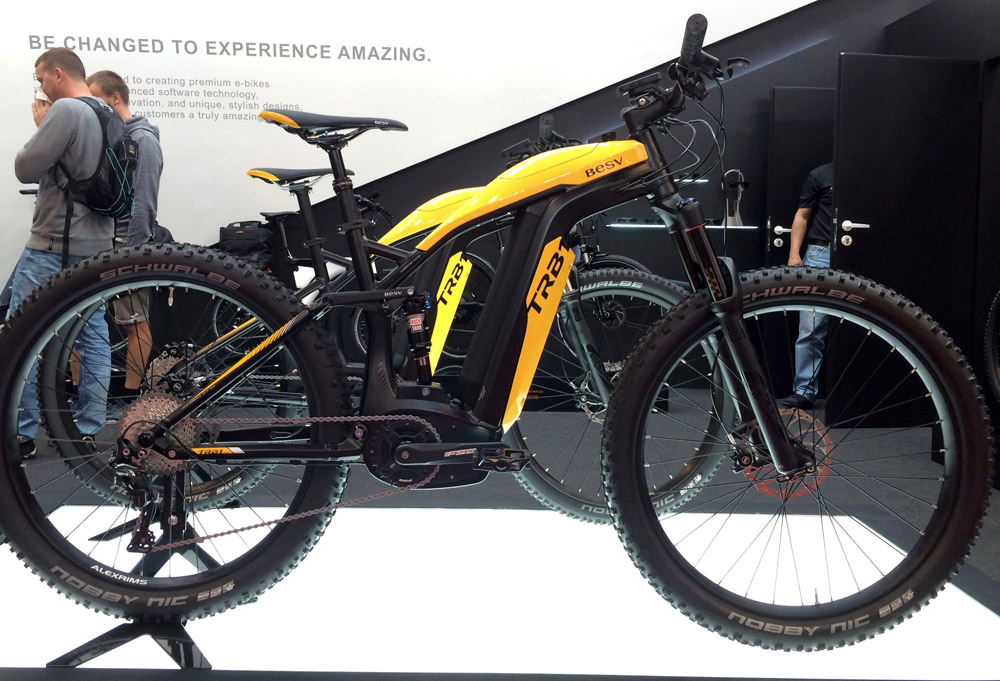 BESV is a Taiwanese-based firm who previously specialised in city and commuting models but have now chosen to launch three impressively-spec'ed e-MTBs. Two will feature the powerful Brose mid-drive and the third Shimano STEPS e-MTB system. The Brose motor versions feature a sizeable, downtube integrated 756Wh battery. BESV also has a US presence.
e-Chainless
Much more on the cutting edge of e-bike tech is the BIKe2 system (pronounced Bike squared) from Denmark – the chainless e-bike.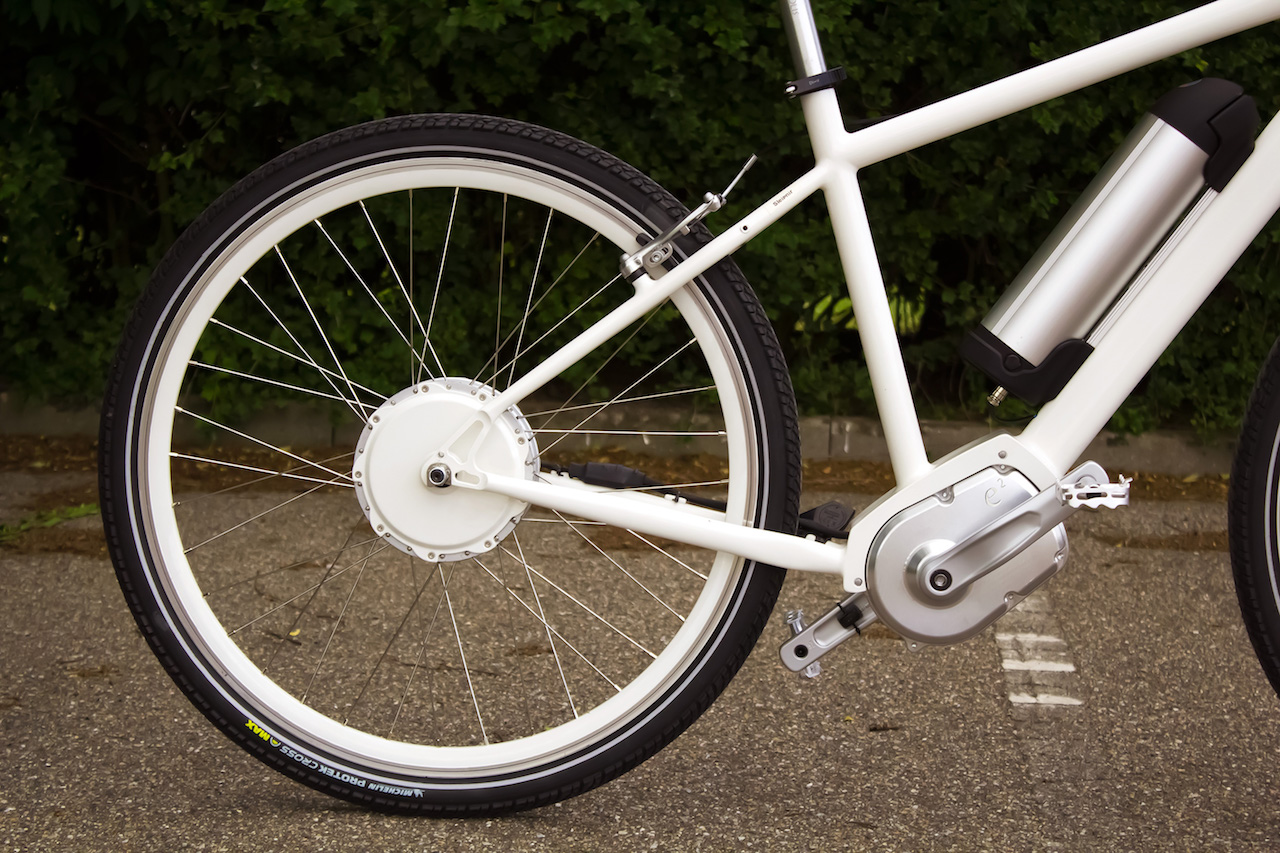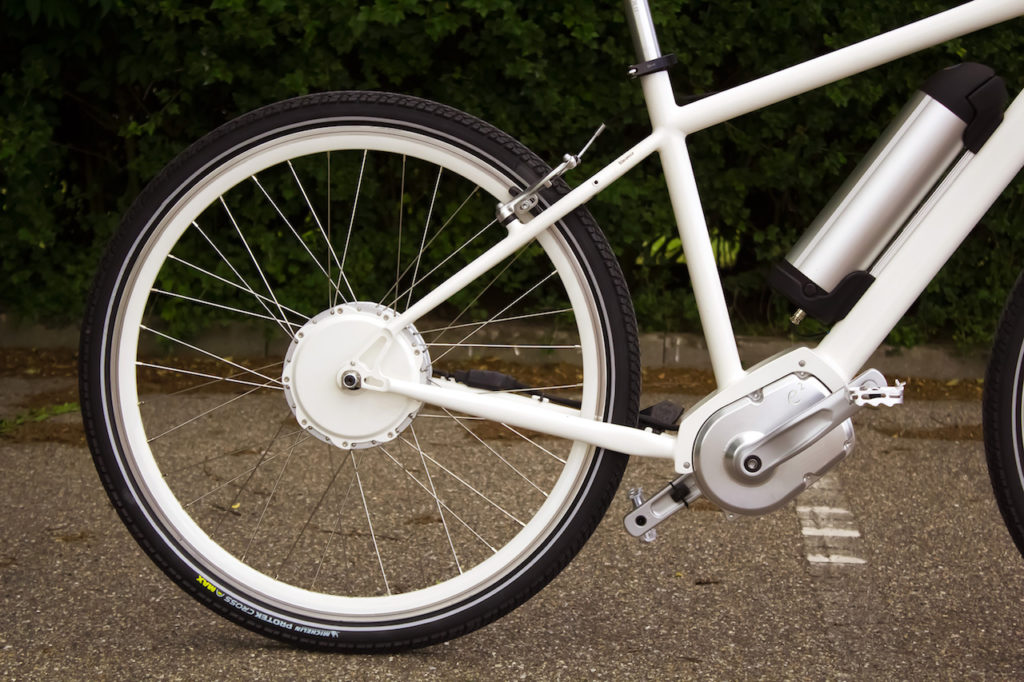 Whilst chainless bikes are already in production (think Mando Footloose) this interview with co-founder Nils Sveje gives a good feel for the advantages of the system.
There's also a basic intro here with sequentiual videos.
Chainless e-bikes sound like a great idea, with the chain and gearing internalised into the motor system, but energy conversion losses are the main real world problem they face (converting kinetic energy to electrical and back again).
Lighter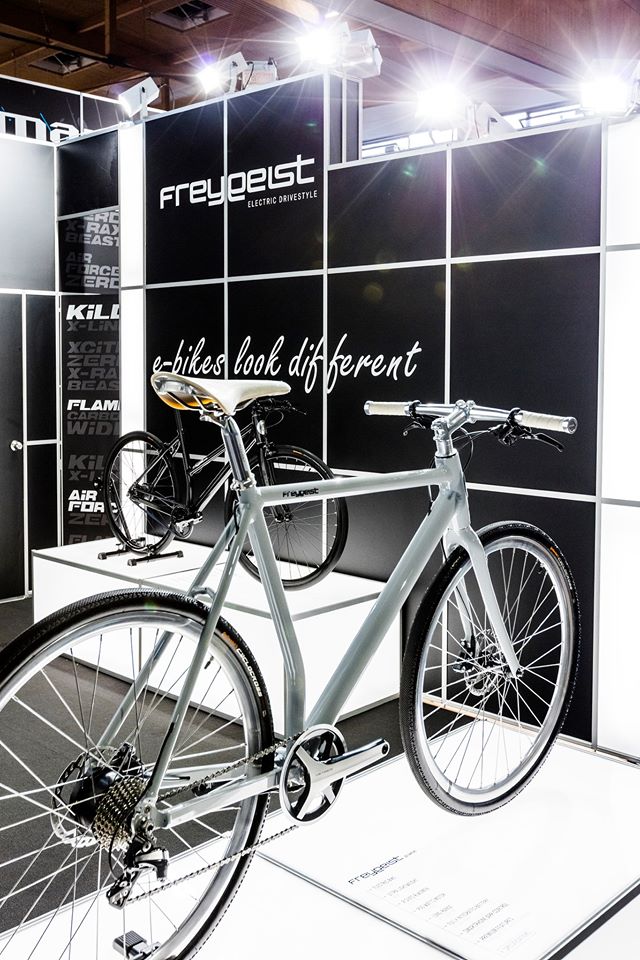 Lightweight e-bike specialists Freygeist announced two new models at Eurobike, The Prime and the Puriste, with respective claimed weights of 31 pounds (14kg) and 26.5 pounds (12kg). The company raised 1.5 million Euros via a crowdfunding campaign and the success of their first bikes have allowed them to launch the two new models designed 'from the ground up' they say.
Traction control
Mainstream bike site Bikeradar have reported on yet another German company pushing the envelope of what e-bikes can do. With ever more powerful motor systems, Brake Force One have decided its time that traction control and ABS braking appeared on e-bikes. As explained in the article, sensors on the disc brakes 'judge' when too much braking may result in a loss of control and restrict braking by automatically regulating the hydraulic pressure.
Bianchi targets 2018 to launch Fazua removable system 
EBR recently reported on the Fazua lightweight removable drive system on the Focus Project Y e-bike (which just won a Eurobike award). Now Bianchi looked to have stepped behind the concept too, exhibiting a purported 31 pound (14kg) model at Eurobike and stating that it will be a 2018 production model.
Bosch Make Strides in North America
Bosch has recently announced that several of its new products will arrive in the US on 2017 Bosch-powered models. These innovations include Purion (minimalist handlebar display)  PowerPack 500 (500Wh battery, a 25% upgrade in power for only 4% extra weight) and its new compact charger.
The Purion can replace Intuvia displays on existing Bosch-equipped eBikes, however the bike must have a software update via Bosch diagnostics. The new PowerPack 500 is also compatible with existing Bosch-equipped eBikes.
Bosch has also announced an increase in the number of manufacturers using the system. While 2016 featured the Bosch-equipped eBike brands Bulls, Butchers & Bicycles, Cannondale, Cube, BH EasyMotion, Electra, Felt Electric, Gazelle, Haibike, KTM, Lapierre, Scott, Trek and Xtracycle, the list will soon include Benno Bikes, Corratec, Focus, Fuji, Izip, Kalkhoff, Moustache Bikes, Norco Bicycles, Orbea, Riese & Müller, Tern, Urban Arrow and Yuba in a wide variety of styles, feature sets, and price points.
Bosch eBike Systems has teamed up with the Electric Bike Association and Interbike to present the Electric Theatre, a venue for dealer eBike education open to all Interbike 2016 attendees, Sept 21st and 22nd.
Bosch says they are expanding dealer training at Interbike 2016 to offer both Technical Certification and a new Sales Support class for dealers carrying eBikes epowered by Bosch.
Fancy a Long Distance Touring E-Bike?
Eurobike has seen a couple of notable introductions in the field of fully suspended touring e-bikes, a rare field indeed.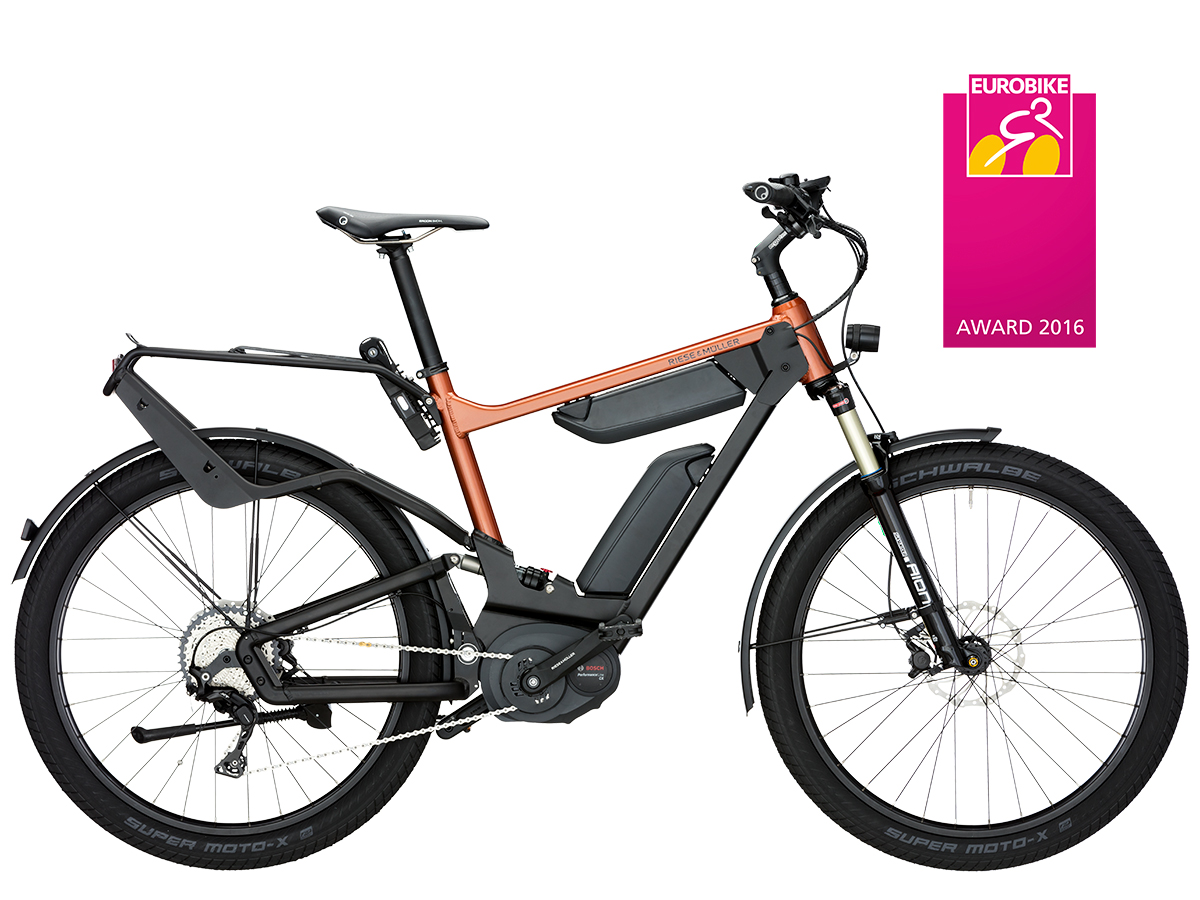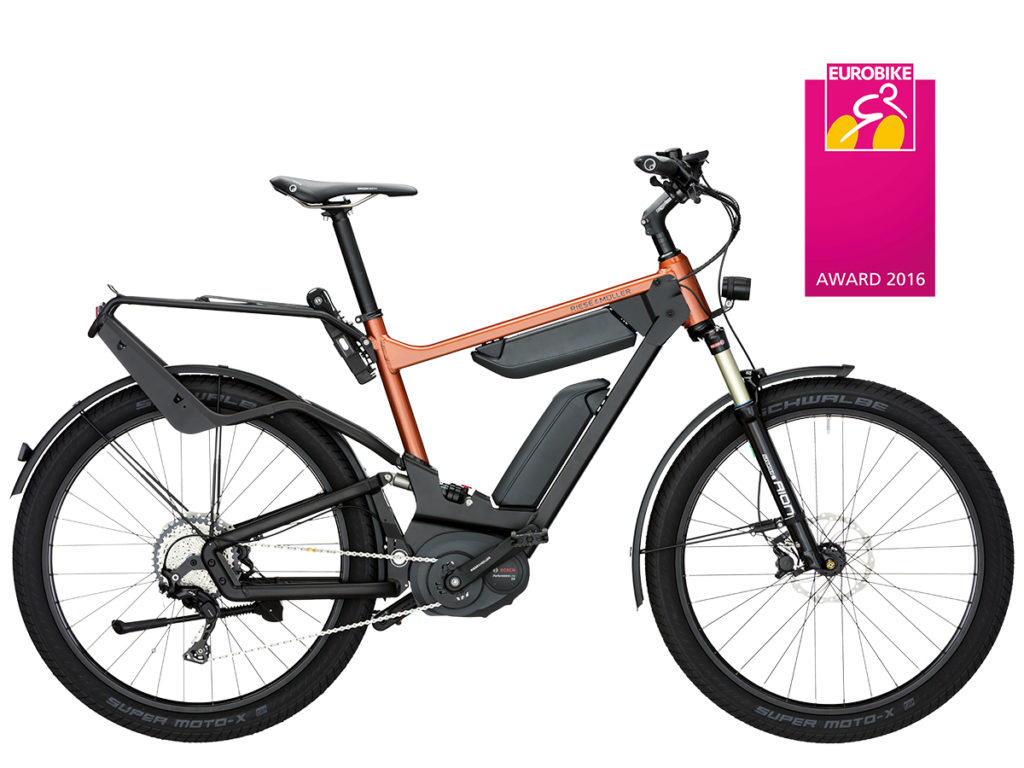 A winner in the e-bike and pedelec competition category went to a very distinctive looking bike from German manufacturer Riese & Müller, the Delite GT Touring model. It features full suspension, Bosch's Performance motor system powered by dual 500Wh batteries, 'fat' tyres and a comfortable, upright touring position. Riese & Muller are perhaps best known for designing the innovative Birdy folder.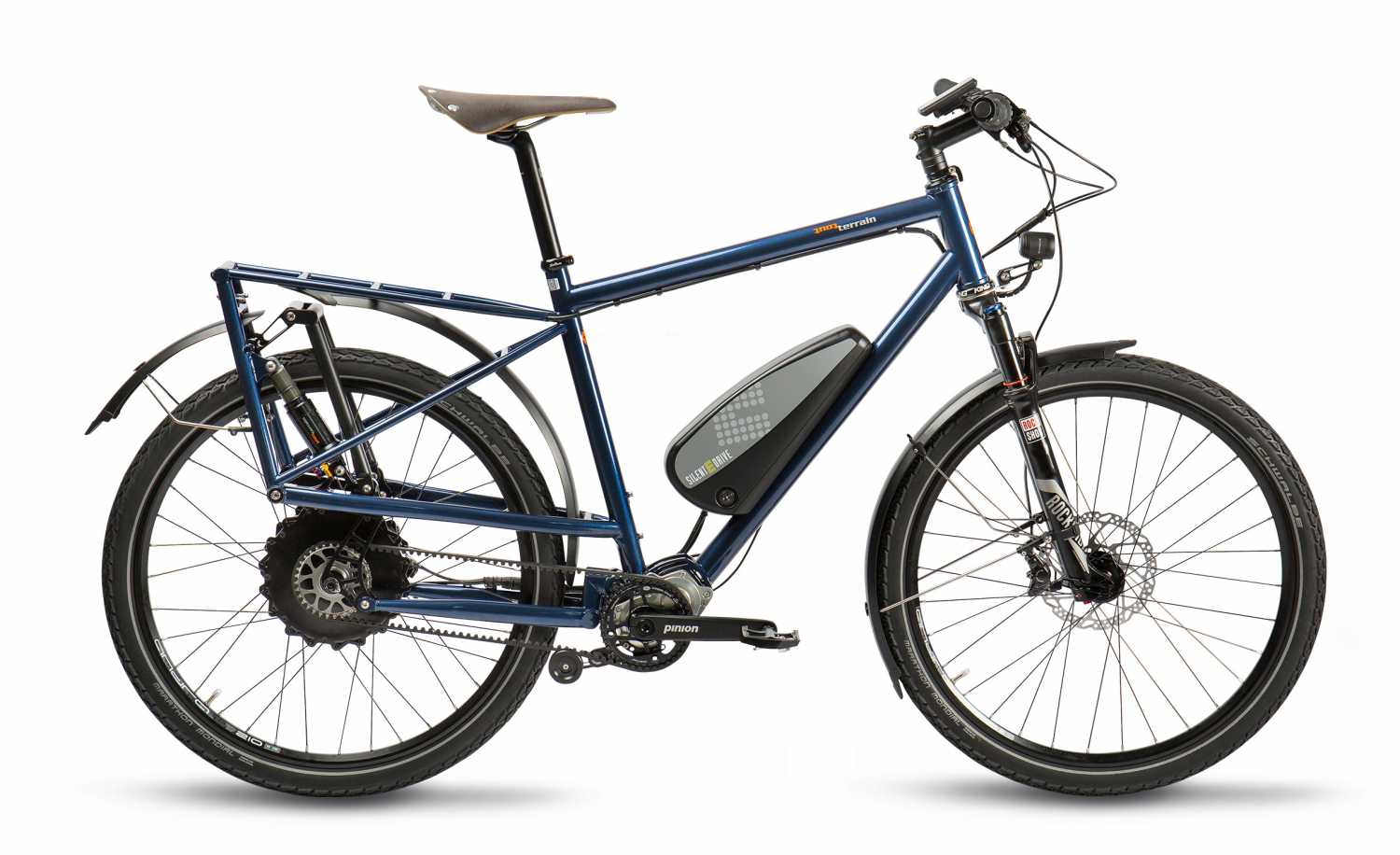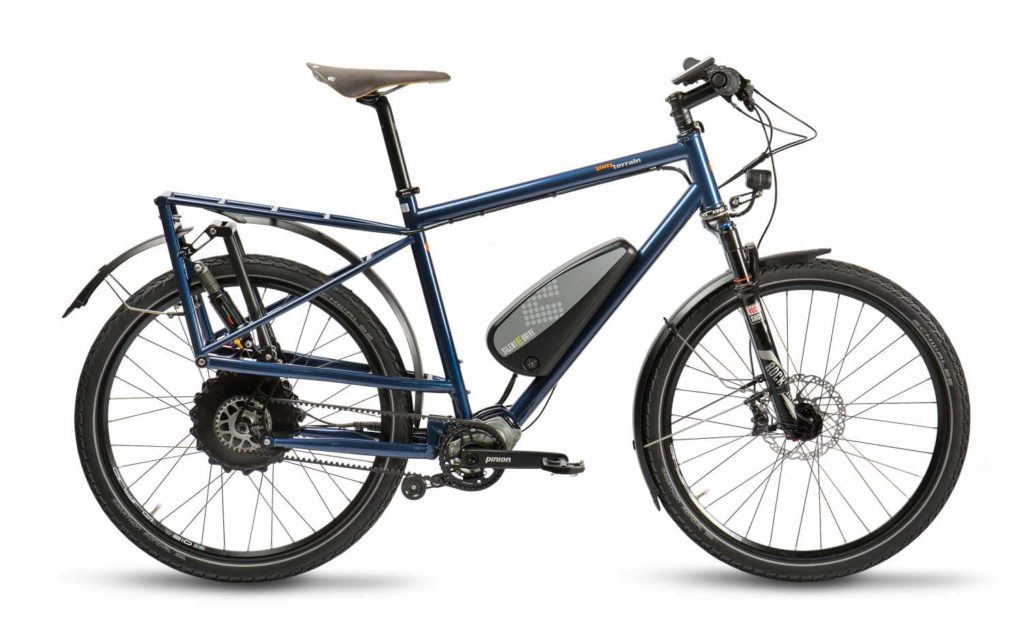 Another innovative German company, Tout Terrain, have released the Panamericana Explore full suspension tourer with belt drive. Unusually it also features bottom bracket integrated Pinion gearing which, being 'downstream' of the motor, is claimed to prolong the life of the drivetrain.     
German Electronics Specialist Steps into Ebikes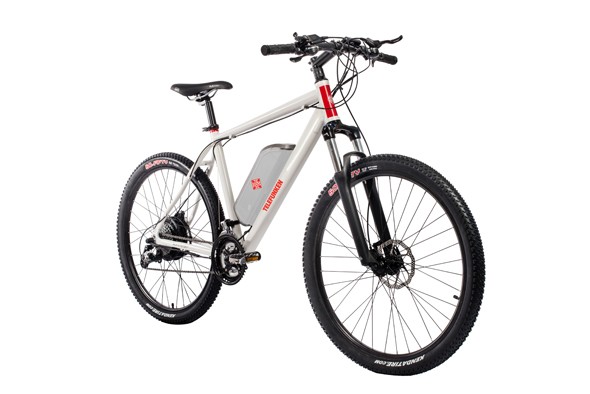 IFA in Berlin is one of the world-leading consumer electronics trade shows and it is here that German consumer electronics brand TELEFUNKEN have chosen to release a new range of five e-bikes, including a folding model. IFA takes place from 2nd-7th September.
That's it for now. Stay tuned for more e-bike news.
P.S. Don't forget to join the Electric Bike Report community for updates from the electric bike world, plus ebike riding and maintenance tips!
Reader Interactions