eBike News: Enclosed eTrike, Stylish Electra's, Container eBike Share, eMTB Fun, & More! [VIDEOS]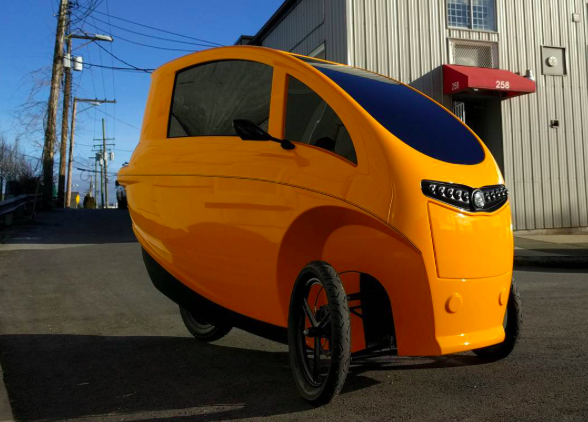 In this week's e-bike news roundup:
Enclosed eTrike Share Program
Stylish New Electra eBikes
New Container eBike Share System in Amsterdam
Australia's First Smart Electric Bike Share System
Mom & eBike Advocate
New Forme eBikes from the UK
Fun eMTB Video
And much more!
New Products
Veemo Enclosed Electric Trike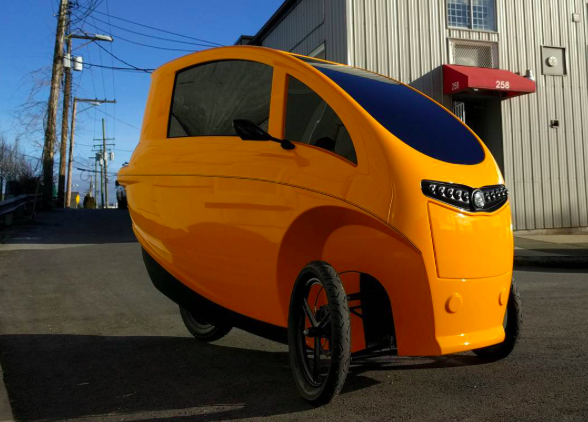 Veemo is a new fully enclosed pedal assist electric trike that is launching as an eBike share fleet in Vancouver BC. They plan on expanding it to more city's in the near future. Here is a story about their program at the University of B.C.
Electra Townie 8i Reviewed by Forbes
To start things off here is a look at the latest eBikes from Electra from the recent Sea Otter Classic:
Forbes recently visited Electra HQ in Encinitas California and has this review of their experience with the Electra Commute Go! Forbes has been covering eBikes quiet a bit recently and it is exciting to see this caliber of mainstream media consistently raising awareness of eBikes.
UK's Forme Get into E-bikes
Forme is a UK based company cycle manufacturer that up until now hasn't ventured into the world of e-bikes. All that has changed with the introduction of three e-bike models.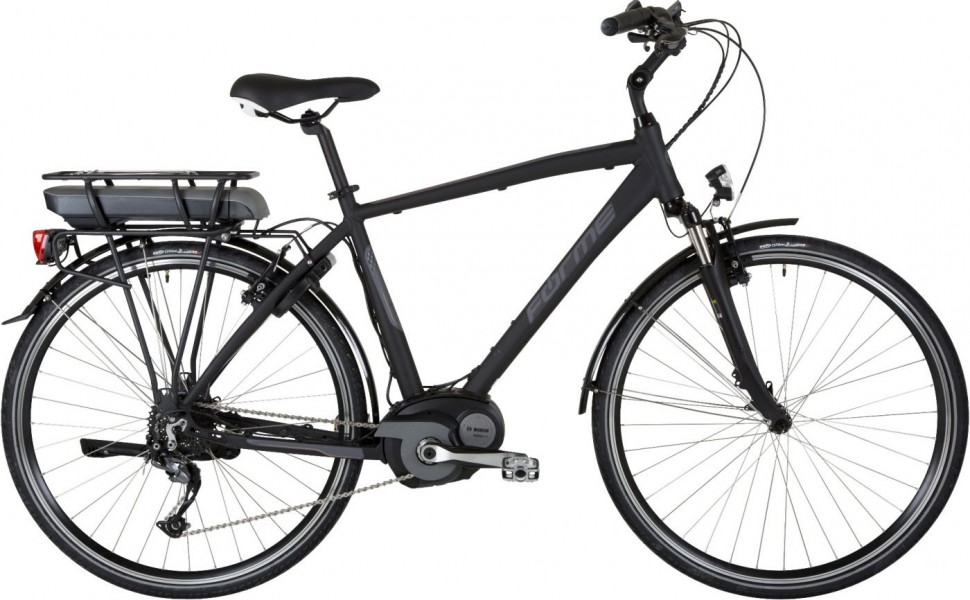 The Buxton 1 is a commuter / leisure model with Bosch's active line motor, 400 Wh battery, 9 derailleur gears and V-brakes, fully equipped with mudguards, lights, rear rack and kickstand. Step-thru and diamond frames available. RRP £1800.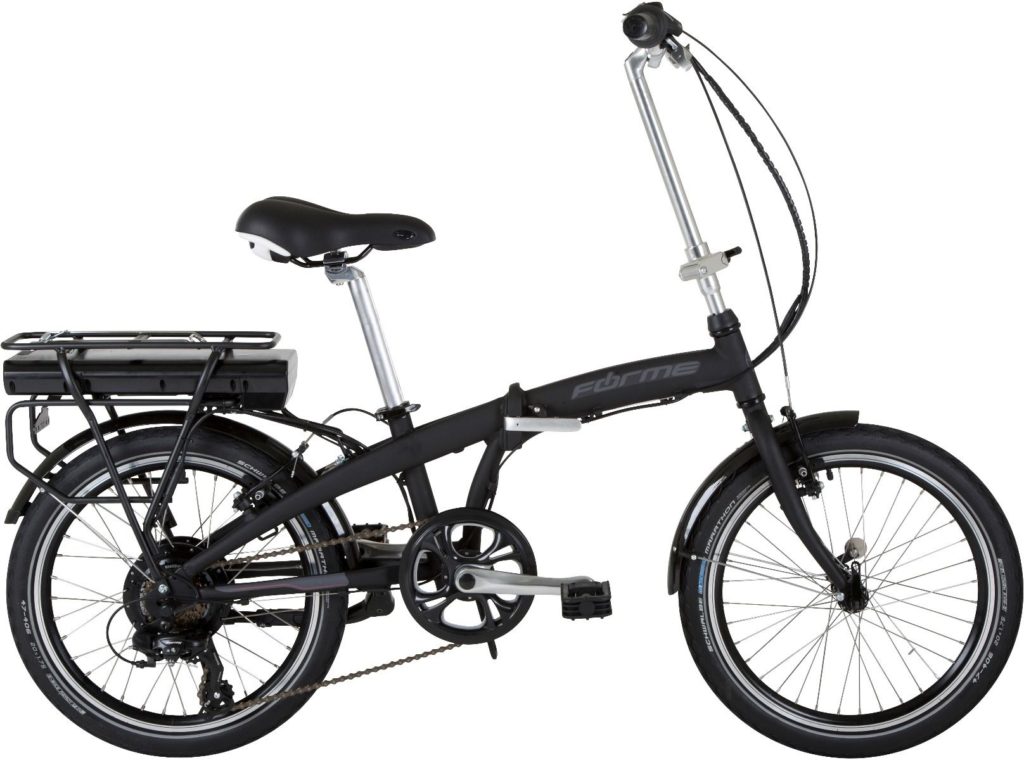 The are also two Bafang hub motor powered models, the Buxton 2, a £1,000 city and a folding e-bike with 20″ wheels. Both the cheaper bikes get a full city package of mudguards, rack and kickstand.
Forme's new e-bikes will also come with free Cycle Recovery described as 'a 24 hours a day and 365 days a year dedicated service' by Forme.
Host of New Drive Systems Premiered
BMZ may be better known as a battery manufacturer – particularly their announcement that more power-dense lithium ion batteries are on the way EBR covered in February – but now Bike Europe reports that they are venturing into drive systems, launching at the China International Bicycle Show at Shanghai earlier in the month. Initial details are in German only. Interestingly there are frame integrated battery options too.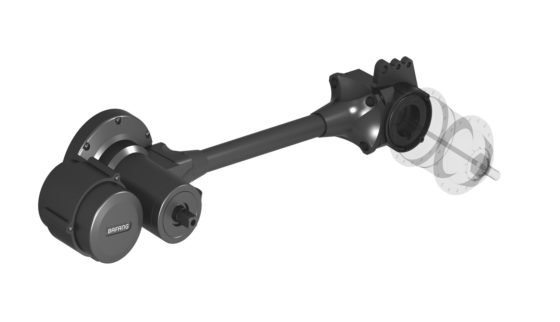 Also reported by Bike Europe from Shanghai are new product developments from Bafang. EBR have already covered the new hub motors aimed at folders but the huge Chinese company say they have developed a new ultra-thin, multicolour display and a shaft drive aimed at public hire e-bikes.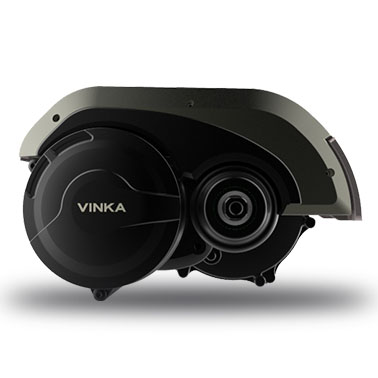 Whilst EBR can't track down this crank drive on any bikes it appears to hail from a Chinese-Japanese joint venture called Vinka and it seems to be being advertised on various trade sites. There are three designs, VK 16,17 and 18 with 250W and 350W versions featuring wireless torque sensors.
Get Inspired
World Trials Champs Gets on Heisenberg e-MTB
Gates Carbon Drive blog have highlighted outstanding performance of the belt drive specced HNF Heisenberg XF1 e-MTB – if ridden by Six-time World Champion Marco Hösel. Check out the video below:
Mom & eBike Advocate
Courtney Van Fossan works at Bend Electric Bikes and is doing a lot to promote the use of eBikes as a daily commuter and for getting more people out on bikes. Checkout the full story of how she rides with her kids in all kinds of weather and how she is involved with Cycling Without Age.
Meet Radinn
If you enjoyed last week's feature on the vertical take off and landing Lilium, like e-bikes powered by electric motors and lithium batteries, why not take a look at Radinn. What is it? Well, take a look at the video and you get the idea…
Infrastructure and Bike Share
e-Bike To Go Bike Sharing
From Jelle Visser of E-Bike To Go "We started to supply e-bikes to companies to be part of a shared e-bike system. Because this concept has proven to be really successful we decided to also start E-Bike To Go in public.
Last week our first E-Bike To Go container was placed in one of the busiest parks in Amsterdam and 6 locations will follow the coming week. For our sharing system we use the AXA E-RL a Bluetooth lock which opens by app. This allows us to rent out bikes basically from anywhere."
Here is more detailed information about the E-Bike To Go mobile eBike share system.
E-Bikes to Be Legalised on Colorado's Steam Boat Core Trail?
Steamboat Today runs a report suggesting e-bikes may soon have access to the lovely looking Yampa Core River Trail in northern Colorado's Yampa Valley.
'The city's elected officials could as soon as May 16 adopt new rules to allow two classes of e-bikes on the Core Trail as part of a yearlong pilot program' says the report (Class 1 bicycles have an electric motor that just offers the rider a pedal assist. Class 2 bicycles have an electric drive system that the rider can engage with a throttle).
For now city officials want to keep the e-bikes off of other types of trails, including Emerald Mountain.
Canberra gets Public E-Bike Share Scheme
'Australia's first smart-electric bike share system for a residential building was launched in Canberra on April 28', says Australia's Newcastle Herald.
Newcastle-based bike-sharing platform BYKKO and developer Art Group together provided 10 shared electric bikes at On Forbes apartments in the suburb of Turner.
The same article tells us 'The BYKKO system includes a charge station and e-bikes with integrated locking and charging technology, a one-swipe checkout system, a user-friendly web/app platform, and intelligent fleet management and maintenance.'
Reinstate 1930s Cycleways Campaign Hits Target – but Still Wants to do More…
Our April 28th news featured the Kickstarter campaign to bring back some superb looking 1930s cycleways. The initial target of £7000 to fund research has been met twice over – and some. However, the team behind the project say they would still like people to back it as the more money raised the more projects can be researched and put forward for restoration.
Stay tuned for more e-bike news & reviews and thanks for reading!
-Richard
P.S. Don't forget to join the Electric Bike Report community for updates from the electric bike world, plus ebike riding and maintenance tips!
Reader Interactions