eBike News: New Raleigh UK, eTrailer, Epic Ride, Focus eMTB, & More! [VIDEOS]
In this week's eBike news roundup:
Raleigh UK's New 2017 eBikes
Electric Trailer that Pushes Your Bike
Focus e-MTB Jam2 Video
Gary Fisher on eBikes Video
Epic Oregon eBike Ride
Duth-Style eBike Competition Winners
The UK's 1930s Cycleways Re-emerge
And much more!
New Products
Raleigh UK's 2017 Line Unveiled
Raleigh UK have been in touch with EBR to say that with e-bike sales increasing significantly in 2016 in the UK, so far in 2017 Raleigh have launched 4 new bike models, with a number of exciting new models still in the pipeline for release in mid-year.
Note: Raleigh Electric is the website North American eBikes models.
The following have been added to the existing Raleigh UK e-bike range:
Stow-e-way
An all new folding e-bike. This uses a motor system from Tranz-X and retails at £1100.
Raleigh also use motor systems from Tranz-X on their mid-priced 2016 models the Pioneer (£1300), Spirit (£1400) and Strada Trail Sport (£1700 e-MTB hardtail).
The Motus Hub & Captus Hub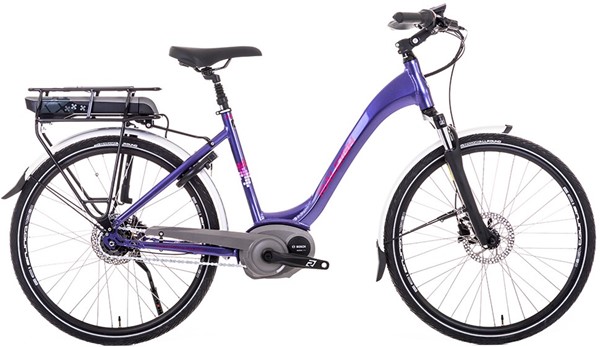 The best-selling Motus and Captus Bosch-powered ranges this year include bikes with hub gears and all models now come with hydraulic disc brakes. The Motus and Captus now both come with a wider range of wheel and frame sizes along with cross bar and low step frame options.
The Captus hub model retails at £1900 and the Motus hub version at £2150.
Array Hub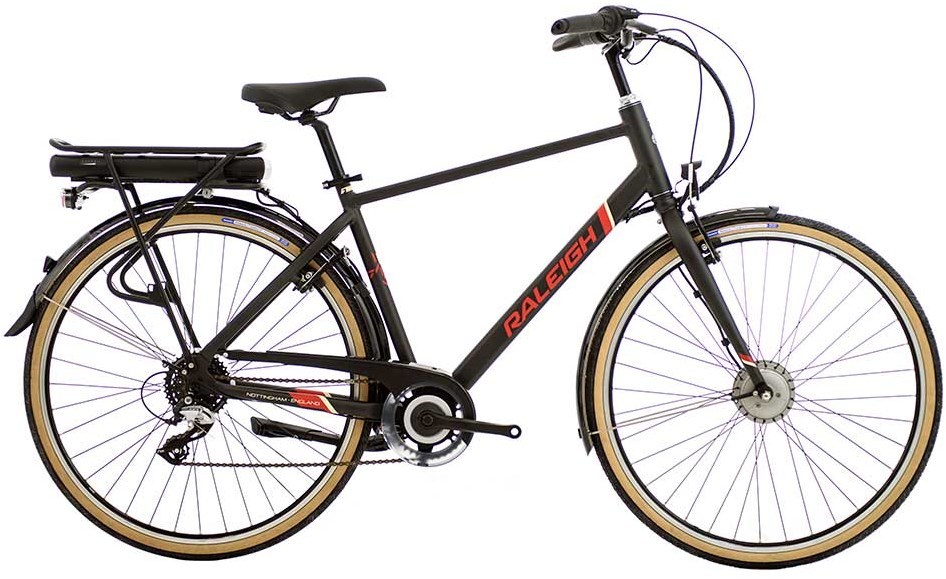 Successfully launched in 2016, the Array range has been widened to include a hub gear option. The Array features a Sparta branded front hub motor, which Raleigh say is 'the best riding front motor system we have ever experienced at this price point' adding 'the D-light motor is so small and quiet you'll hardly notice it is there.' Array models start at £1000.
Focus Jam2 Explained
More info in this video from Sea Otter, explaining the Jam2 e-MTB from Germany's Focus. This system has been making a real splash recently in the e-MTB world as it features a sleek in-frame battery (many other e-MTBs using the Shimano E-8000 motor have frame mounted batteries), and it also has virtually identical bike geometry to a non-assisted mountain bike.
Here are more videos of the new eBikes from BESV, BULLS, Raleigh, Yuba, and Haibike that were at the Sea Otter Classic.
NÜWIEL Electric Trailer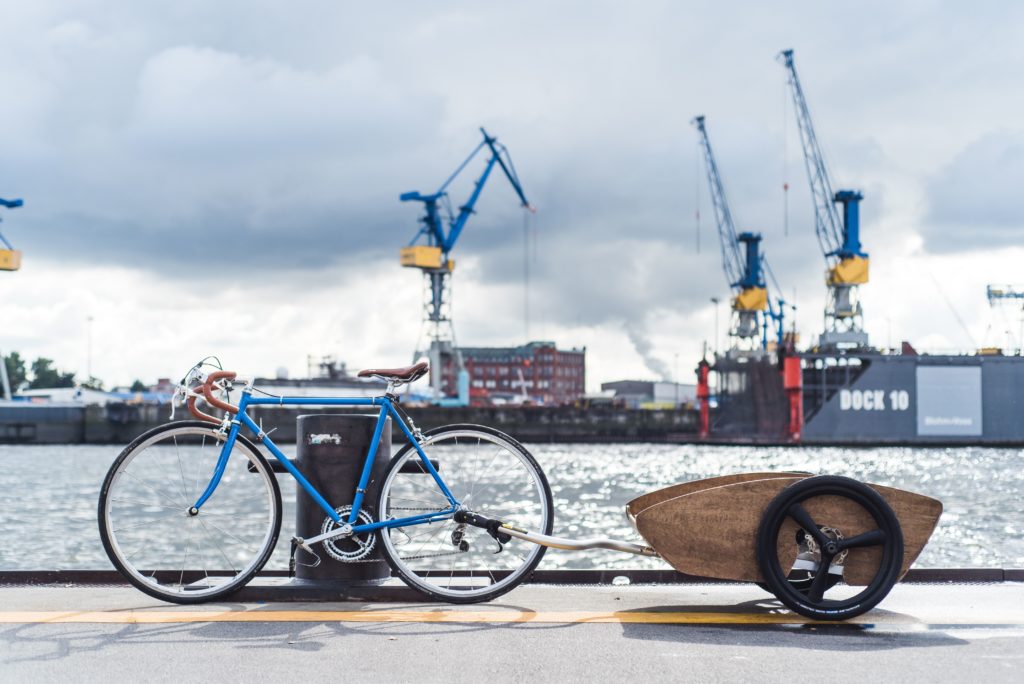 Here is a new electric cargo trailer (pushes your bike) from NÜWIEL.
From NÜWIEL, "Our intelligent bicycle trailer takes the load away and provides a push assistance when you cycle uphill. Our user-friendly technology enables the trailer to know exactly when to accelerate, decelerate and brake."
https://youtu.be/a_Ck4eDWUAQ
Here is a guide to more electric assist trailers.
Get Inspired
Take the E-Bike Survey to Get a Chance to Win a Prize
Do you own an electric bicycle? Portland State University is partnering with PeopleForBikes and the Bicycle Product Suppliers Association (BPSA) to conduct a survey of e-bike users in North America to learn more about why you decided to purchase an e-bike and how you use it.
Take the survey and enter a drawing for chance to win one of 10 $50 Visa gift cards: https://tinyurl.com/ebikestudy
What is an E-Bike?
Gary Fisher – considered one of the inventors of the modern mountain bike – gives this video endorsement of e-bikes, as well as plug for Trek!
Epic eBike Ride in Oregon
Here is a cool story of a journalist who rode an IZIP E3 Peak+ along rugged and steep logging roads from the Willamette Valley to the Oregon coast. The author borrowed the Peak+ and 2 batteries from Cynergy Electric Bikes in Portland to complete this adventure ride.
The same author also wrote this article "Is Portland's Proud Bike Culture Stunting the Adoption of E-Bikes?"
Dutch E-Bike Comp Winners Announced – Shimano Steps Triumphs
QWIC, Sparta and Kalkhoff triumphed in Dutch news publication De Telegraaf's well-regarded annual test. 29 city style e-bikes were tested on a varied test track near Arnhem designed to test the full range of the bikes' capabilities.
Here are the three winners in the three separate price categories:
Under €2250
QWIC is an interesting Dutch firm pioneering efficient front hub motor systems with sleek design.
For an English language explanation of their bike range and features see the UK importer's website.
Under €2250-€2500
The Sparta M7s, powered by a Shimano Steps crank drive. The overall winner of the three categories tested. See UK retailer JustEbike's Sparta pages for Sparta's range of sophisticated e-bikes. Interestingly Sparta claim their own version of the Yamaha crank motor has been adjusted and software tweaked to minimise motor noise.
Over €2500
Another Shimano Steps-powered model, this time allied with Kalkhoff's own battery technology.
The tests suggest the importance of quality, practicality and efficiency rather than light weight or raw power in the Dutch city bike market. Bikes under 25kg are classed as very light!
E-bike Shops
One of the UK's first e-bike importers and retailers have announced a new shop in northern England in Altrincham, Manchester. See all their branches here.
Infrastructure
Campaign to Reinstate UK's 1930s Cycleways Launches
'It's almost totally unknown that Britain once had the beginnings of a Netherlands-inspired network, and with your help we could rediscover it and, in some cases, literally dig it up.' So begins this fascinating Kickstarter campaign that aims to get under way the process of reinstating the UK's 1930s Cycleways, many of which lie neglected, overgrown or even hidden in plain sight alongside the country's arterial roads.
Check out the extremely insightful Kickstarter video:
A fantastic idea for extending the UK's cycle network. The more backing they get the more cycleways can potentially be bought back to life…
Stay tuned for more e-bike news & reviews and thanks for reading!
-Richard
P.S. Don't forget to join the Electric Bike Report community for updates from the electric bike world, plus ebike riding and maintenance tips!
Reader Interactions