eBike News: New eMTBs, Classic & Futuristic Styles, Solar eBike Share, Air Free Tires, & More! [VIDEOS]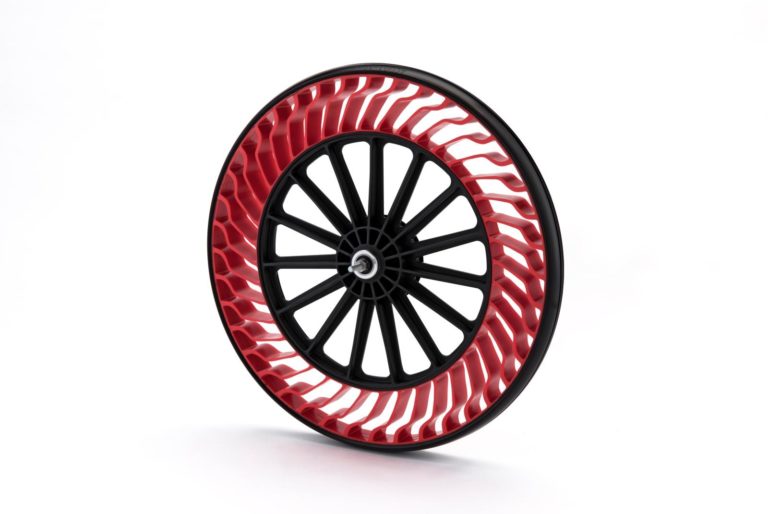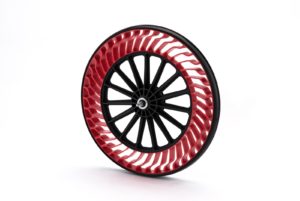 In this week's e-bike news roundup:
Full Carbon Full Suspension eMTB
New Bosch eMTB Mode
Classic Style Budnitz with All-In-One Hub
Futuristic "Urban Gravity eBike"
Solar eBike Sharing System w/ App
Air Free Tires
Rad Power Founders in Inc.'s 30 Under 30
Portable Mini Wind/Water Turbine
And much more!
New E-bikes
Mondraker Full Carbon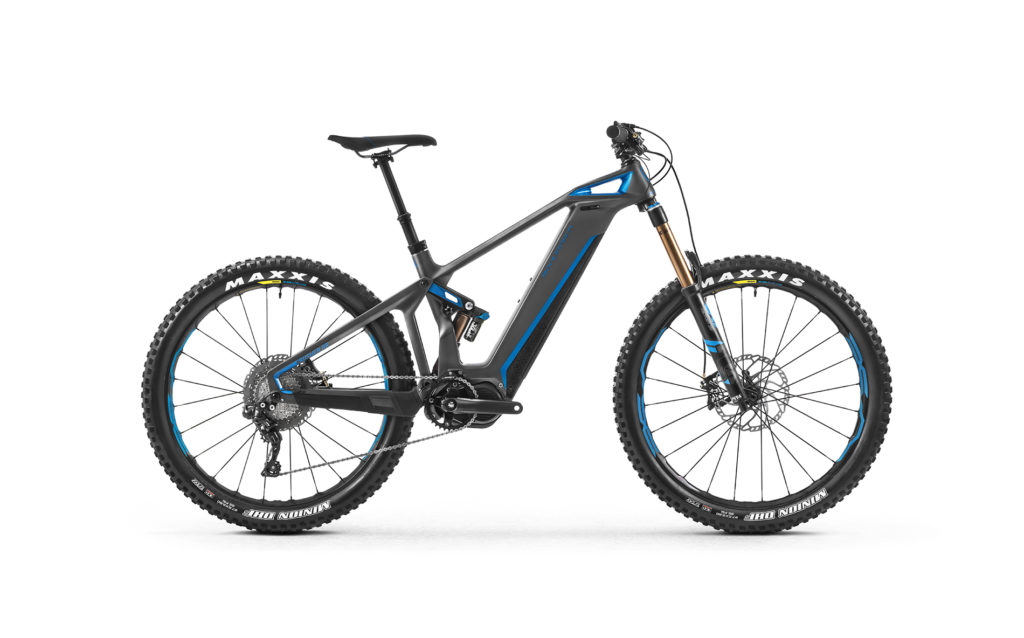 MTB specialist Mondraker are based in Spain but sell in around 40 countries. They have just announced the extremely capable looking e-Crusher Carbon range that look to redefine what a top end e-MTB is.
There are two models, both powered by the Shimano Steps E8000 motor system with frame integral 504Wh battery. Launch is actually 2018 although full specs are available now as are prices; £6599 for the R+ and £8399 for the RR+.
Fifield's Rogue Wave Fat Bike
Massachusetts-based electric bike builder Fifield is making its first foray into all-terrain e-bikes with a fat tire model named Rogue Wave', available with Bafang crank drive or hub motor. It's on Kickstarter and here's the video:
Fifield looks to be an interesting company combining handbuilt frames, new bike tech and e-bike systems. Check out their website and their intro video:
Budnitz Model E Bella To Ship This Summer
https://vimeo.com/201700498
Budnitz are known for using the 'all in one' Zehus rear hub motor system that also contains battery and system electronics and allying it with some very elegant looking frames in steel and titanium.
They have now announced the launch of a step-thru model, the Model E Bella. As well as the 250W regenerative all-in-one rear hub it features a Gates carbon belt drive, Brookes leather saddle and grips plus TRP mechanical disk brakes. Retail is US$3,950
New Products
New Bosch eMTB Mode
From a review by E-MountainBike Magazine "The easiest way to explain its approach is to compare it to a car that drives in automatic: the eMTB mode independently switches between Tour, Sport and Turbo depending on how much force the rider exerts on the pedals. Instead of the former Sport pedal-assist that resulted in 210% of the rider's exertion, this can now vary between 120% and 300%."
The new Bosch eMTB Mode will be available as a software update on all Performance Line CX eBikes starting July 1.
Punctureless Tire News
EBR have already reported on Gecko cellular puncture-free tires. They are launching a new 26″ x 1.75″ (for ETRTO 559 x 19 rims with 36 spokes) 'comfort' tire which is both wider and in a rubber compound giving a more comfortable ride, they say, than competitors such as Tannus. Gecko say a 700C tire is under development and will be released soon.
EBR have a test bike fitted with the new compound, 26″ x 1.75″ tires and a more in-depth report will follow soon after testing.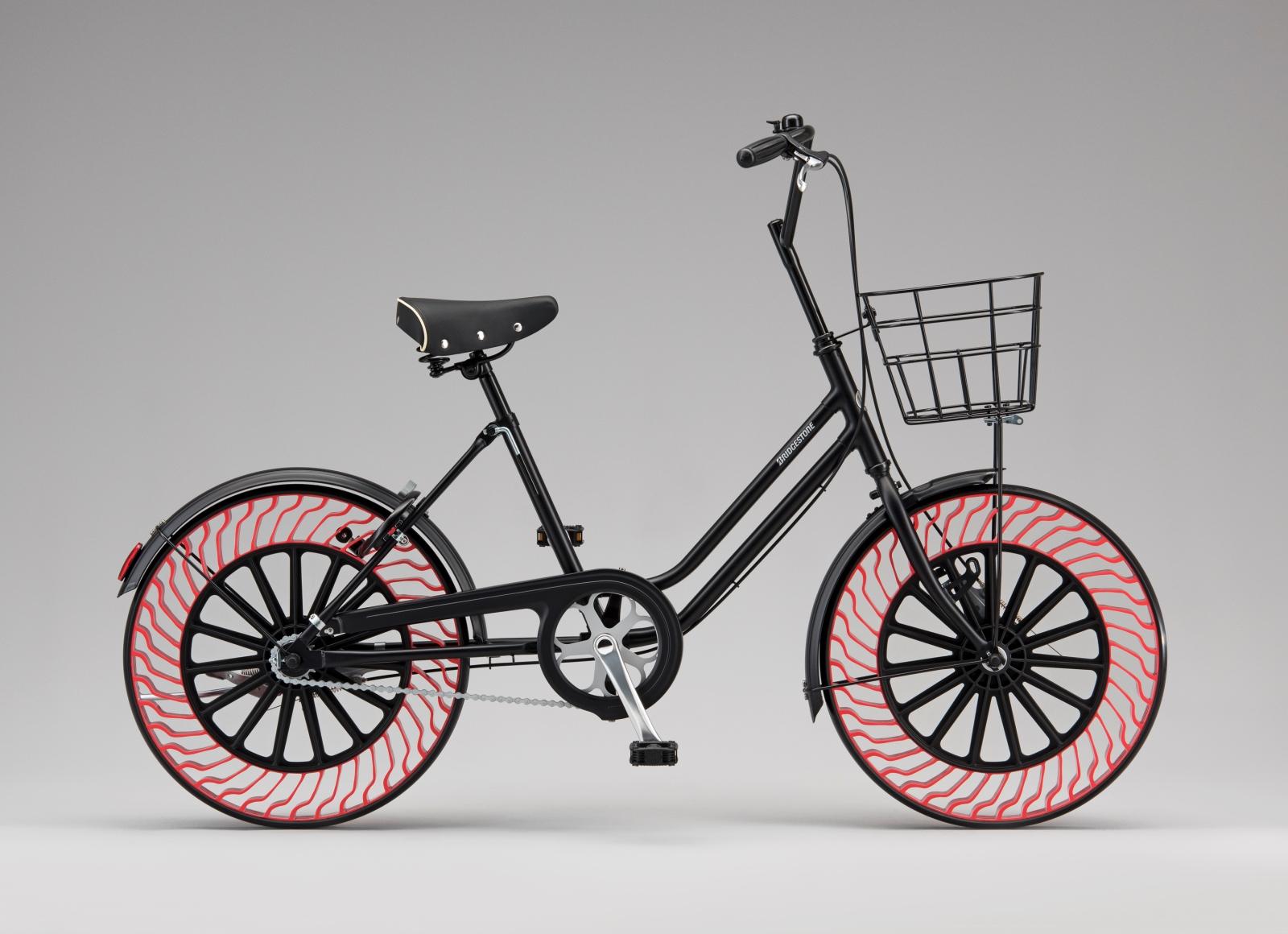 Looking further into the future, Japanese-based tyre company Bridgestone have announced a revolutionary looking spoke and punctureless tyre combination that they are aiming to have on the market for 2019.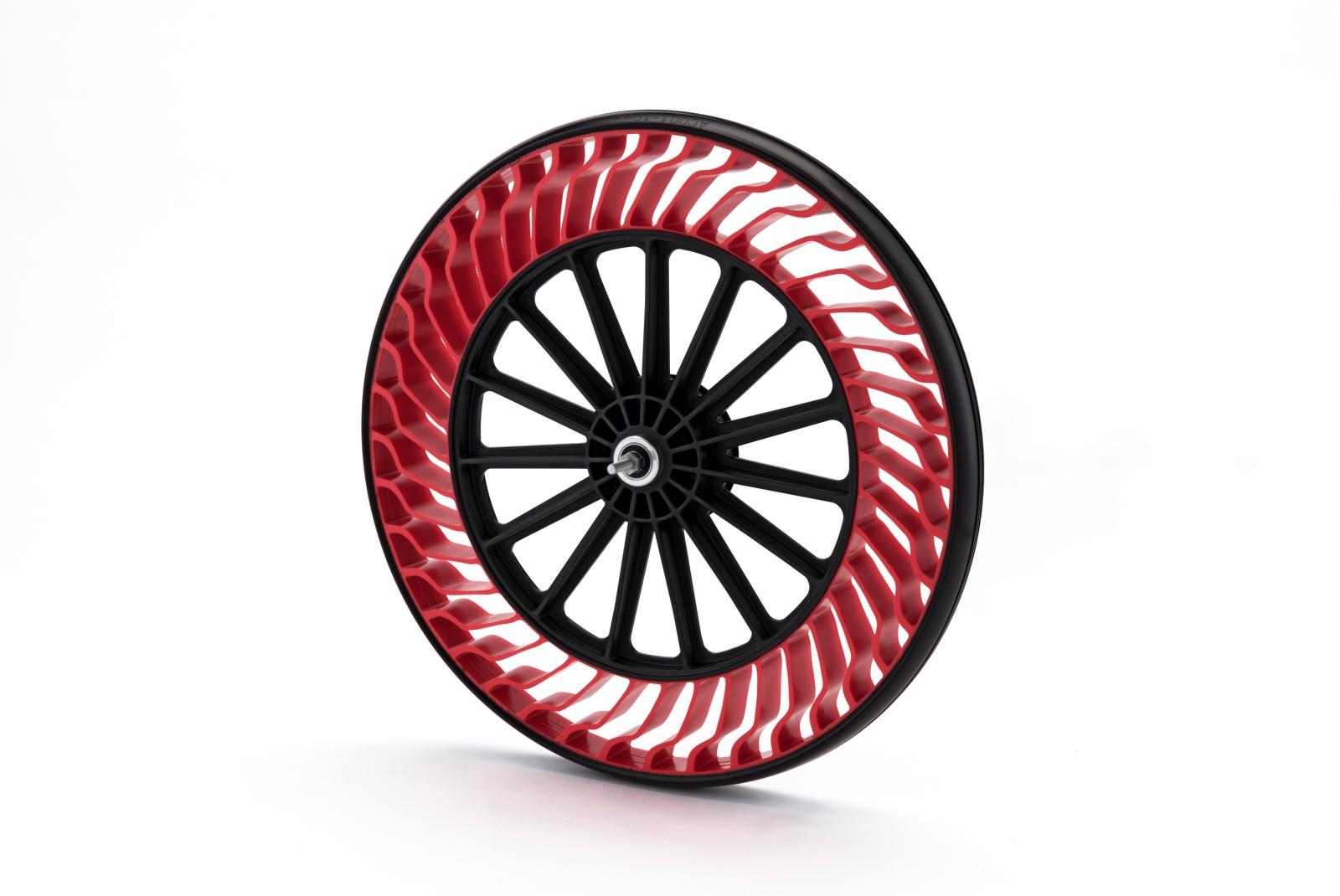 Intriguingly the project has been in development since at least since 2013 and seems to have originated as a car tire project.
Waterlily Turbine
There are a host of gadgets that might be of use to e-bikers heading for some 'off-grid' riding. Whilst the latest, Waterlily, won't put a great deal of electricity back in your e-bike battery it might help keep your smartphone or GoPro topped up whilst wild camping.
Powered by wind or water flow it claims gadget recharge times of between 1 and 8 hours and weighs around 800g. Available for pre-order at a discounted price of US$99.
Get Inspired
E-bike of the Future Gravity Style?
The Canyon Orbiter is a 'conceptual urban gravity bike' and the product of Daniel Fritz's bachelor thesis.
Despite the fun sports aspect some of the technology here might feature on other kinds of e-bike in the future; dual wheel power is already here in fact and though electro-magnetic suspension has been tried on trains it would be a first for e-bikes…
Lithium Air Travel
OK, it's doesn't have very much to do with e-bikes other than being an electric vehicle powered by lithium-ion batteries. But we thought you might appreciate a look anyway at what is claimed to be the world's first vertical-takeoff-and-landing vehicle.
https://youtu.be/ohig71bwRUE
Take the E-Bike Survey to Get a Chance to Win a Prize
Do you own an electric bicycle? Portland State University is partnering with PeopleForBikes and the Bicycle Product Suppliers Association (BPSA) to conduct a survey of e-bike users in North America to learn more about why you decided to purchase an e-bike and how you use it.
Take the survey and enter a drawing for chance to win one of 10 $50 Visa gift cards: https://tinyurl.com/ebikestudy
Infrastructure and Bike Use
Swiftmile Solar eBike Sharing System with New App
From Colin Roche, Founder & CEO of
Swiftmile,
"We officially launched our "smart" eBike sharing system where our app works as a virtual key to locate and unlock our eBikes from our solar charging stations. When ride is complete, the app issues a ride summary showing map of ride, time used, carbon offset, fuel saved, calories burned. Like fitbit for an eBike."
"Also, something important to note. We are eBike agnostic. We can work with any manufacture to "share enable" their ebikes for them to then sell fleets of, opening up a whole new distribution channels for eBikes makers."
Madrid's E-Bike Hire Scheme Relaunched and Looking Ahead
EBR previously reported on one of the few 24 hour public e-bike hire schemes in the world, Spain's BiciMad.
To quickly bring the story up to date: the Madrid hire system – similar to the ones in London and Paris but for e-bikes – appeared to have reached a financial crisis point (despite great popularity with users), with large numbers of e-bikes vandalised or stolen and the private operator making losses and walking away from the project.
The good news is that Madrid City Hall have assumed direct control of the system towards the end of last year and have made changes to its operation, including GPS and CCTV technology, with the aim of slashing the rate of thefts and damage. There is even talk of expanding the area covered by BiciMad and building more cycle routes.
A full Spanish language article can be found here.
UK Cycle Usage on the Rise
Bikebiz report that cycle usage in Britain was 23 percent higher in 2016 than ten years previously, according to the Department for Transport. The same article also tells us that rising cycle levels are having little impact on motor traffic though:
'….car use is also on the rise – up by 2.2 percent year on year – and van use is growing even faster, a reflection of the rise of deliveries due to online commerce. There were 4.7 percent more "white man van" miles in 2016 compared to 2015.'
E-Bike Biz
Rad Power in Inc.'s 30 Under 30
Rad Power Bikes founders were recently featured in Inc.'s 30 Under 30! The 3 college friends, Ty Collins (28), Mike Radenbaugh (27), Marimar White-Espin (27), built a $30 million electric-bike company. Checkout the full story at Inc.
Espin E-bikes Offer to UberEats Discount Plus New Finance Option
Espin E-Bikes are offering special discounts to UberEATS couriers; providing discounts and special access to financing to make eBike ownership more accessible.
'Monthly payments and financing are an ideal alternative for students and on-demand couriers. Delivering with Uber is a great way to make extra money on a flexible schedule which can help to offset the monthly financing payments. Espin's pedal-assist eBikes reach up to 25 mph which can reduce the time it takes to complete deliveries. More deliveries completed in a shorter time period helps maximize earning potential on the Uber app.' said Espin.
Espin has also partnered with Klarna, a global ecommerce payments solution company, for flexible financing and to provide customers an opportunity to purchase a premium product via monthly payments.
Stay tuned for more e-bike news & reviews and thanks for reading!
-Richard
P.S. Don't forget to join the Electric Bike Report community for updates from the electric bike world, plus ebike riding and maintenance tips!
Reader Interactions