eBike News: 400 Mile Range, Uber & Lyft, Double Batteries, Flying eCar, & More! [VIDEOS]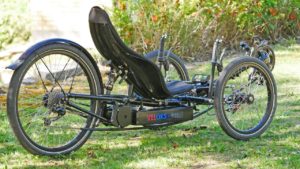 In this week's eBike news roundup:
400 Mile Range eTrike
More on EU eBike Insurance Proposals
Polygon's New Shimano Powered eBikes
UK Government Urged to Subsidise eBike Purchases by Expert
Uber's Jump eBike Share in Europe
Lyft to Buy Ford GoBike & Citi Bike Company
eBikes on Michigan's Trails
Dockless eBikes in Atlanta
Riese & Muller's Delite Mountain Rohloff is Here
Kitty Hawk Flyer Flying eCar
And More!
Headline News
E-bike Insurance – Media Reaction
After last week's news that headlined with the European Commission's proposal that could mean compulsory third party insurance for e-bikes, it's fair to say that there has been very strong protest from many areas of the media after the news broke.
Naturally this included the cycling press – most notably this excellent piece from Cycling Industry News. This really put the proposals into context, especially the practicalities of administering and enforcing any such scheme and also the way it runs counter to encouraging the many benefits that e-bikes bring (as well as noting the proposal still has a long way to go before it becomes law).
But the story also made it into the mainstream media showing just how far e-bikes have come when an insurance story about them makes the national press.
Perhaps not surprisingly the story made the often pro-ebike Guardian but also the often anti-cyclist Daily Express.
As the Guardian piece points out, in the UK at least, the real problem is that 102 cyclists died on the roads in 2016 (non e-bikers are included in that figure, as are one presumes, e-bikers), and also that 'more importantly, for insurance purposes, it is estimated that cyclists are involved in only three pedestrian deaths a year compared with the 300-plus killed by car drivers'.
New eBikes & eBike Systems
eRecumbent Trike with 400 Mile Range
400 miles of range! That is what Veloks states is the range of their MK3 full suspension recumbent electric trike with a 4,000 watt hour battery pack. Most eBike battery packs are 400 to 500 watt hours so the pack on this eTrike is about 10 times the size, hence the stated range of 400 miles.
Indonesia's Polygon Launch First E-bikes
Polygon are a globally distributed company with manufacturing facilities in Indonesia and have just launched their first e-bikes, and e-mtb with the moniker Entiat-E along with a hybrid style e-bike, the Path-E.
The Entiat-E is powered by Shimano's E-8000 mid-motor and has frame-integrated batteries, whilst the Path-E is powered by the more modest E-6000 Shimano Steps motor system. It's fully equipped with fenders and high quality Hermanns lights.
We will keep you posted on prices and global availability as and when available.
Friction Drive on Constitution Hill in the Rain
Last week Revos friction drive system was included in the news roundup and it was noted that friction drives have had issues with slippage in rainy conditions. Revos went to the famously steep Constitution Hill in Bristol on a rainy day to show the bike cruising up the hill:
And Mark Palmer from Revos addressed how they have worked on this issue "avoiding slippage between the drive surface and the tyre can be an Achilles' heel for this type of drive and we have spent 18 months on research and development to ensure that we have overcome it.
When initially the drive unit is fitted to the bike it is positioned so that it bears against the tyre. The drive roller has a coating of silicon carbide in line with the tyre. This keys into a treaded or smooth road tyre, and rotates with the tyre in much the same way as two gears meshing together. This ensures effective power transfer in all weather conditions. Silicon carbide has proved to provide a slip free surface in all conditions as well as being extremely hard wearing.
Obviously this relies upon the drive roller and tyre being in firm contact with one another. As you know all tyres slowly deflate with time and sometimes the rider will allow the tyre to deflate to less than the recommended pressure. In this event, as a fail safe, if the drive roller does begin to slip then the motor controller has been designed to actively reduce the motor torque and prevent slippage – essentially traction control."
Revos has surpassed their Kickstarter goal so they will be going into production and the KS is open until June 17.
Elsewhere on electricbikereport.com
Could eBiking Help with Type 2 Diabetes?
New research from Bristol University in England suggests that riding e-bikes might help treat type 2 diabetes. Ashley Cooper is Professor of Physical Activity and Public Health comments on the riders in the study "They absolutely loved the e-bikes!" he enthused, adding "We wanted to find out whether they enjoyed it, whether they used them and whether there was health benefits from using them."
ABUS YourPlus One Key System
ABUS offers a wide range of lock options to keep your eBike secure and now their YourPlus system keeps things simple with a one key solution.
The ABUS YourPlus key system allows you to have one key for your eBike battery lock that will also work with an ABUS lock.
Get Inspired
Workers Use E-bikes for Lunchtime Breaks
Staff at Zurich International's headquarters in the Isle of Man Business Park (the Isle of Man is just off the UK's west coast) are enjoying the benefits of ten e-bikes recently delivered there.
Apparently staff are using the e-bikes for team building activities and are encouraged to go on bike rides during lunch hours.
Also, the bikeshop, cafe, and fitness centre, Cycle 360, currently operates as a 'pop-up' bikeshop in Eden Business Park and is due to move to its permanent location at the Isle of Man Business Park this month, across the road from Zurich House.
The University of Utah Wants to Hear from You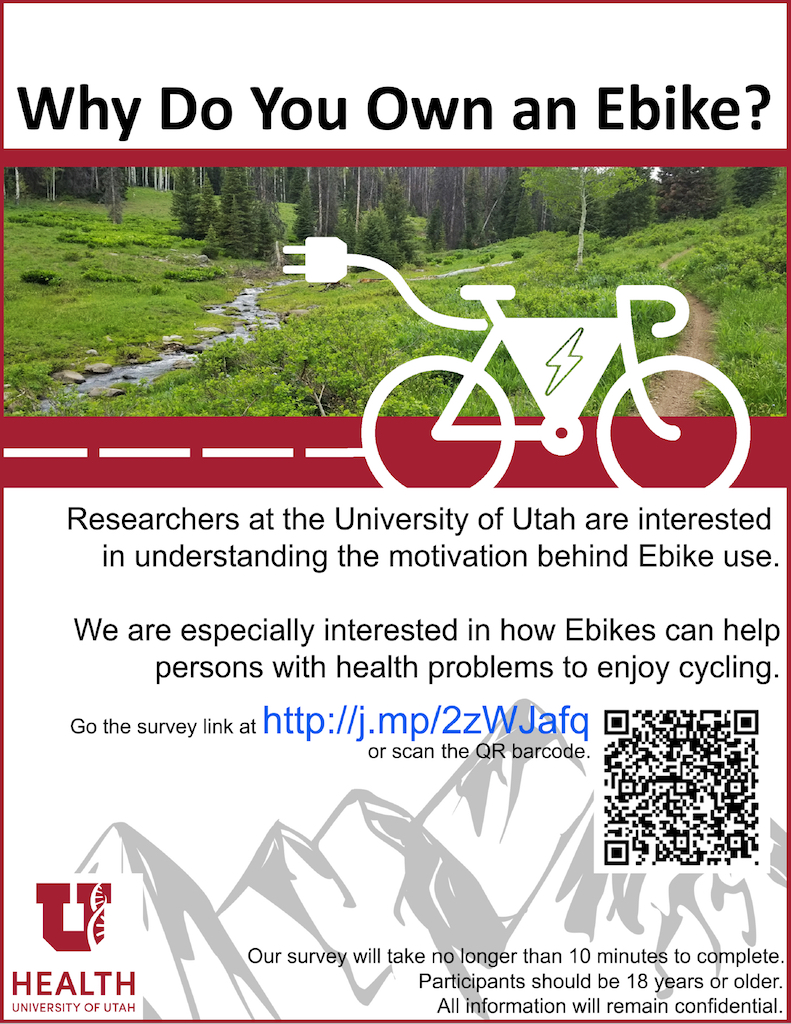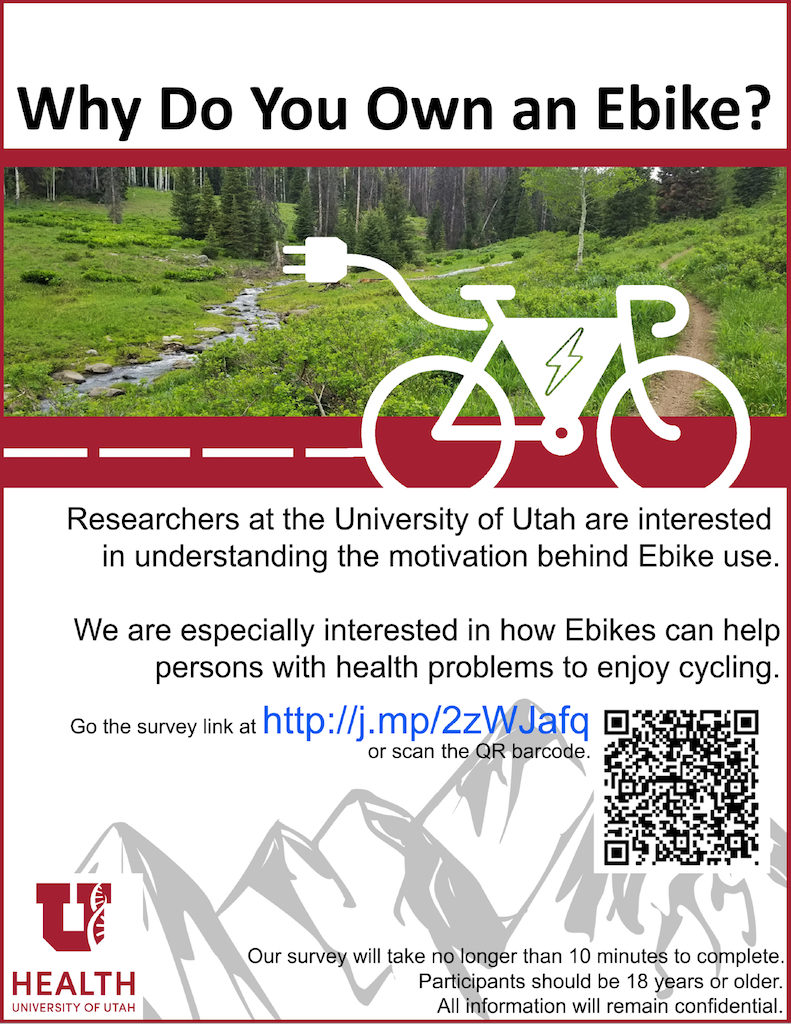 The University of Utah is using a survey to look into why people are buying eBikes and specifically if people are buying them because they have a physical ailment that inhibits them from riding a standard pedal bike.
They are hoping that they will be able to use the results to look further into the potential of using eBikes in a physical rehabilitation setting and getting more people out on bikes.
It takes about 10 minutes to complete and it's all online through a University of Utah system.
Pittsfield Police Using eBikes
The Pittsfield Massachusetts Police Department just add eBikes to their patrol fleet and they are realizing the advantages. Lt. Jeffrey Bradford said, the electric wheels can cut through alleyways and get to a downtown scene faster than a cruiser. "This has all the benefits of the downtown foot patrol," he said, noting his ability to interact with more people while patrolling. The added benefit to bikes over boots, he said, is "we can get from point A to point B much quicker" when emergencies break.
eBike Share Systems
Uber Expands Jump to Europe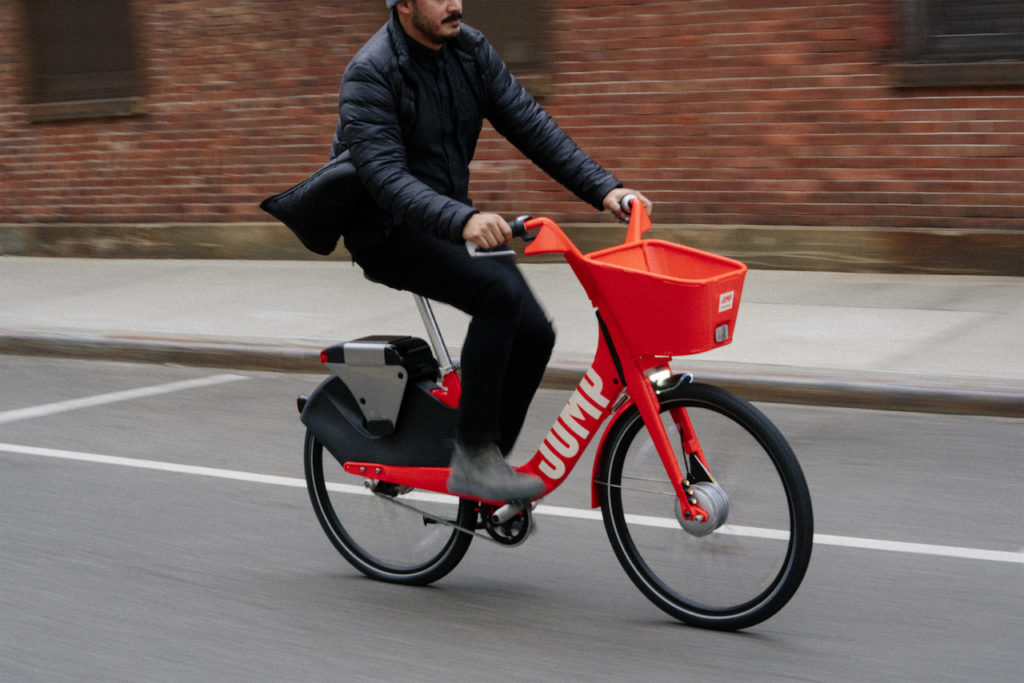 Uber recently purchased the electric bike share company Jump and they are now expanding the system to the European market with their debut in Berlin Germany.
Lyft to Purchase Company Behind Ford GoBike & Citi Bike
Similar to Uber, Lyft is working on a deal to purchase Motivate, the company behind Ford GoBike in the San Francisco Bay Area and Citi Bike in the New York City area. This is very interesting because these ride share giants are seeing the large potential of eBikes in overall shared mobility options.
Montreal to Get Bixi eBike Share
In August a trial project will start with 40 electric bikes an 3 charging stations.
Atlanta City Looks at eBikes
Atlanta City is looking into allowing dockless e-bike rentals within the city. As the article notes, Ben Foster, with the Atlanta Bicycle Coalition, said the city needs to build streets that can handle multiple alternative transportation options to accommodate and popularise more cycling of all types.
eBike Law & Government Policy
UK Researcher Urges Industry to Lobby UK Government
'By 2014, according to the European Cyclists' Federation, Germany had spent €1.4 billion of public money on R&D for electric cars, announcing in 2016 another €1 billion of subsidies. All this effort helped put 25,500 purely electric cars on German streets. Meanwhile, 2.5 million e-Bikes (pedelecs) appeared, without fanfare and almost without subsidy.'
So says this fascinating article in Cycling Industry News, which looks at research by Dr Rachel Aldred of the University of Westminster.
As the article points out, the research backs up many recent voices in the UK that argue for government to do more to back e-bikes which, all evidence suggests, have a very significant potential to swing travel habits towards more sustainable e-bike use.
Based on assumptions that e-bikes are promoted and good cycle infrastructure built, many UK areas are forecast to have double digit cycle growth.
However, it's noted: 'Yet little is done to encourage e-bike use here, barring a few laudable local small-scale programmes, and the limited help of the Cycle to Work scheme. Only some employers offer it, so most people – all those not in paid work, and many workers, miss out. It's regressive: a maximum saving of £420 for higher-rate taxpayers but only £320 for standard rate taxpayers. Meanwhile, the government gives people up to £4,500 to buy electric or hybrid cars.'
In short it is a reasoned plea for government to subsidise e-bikes (as has been happening in parts of continental Europe on a city a national level) and to stop wasting money on subsidising larger e-vehicles where the take up still seems very limited, in the near to medium term at least.
Legal Position of Dutch Speed-Pedelecs Holding Back Sales
Dutch bike industry body BOVAG say that the current rules on speed pedelecs in their country – specifically on where the 45kmh assisted bikes are allowed to be used – are limiting the growth of sales.
In particular laws that mean speed-pedelecs cannot use bike paths in many built-up areas are seen as putting many people off buying them. For the last 3 years in a row, sales have been around 3,500 speed pedelecs annually and provisional figures for 2018 put the figure at about the same level.
So it seems that it is down to the more go-ahead local and regional bodies to promote the use of speed pedelecs; we have previously reported how the region of Gelderland has done this by designating wider faster bike 'superhighways' for the seed pedelecs and now the Schipol area around the country's main airport near Amsterdam is promoting the use of speed pedelecs to ease pressure on other forms of transport at what is becoming a transport bottleneck. Again, the 'superfast' s-pedelec bike lane has been just one of the measures introduced.
Michigan Poll Backs E-bikes on Trails
The Detroit Free Press conducted a survey of 1,226 people and found that 75% of those who responded said e-bikes should be allowed on Michigan's bike paths and trails (although they split on whether that should include the fastest of the three classes of electric-powered bicycles).
Traditionally e-bikes have been limited to non-motorized users, including traditional bicycles, walkers, jogging, inline skaters and, in some cases, horses.
Meanwhile, a bill is making it's way through Mason County Michigan legislature that will allow some classes of e-bikes on the county's trails.
eTech
Kitty Hawk Flyer Flying Electric Car
From time to time we feature some impressive breakthroughs in electric vehicle tech and this week was the launch of the Flyer production flying electric car by Kitty Hawk.
Checkout this video for a look at this flying eCar!
And CNN also has a good video with a reporter who was able to learn how to fly the Flyer in about 90 minutes.
Kitty Hawk is funded by Google co-founder Larry Page. Sebastian Thrun, CEO of Kitty Hawk, is focused on reducing traffic congestion with the Flyer but it seems we are a ways off of using them as everyday vehicles.
My Week on E-bikes
Just in this week is the magnificent dual-battery, touring style e-mtb from Riese and Muller, the Delite Mountain Rohloff and I have just begun getting to grips with it.
Stand out features are a massive 1000Wh battery capacity, integral rack, and 14 hub gears in the shape of the electronically shifting Rohloff system. It really does look like a hugely capable beast.
Stay tuned for more e-bike news and reviews and keep on riding.
-Richard
P.S. Don't forget to join the Electric Bike Report community for updates from the electric bike world, plus ebike riding and maintenance tips.
Reader Interactions