E-Bike News: Richard Branson, Lightweight Kit, Carbon E-Bike, Solar Bicycle, E-Bike Share. [VIDEOS]
Richard Branson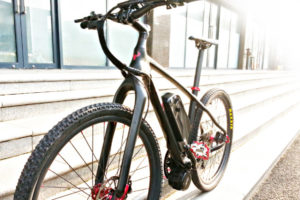 has an electric bike and says "these (electric) bicycles could be used more in urban settings, cutting commute times and hopefully encouraging more people to get out of their cars and onto their bikes."
According to a new e-bike study, "People travel twice as much on the electric bike, both in terms of kilometres, amount of trips, and as part of the total transportation".
A study from Lund University of Copenhagen has determined that it is 6 times more expensive to travel by car than by bicycle.
Friction drive electric bike systems are an "old school" way of adding assist to a conventional bike. They simply use a roller motor to spin the tire of the bike with a "friction" contact.
The add-e is modern version friction drive with some interesting features; the motor and battery can be quickly added or removed, the claimed weight is ~4.5 pounds, and they offer 2 versions with claimed specs of; a 250 watt or 600 watt. This is a pedal assist (pedelec) system only; no throttle.
Friction drives do have some limitations with the tires that can be used, wet conditions, and they are generally pretty loud.
The Huttlin E-Roadster is a mid drive (Bafang) carbon fiber electric bike. And it's not just a carbon frame but a carbon fork, stem, handlebar, seatpost, and rims! With that much carbon fiber you can imagine that the E-Roadster is pretty lightweight, Huttlin claims that the E-Roadster weighs 37.5 pounds.
Here's an interesting front wheel e-bike kit called the GeoOrbital Wheel: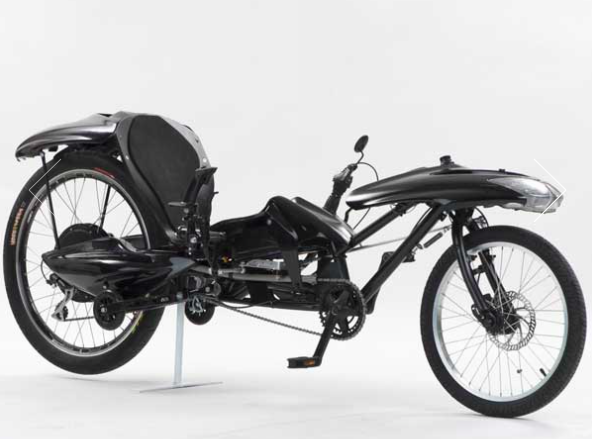 This electric recumbent uses a "joystick" for steering instead of a full handlebar set up.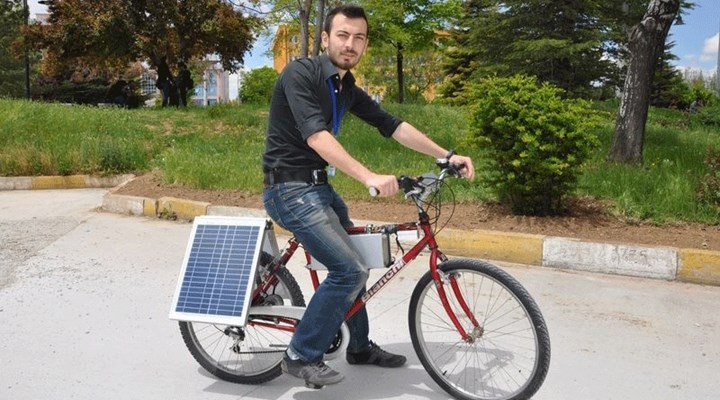 A Turkish engineering student has developed a solar e-bike that has a claimed range of 40 km with a speed of up to 35 km/h. There are a number of solar electric bikes in development.
BESV just launched their high tech electric bikes in the European market at an event in Amsterdam. BESV has also launched their electric bikes in the U.S. in addition to Taiwan and Japan.
Speed pedelecs (45 km/h) are a growing segment of the electric bike market in Europe. There are more models hitting the market, especially in the Netherlands.
BikeMi in Milan Italy is serious about their bike share program. They just added 1,000 electric bikes to their current fleet of 3,600 conventional bikes. Sounds like a good reason to visit Milan!
In case you haven't heard, there is a bike path in the Netherlands with solar panels built into the surface. Checkout the following video for a closer look:
And the good news is that after 6 months the solar bike path is performing better that expected. The 70-metre test path, located in a town north of Amsterdam, is generating enough electricity to power a small household for a year. Imagine if there were solar bike paths and roads everywhere…..
Apple has been rumored to be working on an electric car and now there seems to be evidence to support they are working on a "breakthrough" battery.
Speaking of new batteries, sodium-ion is a new battery chemistry that was recently demonstrated on an electric bike. "sodium-ion is a fascinating alternative that could have real benefits in terms of cost and availability," We will see if/when these types of batteries hit the market.
A neighborhood in the South Korean city of Suwon banned cars for a month as an ecomobility experiment. "The neighborhood transformed. Cafes and restaurants added new sidewalk seating, and the streets filled with people."
RideAir is a new refillable and portable air canister for filling bike tires quickly.
That's it for now. Stay tuned for more e-bike news and reviews.
-Pete
P.S. Don't forget to join the Electric Bike Report community for updates from the electric bike world, plus ebike riding and maintenance tips!
Reader Interactions