E-Bike News: Super E-Cargo Bike, Pope Gets E-Bike, NY Times & WSJ Coverage, & More [VIDEO]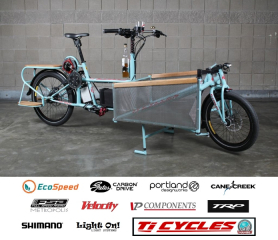 Checkout this wild cargo bike from EcoSpeed and TiCycles: "EcoSpeed, Ti-Cycles and others collaborate in introducing a brand new urban cargo bike design. The CarGoAway – Utility Horse has room in the front for a whole lot of groceries plus an extra seat in the back for a few passengers.
With the EcoSpeed mid-drive motor system integrated into the design it has the power to haul all of that load up the steepest hills."  Here is a link to more pictures of this e-cargo bike.  No word on price, but I believe it will be up there!
The Pope was recently gifted a Smart electric bike from the head of Mercedes Benz.  Hopefully he will put it to good use!
There has been a bunch of mainstream media coverage lately:
The Wall Street Journal put together this great article on cargo bikes: Cargo Bikes: The New Station Wagon.
This time The Wall Street Journal shows off the Organic Transit Elf electric recumbent trike and the A2B Metro.
The New York Times covers B-Line electric trike delivery service in Portland OR.  Also, here is a article from EBR about a visit to B-Line Sustainable Urban Delivery; lots of pictures.
And another article from The New York Times: The End of Car Culture.  There is some interesting info in this article about the changes going on in the US regarding personal transportation.
CNET put together a good video about the e-bike scene:
The Specialized Turbo pedelec is making waves in Australia: "Holy crap, this e-bike is amazing!"
The Electrolyte e-bike with the front hub motor and the battery/controller in the front fork is highlighted at Gizmag.com.  Very unique design!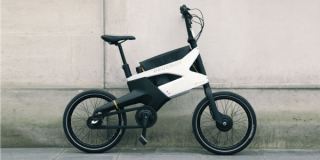 Peugeot
has created an electric bike that can store your laptop bag in the frame.  That could be convenient.
Interesting……a mid drive motor kit that can be added to almost any bike.   Checkout the Sunstar S03+ mid drive e-bike kit.  Here is the Sunstar website.  Not sure on US availability yet.
Here is my review of the Stromer ST1 Platinum and this is the post with a video, a bunch of picture and the specs of this fast pedal assist e-bike.
The guys from Outrider USA recently visited and I had a chance to test ride their Outrider 422 Alpha recumbent electric trike "adventure vehicle".  Find out what it's like to ride this 40+ mph, 4,200 watt speed machine!
Visitors to Cairngorms National Park in Scotland can now explore the park on e-bikes.  "Over 30 local businesses have come together to form a network of E-Bike rental and battery charging points so visitors can hire an E-Bike from any number of locations around the Park."
A2B rider, Ben Hopkins, is currently attempting to break the Guinness Record for longest journey on an e-bike.  He is participating in the Ride the Future event which travels from Charleston SC to Google headquarters in Mountain View California.
Drive Oregon has a request for proposal for 30 folding electric bikes for use by Kaiser Permanente NW employees throughout the Portland Metro region. Use of the folding e-bikes by Kaiser employees will be tracked using GPS units to determine their potential as a first/last mile bridge to transit service.
Flight Bikes has announced new dealers in Pennsylvania.
That's it for now.  Stay tuned for more e-bike news!
-Pete
P.S. Don't forget to join the Electric Bike Report community for updates from the electric bike world, plus ebike riding and maintenance tips! 
Reader Interactions