Best Folding Electric Bikes 2023
*Electric Bike Report aims to help consumers find the right electric bike for their needs. When you buy a product we recommend, we may earn a commission.
Folding e-bikes are all the rage in Europe, where space comes at a premium, and many commuters rely on public transit for at least a portion of their daily round trip to and from the office. Here in the US, we have the luxury of larger living areas, an abundance of storage space, and frequently, our own automobiles to handle the daily commute. So why would we need to concern ourselves with finding the best folding e-bikes?
In short, because of their versatility! The collapsible nature of folding electric bikes allows them to take up less space in a garage, be transported in a car or SUV without the need for a bike rack, or come along in the RV on a family road trip. Even if the folding aspect of a bike is only used occasionally, it's a convenience that makes a difference when you find yourself in a pinch!
While there are often some tradeoffs between folding e-bikes and their fixed-frame cousins, the differences are often minimal. These days, folding bikes regularly include fat tires and suspension forks to handle off-road riding, cargo racks for hauling gear or passengers, powerful motors for climbing hills and reaching Class 2 or Class 3 speeds, and great brakes with effective stopping power.
After riding and testing a myriad of folding e-bikes, the reviewers at Electric Bike Report have selected their favorites from among them. We hope this list of the best folding electric bikes helps you to find a model that fits your needs and budget!
*Editor's Note: Updated Nov 11, 2023 to add new models to the list of best folding e-bikes.
Our picks for the Best Folding Electric Bikes of 2023
Lectric XP 3.0
The Overall Best Folding Electric Bike, 2023
The Lectric XP 3.0 model has earned itself a well-deserved spot as the Best Overall Folding Electric Bike by building on the success of the earlier XP 2.0 model. Lectric now offers a more powerful 500W motor that boosts the peak to a full 1000 watts, with 55Nm of torque. This increase in power output really showed in our performance tests!
With five levels of pedal assistance and a throttle, the XP 3.0 is a Class 2 e-bike with a maximum motor-assisted speed of 20 mph. Lectric upgraded the bike with a 7-speed 11-28T Shimano Tourney drivetrain to eliminate the ghost pedaling we experienced on the XP 2.0, making it possible to pedal at the Class 2 limit effectively. The XP 3.0's included 10.4Ah battery offers a range of between 25 to 50 miles, but riders looking to increase the distance they can travel between charges can upgrade to a 14Ah battery for an additional 15-20 miles of power.
Since it's original launch, Lectric has upgraded all of the XP 3.0 e-bikes with hydraulic disc brake systems for better stopping power! This effectively raised the bar for all e-bike brands and put Lectric even farther ahead of the game.
With fat knobby tires and a suspension fork, the 3.0 is capable of riding in some tougher off-road environments. When testing on dirt and gravel roads, we found that these tires hold their own and still offer a fun ride. The bike's rear rack has a weight capacity of up to 150 lbs, allowing it to carry a passenger – and the Passenger Mode setting keeps the bike at a safe maximum speed of 10 mph.
At 65 lbs, the XP 3.0 is heavy as a folding bike, but its solid construction, off-road potential, and overall reliability are fair trade-offs – especially for a bike starting at around $1,000. This price range is typically our threshold for recommending an affordable e-bike based on a balance between quality and affordability. Lectric is largely the reason why!
Check Best Price | Read Full Review | Watch Our Video Review

Pro's
Better acceleration from the powerful new 500w motor (1000w peak) with 55 Nm of torque.
Higher speed ghost pedaling from the previous model is eliminated by the new 11-28T gearing.
Better at hill climbing thanks to the new motor and improved gearing.
Hydraulic disc brakes with larger 180mm rotors provide greater stopping power.
A smoother ride with the new suspension fork with 50mm of travel!
New 150 lb rear rack enables you to transport a heavier passenger than before.
Standard 10.4Ah battery provides power to go up to 50 miles on a single charge but can be upgraded for even more!

Con's
Would like to see a change where riders can remove the battery key when riding,
Would like to see better grips for improved control and a more enjoyable ride (easily swapped though).
Ride1Up Portola
Best Bang-For-Your-Buck Folding E-Bike for 2023
The Ride1Up Portola, simply put, is a shot across the bow against the Lectric XP – one of (if not THE) most popular, best selling e-bikes of all time. Whether or not the Portola can compete and try to take the crown, we were extremely impressed with the bike in our testing.
In fact, we received the bike before we had any pricing information, and every single team member assumed this was going to be a $1,300 – $1,500 bike. When we found out the price as right around $1,000 we were shocked. Ride1Up is known for offering a ton of value at a great price, but they outdid even themselves with the Portola.
Is the bike perfect? No, but for that price we have a hard time even mentioning its shortcomings. The Portola's only real flaw is that it's somewhat on the smaller side of things, and riders around 6' and taller will feel a little bit cramped. But for riders under 6', or even taller riders who want to be closer to the handlebars and aren't worried about full leg extension, the Portola is an absolute home run.
Check Best Price | Read Full Review | Watch Our Video Review

Pro's
Powerful, yet controlled 750 watt motor
Quality components throughout (and a step above what we would expect at this price point), including: hydraulic disk brakes, 8 speed shimano drivetrain, and 80 mm front fork
Integrated rear rack has a higher than average weight capacity (130 lbs)
Tether strap to help keep the bike folded
Can be unlocked to class 3 speeds for commuting and riding on roads
Option to upgrade to 643Wh battery for increased range

Con's
One-size-fits all frame is better for riders under 6'
We love that Ride1Up added a tether strap to hold the bike together while folded. We are worried the strap might not be as durable as the bike though.
Rad Power Bikes RadExpand 5
The Best Class 2 Folding Electric Bike, 2023
Rad Power Bikes' Rad Expand 5 is our choice for the Best Class 2 Folding E-Bike in 2023. Having created their first version of the RadExpand in 2015, Rad Power has developed and improved the bike across 4 further iterations, proving that they have the necessary experience to create a reliable and functional machine.
The RadExpand 5's 750W motor is powerful, but it dispenses predictable doses of acceleration that keep the bike safely and firmly under your control. The 14 amp-hour (672 watt-hour) battery provides enough energy to power the motor for up to 40 miles between charges.
Part of the allure of having a folding e-bike is the ability to take it almost anywhere to explore. With its 20"x4" fat tires, the RadExpand 5 enables you to adventure on dirt roads as well as pavement and gravel – a key feature not always found on other folding electric e-bikes.
One of the welcome new changes is the wider 660 mm handlebars with 6.9" rise now featured on the RadExpand 5. This provides better control and creates more stable handling. Smooth, reliable shifting is delivered to the 14-to-34-tooth rear cassette through a MicroShift 7-speed mechanical shift unit.
Here at EBR, we often prefer hydraulic disc brakes for stopping power, but the mechanical brakes on the RadExpand 5 performed better than the average. The benefits of having mechanical brakes include easy maintenance and lower costs for repairs and replacement parts. The rigid fork makes off-roading a bit more rough compared to folding e-bikes with suspension, but it's sturdy and reliable.
Considering Rad's reputation with customer service, and the RadExpand 5's simple but sturdy construction and history of performance and reliability, there is a lot of value for a bike that is priced in what we consider the affordable tier – making it worthy of our list of the best folding e-bikes.
Check Best Price | Read Full Review | Watch Our Video Review

Pro's
Reliable and powerful 750w motor.
Improved control over the previous version with new 680mm handlebars.
Easy to fold and store for camping, traveling or just putting in the trunk of your car.
Great stopping power from the mechanical brakes.
14-amp controller distributes the motor power evenly – and safely – at each PAS level.
LED display is easy to use and easy to read when riding (an LCD is also available).
Rad has a lot of engineering know-how, going back to their first e-bikes in 2011.
Rad's customer service has a good reputation.

Con's
The velcro strap for securing the folded bike should be replaced with something stronger and harder to lose.
The suspension fork of the previous model is no longer offered, although the fat tires still make it mostly a comfy ride.
Lectric XP Lite
The Best Ultra-Affordable Folding Electric Bike, 2023
We've historically recommended $1000 as the entry point for buying a decent quality e-bike – but then came Lectric XP Lite. Listed at around $800, this sibling to the popular XP 2.0 lowered the price while raising the bar for quality at that price point.
Keep in mind that, while the price is unbeatable, there are some tradeoffs that come with such a high degree of affordability. With the XP Lite, Lectric has stripped the bike down to its bare essentials, leaving a single-speed drivetrain, a rigid fork, and a relatively smaller battery. As an upside, this reduction in features also resulted in a reduction in weight; at just 46 lbs, the bike is far easier to maneuver, fold, and lift than many others on this list.
Another element that reduces the Lite's weight is its 350W rear-hub motor; this provides less power than some of the other bikes with 500W (or higher) motors on this list, but it gets the job done! As a Class 2 e-bike, its motor stops at 20 miles per hour, and we were able to get close to that with pedaling.
The bike's 7.8 Ah (374 Wh) battery is decidedly small, but is still made efficient with the lighter frame and motor. We measured a range of between 16 and 35 miles in our testing, with the potential for even more miles in the bike's lowest PAS settings (we chose PAS 3 for more practical power). With its subtle motor power, the bike can take you farther the more you're willing to pedal!
The Lectric XP Lite redefined our standards for affordable e-bikes, proving that quality is still attainable at a highly accessible price. Riders looking for more power and range may want to consider the XP 3.0 (also on this list), but those looking to acquire a good quality e-bike without breaking the bank should certainly consider the Best Ultra-Affordable Folding Electric Bike, the XP Lite!
Check Best Price | Read Full Review | Watch Our Video Review

Pro's
Cost: this is the best folding e-bike you will find – and the only e-bike we recommend – in the $800 range.
Easy to carry, transport, and maneuver thanks to its low weight of just 46 lbs!
Great handling and control due to the compact design paired with 20" wheels.
275-lb. payload capacity is awesome for a sub-50 lb. e-bike.
Easy maintenance – thanks to its simple design and no-frills components.
Great starter e-bike for just about anyone.

Con's
While the motor punches above its weight class, the smaller amount of power and lack of gearing will be somewhat limiting on the steepest hills.
GoCycle G4
The Best Premium Folding Electric Bike, 2023
With a sleek frame made from advanced materials, it should be no surprise that the GoCycle G4 was created by a former designer of Maclaren high-performance automobiles. Weighing in at just 38 lbs, it was designed with functionality in mind. As opposed to some of the other e-bikes on this list that just so happen to fold, the GoCycle G4 prioritizes that feature! Its hinge mechanism releases in seconds, making it one of the easiest bikes we've tested to fold and carry around.
The bike uses a proprietary 500W front-hub motor – dubbed the Cleandrive because of its enclosed, mess-free nature – that is small enough to be nearly invisible on the bike. Don't be fooled, though – it's powerful enough to comfortably carry a rider around 15 mph and tackle most hills with ease. With its racing car heritage, the G4 adopts a similar approach when it comes to fit: the bike has just a single frame size that is highly adjustable to fit riders between 5'-4" and 6'-2".
The G4 rolls on 20"x2.25" road tires, giving it predictable handling and great maneuverability. The wheels use only a logic-defying, single-sided fork and rear swingarm which double down on awesome; these features allow the bike to fold tighter but also make changing tires or repairing flats as easy as pie.
We found the simple LED display to be somewhat limiting, but fortunately, the bike is intended to be paired with the rider's smartphone. Doing so enhances the overall riding experience by displaying ride data in a more traditional manner, but also allows the user to adjust motor output in the bike's individual settings.
The GoCycle G4 features a level of innovation and engineering that simply doesn't exist on all e-bikes, making it our selection for the Best Premium Folding Electric Bike!
Check Best Price | Read Full Review | Watch Our Video Review

Pro's
The easiest e-bike we've ever folded, hands down.
500w motor delivers unexpected power, making hill climbing easier.
Weighing in at a super light 38 lbs, it feels more like a regular bike.
The small frame also fits taller riders.
Easy gearing via a uniquely designed swingarm, housing a Shimano Nexus 3-speed internal gear hub.
Fixing flats or changing tires is simplified thanks to the single-sided fork and rear swingarm.
Spot-on handling provides comfortable and predictable agility.

Con's
The minimal LED display isn't nearly as effective as a smartphone paired with the GoCycle app
Aventon Sinch.2
The Best Torque-Sensing Folding Electric Bike, 2023
The Aventon Sinch.2 has received many of the same upgrades present on the brand's lineup of new and updated e-bikes: namely torque sensors, brake lights, and turn signals!
The Sinch.2 is one of the few folding e-bikes on this list (and on the market) with a torque sensor, which is capable of delivering a much more natural-feeling ride with the motor responding to the rider's level of effort. We thoroughly enjoyed how the bike gave us more power as we pedaled harder, with the different pedal-assist settings increasing the amount of power with each pedal stroke.
With a 500W rear-hub motor and a Class 2 motor-assisted speed of 20 mph, the Sinch.2 has a healthy amount of power for an e-bike that weighs 68 lbs. That's fairly heavy for a folding e-bike, but in our interpretation, the folding aspect of the bike is secondary; it prioritizes ride quality first with the added convenience of being able to fold for transport or storage.
Like many of the other best folding e-bikes on this list, the Sinch.2 uses mechanical disc brakes. Aventon advised us that they selected a mechanical system instead of hydraulic brakes for longevity; hydraulic brake lines can be pinched and broken more easily on a bike that folds, so mechanical brakes ultimately hold up better in case of a pinch while still delivering solid stopping power.
Another benefit of the new torque sensor is increased range; we measured between roughly 36 and 59 miles depending on the PAS setting used, which was an improvement of between 10 and 20 miles over the original Sinch. We saw great performance on hills as well, allowing the bike to conquer just about anything in its path.
The inclusion of brake lights and turn signals on the bike's seat stays adds an additional layer of safety when riding near traffic. With 20"x4" street tires, the Sinch.2 isn't made for the degree of rugged off-roading that some other folding e-bikes are capable of, but its suspension fork makes for a smoother ride over rough pavement or light dirt paths. With solid performance and a great torque sensor, the Aventon Sinch.2 earned its place as the Best Torque-Sensing Folding E-Bike!
Check Best Price | Read Full Review | Watch Our Video Review

Pro's
Improved acceleration, hill climbing, and responsiveness thanks to the new torque sensor!
Easy to store and ride! The step-thru frame is easy to hop on and off, and the folding aspect allows it to travel more easily.
Great looks with better safety! We like the overall design and bold colors, with the aesthetic brake lights/ turn signals allowing you to signal others.
Improved battery efficiency = better range! We measured up to 59 miles on a single charge.
A smooth ride on or off pavement. Fat tires and a suspension fork can handle some light off-roading.
An easily readable and well-presented color LCD screen with app integration, also including Aventon's standard four PAS settings.

Con's
The combination shifter/throttle lever is unusual and took some adjustment time to get used to with the controls packed together.
A weight of 68 lbs may be a turn-off to some riders looking for a lighter, more portable folding e-bike.
Blix Vika+ Flex
The Best Modular Folding Electric Bike, 2023
When it comes to customization options on folding e-bikes, the Blix Vika+ Flex is king! The bike features a 110-lb cargo capacity with over 30 options to outfit its modular rack system, including boards, bags, baskets, and more to customize the bike to your needs.
We dig the Vika+ Flex's looks as well, with a classic design, quality paint job, and plenty of durable, aluminum components (like the collapsible stem) where many other folding e-bikes use plastic. This gives the bike more crisp handling and an overall great feel for comfort on longer rides.
As a Class 2 e-bike with a 20 mph motor-assisted speed limit, the Vika+ Flex uses a 500W rear-hub motor that easily powers its mid-weight frame up to speed and even over some of the steepest hills. The bike weighs 55lbs including its removable battery (roughly 48 lbs with the battery removed), giving it a solid ride feel while also providing good handling and making the bike easy to carry around once folded. There's even a carrying bag to make that easier!
The bike can travel up to 45 miles on a single charge of its 48V, 12.8 Ah (614 Wh) battery, and it can be recharged in 6 hours. It comes equipped with Tektro hydraulic disc brakes with 160mm rotors, which performed remarkably well in our Brake Test.
Because of its compact design, the Vika+ Flex might seem a little small for larger riders, though Blix claims it can accommodate those between 4'-10" and 6'-2". We appreciated its lighter, less-bulky frame when folding it, and the magnets that help it stay folded together were an awesome added touch! When considering all the features this e-bike offers, as well as its potential for customization, we proudly award it the title of the Best Modular Folding Electric Bike.
Check Best Price | Read Full Review | Watch Our Video Review

Pro's
Great speed at all PAS levels with throttle up to 20 mph thanks to a 500W rear-hub motor.
Solid range of up to 45 miles with a respectable 48V, 614 Wh battery.
Great handling from its short wheelbase and puncture-resistant 20"x 2.4" tires.
Easily folds and is very compact for carrying and storing.
Light enough to carry upstairs or roll onto public transport with a weight of 55 lbs (including the battery).
Great stopping ability from Tektro's 160mm rotor hydraulic brakes.
Better than average hill climbing ability.

Con's
The cockpit is a little cramped for taller riders.
The folding bracket's hinge and pin are tight making it a little tougher to fold, unfold & lock the frame.
Evelo Dash
The Best Mid-Drive Folding Electric Bike, 2023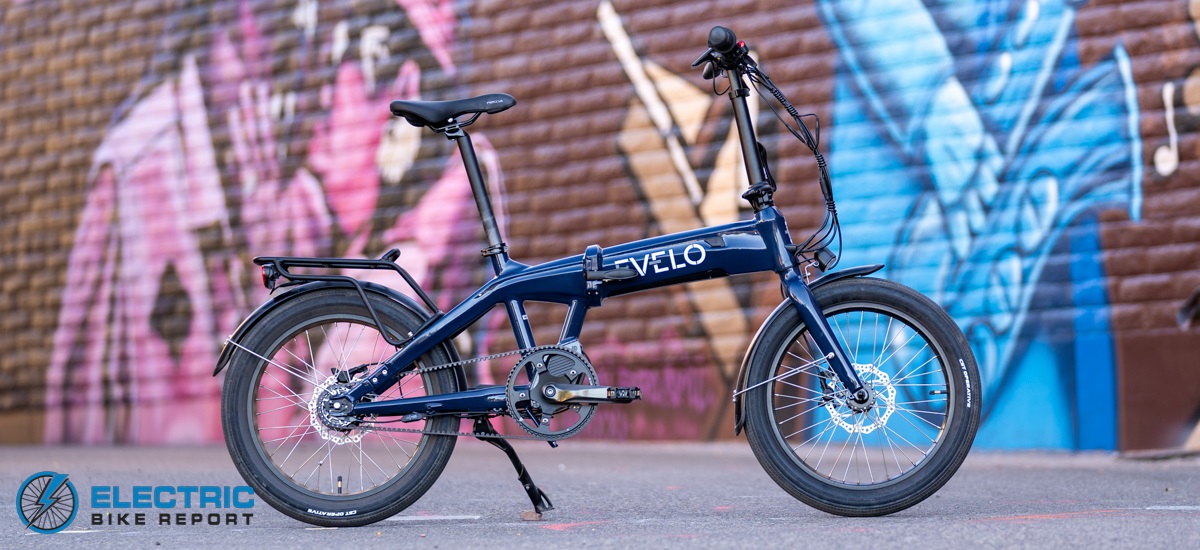 There are a whole host of challenges to figure out when making a folding e-bike. Making one with a mid-drive motor and a frame-integrated battery is an even more challenging task which is why they're a bit of a rarity. But Evelo felt up to the challenge when making the Dash.
The Dash includes a few other perks beyond a more efficient motor type. The Dash is something of a midweight in the world of folders. Many weigh beyond 60 lbs, but the Dash comes in at a much more manageable 49 lbs instead. Your back will thank you when you fold it away into the trunk of a car.
There is no shortage of nice features too like a 5-speed Sturmey Archer IGH and a Gates belt drive, some hydraulic disc brakes, a throttle for giving your legs a break, and even a bright, color-LCD display.
The name is a bit misleading – the bike has more modest motor power than 'the Dash' implies. But if you know that going into it, you end up appreciating the Dash for what it is vs. what it isn't: it's a bike that provides a nice pedal-assisted experience with features that'll keep things clean when you fold it up, and that should incur less wear-and-tear. It provides a nice riding experience that'll lead to less time in your house, and more time enjoying the fresh air outside.
Check Best Price | Read Full Review | Watch Our Video Review

Pro's
A unique group of features. The Dash's mid-drive motor, internally-geared hub drivetrain, hydraulic disc brakes and more are rarities in the folding e-bike world.
The Dash is lighter than a lot of US folding e-bikes at just 49 lbs.
It keeps you clean. The belt drive and IGH makes for less mess where other folders can be messier when moving around.
Evelo provides a great 4-year, 20,000 mile warranty..

Con's
The Stermey Archer IGH is nice, but will not shift under load. Pick your gear before starting a hill where it will become difficult to shift. .
Denago Folding Model 1
The Best Folding Electric Bike for Hills, 2023
In true Denago fashion, the Folding Model 1 delivered on speed, acceleration, and power. We were impressed with its ability to tackle hills effortlessly both in low PAS settings and with its throttle. With a 500W rear-hub motor, the bike powered rapidly up to its maximum Class 3 speed of 25 miles per hour.
With a weight of 62 lbs, the Folding Model 1 isn't the lightest folding e-bike on this list, but it's far from the heaviest. A removable battery can reduce the weight of the bike when folded, and its quick-release clamp ensures that it can be collapsed in no time for loading up and hitting the road. Denago claims the bike can be folded in just 30 seconds, but we were able to reduce that down to about 20 with some practice!
The Folding Model 1 is equipped with a 48V, 692 Wh battery that gave it a respectable 42 to 50 miles on a single charge in our testing. Its performance in our Brake Test was similarly solid, despite featuring a JAK mechanical brake system instead of hydraulic disc brakes.
With an extended, collapsible stem, the bike had a somewhat long reach distance that reduced the crispness of its handling when cornering. On the plus side, the stem allows it to fit riders between 5'-0" and 6'-1". The bike's 20"x3" street tires give it good maneuverability while helping to reduce its weight and absorb some of the bumps that can otherwise be felt through the rigid frame.
Denago's Folding Model 1 is practical with its speed, quick folding ability, and its grit when climbing steep paths, making it our choice for the Best Folding E-Bike for Hills.
Check Best Price | Read Full Review | Watch Our Video Review

Pro's
Fast and fun! A 500W motor can propel the bike up to 25 mph.
Awesome hill climbing ability! We were able to pedal up steep paths even in PAS 2.
Supremely fast folding! Denago claims just 30 seconds but we shaved that down even more.
Fits a wide range of riders between 5'-1" and 6'-5" despite having a single frame size.
Comes equipped with plenty of accessories: lights, fenders, and a cargo rack with bamboo deck!

Con's
The bike's motor is powerful, but we'd like to see faster re-engagement with a more sensitive cadence sensor.
We appreciate the broad rider height accommodation, but we'd prefer a less flexible stem for better handling.
Tern Vektron S10
The Best Folding Electric Bike for Cargo, 2023
Another premium-tier option, the Tern Vektron S10 offers one of the longest cargo racks we've seen on a folding e-bike. The rack has a carrying capacity of 59.5 lbs, and is compatible with a host of optional accessories including straps, bags, baskets, panniers – and even child seats! Both the Thule Yepp Maxi and Dash RM child seats fit the rack, making it perfectly suited for rides with the whole family.
The bike comes with a full complement of top-tier components including a Bosch Performance Line mid-drive motor with 65 Nm of torque. This was highly effective for accelerating up to the Class 1 speed limit of 20 miles per hour and powering uphill. The list of high-quality parts continues with Magura hydraulic disc brakes, a Shimano Deore 10-speed drivetrain, and more.
Weighing in at 39 lbs, the Vektron is maneuverable and portable. The frame and cargo rack are also designed to allow the bike to rest in an upright position and be wheeled around instead of carried – though Tern also offers an oversized carry bag that can be slung over a shoulder. The bike fits a surprisingly massive range of riders between 4'-10" and 6'-5" thanks to a double set of telescoping seatposts with quick-release clamps.
Our time with the Vektron was brief; we only had the opportunity to take a test ride at an e-bike convention, but that was enough of an experience to get a feel for the bike and its capabilities. We weren't able to perform our usual series of standardized tests across 100+ miles, but the bike still made a solid impression earning it a place on this list of the Best Folding Electric Bikes.
Check Best Price | Read Full Review | Watch Our Video Review

Pro's
Patented design folding frame is only 39 lbs, stiff, strong, easy-to-carry, & serviceable.
250w, 65Nm Bosch Performance Line mid-drive motor efficiently delivers power.
Bosch's Energy Management System (EMS) uses battery energy efficiently.
Tool-free adjustable stem and quick release seat post quickly fits riders between 4'10" to 6'5".
High quality shifting & gearing with the Shimano Deore 10-speed.
Bicycle child seat can be mounted on the frame-integrated rear rack.
Brakes are Magura hydraulic discs using 160mm rotors.

Con's
20″ wheels and a rigid fork make the handling great, but if you travel over bumpy roads on the regular you'll feel it a bit more on this bike than others.
How we picked the best folding electric bikes
Personal preference and opinion inevitably find a way into our selections, but we do our best to remain as objective as possible. It is our goal to assemble a list of the best folding e-bikes for a wide variety of individual needs, riding styles, ages, etc.
We have ridden and tested these bikes across hundreds of miles, so our experience grants us a unique perspective. We assembled this list based primarily on the following factors:
Value: How much e-bike are you getting for your dollar? The e-bike market has grown flush with overpriced and under-specced electric bikes that don't offer much value. We'd call every bike on this list fairly priced.
Components and extras: What else comes with the e-bike? Does it come with racks, bags, lights and fenders, and do those accessories make sense? Is there anything else that should be included but isn't?
Unique Qualities and Features: In a market chock-full of options, what's unique about this bike that sets it apart from the competition? There are many categories of e-bike — particularly at the more affordable end of the spectrum — that are flush with copycat brands, and plenty of e-bikes that just aren't that special. We're looking for the ones that are.
Purpose Fulfillment: What was this bike designed to do, and how well does it execute that purpose? Of course, you can choose to use your bike however you'd like, but we want to make sure the e-bikes on this list function as advertised.
Ride Feel: Last but certainly not least – does the e-bike ride well? After miles and miles on each bike, we know that these do.
Bottom line: Your folding e-bike should make sense and match your needs
Folding e-bikes have appeal for a wide variety of reasons. Some prospective owners are drawn to their space-saving design; others are interested because they make great commuters; still others want the flexibility they offer in terms of portability.
It is important to keep in mind that not all folding e-bikes are created equal. A heavy folder capable of off-roading in rugged environments would not be suitable for a commuter who plans to fold their bike regularly and carry it on the subway. Similarly, a lightweight folding bike with a rigid frame and street tires likely would not be suitable for camping or adventuring. Finding a bike that fits your needs – and your budget – is essential.
Another factor to consider is ride quality. While many of the bikes on this list performed nearly as well as their non-folding cousins, there are usually some tradeoffs in terms of power, feel, and overall capability. If you don't need the defining features of a folding bike, you may want to consider a full-size model instead. On the other hand, if you find yourself drawn to folders for their convenience, we hope you found this list of the best folding e-bikes helpful!
If you're new to e-bikes in general, our buyer's guide will help you to get your footing. If you have already done some studying up and you think you have an idea of what you're looking for, we have a huge catalog of e-bike reviews to help you find a great fit, with more on the way all the time. Best of luck, and happy riding!
Have a bike that you think would be a good contender for our best page? Let us know in the comment section below. At the very least, we always want to know what our readers are riding.
Reader Interactions