Bamboo eBike & Trike Testing on the Leeds-Bradford Cycle Superhighway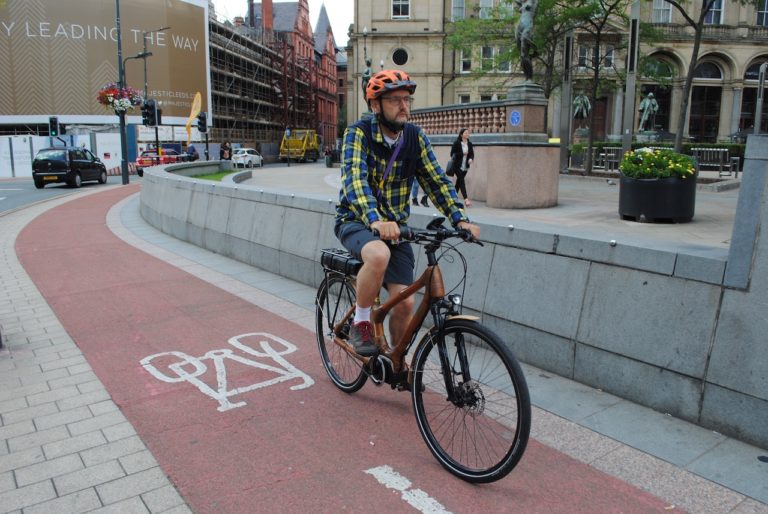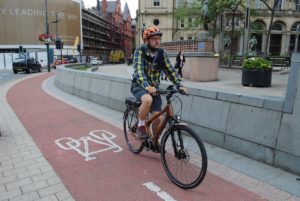 EBR recently catalogued great examples of cycle infrastructure from around the world and the Leeds-Bradford cycle superhighway received a brief mention.
This leading example of cycle infrastructure recently clocked up it's one millionth cycle trip since it opened in 2016.
I recently rode the whole length of the cycle superhighway, much of it on an innovative bamboo-framed e-bike from German company My Boo.
The Background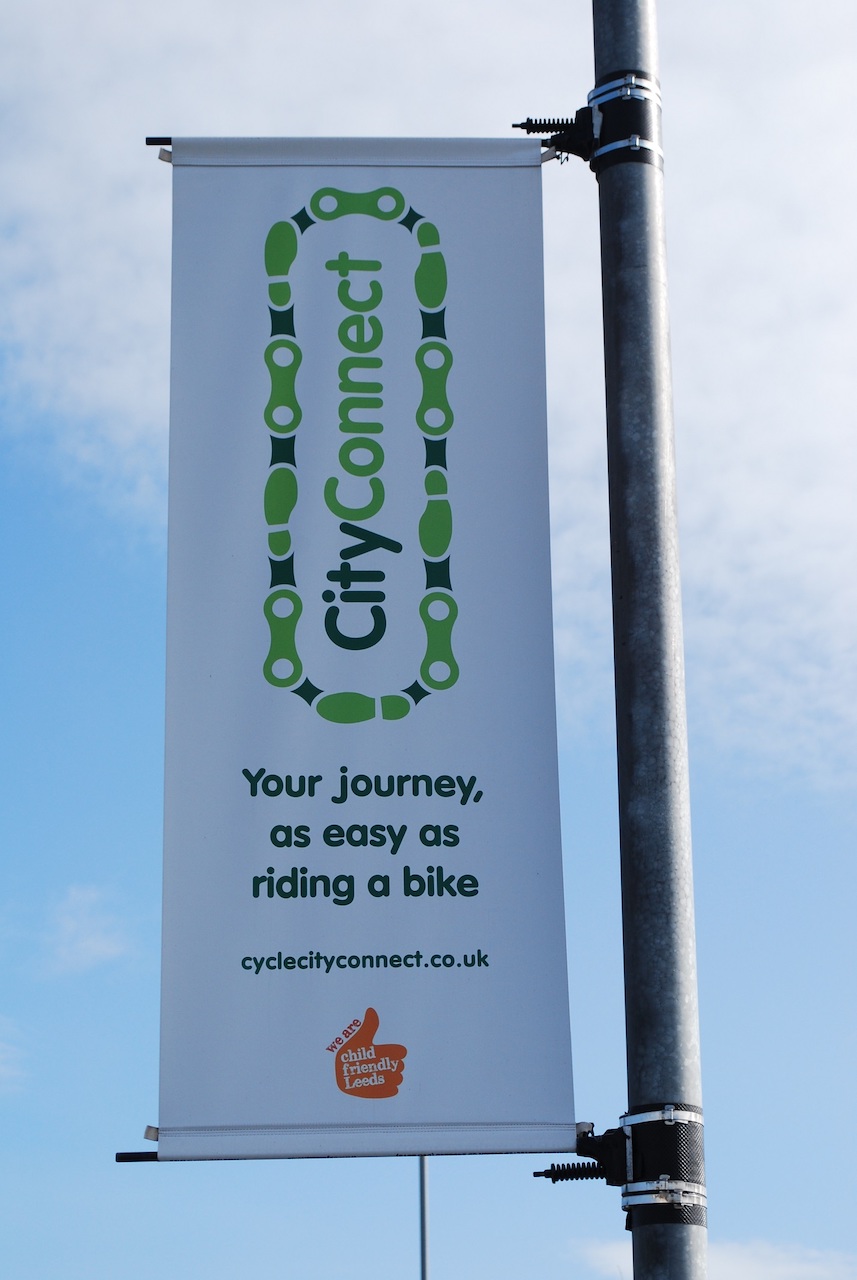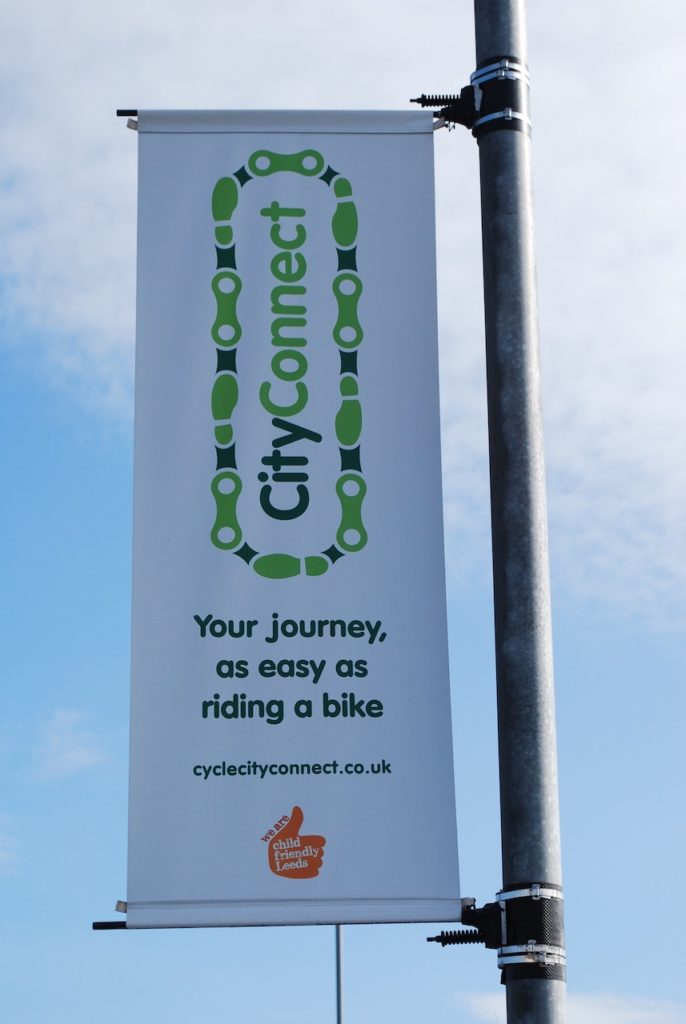 CityConnect are the body behind the Leeds-Bradford cycle superhighway and state their mission as 'building new cycling and walking routes and improving existing infrastructure' and offering 'a range of free services, including adult cycle training and bike maintenance sessions.'
Their website states they are funded by the Department for Transport's Cycle City Ambition Grant – money ring-fenced for cycling and active travel improvements.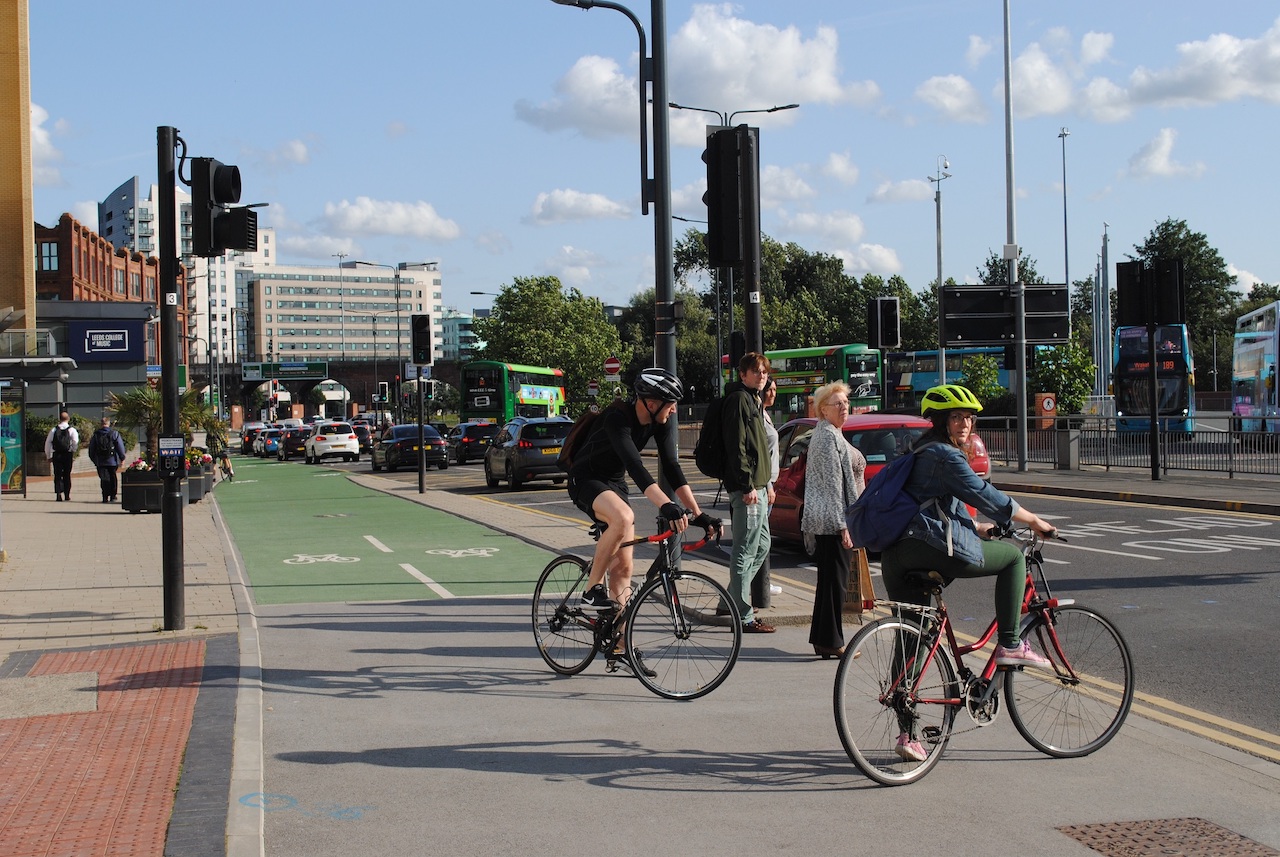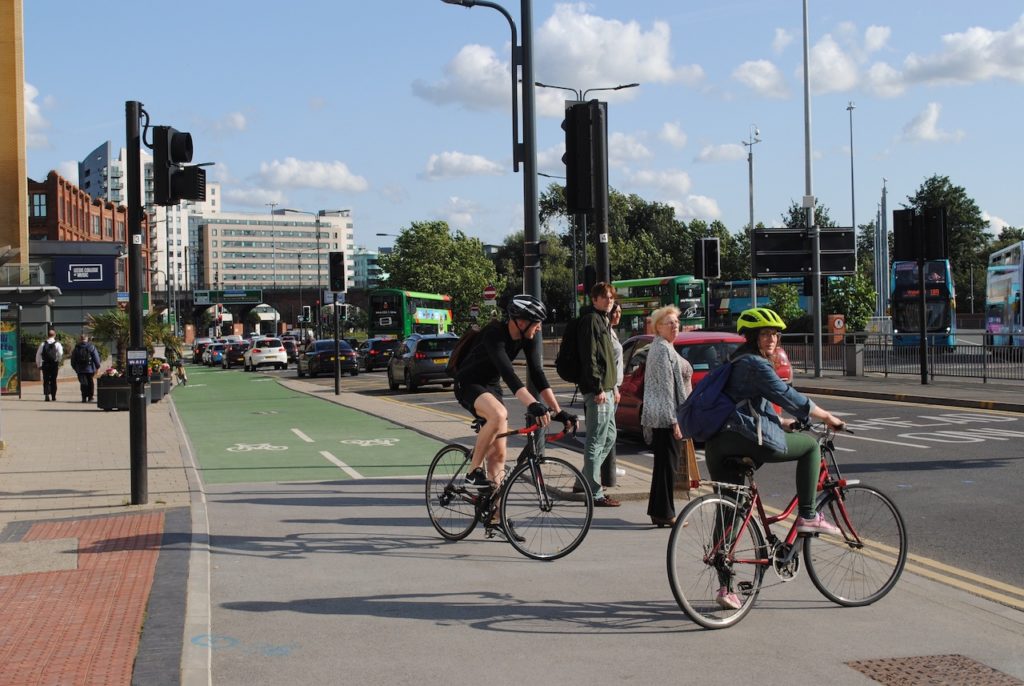 In fact the Leeds-Bradford Cycle Superhighway and many other cycle infrastructure schemes also being handled by CityConnect are the legacy of the Tour De France coming to the local area of Yorkshire in 2014.
It was decided that a permanent legacy to boost everyday cycling would be a great way to make sure the Tour's visit had a lasting impact.
There was some scepticism at the time that real Dutch style infrastructure would be established.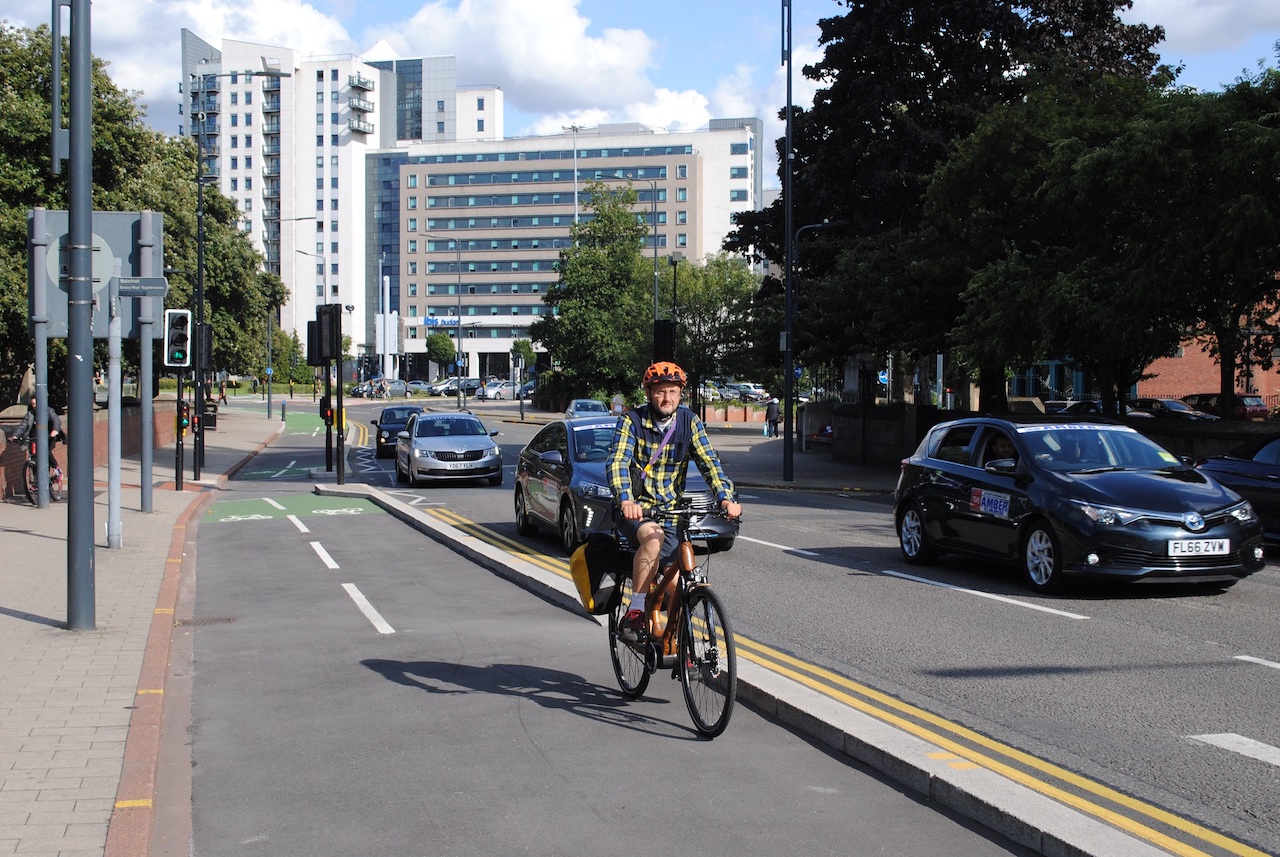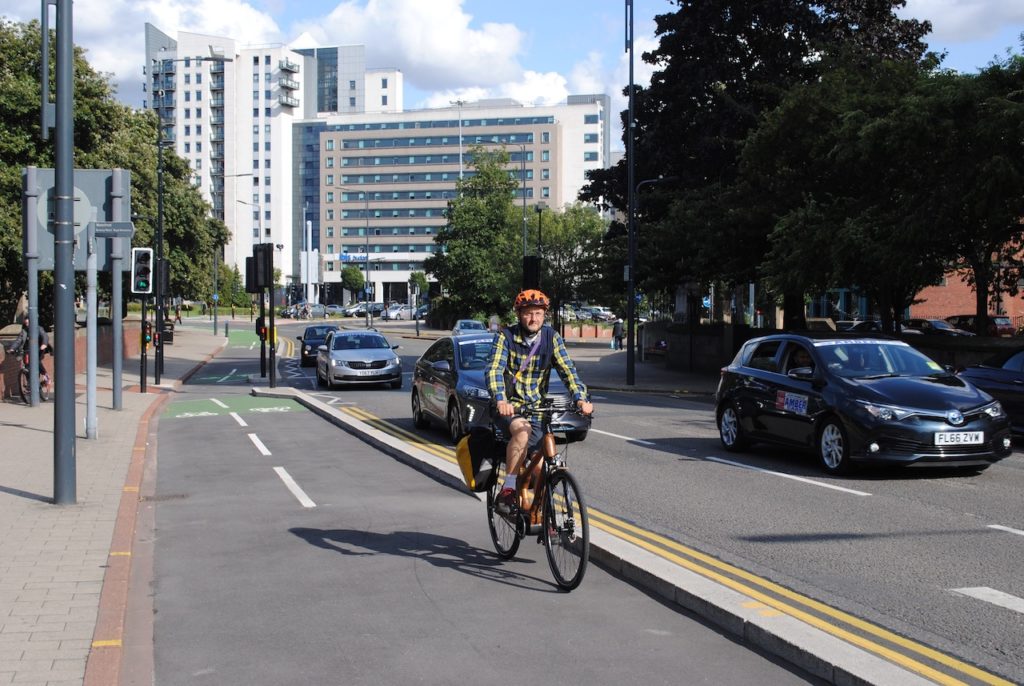 This was not only because of what was regarded as the high cost (compared to the more usual UK approach of painting a white line on the edge of a road to make it into a 'cycle lane').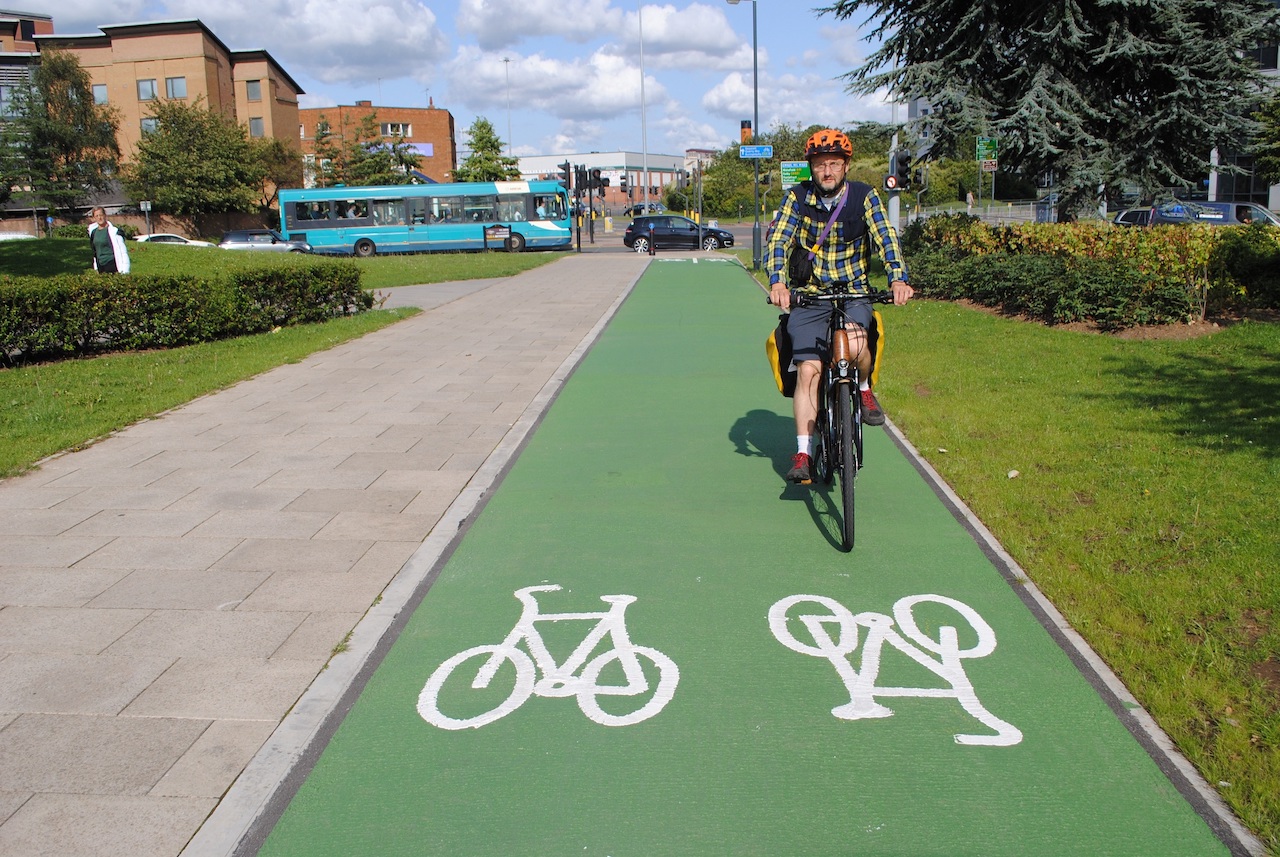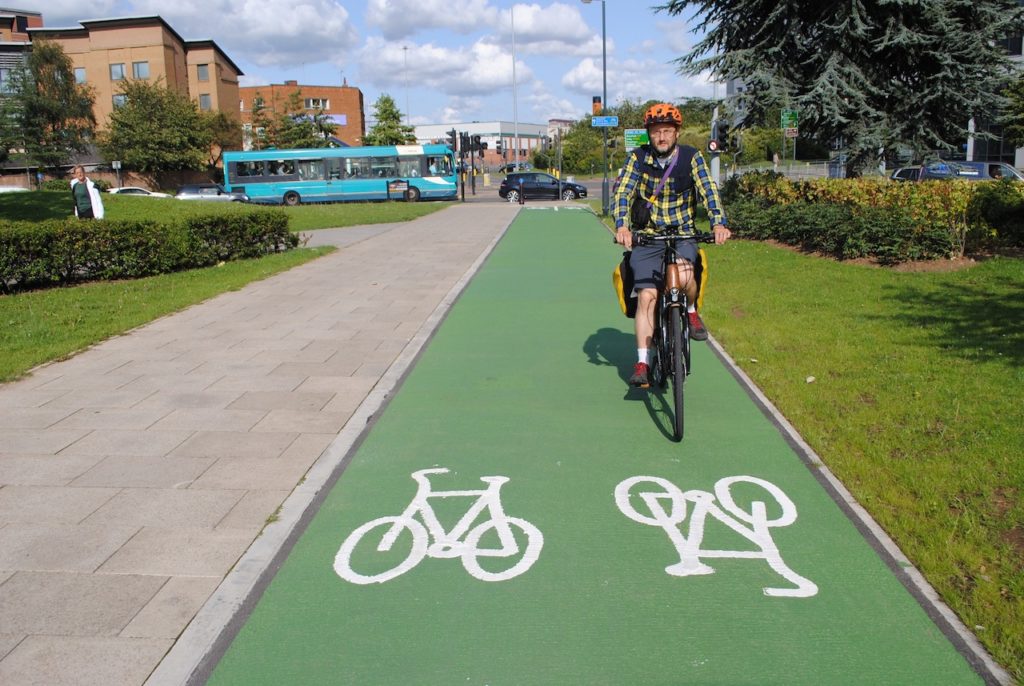 There was also the fact that Leeds was a northern post-industrial city where cycling levels dropped throughout the 50s and 60s due to roadbuilding 'motormania', unlike some other UK cities like York and Cambridge, meaning it seemed a most unlikely place to try and launch a Dutch style cycling revolution.
The Route Ridden and Assessed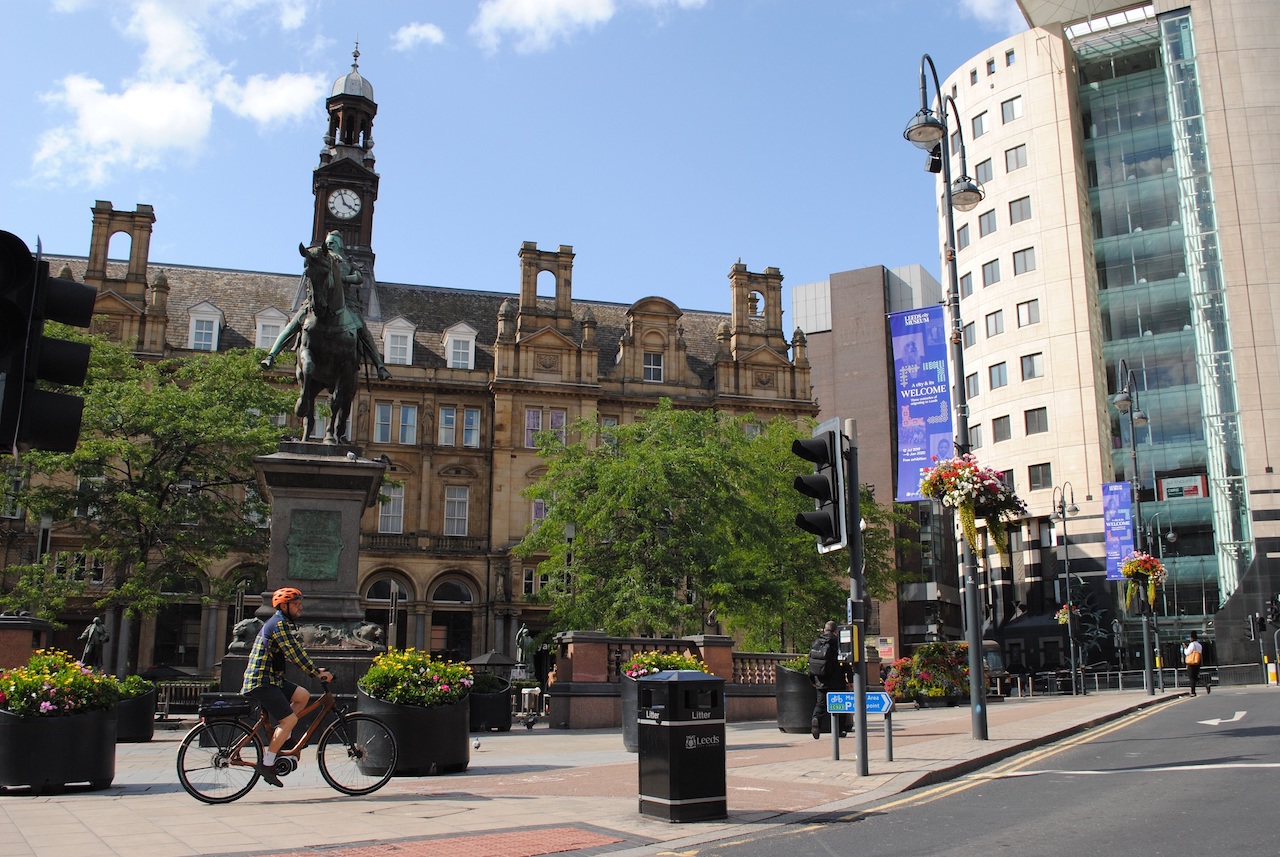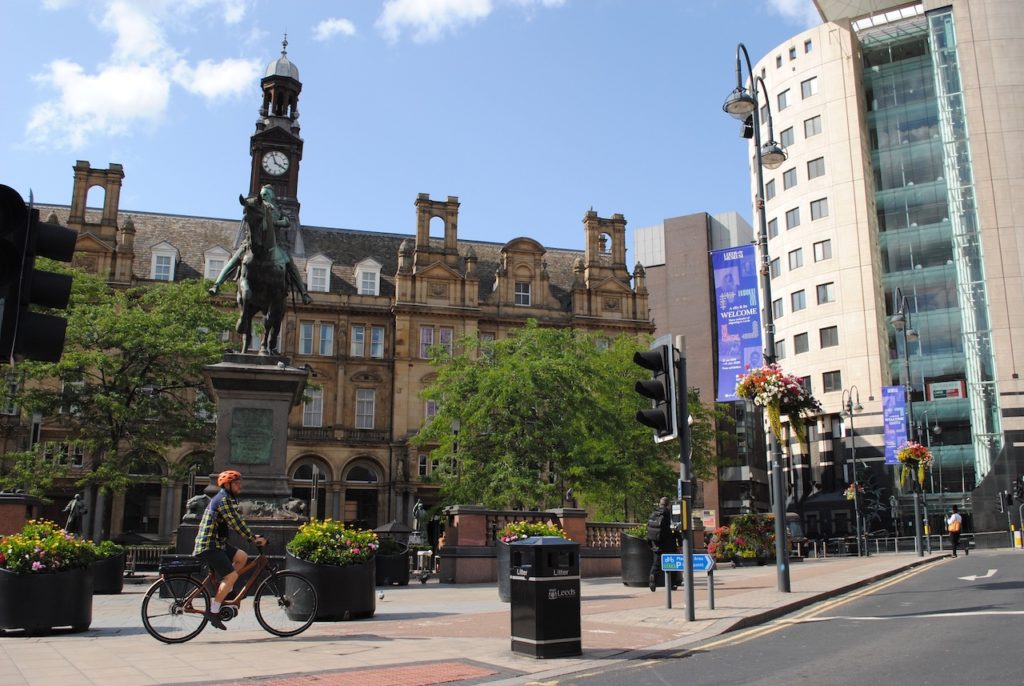 The 14 mile cycle superhighway aims to encourage more people to cycle and walk between Leeds and Bradford and claims to be the longest of its kind outside of London.
As of the end of June 2019, 1,065,300 trips had been recorded on the cycle superhighway since it opened in summer 2016, with usage increasing by 15% in 2018/19 compared to the previous year.
It has been built in two main stages, the first, known as CS1, stretches from the handsome City Square that sits next to the main train station to Bradford Cathedral, whilst CS2 heads out to the eastern edge of the city, linking large residential areas to the centre.
With the rise of the recent and very popular London cycleways and their emphasis on high quality Dutch style features there is now a recognition, at last, in the UK that new cycle lanes and tracks should be built with the following criteria uppermost.
I've assessed how the Leeds-Bradford route handles each of these criteria based on my 'test' ride.
Segregation and Width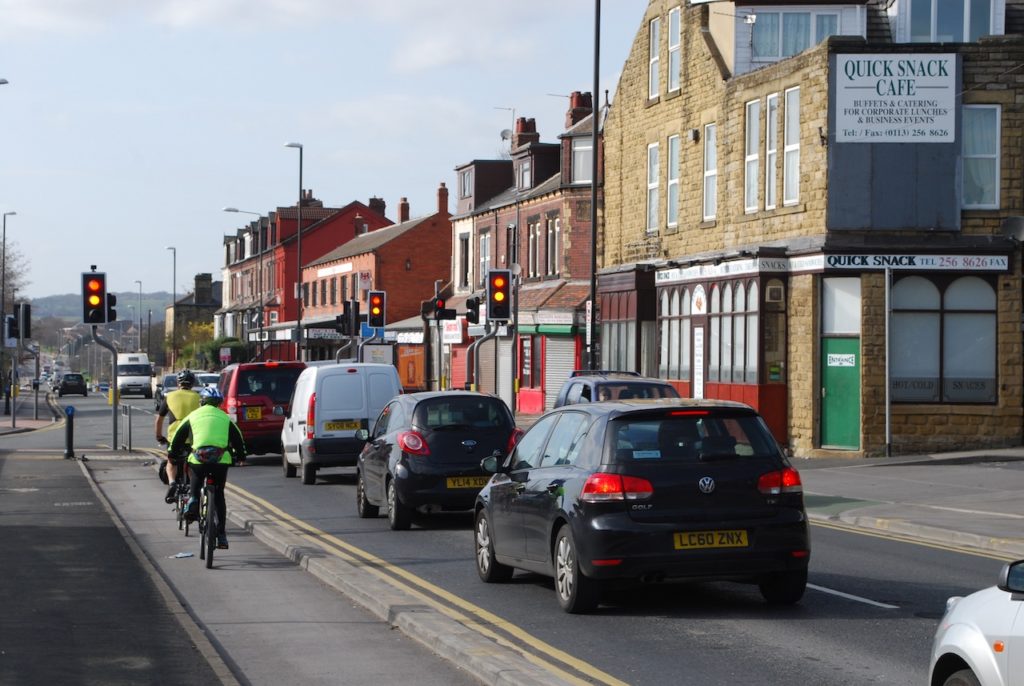 In the main this was brilliant; often good wide cycle lanes of around 2m width and very often on either side of the road (seemingly intended to be one way, with the flow of motor traffic, but on the ground occasional cyclists appear to use them the 'wrong' way, though this didn't cause any real issues).
CS1 and CS2 both follow the sides of major roads for most of their length.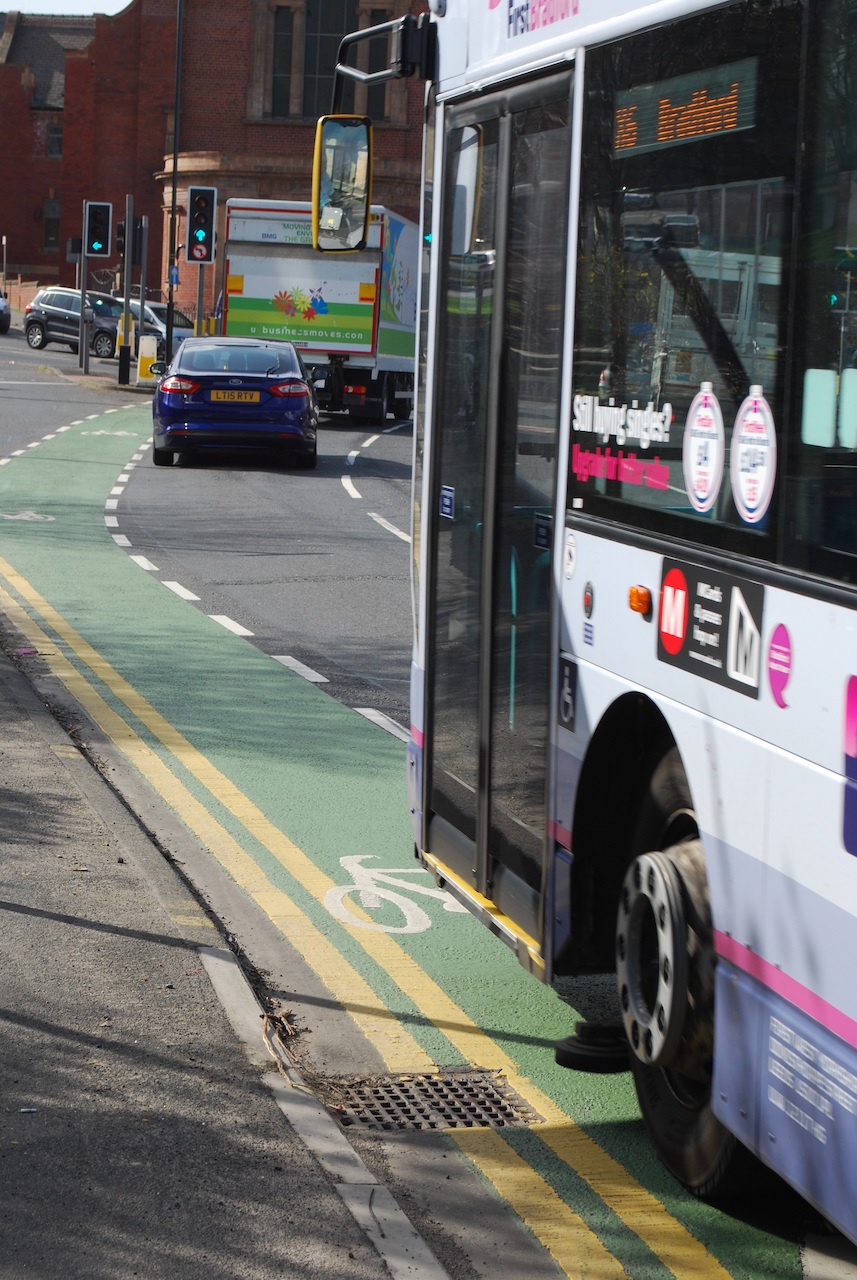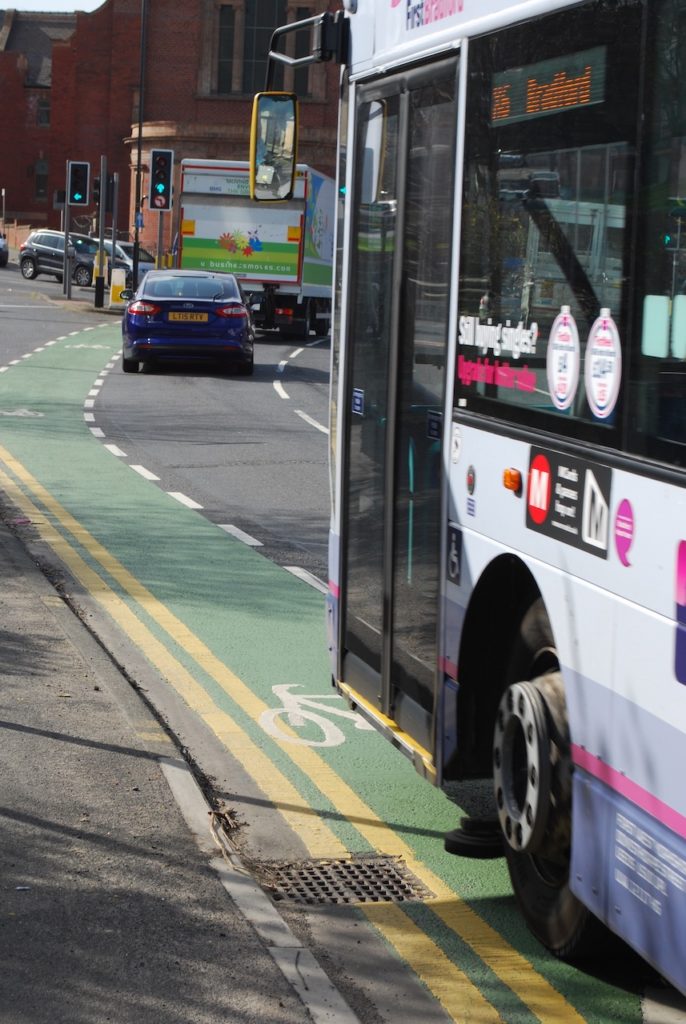 There were occasional narrow sections, for example narrowing to around 1m wide behind bus stops to slow cyclists, and occasional sections where wide pavements were shared with pedestrians.
A section of a few hundred metres linking CS1 and CS2 just east of the train station was simply routed along a busy road which didn't seem very satisfactory.
Overall though you felt safely segregated from busy, speeding traffic of which there is a lot; a great achievement.
Safe Junction Crossings
Where the route crosses minor roads there were usually clearly marked give way signs, usually for motor vehicles or at bigger, busier roads sometimes for cycles.
At the busiest road intersections there were cycle-specific light crossings; just push the button and wait for the light to guide you safely across whilst all motor traffic waits for you.
The only area that seemed potentially dangerous was on the occasional junction where cars were turning left off the main road, crossing the cycle lane.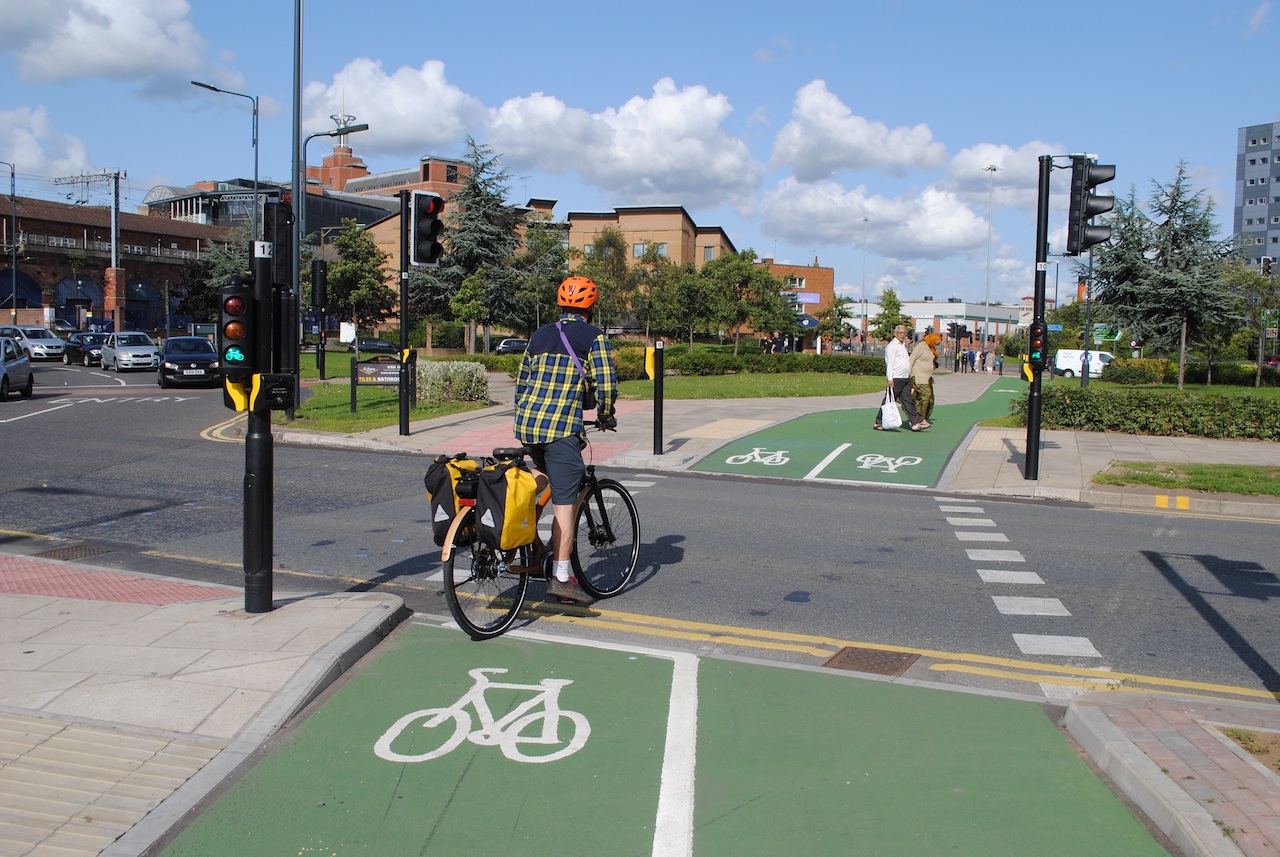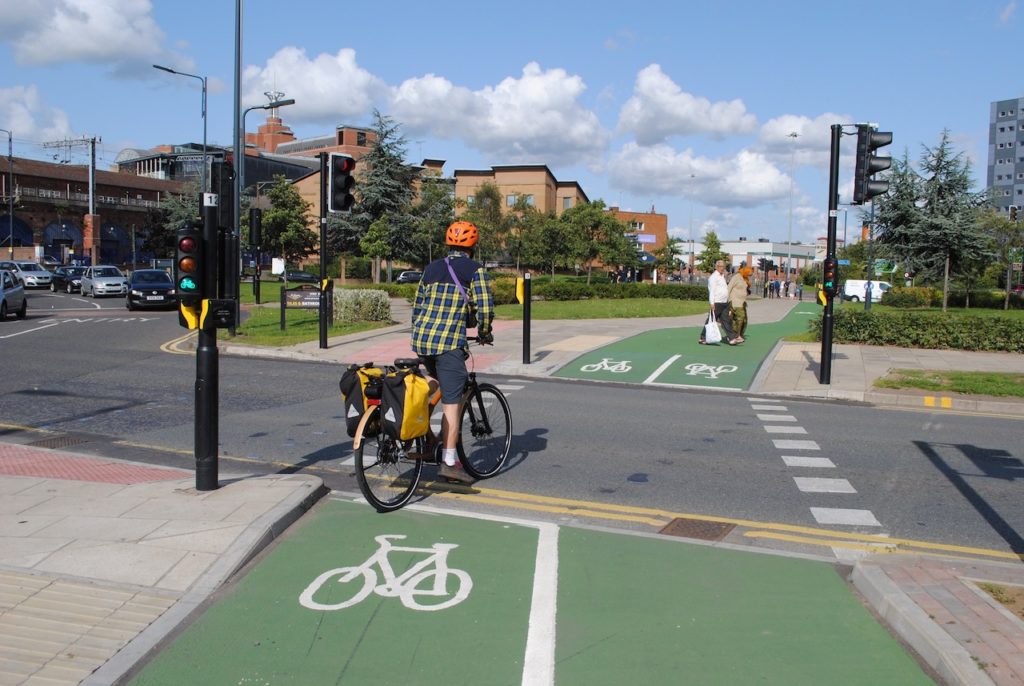 A bit more separation and some signage (see below) might have helped more here.
Good Signage
This was the only area that was a bit of a disappointment.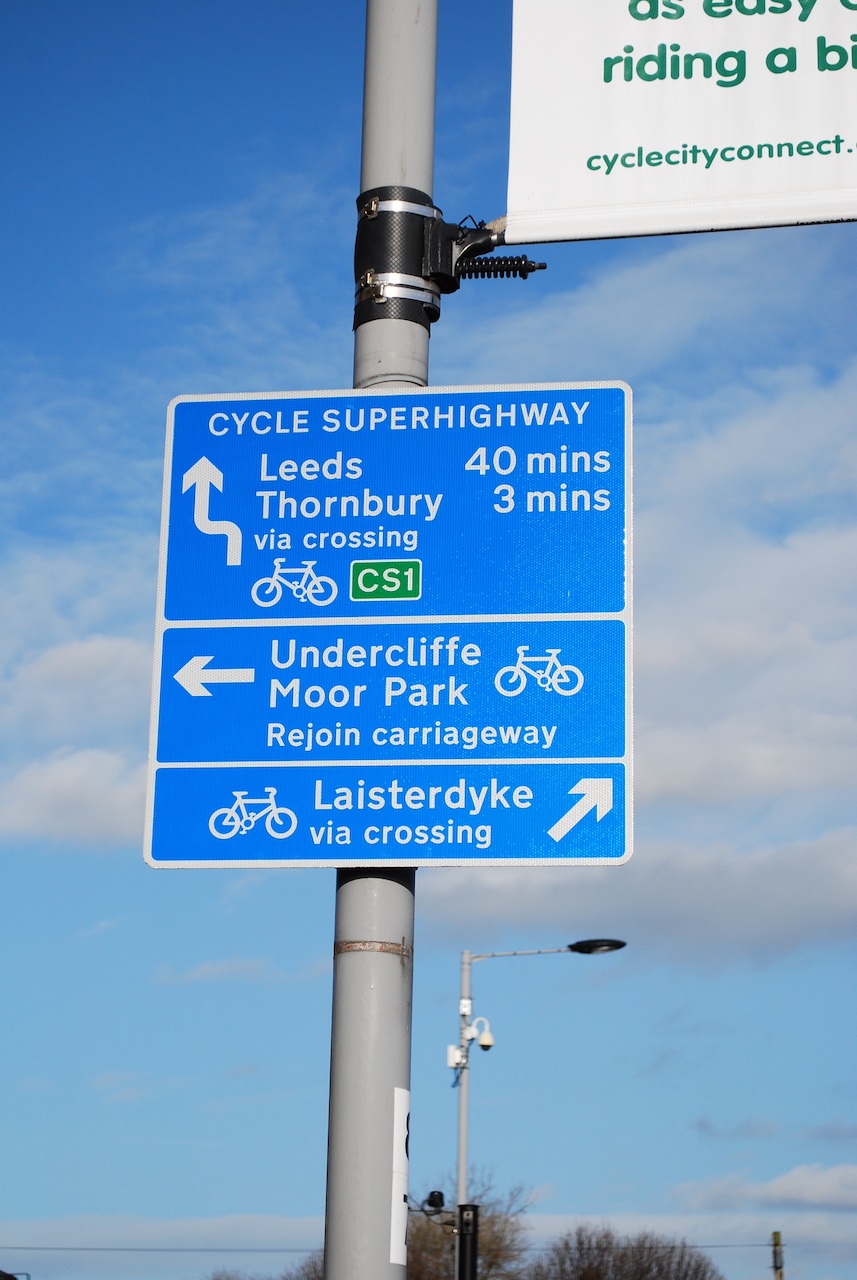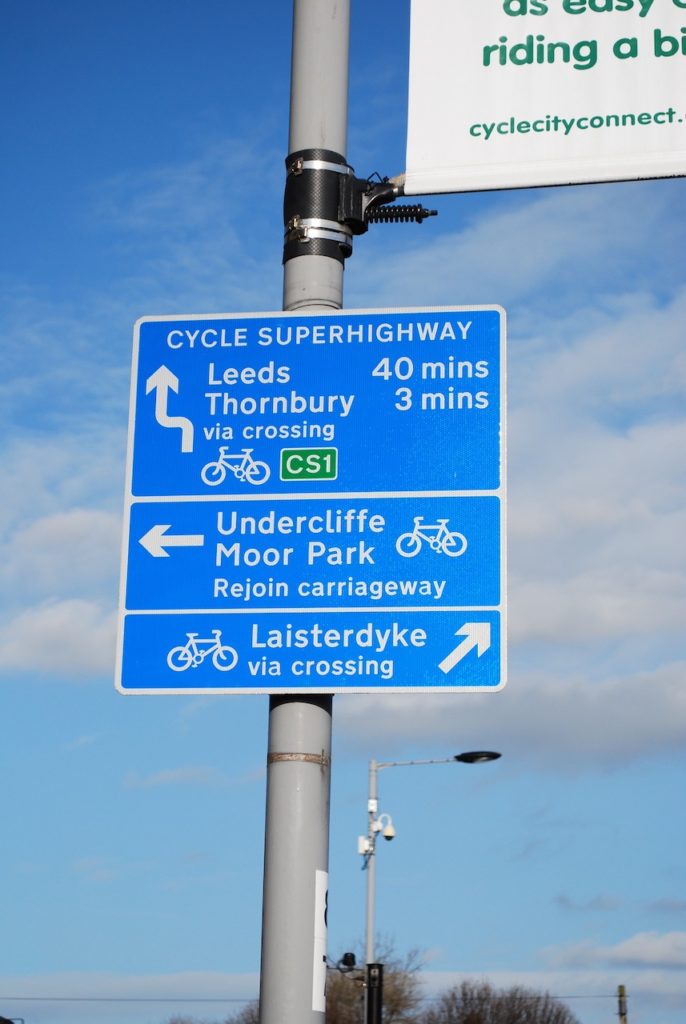 Whilst it was usually very clear where the route was on the ground, there was a lack of destination signs in some places and often a lack of warning signs on the adjacent road to warn motor vehicles they would be turning across the track.
This was especially so on the eastern section (CS2).
Still, considering this is an area where heavy motor traffic has been absolutely predominant over the past few decades this project amounts to a great first step towards a much more cycle-friendly environment. And there's more to come….
Other City Connect Projects and Competition from Manchester
CityConnect are involved in many other projects including upgrading canal towpaths across the region, many of which are wonderful leisure rides as well as being high quality commuter routes (check out my latest map which includes several of these wonderful leisure routes here).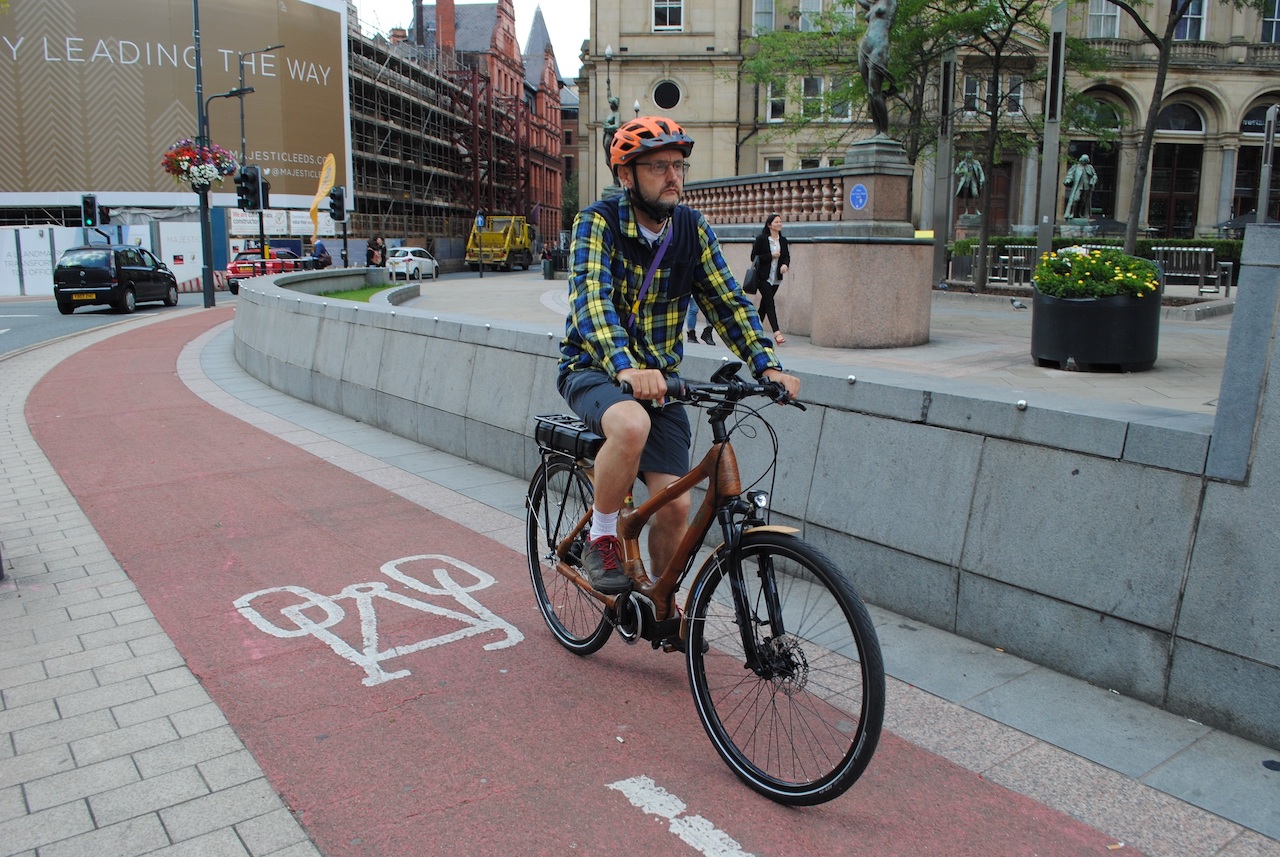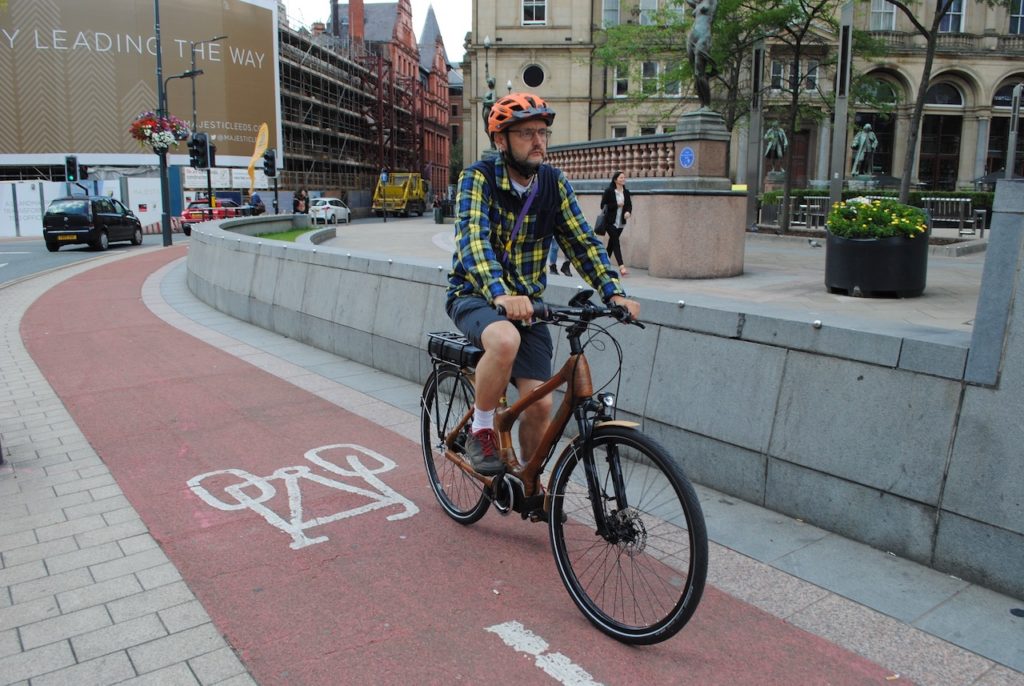 I cycled the CS routes during a period of very unsettled rainy weather but at evening commuter rush hour.
I counted dozens rather than hundreds of cyclists using the route, but this is from an extremely low base (and in poor weather), and counters placed along the route show cycling levels are increasing year on year.
Continued improvement, promotion, investment and expansion of the local cycling network is important to keep that growth going and CS1 and CS2 are a great start.
One thing that may spur more investment is local competition.
Across the Pennine hill range to the west is Leeds' traditional local 'competitor', Manchester, and there has often been a friendly rivalry between the two cities to promote their latest developments to improve their areas.
With the commencement of their hugely ambitious Beeline project Manchester are promising:
• 1,000 miles of walking and cycling routes connecting communities across Greater Manchester
• 75 miles of fully segregated routes along some of the area's busiest roads prioritised in the first phase of delivery
• 1,400 new crossings of busy roads or other physical barriers that divide communities
• 25 'filtered neighbourhoods' — where the movement of people is prioritised over through traffic and more green, community spaces are created
This all promises an exciting future for biking and e-biking in two of the North's major cities and, if the momentum is continued, promises a real opportunity for offering everyone in the area the chance to get out and about by e-bike safely and enjoyably.
The Bikes
I swapped between two bikes whilst riding the route:
My Boo My Volta
This Bamboo-framed, Shimano-powered e-bike was super comfortable for this kind of urban riding.
Of course, the most intriguing aspect is the use of bamboo.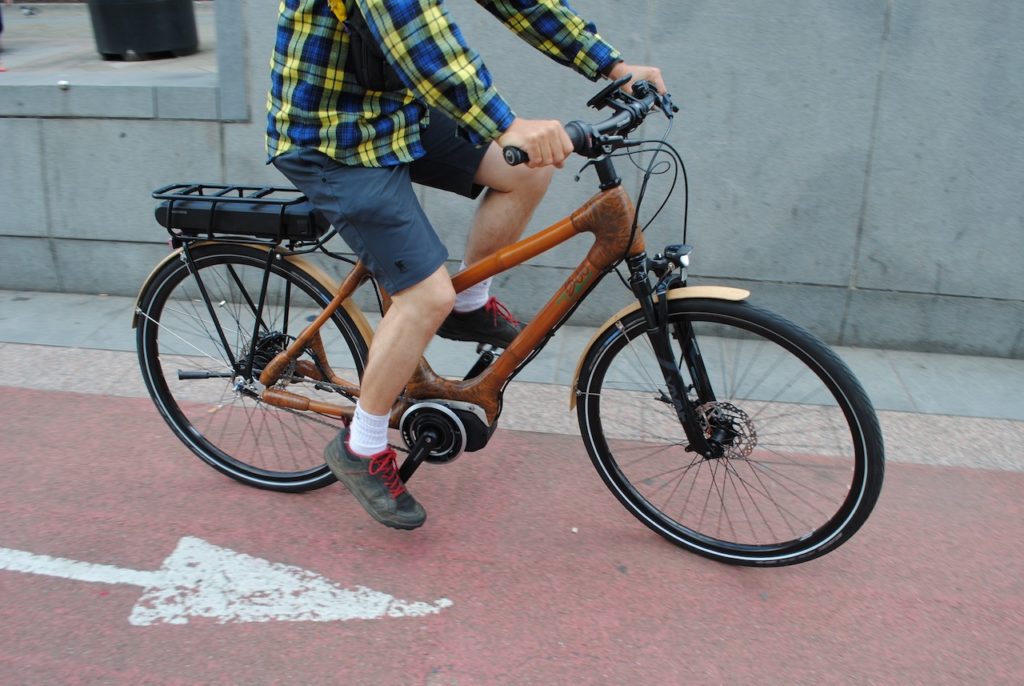 It's an attractive material to make a bike frame from for several reasons; it has a high strength-to-weight ratio (it's got a tensile strength comparable to steel and a compressive strength comparable to concrete) and is also known for having good 'compliance', or damping qualities in other words, helping soak up vibrations from the road.
What's more, it also claims to be greener than steel or aluminium; although both metals can be endlessly recycled, this all takes resources and energy. In theory bamboo frames can be much greener – with a much smaller carbon footprint than steel or aluminium frames – if recycled or composted down and new oxygen-producing bamboo is planted in place of the old frame.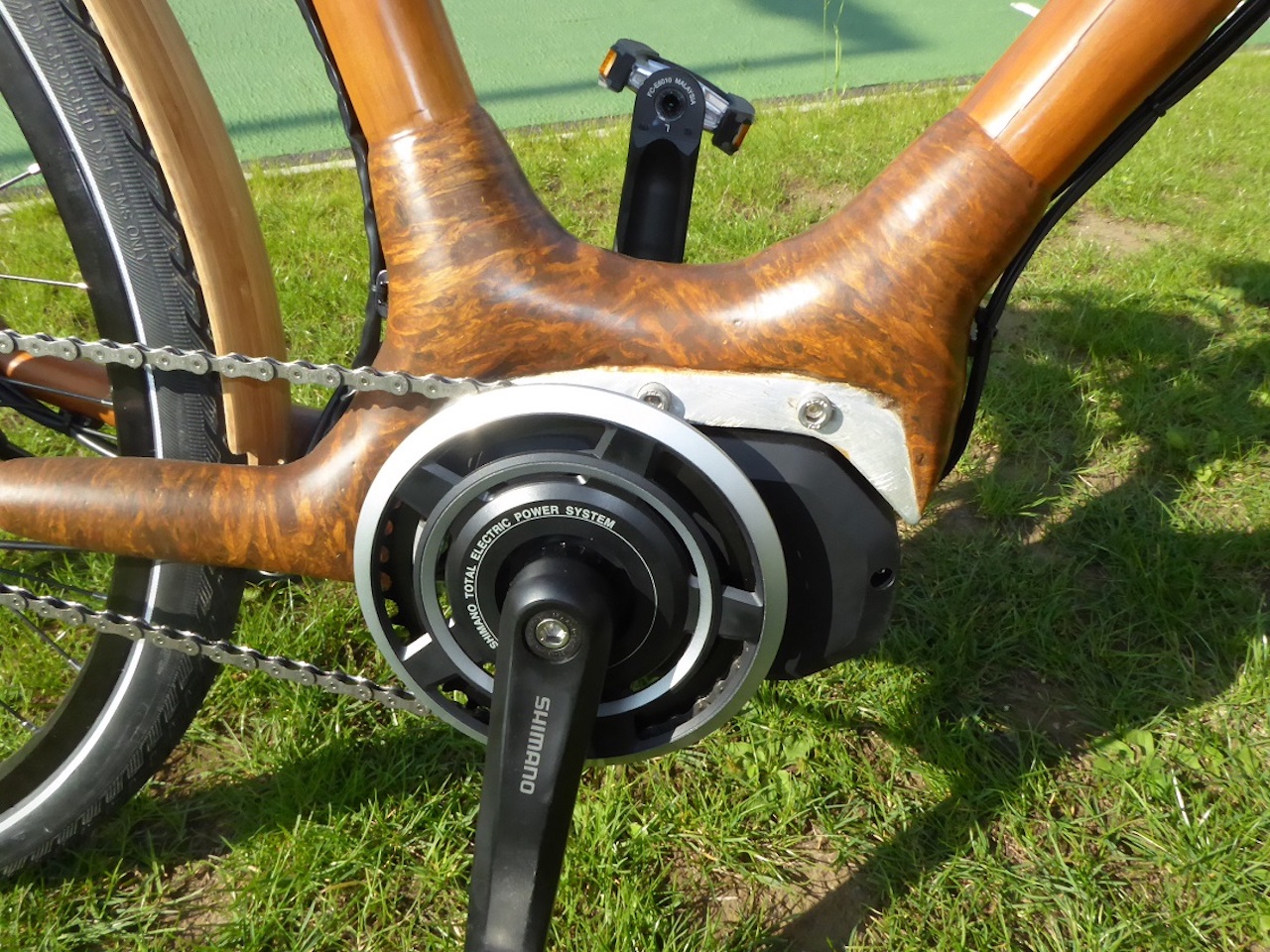 In My Boo's case there is also the social and economic advantage of contributing to the progress of a developing country as the frames are made in Ghana and a proportion of the retail price is fed back into local development projects.
It's also a very commuter friendly model, with buil in LED lights, mudguards, kickstand and lockoutable front air suspension.
Starting at £3,699 it's clearly a premium priced e-bike, but you are getting a hand-made frame from a unique material and the price premium reflects this.
Greenspeed Trike
My other test bike was actually a non-electric Greenspeed recumbent trike.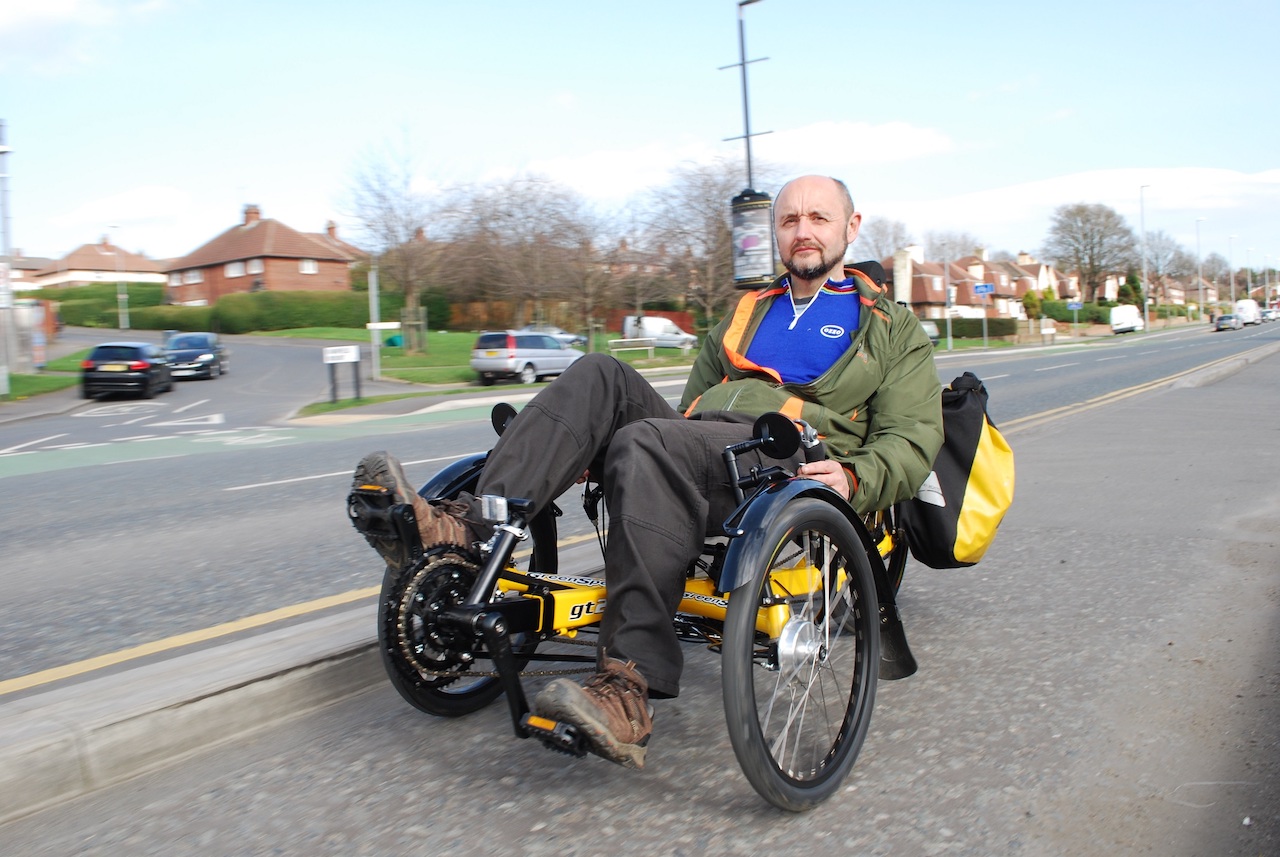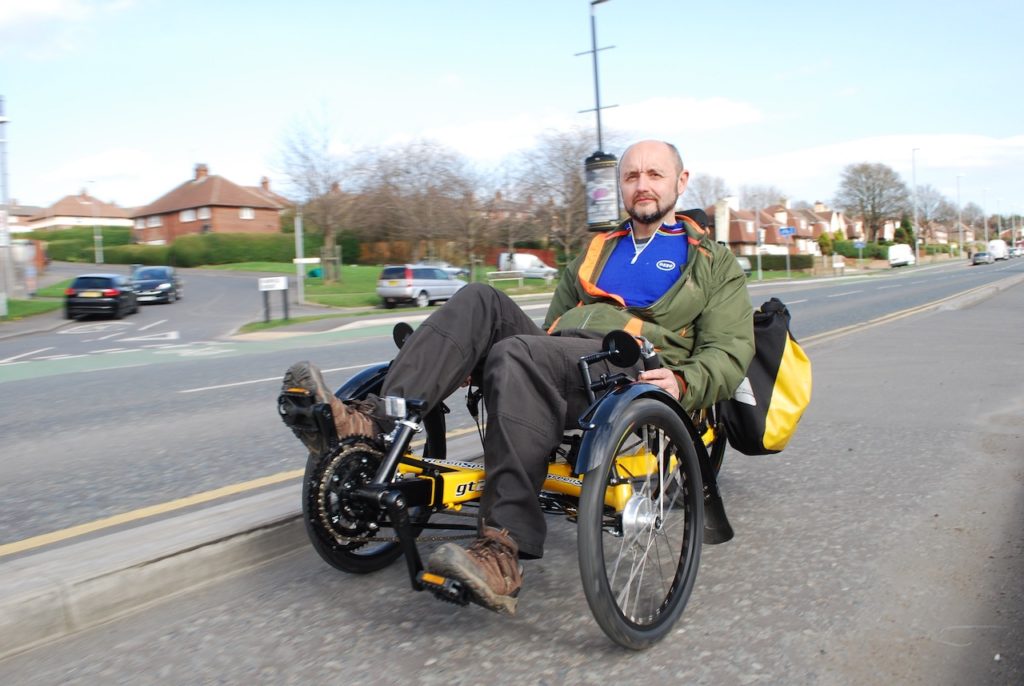 I wanted to use this to see how friendly the CS routes were to wider pedal powered vehicles like trikes.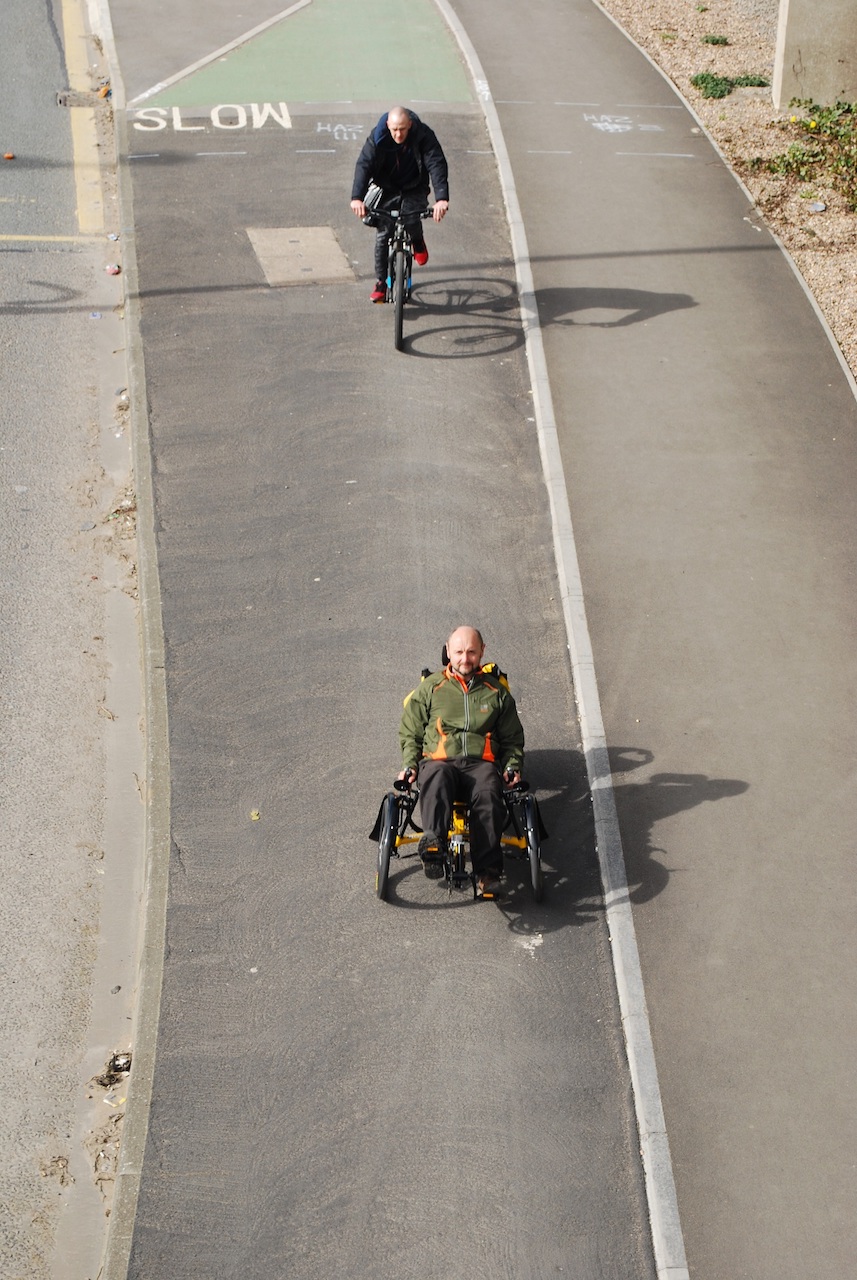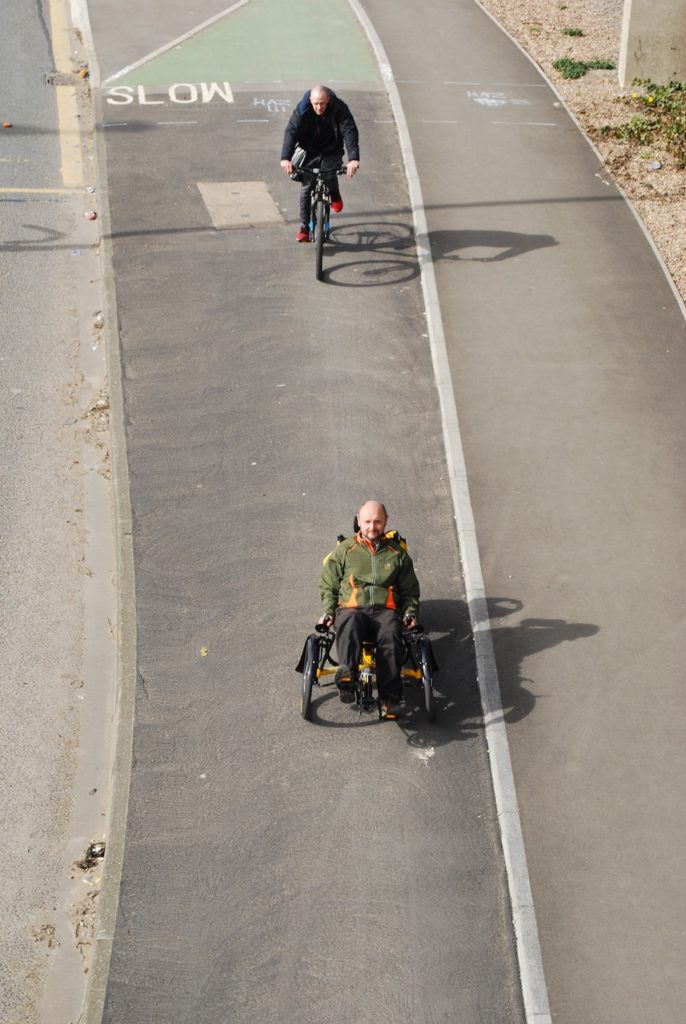 I wasn't disappointed as there was plenty of clearance on the cycleways for other cyclists to pass and the route was easily navigated with plenty of room for manoeuvring and bends and junctions.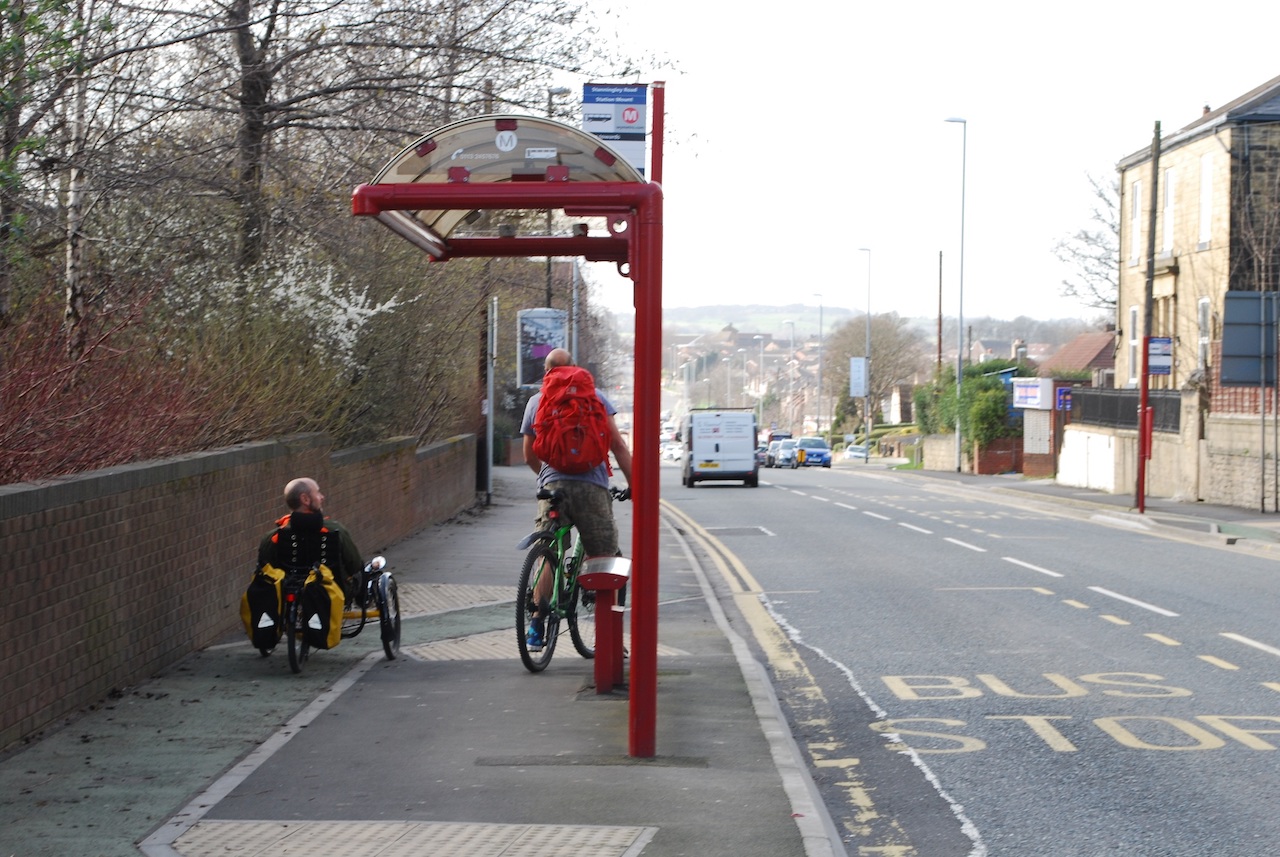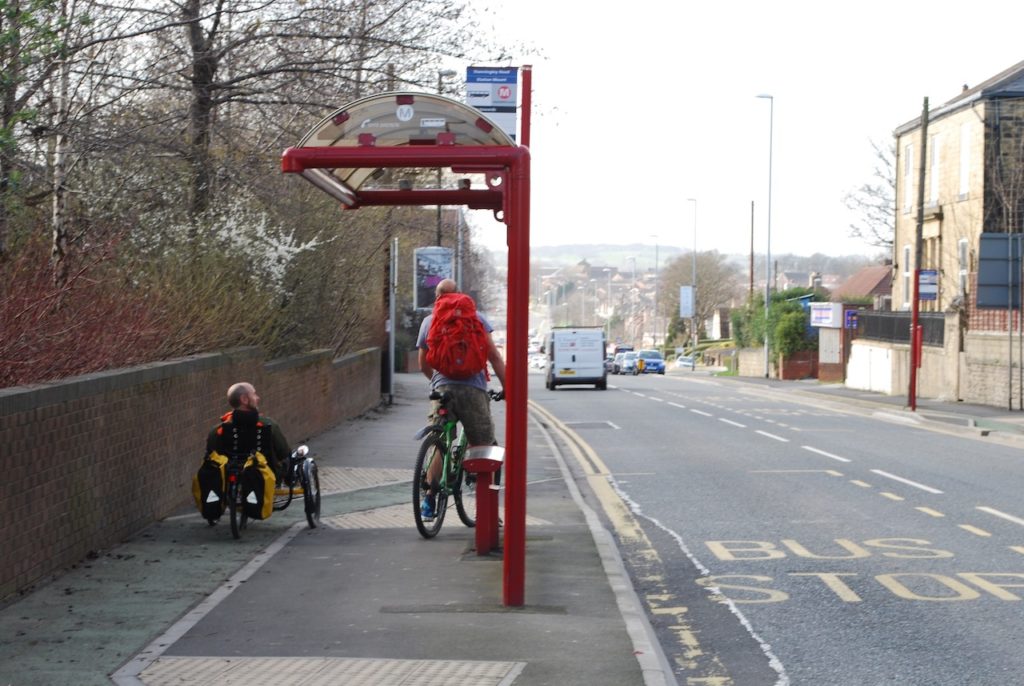 It was also pretty easy to reach buttons on light crossings.
Another resounding success for the route and for opening up cycling to different designs of bikes and different riders.
Of course, there are plenty of recumbent designs that are electric or include electric options, including Outrider USA, Icetrikes and HP Velotechnik.
Stay tuned for more e-bike news and reviews and thanks for reading!
-Rich
P.S. Don't forget to join the Electric Bike Report communityfor updates from the electric bike world, plus ebike riding and maintenance tips!
Reader Interactions