Accessory Roundup: New Gecko Puncture-Proof Tires, Litelok, & Sigma ROX GPS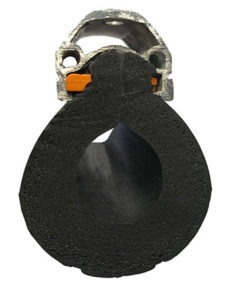 Time for a look at some new bike accessories that can make your eBike ride safer, more comfortable, convenient, and fun!
In this roundup we have the:
Gecko Hybrid 'Virtually Puncture-Proof Tire'
Sigma ROX 12.0 Sport GPS
Litelok Silver 830g Lock
Gecko Hybrid Prototype Tyres vs EVO3s
UK company Gecko are specialists in cellular rubber tyres and we have reviewed their tyres here and here.
We found their non-pneumatic, totally puncture proof versions very impressive and ideal for use on e-bikes.
They were a little harsher to ride than pneumatics, though still quite acceptable for around town riding for me, and the lack of an air-filled inner tube meant some extra rolling resistance (though again, not a problem for me riding an e-bike as the electric assist could largely nullify this).
Now Gecko have started producing the Hybrid, a 'virtually puncture-proof' tyre that combines a super-thick cellular rubber tyre with a conventional pneumatic inner tube and I have been comparing it to the previous EVO3 non-pneumatic version we have been running for several months now. Both are 26" in size.
The Hybrids are intended to give more comfort and less rolling resistance than the EVO3's by manufacturing a cavity into the core of the tyre that will take a regular inner tube with schrader valve.
My first impression on the Freego test bike they come on is that this is true; the tyres run more easily on slopes and on smaller drop offs and curbs they have a greater cushioning effect than the EVO3s.
My various test runs show measuring the battery consumption of the Hybrid test bike with the EVO3 test bike also indicate that the Hybrids use less electric power.
The Hybrids appear to be around 15% to 35% more efficient than the EVO3s, with the higher efficiency figures occurring on the hillier routes also suggesting that the lighter weight of the Hybrids compared to the EVO3s has increasing benefit the steeper the ascents they are asked to tackle.
In any event the Hybrids rolled away consistently more quickly than the EVO3s under gravity and without motor power when put side by side on a simple roll down test.
Although the percentage figures are not super scientific, as the tyres were tested on different e-bikes with different motor systems, they do give a guide as to the how and in what circumstances the Hybrids win over EVO3s.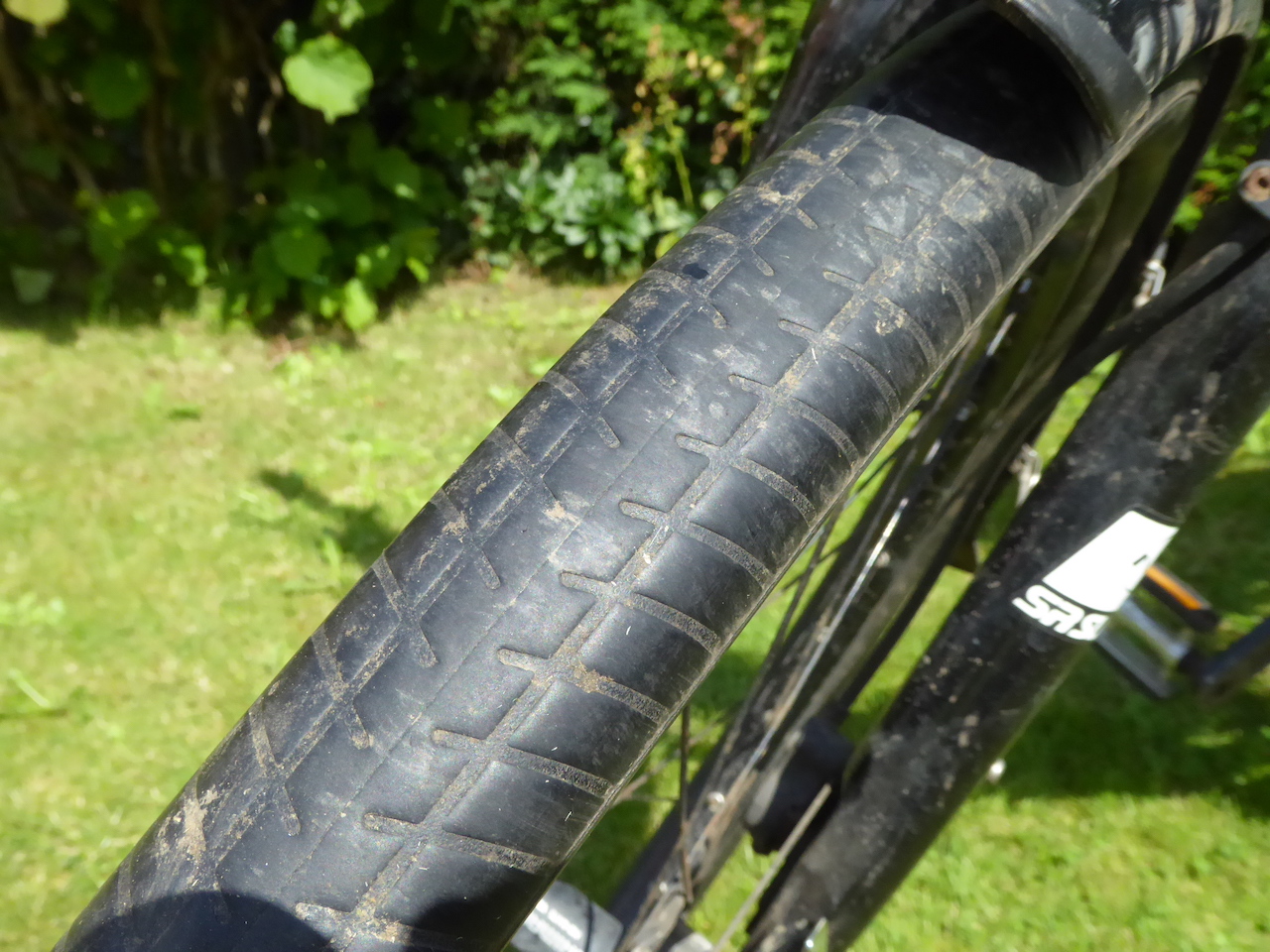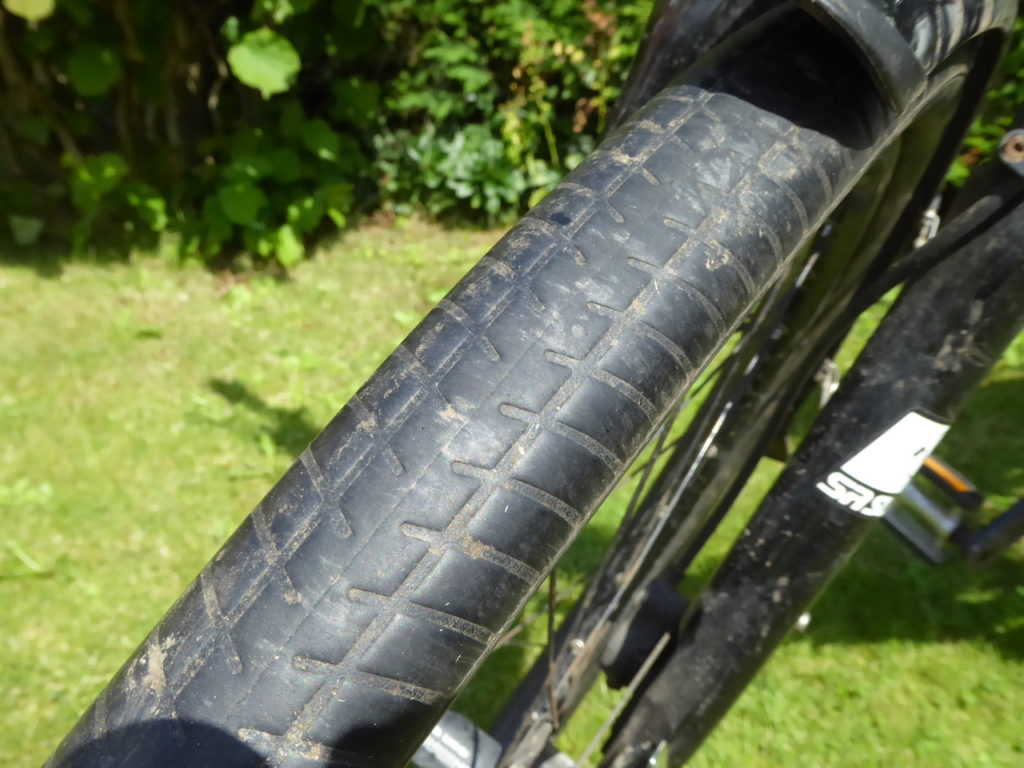 I've enjoyed using the original EVO3s for well over 1200 miles and they are just starting to show signs of wear on rear wheel which houses a fairly weighty and powerful Heinzmann direct drive motor.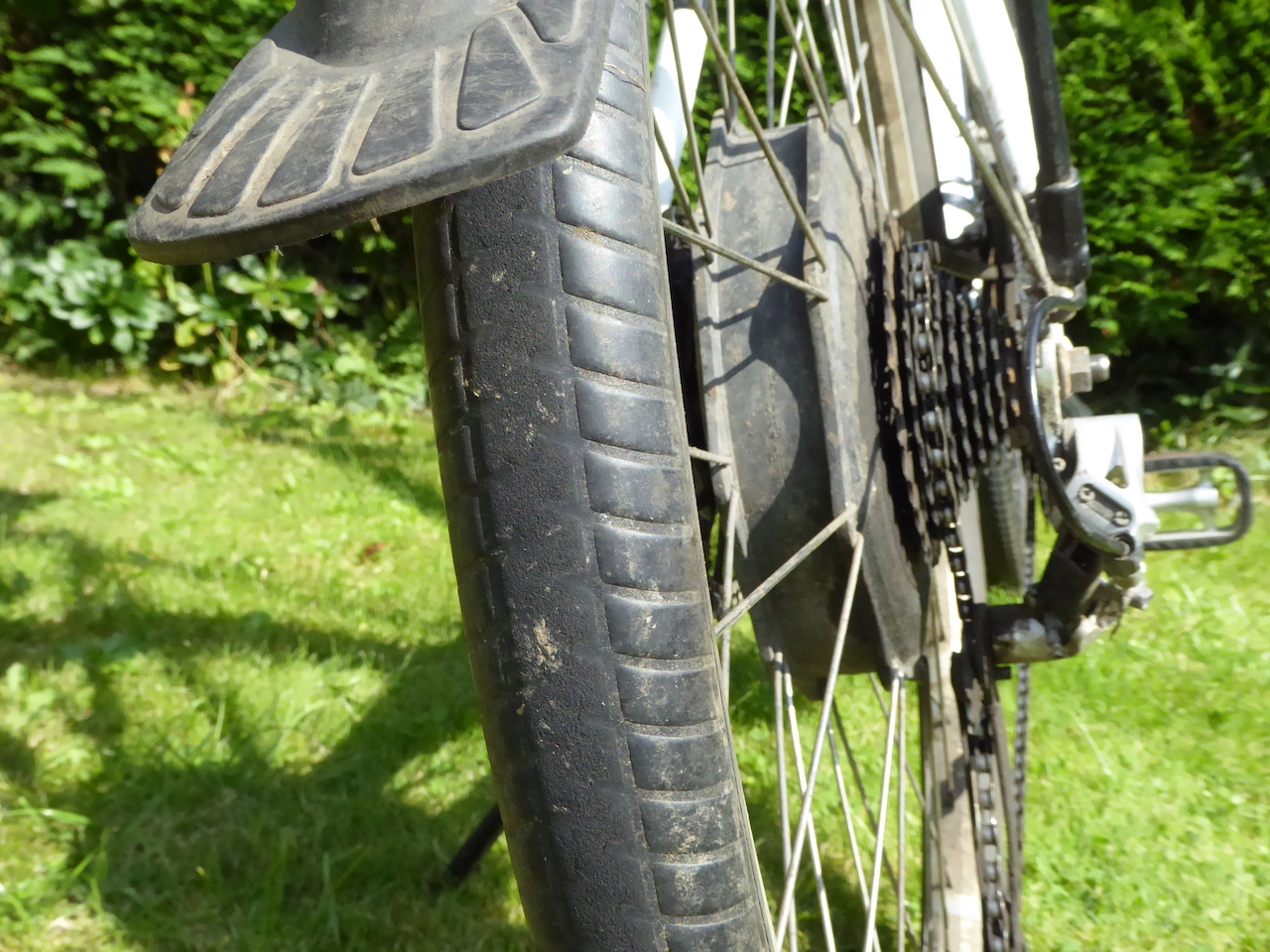 Although the wear appears to have just worn through the outer casing of the tyres the actual performance in terms of grip and speed feels unaffected as they continue to run well on the cellular rubber underneath the casing.
Gecko say the hybrids should show similar if not even more longevity.
As well as my own trials with these tyres, Sustainable Travel Solutions (STS) in the UK have been using them on the e-bikes they lease to the likes of National Health Service workers and the police, who use them for both work duties and commuting.
Gecko say their tyres have been in use with these fleets for 18 months without issue.
There are also bike share users in the Netherlands and an imminent scheme in the UK involving e-bike share at railway stations.
Gecko tell me that the Hybrid tyres I tried are very much a prototype and changes to the thickness of the outer walls, tyre profile and internal air pressure all hold the potential to decrease rolling resistance further.
I trialled the tyres at 30psi on Geckos advice to be super cautious, but over time they think 50psi can and will be fine in daily use.
I also did a 'run flat' test by letting the air completely out of the inner tube. This revealed that, in the very unlikely event of a puncture, the tyres will still work as there is enough stiffness in the structure of the tyre itself to corner at moderate speeds (I tried them up to around 15mph).
Although the rolling resistance increases quite a lot running flat it is still a remarkable achievement, meaning the tyres will never leave you stuck without the ability ability to get home (assuming you have enough battery left – I imagine it would be quite a task to pedal them flat with electrical assist).
Gecko say that with greater production volume will come a choice of sizes in 20", 28" and even 24" and 16" in addition to current 26".
A narrower width is also a possibility which should also decrease rolling resistance further.
I did find that conventional pneumatics still have noticeably lower rolling resistance than the Hybrids and it would be interesting to see how thin the outer of the Hybrid could be made in order to decrease rolling resistance but still give significant puncture protection; something Gecko say their manufacturing processes can be set up to achieve.
As Gecko tyres are 100% made from rubber they can also be 100% recycled, unlike existing conventional pneumatics, a large part of which may end up in landfill or as incinerated waste (Gecko founder Richard Adams estimates that around 10 million tonnes of old tyres end up in landfill or incinerated each year).
A study of the lifecycle impact of Gecko EVO3 tyres estimates they produce 70% less carbon emissions over the entire production cycle compared to conventional bike tyres.
So Gecko say they are the greenest bike tyres available and that seems a fair claim.
In summary both the EVO3s and the Hybrids are a great addition for e-bikes if some increased rolling resistance is not an issue for you compared to regular pneumatic tyres.
And the Hybrid tyres in particular hold out the promise of bridging the rolling resistance gap between pneumatics and non-pneumatics whilst remaining both virtually puncture proof and with run flat ability.
Gecko say the retail 'fitted' price of the new Gecko solid and Gecko Hybrid should certainly be very competitive against other airless systems from the likes of Schwalbe and Tannus.
Gecko aim to have the new generation of tyres with dealers by the end of the year. EBR will keep you up to date on developments.
Litelok
Litelok is the self-proclaimed 'world's lightest, flexible security rated lock.'
They can back this up as they are the world's lightest Sold Secure locks – Sold Secure being an independent security testing and accreditation organization.
I tested the Litelok Silver 830g version – there are smaller 630g and 730g versions and the Silver rating accords with Sold Secure's Silver Security rating (as described here).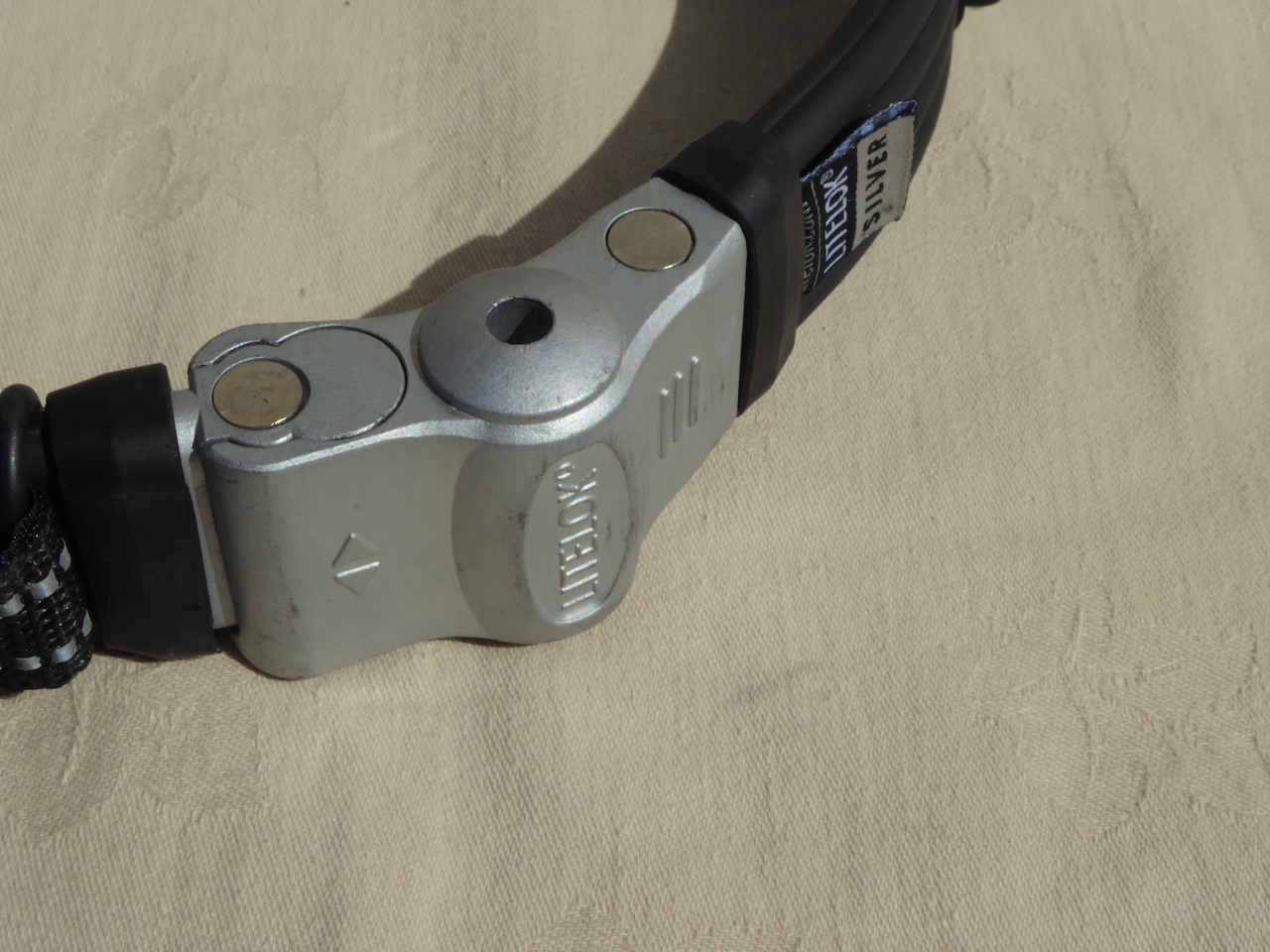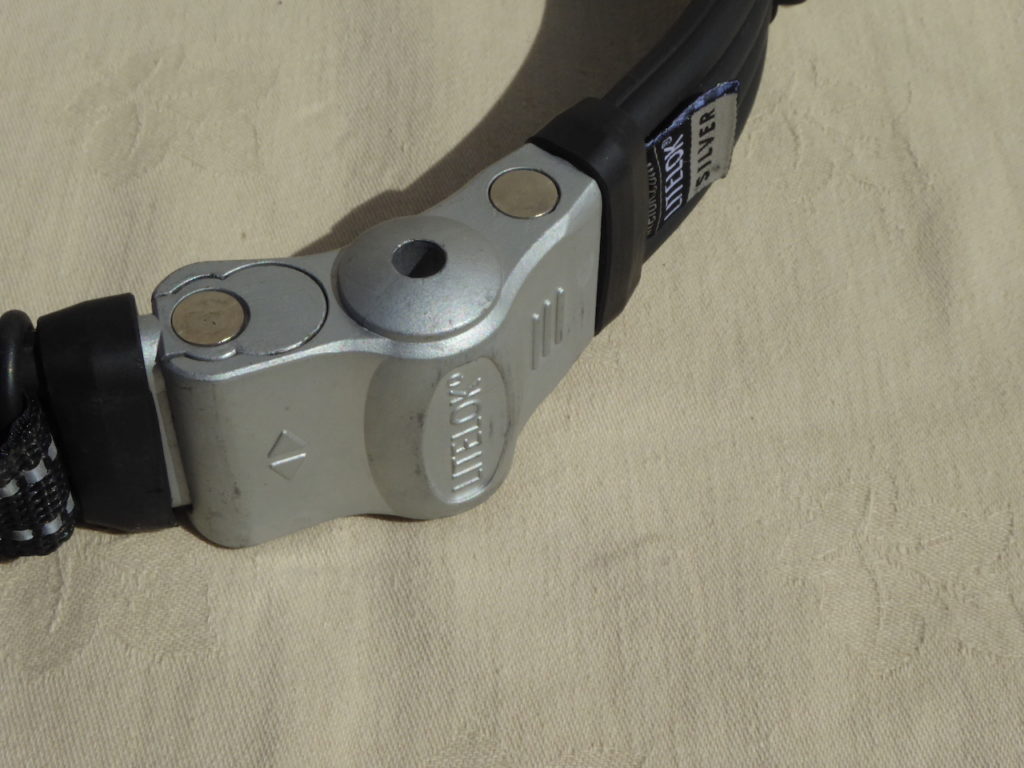 The construction is a patented Boaflexicore strap – in other words rings of high tensile steel coated in a polymer composite and joined by a barrel lock is made from hardened steel alloy.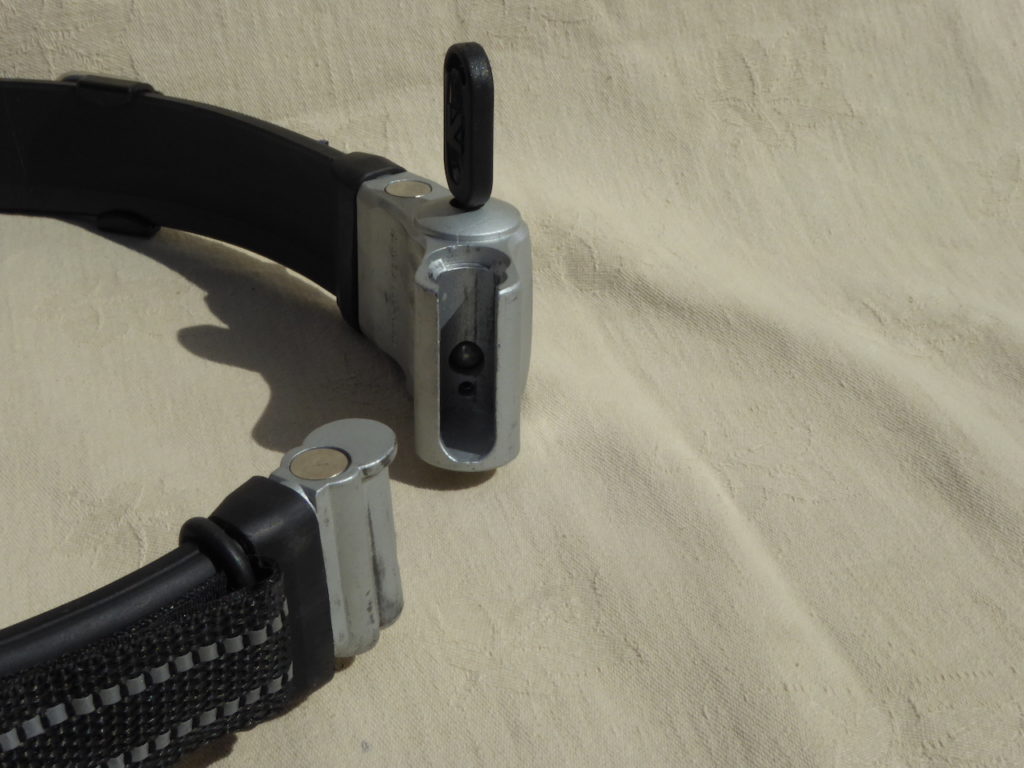 I particularly liked the fact the lock has no real points in its construction that can be levered open easily.
Whilst I didn't test it to destruction I will take Sold Secure's word for it that it offers a good compromise between security, cost and lightness.
In practice the circular 830g lock is indeed pretty easy to carry around and use.
The 80cm lock circumference proves just about the minimum I'd like to use to fit around the many items of streetscape you invariably end up locking your bike to.
Do bear in mind if you want to attach your bike to larger street furniture like lamposts this won't be big enough, nor does it twist to help you attach to objects where using the lock at an awkward angle is required.
Personally, if I was to want a lock to use in a really high risk area where angle-grinder equipped thieves were a possibility I would go for a hardened steel chain with a Gold Sold Secure rating as I believe that would stand up better to such attack than a steel cable based lock.
The lock comes with a strap and brackets that mean it fit around your waist, belt style, or it can be fixed to a standard diamond frame bike design.
More than one can also be joined in series to make one extra long lock.
There is also a Sold Secure Gold version of Litelok – heavier but stronger, it similarly claims to be the lightest Sold Secure Gold Rated lock and it would be interesting to see how it compared in an angle grinder attack test compared to a hardened steel chain.
Litelok also offer theft protection for an annual fee on the back of a Litelok purchase that looks good value.
So Litelok does appear to deliver on their promise of toughness, lightness and portability.
Litelok Silver available from $90
Litelok Gold available form $129
Sigma ROX 12.0 Sport Set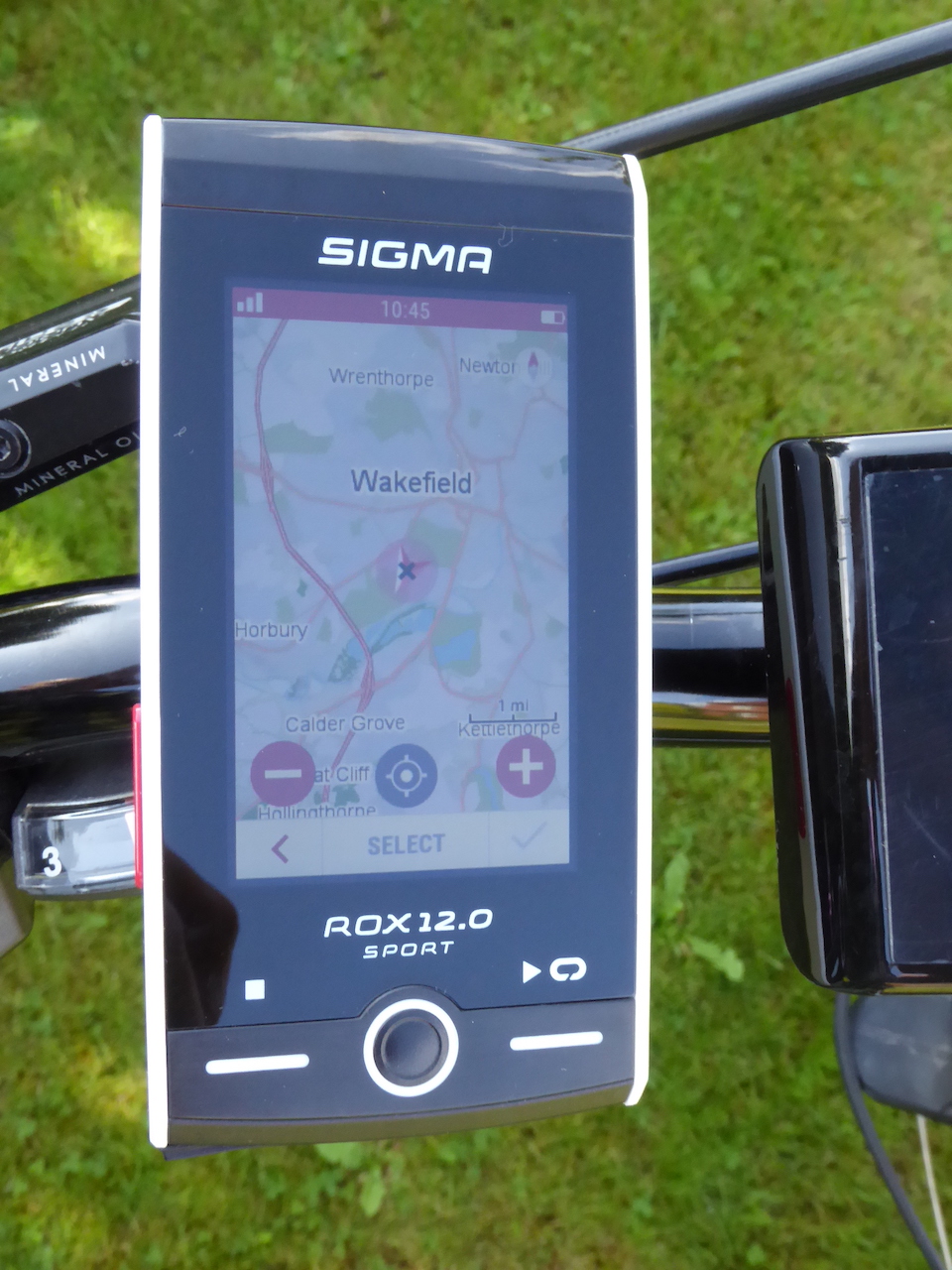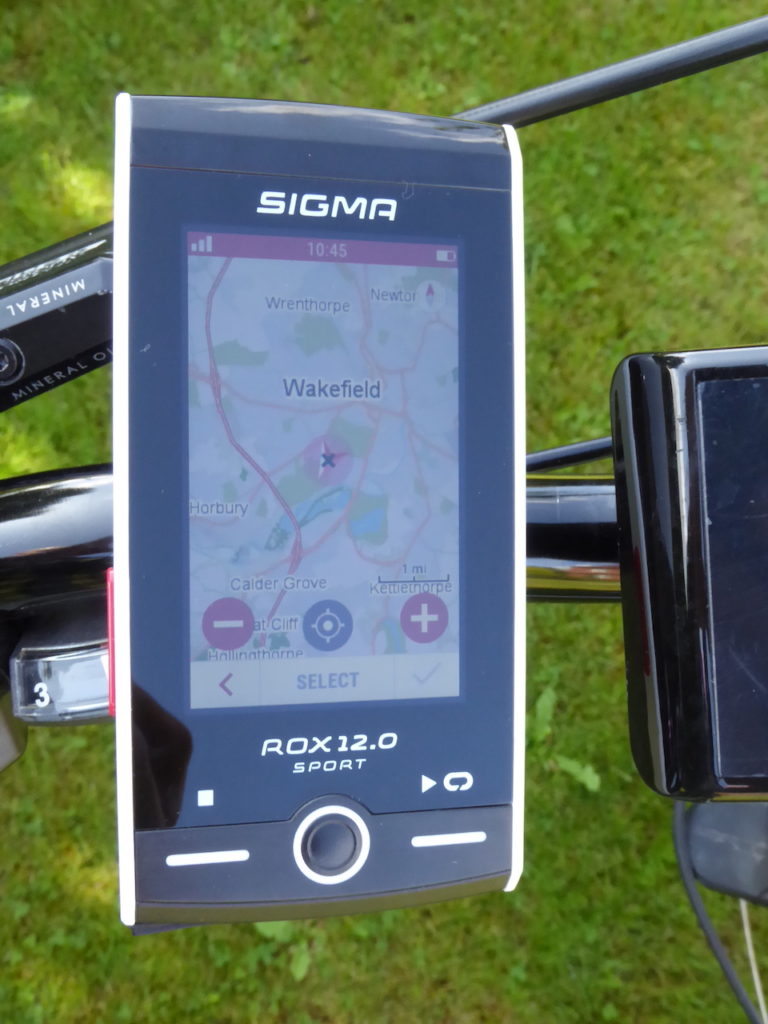 The new ROX 12.0 from Germany's Sigma Sport promises a 'GPS bike computer….loaded with new map functions, numerous training features and packed into powerful hardware.'
My main interest in this, as a serious e-bike tourer, was two-fold; firstly it promises GPS enabled colour mapping which would enable me to keep my smartphone in my pocket (where I am happier with it) and secondly it has an interface with some variants of the Shimano Steps motor system, promising a navigation and e-bike control device in one.
I outlined just why you might want to take a separate GPS unit for navigation in addition to your smartphone in my review of the Mio Cyclo 210 here.
On paper it certainly looks a powerful little tool, boasting Bluetooth, ANT+ and WiFi connectivity (the latter I thought would be particularly useful for me allowing me to sync with all my touring routes that I hold on various third party websites like Komoot, which the ROX 12 supports).
It also looks to be a powerful training tool and the Sport Set I reviewed came with heart rate and cadence monitors and it will also link with your Strava data.
There are two main purposes to the ROX 12, training and navigation, augmented by Sigma's own Data Center and Cloud software to help store and analyse your ride data.
Here's a breakdown of what's available in each mode.
Training Mode (for analysing your performance)
The actual display depends on what Profile you select (Road, Mountain Bike, Cycling or Indoor).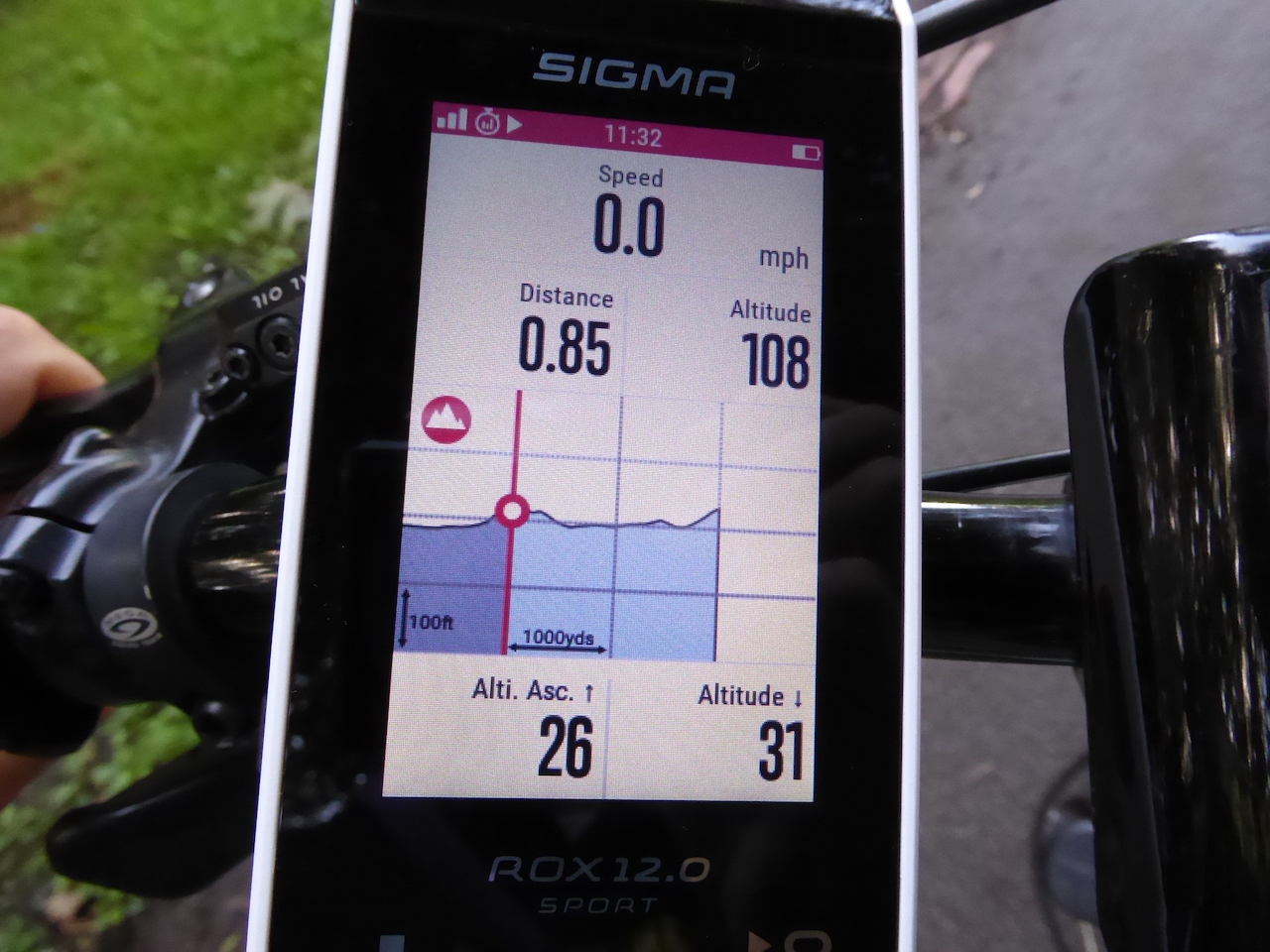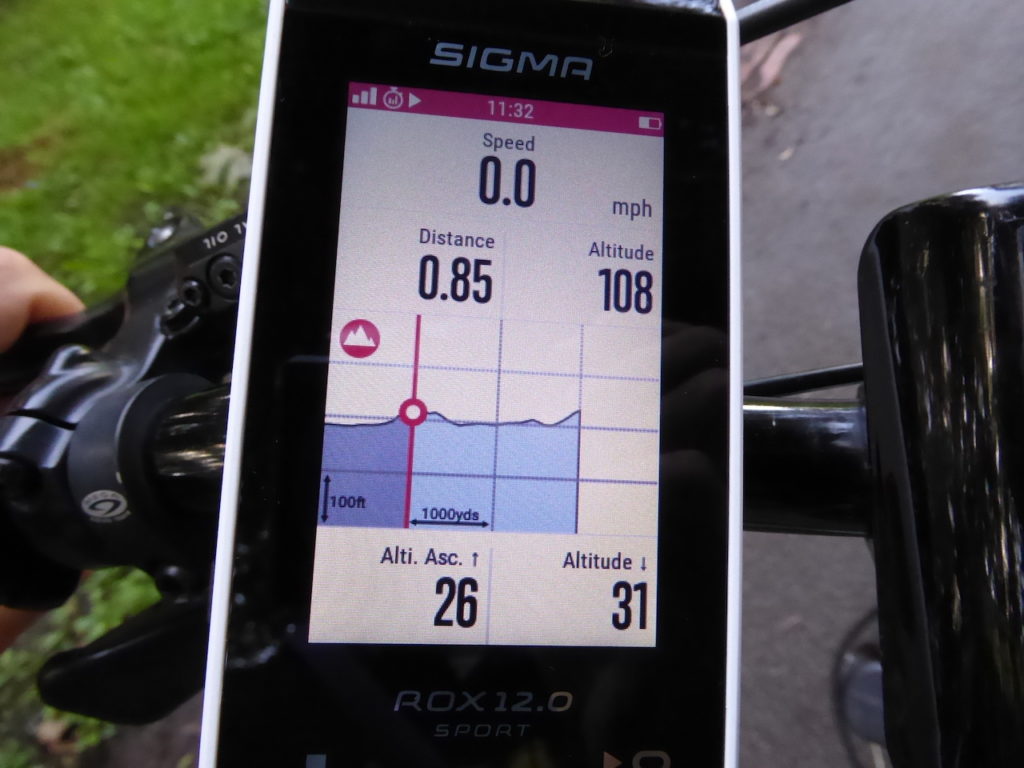 These seem a bit of a confusing feature as they all present similar info in slightly differing formats; a screen with a fixed scale map with Openstreet mapping showing your progress, a graphical screen showing speed vs time and a pure data screen with altitude, cadence, power and heart rate screens (or varying combinations of these depending on the profile you choose).
Navigation Mode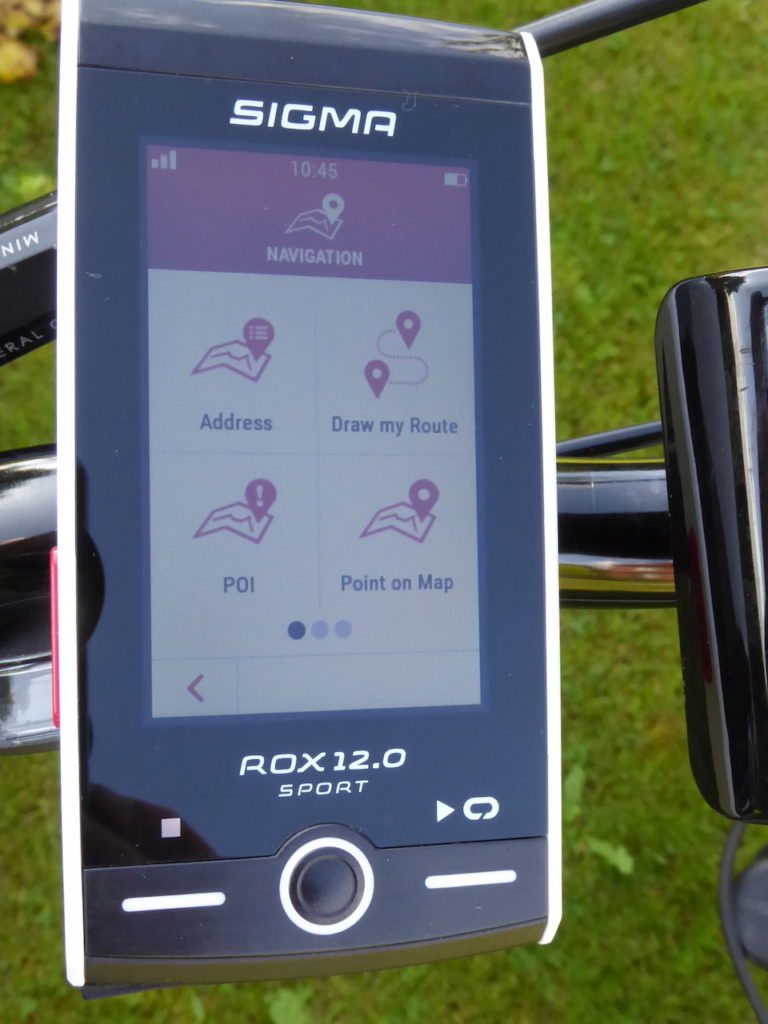 This is a scaleable map and also allows you to zoom in and out with the map detail and scale adjusting accordingly.
I found it most useful for following routes that you have already sourced elsewhere; for example as a leisure and touring cyclist I tend to create routes in third party software such as GPSies.
Handily the ROX12 software lets you interface with popular GPS sites like GPSies and Komoot.
Once imported onto the GPS unit the routes can be accessed via the Trails section and, once you have ridden and recorded them with the ROX12, it will give you a plethora of data of specific trips along the route.
Draw My Route is a nice navigation feature that does what it says – you draw a linear or circular desired route line on the map and in a trice you have a detailed, turn by turn suggested route using the mapping data and software held on the unit .
The Address function is similar to a GPS car unit – enter your destination and the ROX 12 will suggest a route to get you there which you can filter for easiness or directness. All very impressive.
In Use on the Bike
In use on the bike the unit is largely smartphone-like touchscreen operated, though there are on off and scroll through buttons on the sides and a stop/start ride recording buttons on the front
Like every display screen with detailed full colour info on that I've ever tried, it suffers some glare and reflection in bright conditions, but it's certainly amongst the better ones I've tried.
I used it mainly for navigating purposes by following GPX files that I had imported onto it. This is super easy and just what I had been hoping for from the Rox 12.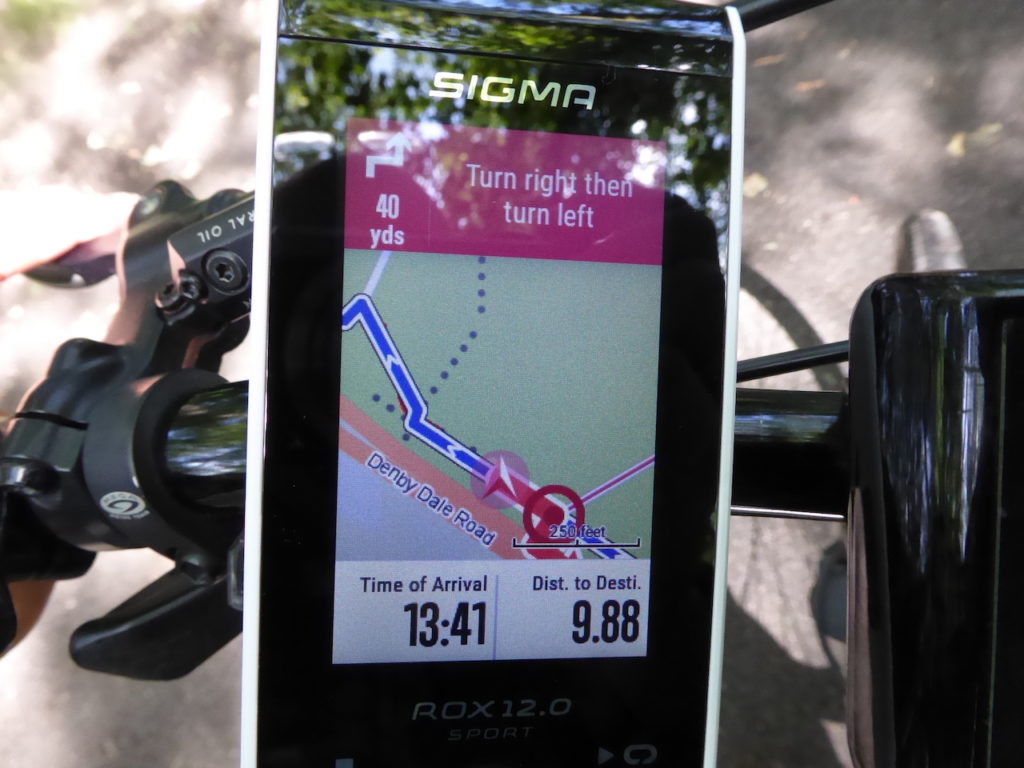 Your route appears as a thick blue line on the map base and yourself an arrow that follows the line, leaving record of where you have been in red.
There are also turn prompts as you approach a junction and audible beeps to alert you a turn is coming.
I found the accuracy and prompts of the navigation system superb.
You got a countdown in the number of yards to the next turn and even when navigating twisty, multi-junction off road tracks if lead me onto the right path with detailed direction tips like 'left then slightly right' – a very handy prompt if you are moving over complicated, uneven ground or through busy traffic and it would be dangerous to try and read the detail on the map.
I also tested the navigation feature that plots a bike route to a specified street (though navigation to a specified address appears not to be available). Again I was very impressed.
After entering the street name I was given a choice of quickest or easiest route and chose easiest. The unit plotted a route on nice flat bike tracks through and around a local park.
Even when I deliberately went off the route onto informal paths that aren't official bike paths the unit knew exactly where the correct path junctions were and was able to easily direct me back onto the official cycle path.
Fitness training aids include a cadence sensor and heart rate monitor. The former cable ties onto your chainstay and the latter straps around your chest in the usual fashion.
Wireless pairing was quick and easy and the wireless connectivity proved faultless during my brief trial of the training aids.
These wouldn't be why I personally buy such a unit so I didn't try them out extensively, nor did I link up the ROX12 unit to Strava as I don't use it.
However, an initial quick trail of the sensor and monitor confirmed they pair easily and quickly and work well straight out of the box and no doubt Strava users would be to able to get a lot out of the unit too.
Apparently it also has full sensor support for all the major types of sensor out there. One thing I didn't try but could myself using is the alternative mount for the unit that allows you to mount a GoPro camera on the underside of the mount (still saving up for that GoPro…).
Data Centre
The Data Centre software is easily downloaded onto a modern laptop or PC and allows more in depth functionality for both training and navigation.
You can, for example, interface with popular software like Komoot, GPSies and Strava or analyse your ride history via an impressive array of analytical tools.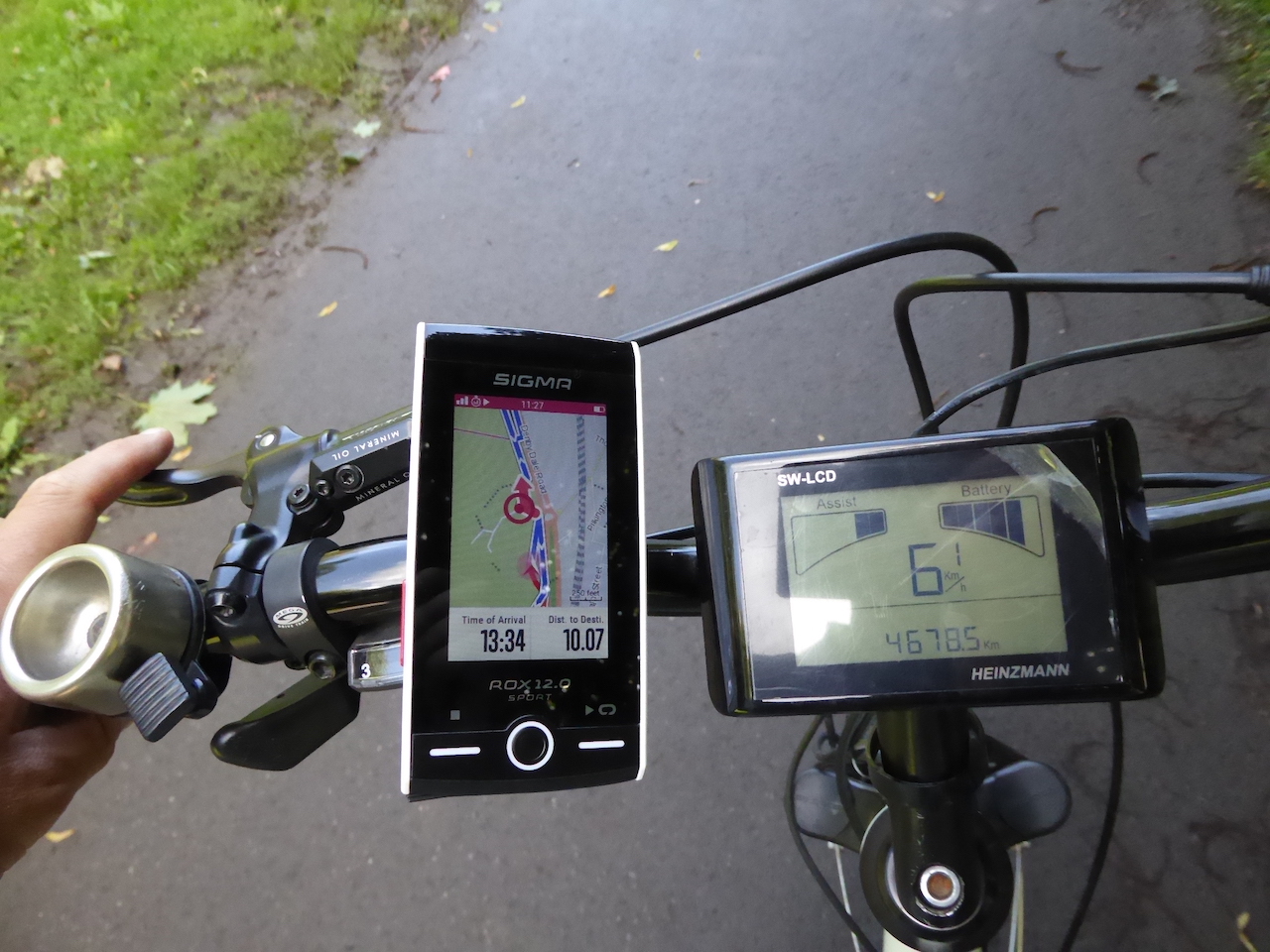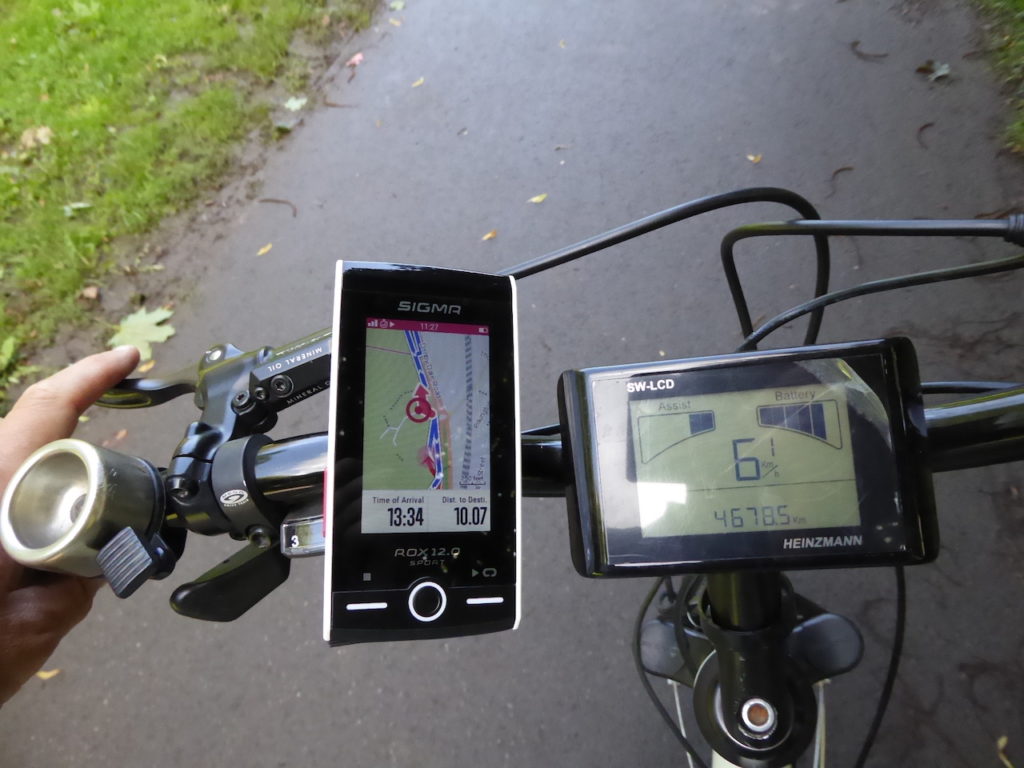 My only cavils with the ROX 12 were that the display could have been both larger and brighter to make it more visible.
That said, my test suggested it is one of the most feature-packed, reliable and capable GPS savvy bike computers out there.
Unfortunately I didn't have a compatible Shimano Steps powered e-bike to hand but you can see the graphic below for compatibility with various features of various Shimano Steps mid-drives.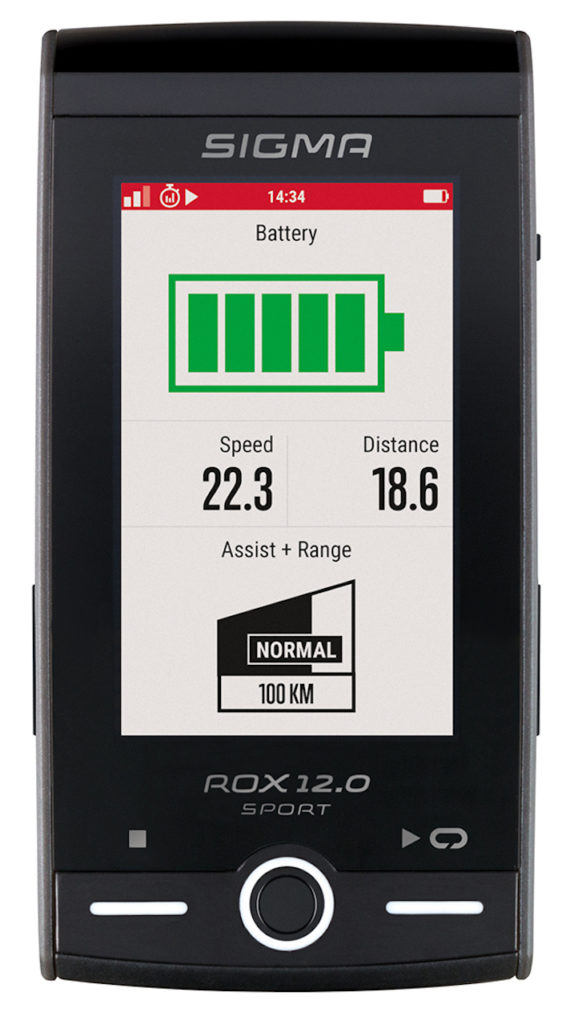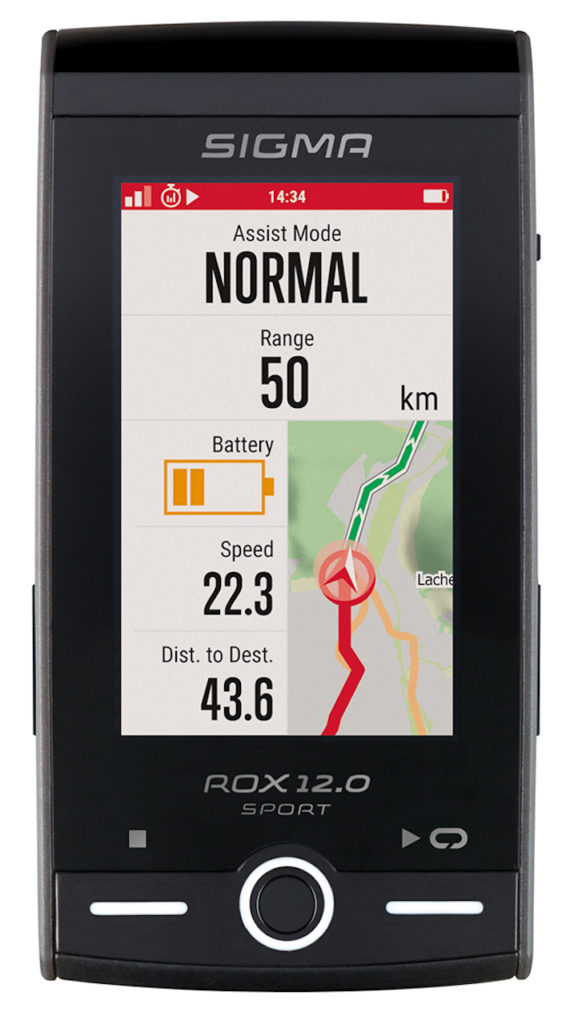 Again this looks a useful feature to have and it will be interesting to see if any of the main mid-drive manufacturers team up with third party GPS companies to produce a truly all-singing, all-dancing display for training, navigation and e-bike metrics.
It will also be interesting to see which way this area develops and if they put enough resources into GPS bike computer development to rival smartphone speed and chip performance and build in more robust features like drop-proofing and extreme waterproofing that will give them a distinct advantage over smartphones.
The Sigma ROX 12.0 is an extremely capable bit of a kit that must be near the head of the pack in terms of GPS cycle computers that you would want to use with an e-bike and suggests the race is well and truly on for stand-alone GPS units to match and exceed smartphone performance.
Note: All testing took place using UK mapping and within a small urban area of the UK, so the test cannot comment on mapping accuracy and GPS reception in different territories and different geographic areas.
Available in the US here Price US$ 348
Available in the UK here From £284.32
Stay tuned for more e-bike news and reviews and thanks for reading!
-Richard
P.S. Don't forget to join the Electric Bike Report community for updates from the electric bike world, plus ebike riding and maintenance tips!
Reader Interactions