Yuba Power-Up Cargo Bike Tour [VIDEO]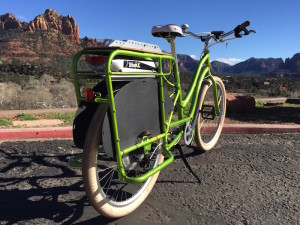 Electric assisted cargo bikes are great because you can accomplish many of the errands normally done with a car: carrying kids, getting groceries, picking up random items during the day, etc.
And Yuba Bicycles is all about showing off "What a bike can do" in their Power-Up Bike Tour across the US.
During this tour they are taking their cargo bikes to local dealers and events to "bring the bikes to the people".
The other day Steve Bode from Yuba Bicycles stopped by the Electric Bike Report office in Sedona, AZ to chat about the tour and show off their cargo bikes and accessories.
Here's a video of Steve when he was here:
And some pics of Steve's visit:
Steve Bode with a selection of Yuba cargo bikes and the Yuba Power-Up Tour van. They have 2 electric cargo bike models: the elMundo and elBoda Boda.
This is the step thru Yuba elBoda Boda electric cargo bike. It has a short wheel base for easy maneuverability.
The step thru frame has some sweeping aluminum frame tubes for a stylish look.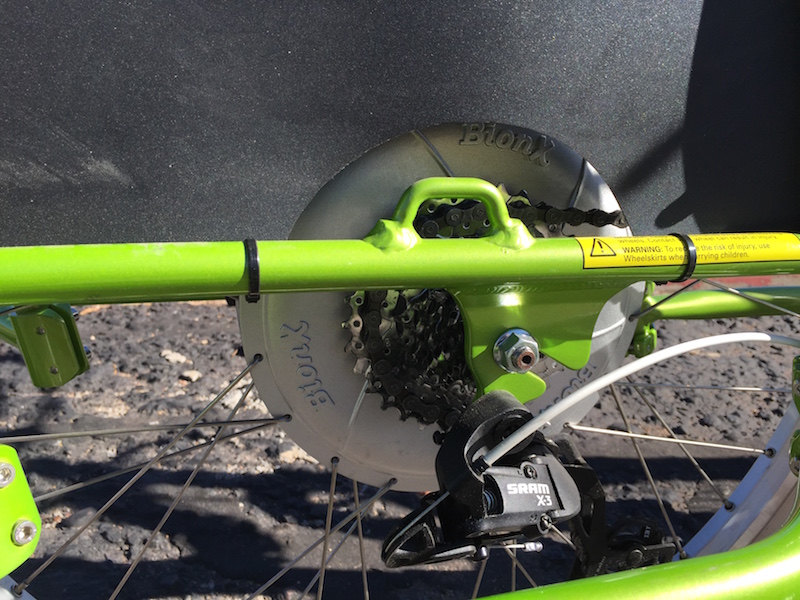 Yuba uses the BionX 350 watt direct drive rear hub motor.
The BionX 37V 6.6ah lithium battery is housed below the top rack. The rear racks on all Yuba bikes are a welded part of the frame. The attachment on top of the rack is for kids seats.
This is the conventional (non electric) Boda Boda with the step over frame type.
On the back of this Boda Boda is the new "Ring" Yuba add on that provides a hand hold for passengers riding on the rear rack.
Steve Bode Powers-Up because…..
And yours truly…..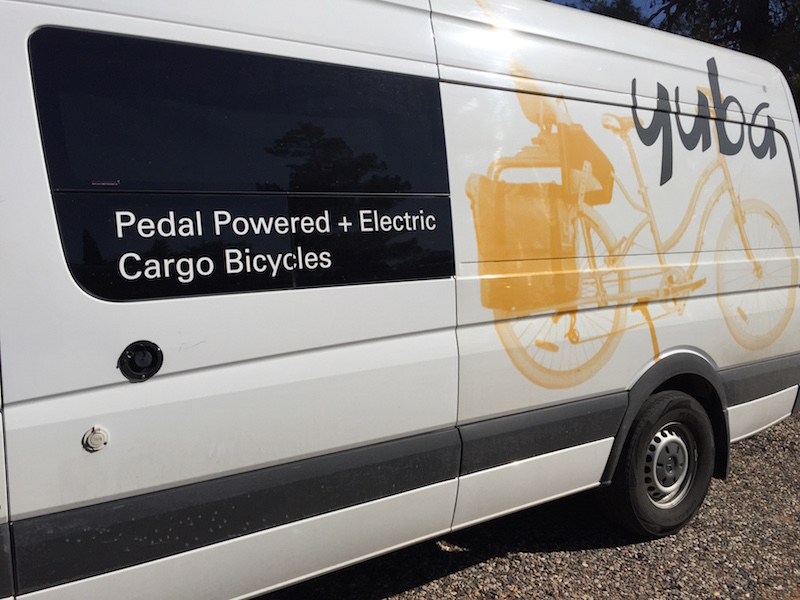 Keep an eye out for the Yuba Power-Up Bike Tour coming to your city!
P.S. Don't forget to join the Electric Bike Report community for updates from the electric bike world, plus ebike riding and maintenance tips! 
Reader Interactions