Pedego Electric Bike Review [VIDEO]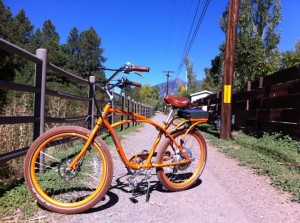 After a few days of intensive testing of the Pedego Classic Crusier electric bike, I have put together this video review for you.  This is a real world review based on me riding my normal commute route to work, running errands, and taking it on some steep hills and gravel bike paths.  I feel like I really put the Pedego electric bike through it's paces and I got a great handle on the pros and cons of this bicycle.
Checkout the video below for the full review!
UPDATE: I mentioned in the video that the kickstand was a little wobbly and it would be hard to use bags on the rack.  The kickstand is adjustable to make it more stable, and there is a bag setup that will work with the battery and rack.
You can download the video here or download the video to iTunes automatically and add the video to your mobile device.
If you decide that a Pedego electric bike is the bike for you, here is a place where you can purchase one.  Purchasing through that link supports Electric Bike Report.  Find out how.
If you live in Northern Arizona, you can purchase Pedego bikes at Flagstaff Sports Exchange.
Was this review helpful?  Do you have any questions?  Please leave your comments and/or questions below.
Thanks!
– Pete
P.S. Don't forget to sign up for updates from the electric bike world, plus ebike riding and maintenance tips! (upper right hand corner of this site)
Reader Interactions