The Electric Bike Scene at Interbike 2012 – Part 4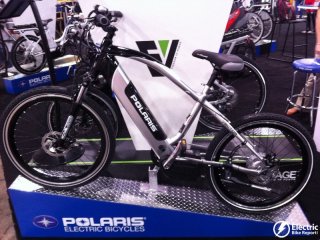 Here is the final installment of electric bike coverage from Interbike 2012!  Here are links to
Part 1
,
Part 2
, and
Part 3
.
MPF Drive is a mid drive electric bike motor system that was on display at the e-bike test track.
It has a similar look to the Bosch e-bike motor system.  It will be interesting to see more mid drive e-bike kits on the market in the future.
Currie Technologies had a number of their IZIP and EZIP electric bikes on display.
Their newest model is the IZIP E3 Compact folding electric bike that is a bike they have recently developed with Dahon (well known for their folding bikes).
This bike keeps things simple with a front hub motor and a single speed drivetrain.
Larry Pizzi, President of Currie Technologies, walks through the features of the new IZIP E3 Compact in this video:
IZIP also added some new colors to their Zuma beach cruiser style electric bike.
Prodeco launched 2 new electric mountain bikes.  The Prodeco 29er Titanio lightweight (31.8 lbs) titanium electric mountain bike has a 200 watt front hub motor, 33V 9ah Lithium battery (in water bottle), Rock Shox SID suspension fork, SRAM drivetrain, AVID hydraulic brakes and will retail for $4,999. They also have a 26″ wheel version that weights 29.5 lbs for $4,499
The new Prodeco Outlaw electric mountain bike has some impressive specs as well: 750 watts of power, 48V 9ah LiFePo4 battery, 28 mph, dual crown suspension fork, Avid Hydraulic disc brakes, SRAM drivetrain.  It will retail for $2199!
Here are some pictures of the new Titanio, Outlaw and the other Prodeco lines: Mariner, Stride, Genesis, Storm and Phantom.
Polaris electric bikes launched their new electric bikes at Interbike.  Yes, Polaris that is known for their ATVs, etc.  It is interesting to see a "power sports" company get into the electric bike market.  The must see the future for e-mobility!  Here is more info on Polaris electric bikes.
Voltage Cycles electric bikes are stylish laid back e-bikes!  These are meant for looking cool and enjoying a nice ride!  Voltage recently partnered with Allcell Technologies, a battery company in the US.  The batteries for the Voltage e-bikes are housed in the "gas-tank"!
Marty Schlesinger, the President of Voltage Cycles, shows off their Electric Sport e-bike in this video:
Evox is an electric bike company that has been focused on the Canadian market and they are considering expansion into the US market.  They have a mid drive motor that sends power to the rear wheel via a belt drive on the left side of the bike.  Interesting……
Pete's Electric Bikes (Not related to me!), had a number of e-bikes/trikes on display.  They had a cargo bike that uses the Xtracycle cargo system and a Panasonic mid drive kit, an electric mid drive cargo trike , and an electric bike share type of bike with a charging station that powers the bike through the front hub.  Here is more information on these bikes.
Alright, now time for some other stuff that was at Interbike 2012.  These pictures are a collage of some e-bikes that were spotted as well as some non e-bike stuff.  Enjoy!
Seen in the nooks and crannies at Interbike: Elvis on an e-bike, Go Swiss E-bike motors, Cube electric bike, Bullitt cargo bike, Metrofiets cargo bike, Madsen cargo bike, Diadora electric bike.
Finally, here is a video that will give you an idea of what the LEVA – Prodeco electric bike test track was like.  The bikes in this video include:
Pedego Destroyer, Pedego Trike, Ohm XS750, Polaris electric bike, IZIP Express, E Joe electric bike, Stromer electric bikes, Stealth electric mountain bikes, Juiced Riders electric cargo bike, Voltage Cycles electric bike.
Overall, the electric bike scene at Interbike and around the US is alive and well!
I hope you enjoyed this series of posts about e-bikes at Interbike.
Please leave any questions or comments in the section below.
Thanks!
-Pete
P.S. Don't forget to join the Electric Bike Report community for updates from the electric bike world, plus ebike riding and maintenance tips.
Reader Interactions