The Lightweight Prodeco Titanio (Titanium) Electric Mountain Bike!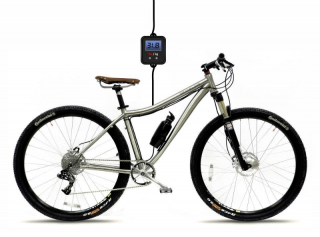 Okay, a titanium electric mountain bike that weighs 29.5 lbs; that is interesting!
Prodeco recently launched their flagship Titanio series of e-mountain bikes.  Their 26″ wheel Titanio weighs 29.5 lbs. and their 29″ wheel version (29er) weighs 31.8 lbs.
Based on the component spec, the Titanio looks like it will actually be trail worthy for many miles of riding.  Some bikes try to get the weight down but they use very flimsy components that don't endure the test of time on the trail.
Titanium is what bike connoisseurs (geeks) drool over!  Titanium is lightweight and it has a very supple ride characteristic.  Compared to an aluminum frame it is much more comfortable and it tends to have a "livelier" feel.  Titanium also has that coolness factor because it has a high quality look to it.
The motor and battery spec on the Titanio is interesting.  They are using a 200 watt front hub motor and a 33 volt 9 ah ULW Pan battery on the 29er and a 33 volt 6 ah ULW Pan battery on the 26″ version.  The 200 watt motor might seem like low power to some, but the electric assist is meant to help you get over a hill, not rocket you over it.
This bike is intended to make you feel like you are still mountain biking with "a little help".  From personal experience riding a bike like this, 200 watts of power provides a nice feeling of balance between your riding power and the electric assist.  The smaller motor and battery also keeps the weight of the bike in check so it will still feel close to a normal mountain bike.
The Titanio is a pedal assist electric bike with a torque sensor so that it will respond proportionally to how much effort you are putting into the pedals.
Prodeco did not skimp on the component spec when it comes to this high end e-bike.  They are using a Rock Shox SID PushLoc suspension fork on the 29er and the Rock Shox Recon Gold Air PushLoc suspension fork on the 26″ version.  These are well known suspension forks that have been used for many years on conventional (non-electric) mountain bikes.
The drivetrain is a mix of SRAM X9 and XO components and the brakes are Avid Elixir XO hydraulic disc brakes.  The stem, handlebars, and seat post are all Truvativ components.  The rims are Ryno Lite's and the tires are Continental Race Kings.
That is a solid line up of well known brand name components from the traditional mountain bike world.
Here is a pic of the 29er (31.8 lbs.):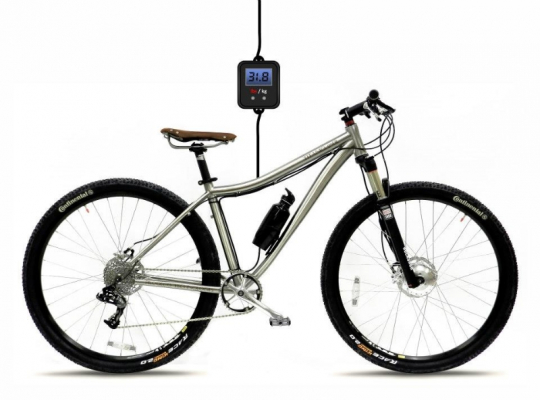 And a pic of the 26″ wheel version (29.5 lbs.):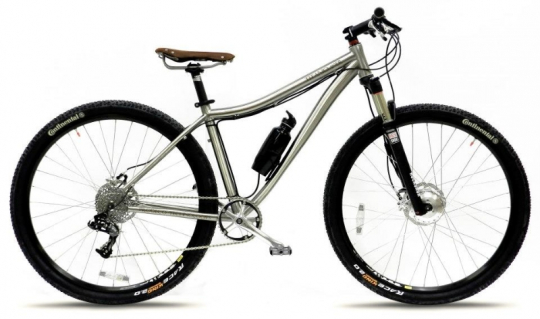 Here are the claimed ride specs from Prodeco:
29er Titanio:
Top speed is 18 mph

Range is 20-30 miles (depending on how hard you pedal!),

Charge time is 3 hours.
26″ Wheel Titanio:  
Top speed is 16 mph

Range is 18-25 miles (depending on how hard you pedal!)

Charge time is 2 hours.
The 29er Titanio will retail for $4,999 and the 26″ wheel Titanion will be $4,499.
Here is a link to their new 2013 catalog with the Titanio and their other electric bikes which include a mix of other e-mountain bikes, electric commuters, and electric folding bikes.
The Titanio is their flagship series but most of their bikes are in the $999 to $2199 price range.
Here is another point of interest: All Prodeco electric bikes are assembled in the USA at their facility near Miami Florida!  They have a large warehouse with over 3 million components in stock.
What do you think?  Would you be interested in riding a lightweight titanium electric mountain bike like the Titanio?  Please leave your comments in the section below.
Thanks!
-Pete
P.S. Don't forget to join the Electric Bike Report community for updates from the electric bike world, plus ebike riding and maintenance tips.
Reader Interactions