The Stromer ST2 at Interbike 2014 [VIDEO & PICS]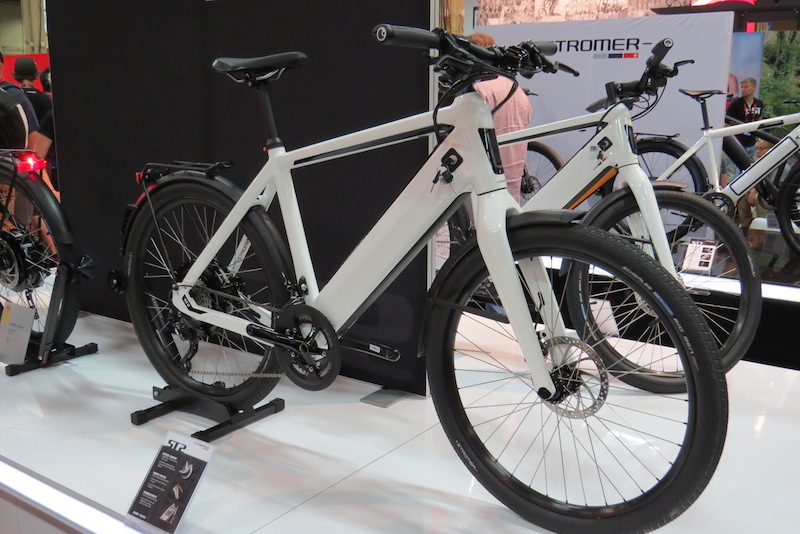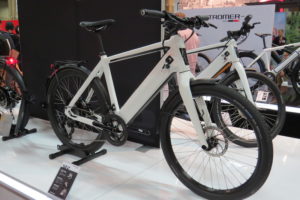 The highly anticipated Stromer ST2 was on display at Interbike 2014 to tease us for it's 2015 arrival in the US.
The ST2 is a very high tech electric bike with smartphone integration and GSM wireless connectivity using it's OMNI system.
In addition to being on the cutting edge of tech, the ST2 features a HUGE lithium battery with 814 watt hours of capacity. Most bikes have 360 or 400 watt hours.
Stromer has also updated their direct drive motor with features like: 500 watts, 35 Nm of torque, a freehub, and thru axle.
The ST2 will be available in March of 2015 for $6,990 (USD).
Enjoy this video that highlights the new high tech Stromer ST2:
And here are some detailed pictures of the ST2 from the show: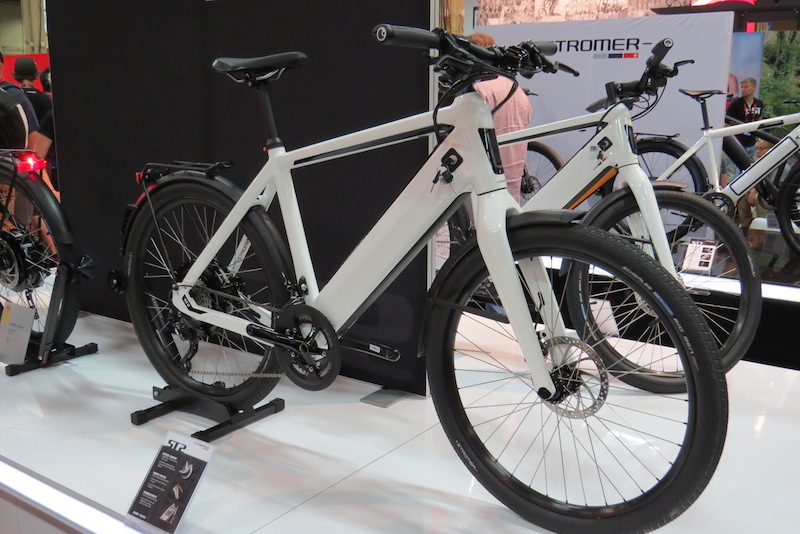 This ST2 comes in two sizes (20″ & 17″) in addition to a 17″ step thru style frame. The colors offered are white or black.
The ST2 has 2 front lights to see and be seen at night. There is a USB port for charging your smartphone in the headtube light (lower).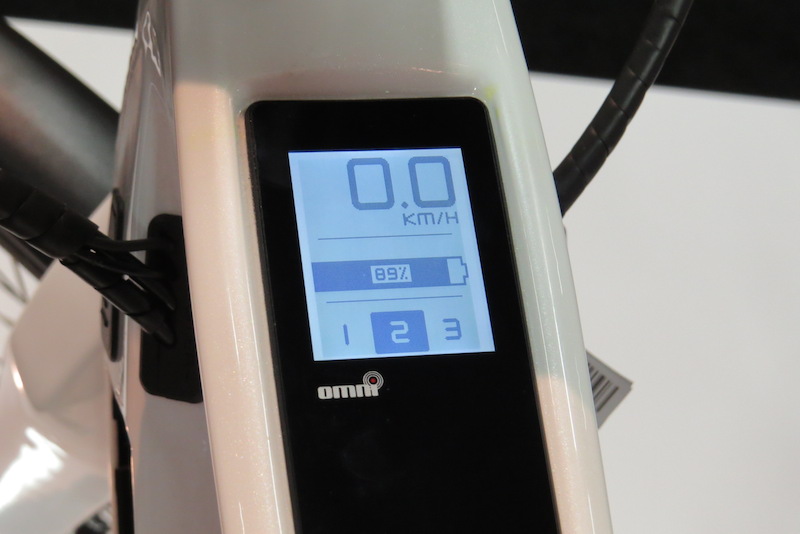 The display is located on the top tube near the stem. You can adjust a number of setting here. The smartphone app provides more adjustments options.
The ST2 is very connected through it's OMNI system!
The smartphone app allows you to customize the ST2 performance settings.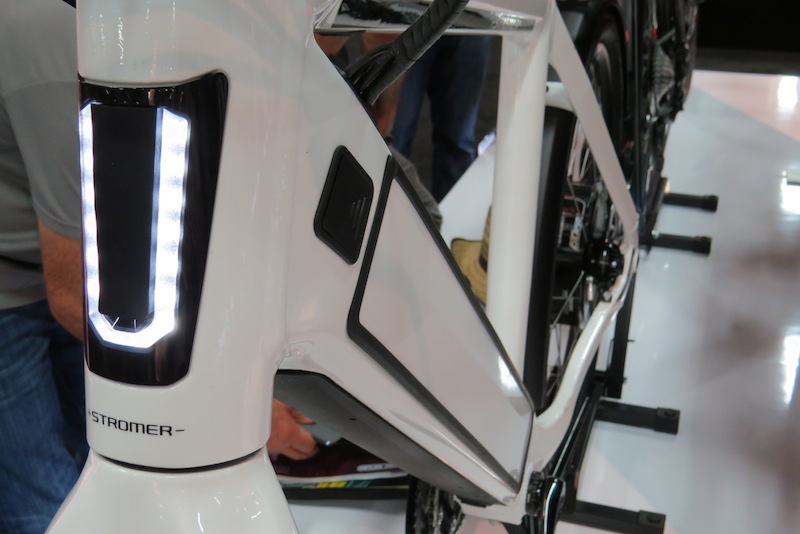 Stromer made a splash in the e-bike market by integrating the battery in the side of the downtube of the frame.  That design element continues in the ST2.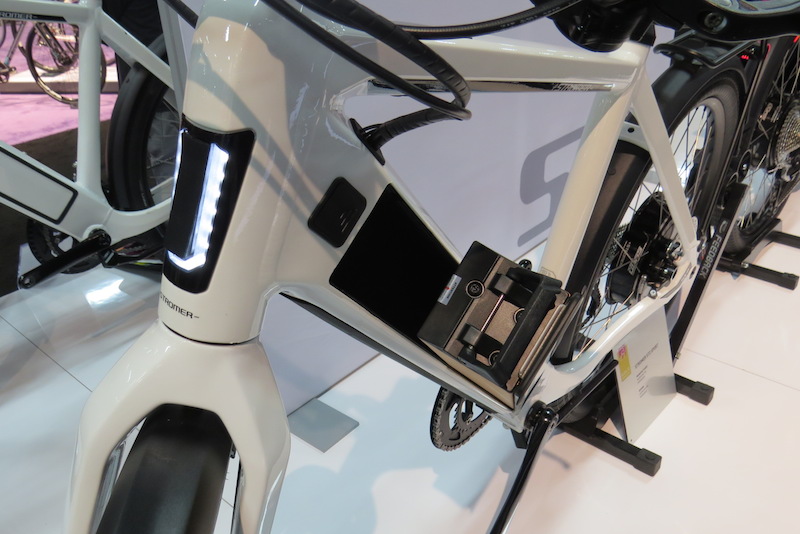 The battery door opens to the side and the battery can be pulled out.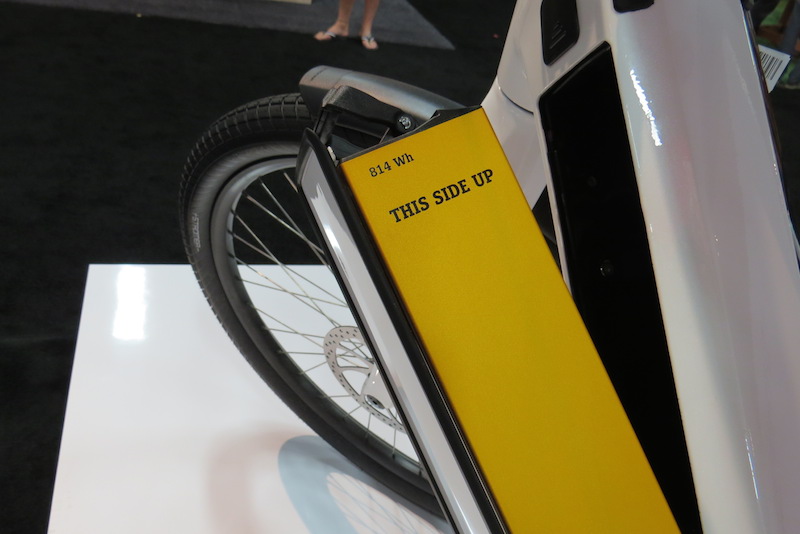 The big upgrade on the ST2 is the massive lithium battery. At 814 watt hours it is more than double the typical 360 or 400 watt hour e-bike battery pack. That means seriously long range!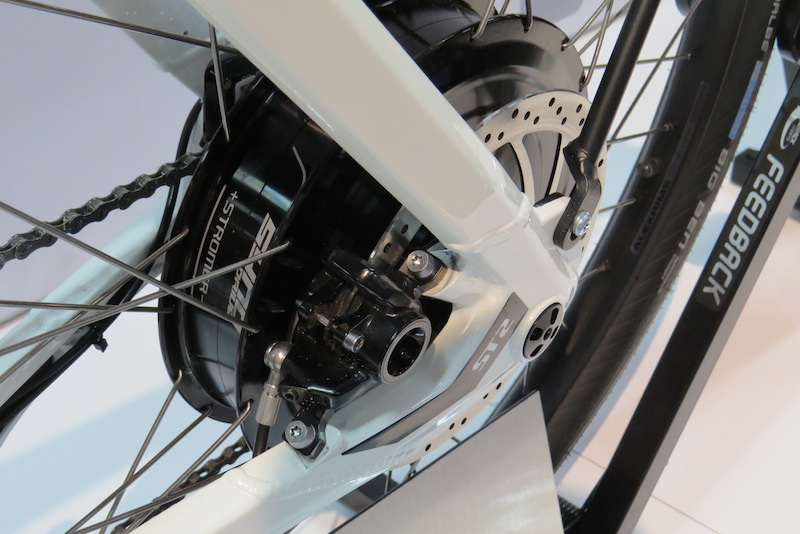 The SYNO Drive direct drive rear hub motor has 500 watts of power and 35 Nm of torque.  Also note the disc brake and thru axle.  The thru axle provides for a solid connection to the frame. The motor powers the ST2 up to 28 mph. It is a torque sensor pedal assist bike (no throttle).
Checkout this post for more information on the Stromer ST2 and the techno video of the ST2!
P.S. Don't forget to join the Electric Bike Report community for updates from the electric bike world, plus ebike riding and maintenance tips!
Reader Interactions