Raleigh Misceo iE Sport Electric Bike Review Part 2: Ride & Range Test [VIDEO]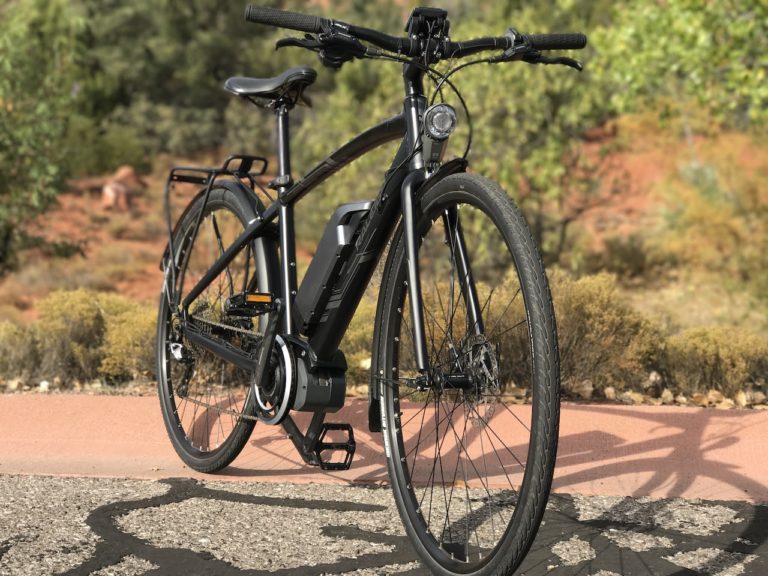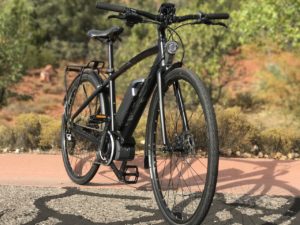 The Raleigh Misceo iE Sport is fun sporty commuter eBike that can also be a nice touring rig with its full assortment of accessories.
It has a road bike sporty performance ride feel with additional stability thanks to the flat bars and relaxed geometry.
At $2,699 it offers a lot; an aluminum frame with carbon fiber fork, Shimano STePS mid-drive system, Shimano SLX drivetrain, Shimano hydraulic disc brakes, and healthy selection of accessories.
In this second part of the full review you will get an idea of the ride characteristics, range test results, pros, cons, and overall thoughts on this electric bike.
Make sure you check out part 1 of this review with large pictures and specifications to get a detailed look at this e-bike.
What you can expect from the Raleigh Misceo iE Sport:
To get acquainted with the Misceo iE Sport, checkout this video:
Raleigh is one of the older bicycle companies in the world, dating back to 1885!
In addition to their large line of conventional bikes they have a wide variety of electric bikes that includes commuters, beach cruisers, mountain bikes, a high speed pedelec, and a new trike.
Riding the Raleigh Misceo iE Sport: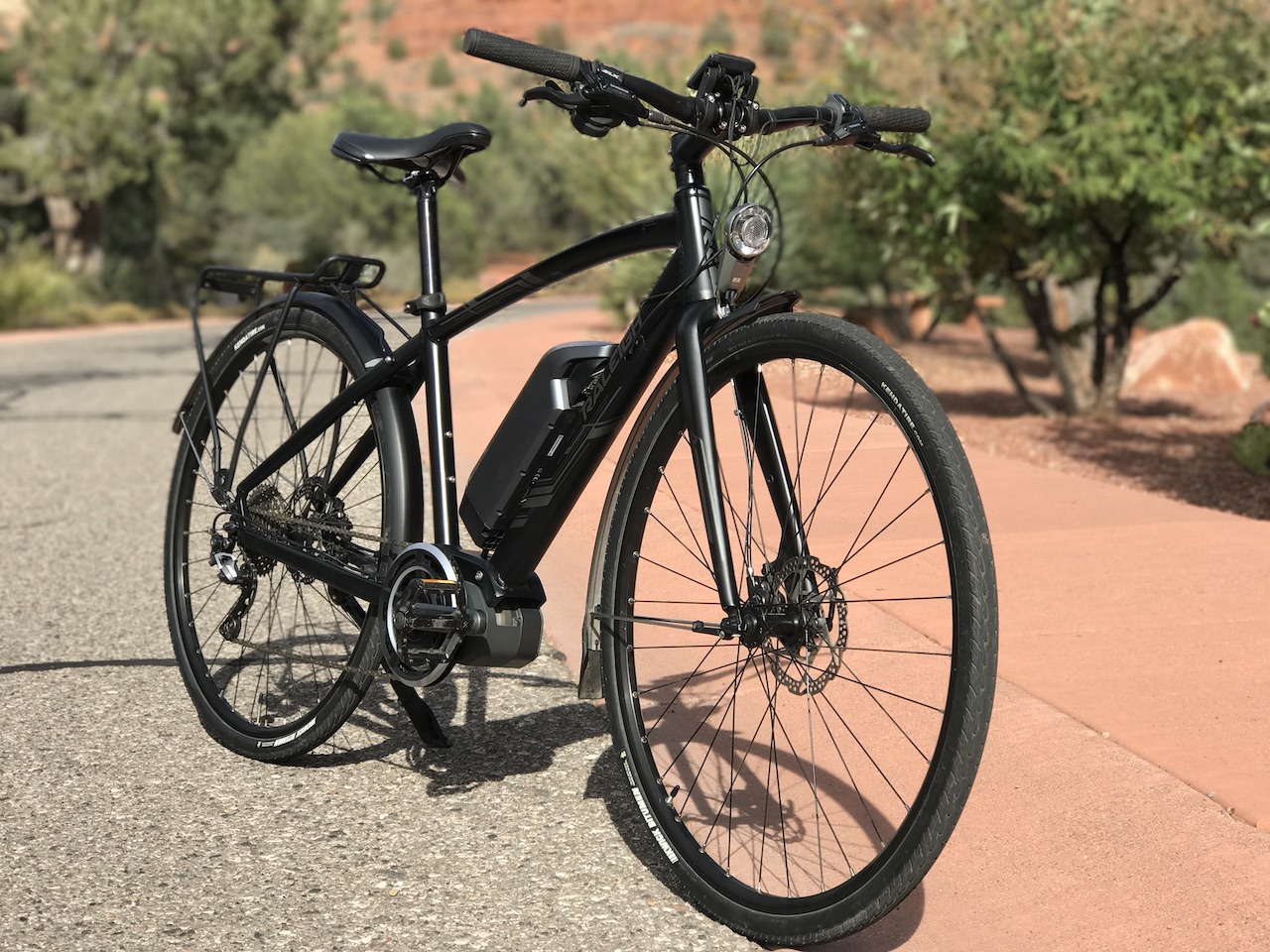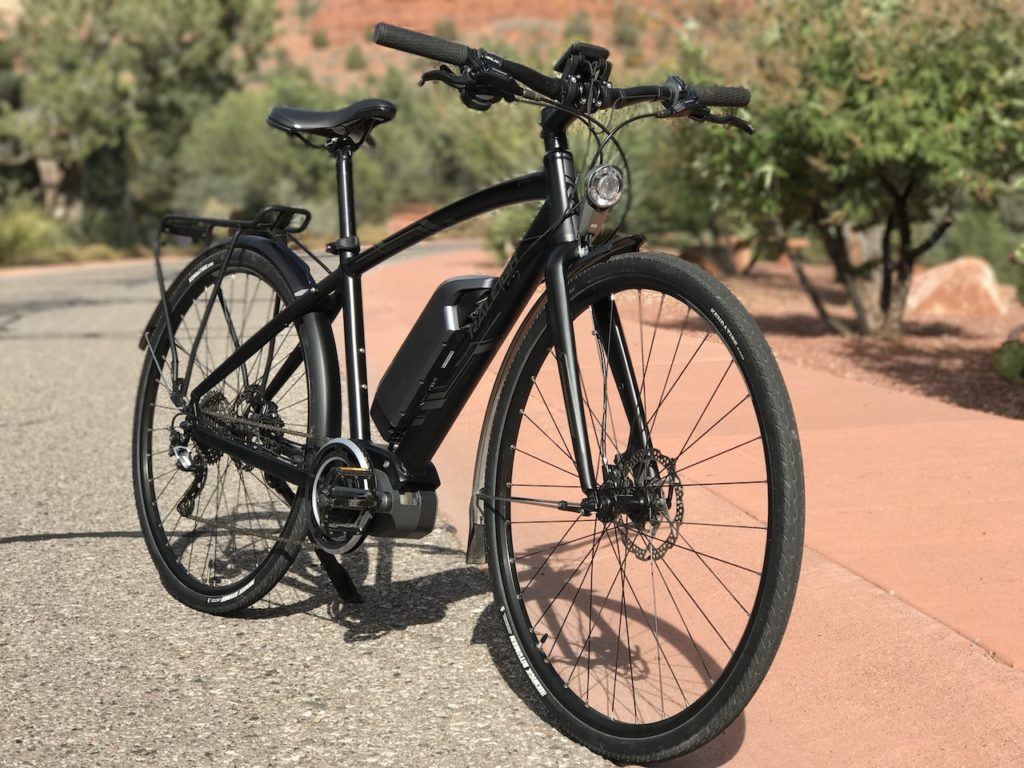 When you first look at the Misceo iE Sport you can tell it has the efficiency of a road bike with a lot of the conveniences for everyday commuting built-in.
And that look translates well into what you feel when riding the Sport. It has quick acceleration with agile yet stable handling that makes cruising around town easy.
At 45.7 pounds it is one of the lighter electric bikes on the market and its weight distribution is centered and relatively low for solid overall bike handling.
Lighter eBikes are great when you have to carry the bike up stairs or lift it onto a car rack. Removing the battery pack brings the weight of the bike down to about 40 pounds and that further helps when lifting the bike.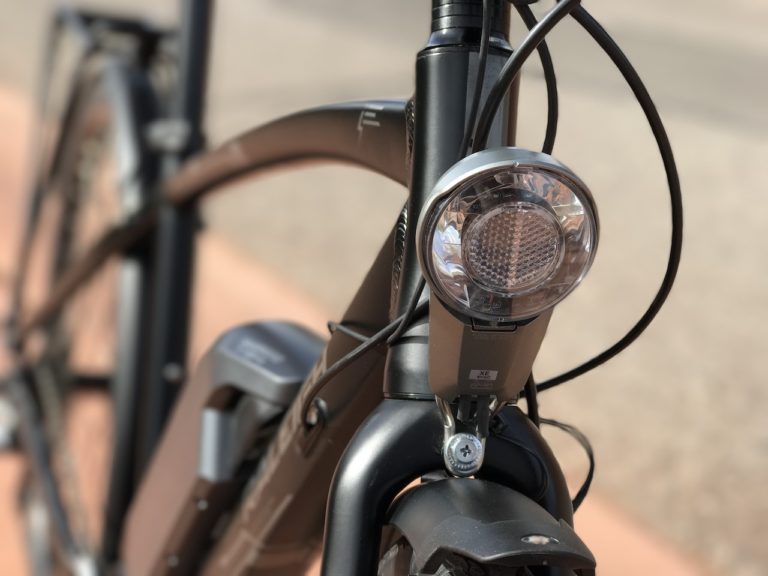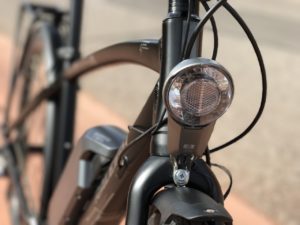 The healthy selection of accessories like the fenders, lights, rear rack, and kickstand give this eBike a feeling like it is ready to handle the daily commute right out of the box.
In addition to being a solid commuter electric bike, the Sport can also be a great touring eBike with its efficiency and well equipped accessory package.
The riding position of the Sport is sporty! It is a bit stretched out with a lower handlebar position for more of a performance ride style. If you prefer a more upright position a different stem can be used.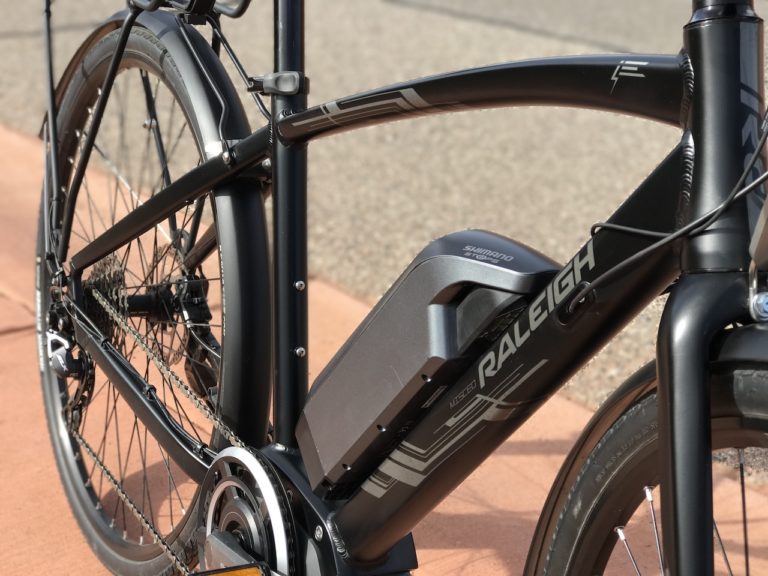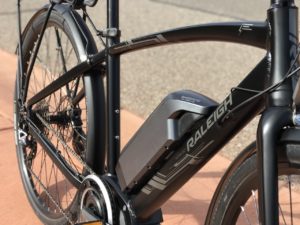 The 6061 aluminum frame provides a solid ride that transmits your pedal power (and motor power) to forward motion with very little flex. The solid aluminum frame and road style tires does transmit a fair amount of roughness from the road. To take the edge off of rough roads I recommend suspension seatposts.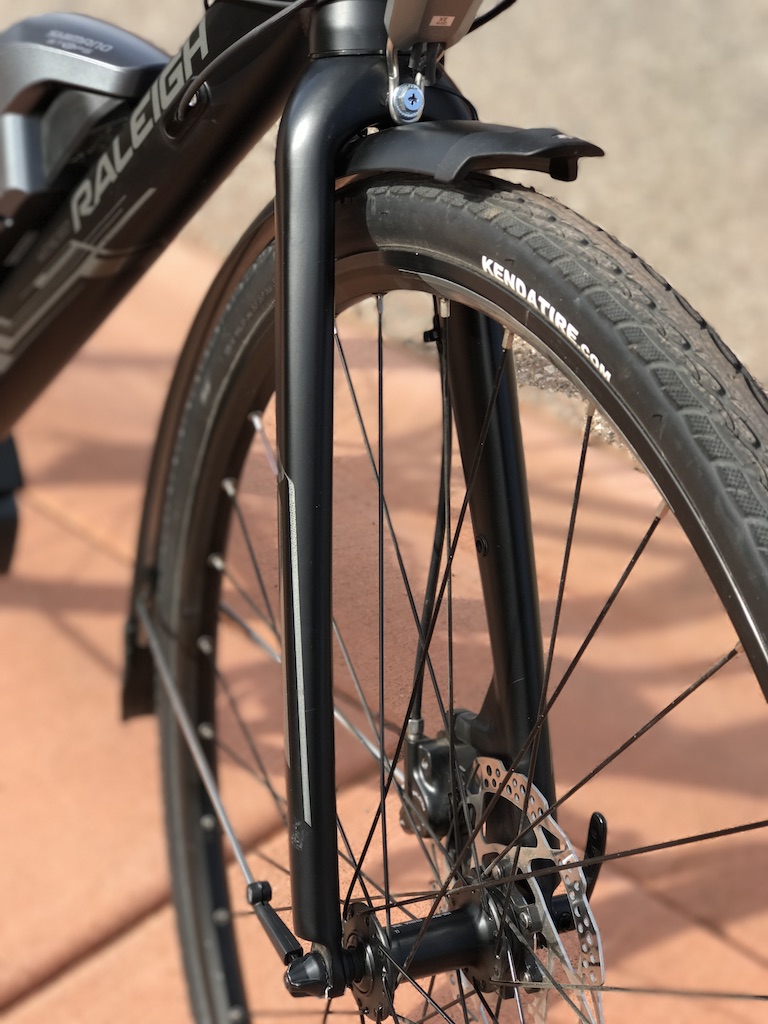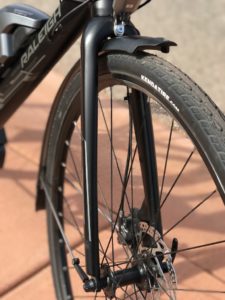 Raleigh spec'ed a carbon fiber front fork on the Sport and that helps to keep the weight down and helps with some of the road shock when compared to an aluminum fork. Plus, it's fun to have some carbon on your bike!
The full Shimano component spec gives the Sport a cohesive and high quality feel.
For starters the Shimano STePS 250 watt mid-drive pedal assist system (no throttle) uses 3 sensors (torque, cadence, wheel speed) to determine the amount of assist to provide you.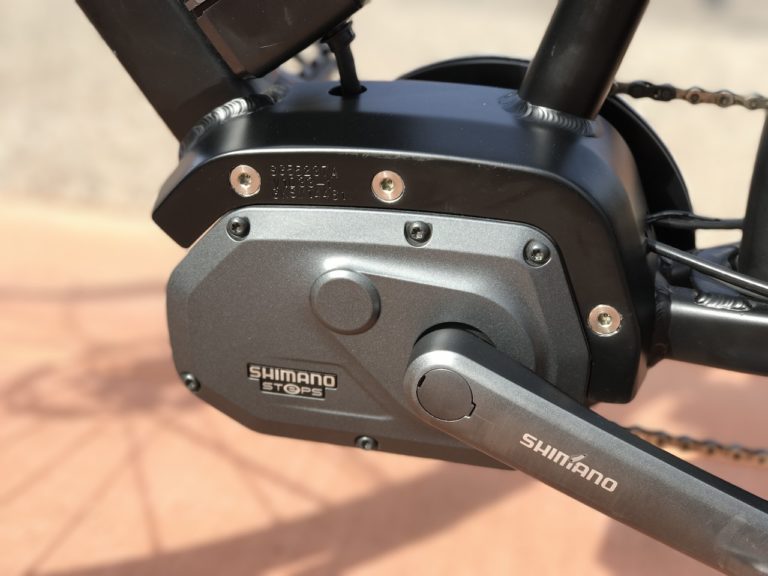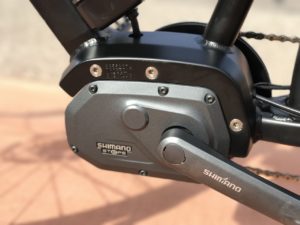 The STePS mid-drive is very responsive and provides assist as soon as you start pedaling. Likewise it stops assisting as soon as you stop pedaling. It provides a proportional amount of assist that correlates pretty well with the amount of your pedal power.
The STePS system offers 3 levels of pedal assist: Eco, Normal, & High. The assist levels are changed using the control pad up or down arrows on the left side of the handlebars and the display shows what assist level you are currently using.
And there is a "hidden" level of assist! Walk mode provides assist up to ~2.5 mph and it helps when you are walking the bike up a steep hill or stairs. It is activated by holding the down arrow on the control pad.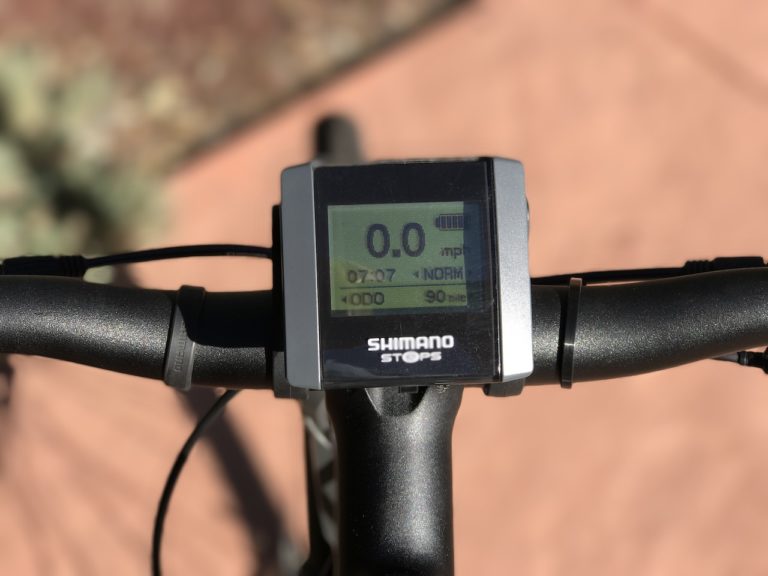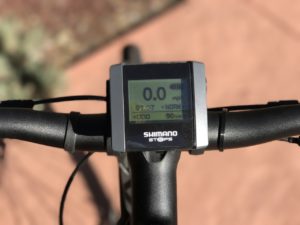 The display that is mounted on the center of the handlebars provides a lot of info like the battery level, current speed, time, pedal assist level (Walk, Off, Eco, Normal, High), trip distance, odometer, average speed, max speed, and estimated range remaining.
The estimated range feature is very useful and it updates during your ride to provide you the best estimate. The STePS system takes into account the current battery level and the terrain you have been riding. With that info it provides the estimated range for assist levels of Eco, Normal, and High.
As with any eBike, it's a good idea to keep an eye on the estimated range during your ride, especially if you are on a hilly route, because it can change significantly.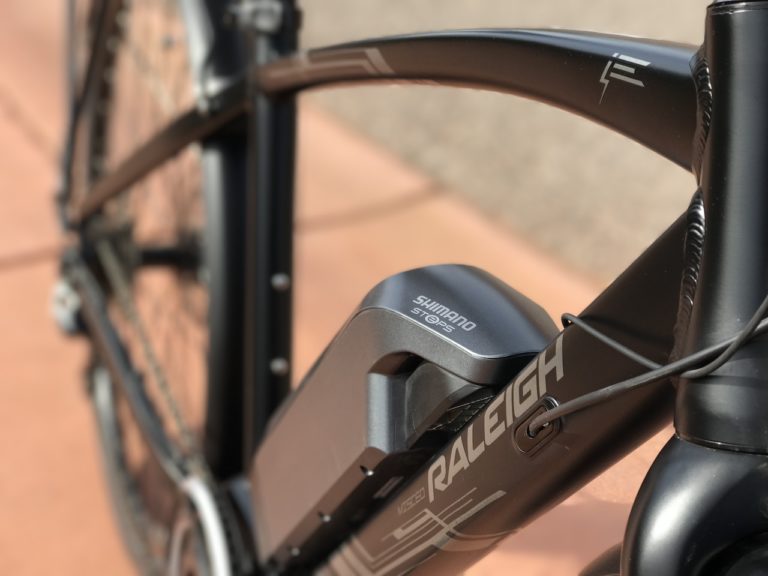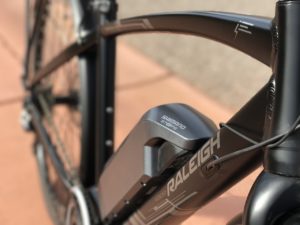 The Shimano STePS lithium ion battery pack takes about 4 hours to charge if it is completely empty. In the first hour and a half it will reach 70% capacity, which make it easy to do a quick "fill up".
The charger is about the size of a laptop charger and it plugs into the bottom of the battery pack. The battery pack must be unlocked and removed from the bike for charging and unfortunately there isn't a way to charge the battery on the bike.
The STePS motor does create a small amount of noise and it varies depending on the terrain. On flat roads it is not very noticeable but you can hear it more when climbing steeper hills.
The Misceo iE Sport can quickly get up to 20 mph with its road bike efficiency and it will climb almost any hill with it's ability to leverage the pedal & motor power through the lower gears of the bike.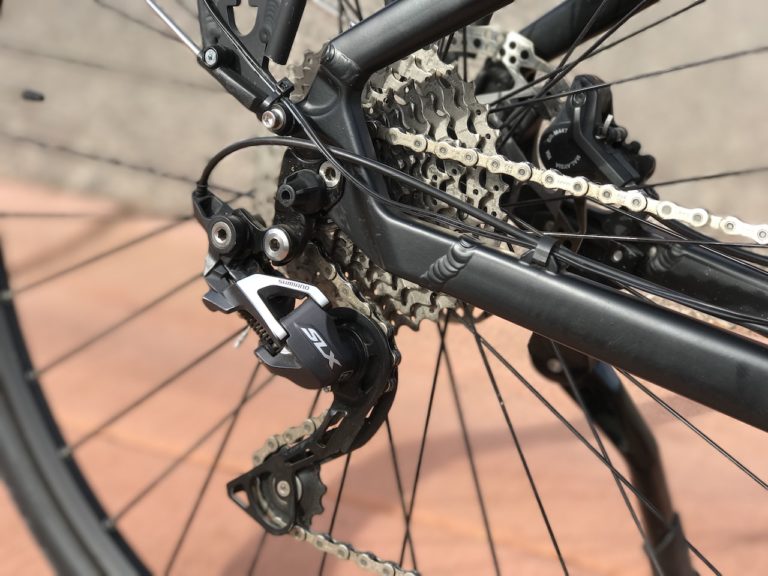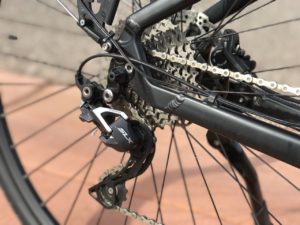 The Shimano SLX 10 speed drivetrain provides a gear range is sized well for all around riding on the flats and hills. In the high assist mode the shifting felt a bit abrupt when going from larger to smaller cogs. It would be nice to have a momentary reduction of power between shifts built into the Shimano system for these shifting conditions.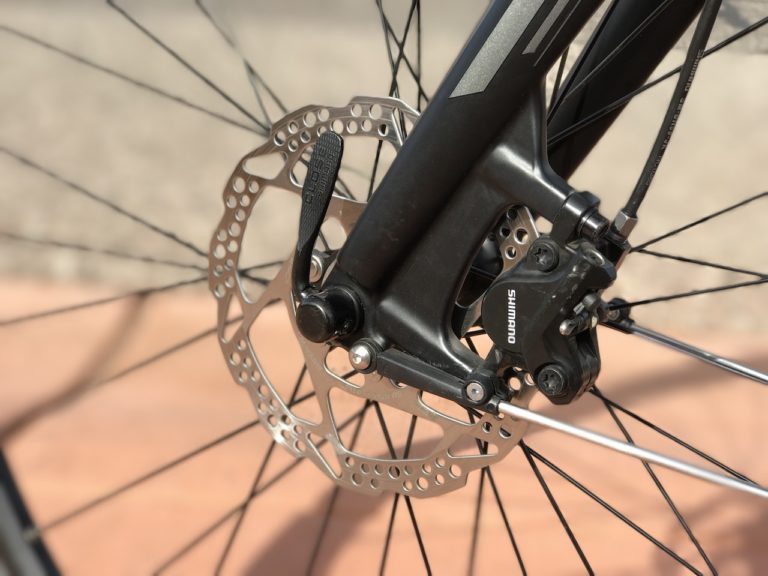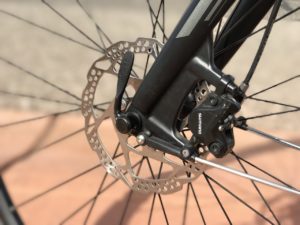 The Shimano M425 hydraulic disc brakes with 160 mm rotors do a good job of stopping the Misceo iE Sport quickly in any kind of weather. They have a very solid feel and they modulate the braking power well from a little to a lot of power and everything in between.
The Kenda Kwick Bitumen 700 x 35c tires provide an efficient ride for this urban commuter/touring road e-bike. They have a nice rolling efficiency with enough width to have a stable feel.
The Velo/Raleigh saddle has a wider profile for a comfortable ride and it has some plastic edges for protection if the bike were to fall.
Raleigh Misceo iE Sport Range Test Results:
Here is the real world information on how the Raleigh Misceo iE Sport electric bike performed on a riding circuit that includes hills, flats, traffic, wind (when available) etc.
While testing these bikes I like to put them through the toughest conditions to see where their bottom line is in regards to range and speed. I tested the Misceo iE Sport in the High pedal assist level with relatively easy pedaling.
Range: As you can see from the GPS info that I recorded, the Misceo iE Sport traveled 30.1 miles and did a total elevation gain/loss of around 2,600 ft. Considering that I weigh 190 lbs and I pedaled very lightly this is very good range for a 36 Volt 11.6 ah battery pack (418 Watt Hours) with a 250 watt motor.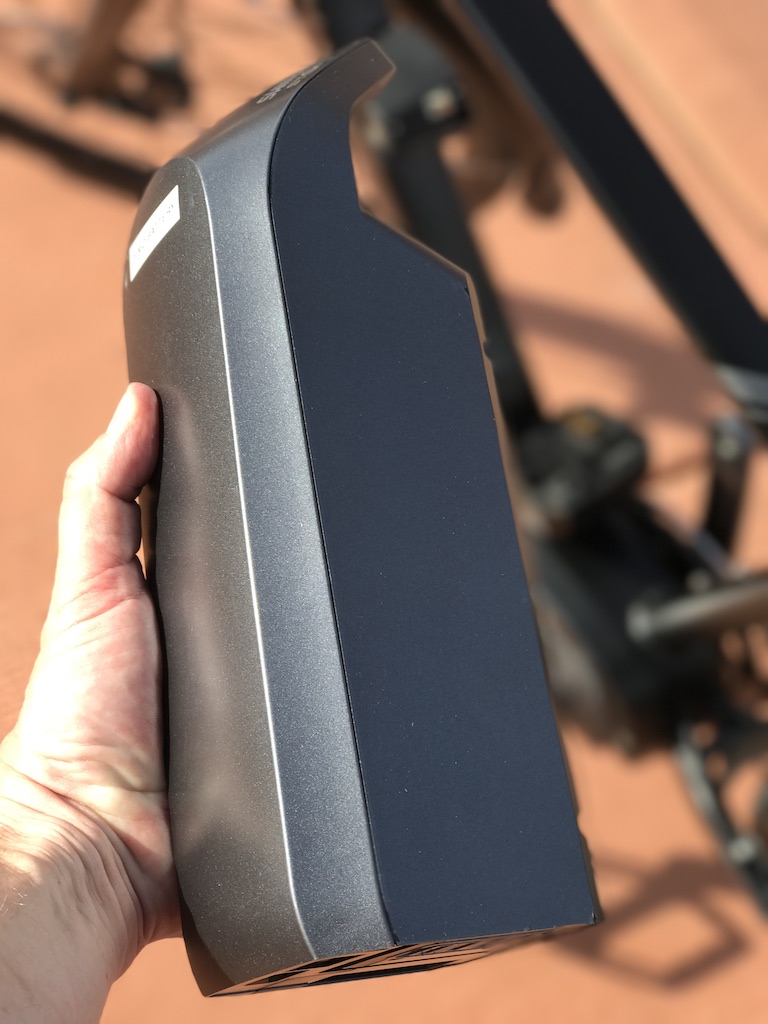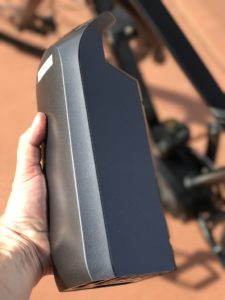 Watt hours are the total energy in a battery pack and it is based on the volts x amp hours of a pack. This is a way to compare the size of the "gas tank" of electric bikes.
Please keep in mind that if you pedal more, weigh less than me, ride slower and/or you use the bike in terrain that is not as hilly you will get more range. These results are from tough testing.
Speed: The Misceo iE Sport will assist up to 20 mph. Since the Misceo iE is a road style bike with good efficiency, pedaling above 20 mph is easier when compared to other types of e-bikes.
Weight: The Sport tips the scales at 45.7 lbs which is impressive for an electric bike! Removing the battery brings it down to around 40 pounds which makes it easier to load onto a car rack.
The weight distribution of the Misceo iE Sport is very good because both the motor and battery are relatively low and centered on the bike. This helps with the handling of the bike as well as with the ease of picking the bike up.
Pros: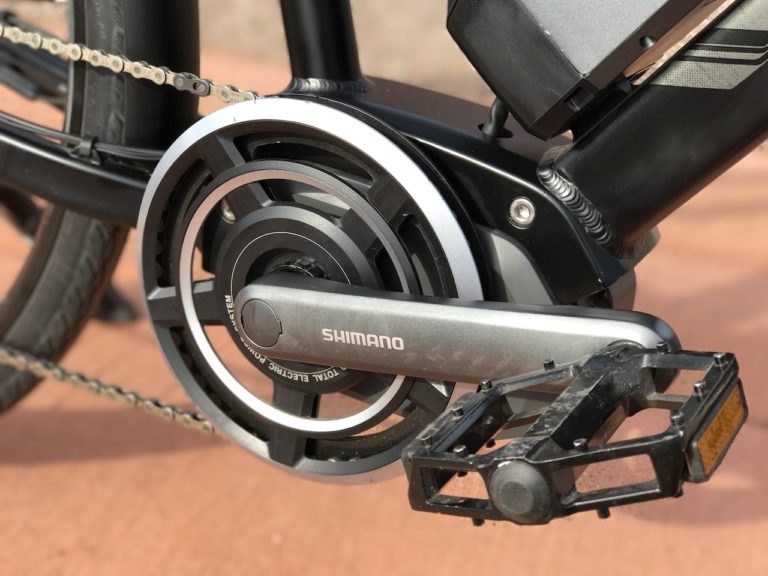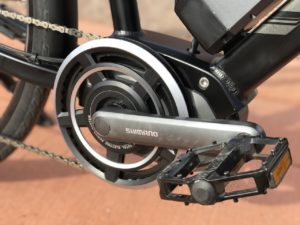 Shimano STePS: The complete Shimano STePS system with a Shimano SLX drivetrain and Shimano M425 hydraulic brakes provides for a high quality ride feel.
Lightweight & Sporty: If you like a performance ride style then you will really enjoy the lightweight Misceo iE Sport. It feels quick and sporty with it's low and centered weight distribution and road bike performance style.
Price: $2,699 is a nice price point for the quality features and accessories that you get with the Misceo iE Sport. And that is all backed up by the quality of the Raleigh brand and complete Shimano group.
Cons:
Charging on the Bike: Charging the battery on the bike can be important for some riders and it would be nice to see this as a feature on the Shimano STePS system.
Abrupt Shifts: In the high assist mode the shifting felt abrupt when going from larger to smaller cogs. It would be nice to have a momentary reduction of power between shifts built into the Shimano system to make the shifting smoother.
Noise: It would be nice to have less noise from the motor when climbing steeper hills.
Conclusion: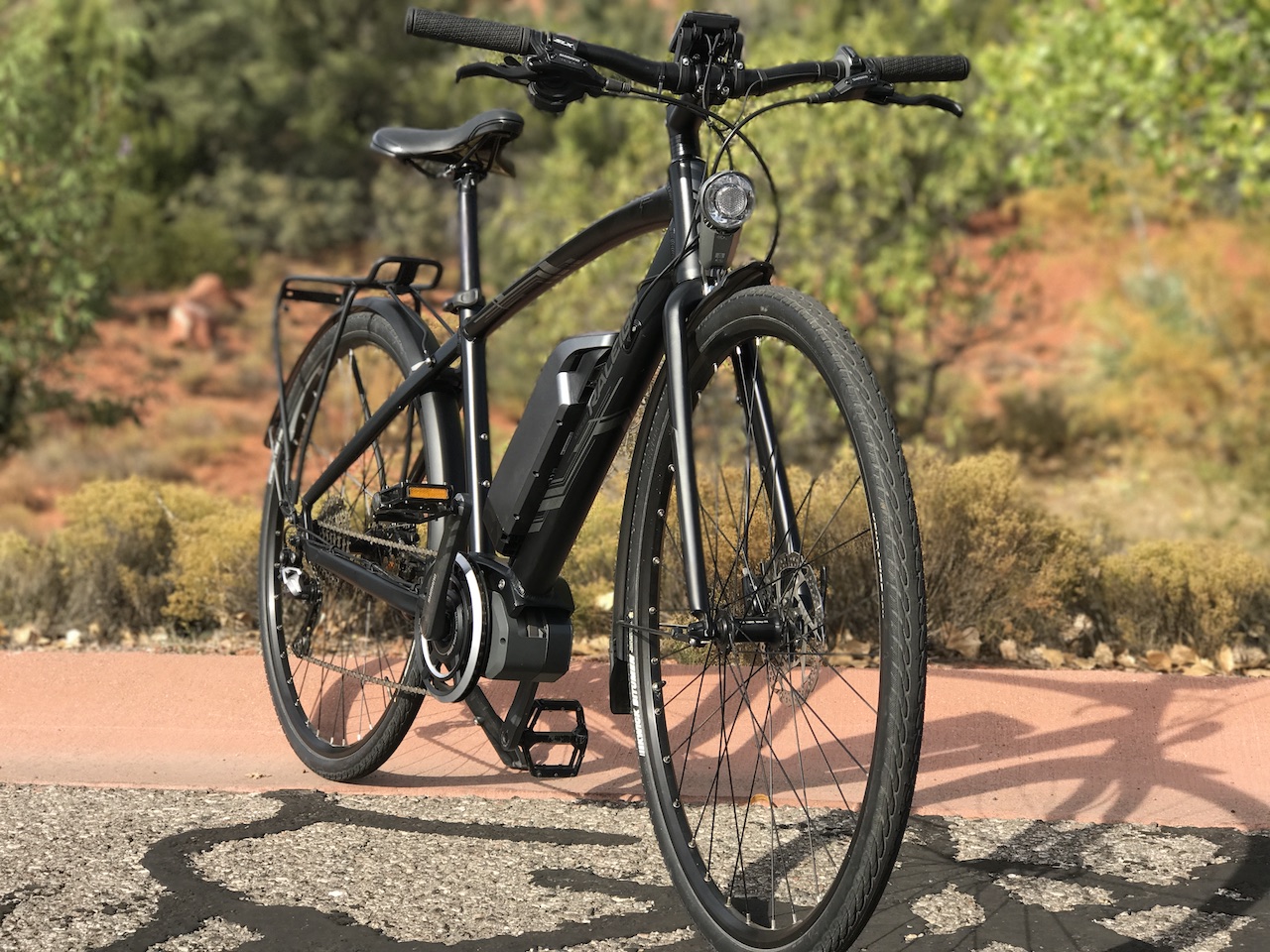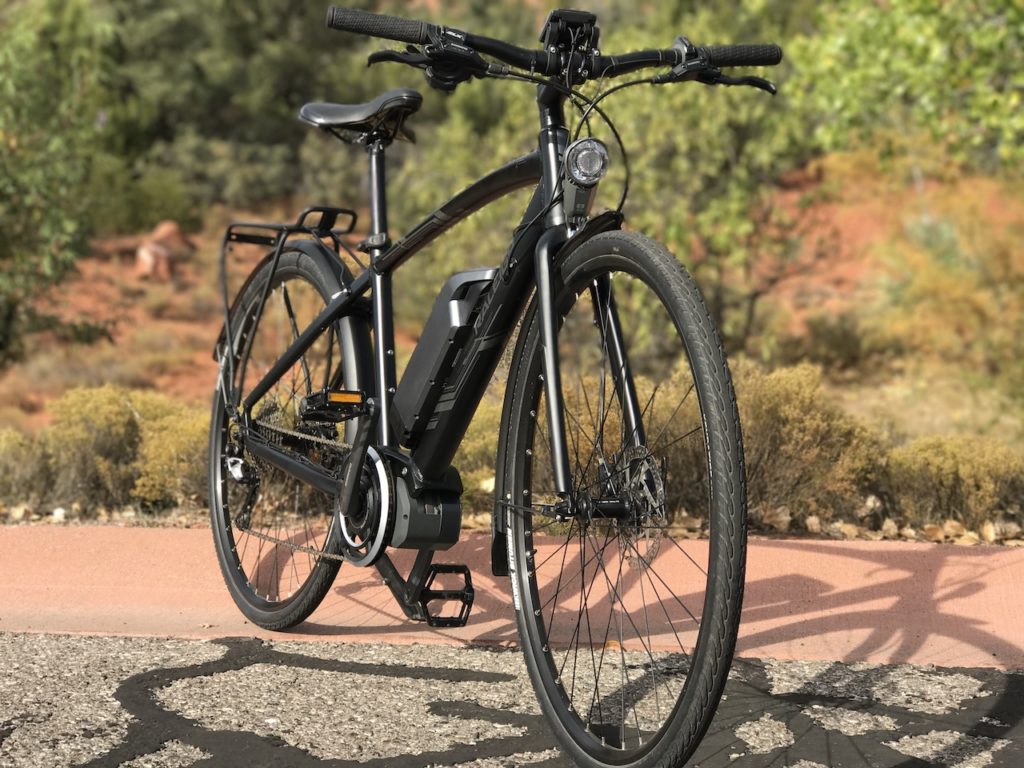 Overall the Raleigh Misceo iE Sport is fun sporty commuter eBike that is ready to go right out of the box. It can also work very well for touring from town to town.
At $2,699 it offers a lot of quality with the full Shimano spec and healthy selection of accessories.
Please keep in mind that this is a relatively short term test. This testing can't really give you the long term review of durability and reliability. My thoughts on the quality of this bike are from previous experiences with similar bikes. If you own this bike and have some input on the long term durability, please share your comments with the Electric Bike Report community below.
Where to buy a Raleigh Misceo iE Sport? Check with Raleigh for a dealer near you.

Do you have any questions about the Raleigh Misceo iE Sport? Do you own a Misceo iE Sport? Please share your thoughts in the comment section below.
Thanks!
-Pete
Review Note: Each company pays a fee for a review on Electric Bike Report because of the considerable amount of time that it takes to provide an in-depth review of each eBike. A lot of time is spent on the full range test with distance & elevation profile, the wide variety of detailed pictures, in-depth video, and the write up with the specifications, ride characteristics, pros, cons, and overall thoughts. The reviews on Electric Bike Report are focused on providing you with a detailed "virtual" look at each eBike to help you determine if it is the eBike for you or not.
P.S. Don't forget to join the Electric Bike Report community for updates from the electric bike world, plus ebike riding and maintenance tips!
Reader Interactions