New 2019 eBikes: Stromer, Haibike, R&M, Liv, Fazua, Pure Cycles, Mubea, & More! [VIDEOS]
The new 2019 electric bikes keep rolling out!
Some of these bikes were at the Eurobike show and others have rolled out since.
There are some new eBike brands and new drive systems that are making a splash, including a mid drive motor with integrated gear box.
We will be seeing more 2019 eBike models as Interbike (largest North American bike show) approaches in September.
Enjoy these new rides!
Stromer ST3
High quality Swiss brand Stromer have recently launched a new model, the ST3.
It features their signature SYNO Drive II rear hub with regenerative braking and claims 44 Nm torque and 600 watts peak power.
Other features include 814Wh or 983Wh battery capacity options and connection of the e-bike via an app that turns the owner's smartphone into an onboard computer to provide theft protection with a lock, alarm and GPS location. Due fall 2018.
MSRP ST3: 814Wh battery: $7,499
MSRP ST3 Launch Edition: 983Wh battery: $8,399
Haibike Flyon Range Powered by High Performance TQ Motors
Emountainbike Magazine has plenty of detail on a brand new range from e-mtb supremos Haibike, powered by the unique motor technology of the pin-drive motor from TQ.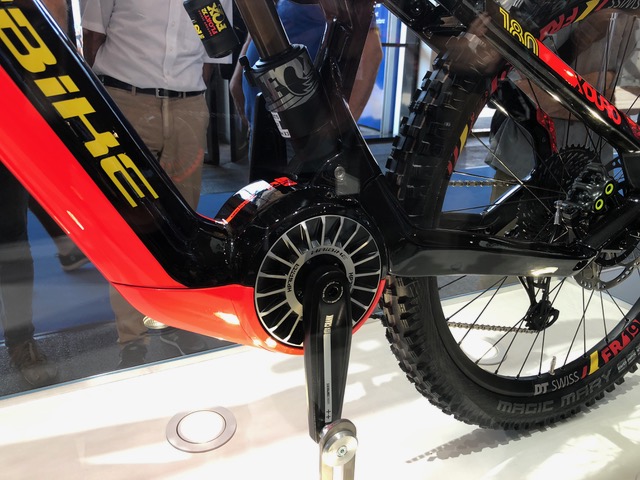 If the stats are to be believed the Flyon range takes the power levels available from a crank motor to a whole new level, boasting 120NM of torque and 500% assistance levels!
Here's the TQ promo system showing their unique design.
Add into the mix a new carbon frameset, 630Wh battery and a 500 Lumen headlight and it's easy to see that the new Flyon range will be one of the most desirable e-mtbs out there. For more details of the whole Haibike 2019 range see here.
Riese & Müller New Models
Riese & Müller have been in touch detailing their 2019 model range and some of the exciting new Bosch-related technology that they will be rolling out on the bikes.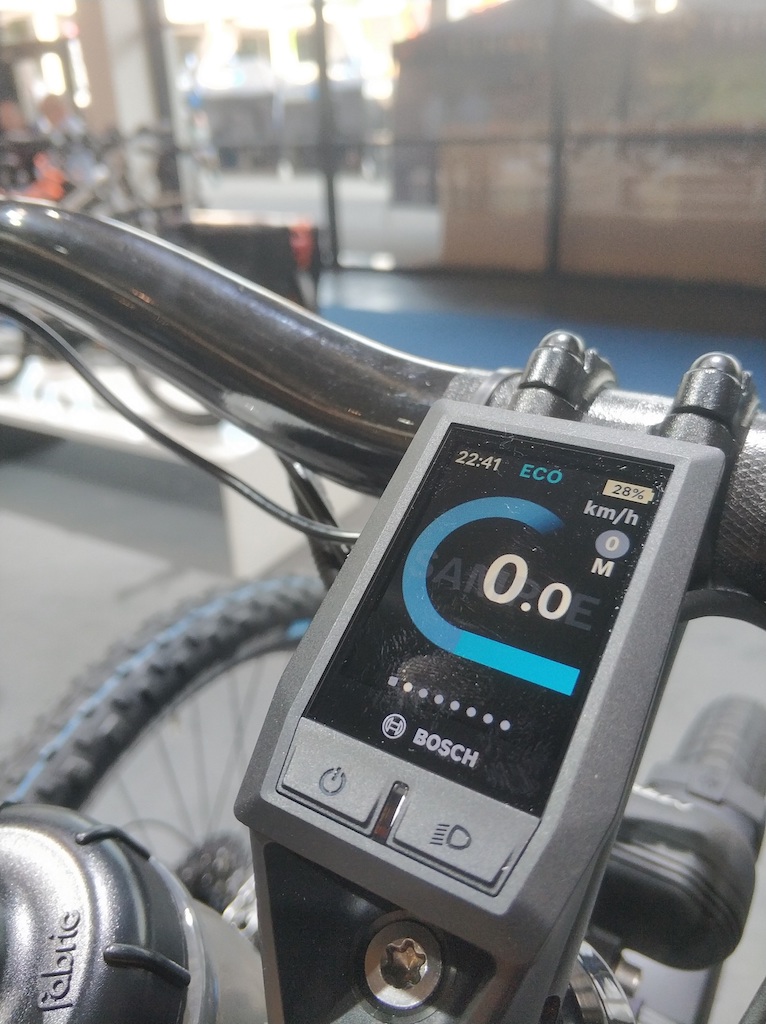 Perhaps top of the list is the new extra compact, extra tough KIOX display which will feature prominently across the range.
ABS braking will also feature prominently across the range.
In terms of the models due for 2019 we particularly liked the look of the Multicharger cargo e-bike – unsually it comes in an off-road option! It has dual battery and COBI smartphone display options too.
The step-thru Nevo model also sees significant development, with in-frame, dual battery and off-road capable options.
The Homage that we reviewed here also gets the internal frame and dual battery option treatment.
Then there's the Load 75, a cargo bike capable of carrying three children.
Liv Women Specific Models
Liv is a cycling brand exclusively dedicated to women's cycle products and was founded in 2008 by Giant executive Bonnie Tu.
Liv recently announced two new series of women's dual-suspension E-bikes – the Liv Intrigue E+ and Embolden E+. Liv say the bikes were built with regard to 'women's anatomy, sizing variations, and muscle energy and outputs'. The Intrigue E+ and Embolden E+ models both add dual suspension to the range of Liv E-bikes.
Powered by Yamaha, the SyncDrive Pro motor on Liv's Intrigue E+ offers up to 360% of a rider's effort plus 80NM of torque.
The SyncDrive Sport motor on the Embolden E+ offers 350% assist and 80NM torque.
The all-new, intuitive handlebar mounted RideControl ONE allows the rider to control the motor assist level while also providing battery feedback. SyncDrive, RideControl ONE and PedalPlus technology give riders the ability to easily customize their desired level of pedal assist. RideControl ONE will connect with a smartphone app that allows the user to track rides, navigate routes, set fitness goals based on various metrics (heart rate, time, distance or calories) and much more.
The frame-integrated batteries now come with new Smart Charger technology that has potential to charge the higher capacity 500Wh batteries to 60% in less than 90 minutes, and a full charge in just over three and a half hours. Liv say 'This is accomplished by direct feedback from the battery to the charger, allowing the charger to moderate the energy charge input based on the age and condition of the battery. With this technology, new batteries charge quickly under optimal conditions, and older batteries are charged less rapidly to extend battery longevity'.
Both models will be available worldwide later this summer. Find your local Liv retailer online at here.
Pure Cycles Crowdfunding Capacita E-Cargo Bike
On Indiegogo with early bird offers still available is the latest offering from Pure Cycles.
The frame features plenty of versatile loading capacity at the rear, including space for a child passenger and there's extra loading space at the front too.
Other practical-looking features include removable foot platforms, adjustable handlebar stem and automatic lights with brake lights.
From US$1400 crowdfunding price with delivery slated for 2018.
More Fazua-Powered New Category E-bikes
We have mentioned the Fazua removable motor system several times on EBR. Post-Eurobike they have been in touch to reveal the expansion of their range.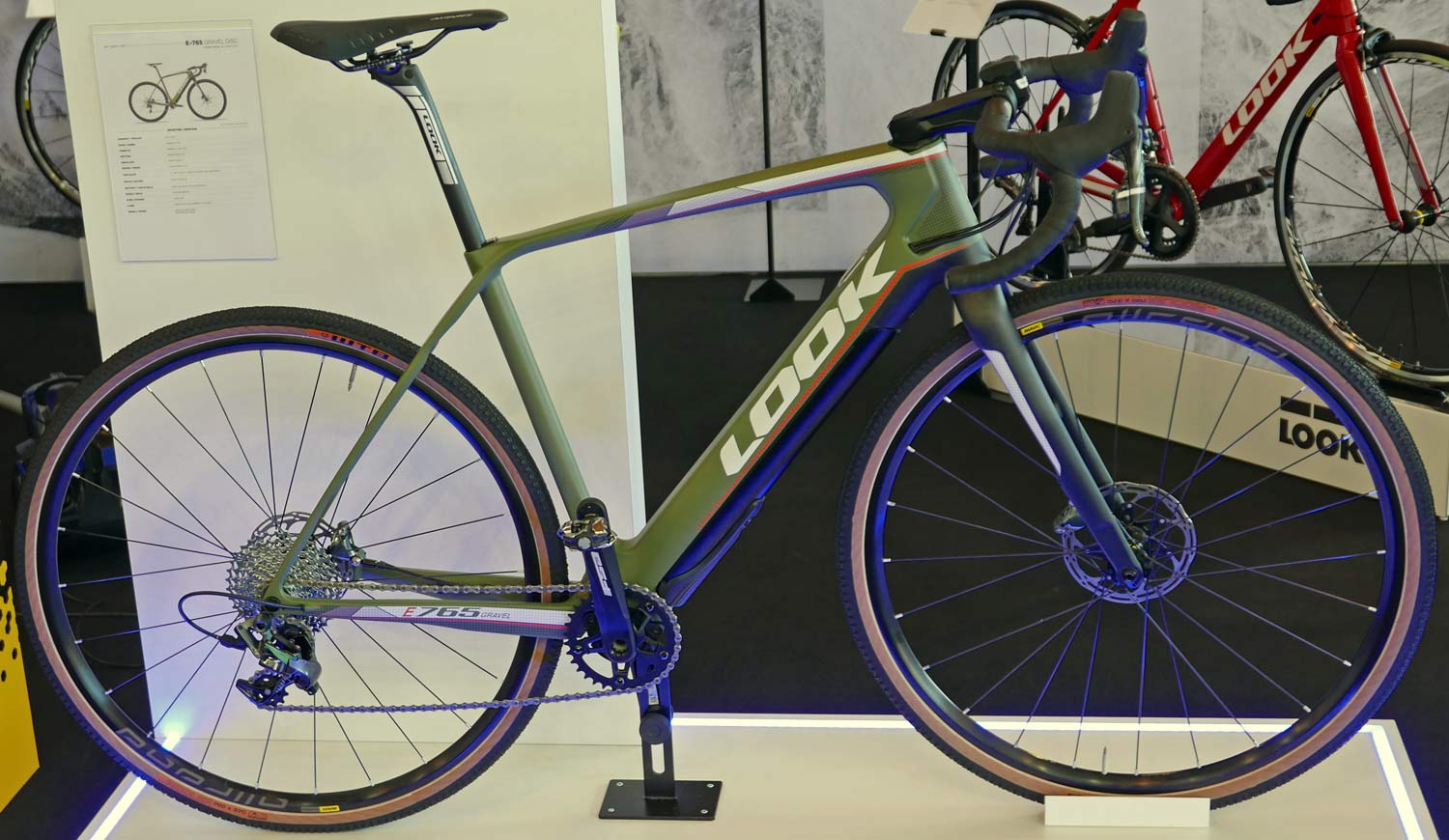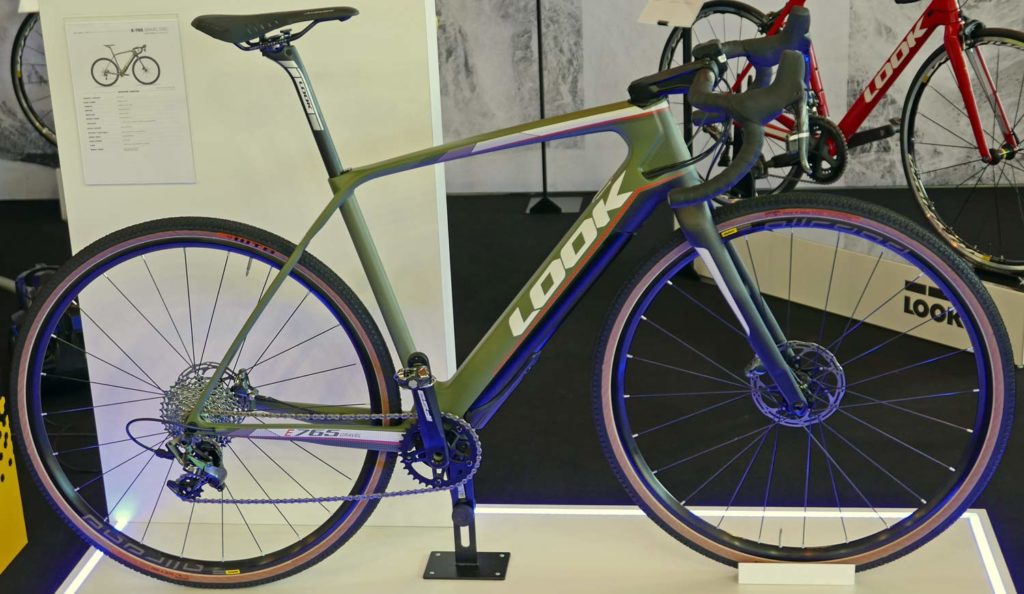 These include Lapierre's carbon e-mtb Zesty model, a stylish gravel bike from Cairn and a similar genre offering from Look.
It's worth reiterating how potentially groundbreaking the Fazua system would be if it took off in a big way – and the early signs are clearly there that it may. Not only is it lightweight (claimed weight of 3.3kg for motor and battery) and apparently easy to pedal above 25kmh but the system is removable so you have both an e-bike and a regular bike in one.
Commodule Display for Maxon E-bikes
E-bike electronics specialist Commodule have teamed up with high quality Swiss e-bike retrofit system manufacturer Maxon to introduce the connected Commodule Diamond display into the Maxon Bikedrive system.
Their recent joint press release describes the innovative sounding aspects of the new display and its related smartphone app:
'The rider plans his tour via the |Maxon Bikedrive app being assisted on a map by the potential battery range. He configures the performance settings of the bike and he can easily share tour results with his social community. During the ride the Commodule Diamond display shows speed and navigation information – there is no smartphone needed at the handlebar.'
Sachs Reborn at Eurobike
Some brand names from the bike world have a history full of surprising twists and turns and Sachs is one of those. Originally Fichtel and Sachs, at one stage in its early history long before e-bikes were heard of it produced a bicycle powered by a small petrol engine. In 2001 the bicycle division of the company was sold to US bicycle gears specialist SRAM, known mainly as a designer high quality derailleur gear innovations.
Bike Europe reveals a new chapter in the history of the name of Sachs, describing how it will be the name borne on a new mid-motor. Premiered at Eurobike, it will in fact be a joint venture with automotive giant ZF.
Interestingly the article reveals 'Studies have already predicted enormous growth in the use of electric lightweight vehicles by 2030, particularly for city center logistics. That's the reason for ZF to present at Eurobike a robust e-bike mid-motor… It's capable of churning out 110 Nm in torque, making this motor one of the most powerful there is. And with such power it's perfectly suited for e-MTBs as well as Cargo Bikes.'
Don't expect to see any Sachs motors on production bikes before 2020 at the earliest though.
Mubea's Concept Bike
Mubea are a German-based automotive supplier but are now making moves towards the e-bike market. They used the Eurobike show to showcase their carbon fibre e-mtb with a radical-looking mid-drive that has an integrated eight speed gear box.
Emountainbike magazine managed to get a preview and whilst it's clear this won't be a production bike any time soon it could indicate the way some design trends are going in the e-mtb sector.
Magura Distributing COBI
Magura have announced they are distributing the COBI smartphone display system for e-bikes.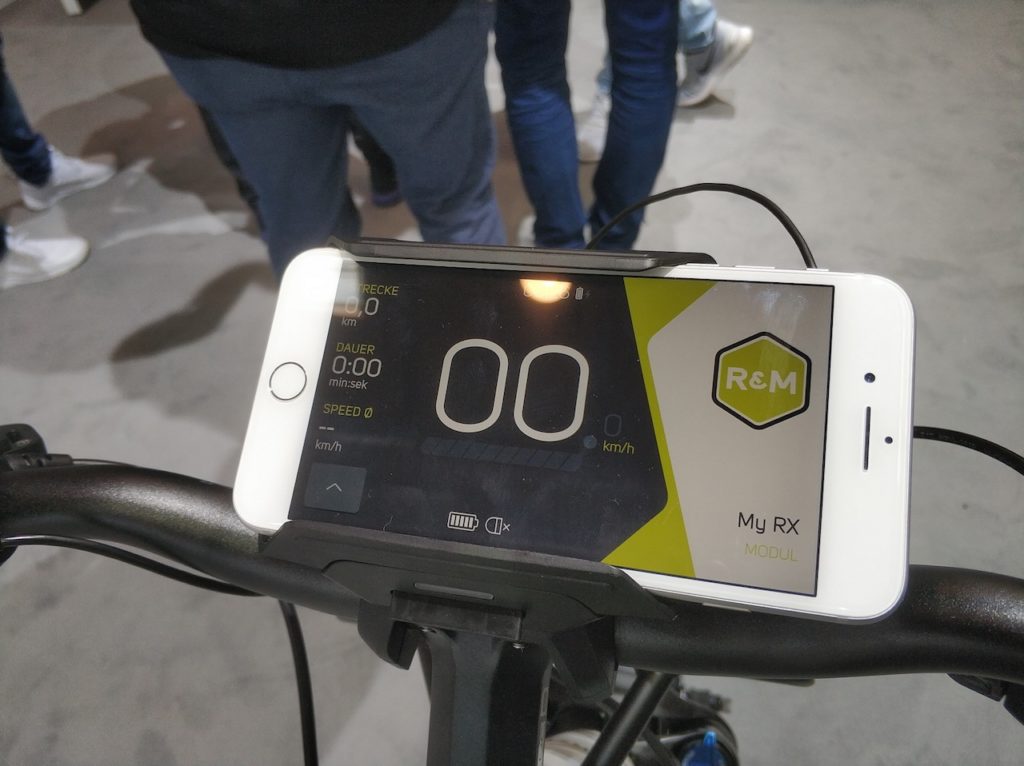 The system means 'Bosch bikes' with an Intuiva or Nyon display mount now have the option of having the rider's smartphone as a multi-functional display instead.
My Week on Ebikes
With weeks of rainless sunshine upon us I have been taking the opportunity to press the Heinzmann e-bike used for local trips into service by doing a bit of mobile property maintenance.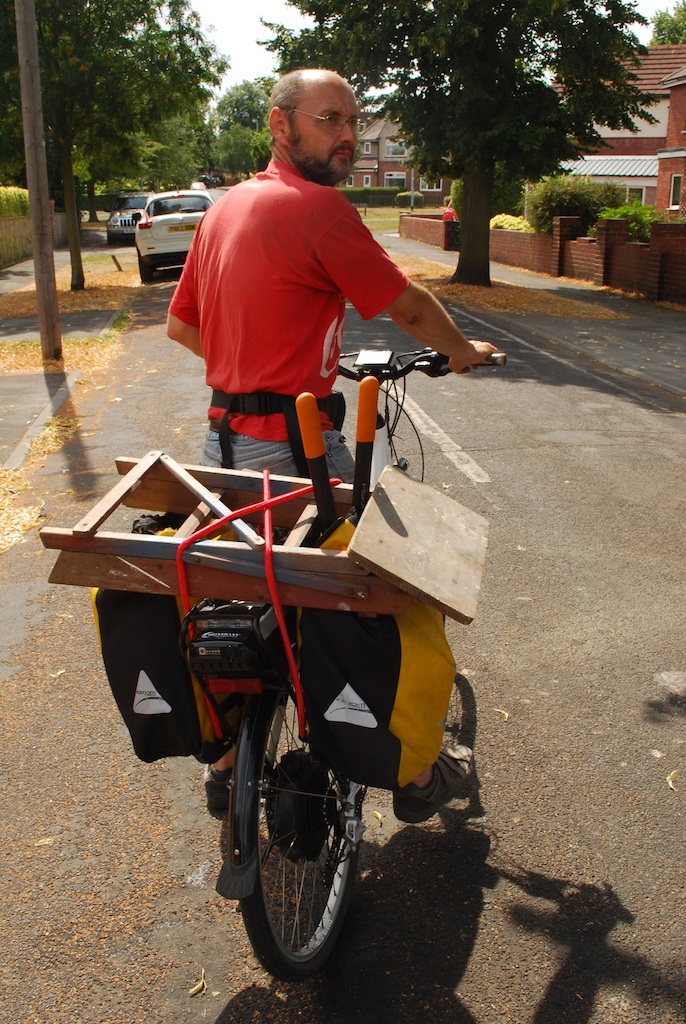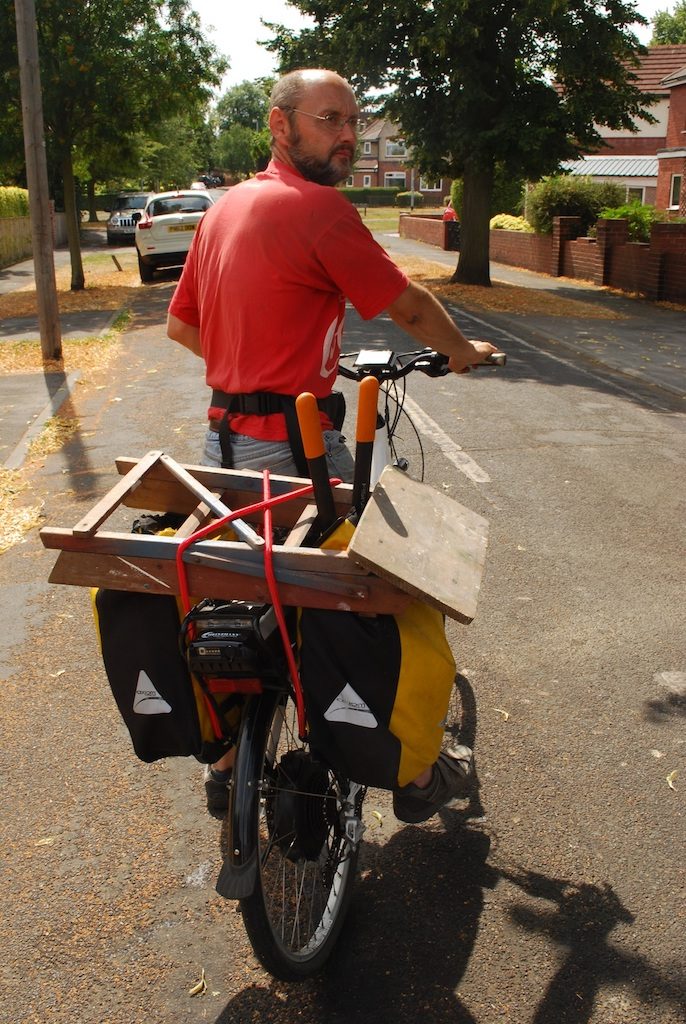 It was quite possible to load up all the gear required for painting and hedge trimming – including small step ladders. It did make me think there must be a market out there for specialist e-bikes for local traders to allow them to take all they need on their job by e-bike…
Stay tuned for more e-bike news and reviews and keep on riding.
-Richard
P.S. Don't forget to join the Electric Bike Report community for updates from the electric bike world, plus ebike riding and maintenance tips!
Reader Interactions