Looking Back at the 2021 E-bike Year
E-BIKE BOOM CONTINUES
A couple of graphs might not seem the most exciting start to an article looking back at 2021, but the two below (presented at the recent 2021 People for Bikes E-bike Summit) nicely sum up the continued popularity of e-bikes in the US.
Both show the amazing success of e-bikes from 2020 and the continued upward direction of both units sold and dollars spent. It's difficult to pin down the exact reasons why the trends levelled off a little in 2021 compared to 2020 but surely two main factors were pivotal.
Firstly, although the Covid pandemic was clearly far from over, many who wanted to start travelling by e-bike to avoid close contact with others and / or get some exercise had already done so. Secondly the initial boom led to 'supply chain difficulties', or in other words a shortage of e-bikes so that all those who wanted to buy one simply weren't able.
It's also interesting to note a decline in non-electric bike sales in 2021 as a backdrop to the continued rise of e-bikes – perhaps shortages again playing their part here.
If the amount of investment capital, which poured into e-bikes in 2021 in unprecedented amounts, is anything to go by then the future looks mighty rosy for e-bikes. In the US Rad Power attracted over US$300 million over the course of 2021 which they say makes them the "most funded electric bike company in the world." The new funding will be used to expand the company's logistics capabilities, open new distribution centers and expand its mobile service program and in-person retails stores.
This looks set to continue into the future – especially if Joe Biden's Build Back Better legislation (containing tax credit proposals) and the government's proposed Infrastructure Bill (money for more bike lanes and the like) comes into law. These are both topics EBR has looked at in 2021 and ones we will take another look at in a forthcoming article on what 2022 might bring.
IN SEARCH OF THE LIGHTEST E-BIKES
Lightweight e-bikes are responsive and sporty to ride and often pretty easy to ride without the battery too – in short, great fun and usually very efficient in getting the most range from your battery pack. They have the added benefit of being easy to move around when you are not on them. So it's not surprising 2021 has been a year with many manufacturers vying to grab the lightweight headlines.
LIGHTWEIGHT E-MTBS
Once upon a time full-sus e-mtbs under around 44lbs / 20kg were considered lightweight but early 2021 saw the announcement of Trek's E-Caliber line of full sus e-mtb's with a headline weight of 15.75 kg / 34.72 lbs (12.45 kg / 27.45 lbs without the removable Fazua motor drive) for the top of the line E-Caliber 9.9 XX1 AXS.
It's widely acknowledged that the Fazua mid-drive is not as powerful as the bigger, heavier mid-drives from the likes of Bosch, Shimano and Yamaha and the battery is smaller than average at 250Wh. For all that, any full-sus e-mtb below 16kg is a pretty impressive achievement. The range starts at $6649.
The year was bookended by another lightweight e-mtb, BH's iLynx Trail Carbon with a claimed weight of 35lbs / 16kg. It shaved off the grams not only by using a carbon frame but also by incorporating the latest version of their in-house mid-drive motor, the new 2EXMAG – at 4.6lb / 2.1kg slightly lighter than the previous version. The low overall bike weight is doubly impressive as the Trail Carbon features a 540 Wh frame-integrated battery (with the option to add a further 180 Wh with the bottle style XPro range extender). UK pricing starts at £6,500. Unfortunately it appears that BH are currently not available in the US.
LIGHTWEIGHT ROAD AND COMMUTING BIKES
Traditionally, saving a gram here and there has been super important on road bikes where every fraction of a section up a climb is important to competition riders, so those manufacturers with a history of producing lightweight road machines came up with some pretty lightweight e-bikes in 2021.
Ribble jumped into the fray in April with what EBR hailed as possibly the world's lightest production e-bike at a claimed weight of 23.08lb / 10.49kg. The carbon-framed Endurance SL e Hero uses the ever popular X-35 rear hub system from Mahle and costs from £7299. There is an aluminium framed version that weighs 28.7lb / 13kg and costs from £2399.
Earlier in the year though the HPS Domestique was announced, a road e-bike with a claimed 19lb / 8.5kg weight using a Watt Assist system that is totally hidden in the frame apart from the exterior battery that masquerades as a water bottle. But is this really a production e-bike? HPS said only 20 or so would be produced and a very similar e-bike appeared later in the year in collaboration with Italian coachbuilder Ares, again in very limited numbers and with an eye-watering price tag of 18,950 euros.
Perhaps most intriguing of all the 2021 lightweight launches was the Rose Backroad + range, all using Shimano's renowned lightweight but high performance EP8 mid-motor. These begin at just over 31lbs / 14kg and include several models covering commuting, touring and gravel bike specs making it one of the lightest ranges of mid-drive bikes out there. The gravel option took our fancy, with plenty of attachment points for extras and a reasonable size 360Wh battery. Unfortunately, since Brexit, it seems Rose won't ship to the UK but it looks like US buyers can get hold of one if they are prepared to pay 660 euros shipping….
NEW MOTOR SYSTEM LAUNCHES
THE 'BIG FOUR'
The headline news in this section has to go to Bosch's new 'Smart' system announced back in August. On the face of it, it's a fairly straightforward launch featuring a new, bigger 750Wh in-frame battery, a new app, a handful of software updates and a new Bluetooth remote and smaller display. More intriguingly Bosch outlined its vision for a smarter e-bike and they clearly feel this is a system that can be used as a platform for many future 'connected' developments.
Having said that, the new eBike Flow app may be welcome to today's riders who want enhanced ability to customise riding modes, record activities automatically and integrate with fitness apps and bigger batteries are almost always welcome. Unfortunately none of the elements of the new smart system are retrofittable to older e-bikes.
Not to be outdone Yamaha launched their lightest and most powerful yet mid-drive, the PW-X3. It is designed from the ground up and, like Bosch Smart system, it also includes a new battery, display and remote. Compared to its predecessor, the PW-X2, the PW-X3 isn't just more compact it's also reportedly 300g / 10oz lighter and with an increased torque rating of 85 Nm torque – the same as top line competitors the Bosch Performance Line CX and the Shimano EP8 mid-drives. It's featured on the Trance X Advance E+ as detailed in the Headline E-bikes section below.
2021 was relatively quiet for the other two members of the 'big four' mid-drive manufacturers, Brose and Shimano. This doesn't mean to say it wasn't a successful year for them both, with Germany's Brose producing their one millionth mid-drive and Shimano introducing their first cargo-specific mid-drive. Shimano'slight and powerful EP8 mid-drive also went from strength to strength appearing on many more e-bikes.
LIGHTWEIGHT DEVELOPMENTS
2021 saw a couple of notable developments in the area of lightweight mid-drives. Swiss firm Maxon appeared on the scene. Although their new Bikedrive Air system claims only a 30 Nm torque rating it is made specifically for lightweight high-performance e-bikes with the Cipollini Flusso e-road bike (claimed weight 10.7 kg / 23.5lbs) and the TRANSALPES E1 e-mtb (claimed weight sub 16kg / 35lbs) two of the first bikes on which the system appeared.
Retrofit kits can also be a great way to have a lightweight and relatively affordable e-bike and one of the best out there from Cytronex saw interesting technical developments in 2021.
At 3.2-3.6kg / circa 7-8lbs (depending on spec) Cytronex has to be one of the lightest retrofit options available and recent technical developments include new lithium cells in the water bottle style battery packs to give 198Wh, a welcome increase on the previous 180Wh, but still within the limit which allows the product to be transported on a plane. This is a unique Cytronex feature where the two battery packs inside the bottle are each 99Wh, just below the dangerous goods limit. The new bottle battery units now have Bluetooth too allowing users to monitor charging from their phones, for example.
BAFANG MID-DRIVES MAKE HEADWAY AND INTRODUCE A NEW TWO SPEED HUB MOTOR
Whilst the 'big four' were vying with each other there was now a new kid on the block in the shape of Bafang mid-drives. Bafang have been better known for budget hub motors in the past (certainly in western markets) but 2021 saw them making great progress on the mid-drive front with technical improvements to the motors themselves and more e-bike brands taking on the motors.
Bafang released a new version of their powerful looking e-mtb mid-drive, now labelled as the M510. Like its predecessor, the max torque of M510 remains 95Nm, but, say Bafang, the weight is reduced by 18% while the max power output is increased by 20%. Max cadence support is extended up to 120rpm.
The brand new M410 is a new mid-drive claiming 250 watts of continuous power and 80 Nm of torque – similar figures to top-performing motors from the likes of Bosch, Shimano and Yamaha.
Bafang haven't been standing still on the hub motor front either – their innovative sounding H700 integrated rear hub and gear system was announced at Eurobike last September and is now available. The H700 features a built-in automatic dual speed drive system and Bafang say 'The motor automatically adjusts the gearbox ratio by detecting the speed of the bike during cycling, so that the rider gets improved cadence without manually shifting, and enhanced riding comfort without the motor's power being affected.'⠀
HEADLINE E-BIKES
FAT TIRES
In a lot of ways, 2021 felt like the year of the Fat Tire Electric Bike around here at EBR, and there is no shortage of good options of fat tire e-bikes.
Fat tire e-bikes are extremely common on the US market compared to the EU where they are a relative rarity. Even so, the US launch of Himiway's new fat tire models caused quite a stir as they looked to push the limits of what electric fat bikes can be. You can read more about the Zebra urban cruiser, Big Dog cargo bike and the Cobra full-sus fat tire e-mtb here.
Earlier in the year Aventon released their Aventure fat tire e-bike model and it was instantly one of most impressive bikes of the year. Of all the e-bikes we reviewed this year, the Aventure was the one that outperformed our expectations in just about all of our review criteria.
Rad Power's RadRover 6 Plus – their fat bike model they say is their bestseller – has been upgraded to accommodate many suggestions for improvements from customers and dealers alike:
Moped style e-bikes with fat tires are increasingly common and 2021 saw several new launches, one of the most notable of which was the Biktrix Moto. This has a 750W motor and claims a 100-plus mile range.
Juiced also launched a fun looking small wheeled moped style e-fat bike, the RipRacer, that also claims to be their lowest priced e-bike yet, starting at $1399 with availability slated for March 2022.
OTHER HIGH PERFORMANCE OFF-ROAD MODELS
We've already looked at outstanding lightweight e-mtbs but there are plenty of standout e-mtbs notable for things other than weight.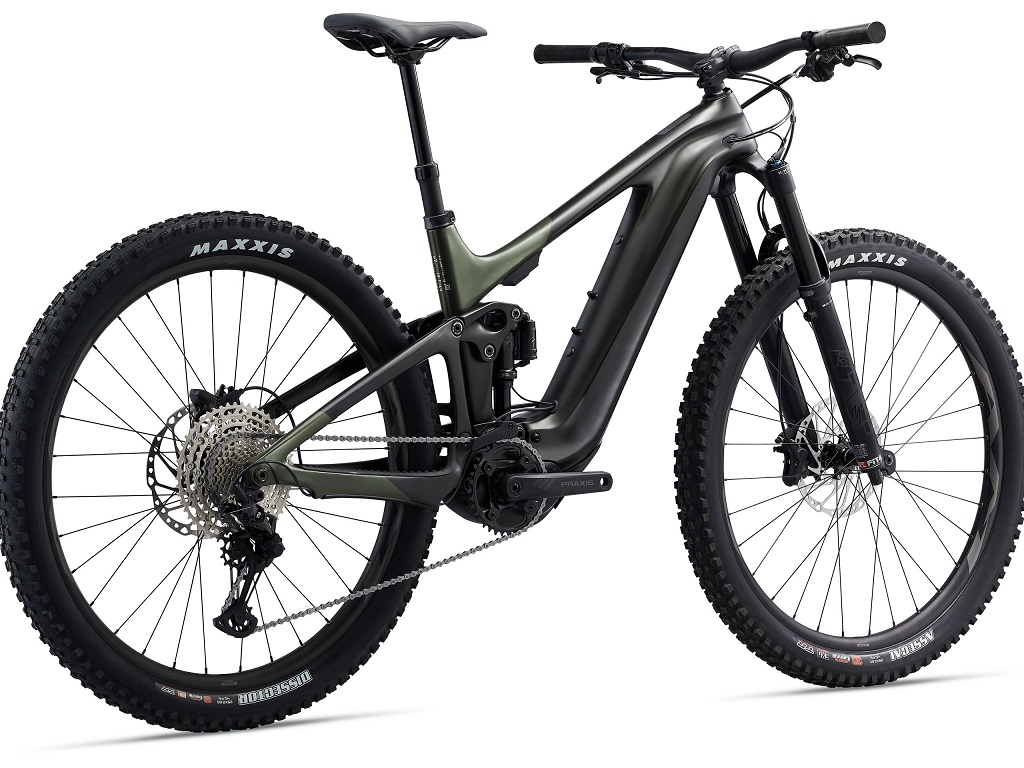 One of the most capable looking was the Giant Trance X Advanced E+ featuring a mid-drive based on the all new Yamaha PW-X3. As well as a top of the line motor to rival Bosch's Performance Line CX and Shimano's EP8, you get Giant's own all-new sensor technology and software with power levels personally customisable via an app. There's potential for a long weekend without recharging in the form of an option for a 750Wh in-frame battery with a 250Wh range extender option.
On paper at least, topping the Giant's motor torque and coming close on battery capacity is the relaunched 2022 Specialized Turbo Levo with 700Wh battery capacity and a 90Nm torque Brose based mid-drive.
Not to be outdone in the long-range e-mtb stakes, Trek's 2022 Rail, range, announced at the end of the year, featured full carbon frames and Bosch's new 'Smart' system including Kiox 300 display and the new 750Wh PowerTube battery.
FOLDERS AND SMALL WHEELS
Folding and small-wheeled 'compact' e-bikes were as popular as ever in 2021 and the following models caught our eye.
The classic sporty folder the Gocycle 4 that rolled into shops in 2021 is lighter and more powerful than it's predecessor models thanks to a new carbon mid-frame section and totally new high performance motor. The heaviest option is just 37lbs / 16.8kg.
Propella is known for lightweight and affordable e-bikes and 2021 saw the release of the Mini which weighs only around 33lbs / 14.9kg and like Propella's original model is a single speed.
Montague's ME-1 stood out as it claimed to be 'the world's first full-size performance foldable e-bike…..equipped with a Shimano Steps E6100 mid-drive motor and a Deore drivetrain, and folds in seconds with a single quick release.'
Small-wheeled cargo bikes also got in on the act with one of the most distinctive of the year's releases being Moustache's the Lundi 20 with Bosch Cargo Line motor and an overall cargo load rating of 200kg / 441lbs.
COMMUTERS, CITY E-BIKES AND THE NEW CROSSOVERS
2021 seems to have been the year that established lines form well-known makes were upgraded and relaunched with an eye on ever higher performance but there have been some striking launches of brand new e-bike models in this sector too.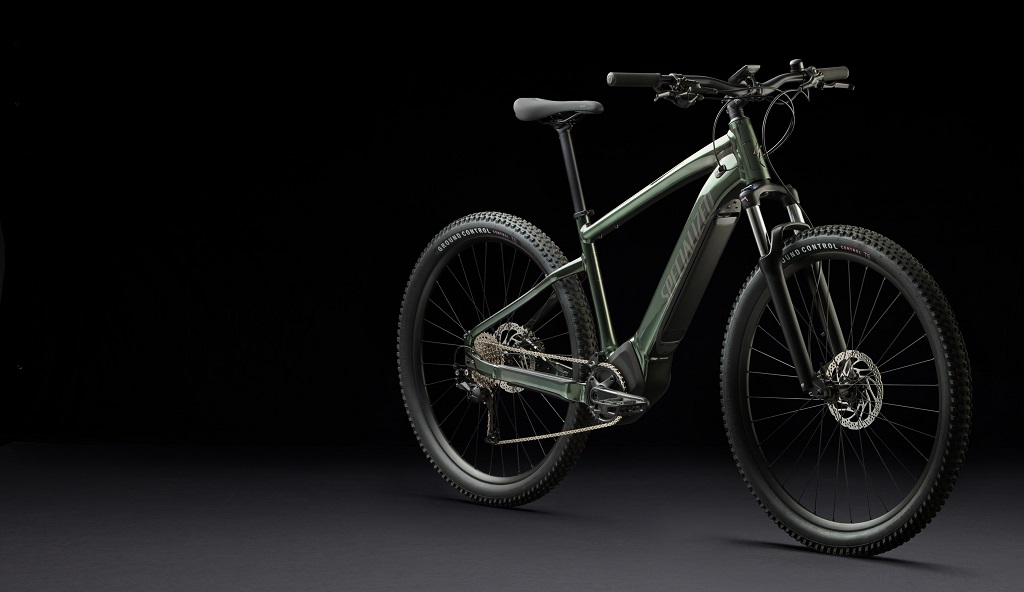 Perhaps most notable was an e-bike that wanted to be all things to all riders, Specialized's brand new Turbo Tero. It was proclaimed as 'an electric mountain bike equipped for everyday rides; a mountain bike that you can commute on; a commuter you can take touring; a touring bike that you can haul freight with.'
Like Specialized's other 2022 'full power' e-bikes featuring Brose based mid-drives, the Tero has an all new MasterMind handlebar display with new 'smart' features so that some models are equipped with Garmin radar units that will give a 'visual, audible and haptic alert of approaching vehicles with relative distance and rate of speed' – to give just one example of the Mastermind's capabilities. It also comes ready to fit a rear rack and fenders to.
The new Turbo Tero represents a lowering of the entry price into the Specialized lineup of eMTBs. Starting at $3,250, the Turbo Tero 3.0 costs more than $2,000 less than the previous cheapest Specialized eMTB, the base model Turbo Levo.
Italian firm Bianchi formally released their full lineup of e-bikes to the U.S. market, a lineup centered around the e-Omnia triad of e-bikes that includes a touring model, city model and full-suspension eMTB – but to continue with the crossover theme, they all share similar styling and in some cases exactly the same frame features, most notably the stylishly integrated front headlight.
There's a top end Bosch drive system and powerful and practical looking lighting. Bianchi stress the integrated rack on urban and tourer models that is child seat compatible so the e-Omnia can be 'a touring bike, a commuting tool or the school bus – or all three at the same time.'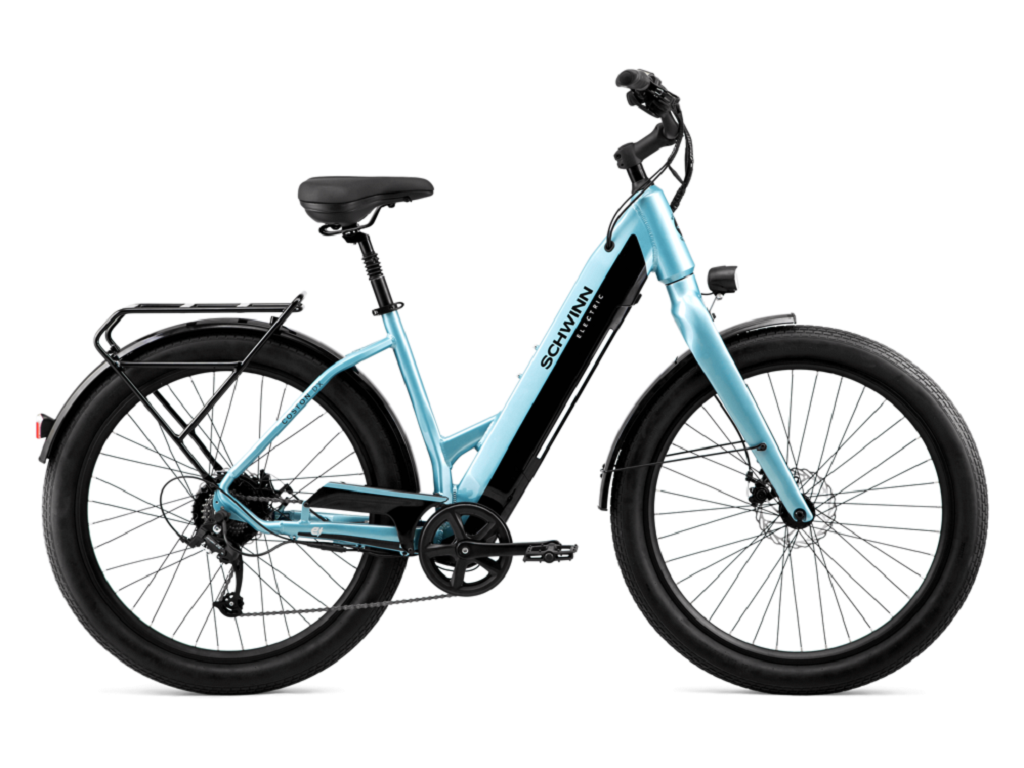 Looking to appeal to the sub $2000 sweet spot, Schwinn came up with three new models of e-bike, the Marshall, the Coston CE and the Coston DX. All three appear to be class 2 e-bikes (ie throttle and pedal electric activation with a 20mph assist limit).
All feature smallish sized batteries and are mid-priced machines at $1499.99, $1699.99 and $1999.99. All have neat LED lighting along the side of the battery and a seat that hinges open to reveal a storage compartment.
Moving on to the radical makeovers, Rad Power's Rad City 5 Plus got a very long list of new features all summarised here:
Juiced were also clearly going through a similar process with the 'upgrade' of their Cross Current X Step Thru model.
STRONGER, BETTER SHARE E-BIKES
Whilst at the start of the pandemic share e-bikes definitely took a hit – for obvious reasons – they clearly made a comeback in 2021.
Denver's B-Cycle was a popular bike share scheme long before e-bikes had even been heard of by most people. March this year saw 100 high quality e-bikes roll onto the city's streets. Notably the Trek-produced BCycle Electric e-bikes feature a best-in-class Bosch motor, low maintenance Shimano roller brakes and front rear integrated lighting making them some of the classiest and best equipped share e-bikes around. It wasn't long before they appeared in Santa Barbara, California too:
Chicago Department of Transport and its bikeshare system Divvy (provided by program partner Lyft) launched a citywide expansion in 2020 that continued into 2021. This has seen 3,500 new e-bikes and CDOT also added 29 miles of new bikeways in 2020 and look on track to complete 40 miles of new bikeways by this year end. New features include a more powerful motor, frame-integrated battery and frame internal cable runs.
With the quality of the best share e-bikes approaching or exceeding that of many consumer bikes it must have occurred to firms that these are e-bikes that would also sell well direct to consumers. Indeed 2021 saw Bird first detail its first share e-bike before announcing it would be on sale to the general public a few months later. It looks a high quality (and somewhat Van Moof like) machine; the US version of Bird Bike will feature a 500W rear hub motor, Gates carbon belt drive, pedal- and throttle-assisted power. It retails at comes with a $2,299 price tag.
That's all for our 2021 retrospective. Are there any highlights you think should have been included and what developments would you like to see happen in 2021? Get in touch and let us know.
Reader Interactions