Aventon Aventure Review, 2023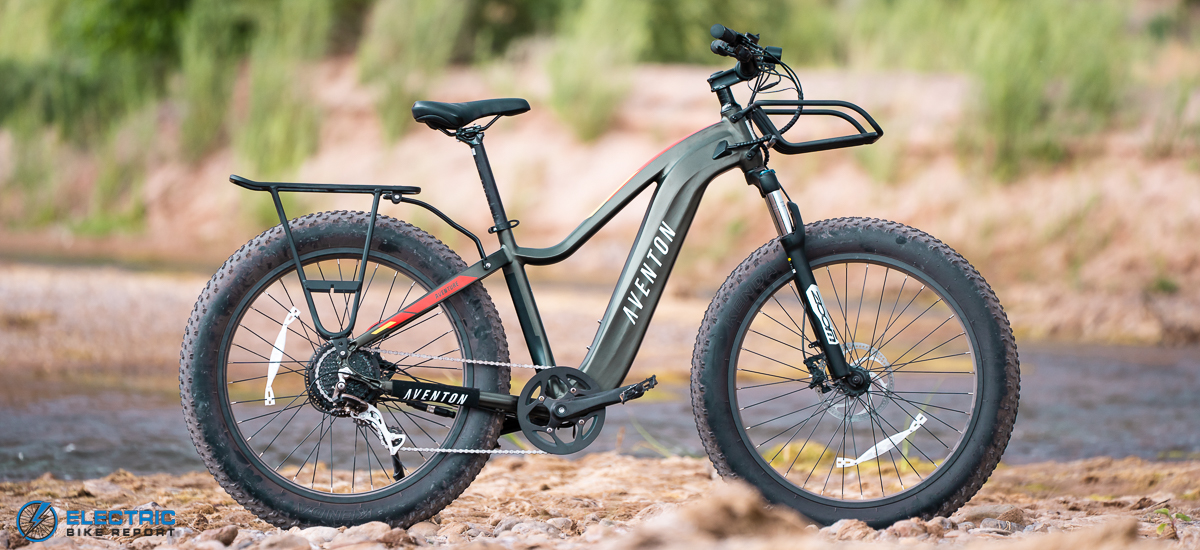 Summary Review: Aventon Aventure
*Looking for the Aventon Aventure 2 review? Find it here.
If we learned one thing while reviewing the Aventon Aventure, it's that the little details matter most.
There's few corners of the e-bike industry more competitive than the world of affordable fat-tire e-bikes. If there's a race to build the best fat-tire e-bike for less than $2,000, companies like Rad Power Bikes and Himiway and a handful of others are seemingly in a dead heat. Who's winning the race is subjective and depends entirely on who you ask, but there's a simple truth I'm not sure is often acknowledged: There's only so much you can do with a $2,000 budget.
Cost levels the playing field, and most of the popular e-bikes in this category are already pushing the envelope of what is possible without jacking the price of their bikes way, way up. That's not to say they're all exactly the same, but they do often use the same motors, the same batteries and extremely similar component options.
So, if you're a brand like Aventon who has never built a full-size fat e-bike, how do you stand out from the pack?
You focus on the little things.
For starters, you name the bike after exactly what it was built for: Adventure. But, for style points and to conveniently match the name of your company, you drop the "d" in "adventure" and name it the Aventon Aventure.
You also give the bike a full-color LCD display that tells you what percentage of battery you have left instead of a little battery icon with bars; you seamlessly integrate the battery into the frame and make it just slightly larger than that competition; and you give the bike solid, sturdy metal fenders that don't rattle over rough roads. These little details, and a few other things we'll mention in this review, are what we think make the all-new Aventon Aventure an instant front-runner in the race to build the best affordable fat-tire electric bike.
All added up, Aventon's attention to detail produced a bike that's fast, stable and feels extraordinarily well built compared to some other bikes we've reviewed. It's a Class 3 crusher in its prime habitat of paved bike paths and gravel roads and it's also surprisingly capable on some tighter, slightly more technical mountain bike-style trails. That's not to say it's an eMTB, but if you ride conservatively and mind its 75lb weight, you can have a lot of fun exploring light singletrack and less accessible terrain. Like it's name suggests, the Aventon Aventure is built for adventure.
Bike Category:
Fat tire/hybrid path: A fat-tire e-bike capable of handling some light off-road use.
Bike Class: [Class 1, 2, or 3]
Class 2 (adjustable to Class 3): Throttle and pedal assist, up to 20 mph. The maximum pedal assist speed can easily be adjusted to 28 mph, making it a Class 3 e-bike.

Pro's
Unlocked as a Class 3, this is an extremely quick e-bike. It's torquey, powerful and delivers watts in a way that won't overwhelm new or more gentle riders.
The full-color LCD display is awesome. It's easy to read, has a very smart percentage-based battery readout and will even tell you how many trees you've saved by going electric.
The 720Wh battery is slightly larger than the 672Wh standard we often see in this category.
The included fenders are metal and use beefy mounts that keep them from rattling on rough roads
It's got a unique styling for a fat e-bike that reminds us of another Aventon we really liked, the Level.

Con's
At 74.27lbs (we reviewed a medium with the optional front and rear racks), the Aventure is heavier than many of its peers. It's tough to knock it for this, as the larger battery alone will add a few lbs, but the heft is something to keep in mind. Especially if you're a smaller person or new rider.
ELECTRICAL SPECS & FEATURES
Battery: Removable Internal Lithium-ion 48V, 15Ah (720Wh) with Samsung Cells
Display: Backlit LCD display with color screen
Motor: 750W, 48V Bafang brushless rear hub motor
Headlight: Handlebar mounted and controlled via LCD display
Taillights: Integrated into the left-hand seat stay, brake operated
Peal Assist: 5 PAS levels
Claimed range: 53 miles on PAS 1 and 19 miles on PAS 5
Throttle: Thumb actuated up to 20 mph
Weight & Dimensions
Battery weight: 10.13lbs
Claimed weight: 73lbs
Real weight: 74.27lbs
Maximum rider weight: 250lbs
Maximum load on rear rack: 55lbs
Unfolded Dimensions:
Folded dimensions:
Components & Accessories
Brakes: Bengal Ares 3 hydraulic disc brakes, 180mm rotors
Fenders: Yes
Fork: Zoom Forgo 80mm travel
Frame: 6061 single-butted aluminum
Drivetrain: Shimano Acera 8-speed
Grips: Ergonomic comfort
Handlebar: Aluminum, 680mm wide
Kickstand: Yes
Pedals: Alloy platform
Tires: 4" Kenda Krusade, e-bike rated with reflective sidewalls
Performance Review: Aventon Aventure
Acceleration / Speed
From day one of our Aventon Aventure review, one thing was clear: This bike is remarkably quick. And it doesn't just feel fast, the data we collected during testing tells us it's fast.
It set an EBR record on the "Hell Hole" test hill; nabbed the quickest time around the EBR circuit; and during the max assist range test, where we just rode it normally till the battery died, it claimed a number of record-setting times on Strava segments all over the greater St. George area. I'll get more into the details of those particular tests later, but the point is that this e-bike is faster than average.
It's worth noting that Aventon ships this bike as a Class 2 e-bike with throttle and pedal assistance to 20 mph. This makes the bike compliant with e-bike laws all over the U.S., but riders do have the option to unlock the bike to Class 3 speeds, or a maximum pedal-assisted speed of 28 mph. For our testing, EBR brings bikes like the Aventon up to the Class 3 max as this is what we expect most consumers to do. So when you see us talking about speed during this review, we're talking about the speeds of a Class 3 e-bike.
Powering the Aventure is a 750W Bafang rear hub motor and a 48V, 15Ah battery nicely integrated into the frame. It's a typical setup we see across many of the mid-range fat-tired e-bikes on the market today, but it works particularly well on the Aventon. The power delivery is strong from the start; not overwhelming, but enough oomph that you need to hang on tight as the bike gets up to speed. Despite the fat tires and hefty weight, the Aventure has no problem holding its maximum speed. Hills and headwinds are no match for this thing — it plows through all of it.
Range Test
It's surprisingly rare that we see a manufacturer's claimed range and our real-world test result line up, but the Aventure was pretty much spot-on.
On the maximum assistance level (PAS 5), the Aventure logged 24.3 miles at an average speed of 20.8mph before the battery ran dead. That's within seven-tenths of a mile of Aventon's claimed PAS 5 range of 25 miles. At the lowest assistance level (PAS 1), our tester logged 53.72 miles at 11.15mph before running out of battery. Again, that's within seven-tenths of a mile of Aventon's claimed range of 53 miles.
It's rare we see a real world range test so closely match a manufacturer's claimed range, so kudos to Aventon for nailing it on this one.
Often during the range tests, it's tough to tell when exactly the battery might run out. This can lead to some interesting situations where we get stranded with a dead battery and a 60-plus pound bicycle we have to pedal home entirely under human power.
Usually we chalk this up to battery readouts that are tough to gauge. But that wasn't the case with the Aventon, which is one of the few bikes we've reviewed that gives you a percentage readout of how much battery you've got left.
It's a really, really useful feature to say the least. Josh, who did our long-range test, reported that the battery readout was accurate for him — when the percentage hit zero, the bike died. But for me, on the short-range test, I was able to milk a few more miles out of the battery after the readout hit zero. But we both noticed the bike doing an interesting thing as the battery readout hit 20 percent and lower. It gradually began to reduce the amount of power, as if it was trying its best to get you home with at least some motor assistance.
During the full-power test, I noticed the power started to ease off with 20 percent battery left. It still held 28mph fine, but it took a little longer to hit that speed. Then, at 10 percent battery left, the bike held much closer to 25mph. It took another step down at 5 percent battery remaining, where the bike's speed reduced to about 20mph until it died. It was an impressive feature that I honestly really liked; it felt like the bike was doing its best to not leave me stranded.
Circuit test
As I mentioned before, this bike is very fast.
I did six laps on the Aventure on the EBR test circuit at each of the bike's pedal assist levels, plus one lap with no motor assistance. This test not only gives us a good idea of the Aventure's overall performance compared to other e-bikes we've reviewed, but it also gives us a picture of how the bike's power changes at each pedal assist level.
Not only did the Aventure claim the quickest recorded time around our circuit, the bike has really nice and consistent differences in power at each motor assist level. On average, the bike's average speed changed by 3.6 mph between the different motor assist levels. And on PAS 5, the bike's high-power setting, it did an absolutely scorching two-minute and twenty five second lap around our circuit — claiming the quickest lap of any bike we've reviewed and highest average speed of 26 mph.
The fast lap may seem like the biggest takeaway from this test, but in my mind, the most telling result is the really nice speed changes between the pedal assist levels. There should be a marked difference in both power and speed between all the PAS levels, and the Aventon demonstrated it has both. Not only did my top speed change, but the bike's power delivery felt gentler at lower PAS levels then gradually grew stronger. This is a nice feature, especially on these considerably powerful fat-tire e-bikes.
Hill Test
For a while now, my EBR colleague Pierce Kettering has held the record for the quickest time up our test hill, a 12 percent-on-average local steep lovingly known as "Hell Hole."
The fact that he's held that record unchallenged for so long bothered me more than I should publicly admit, but, despite my best efforts, his youth and vigor was enough to outpower me up the hill even with the motorized help of some of our more powerful test bikes. That is, until Aventon sent us the 750W Aventure.
Despite its nearly 75lbs and fat tires, the torque this thing produces was obvious as soon as we pulled it out of the box. I had a hunch the Aventure had enough oomph to beat him, so, left to my own devices during the full-power range test, I snuck away to Hell Hole and absolutely crushed his time.
Take that, Pierce.
Now, this record-setting run up Hell Hole was not an official time for our testing purposes and is probably not a great representation of how the Aventure climbs under normal circumstances. On top of the bike's power, I mashed the pedals hard enough it was tough to keep my lunch down at the top. So, this result may be best taken with a grain of salt.
That said, it was a pretty remarkable run. At nearly 75lbs, our Aventure review bike is heavy even among its peers in the fat-tire e-bike category. But it more than makes up for that heft in power. Not once did I feel the Aventure falter underneath me; it just motored its way up the hill like a bike half its weight.
We later returned to Hell Hole for the Aventure's official hill test — which, it's worth noting, is supposed to be done at a very moderate effort — and that result backed up what I suspected before: Even without a ton of physical exertion, it's a quick climbing bike.
On throttle assist alone, it climbed the third-of-a-mile hill in 1:22, a great time without any human-powered help. And on PAS 5 — with me pedaling at a much more reasonable effort — it clocked a very impressive 1:10. Both results are solid, but I'm particularly impressed with how the Aventure performed during the throttle-only test. It is not uncommon that even well-powered bikes struggle or come to a stop in the steep sections of Hell Hole without at least some pedaling, but this bike held its own just fine.
Handling (cornering, slow speeds, safety on bike, etc.)
The Aventure feels very balanced and stable, even at high speeds. The fat 4-inch tires make the bike feel stable and do a nice job taking the edge off of bumpy roads. Fat bikes are the heavyweights of the e-bike family, and while you do sometimes notice the weight, it seldom affects the handling or makes you feel like you need to slow down through corners.
On dirt roads and smooth gravel paths, the Aventure held its own and could clip along at a surprisingly quick pace. The fat tires grip well and are confidence inspiring when things get loose. That said, like nearly all other bikes in this category, the off-road capabilities of the Aventure stop short of being a full-blown electric mountain bike. You can ride it on single track, but it's sheer size and weight make it a bit of a bear in tight or technical sections. Its happy place is in more wide open areas; think adventure touring on fire roads or exploring a state park.
Ride Comfort
Here in southern Utah, adventure motorcycle touring is a huge deal. Those bikes are big, capable, can carry a lot of gear and are very comfortable on long rides. The Aventure is the bicycle version of that.
Aventon did a good job of choosing a cockpit setup that's supportive and didn't leave our testers numb or uncomfortable, even on longer rides like our multi-hour range tests. There's also just something confidence inspiring about riding these larger fat-tire bikes; it's like they can just plow through and over terrain.
Aventon Aventure E-Bike Review: Specs/Components
Motor
The 750W Bafang rear hub motor on the Aventure is standard-issue on the bigger, more powerful fat-tire e-bikes. It's powerful, torquey and, unlocked to Class 3 speeds, exceptionally fast.
It gave us no issues on steep hills or accelerating from a stop. While it's a widely-used motor that we're familiar with, there's something about how Aventon implemented it on the Aventure that works really, really well. Maybe they've carefully tuned the motor controller or they've managed to squeeze efficiency out of other components, but the Aventure is remarkably quick when compared to its competitors. It nabbed records pretty much wherever we rode it.
Battery
The 48V, 15Ah battery is larger than what we often see in this category. At 720Wh, it's going to give you a little more juice than the 672Wh batteries commonly used on other fat e-bikes. That difference isn't going to be huge, but it does help.
We also really like how well the battery is integrated into the downtube of the frame. Not only is it a side-mount battery for ease of access, Aventon took the time to design a really nice cover that seamlessly blends it with the rest of the frame. One note: There is a small translucent button near the top of the battery you have to push before turning the bike on if it's been sitting a while. That button will turn blue when the bike is ready to be powered on.
Pedal Assist / Throttle (when applicable)
The Aventure ships as a Class 2 e-bike, with pedal assist and a thumb-actuated throttle up to 20 mph. You can easily unlock it so the pedal assistance will power you up to Class 3 speeds, or 28 mph. You can choose from five pedal assist settings that, on average, adjust the maximum speed up or down.
Display
The color LCD display is one of our favorite parts of the Aventure. Not only is the fact that it's color really cool, but the biggest deal for us is the percentage-based battery readout. This is something we've been looking for on an affordable e-bike for quite a while, as the traditional bar-based battery readouts can be tough to gauge. The Aventure's percentage-based readout was accurate and helped us know exactly how much juice we had left in the tank. It also warned us when we were getting low by changing color.
Other cool features are a section that tells you how many trees you've saved and how many kilograms of carbon you've saved by riding an e-bike. At press time, we'd saved 2.8 trees and 36.5 kgs of carbon during the 130 miles of testing we'd done on the Aventon. We're not sure how exactly Aventon calculates these figures or if they're accurate, but they're cool nonetheless.
Aventon Aventure: Components and Accessories
Brakes
Stopping is handled by a set of Bengal Ares 3 hydraulic disc brakes and 180mm rotors front and rear. Bengal is far from a main-stream brand, but it seems to be Aventon's hydraulic brake of choice as they were also on found on other Avenon e-bikes we reviewed earlier this year.
Despite they're relative obscurity, they stop remarkably well.
During our brake test, where we measure a bike's average stopping distance over five runs at 20 mph, the Aventure stopped on average at 11 feet and 1 inch. That's seriously impressive for a 75lb bike. I partially chalk the result up to the sizable contact patch of the 4-inch Kenda tires, but we've got to give credit where credit is due: The Bengal's way outperformed our expectations.
Frame
Made of 6061 Aluminum, we reviewed the high-step variation of the Aventure but you can also opt for a low-step version. The high-step comes in small, medium and large frame sizes (we reviewed a medium) and the low-step comes in either S/M or M/L.
Fork
The Aventure comes with a 80mm Zoom Forgo suspension fork that's pretty comparable to what we see on other fat e-bikes. It does a nice job of taking the edge off bumps roads and even handles dirt road washboard with ease, but more technical and aggressive off-road use will quickly push it to its limits.
People looking for a fork that will smooth out road vibration and keep the bike in control over rough will be pleased with the Zoom. It does its job well.
Drivetrain / Shifting
The Shimano Acera 8-speed drivetrain is extremely reliable and gives you a wide range of gears. It's a tried-and-trued groupset that fits this type of e-bike really well.
It also has the huge bonus of having a shifter pod that places the thumb levers below the handlebar, not on top. Those who follow along with our reviews likely know that we're huge proponents of below the bar shifters, not only for comfort but for safety. It keeps your thumb wrapped around the back of the handlebar, which will keep your hands from slipping off the grips if you hit a bump. And it's just a more comfortable position to shift from that encourages you to use the gears more than a bike with shifters on top of the bar.
Contact Points
All the points your body touches the Aventure — what we like to call the contact points — were very comfortable.
The handlebars are mountain bike-style and decently wide; the saddle is broad, flat and supportive enough to keep you comfortable on long stints of riding; and the pedals are alloy, which offer a stiff pedaling platform. But, probably our favorite part was the simple rubber grips. We often see affordable e-bikes shipped with a type of faux leather grip that looks nice, but can be slippery if wet. The grips Aventon chose for the Aventure are a simple soft rubber variation that's tacky and comfortable.
Tires
The 4-inch Kenda Krusade tires are e-bike rated and sport a very aggressive tread pattern. They had no flats over the course of 130 miles of testing in the Utah desert and hooked up nicely in dirt and on pavement.
As I mentioned in the brake section, I suspect these tires had something to do with how quickly the Aventon stopped. If you watch our video review of the bike, you'll see the tires laid down a thick black streak of rubber during all five of the brake tests, indicating a soft, grippy rubber compound.
Extras / Accessories
The fenders that come with the Aventure are metal and feel very high quality. They also use thick-gauge metal supports to attach to the frame, which keep them from rattling over rough roads.
Another example of a small detail Aventon added to this bike, the Aventure's rear tail light is stealthily integrated into the left seatstay. While this keeps it discreet and protected while riding, the light itself is incredibly bright and is more than enough to catch the attention of people around you — even during the day. The bike also has an integrated front headlight which can be turned on and off from the display.
The version of the Aventure we reviewed came with front and rear racks capable of hauling 20lbs and 55lbs respectively, but these are add-ons you can purchase with the bike.
Himiway Vs. RadRover Vs. Aventon Aventure: Fat Tire E-Bike Comparison
Our readers have all but demanded we do a side-by-side comparison of the Rad Power Bikes RadRover, the Himiway Cruiser and the Aventon Aventure.
We've heard you and we're working on it, but here's a little taste of what the preliminary testing data has told us about these three heavyweights: While they may have strikingly similar spec sheets, they have their own distinct strengths in the real world.
On spec, all three use a 750W Bafang geared rear hub motor and all three have different battery sizes: The Himiway has an 840Wh battery; the Aventon has a 720Wh battery; and the Rad has a 672Wh battery. They also all use a relatively comparable variation of Shimano 7 or 8-speed drivetrain. Though, the Aventon and Rad both do use the slightly nicer Shimano Acera groupset over the Shimano Altus found on the Himiway. They're comparable on paper in several other ways, but our real-world testing is where the differences in the three bikes begin to show.
We haven't finished collecting data on all three bikes, but I can give a peek at how the three performed on our EBR circuit.
There's still more testing to be done, but as you can see in the chart above all three bikes compare nicely until the highest pedal assist settings. On PAS 5, the highest assist setting where we see the fastest speeds, the new Aventure is leading the pack.
Aventon Aventure Summary Review / Where to Buy
Overall, we're incredibly pleased with how well the Aventure performed.
In a competitive market flush with affordable fat-tire e-bikes, Aventon stepped up and built a bike that's refreshingly unique and tremendously fun. We've also got a hunch that the Aventure may set a new standard for detail and creativity in the race for the best affordable fat e-bike – if not one of the best electric bikes period. No longer is raw power and fat tires enough; Aventon is driving the industry to add more value to bikes that are already pushing the envelope of what's possible with a sub-$2,000 budget. It's the type of one-upmanship we really like to see in the budding e-bike industry.
We've reviewed several e-bikes from Aventon, and they've proven over and over again that they're a really solid bicycle company. They made their name building stylish but affordable fixed gear bicycles known for clean looks and utilitarian grit. They've clearly retained that heritage as the company embraced e-bikes over the past several years. Aventon also owns its own manufacturing facility, which helps the company build its unique looking frames and keep consumer costs down. We've found them to be a company that stands by their products, so you should feel comfortable buying from them.
Aventon is a predominantly direct-to-consumer company, so you can order the Aventure from their website and have it shipped directly to your door. They've also got a sizable network of brick-and-mortar dealers so if buying online isn't your thing you can go check out their bikes in person. Those stores also can help with service or troubleshooting should the need arise.
Reader Interactions