Keep Riding, Electric Bikes Are Good For Your Physical & Mental Health [VIDEOS]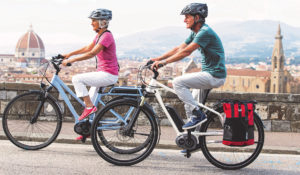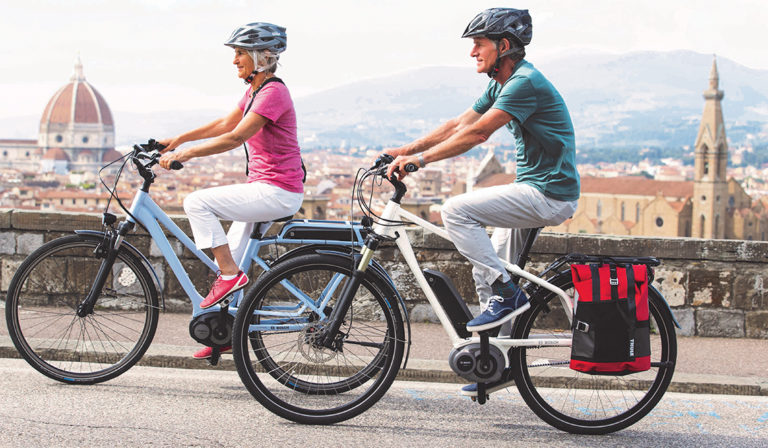 Once upon a time, in the dim and distant past of early e-bike history, e-bikes were seen as large, unwieldy and definitely uncool machines, only for those no longer physically able to ride 'regular' bikes because of old age.
As the technology progressed and designs became more innovative and battery range increased year on year, it quickly became apparent this view of e-bikes was complete nonsense.
eMTBs attracted adventurous and sporty riders, cool urban designs of e-bike became the latest must have tech, and the financial and logistical benefits of e-cargo bikes became apparent to hard-worked families looking to leave the hassle of car-bound transport behind as well as to enlightened businesses.
However, e-bikes still remain massively popular amongst older riders for obvious reasons; age may bring limitations but an e-bike may just be the tool to keep you active and on two wheels for much longer than you might have imagined.
The benefits are greater than just added mobility as more and more evidence emerges about the marked physical and mental benefits to be had of cycling well into old age.
What Ages are they Popular With and How are they Used?
Bosch is a leading manufacturer of e-bike motor systems and their own research gives some insights into who buys e-bikes.
Certainly in countries where e-bike sales are historically strong and there are good bike lanes there is good evidence that e-bikes are simply used more than regular bikes, and used for longer trips, facilitating daily mobility into older age.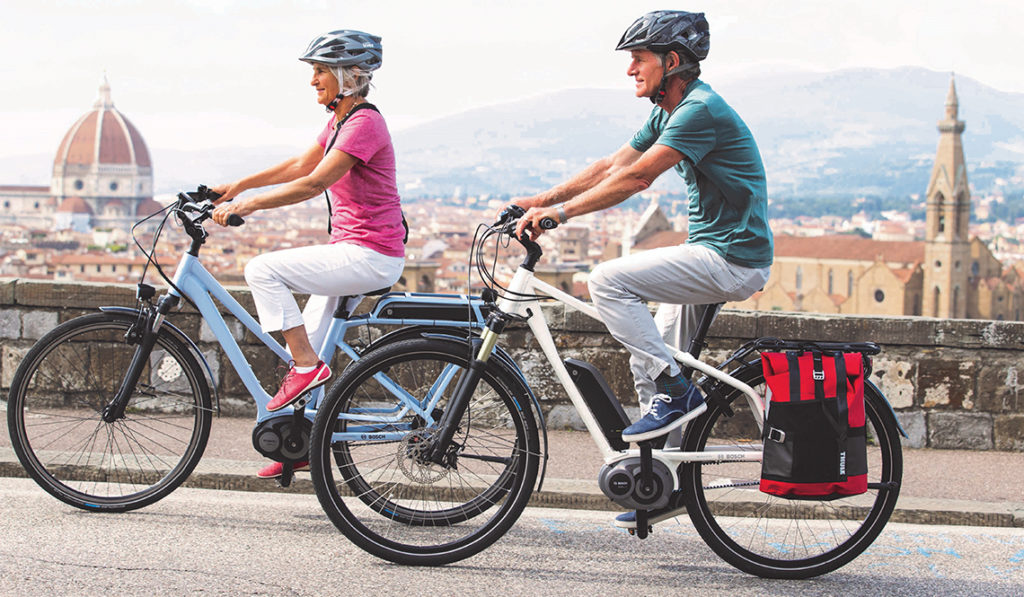 "Research in Europe shows e-bikers ride three times more often and ride three times farther than when they cycle on a regular bike," says Claudia Wasko, director of Bosch eBike Systems Americas.
Bosch's research identifies baby boomers as the main buyers for e-bikes in the U.S. and Canada, with "better health" and "fun" as the biggest draws.
Some 20 percent of older riders surveyed by Bosch also use their e-bikes for commuting and 9 percent use them for trail riding and mountain biking.
In other words older riders are often buying e-bikes to keep healthy and enjoy themselves.
Case Studies
A few examples below demonstrate the variety of elderly riders doing this.
There's plenty of examples of sports riders who have used e-bikes to keep cycling well into their 80s.
Englishman Stuart Dunn finished on the podium in the British National Road Race in 1954 but now uses an e-road bike to keep up his impressive turn of speed:
https://www.facebook.com/officialcyclingpulse/videos/2110685845625001/
85 year old Peter Holyoake lives near York, England and has been cycling for 72 years, and has been cycling with wife Eileen since 1950.
Peter developed a heart condition which lead him to buy a Raleigh Captus (and his wife later joined him by buying her own e-bike).
The bike allows Peter to keep up with other sporty riders on his regular group rides:
"I use the e-bike with the Wednesday Wheelers, a 50-strong group and around five of them also ride e-bikes."
He's also a Rough Stuff member and says "I can do moderate off-road stuff with the Captus and I also like the step-through frame and the smooth and powerful crank drive pedelec motor on it. E-bikes have given me a new cycling lease of life".
But e-bikes can also encourage older non-cyclists to get out and ride. This AARP article details how 75 year old Skip Humphrey, a former Minnesota attorney general who has had a pacemaker heart operation, rides an e-bike regularly. The article quotes Humphrey:
'"For older people, e-bikes are the way to go…..I believe it will give me another 10 years of biking. I still get a good work-out, but it's smoother, which is important now since I got the pacemaker. And it doesn't beat up my joints. I know I would not be riding nearly as much if I just had a regular bike."
The article also details how Dan Buettner – veteran of a 12,000-mile cross-Africa bike expedition and a 15,000-mile Pan-American trek on a regular bike now rides around his vacation home in Santa Barbara, California on an e-bike.
"I bought a house high on a hill, and if I had to rely on just my regular bike I would ride it less to the coffee shop in the morning or to pick up a loaf of bread," Buettner explains. "You still pedal on an e-bike and get the physical activity, which I believe leads to longevity."
Buettner also demonstrates the power e-bikes have to attract new cyclists as "I am able to lure my non-bicycling friends to ride with me — like my girlfriend, who was definitely not a rider, but now she's loves using an e-bike and is talking about getting a road bike of her own. It's like a gateway drug for bicycling."
Buettner's e-bike endorsement is particularly fitting in an article about cycling into old age as he works in partnership with municipal governments, large employers, and health insurance companies to implement Blue Zones in communities, workplaces, and universities aimed at allowing the people there to lead the longest, healthiest lives possible.
The mobility made possible by e-bikes is a key ingredient of such 'Blue Zones'.
The Studies – Science Shows E-bikes are Good for Older Riders
But it's not just benefits from added mobility and cardio-vascular health older e-bikers can benefit from.
EBR recently carried the news that a study found that participating cyclists between the ages of 50 to 83 experienced 'cognitive and mental health benefits' from riding a bike, whether it was electrically assisted or pedal powered.
A Cycling & Wellbeing Trial was carried out as part of the above Cycle Boom project, comparing older e-bike riders with older riders of 'regular' bikes and featured 38 riders in Oxford and 39 riders in Reading.
It focused on measuring 'executive function' in the riding groups – defined as 'those mental processes which are more complex to perform and require extra mental resources compared to hearing a sound or remembering one's name, for instance. Executive function comprises processes such as maintaining and switching of attention, ignoring irrelevant information, planning and keeping information or a goal in mind, and mental flexibility' and regular exercise has been shown to be a key ingredient in maintaining executive function into older age.
Previous evidence had concentrated on studies in a controlled environment such as a gym, but the Cycling & Wellbeing Trial took place through the everyday riding of the participants.
Here a few key findings from the study:
– Physical activity declines with age to the extent that by 75 years only 1 in 10 men and 1 in 20 women are sufficiently active for good health.
– E-bikes are a key tool in helping reverse these very poor figures.
-The eight week study saw elderly riders on their bikes at least three times a week for 30 minutes with cognitive function and well-being measured before and after the rides. Surprisingly researchers found that those using the e-bikes had an even greater improvement in some brain functions and mental well being than people who used standard bikes.
– The tests and results were task-specific, with participants tested before and after cycling and against a non-cycling control group. For example in the spatial reasoning test e-bike and pedal groups made fewer errors and demonstrated faster reaction times compared to before the trial. This was particularly the case for e-bike participants when undertaking the mental rotation task (matching rotated 3D shapes, the kind of thing typical of many IQ tests).
– The questionnaire measuring mental health showed a marked improvement and was stronger for e-bike than pedal cycle participants.
Here's a couple of videos showing why the e-bike element of the trial attracted participants and how results have included diminishing joint pain, traveling further and faster, relearning cycling skills, sleeping better, losing weight, being more alert mentally and taking care around cyclists when driving a car!
Making it Safe for Older Riders
The classic design for elderly e-bikers is the Dutch style with a low step-thru frame and upright 'sit up and beg' seating position. Easy to get on and off and comfortable to ride.
Fortunately, as the Netherlands is one of the most popular countries in the world for 'ageing e-biking' there are plenty of Dutch style e-bikes.
Gazelle are a good example, blending the Dutch basic design with some modern styling and plenty of practical accessories like fenders, kickstand, inbuilt lights and chainguard.
Raleigh USA's range features several attractive looking models including the Venture iE Stepthru and the Sprite iE Stepthru.
If you want to venture off-road Riese and Muller are one of the few e-bike manufacturers producing step thru e-bikes capable of venturing there, the Nevo being a good example we recently reviewed.
An economical option with a lot of features is the Rad Power Bikes RadCity Step-thru for $1,499. Here is the full review to go along with the video below.
Of course more serious health problems like balance or back problems can arise in older age but these still need not necessarily be a barrier to e-biking.
Although it can be a very different riding experience after learning on a two-wheeled bike, an e-trike might just be the answer to those with severe balance problems.
E-trikes can be hard to track down but Raleigh produce the Tristar iE that has a very handy looking cargo box on the rear too. EBR have done a full review and here's the video review:
If balance and backsupport are required you might want to consider an electric recumbent trike.
Examples include ICE and Hase's Kettwiesel EVO Steps. Before comments are posted – yes I know recumbents are very popular for any rider who likes to ride aerodynamically and in comfort – but elderly riders struggling with an upright riding position might also want to consider them.
Of course, e-bikes aren't just for elderly and there's every reason every age group should enjoy them. But evidence shows they can play a particularly valuable role in keeping cycling well into old age.
Stay tuned for more e-bike news and reviews and thanks for reading!
Richard
P.S. Don't forget to join the Electric Bike Report community for updates from the electric bike world, plus ebike riding and maintenance tips!
Reader Interactions