iGo Fat Folding Electric Bike Review Part 2: Ride & Range Test [VIDEO]
The iGo Fat Folding is a fun and comfortable eBike that is well equipped for around town riding and easy going off road adventures.
Its compact step thru design makes it very easy to get on and ride while the 4″ wide fat tires give it a stable and comfortable ride feel.
While it has some easy going characteristics, the powerful 500 watt Bafang motor gives it a lot of kick for a sporty ride feel!
With a 48V 13ah high capacity battery, the iGo Fat Folding posted impressive mileage in the range testing.
The iGo Fat Folding is priced at $1,699 with free shipping (lower 48 states).
In this second part of the full review you will get an idea of the ride characteristics, range test results, pros, cons, and overall thoughts on this electric bike.
Make sure you check out part 1 of this review with large pictures and specifications to get a detailed look at this e-bike.
What you can expect from the iGo Fat Folding:
To get acquainted with the iGo Fat Folding, checkout this video:
Riding the iGo Fat Folding
: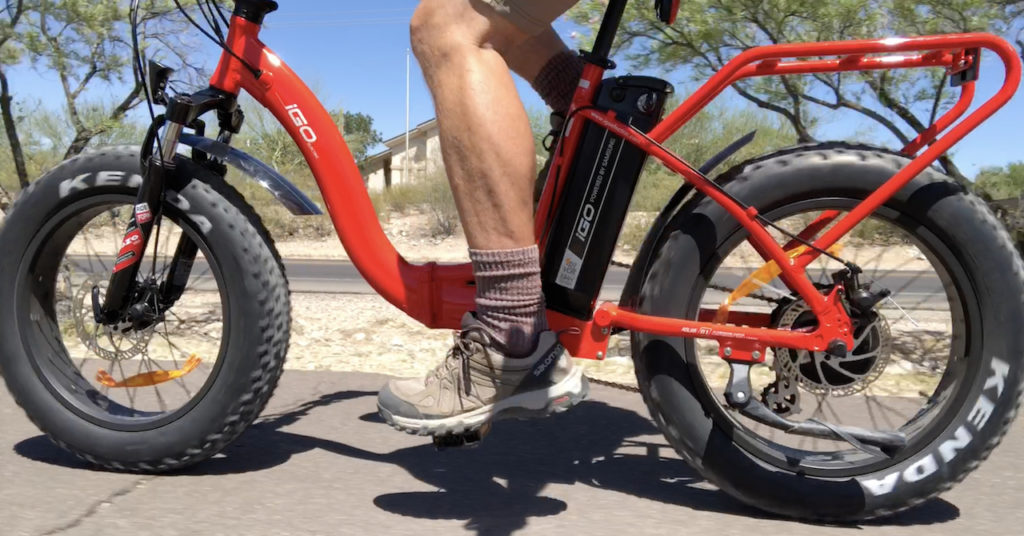 Overall there are some characteristics of the iGo Fat Folding that really stand out when riding this electric fat bike. To summarize they are:
Stable fat tire ride feel for a compact eBike
Powerful & torquey 500 watt geared rear hub motor with pedal assist & throttle
Impressive range with high capacity Samsung cells battery
The Look & Feel of the iGo Fat Folding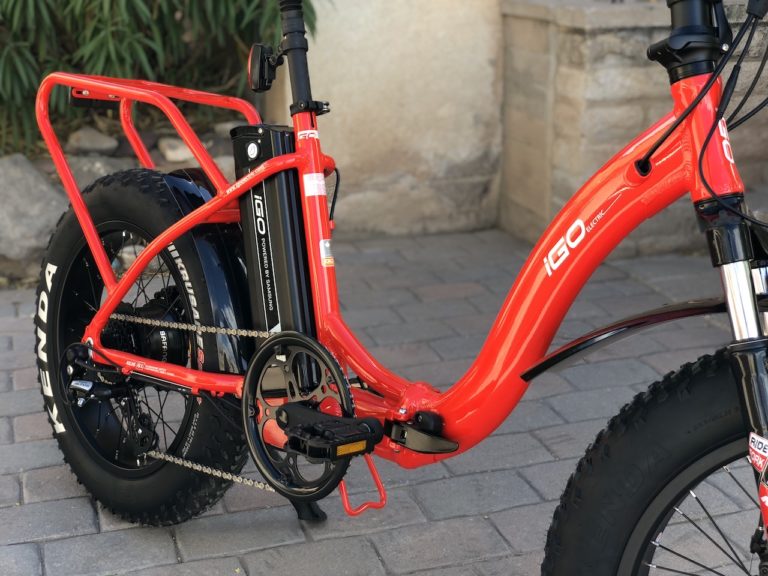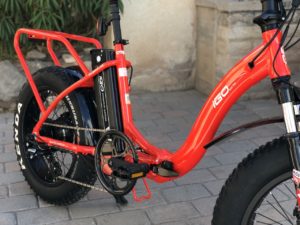 Electric fat bikes definitely have a distinct look and when they are based off of a folding bike platform with a very low step thru area you get a very unique type of eBike!
The iGo Fat Folding has a bold look with it's 4″ wide off road tires while at the same time it's also an approachable eBike with its low step thru area and compact 20″ wheels.
The compact look translates to an agile ride feel that is responsive and helpful for maneuvering crowded areas.
The 4″ wide tires create a more stable ride feel compared to traditional compact folding bikes and the high air volume tires provide a bit of built in suspension.
There is still the quick steering feel that comes from the vertical handlebar mast and narrow handlebars.
In some riding situations the narrow handlebars with very little stem reach feel a bit twitchy, even with the fat tires. Again, this is a common trait among folding bikes.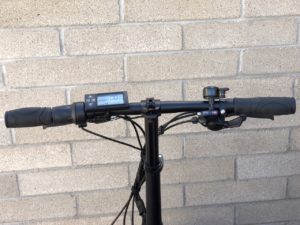 The vertical handlebar mast provides an easy going upright position that gives the iGo Fat Folding a comfortable look and ride feel.
There is a lot of variability in the handlebar height and seat height so that it can fit riders from 5′ to over 6′ tall according to iGo.
That variability also let's you dial in your preferred ride position.
The rubber handlebar grips have an thicker center section that provides some additional cushion. They did move around a little on the handlebar while testing the bike. Glueing the grips to the handlebar can help with this or you could upgrade to grips that have lock on collars.
Another comfortable feature of the iGo Fat Folding is front and rear suspension that adds to the built in suspension effect of the high volume fat tires.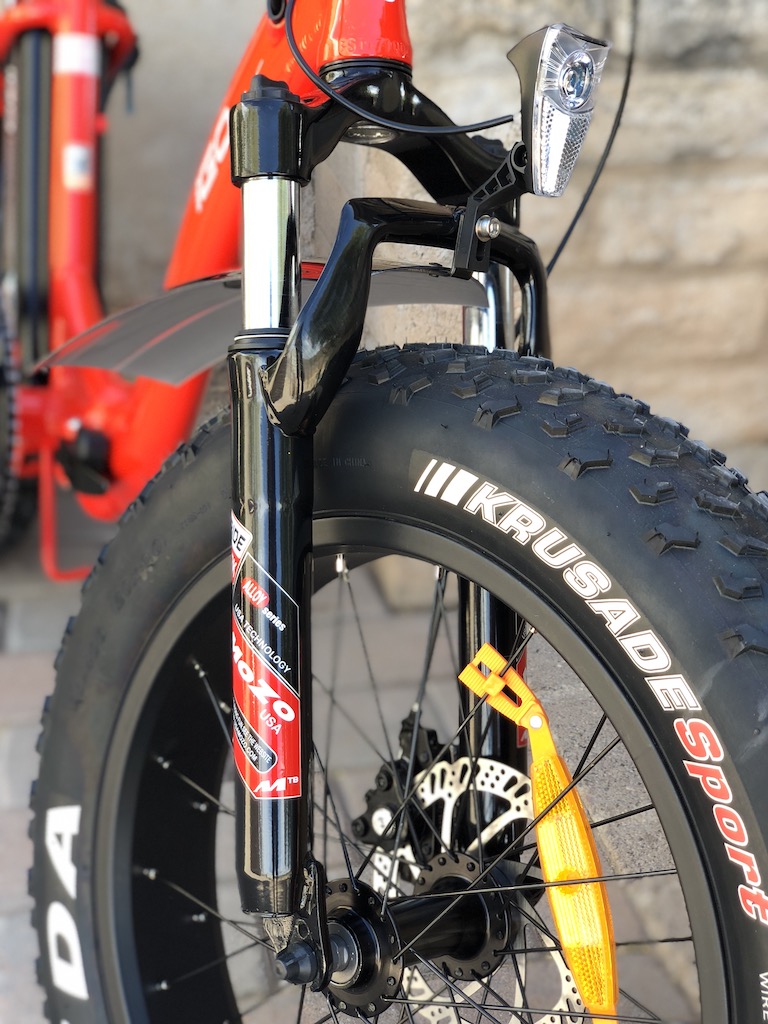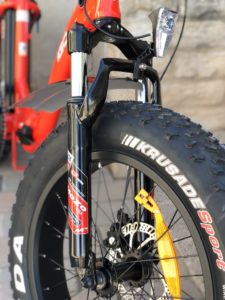 The Mozo suspension fork provides a few inches of suspension travel to take the edge off of some rough roads. It's not a bunch of travel but its enough to make the ride a bit smoother.
On the back of the bike is the suspension seatpost that also helps with around 1″ of travel.
In order to create this folding step thru fat electric bike the 6061 aluminum frame needed to be sculpted to work around a number of design constraints.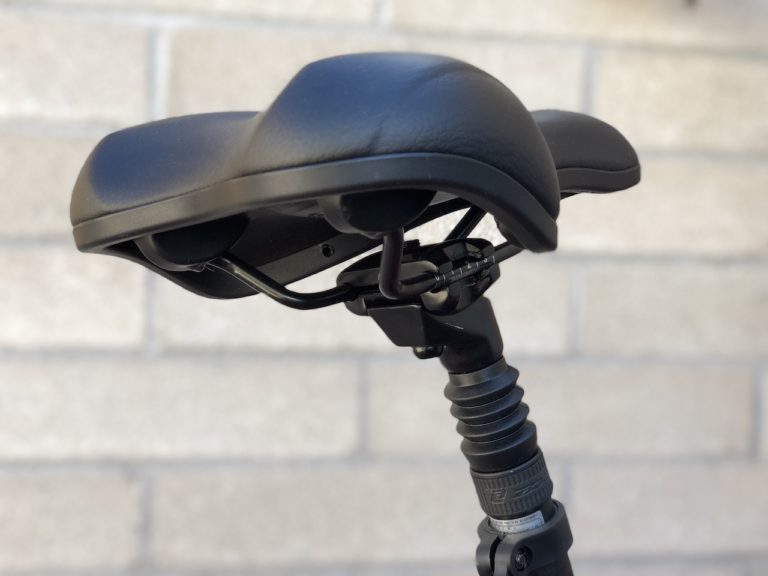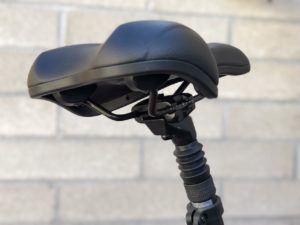 Considering all of these factors the frame does provide a pretty stable ride feel with minimal flex from the step thru and central hinge.
There is ample tire clearance on the front and back of the bike so the fat tires can clear mud and/or snow if you ride in those conditions.
Just behind the seat tube is the high capacity 48V 13ah lithium battery with Samsung cells. This is a pretty good location to keep the battery weight (8.6 pounds) relatively central and low on the bike.
The seatpost with seat does need to be removed (with the quick release lever) before unlocking and removing the battery.
There is some internal cable routing within the main downtube of the frame to keep the looks of the bike clean while protecting the cables.
The rear aluminum rack is welded to the frame for solid cargo carrying capability. The rack rails are larger than a standard bike rack so not all traditional bike bags/panniers will fit but iGo does off accessories for the rear rack that include: bags, basket, and a golf bag attachment.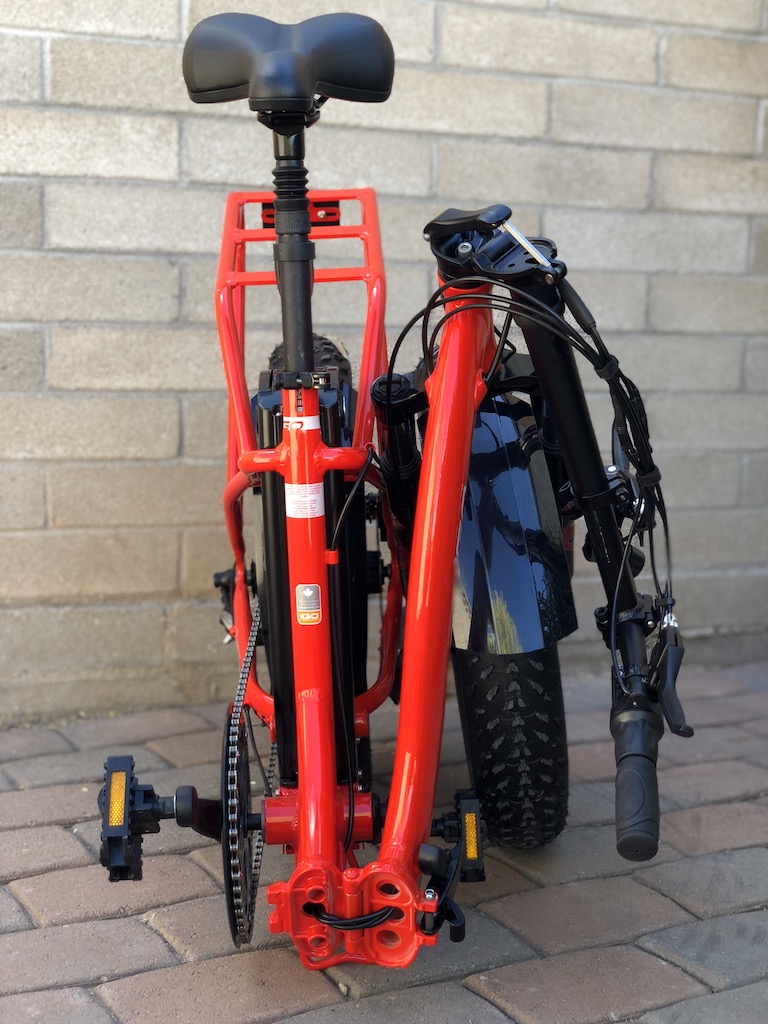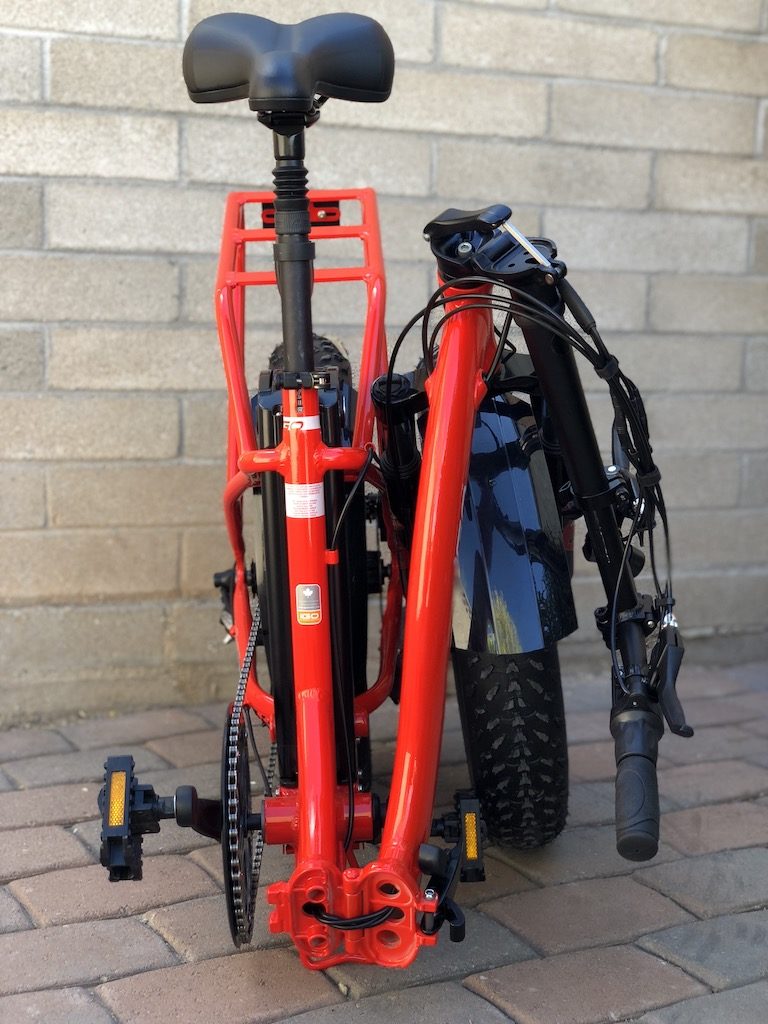 Another benefit of this compact eBike is its foldability for transport and storage.
The folding process is quick and easy with a typical quick release lever system at the handlebar mast, frame hinge, seatpost, and foldable pedals. Once you get used to the folding it takes about 30 seconds to fold down or unfold.
It's folded size is pretty compact for storing at home and/or work and it also makes it easier to transport in a car or mass transit.
At 63 pounds the iGo Fat Folding is on the heavy side so you probably won't be lifting it up a lot. Removing the battery helps a bit and brings the weight of the bike down to 54.4 pounds.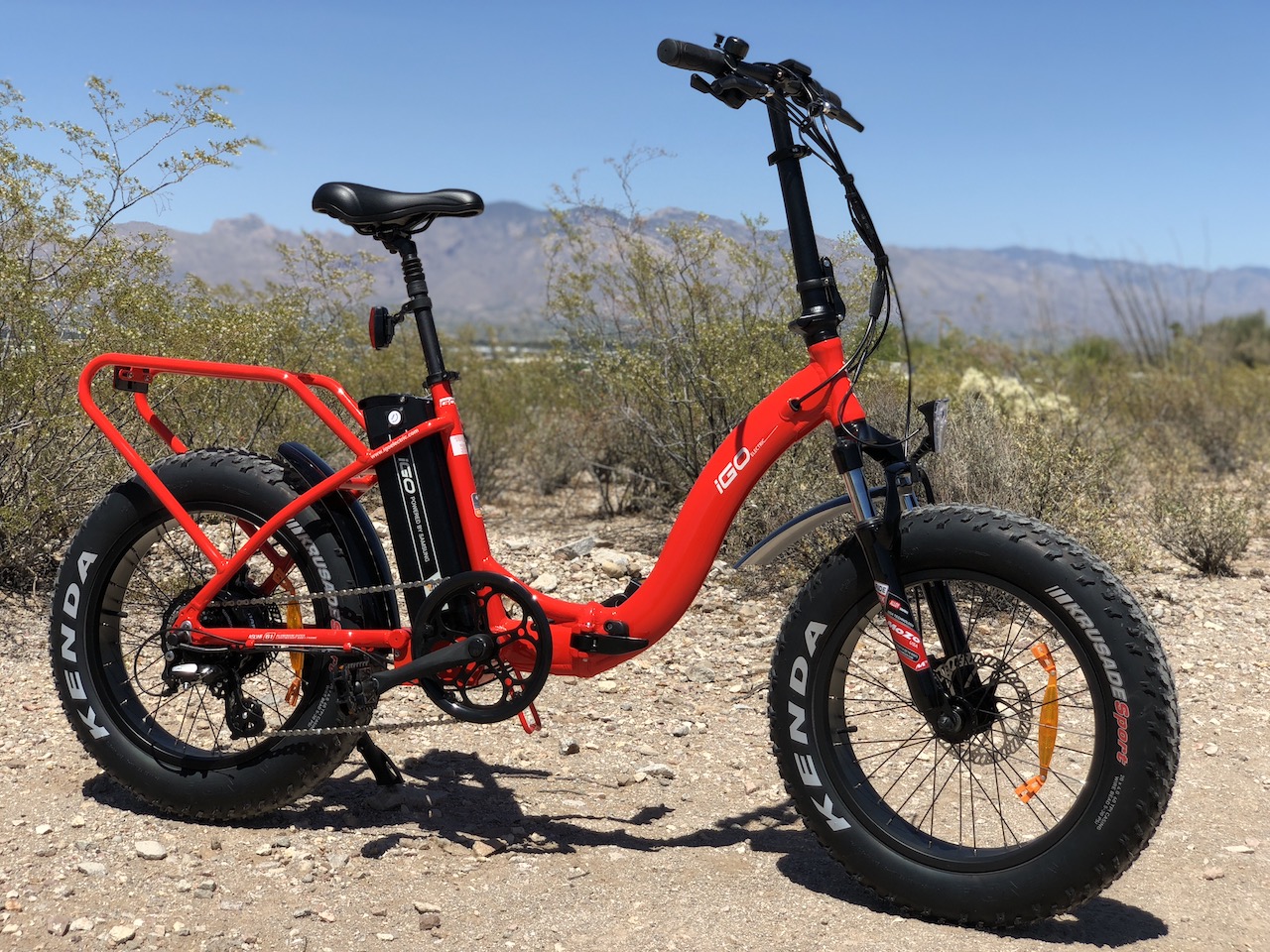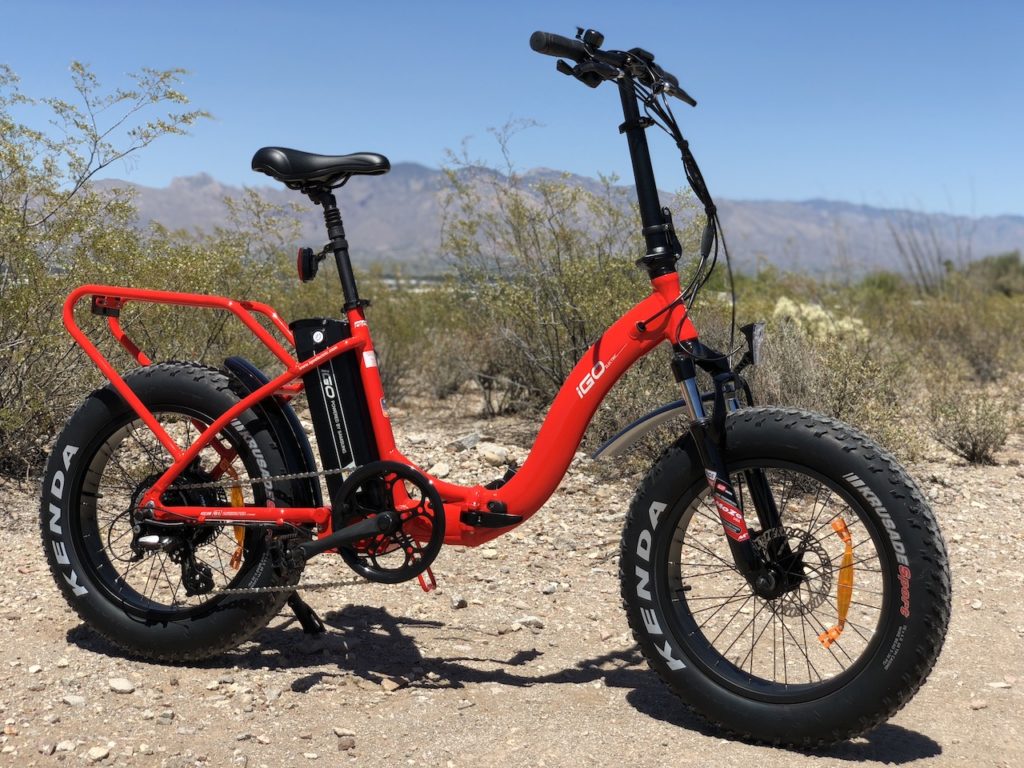 The 4″ wide Kenda Krusade Sport tires are a highlight of the iGo Fat Folding because they offer stability, built in suspension, traction, unique styling, and the ability to ride this eFolder off road.
Typically fat tires are in the 26″ wheel size for riding in almost any terrain: pavement, hard pack trails, sand, mud, and snow.
Those capabilities mostly translate to the compact 20″ wheel format.
The most noticeable is the stable ride feel that is due to the large tire patch on the ground that provides a lot of traction at the lower tire pressures.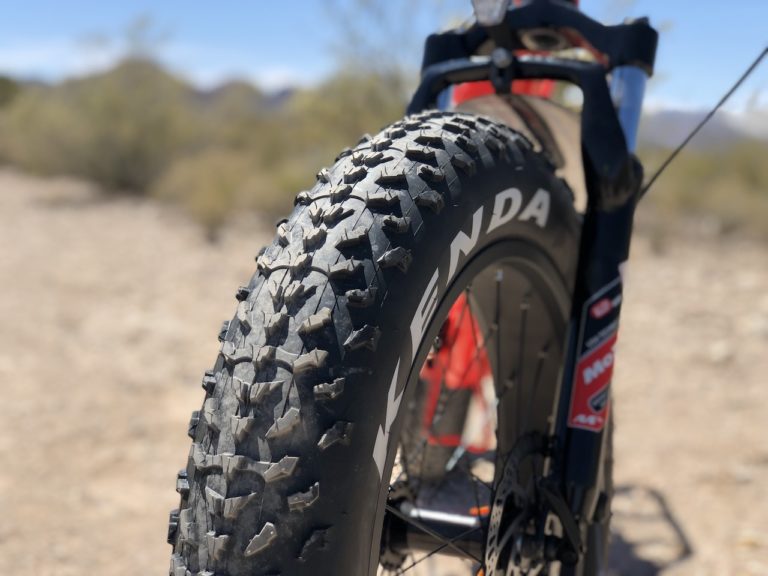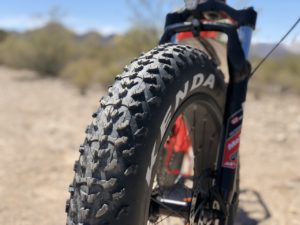 Fat bike tires can run lower pressure than traditional mountain bike tires because of the large volume of air that they contain.
These 4″ wide high air volume tires can mold over and contour to rough terrain.
Here are some tire pressure recommendations for different terrain:
Sand and Snow: + or – 8 psi
Hard pack to muddy roads/trails: 12-15 psi
Urban riding: 20-30 psi
In addition to the traction and stability, the lower pressures offer some built in suspension effect to smooth out rough roads.
Fat tires do have a slower handling characteristic that works pretty well for a folding bike because they generally have quick agile handling. The 4″ wide tires at lower pressures feel slower when cornering and that does help with providing a more stable ride feel.
Another benefit of these high air volume tires is that it is less likely to pinch flat the tube between tire and rim because there is so much air volume for the tires to absorb impacts from rocks, roots, etc.
If you were to convert the tires to a tubeless system then pinch flatting is nearly eliminated.
Tubeless conversion kits like Orange Seal come with sealant, rim strips, and valves that can make your bike tubeless. This is a great way to run the lower pressures and almost eliminate flats from thorns, glass, and other small objects because the sealant closes the holes.
Most compact folding eBikes require more a bit more attention because smaller wheels are not as forgiving as larger wheel bikes (26″ to 29″ wheels). This is still somewhat true for the iGo Fat Folding but the outer diameter of these fat bike tires is about 24″ which helps them roll through bumps, crack, and potholes in the road a little easier.
Now let's take a look at the drive system on the iGo Fat Folding.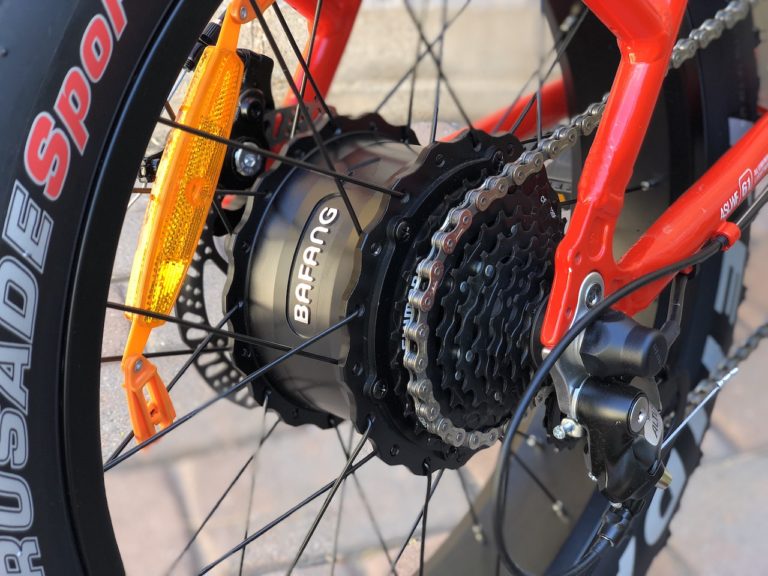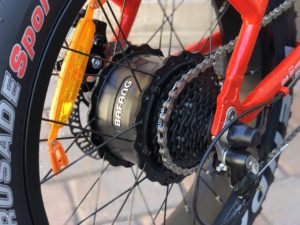 A 500 watt Bafang geared rear hub motor provides assist up to 20 mph with pedal assist and/or throttle.
It also kicks up to 80 Nm of torque and you can definitely feel that on this compact eBike; it accelerates quickly!
In all 5 pedal assist levels the iGo Fat Folding springs into action from a stand still.
The pedal assist is based on a cadence sensor that adds the assist in about half of the cranks revolution and similar the assist stops about a second after you stop pedaling.
It does take a little while to get used to this riding style and all of the pedal assist levels have a lot of initial punch.
There are sensors in the brake levers that will stop the assist as soon as either lever is engaged.
Pedal assist levels 1 and 2 give you that initial kick of acceleration and then they settle into a fairly mellow ride for easy cruising rides around the neighborhood or when riding technical terrain.
Levels 3 through 5 definitely have the feeling of more power and they quickly get you up to speed. They offer a very sporty ride feel with a lot of acceleration and speed but that also comes with draining the battery quicker.
In addition to the pedal assist there is also the twist grip throttle option that can be used as a boost to the lower pedal assist levels or it can be used without pedaling if you like.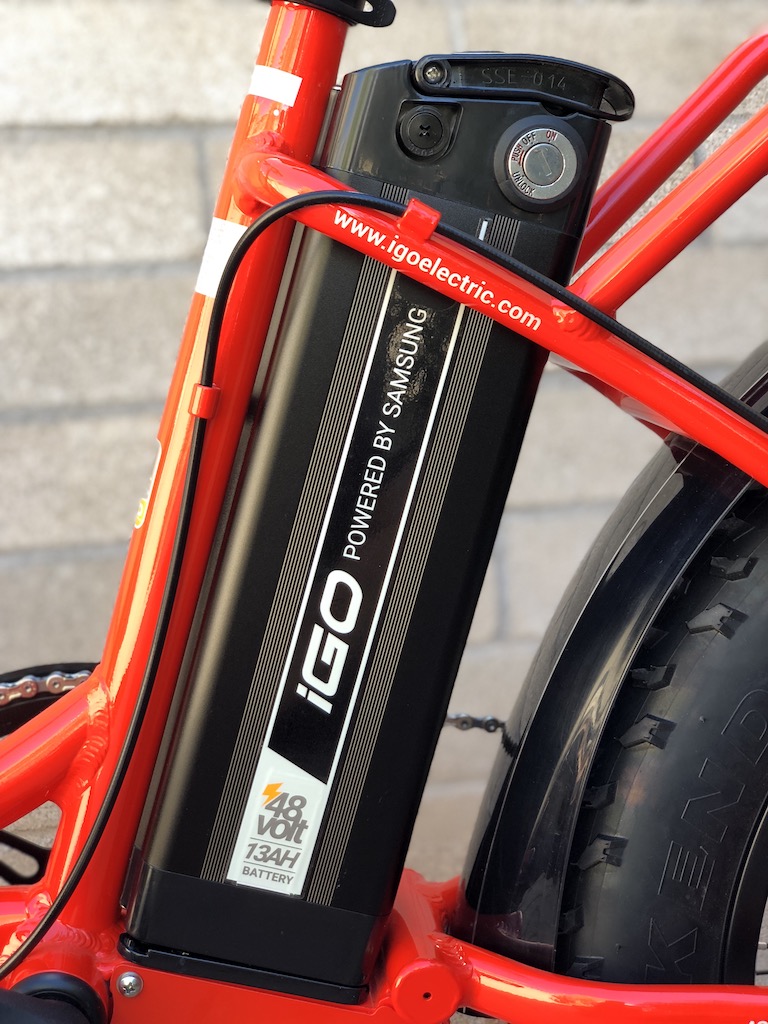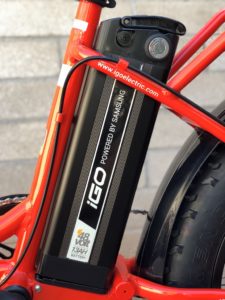 The boost characteristic is helpful for getting through an intersection quickly or for additional help when climbing a hill.
Speaking of hills, the 500 watt Bafang motor does a good job of maintaining nearly 20 mph on moderate climbs. It slows a bit on steeper climbs but it still does pretty well.
The Bafang geared rear hub motor does create some noise that is typical of most geared hub motors. It is in the medium sound range when compared to other geared hub motors and the noise dissipates a little at the higher speeds due to the wind and tire noise.
Another highlight of the iGo Fat Folding is the high capacity 48V 13Ah (624Wh) lithium battery pack that uses Samsung cells.
It provided impressive range for the iGo Fat Folding which you can see in the range test results below. The battery can be fully charged from empty in 5-6 hours.
The 8.6 pound battery pack is located in a relatively central location just behind the seat tube for good distribution of its weight.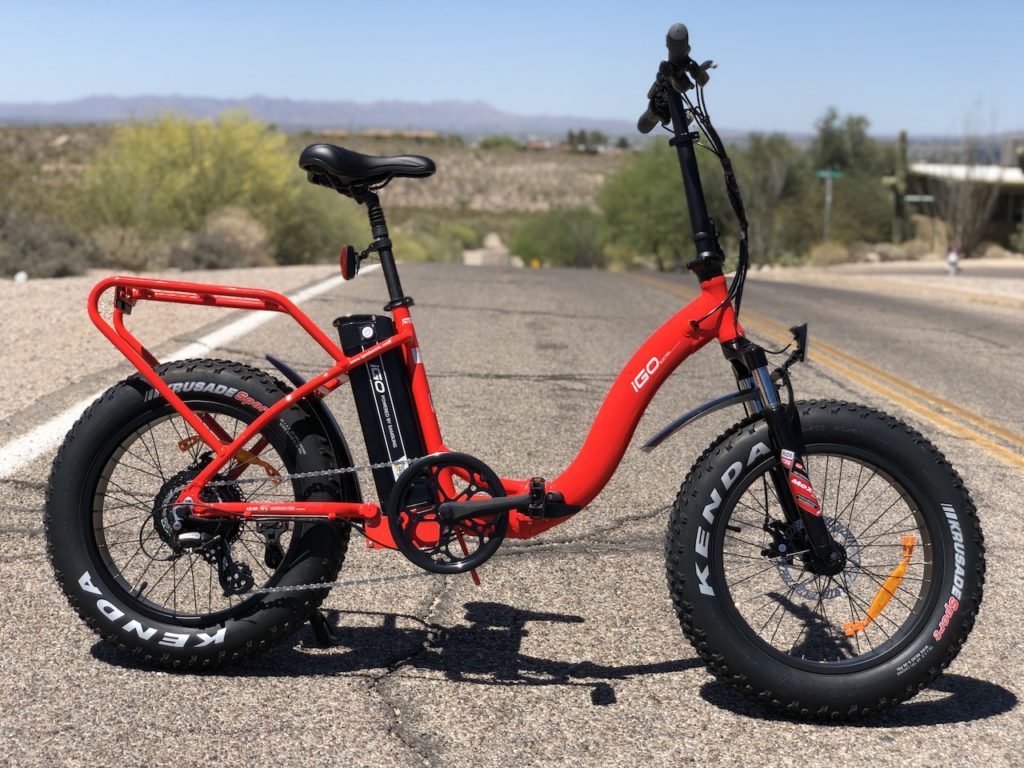 Okay, now let's take a look at the display on the iGo Fat Folding.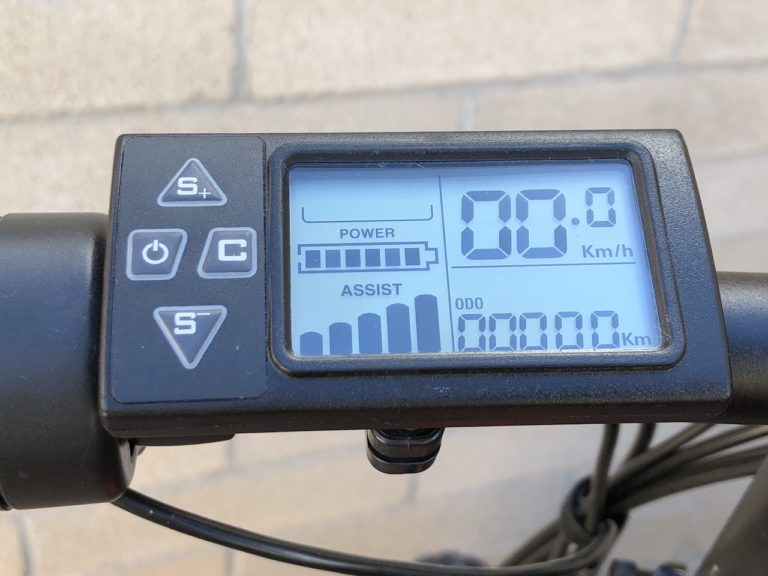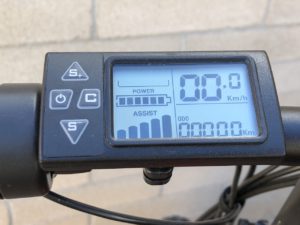 The backlit LCD display provides information on:
Battery level
Odometer & trip distance
Current speed
Pedal assist level. There are 5 levels of pedal assist.
Current battery voltage
Ride time
The C button turns the headlight on and off and that light is powered by the eBike battery.
Also, if you hold down the C button for a few seconds the walk mode is enabled that will provide up to ~3mph of assist for help when walking with the bike up hill or up stairs.
The display is backlit for easy visibility day and night.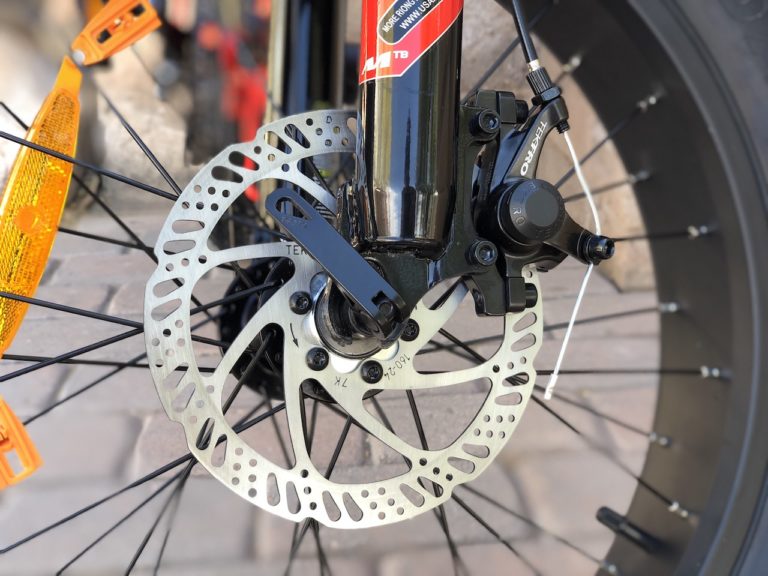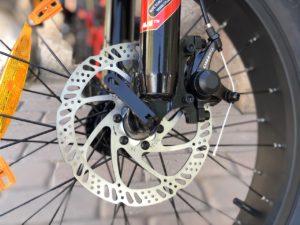 Tektro mechanical disc brakes with 160mm rotors front and rear provide substantial stopping power to the iGo Fat Folding.
They have a good modulation of power between just a little bit to shave off some speed to full stop.
The brake levers have sensors that will stop the motor assist when the brakes are engaged.
There is also a rubber grip surface on each brake lever that helps when riding in wet or dry conditions. There is no brake lever reach adjustment for smaller hands.
Okay, let's see how the iGo Fat Folding did out on the open road!
iGo Fat Folding Range Test Results:
Here is the real world information on how the iGo Fat Folding electric bike performed on a riding circuit that includes hills, flats, traffic, wind (when available) etc.
While testing these bikes I like to put them through the toughest conditions to see where their bottom line is in regards to range and speed. I tested the iGo Fat Folding in the highest pedal assist level (Level 5) with average pedaling on paved roads.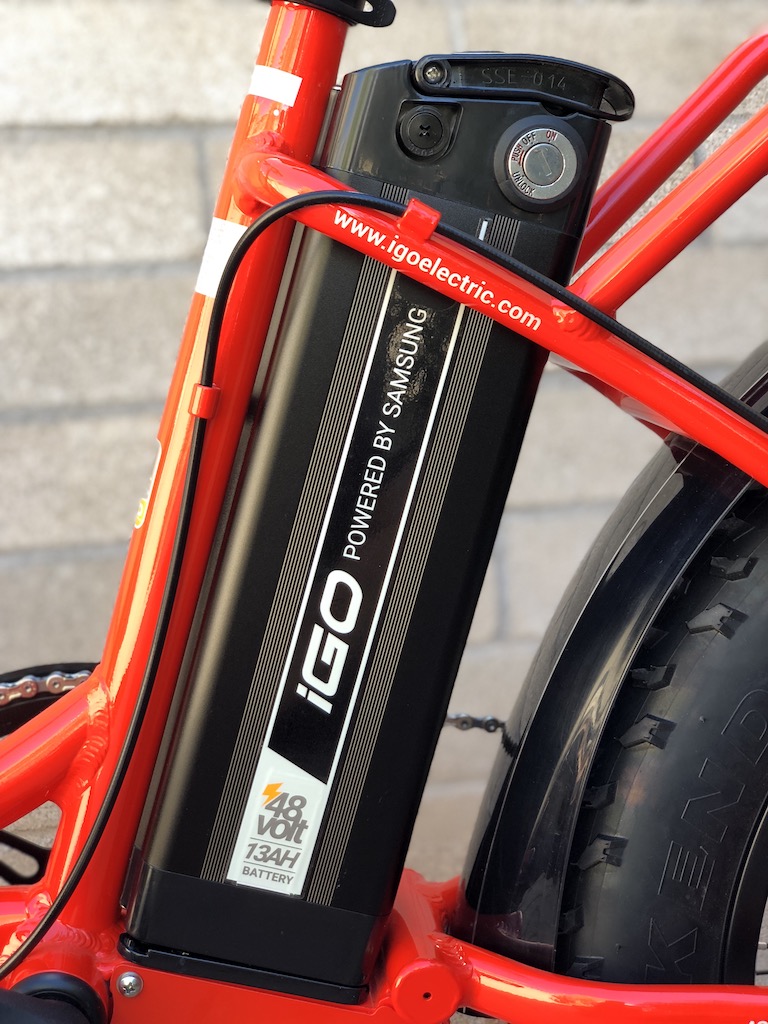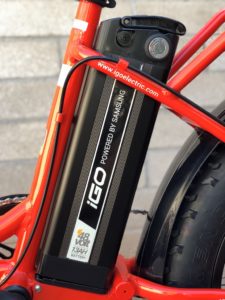 Range: As you can see from the GPS info that I recorded, the iGo Fat Folding traveled 33.4 miles and did a total elevation gain of around 2,800 ft. Considering that I weigh 190 lbs and I pedaled with average pedaling this is good range for a eFat bike with a 48 Volt 13 ah battery pack (624 Watt Hours) with a 500 watt motor assisting up to 20 mph.
Watt hours are the total energy in a battery pack and it is based on the volts x amp hours of a pack. This is a way to compare the size of the "gas tank" of electric bikes.
Please keep in mind that if you pedal more, weigh less than me, ride slower and/or you use the bike in terrain that is not as hilly you will get more range. These results are from tough testing.
Speed: The iGo Fat Folding will assist up to 20 mph with pedal assist only and/or throttle.
Weight: The iGo Fat Folding tips the scales at 63 lbs which is on the heavier side for an electric bike. Removing the battery brings it down to around 54.4 pounds.
The weight distribution of the iGo Fat Folding is somewhat back heavy because the motor is in the rear wheel while the battery is just behind the seat tube of the bike.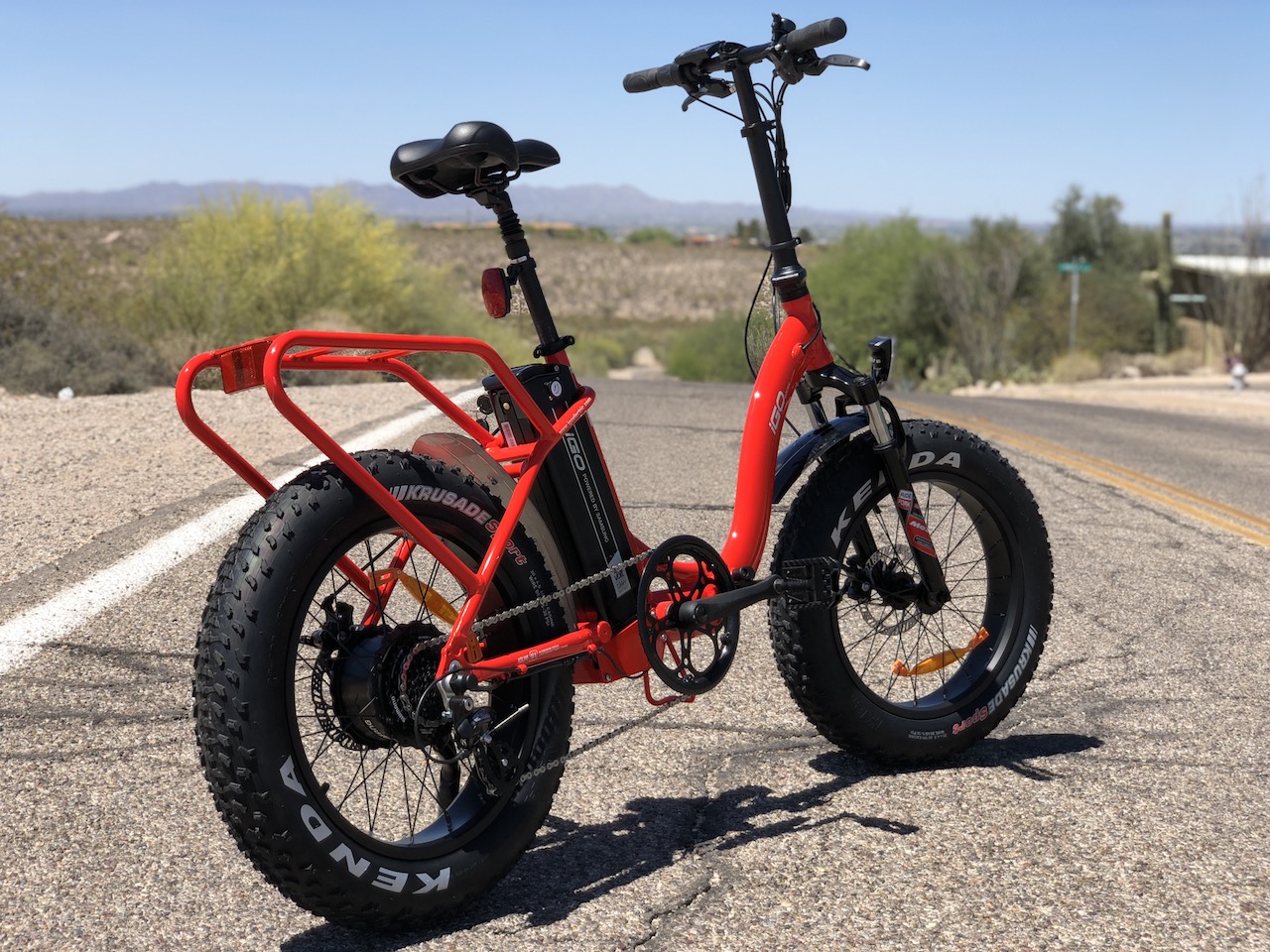 Pros:
Fun Compact eBike: The iGo Fat Folding is very approachable eBike with its compact wheels, very low step thru design, and its stable 4″ wide fat tires. It has a more stable and fun ride feel compared to other folding eBikes.
Powerful eFat Bike: The 500 watt Bafang geared rear hub motor with up to 80 Nm of torque provides a zippy performance ride feel with punchy acceleration off the line. It is able to maintain nearly 20 mph on moderate climbs.
Impressive Range: The high capacity battery (624 Wh) provided 33.4 miles of range in the tough range test (highest assist level) with elevation gain of 2,800+ ft of climbing. In more moderate riding conditions you can expect to get even more range. This is impressive for an eBike with 4″ wide off road tires.
Cons:
Heavier: At 63 pounds this is on the heavier side for most electric bikes. Removing the battery helps a little but it still is 54.4 pounds which makes picking up this folding eBike a workout.
Motor Noise: The Bafang geared rear hub motor does make noise that is typical of other geared hub motors. It dissipates a little as you get to the higher speeds due to wind and tire noise.
Conclusion: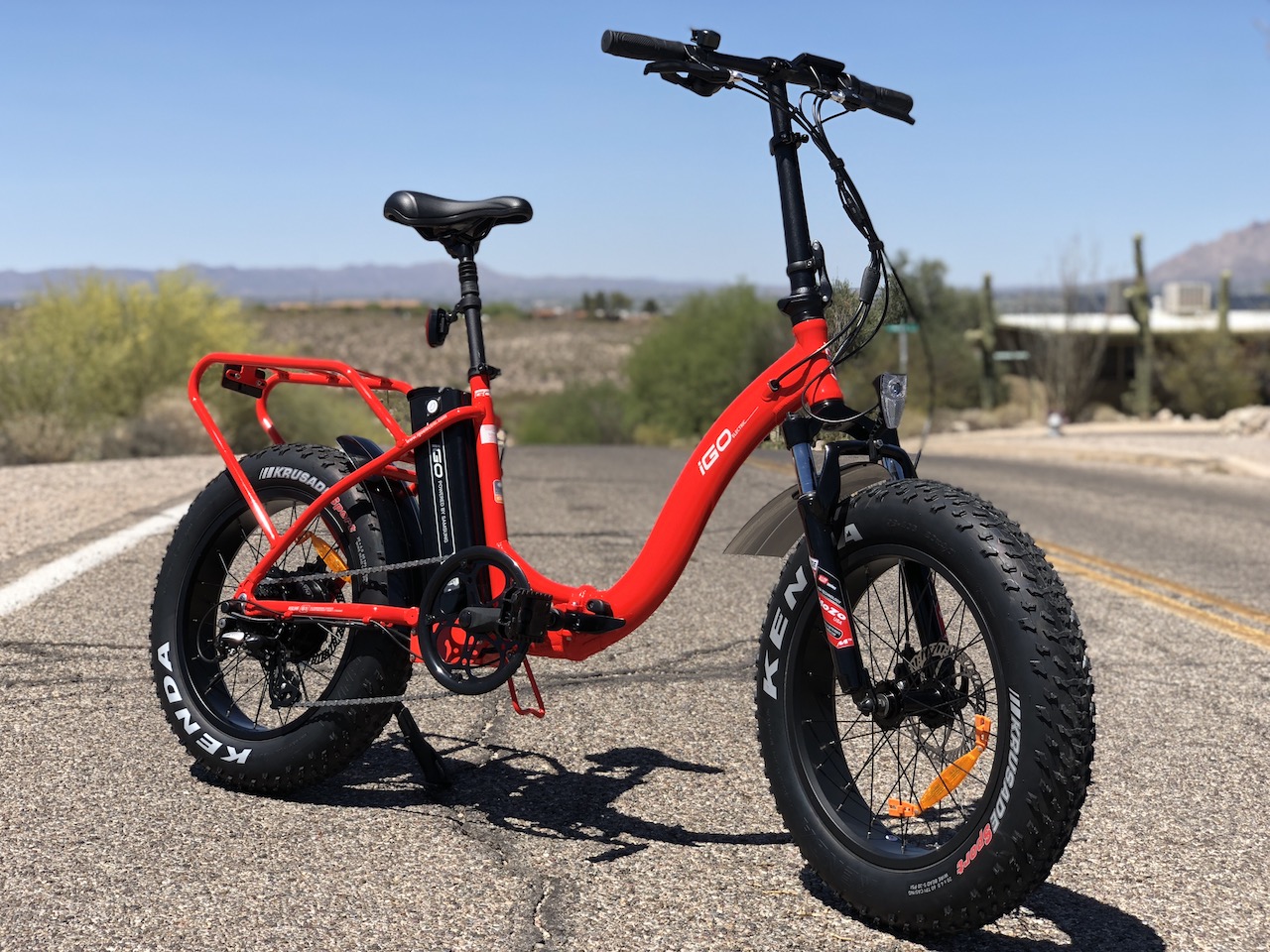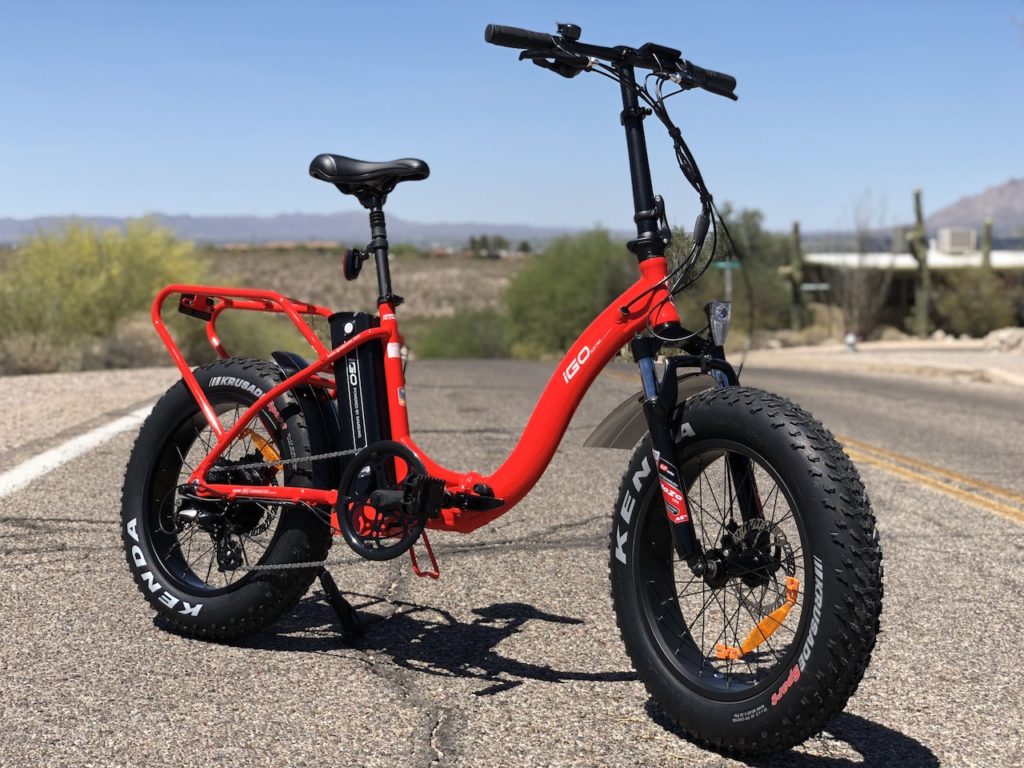 Overall the iGo Fat Folding is fun for around town commuting and errand running with its stable and comfortable ride feel and ease of getting on and off.
It is also a fun ride for easy going off road adventures with its 4″ wide fat tires that provide solid traction and some built in suspension effect.
The powerful and torquey motor makes for a zippy ride with quick accelerations. It is high capacity lithium battery provided impressive range even at the highest assist level.
The iGo Fat Folding is priced at $1,699 with free shipping (lower 48 states).
Please keep in mind that this is a relatively short term test. This testing can't really give you the long term review of durability and reliability. My thoughts on the quality of this bike are from previous experiences with similar bikes. If you own this bike and have some input on the long term durability, please share your comments with the Electric Bike Report community below.
Where to buy a iGo Fat Folding? Check with the iGo Electric website.

Do you have any questions about the iGo Fat Folding? Do you own a iGo Fat Folding? Please share your thoughts in the comment section below.
Thanks!
-Pete
Review Note: Each company pays a fee for a review on Electric Bike Report because of the considerable amount of time that it takes to provide an in-depth review of each eBike. A lot of time is spent on the full range test with distance & elevation profile, the wide variety of detailed pictures, in-depth video, and the write up with the specifications, ride characteristics, pros, cons, and overall thoughts. The reviews on Electric Bike Report are focused on providing you with a detailed "virtual" look at each eBike to help you determine if it is the eBike for you.
P.S. Don't forget to join the Electric Bike Report community for updates from the electric bike world, plus ebike riding and maintenance tips!
Reader Interactions