eBikeNews: IZIP and Canyon New eBikes, eBikeshare Updates, Bosch Charging Stations and Much More! [VIDEOS]
In this week's news:
New IZIP eBike Models
Canyon eMTB Hardtails
Shortage of Citibike eBikes for NYC
Jump eBike Share Rolling Back into Berlin
More eBike Use Means Less Emissions Says Report
Model eBike State Legislation Expanding Across the US
eBike Tech; 3D Printed Frames and Hub Motors in Cars
New eBikes & eBike Systems
IZIP's New Models
IZIP has announced the following new e-bikes into its Commuting, Cruising and Adventure collections for Fall 2020.
Both the new Path+ Step Thru and Path+ Step Over e-bikes use a  Bosch Active Line center motor and a 400WH PowerPack battery. IZIP say 'This new class 1 eBike has a top pedal assist speed of 20 mph and 30-50 miles of travel per charge. The tektro mechanical disc brakes provide solid stopping power. The 700c wheels provide rolling efficiency while 40c tires add extra comfort on any surface. The Shimano Altus 7spd shifting with optical gearbox provides riders visual confirmation of gear shifting.' $2,400 MSRP.
The new cruising range is a choice between the Zuma Luxe Step Thru and the Zuma Luxe Step Over. Both feature Bosch Active Line Plus 250W motors and 500Wh batteries. Both models are equipped with Tektro hydraulic disc brakes, Shimano Acera 8spd shifting with optical gearbox and a wide range gear cassette. $2,750 MSRP.
'Sumo electric fat bike was made for plowing through snow in the winter or cruising down the sandy beach in the summer' say IZIP. It has a Bosch Active Line Plus mid-motor, 4-inch tires to bowl over soft surfaces and technical terrain, a Shimano drivetrain and Tektro M735 hydraulic disc brakes with 4-piston front caliper and 2-piston rear. The fully formed aluminum alloy frame and fork have plenty of cargo mounts to carry heavy loads. $3,000 MSRP.
Canyon's New Hardtail eMTBS
New from Canyon are a couple of hardtail e-mtbs that look reasonable value for the spec. Canyon's Grand Canyon:ON AL 8.0 and 9.0 both share the same well-regarded mid-drive, Shimano's E8000 e-mtb specific unit. Both also feature in-frame 504Wh batteries and a USB-C charging port on the top tube, handy for charging smartphones, GPS units and similar low power devices.
The Grand Canyon: ON AL 8.0 has a UK retail price of £2699 whilst the Grand Canyon: ON AL 9.0 comes in at £3149.
Instrastructure & eBike Share
Meet the New President & CEO of People for Bikes
Over recent years bike and e-bike advocacy group People for Bikes have done brilliant work in building a nascent bike lane network across the country and have also been instrumental in pushing for more and more states to adopt the model 3-class state legislation on e-bikes. They have a new president and CEO who you can meet in the video below.
If you yourself want to help the cause of making it easier to bike and e-bike around safely, People for Bikes have asked you to 'write to your local government official and ask them for more protected bike lanes, open streets, bike parks, slower speed limits or better-connected bike networks. We need better bike infrastructure in every community — let's use this moment in time as a lever to go bigger for bikes.'
Shortage of Electric Assist Citi Bikes in New York City Reported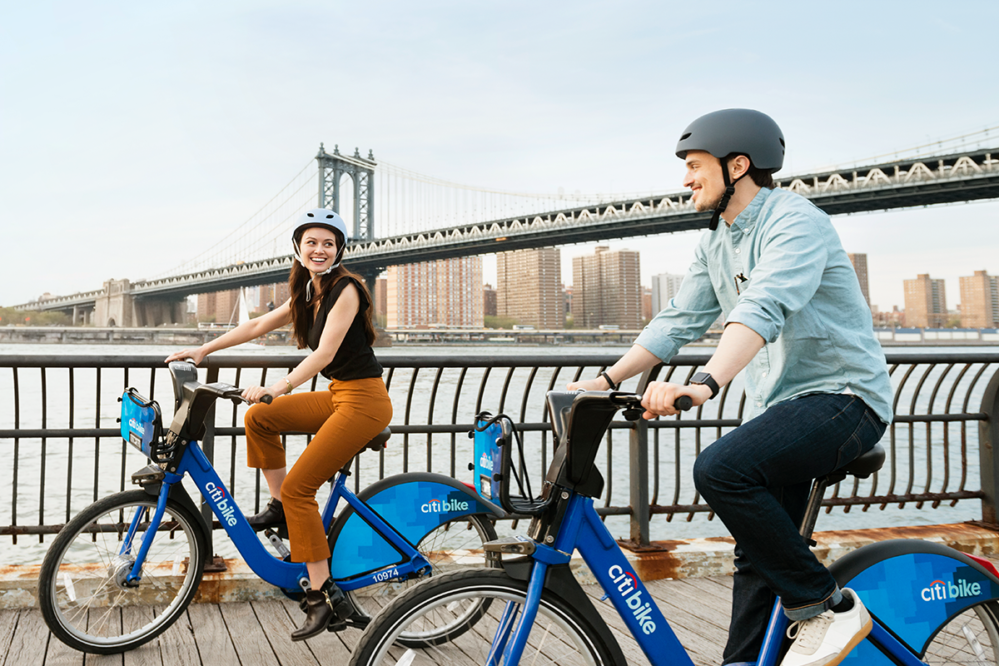 Streetsblog NYC reports 'Electrified pedal-assist Citi Bikes are still a rare sight in New York City, three months after the bike share company promised "thousands" of such bikes by the end of summer. Now a spokesperson said the Lyft-owned company hopes to get up to  "hundreds" of e-bikes.
NYC's bike share scheme (a good proportion of which are intended to be electric) has had a troubled history; after a promising start that saw around 1,000 pedal-assist bikes on the streets of New York, many bikes were withdrawn due to brake problems that elicited safety concerns. According to the Streetsblog article 'The company then spent months promising that e-bikes would return in 2019, before finally unveiling its new e-bike in February, 2020. At that time, Lyft promised "hundreds" of pedal-assist bikes would be joining the system, after an initial rollout of 250 e-bikes. Then Lyft told Gothamist in May that it would add "thousands on the street by the end of the summer."'
It is thought supply chain difficulties consequent on the Covid 19 pandemic are part of the reason Citibike seems to be struggling to fulfill its promises.
After London, Jump eBike Share Now Returning to Berlin
Electrive tells us that  'Lime is bringing the first 500 e-bikes from Jump back to the streets of Berlin after the company took over the Jump brand, including all e-bikes and e-scooters from Uber. The bad press that Lime was getting for attempting to scrap the e-bikes seems to have had an effect.'
The rest of the article details how Uber has sold Jump to Lime, with bikes being scrapped in the process but with some e-bikes reappearing in parts of London.
eMicromobility
ScootRoute New Micromobility App
ScootRoute is a navigation app specially designed for micromobility users and they have been in touch to tell us about their recently launched product.
'Now available in all 50 states, ScootRoute™ is the first app of its kind designed specifically for micro-mobility travel, allowing users the ability to have voice-activated, custom navigation for motor scooters, escooters, bikes, and ebikes in both cities and suburbs. The free app combines three different mapping technologies to accommodate the nuances of micro-mobility travel.
The app allows riders the ability to personalize their ScootRoute™ based on preferences, including incline tolerances, traffic, top speed (MPH) and road type. Once the customized route is set, ScootRoute™ provides a turn-by-turn voice navigation system so riders never miss a turn while safely getting to their destination. Users can also save their favorite routes through the app.'
eBikes & Climate
15% More eBike Use Could Mean 12% Less Emissions Says New Report
'If drivers in Portland, Ore. replaced a car trip with an e-bike trip just 15 percent of the time, it would take a 12 percent bite out of greenhouse gas emissions, a new study finds' according to Streetsblog USA. 
The article quotes a couple of other interesting related facts:
The Portland State University-based researchers found that each e-bike could save the planet a whopping 496 pounds of carbon dioxide emissions each year — roughly equivalent to the annual carbon output of in the average US household.
45.6% of U.S. car trips are under three miles in length, according to the most recent National Household Travel Survey, and almost half of those trips are under a mile — in other words, in terms of distance, a huge number of car trips in the US could easily be completed by e-bike.
eBike Law
More US States Look to Join Those With 'Model' Legislation
This Bike Europe article paints an encouraging picture of how more US states are set to join the 3-class model legislation. It quotes Executive Vice President of Specialized, Bob Margevicius, as saying that, by the end of 2020, 39 of the 51 States in the U.S. will have implemented the same 3-class model legislation on e-bikes. This stands for three-quarters of the U.S. that has clear legislation in place.
The article also stresses what's seen to be the huge potential of e-mtbs in the US, stating 'In particular for the electric mountain bike category having regulations implemented is considered to be of vital importance as it defines what's to happen with their access to trails in National, State, Provincial and other parks. Currently, in States that do not have implemented the e-bike regulations such access is prohibited which puts brakes on eMTB sales. It's expected that eMTBs will eventually make up about 50 percent of total bicycle sales in the U.S.'
There's more on US e-bike law and its importance in this recent EBR article of Simon Cowell's accident.
eBike Tech
Bosch's eBike Charging Stations Open up Famous Swabian Alps Route
Bike Europe reports that 'to make sure that both e-mountain- and e-trekking bike riders don't run out of power at a Swabian Alps' Crossing, Bosch eBike Systems have installed six new PowerStations along the famous route. The charging stations are the first for Bosch in the region.'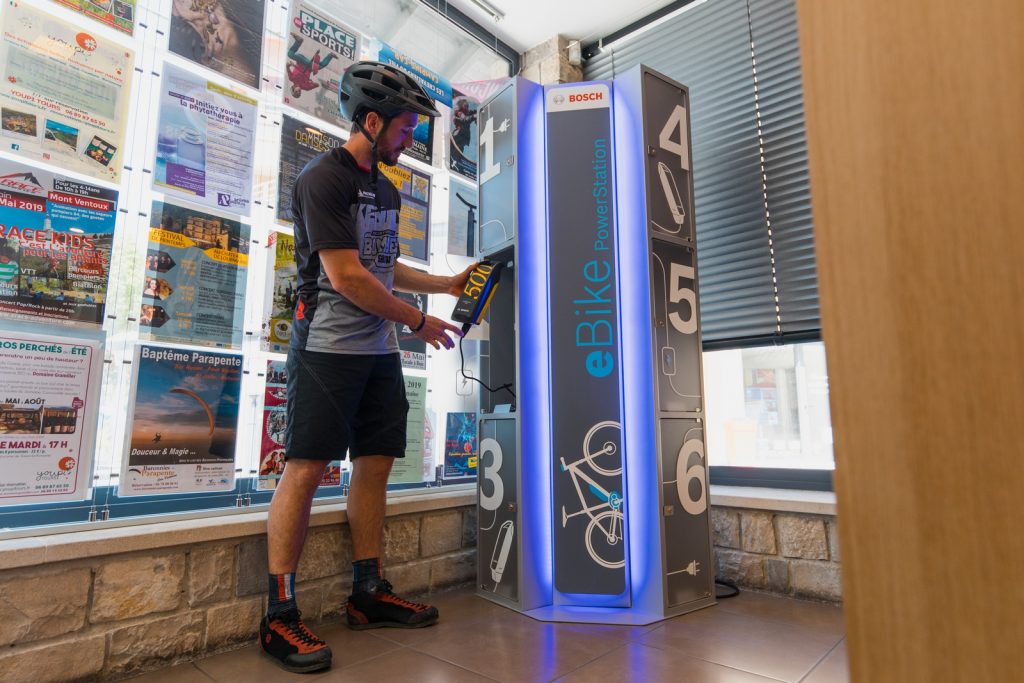 The article also states Bosch has already installed similar charging stations in popular holiday areas in France (like the one pictured above in Provence), Italy and Austria and want to expand the scheme into urban areas.
Mass Produced Printed Frames a Step Closer
Bike Europe report that 'Carbon frame printer Arevo has announced the introduction of the next generation high-speed additive manufacturing system for large continuous carbon fiber composite structures. In addition to higher quality, the Aqua 2 is able to print four times faster than its predecessor. This enables the rapid, on-demand production of large (up to one cubic meter) custom composite parts.'
In other words, a revolution in frame production has gotten a (tiny) step closer.
Russia's ZETTA eCar Males Use of eBike Tech
EBR doesn't often cover electric cars but the Russian-made ZETTA has as much in common with light electric vehicles and, arguably, e-bikes as it has with most electric cars. It uses hub motors in the wheels for a start and of course hub motors are found on large numbers of e-bikes (though they usually only have one, not four like the ZETTA). It is also in the same price bracket as some high-end e-bikes at  450,000 rubles ($6,100/€5,190).
Inside EVs Tells US:
'According to the Russian Ministry of Industry and Trade (via federal news agency TASS), series production of the Russian electric city car – Zetta – will start by the end of 2020 (after a delay from Q1 2020). This tiny EV, named after Zero Emission Terra Transport Asset, will be produced by the Russian Engineering and Manufacturing Company (REMC) start-up. The production target for Zetta will be 15,000 units annually (two-thirds for export).'
Stay tuned for more e-bike news and reviews and thanks for reading!
-Rich
Reader Interactions